May 14 - 20 2023: Issue 583
Australia SailGP Team Wins Season 3 - Historic Third Straight Victory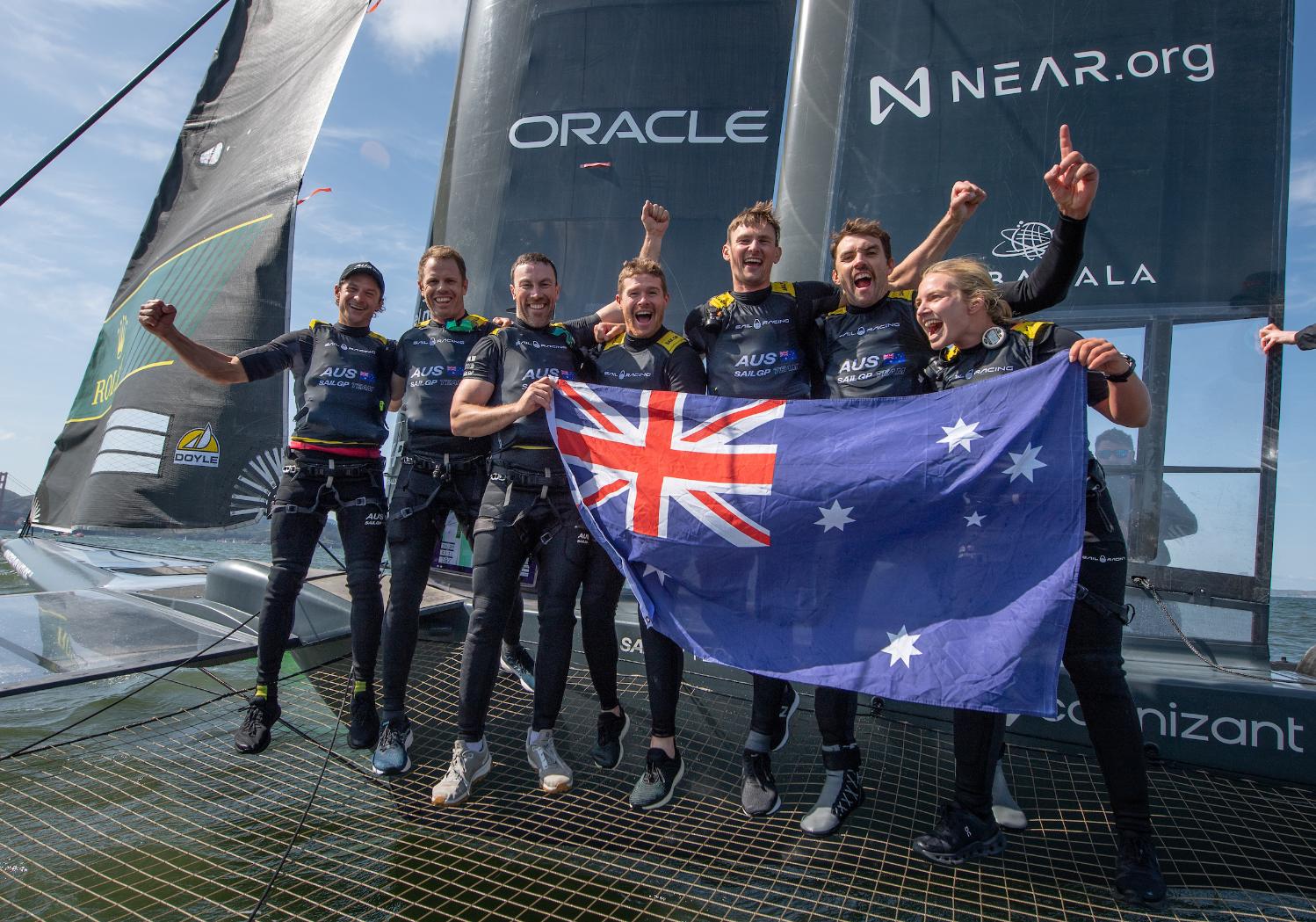 Australia SailGP Team win Season 3. Pictured aboard their F50 on Sunday May 7th US time. Photo: Ricardo Pinto for SailGP
May 8, 2023
by Miranda Blazeby, SailGP
Australia has reasserted its league-defining dominance by winning Season 3 in spectacular style and securing the SailGP three-peat on San Francisco Bay. The long-awaited Mubadala SailGP Season 3 Grand Final | San Francisco kicked off on Saturday May 6, with five fleet races taking place ahead of the winner-takes-all, three-boat Grand Final.
While two-time, defending champions Australia had already qualified for the three-boat, winner-takes-all shootout and the Kiwis looked comfortable in second place, there was just one point separating Quentin Delapierre's France in third and Ben Ainslie's Emirates GBR in fourth. This set the stage for a dramatic showdown between the two teams when racing got underway, with Emirates GBR playing havoc with France's game plan. Ainslie's crew intentionally blocked the French in the pre-starts of the first three fleet races before executing a near-flawless performance and finishing the first day with second second place finishes and a race win.
The Aussies claimed the one-million dollar prize in a nail-biting sprint to the finish after going head to head with Peter Burling's New Zealand and Emirates GBR in the three-boat, winner-takes-all Grand Final.
After finishing top of the San Francisco event leaderboard with three fleet race victories, the Aussies entered the three-boat showdown on a wave of momentum and confidence. They claimed the advantage early on, pushing out the Brits in the pre-start and taking the inside track to lead at Mark One.
Aggressive tactics throughout saw the Aussies only extend their lead and dominate for the majority of the race. But the most dramatic moment of the Final saw the Aussies fall off the foils on the penultimate leg, allowing the Kiwis to close the gap in the final stages of the race.
Despite coming close to overtaking the Aussies and stealing the win, the Kiwis ran out of water in the dramatic sprint to the finish line and it was Australia once again who proved why they are the team to beat by soaring across the finish line.
Speaking at a post-event press conference, Slingsby revealed what was going through his mind at the time.
"I was just thinking, I can't believe you're going to lose it here and choke like this in front of all these people and everyone watching around the world - that actually went through my head."
He revealed that, despite having 'such a comfortable lead', he decided to 'shut the race down' and undertake extra manoeuvres to feed the Kiwis dirty air.
"In the end, they didn't get different wind, but they were tacking in better positions and able to foil out of the tacks better than us - we were tacking in less wind and they just kept gaining and gaining," he said.
With just metres to go, it looked as if Peter Burling's team might pip the Aussies to the finish line and Season 3 Championship trophy. But the Kiwis ran out of road and Australia crossed the line to claim three consecutive Championship titles in a row.
"We did the tack in just enough room and managed to make the finish," Slingsby said.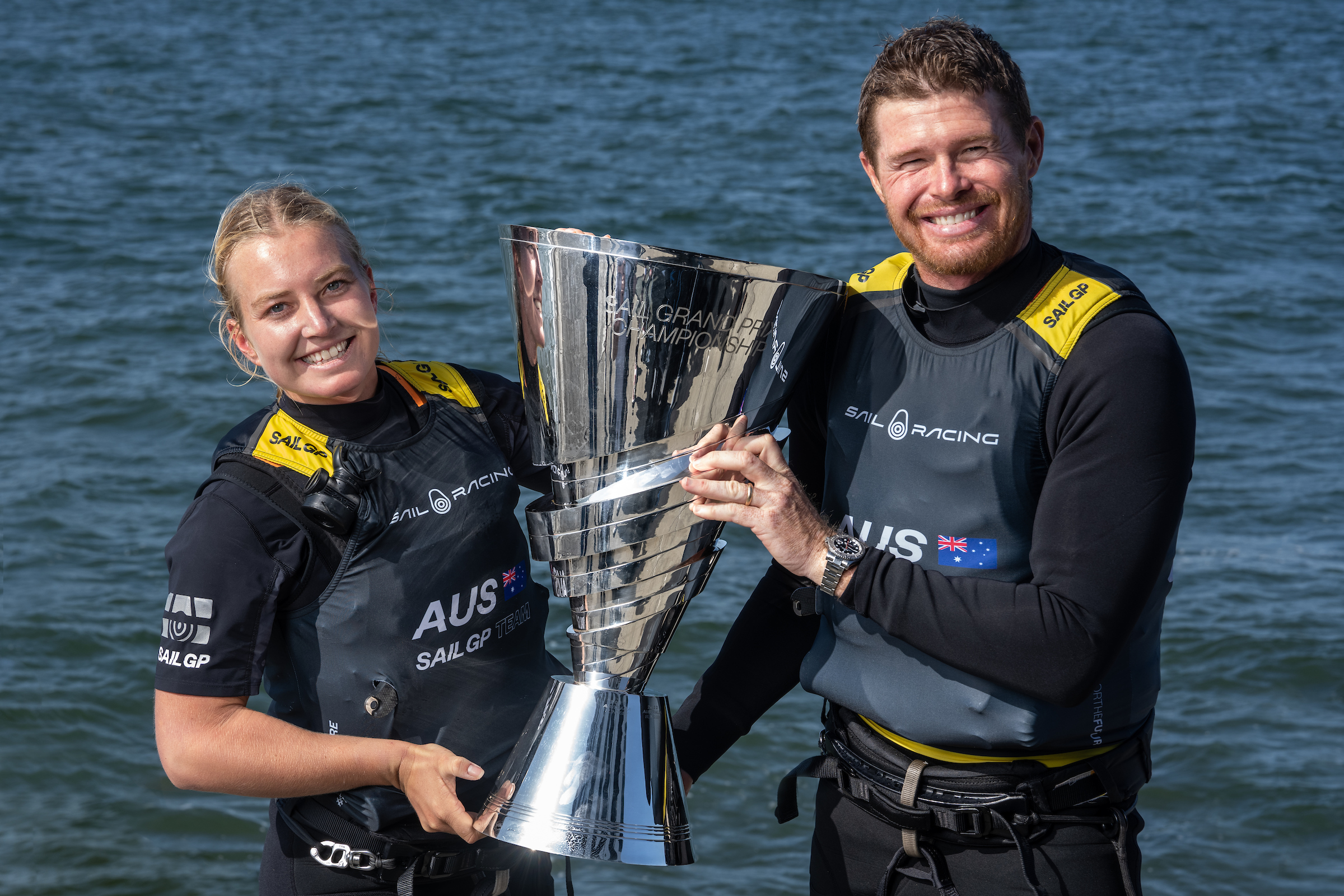 Australia SailGP Team CEO and driver Tom Slingsby and Tash Bryant, strategist of Australia SailGP Team. Photo: Bob Martin for SailGP

Looking back on the race, Slingsby admitted that he 'didn't react well enough' to the changing conditions.
"The current was picking up and the wind really died off," he said. "It was a really solid, steady breeze all race and then on the last upwind, it just started flaking out and became more patchy - I guess I didn't react to that as well as I could have."
He added that, looking back, he 'would have sailed that last leg very differently'.
Despite sealing the SailGP Championship three-peat, Slingsby denied that he could now claim the title as the best sailor in the world, pointing to the talent of his team instead.
"Anything I've done in the last 10 years I've had this team behind me, so if I'm ever called the best, it's the same for everyone behind me - I'm barely anything without these people."
He added that no future achievement could eclipse the career of Emirates GBR driver Ben Ainslie.
"He'll always be an idol to me," he said. "Even though I've got a couple of wins on him lately, for me he's always going to be the GOAT."
The final fleet races of the event were packed with drama, with Jimmy Spithill's United States colliding with Denmark on the start line of the fourth fleet race. Despite this, it was a solid day for Nicolai Sehested's team, which picked up a third and fourth position to finish the event in forth overall.
France battled back from a terrible first day to pick up a race win in the fourth fleet race, but it was too little, too late for Quentin Delapierre's team, which was denied a shot at the Grand Final by Emirates GBR.
In related SailGP news, Denmark has beaten defending champions New Zealand to win the podium for the planet after coming top of the Impact League leaderboard in Season 3. Nicolai Sehested's team picked up a total of 1,566 points across the 11-event season - narrowly beating Peter Burling's team by just five points. Ben Ainslie's Emirates Great Britain SailGP Team meanwhile comes in third with 1,516.
Denmark's triumph means the team wins prize money, which will be donated to its Race For The Future partner, One Ocean Foundation. New Zealand and Emirates Team GBR have also won funds for their Race for the Future partners respectively.
It comes after a fierce season-long battle between Denmark and Season 2 Impact League champions New Zealand, with both teams regularly finishing events in first or second. But it was Denmark that finished the season with a total of five podium finishes and four event wins, winning $55K for One Ocean Foundation and pipping the Kiwis to the post.
Denmark driver Nicolai Sehested said: "We are delighted and proud to win the Impact League this season. It is impossible to win a competition as tough and unique as the Impact League without full commitment and dedication from everyone on the team, and the support and guidance of our partners ROCKWOOL and One Ocean Foundation."
Over the course of the season, Denmark impressed with numerous initiatives, including More Speed, Less Plastic, which was launched in January 2023 in collaboration with One Ocean Foundation.
Designed to raise awareness around ocean plastic pollution and reward sailors for racing fast, the initiative takes the top speed reached at each event and diverts the equivalent amount of plastic pollution from the ocean. Every km per hour is equivalent to at least 10kg of waste - resulting in a total of 5.13 tonnes of ocean bound waste diverted so far.
Elsewhere, athletes from the Denmark team conducted science experiments at five events this season - gathering samples of zooplankton, which were then shipped back to One Ocean Foundation's Italy-based lab.
A total of 1,100 young people were engaged at One Ocean Foundation workshops and science sessions, while Denmark also launched a mini Impact League at the 29er European Championships.
New Zealand's highlights throughout the season included its Moanamana Project in collaboration with Live Ocean, which saw $50K distributed to climate-resilient kelp research in Whakarāupo Lyttelton. Emirates Team GBR meanwhile launched a social media based sustainability quiz themed around each race venue and visited schools at each SailGP event to engage young people with the team's free-to-use digital resources.
Launched in Season 2, the Impact League measures teams' efforts over each event according to ten robust criteria, including travel, tech and innovation, single-use plastic and using their voice for good. The results are independently audited and verified after each event.
SEASON 3 CHAMPIONSHIP
1 Australia - Tom Slingsby
2 New Zealand - Peter Burling
3 Emirates GBR - Ben Ainslie
4 France - Quentin Delapierre
5 Canada - Phil Robertson
6 Denmark - Nicolai Sehested
7 United States - Jimmy Spithill
8 Switzerland - Sébastien Schneiter
9 Spain - Diego Botin
The F50 fleet will next do battle when Season 4 gets underway with the Rolex United States Sail Grand Prix in Chicago at Navy Pier on June 16-17.
Find out more at: www.sailgp.com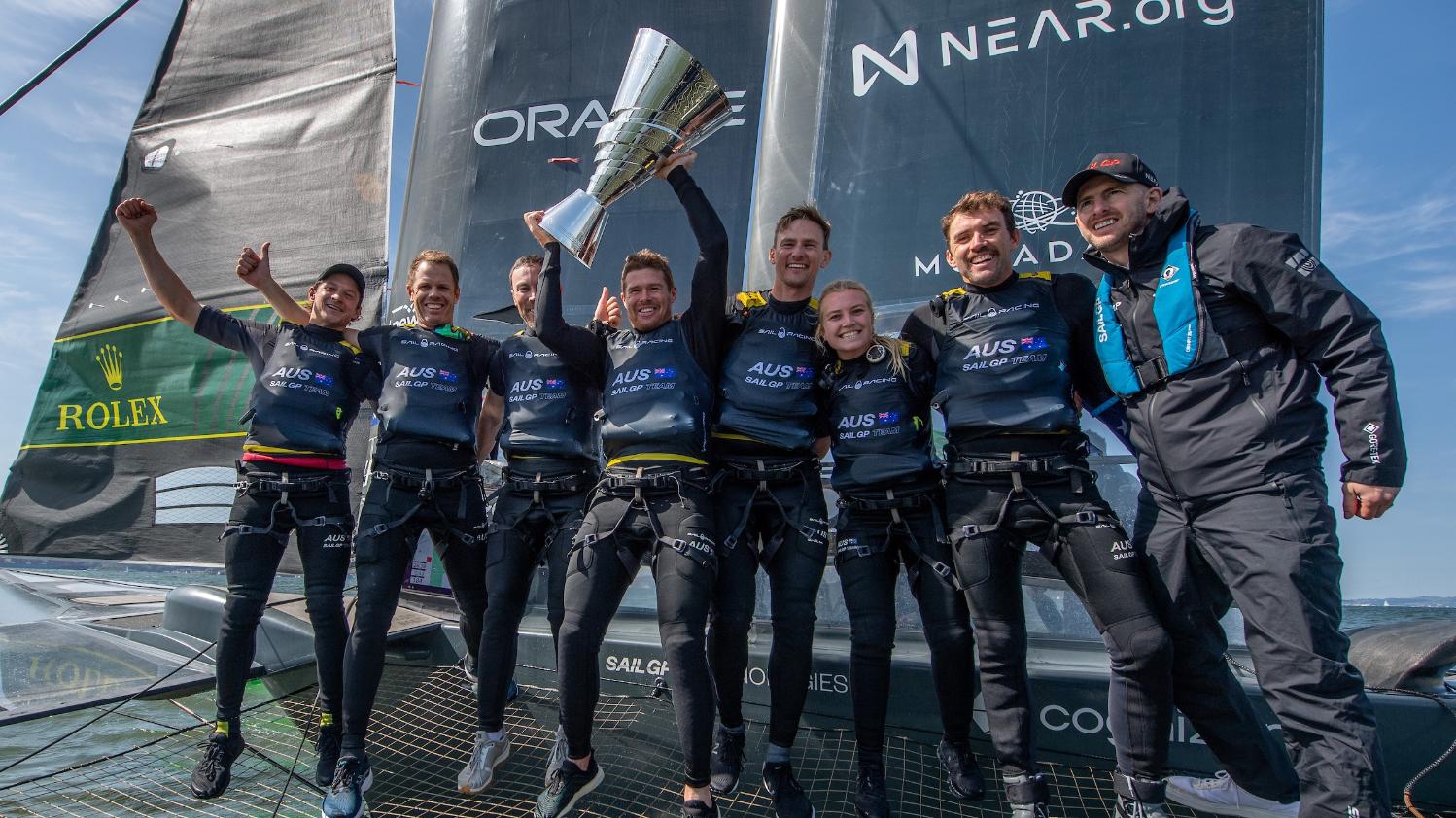 Australia SailGP Team win Season 3. Pictured here with Championship Trophy and Sail GP Managing Director Andrew Thompson aboard their F50 on Sunday May 7th US time. Photo: Ricardo Pinto for SailGP