April 16 - 22 2023: Issue 579
Aussies 2023 Wrap: Members From Local Clubs Shine A Brilliant Light On Surf Life Saving Skills In W.A.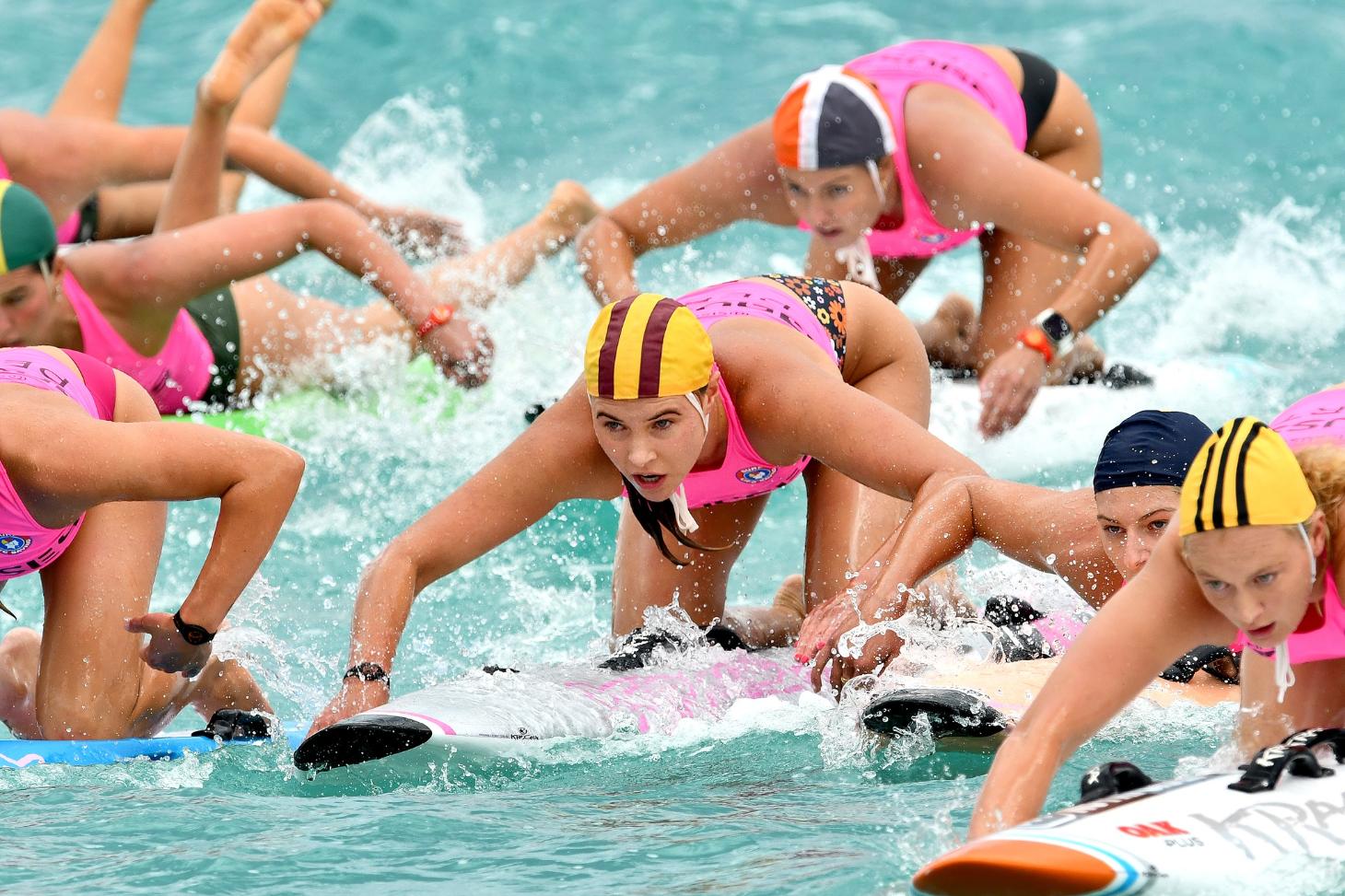 The Australian Surf Life Saving Championships officially began in Perth on March 25th 2023 with more than 5000 competitors competing across Youth, Open and Masters categories, in over 480 events at Scarborough and Trigg beaches until April 2nd.
'The Aussies' brings together the country's finest surf lifesavers who have spent the Summer keeping watch over Australia's beaches, and now had the opportunity to test their "rescue ready" skills in a competitive environment.
Surf Life Saving Australia President, John Baker ESM said The Aussies is the hallmark event on the Surf Life Saving calendar and is a great opportunity for surf lifesavers across the country to come together, showcase their skills and visit Western Australia.
"The Aussies were last in Perth in 2018 so we are very excited to be back again this year," Mr. Baker said in the lead in to the 2023 Aussies.
"It is a great place to visit and I know that our surf lifesavers will enjoy not only the competition, but also the local hospitality and surroundings.
"With over 5000 competitors taking part in more than 480 events, including an ocean swim that is open to the general public, we are confident this year will be one of the best.
"We have competitors ranging in age from just 12 years old to 81-year old local Robert Watkins, of Cottesloe SLSC, showing that there really is a place for everyone within a Surf Life Saving Club and the competition and activity is sure to be inspirational.''
The Schedule for the 2023 edition of The Aussies was:
Saturday 25th March & Sunday 26th March – Australian Youth Surf Life Saving Championships
Sunday 26th March – Ocean Swim
Monday 27th March & Tuesday 28th March – Australian Masters Surf Life Saving Championships
Wednesday 29th March- 2nd April – Australian Open Surf Life Saving Championships
Youth Championships 2023
The largest Surf Life Saving event in the world made its return to Western Australia for the first time since 2018 with the Youth Competition opening the 2023 Aussies and almost 1000 competitors aged U13-U15 from clubs right across the country taking part.

New South Wales Clubs dominated events on the opening day of the Youth competition with 14 gold medals shared across 9 clubs.
North Curl Curl, South Maroubra, North Cronulla collected two gold medals with Wollongong City, Cudgen Headland, Gerringong, Newport, Coogee and Wanda collecting one.
North Curl Curl SLSC's Luke Higgs was the standout performer of the Youth Championships, winning four gold medals and leading all comers ahead of a pack of seven who all won three. He backed up his win at state level in the U15 Male Iron with a win in the same category, while he turned a state bronze medal to an Australian gold in the U15 Male Surf Race, beating both Cronulla SLSC's Jackson Turner and Newport SLSC's Noah Maggs, who finished first and second at State Champs, respectively.

Luke would also win gold in the U15 Male 2km Ocean Swim and alongside Sam Chaffer, Sam Davis, and William Jeffrey in the U14 & U15 Male Surf Teams.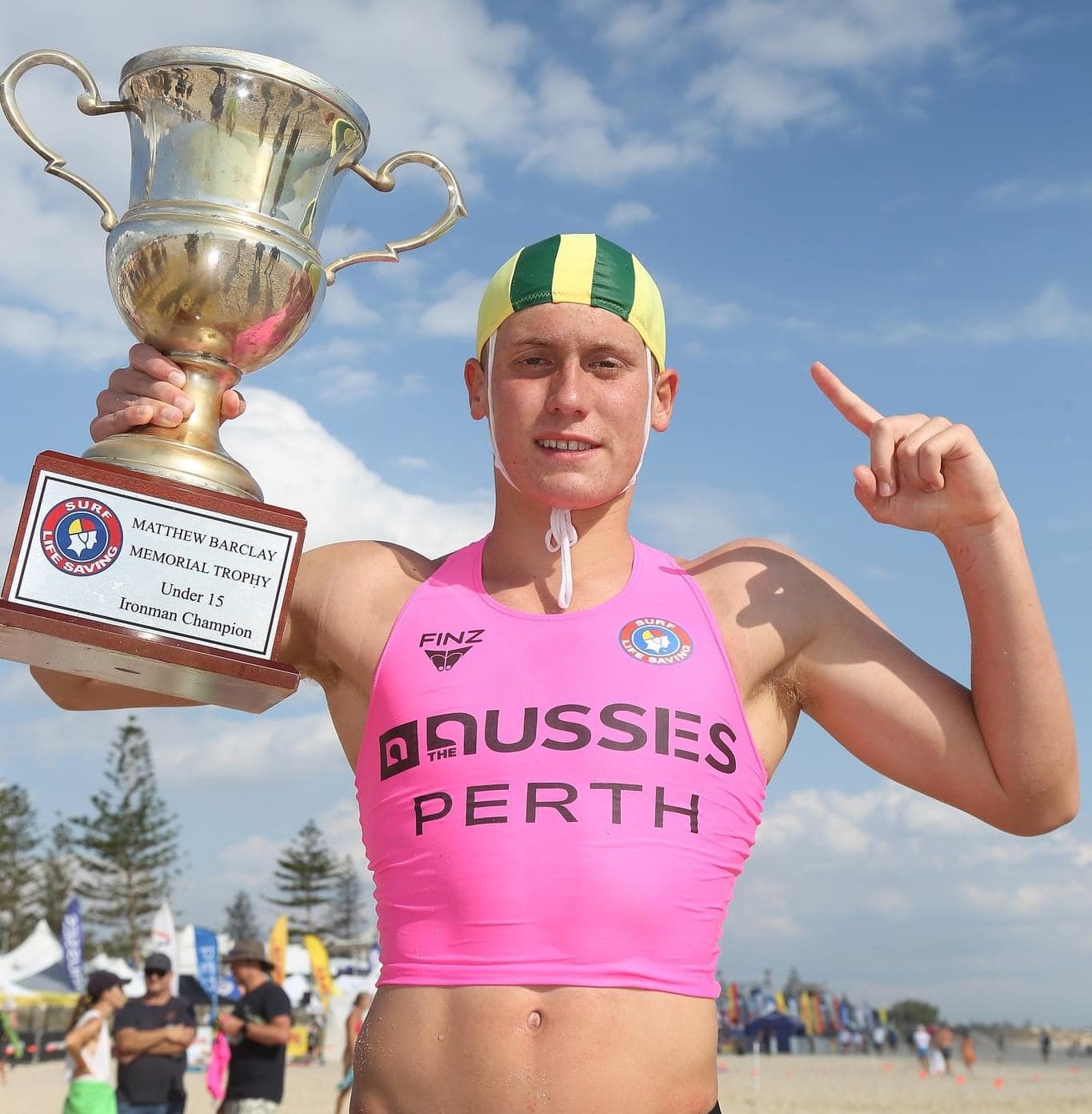 Luke Higgs, u15 Ironman champion and winner of the Matthew Barclay cup. Photo: North Curl Curl SLSC

Pipi Te Pania's win in the U15 Female Iron made it a clean sweep for North Curl Curl in the age category, while she also earned gold medals in the U15 Female Board and U14 & U15 Female Board Relay with Zara Kasprowicz and Jaya Lilienthal. Jack Stewart of North Curl Curl won silver in the u14 2km Ocean Swim

When the commentator says "I sound like a broken record North Curly, North Curly, North Curly" you know you have done something right.

Newport SLSC Youth Championships members also had a great result across all events and remain strong in the water:
Gold
U14 Board Race: Alannah Paul
U13/14 Board Relay: Alannah Paul/Charli Barbour/Sadie Maggs
Silver
U15 2KM Ocean Swim: Noah Maggs
U13 2KM Ocean Swim: Tom Shrivell
U14 Ironwoman: Charli Barbour
U13/14 Surf Team: Alannah Paul/Charli Barbour/Sadie Maggs/Matilda Young
U15 Champion Lifesaver: Harrison Woodrow
Bronze
U15 Ironman: Noah Maggs
U14/15 Board Rescue: Noah Maggs/Harrison Woodrow
U14 2KM Ocean Swim: Charli Barbour
U14 Ironwoman: Alannah Paul
Top 6 finishers:
4th
U13 2KM Ocean Swim: Matilda Young
U13 Surf Race: Matilda Young
U13 Board Race: Sadie Maggs
U13 Ironwoman: Sadie Maggs
U13 Ironman: Tom Shrivell
U13/14 Cameron: Charli Barbour/Abi Capell/Alannah Paul/Sarah Song
5th
U13 2KM Ocean Swim: Sadie Maggs
U15 Board Race: Noah Maggs
U14 Surf Race: Charli Barbour
6th
U13 Ironwoman: Matilda Young
Thomas Shrivell also excelled in the u13 division for Newport making the Finals in the Surf Race, Ironperson, the 2km Ocean Swim, the semis in the Board race and even taking part in the 2km Beach run.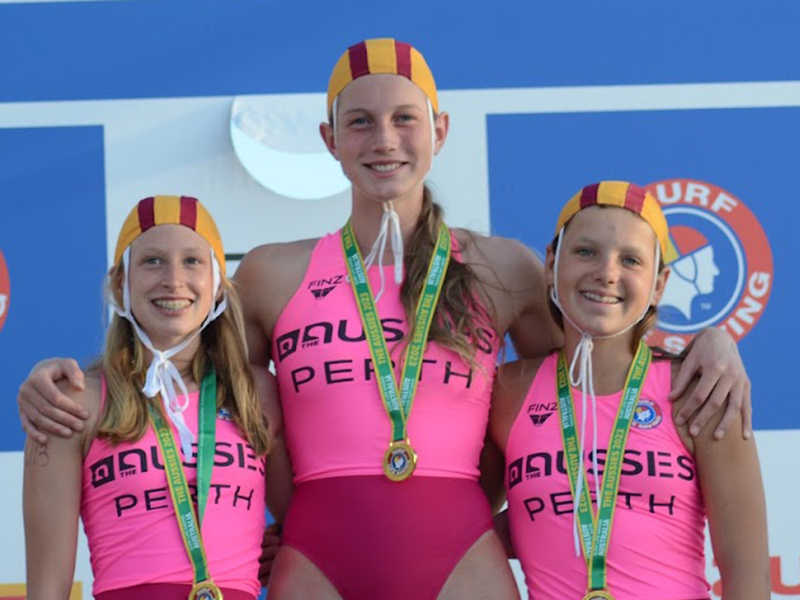 Gold - Newport SLSC U13/14 Board Relay: Alannah Paul/Charli Barbour/Sadie Maggs. Photo: Newport SLSC

Mona Vale Surf Life Saving Club member Jack Richardson was an Australian semi finalist in the u14 for Board and swim,
Avalon Beach SLSC's Bonnie and Poppy ensured their club's cap was seen at the 2023 Youth Australian Championships. Together they placed 11th in 2x1km relay, Bonnie achieving 18th in flags and Poppy into the semi-finals for the beach sprint.
Warriewood SLSC didn't have any Youth members heading west although the club's
U11 Dynamic Duo - Andy and Caelen and U13 Dynamo - Noah all won bronze on the sand in the Flags and Relay events at the NSW State Age Championships held at Queenscliff at the end of February. These boys have whipped up a storm on the beach in their first season of competition and Warriewood cannot wait to see them in action next season.
By the time the 50 Youth events had been run and won New South Wales Clubs came away with the most gold medals, 37 in total spread across 14 Clubs, followed by Queensland Clubs with 19 gold medals across five clubs and Western Australian Clubs with 13 national titles across six clubs.
Masters Championships 2023
The Masters events commenced on Monday March 27th and ran through the Tuesday as well, with four of the five clubs to achieve 10 or more gold medals coming from NSW; North Bondi, Bondi, Newport and Terrigal SLSCs, while Manly LSC also excelled. The Masters competition ranges in age from 30 to 75+, with local competitor Robert Watkins (Cottesloe SLSC) aged 81 who competed in the male 75+ surf race, surf teams and Taplin in a team with his son Simon, setting the ceiling age for this year's Masters athletes.
Day 1 was a great day for Warriewood SLSC at Australian championships. In a full field team Warriewood won the 200 relay. This make 7 Australian titles for this team over the last 10 years. Glen Bauder placed 5th in the 55-59 men's individual. Ben Hargy, who worked tirelessly over the season, won his best individual Australian medal with silver in the men's 45-49. Christopher Macdonald came all the way to Perth to run with his team while recovering from an injury that saw him unable to race individually. His amazing run in the 3rd leg of the relay set the Warriewood team up for our convincing win. Adam Gee, multi medals winner at Aussies,
picked up an individual gold in the 50-54 men's. The Warriewood contingent had a great
cheer squad and official in Wazza's Cathy Milliken.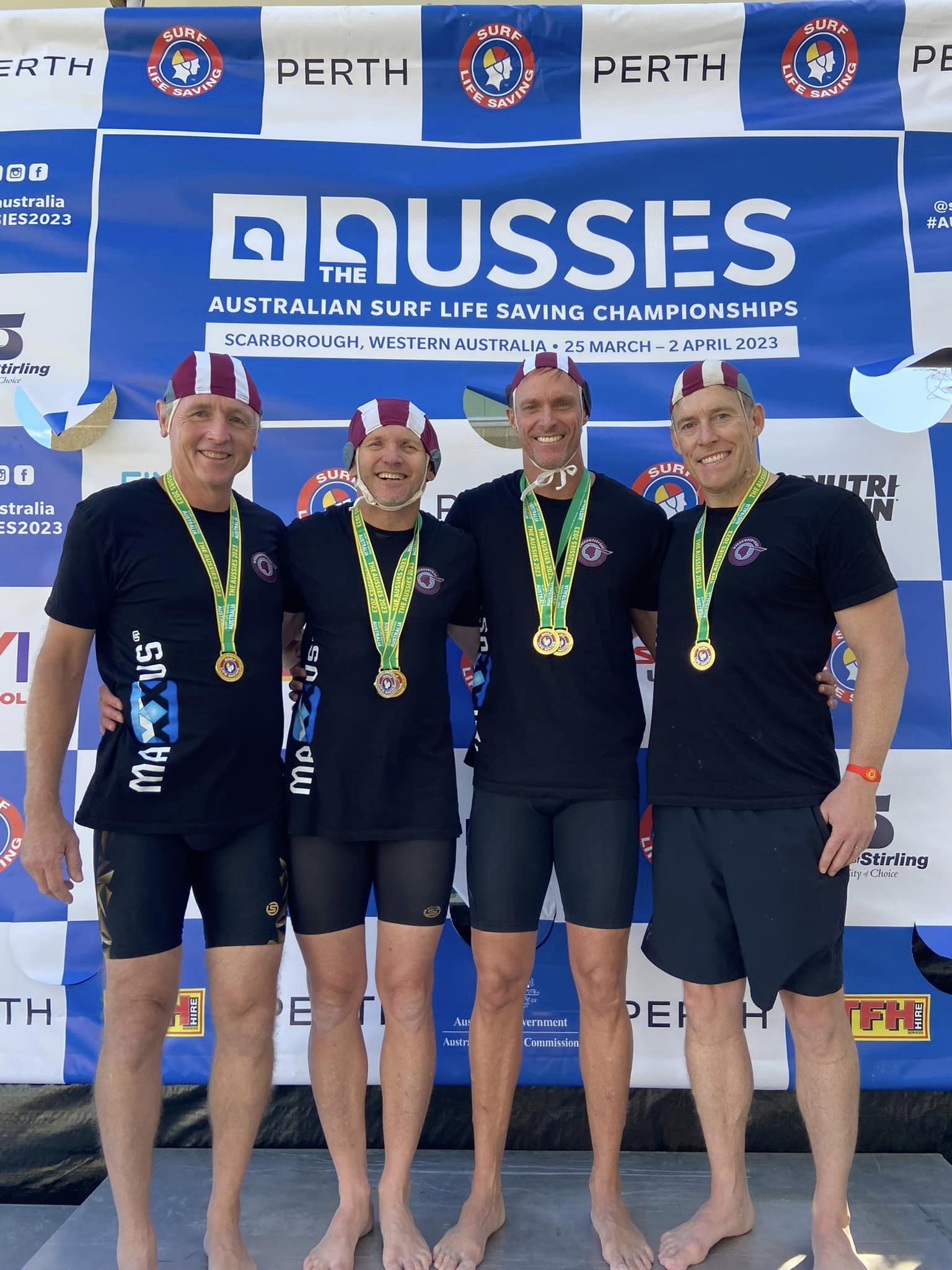 Warriewood SLSC Medallists. Photo: Adam Gee
Avalon Beach SLSC members Masters women conducted a brilliant Aussies campaign (competing for Newport) in 2023. Congratulations to Gem Lehman, Louise Purnell and Felicity Peters (pictured R-L).
Gem Lehman is our long time Nipper Age Manager and Competition Manager and together with Cam Lane put their heart and soul into developing our Club's future champions and teaching them not only how to love their sport, but also be a good sport and have some fun in the process.
Louise Purnell is a patrolling member, Patrol Captain, Club Trainer and SLS Academy Trainer and Felicity Peters, at her first ever Aussies, placing fifth in the 50-54 yrs Female Board Rescue and 8th in 150 yrs min Female Taplin with teammate Louise, is a patrolling member and the Club's Member Protection Information Officer. Congratulations girls!!
Podium results
Gem Lehman | GOLD | 45-49 Female 2km Beach Run
Gem Lehman | SILVER | 45-49 yrs Female Board Rescue (with Jan Proudfoot)
Gem Lehman & Louise Purnell | SILVER | 150 yrs min Female Surf Teams (with Jan Proudfoot)
Gem Lehman | BRONZE | 45-49 yrs Female 2km Ocean Swim
Gem Lehman | BRONZE | 45-49 yrs Female Board Race
Gem Lehman | BRONZE | 45-49 yrs Female Surf Race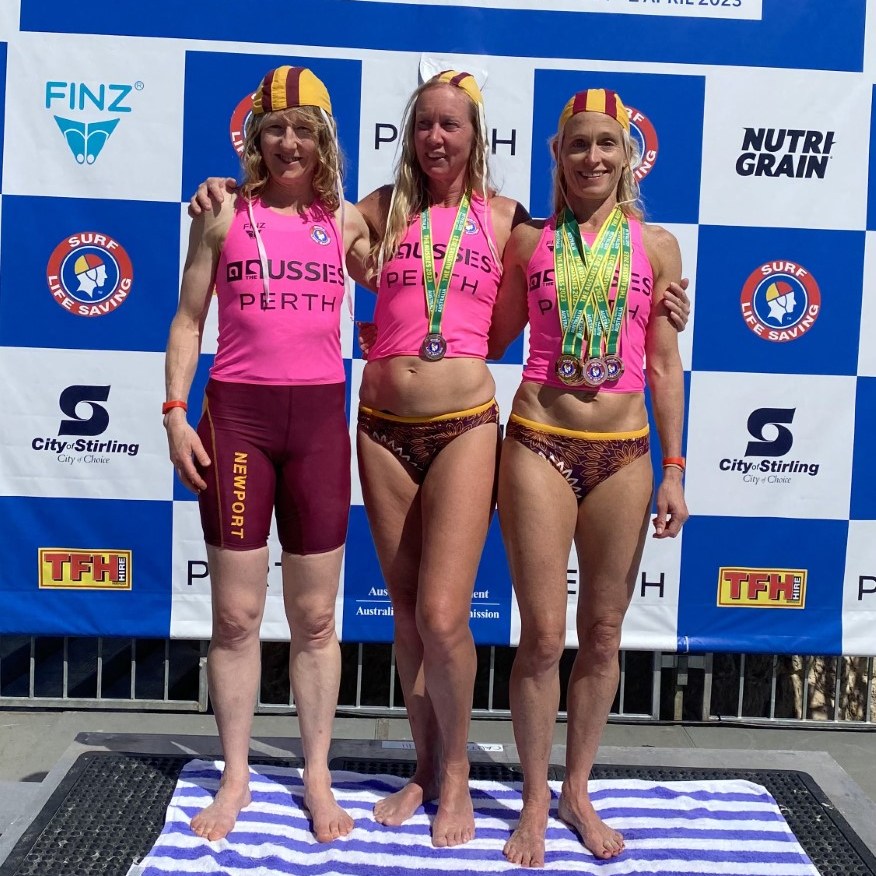 L to r: Avalon Beach SLSC's Gem Lehman, Louise Purnell and Felicity Peters. Photo: Avalon Beach SLSC

Newport SLSC's Ash Brown was near perfect in his run to three golds in the 50-54 Male Iron, Board and Surf Race, while Nick Carroll also won three medals, two golds in the
60-64 yrs Male Board and 60-64 yrs Male Ironman and a silver with
Ashley Brown and Jamie Beavis: 150 yrs min Male Taplin
. Newport Masters finished 12th on the leaderboard.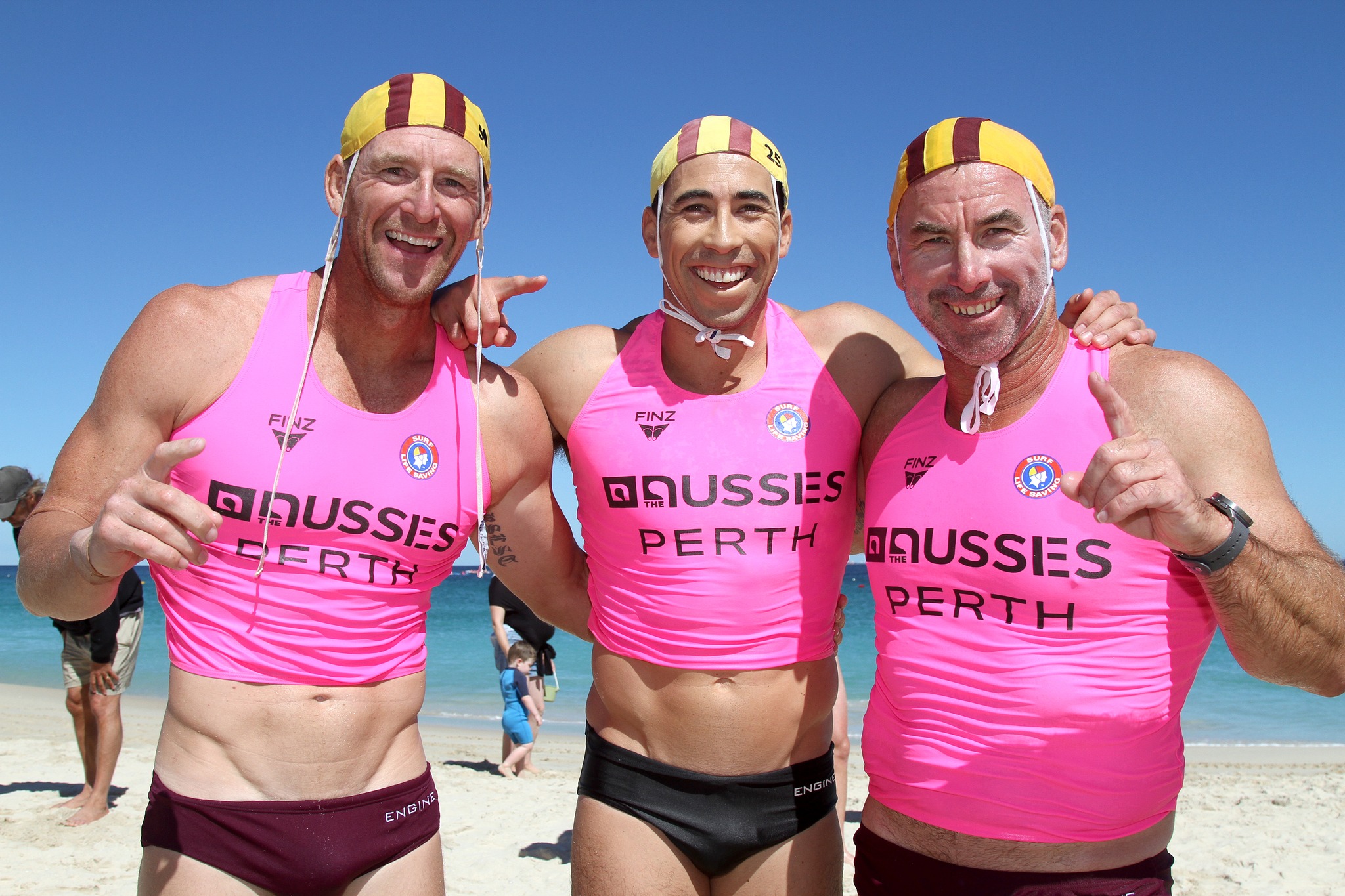 Luke Jones, Mitchell Trim and Jamie Beavis 110 yrs min Male Single Ski Relay Gold for Newport. Photo: Harvpix/SLSA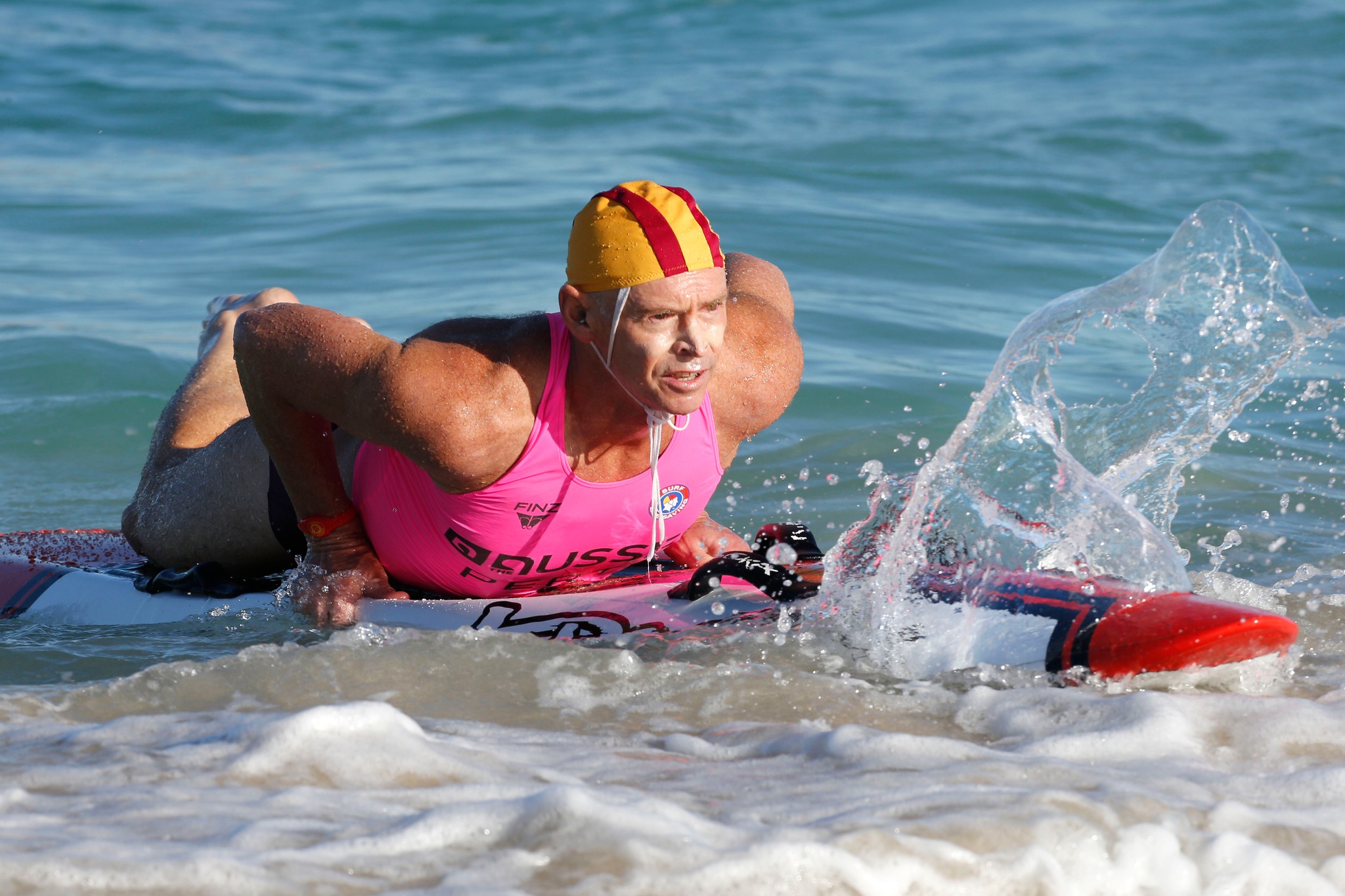 Ashley Brown - gold, gold, gold, silver. Photo: Harvpix/SLSA

Gold
Bec Capell: 40-49 yrs Female Champion Lifesaver
Guyren Smith: 50+ yrs Male Champion Lifesaver
Ted Smithies: 70-74 yrs Male Beach Sprint
Quentin Reeve: 35-39 yrs Male 2km Beach Run
Gem Lehman: 45-49 yrs Female 2km Beach Run
Ashley Brown (3): 50-54 yrs Male Surf Swim, 50-54 yrs Male Board and 50-54 yrs Male Ironman
Nick Carroll (2): 60-64 yrs Male Board and 60-64 yrs Male Ironman
Luke Jones, Jamie Beavis & Mitchell Trim: 110 yrs min Male Single Ski Relay
Tristan Conn: 40-44 yrs Male Beach Flags
Silver
Ted Smithies: 70-74 yrs Male Beach Flags
Gem Lehman & Jan Proudfoot: 45-49 yrs Female Board Rescue
Gem Lehman, Louise Purnell & Jan Proudfoot: 150 yrs min Female Surf Teams
Ashley Brown, Nick Carroll & Jamie Beavis: 150 yrs min Male Taplin
Bronze
Gem Lehman (3): 45-49 yrs Female 2km Ocean Swim, 45-49 yrs Female Board Race, 45-49 yrs Female Surf Race
Tristan Conn: 40-44 yrs Male Beach Sprint
Top 6 Finishers
4th
Gem Lehman & Jan Proudfoot: 45-49 yrs Female Double Ski
5th
Jan Proudfoot: 50-54 yrs Female Ironman
Felicity Peters & Louise Purnell: 50-54 yrs Female Board Rescue
6th
Patrick Quinlan: 60-64 yrs Male Ironman
Jan Proudfoot: 50-54 yrs Female Surf Race
Felicity Peters, Gem Lehman and Jan Proudfoot: 150 yrs Female Board Relay
Palm Beach SLSC dynamo Fiona Rae took bronze in the
55-59 yrs Female Ironperson, another bronze in the
Board Race, finished 4th in the Single Ski, took part in the surf race and the 55-59 Male & Female 2km Beach Run.
Congratulations to Collaroy's Miho Kawasaki for winning bronze in this race.
PBSLSC's Fi Rae at far right. Photo:
Harvpix
/SLSA
Fiona Rae spoke to Pittwater Online after the NSW State Masters comp, the lead-in event for many local Masters athletes. After a cancellation due to Covid followed by the cancellation last year due to adverse weather conditions and water quality, this year's SLS NSW Masters state competition 'felt like a reunion', according to Palm Beach SLSC athlete Fiona.
Fiona Rae accounted for half of her club's four gold medals on the first day of competition in the 55-59 Female Iron and Single Ski. Her results reflect her shift into focusing on ocean kayaking in recent years.
In February Fiona took part in the Bridge to Beach, coming first in her age division with a time of 55:14. Danielle McKenzie, a part of the iconic Australian Nutri-Grain Iron Woman Series since 2014, was first among female competitors with a time of 50:15. Surf Life Saving NSW Awards of Excellence Athlete of the Year – Hannah Minogue, Bulli SLSC, 51:26, U23 Ski Sascha Taurins, also a Newport SLSC athlete 51:15
Ms Rae was also part of the 21 strong team of athletes nominated to the 2022 Australian Canoe Marathon Team to represent Australia in the Open, Junior and U23 categories at the 2022 ICF Canoe Marathon World Championships in Ponte Lima, Portugal, from September 29 to October 2, 2022. Fiona Rae competed in the W55 K1 and W55 K2, bringing home Silver medals in both her events.
''To win the Iron Woman is something I'm pretty happy about, I've only ever won that once before in 15 years of competing.'' Fiona explained ''I had such a good lead on the ski and knew this girl was going to swim me down, Colleen Harrison, she's a good gun swimmer, and I managed to hold her off.'' Fiona said
A great shot taken by Surf Life Saving NSW's team of photographers shows Rae crossing the line.
'' I got the royal treatment, they put up the blue banner for me to run through.'' Fiona said, delighted. ''Palm Beach didn't have a large team in this year but we definitely punched above our weight.''
''It was such a great atmosphere over the two days of our competition, and so good to see and catch up with people we hadn't been able to see for a while from further away than our area. What was also great was there were so many women athletes taking part this year - it really shows the positive growth of women being supported in our clubs to have so many on the sand and in the water. ''
By the looks of the photo capture above, this year's Masters Aussies in W.A. also had a great reunion factor with athletes from across the country catching up again.
Sydney 2000 and Athens 2004 Olympic Rower, Julia Bell made her Aussies debut for Manly, trading the flat water for the ocean water. She won the 40-44 years Female Board and Surf Ski on day 1 of the Masters comp.
"It feels great, I didn't know what to expect as this is my first Aussies. I've been with Manly for three years now… my kids do nippers and I think I got a bit jealous standing there watching them have all the fun. So I decided to pick it up, learn by myself and I really love it.
I've still got that competitive spirit. I used to be a competitive rower and cyclist, I went to the Olympics in 2000 and 2004… I don't think you lose that competitive spirit and it's nice to channel it into something else.
"Rowing was flat water but I'm really enjoying the challenge of different conditions in the surf," she said.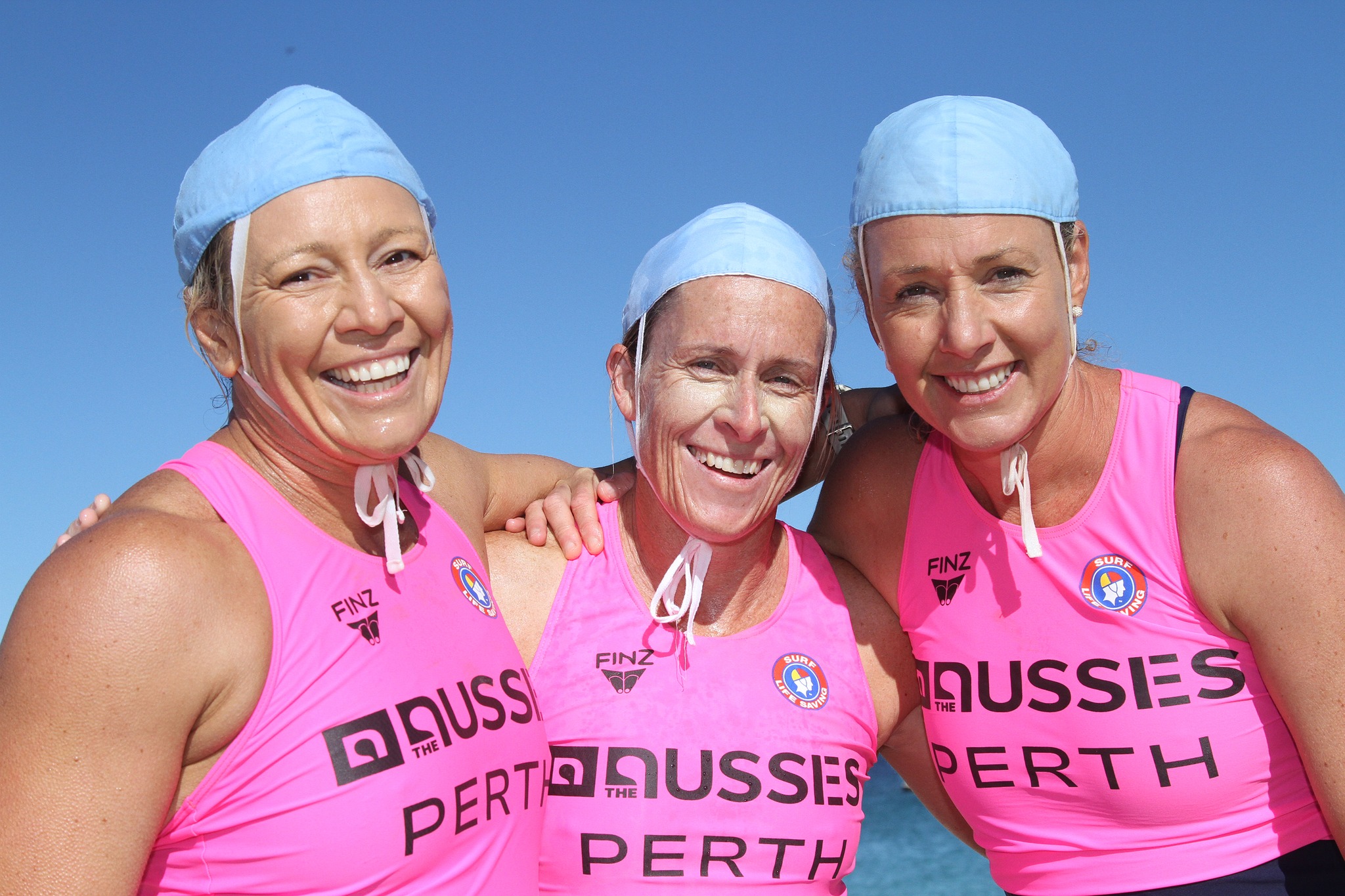 Manly Masters ladies. Photo:
Harvpix
/SLSA
Congratulations to North Curl Curls' Robyn Hill won the 2km swim! Go Robyn!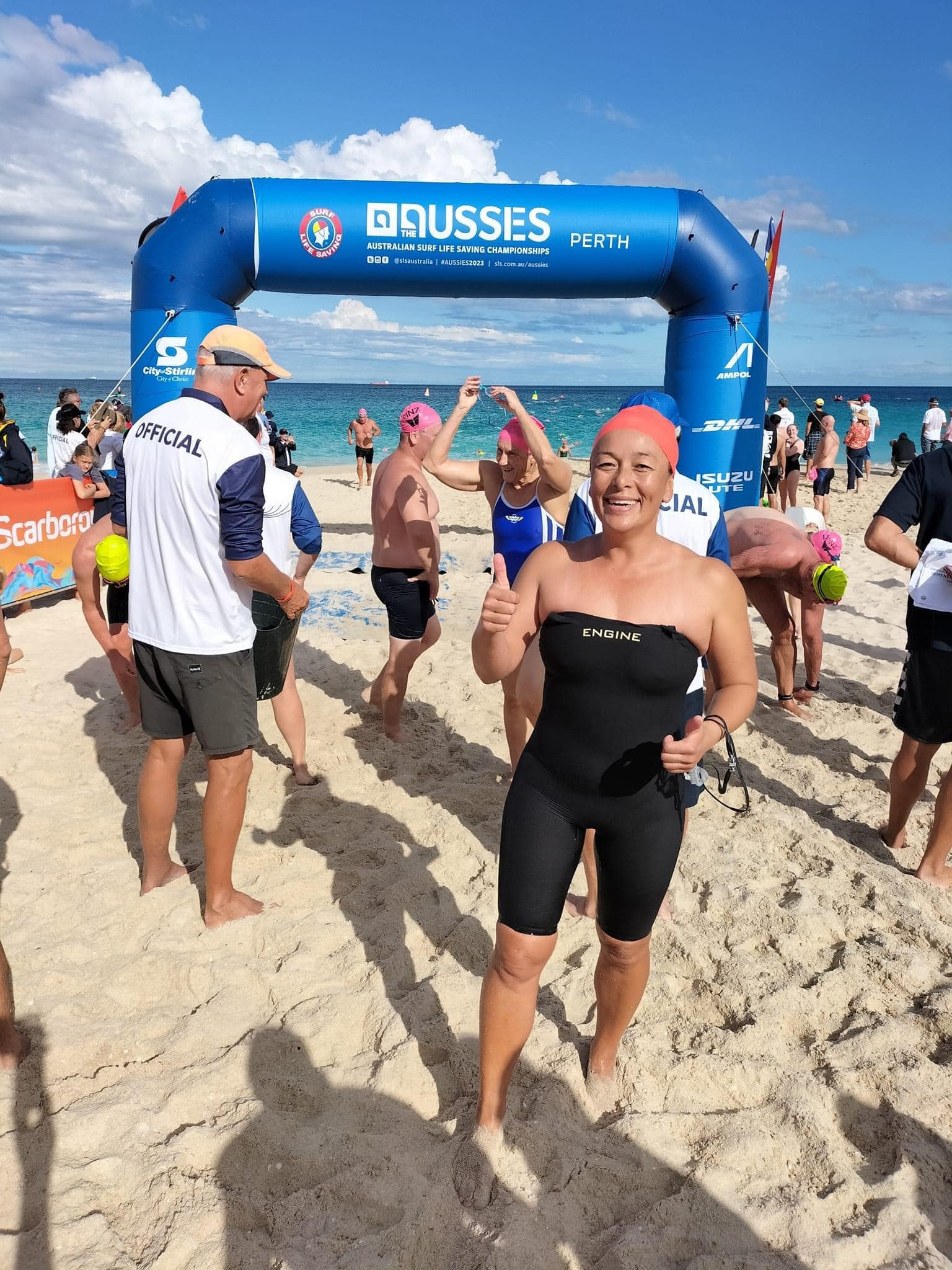 North Curl Curls' Robyn Hill wins gold. Photo North Curl Curl SLSC - the red cap was what organisers gave her age division to wear.
Over the estuary and Broken Bay waters Hayden Smith was one of the stand out athletes of the event, grabbing four individual gold medals for Terrigal in the 40-44 Male Iron, Board, Swim, and 2km Ocean Swim.
His slew of individual golds complemented those earned by Masters stalwart and clubmate, Paul Lemmon, who was fortunate enough to win his 110th gold medal on the first day of competition. All up, he grabbed four in the 55-59 Male category.
After 128 events across two intense days of Masters racing in the water and on the beach involving over 1200 competitors, j
ust as they did at the NSW Championships, North Bondi SLSC led the medal tally at the end of two days of competition, before neighbours Bondi Surf Bathers LSC overtook them following the board riding events to finish on top with Laura Thurtell and Dori Miller winning five gold medals each for the club.
Open Championships 2023
The 2023
Australian Open Surf Life Saving Championships ran from
Wednesday 29th March to Sunday 2nd April.
Over 2700 competitors hit the beach and water for the opening day of the Open championships at Scarborough and Trigg Island in Perth Western Australian, however, in terms of local clubs it was once again a Newport! Newport! Newport! Aussies with a great young team
being the best they could be and enjoying it the most.
In the Champion Lifesaver, Newport's Jemma Smith marked a special milestone winning her 10th consecutive gold medal. The Champion Lifesaver is a true lifesaving test, with surf skills, first aid and lifesaving as well as theory all tested.
"It was really special to win the Champion Lifesaver again this year. It's an event that holds a really special place in my heart…I've done it for 10 years now so I was really hoping to get a win again this year.
"The traditional lifesaving events are really important. To have the really good lifesaving skills, and to know everything in the bronze book, it just makes me feel so much more adequately prepared when I go down and patrol my local beach, to be able to respond to anything that happens and be able to keep the public safe.
"It is really unique, everyone is required to do their patrol hours to be able to race in surf sports. It is amazing that you have all these amazing high level athletes who are also keeping our local beaches safe. It's great that our sport is also giving back to the local community," Jemma told SLSA.
Dominance in the U17 category underlined an impressive five days of racing for athletes from across the state, with NSW clubs Redhead SLSC, Newport SLSC and North Cronulla SLSC among the clubs dishing up some great results from a Summer of practice.

For Newport, it was the Conner Maggs show in the U17 Male category – the teen, coming off his first year in the Nutri Grain Iron Person Series, was the first ever Aussies athlete to claim the Iron, Board, Ski, and Surf Race in his age category.
Alongside Anthony Doyle and Luke Chaffer, he also won the U17 Male Single Ski Relay and U17 Male Taplin and, with Zachary Paul now making a team of four, would also win the U17 Male Surf Teams event.
On Saturday April 1st Newport's Blake Drysdale won the beach flags finals at the Australian Surf Life Saving Championships.
Blake claimed his fourth Australian title, his last win was back in 2019.
"The first title was awesome but the fourth one feels just as special. They just get better, and better every time…I'm so happy.
"There wasn't much in it overall, there was a stack of Japanese competitors as well which made it really tough. I just knew I had to switch it on in the last couple to get the job done," said Drysdale. the prestigious Open crowns.
Newport would end up finishing second on the overall club points tally behind Northcliffe SLSC.

Newport 2nd overall and 1st on Handicap Point Score at Aussies 2023
By Guyren Smith, President April 3rd 2023
From the 25th of March till the 2nd of April, we have had a contingent of competitors fighting it out at the Australian Surf Lifesaving Championships in Perth.
There have been some amazing results achieved over the week culminating with Newport claiming 2nd on the Open point score behind Northcliffe, being the only NSW club in the top 6. Newport also won the handicap point score. The Handicap point score is based on the Champion Club from the previous year's Australian Championships. The calculation of the winning club is the Champion Club from the previous year's championships (Northcliffe, Queensland) starting on zero points and the club that scored zero points in the previous year commencing with maximum points.
Conner Maggs from Newport won the title of "Athlete of the Carnival", coming away with an incredible 8 gold medals and creating history by being the first athlete to win the Board, Swim, Ski and Iron Golds from an age group.
Great results came from all different disciplines within the team, with points and medals from the beach sprinters, the rowers, our water team and the "Lifesaving" competition team.
These results show the incredible strength of the Newport Surf Club, and the training that these competitors undertake directly contributes to the lifesaving capability that is present on the beach, ready to respond when needed.
All club members and the Newport community as a whole should be incredibly proud of what has been achieved.
Having this team turn up in Perth and compete at such a high level has taken a massive commitment from a range of people; two 40-foot containers of gear were sent to Perth and will be returning shortly. The club would like to thank and congratulate all the athletes, coaches, officials, water safety, logistics crew, team managers, helpers and supporters and our great sponsors.
15 Gold | 10 Silver | 14 Bronze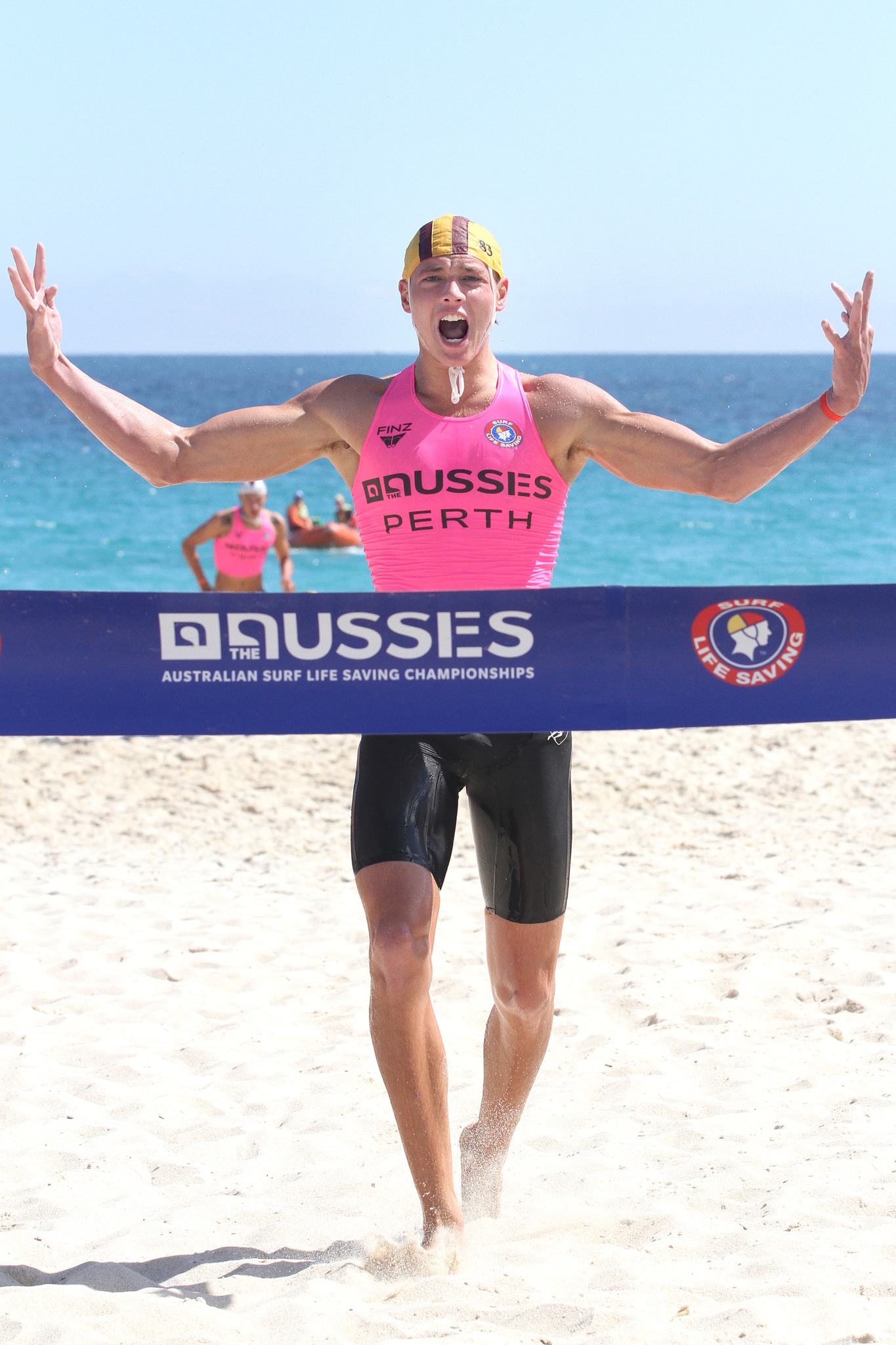 Conner Maggs from Newport won the title of "Athlete of the Carnival".
Photo:
Harvpix
/SLSA
Gold
Open Champion Lifesaver: Jemma Smith
U17 Champion Lifesaver: Bella Cox
U19 Double Ski: Ziko Vesely/Maguire Reid
U17 Surf Team: Conner Maggs/Anthony Doyle/Zach Paul/Luke Chaffer
Open Board Rescue: Charlie Brooks/Conner Maggs
U17 Ski Relay: Conner Maggs/Anthony Doyle/Luke Chaffer
Open Ski Relay: Mitchell Trim/Max Brooks/Jayke Rees
U17 Taplin Relay: Conner Maggs/Anthony Doyle/Luke Chaffer
Open Male Beach Flags: Blake Drysdale
U17 Surf Race: Conner Maggs
U17 Board: Conner Maggs
U17 Ski: Conner Maggs
U17 Ironman: Conner Maggs
U17 Surf Race: Dominique Melbourn
U19 Ski: Maguire Reid
Silver
U19 Double Ski: Bailey Clues/Harrison Taurins
Open Double Ski: Max Brooks/Jayke Rees
Open First Aid Competition: Luci Bentley/Emma Carroll
Open Double Ski: Jemma Smith/Sascha Taurins
Open Board: Lizzie Welborn
U19 Ski: Bailey Clues
U19 Ski Relay: Bailey Clues/Ziko Vesely/Harrison Taurins
Open Ski: Jemma Smith
U19 Surf Boat: Alani Barros/Ella Gale/Zoe Ellis/Hannah Grice/Michael King
Open Taplin: Mitchell Trim/Max Brooks/Charlie Brooks/Ben Blakeney/Conner Maggs/Jackson Borg
Bronze
U17 Patrol Competition: Max Barbour/Bella Cox/Zach Paul/Zo Warrener
Open Ski Relay: Jemma Smith/Lizzie Welborn/Piper Harrison
U19 Double Ski: Analise Kibble/Olivia Clues
U19 Rescue Tube Rescue: Olivia Clues/Kimberley Doyle/Alex Jackson/Jodi Louw
U19 Board Relay: Kimberley Doyle/Analise Kibble/Olivia Clues
Open Ski Relay: Fletcher Armstrong/Charlie Brooks/Maguire Reid
U19 Surf Team: Kimberley Doyle/Analise Kibble/Olivia Clues/Jodi Louw
U17 Taplin: Dominique Melbourne/Olivia Clues/Jess Walton
Open Male Beach Flags: Jake Lynch
U17 Ironwoman: Olivia Clues
U17 Ski: Olivia Clues
U19 Ski: Harrison Taurins
U19 Taplin: Analise Kibble/Kimberley Doyle/Olivia Clues
Open Taplin: Jemma Smith/Lizzie Welborn/Dominique Melbourn
Top 6 Finishers
4th
Open Champion Lifesaver: Phoebe Savage
U19 Champion Lifesaver: Sam Capell
Open Patrol Competition: Sam Capell/Bec Capell/Travis Cox/Kai Raffles/
Phoebe Savage/Guyren Smith
Open Beach Sprint: Jake Lynch
Open Rescue Tube Rescue: Lizzie Welborn/Jemma Smith/ Dee Godoy/Sascha Taurins
Open Board Relay: Lizzie Welborn/Maddie Spencer/Jemma Smith
U17 First Aid: Grace Osborne/Issy Osborne
U19 Iron: Analise Kibble
U19 Surf Race: Kimberley Doyle
5th
U17 2KM Ocean Swim: Conner Maggs
Open Double Ski: Luke Jones/Mitchell Trim
Mixed Double Ski: Sascha Taurins/Jayke Rees
U17 Surf Belt: Olivia Clues
2KM Beach Run: Quentin Reeve
U17 Surf Belt: Zach Paul
U19 Surf Belt: Bailey Clues
Open Board Rescue: Lizzie Welborn/Maddie Spencer
Open Beach Flags: Bailee Radford
U19 Iron: Maguire Reid
6th
U19 Champion Lifesaver: Kai Raffles
U17 Ski Relay: Bella Cox/Jess Walton/Olivia Clues
Open Surf Team: Alex Lefevre/Jodi Louw/Madi Louw/Piper Harrison
Open Board Relay: Charlie Brooks/Jackson Borg/Conner Maggs
Open Mixed Lifesaver Relay: Conner Maggs, Charlie Brooks, Mitchell Trim, Jett van der Wallen, Naomi Bronier, Hannah Grice, Ella Gale, Zoe Ellis, Michael King (sweep)
Open Iron: Jackson Borg
Open Ski: Max Brooks
Open Taplin: Maddie Spencer/Piper Harrison/Kimberley Doyle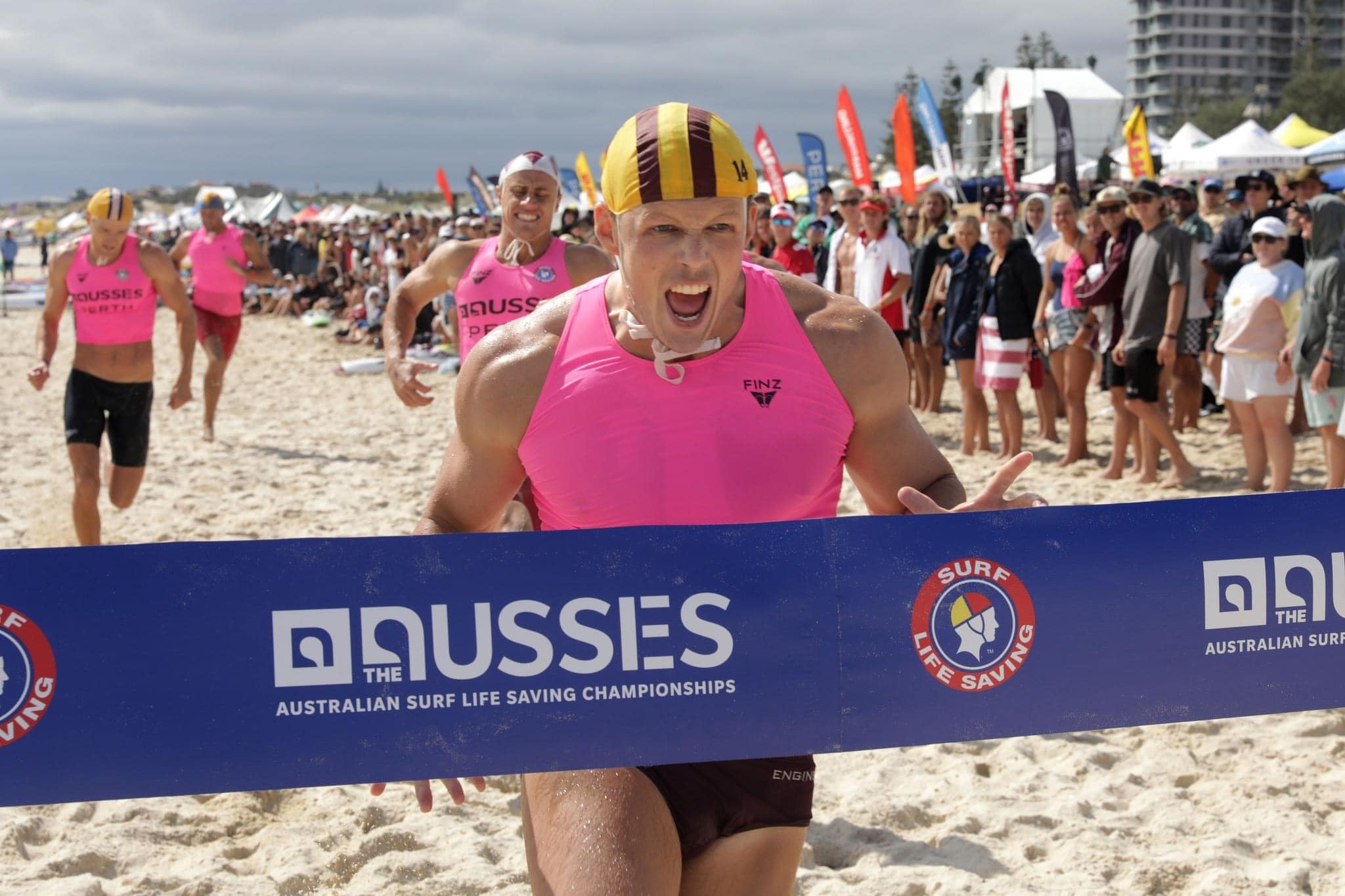 Newport's Jayke Rees crossing the line after the Open Male Single Ski Relay. Photo: Harvpix/SLSA
Congratulations as well to Avalon Beach SLSC member Harry Schaut, now a silver medallist in the U19 2km Beach Run at the Aussies 2023.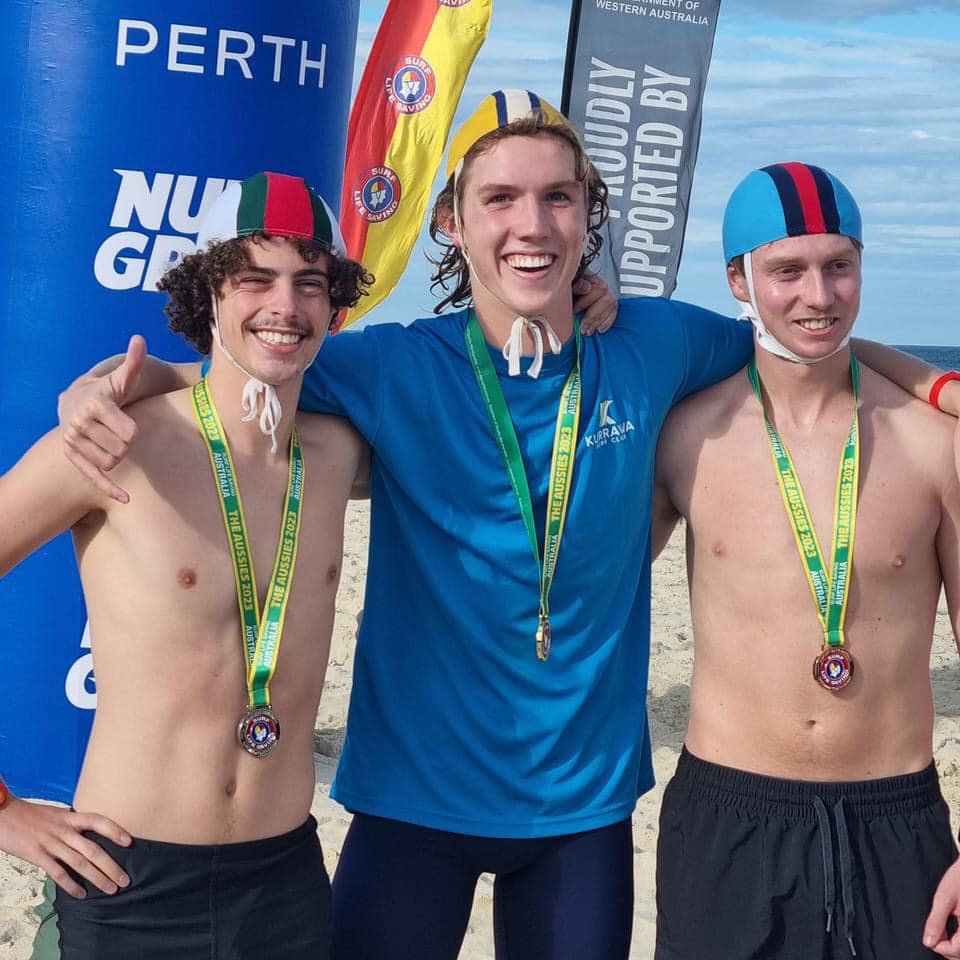 Avalon Beach SLSC member Harry Schaut silver winner. Photo: Avalon Beach SLSC

Congratulations also to the Freshwater Maroons who won the gold in the 2023 Curlewis 6 Person Mixed R&R. Freshwater team; Christopher Tyrrell, Clare Freakley, Hugo Weston, Ian Donald, Jarrad Freakley and Patrick Kiely.

Australian Surfboat Championships 2023
There can be little doubt that surfboat crews from our area are among the strongest in the country with great results in all divisions and all clubs across the LGA - you would be hard pressed to find a sport or age division that does not have a SLS SNB Branch member competing.
In the Masters divisions Freshwater Team A won gold in the 240 yrs min Male Surf Boat, South Curl Curl's Love Boat team won silver in the 200 yrs min Male and silver again for South Curl Curl White Bread - 240 yrs min Male in the Surf Boat races. Long Reef Vets placed 6th in the 260 yrs min Male Surf Boat.

Congratulations to the North Narrabeen SLSC Crews that travelled over to Perth for the SLS Australian Championships. Both crews qualified 9th on day 1, progressing to quarterfinals however unfortunately narrowly missed out on semis. Dig those team shirts!: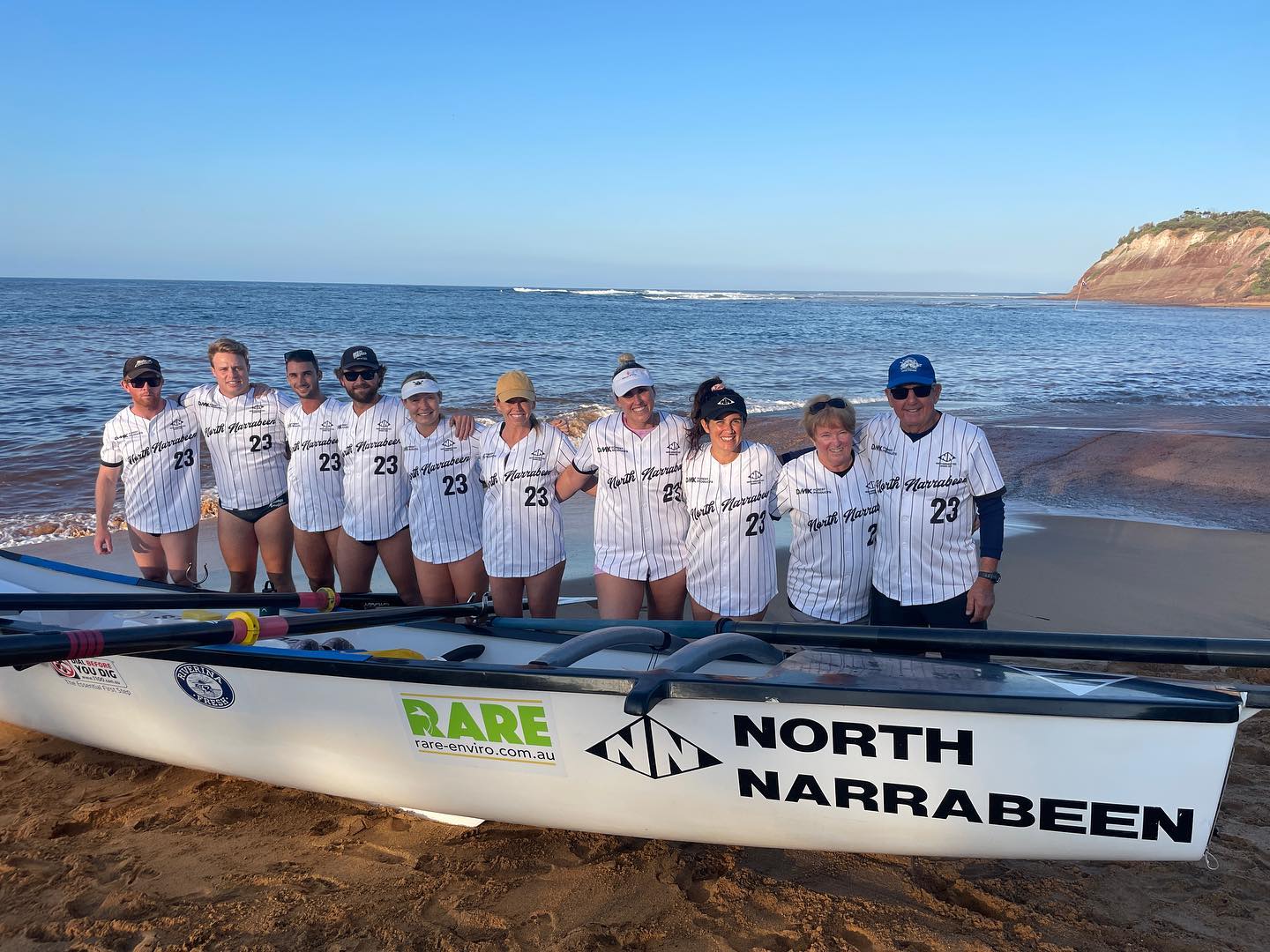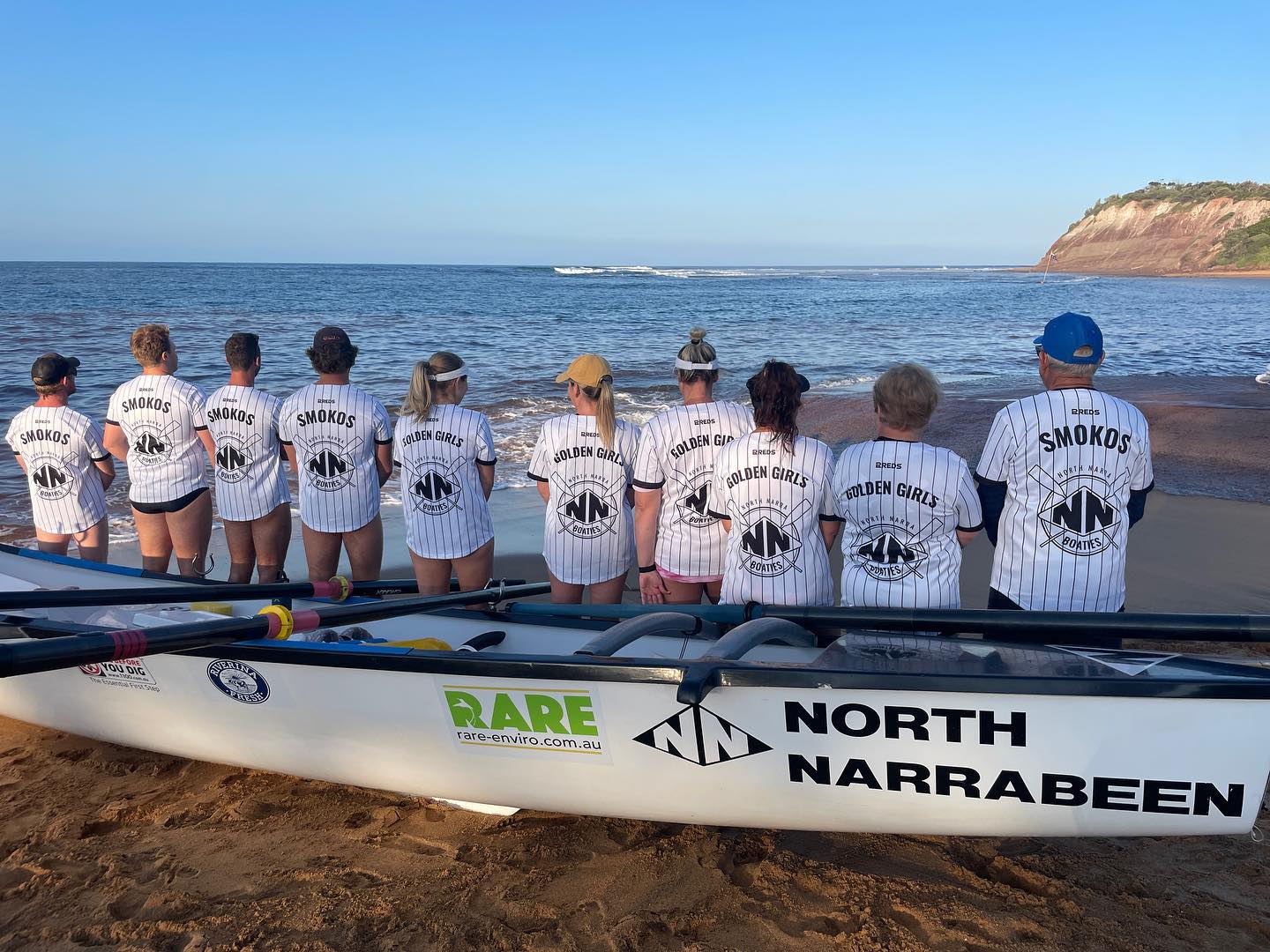 Photos: North Narrabeen SLSC Boaties

Similarly there were no podiums for Avalon Beach SLSC crews this year (defending champions Reserve Grade Mens, Pinkies, narrowly missing out) but their club and community are so proud of how these boaties put their heart and soul into their sport, their Club and their Aussies campaign and the camaraderie they share.
In fact just getting over there and 'having a go' makes all these athletes winners - congratulations!
HUGE extra thanks to sweeps Pete Carter and Nathan Wellings who made the long long LONG trek with the boats across the whole of Australia.
ABSLSC Boaties 2023 Aussies:
Finalists | Reserve Men - Pinkies
Quarter Finalists | Reserve Women - Chaos
U23 Women - Chickies
U19 Women - HCMF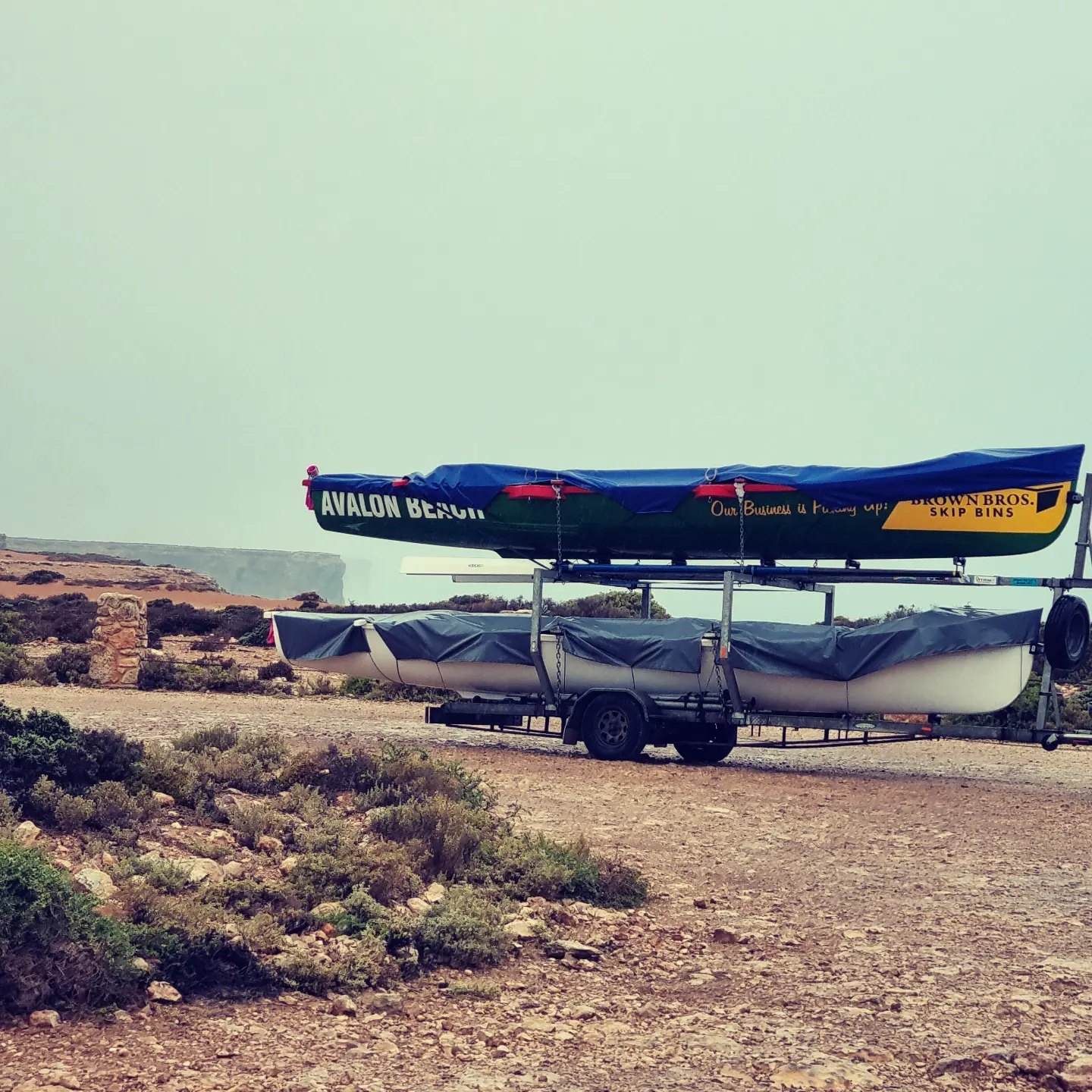 Photos: Pete Carter, Konrad Seidl,
Harvpix
and Avalon Beach SLSC: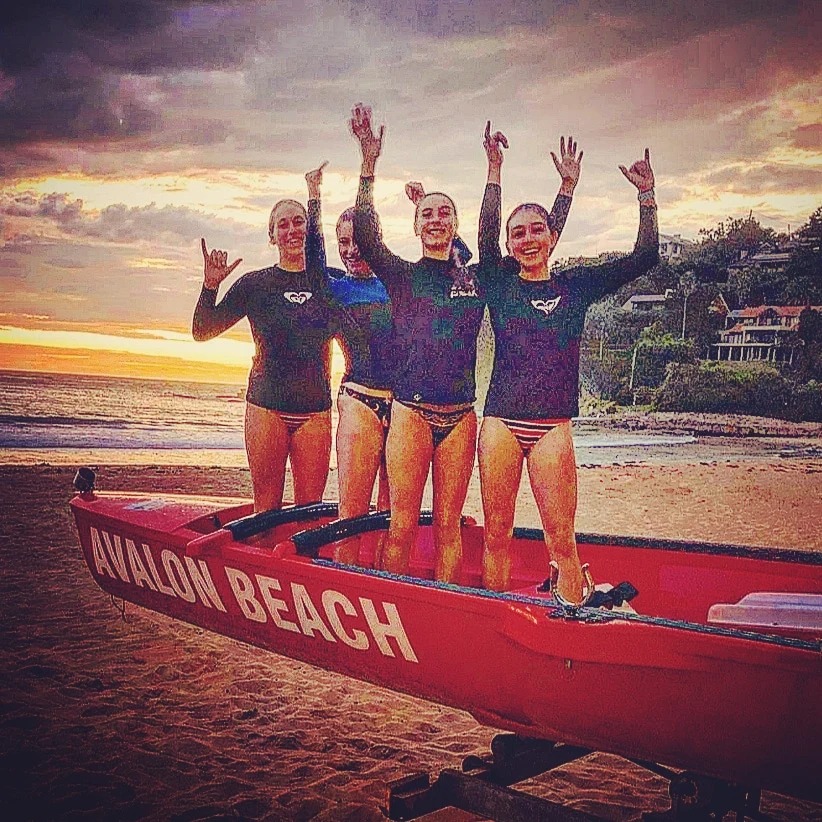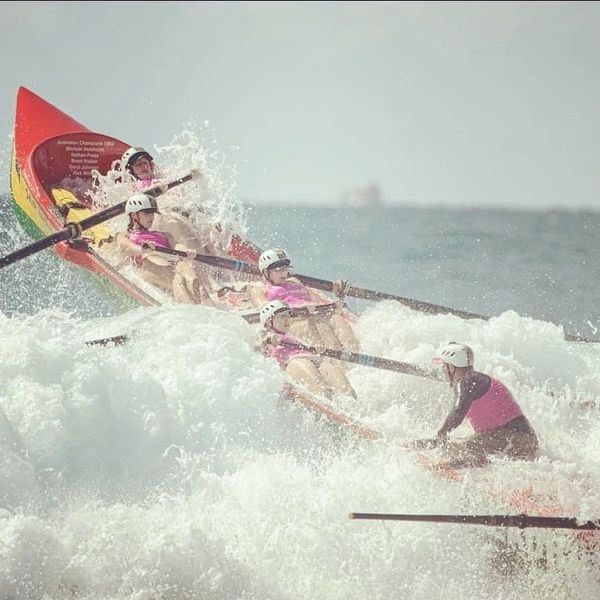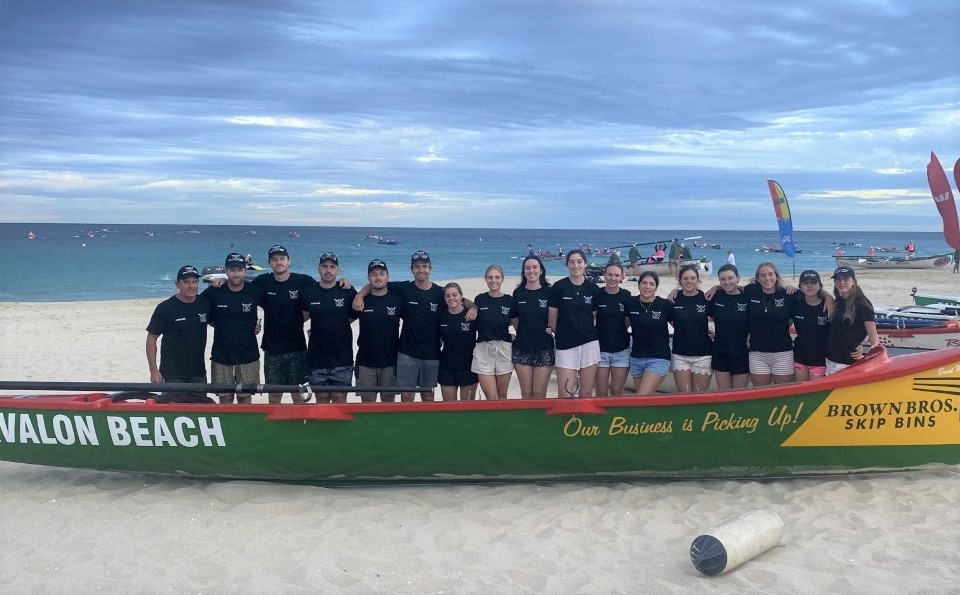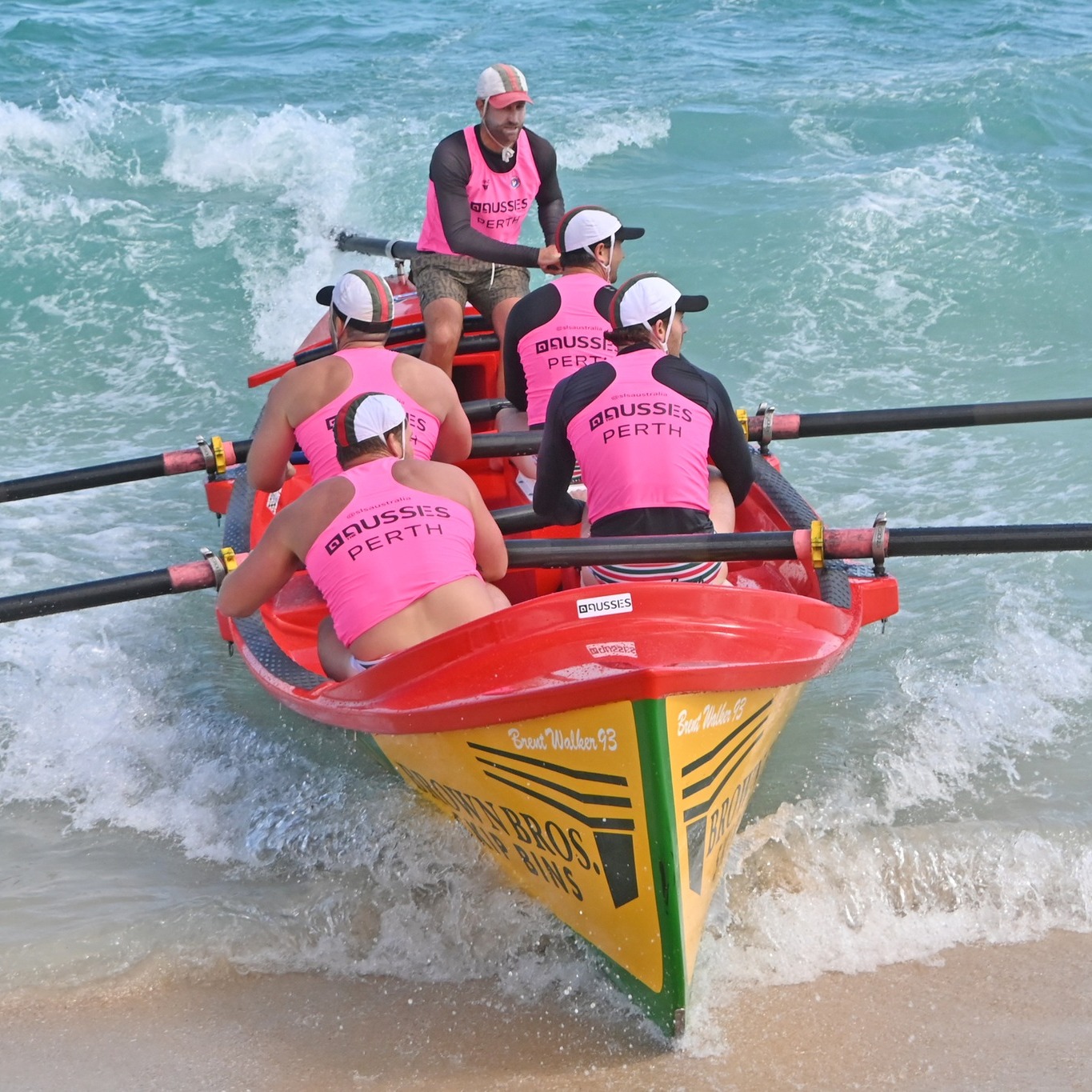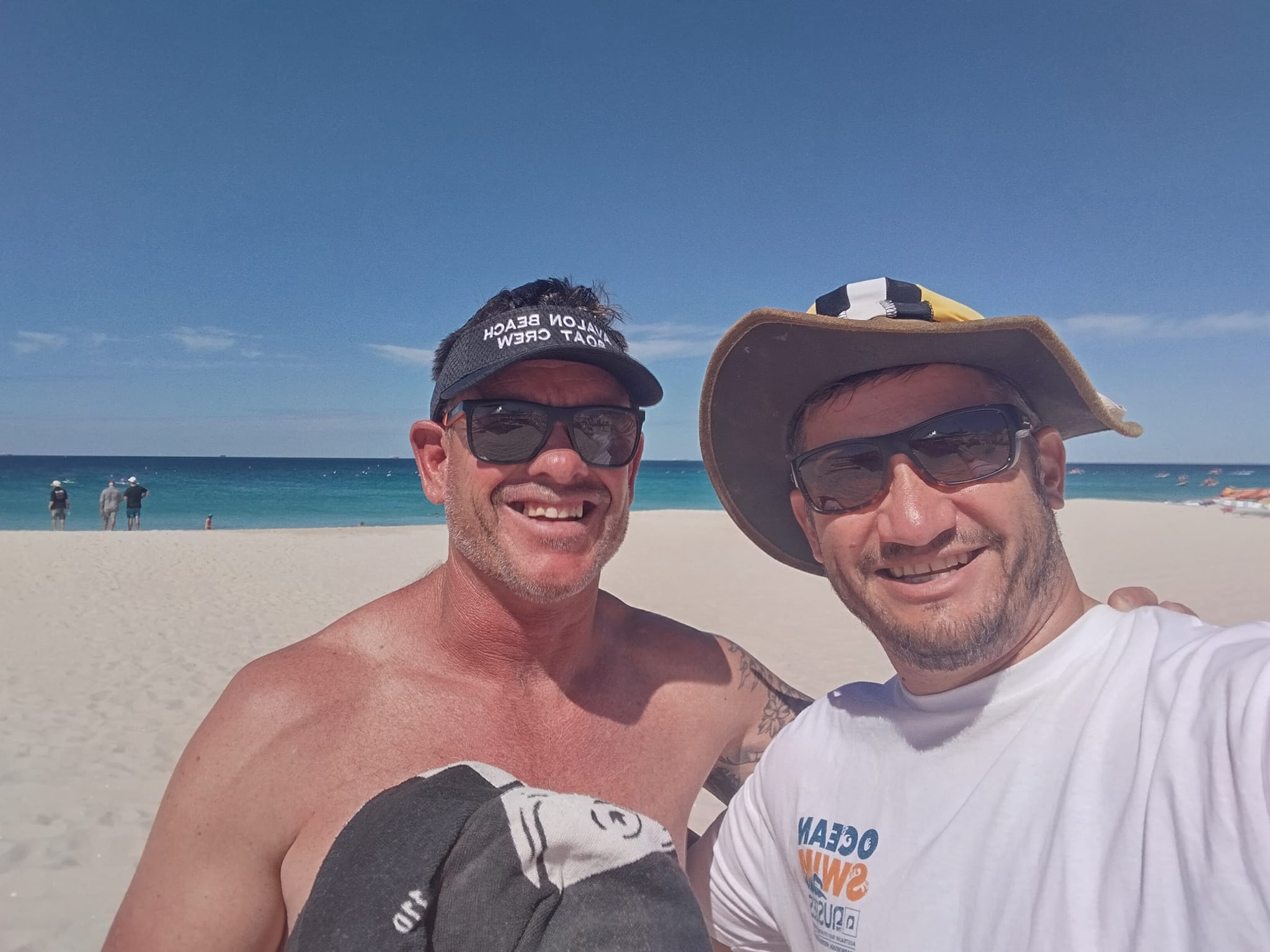 Surf Boat athletes from the SLS SNB Branch were racing on Super Sunday and last day of the Aussies 2023, April 2nd. Branch crews involved in Quarters, Semis and onwards run below. Many thanks to Alex Salier Wymer for compiling the list and C
ongratulations on making the Top 12/16 in the country in your divisions:
Queenscliff A Rollers 🔴🔵
South Curl Curl Death Riders 🔵🟡⚪️
South Curl Curl Shakers 🔵🟡⚪️
Collaroy Giants 🔴
Palm Beach Paddlers 🟢
Palm Beach Padlocks 🟢
Avalon Beach Pinkies 🟢🔴⚪️
Palm Beach Prickles 🟢
Palm Beach Pterodactyls 🟢
Palm Beach Plumbers 🟢
Queenscliff New Direction 🔴🔵
South Curl Curl Underdogs 🔵 🟡⚪️
South Curl Curl Sneaky Nuts 🔵🟡⚪️
Collaroy Crusaders 🔴
South Curl Curl Milk 🔵🟡⚪️
Palm Beach Peastmode 🟢
Palm Beach Penitokos 🟢
South Curl Curl Burly 🔵🟡⚪️
Palm Beach Parmigianas 🟢
South Curl Curl Whompa 🔵🟡⚪️
Collaroy Cobras 🔴
Long Reef Castaways ⚪️🔵
Newport Stingers 🟡🟣
Freshwater Freshie Fenderbenders ⚪️🟣
North Curl Curl Venom 🟢🟡
After the Finals the gold, silver and bronze being taken by local crews in the u19's showed the next geeration of rowers and sweeps is set to achieve even greater results. U19 Male Surf Boat Australian Championships results were;
Gold - Palm Beach (NSW) Palm Beach Penitokos,
Silver - South Curl Curl Burley,
Bronze - Palm Beach Parmigianas and a
5th - South Curl Curl Whompa rounded out the top 6 in the country.
The Palmy Army had the largest surf boat athletes contingent heading west and having had a great season it's little surprise the team had some great results. PBSLSC Sweep and Boat Captain Peter Spence said after this year's Aussies:
'' Well that was a much better end to the season this year at Aussies than last years' finish, getting the full set of medals at Aussies was also a bonus!
I have really enjoyed this season back in the boat after my accident at Aussies last year, I have had some great crews and am stoked with their seasons results that were only possible due to the hard work they all put in.
*SNB Branch - 4 Gold & 1 Silver
*NSW State - 4 Gold & 1 Bronze
*ASRL Open - 1 Gold & 1 Silver
*Aussies - 1 Gold, 1 Silver & 1 Bronze
*NSW State Team - 2 crews
''We have also had an incredible season for Palmy having our strongest results at all the championship carnivals and topping it off with the 3 Gold, 1 Silver & 1 Bronze at Aussies.
Massive congratulations to Ryan Halangahu for his 3 Golds at Aussies, a feat that would be incredibly rare to do and not sure many have done.''
Spence also paid tribute to the family team behind his and his wife's particpation in surf sports across each Season - a thanks that would have been echoed by many across Australia.
''It was extra special to have my wife Steph Spence back rowing this season with Coxy, her crew had a great season. Thanks to Steph for the support to allow me to give so much of my time to my crews and Palmy Surfboats.
Thanks also to all the Palmy rowers that helped look after our kids, Sophie and John, at carnivals and at Palmy when we were both racing or training.
It is challenging to have a young family, my 4-5 crews to train and race along with Steph's training and racing as well, it took a lot of planning each week and it all would not have been possible without Steph's parents, Susan Brown and Michael Brown, who looked after Sophie and John on so many occasions, most notably for a week when we were both over at Aussies, thank you Sue and Michael.''
Lastly thanks to Audi Centre Mosman for the support yet again in providing the beautiful Q7 to tow our boats to Perth and back.
Now to enjoy family time over the off season, oh and the mighty Sea Eagles.
See you all next season!'' The Palm Army Captain said.
Some Palmy Army snaps from the 2023 Aussies with thanks to past Captain of PBSLSC Alex Tyrell and
Harvpix
/SLSA: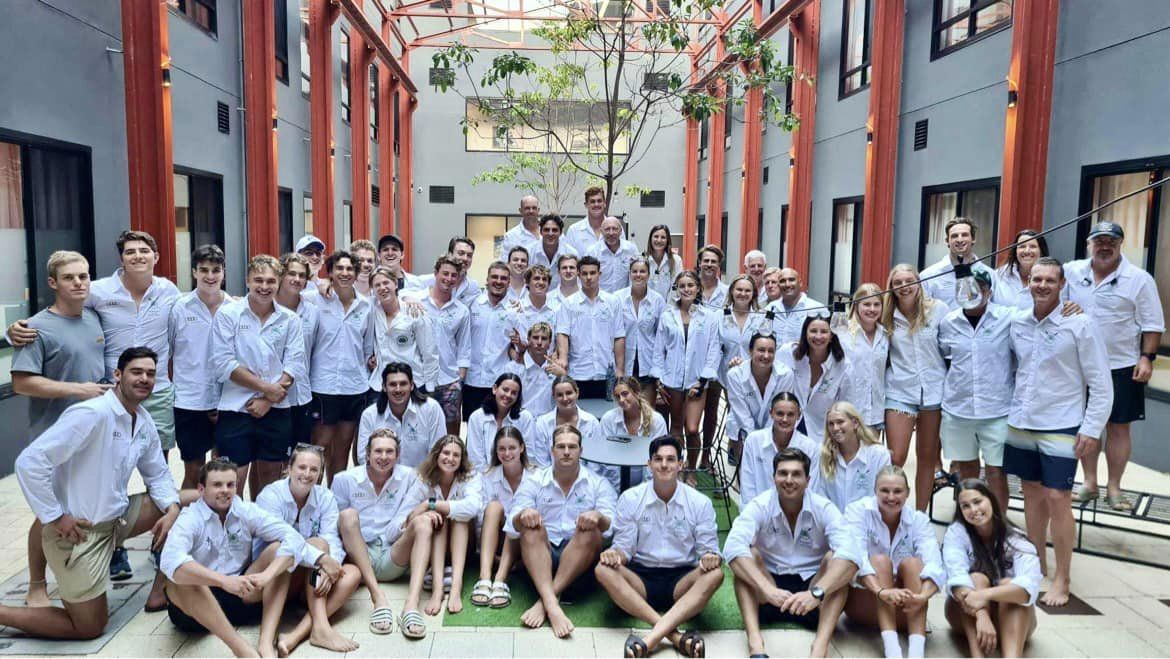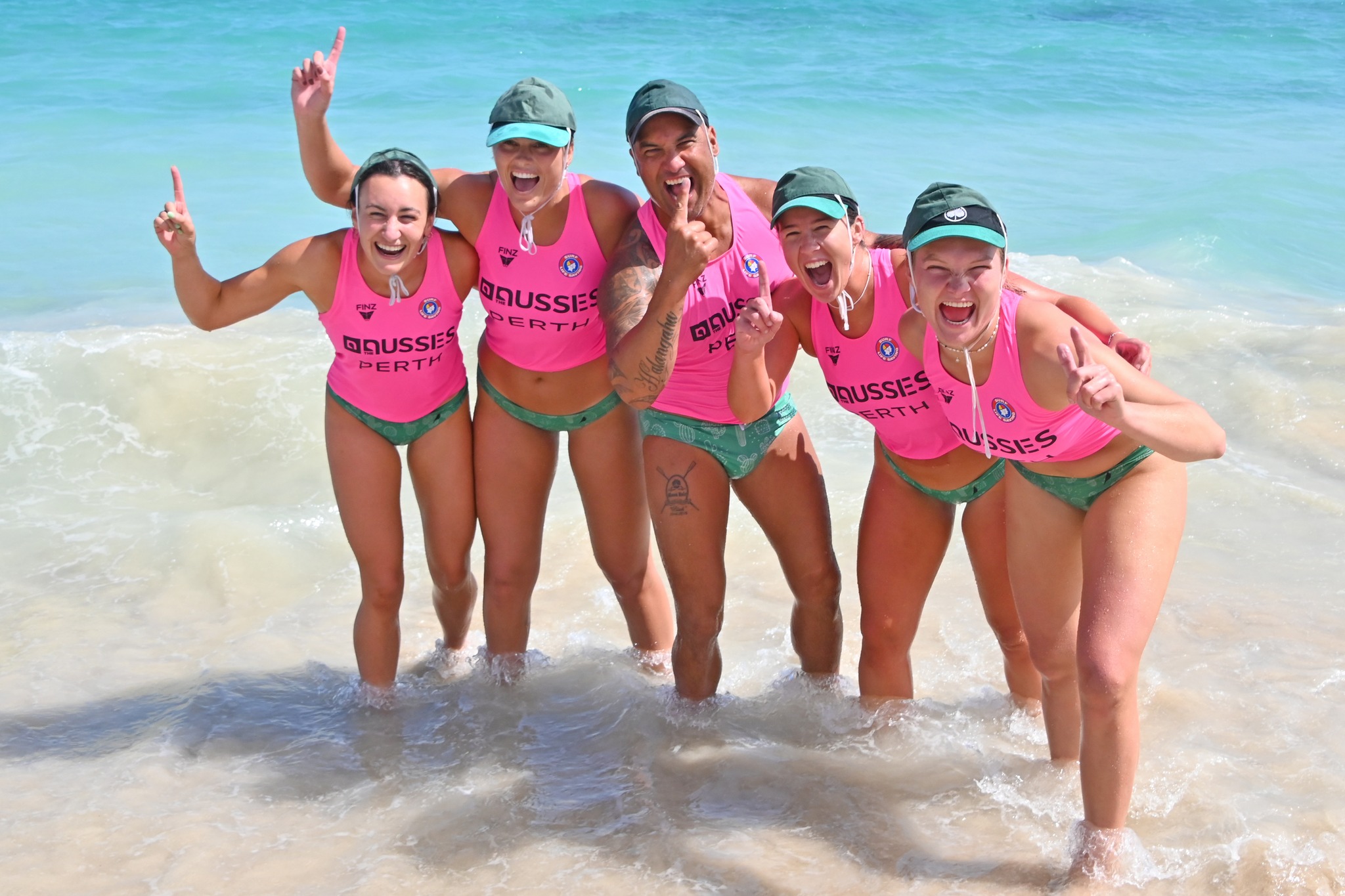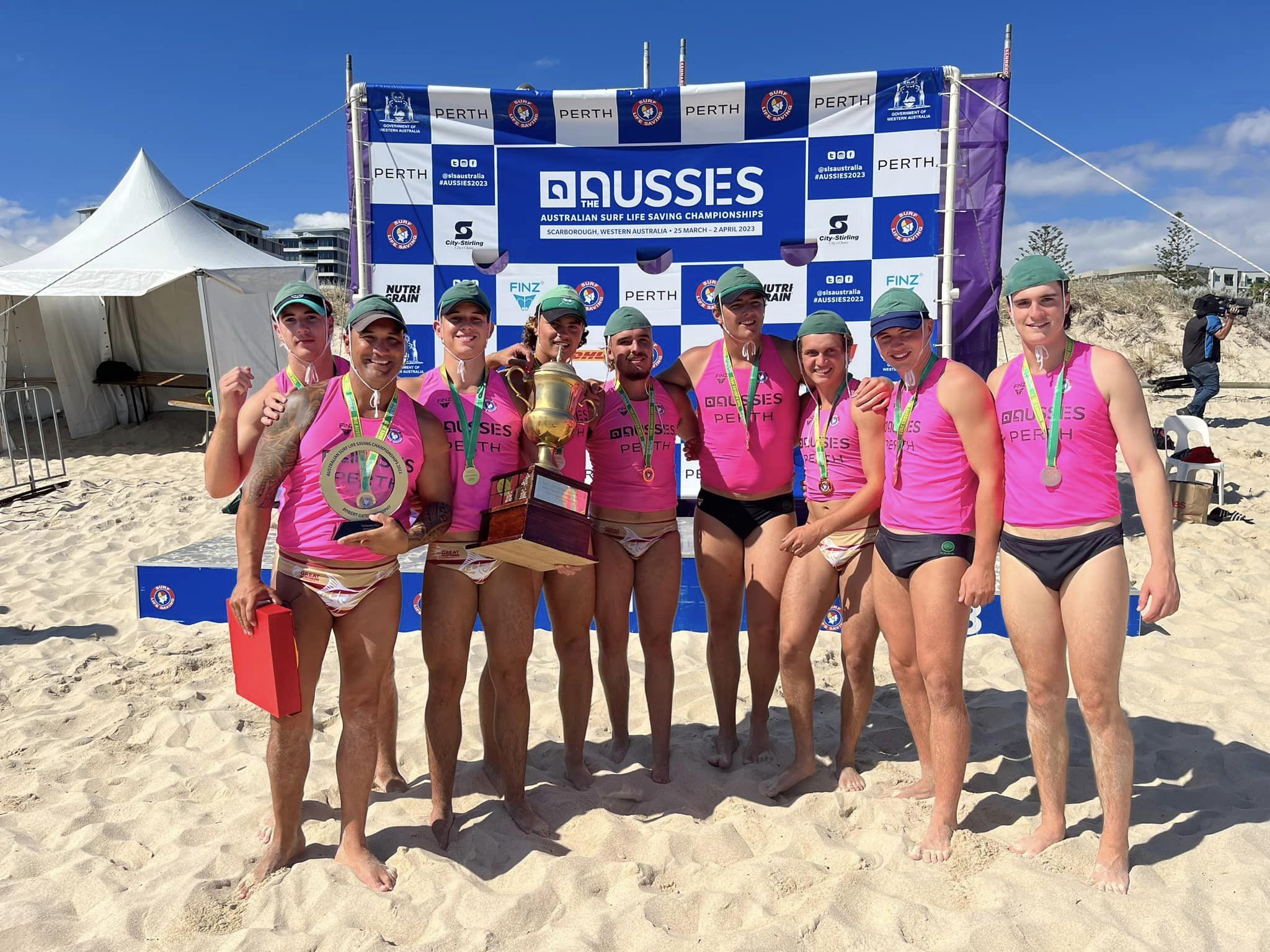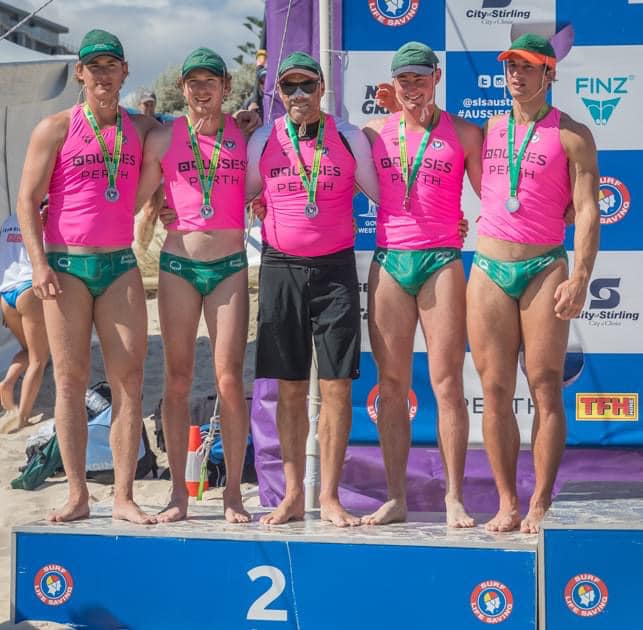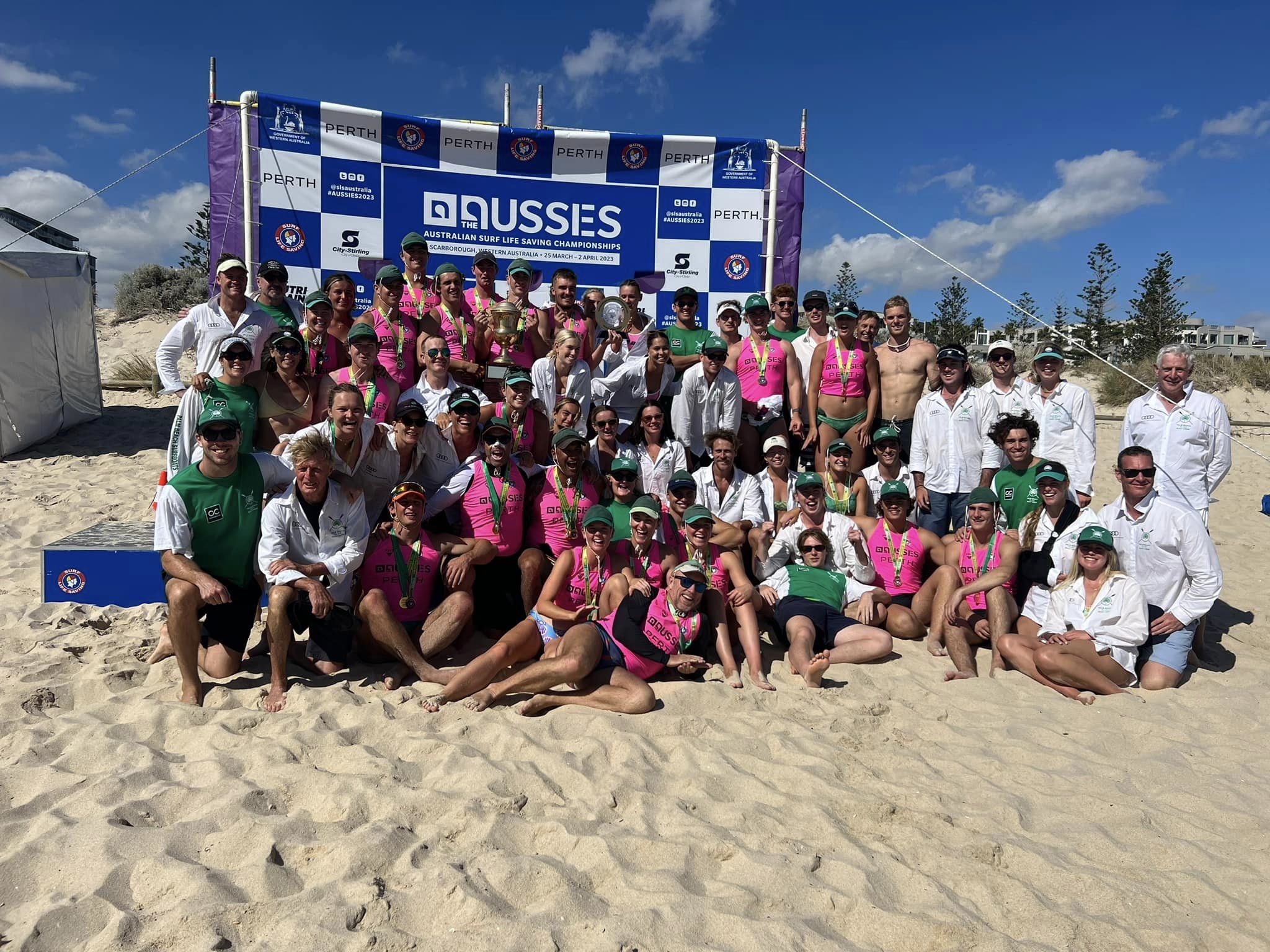 Gold - Palm Beach (NSW) Palm Beach Prickles
Avalon Beach Avalon Beach Chaos, Palm Beach (NSW) Palm Beach Pterodactyls and North Steyne North Steyne Alive all also had a go.
Reserve Grade Male Surf Boat
4th - Avalon Beach Pinkies
Freshwater Freshie Fiddlers, Palm Beach (NSW) Palm Beach Peppers, Palm Beach (NSW) Palm Beach Padlocks, Palm Beach (NSW) Palm Beach Pelicans and South Curl Curl Love Boat were also in amongst the action
Open Mixed Surf Boat Relay
Gold - Palm Beach (NSW) Team A - Palm Beach (NSW) Green
Silver - South Curl Curl Team A
South Curl Curl Team B - South Curl Curl Gods Country also competed.
Palm Beach Paddlers, Avalon Beach Avalon Beach Brumbies and South Curl Curl Shakers also competed.
4th - Queenscliff Queenscliff A-Rollers
South Curl Curl Echidnas, North Narrabeen Smokos, Nth Curl Curl Bears and South Curl Curl Death Riders also took part.
5th - Palm Beach (NSW) Palm Beach Peastmode
Also competing; South Curl Curl Milk, Freshwater Freshie Freaks, Avalon Beach Chickies, Newport Nemos, Collaroy Crusaders and the Palm Beach Palmtrees.
Silver - Palm Beach Plumbers
Bronze - Queenscliff New Direction
6th - South Curl Curl Sneaky Nuts
The North Curl Curl Monkeys, Palm Beach Pitbulls, Palm Beach Power Rangers, Queenscliff New Direction and South Curl Curl Underdogs were also part of the u23's action.
Silver - Newport Newport Stingers
Bronze - Collaroy Cobras
4th - North Curl Curl Venom
6th - Long Reef Castaways
Palm Beach (NSW) Palm Beach Pearlers, Freshwater Freshie Fenderbenders and Avalon Beach HCMFs were also in amongst it and finished just outside the top 6.
U19 Male Surf Boat
Gold - Palm Beach (NSW) Palm Beach Penitokos
Silver - South Curl Curl Burley
Bronze - Palm Beach Parmigianas
5th - South Curl Curl Whompa
The North Curl Curl Rats were also present and show local U19 Male surf boat crews rule across Australia.
Officials Thanks
Of course an event with thousands of people taking part over several days takes a lot of organisation and a lot of volunteer officials to ensure the smooth running of the events. At the conclusion of this year's Aussies those who have clocked up 40, 30 and 20 years of service in this capacity were presented with certificates acknowledging their contribution over decades.
Among these was Collaroy SLSC's John Fahey who received his 30 year Officiating Certificate.
John joined North Cronulla Surf Club during the 1976-77 surf season, obtaining his surf Bronze Medallion in February 1977.
He gained his Surf Coach, Level 1, in 1990 and Surf Official, Level 1, (1993) and Surf Official, Level 2, in 1997.After 28 years in the Sutherland Shire, John joined Collaroy during the 2004-2005 Surf Season.
John has represented Collaroy as an official for some 18 years, officiating at Nipper, Open, Masters, Branch, NSW State and Australian Championships from 2004-2023. Never one to keep still, John has held the position of Area Manager, State Age Titles, Sectional Referee and Competition Liaison Officer at Branch and NSW State Championships. He has been Chief Judge at NSW State and Australian Titles, Carnival Referee Sydney Northern Beaches Branch Carnivals and our East Coast Masters.
In the Nipper area, John has mentored and encouraged parents to become competent officials. He has trained and assisted in starting techniques at Sunday morning Nippers. On the competition side, John was Assistant Coach to the Ladies March Past Team for fourteen years (2004-2017) and (2018-2019). During this time, the Ladies won at NSW State, five gold, two silver and one Bronze, at Aussies one Gold, one Silver and four Bronze medals, along with numerous Branch medals. They won Silver at the World Championships in South Australia.
He coached the Ladies March Past Team during the 2017-2018 season, when the team won the Gold at the Perth Aussies, NSW State Silver and Bronze at the World Titles.
John is first to put his hand up to assist at club clean-ups and working bees and has been a regular face around the club since 2005. This includes the Young Guns Boat Carnival, East Coast Masters and Branch Champs when held at Collaroy.
At committee level, John was a member of the general Committee for two seasons, and Branch Delegate for two seasons. At Branch level, John has held the position of Director of Surf Sports.
John has made a valuable contribution to Collaroy since joining the club eighteen years ago. He received his forty-year Service Award recently. John's good nature and enthusiastic attitude represents the calibre of personnel at Collaroy.
For contribution to the Sydney Northern Beaches John has also received Distinguished Service award from SLS SNB.
Our thanks to Collaroy SLSC for John's SLS bio.