August 5 - 11, 2018: Issue 370
Top Aussie Athletes Dominate Prestigious Hawaiian Event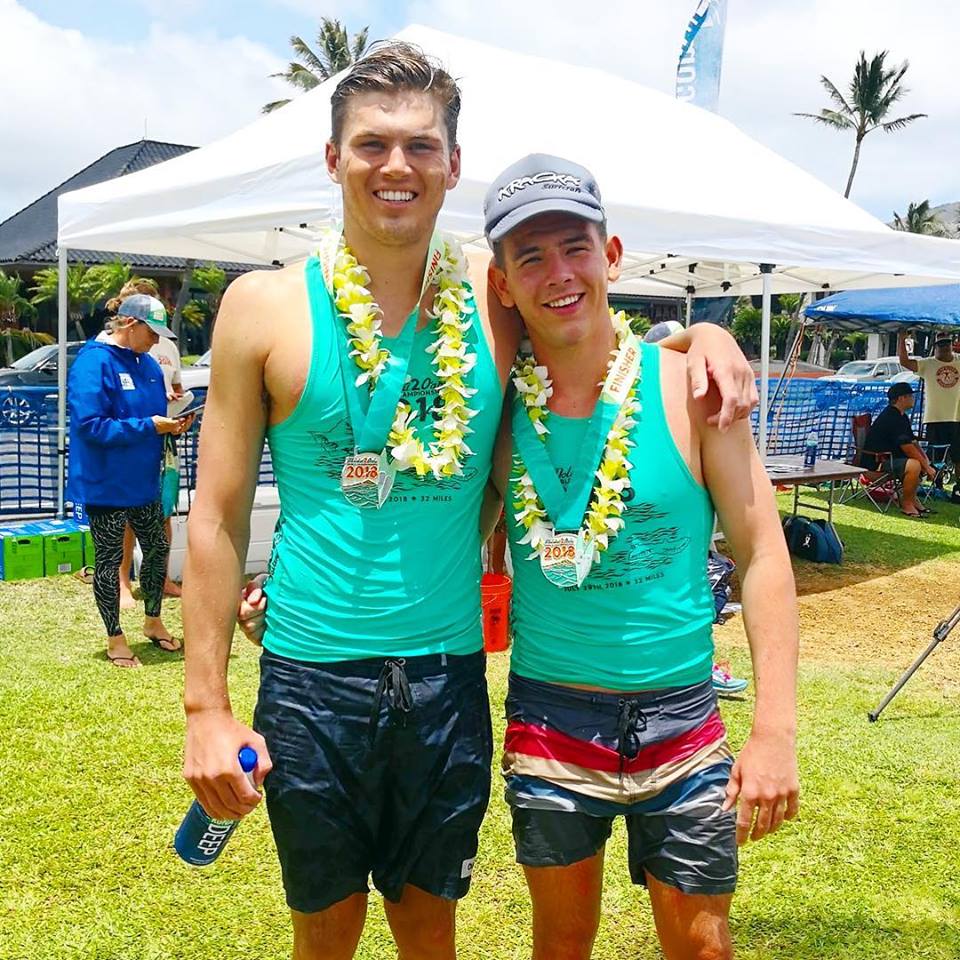 Newport SLSC's
Isaac Smith and
Hugh McAlpine
-
Photo courtesy Newport Kinghorn Surf Racing Academy
Top Aussie Athletes Dominate Prestigious Hawaiian Event
Just over a century since Hawaiian icon Duke Kahanamoku brought surfing to Australia, arguably kick-starting a love affair with the sea that continues to this day, ocean athletes of all persuasions from Down Under continue to achieve success in one of sport's toughest challenges.
A strong contingent of Australian surf lifesavers including a number from NSW completed the gruelling Molokai Paddleboard World Championships in the homeland of the Duke in the early hours of Monday morning.
Now in its 21st year, the endurance based event of 52 painful kilometres on a paddleboard across the notorious 'channel of bones' is rightly regarded as one of the most demanding races on the planet.
To finish the course is to take mind and body right to the edge as you push yourself further than you ever thought possible against strong currents, searing temperatures, and equally strong opponents.
It is a true test in the purest sense, and it is perhaps this that drives so many to compete as they strive to add their names to the list of champions who have completed the race to Oahu.
Favourable winds but a refracting trade swell triggered challenging conditions as the athletes approached the middle of the channel.
Matt Bevilacqua stormed home to win the men's prone paddleboard in a blistering time of 5 hours and 5 minutes his 4th overall title, while Harriet Brown took the women's crown for the second time.
The NSW pair of Lizzie Welborn (North Bondi) and Maddie Spencer (Newport) coached by Nick Carroll also made it onto the podium finishing just behind Brown in the women's prone paddleboard.
"The women's race was the highlight this year," said Molokai veteran and Newport Kinghorn Surf Sports Academy coach Nick Carroll. "There were so many strong paddlers out there and there was a real battle for supremacy in the middle of the channel, especially between Lizzie and Maddie.
"On the home stretch it became obvious it was Harriet's race. She knows how to bulldoze through those situations." said Carroll, clearly proud of his team representing Newport and Australia.
But it was in the team division where NSW really shone recording a number of amazing performances.
The Newport duo of Hugh McAlpine and Isaac Smith won the prone paddleboard overall teams division in a time of 5 hours, 47 minutes which was an outstanding result for the men who were making their Molokai Challenge debut.
"It was really good for the first two hours but the tide was supposed to go south but kept pushing north which made it really hard to stay on course," said Isaac Smith.
"This was our first time competing here so we decided to do it as a team to check it out. I'll definitely be back next year trying the solo division."
"It was seriously ten times harder than I thought. When I jumped on the boat at the transition I had my head in my hands," added Hugh McAlpine.
"The air is the same temperature as the water so there's no respite from the heat. We were going hell for leather to keep our speed."
The pair did claim a prized scalp as they downed two-time world surfing champion John John Florence and his partner over the distance who surged late to finish third.
Splitting the two on the podium was the event's youngest competitors from Swansea Belmont SLSC.
Nick Stoddart (15) and brothers Saxon (15) and Ethan Coates (17) impressed everyone to finish second in their division with an incredible time of 6 hours and 2 minutes.
"There was water moving everywhere and it was really hard to find a good line with the wave runners," said 15-year-old Stoddart. "It was really tricky out there but we had good preparation and support from our family and coaches at from our surf club."
A proud Swansea Belmont Club President Graham Burge said the result that that teens achieved was a just reward for their hard work.
"We're very proud to hear of the results this morning and it is very well deserved.
"Nick, Saxon and Ethan have been training incredibly hard over the winter and it's fantastic to see that pay dividends in the race.
"These three boys are not just great competitors but impressive young men and conducted themselves very professionally while representing their club and country in Hawaii," Mr Burge said.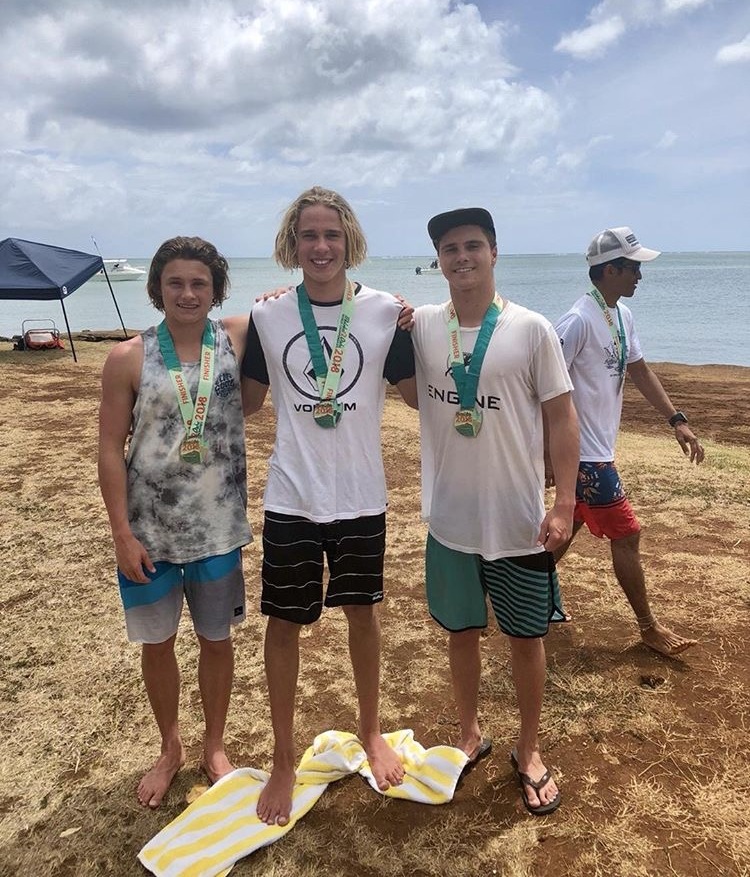 Nick Stoddart with
Saxon and Ethan Coates
Capping off the morning for NSW, former Queenscliff SLSC member and social influencer Alex Hayes and his Newport ironman teammate Fletcher Davies, not only managed to raise almost $10,000 for Batyr mental health program, they also performed strongly in the water finishing 4th overall in their division and just 30 seconds behind John John Florence in his home conditions.
The athletes involved today will be back training hard as the new surf sport season looms over the horizon, but for now at least they can savour the experience of completing the Molokai Challenge and with stories and memories to last a lifetime.
by Surf Life Saving NSW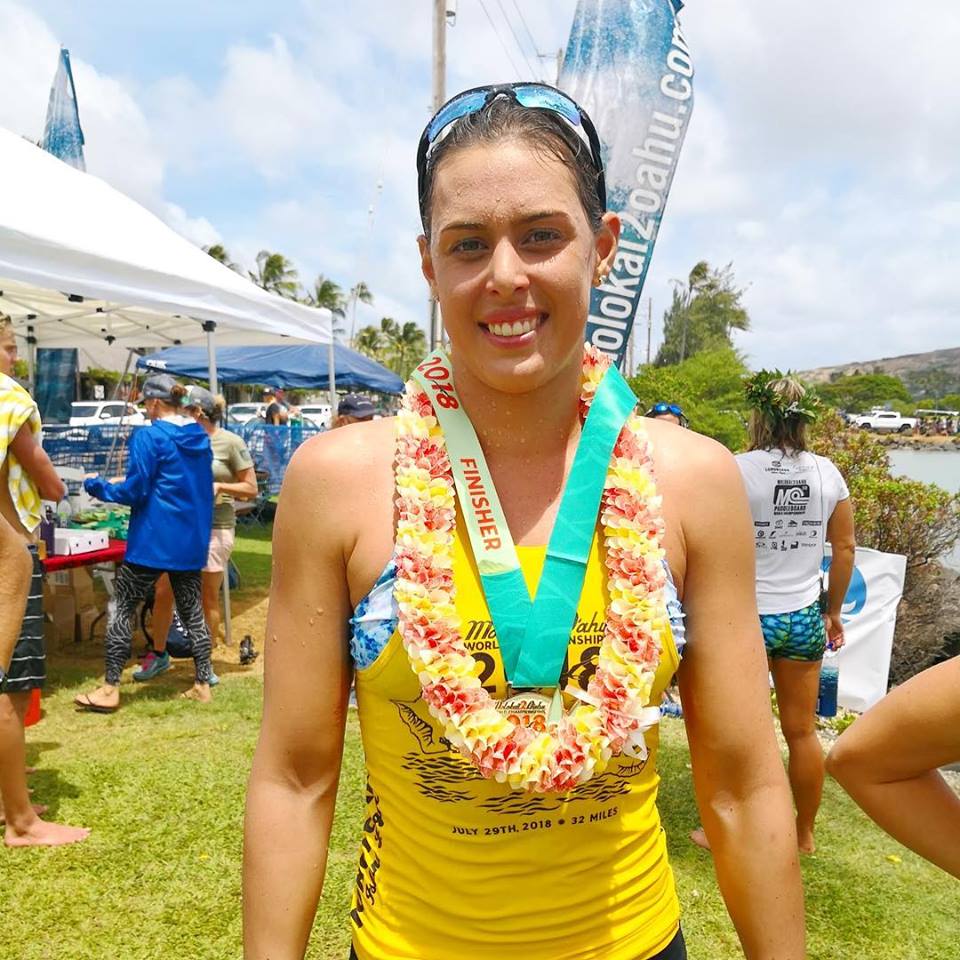 Newport SLSC's Maddie Spencer -
Photo courtesy Newport Kinghorn Surf Racing Academy