November 12 - 18, 2023: Issue 605
council's Community Development, Arts + Creativity 2023/24 grants announced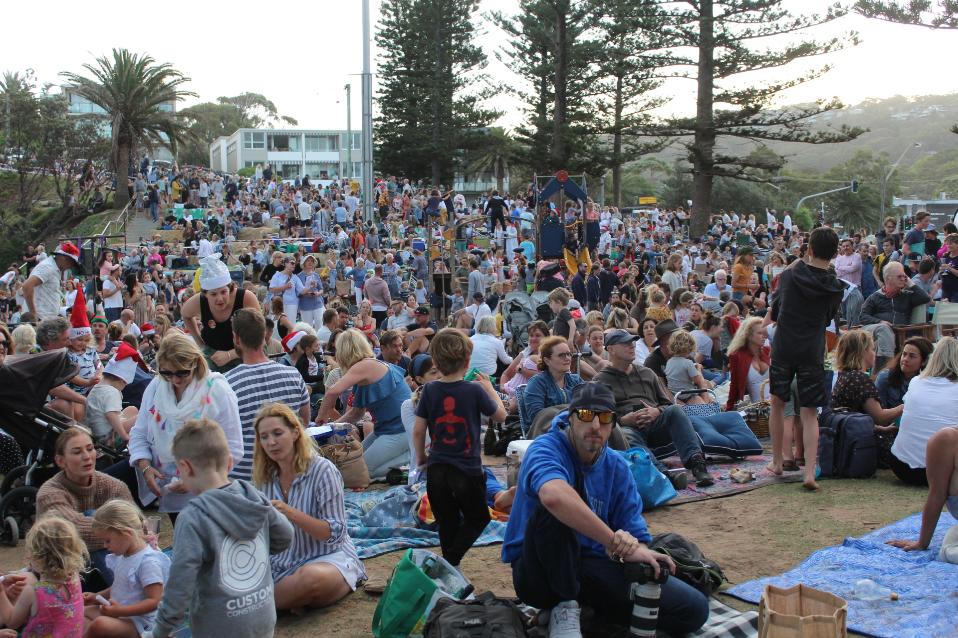 On Monday, 30 October 2023 Council announced the successful recipients of the 2023/24 Community Grants program, with total funding of $292,000 to be distributed.
The popular grants program received 159 applications this year, with 57 projects being recommended across two grants streams – Arts and Creativity and Community Development.
Northern Beaches Mayor Sue Heins said small subsidies from Council can make a massive difference to recipients.
"There are so many wonderful community groups on the northern beaches who are striving to improve equality, reduce disadvantage and delivering direct benefits to local people, communities and our environment" Mayor Heins said.
"Council is proud to play its part in supporting these organisations and their vital work in our community.
"We are equally proud to support local creatives within our community. With grants to both individual artists and arts organisations, we are helping to build on our thriving creative sector on the Northern Beaches."
Projects to be funded through the Community Development grant program include disability support for school children, a unique sensory integration room for high-needs children, accessible art programs, pride events, youth programs, seniors support, meal services for the homeless, self-defence workshops and multicultural community projects.
A range of projects and initiatives have been funded in this latest round of Arts and Creativity grants, including live music, emerging musicians and women's choirs, First Nations visual art, artist-run exhibitions, community theatre, literature, film production, sustainable jewellery-making, and local storytelling.
For more information about the grants and the complete list of 2023/24 grant recipients visit Council's website.
Although some of those events listed below have already occurred, it's worth compiling the whole list so readers can see the wdth breadth of 'what's happening' locally and also put a note in their diary for some great stuff coming up in 2024.
Awarded Arts & Creativity Grants 2023/24
Council received eighty-four (84) applications to the 2023/24 Arts and Creativity grants program across three project categories, with twenty-seven (27) projects awarded a grant.
The 2023/24 Arts & Creativity grants recipients were endorsed by Council at the meeting on Tuesday 24 October 2023.
Annabella Louise - La Spina, The Poetics of Motion (Spit)
Production of an 'etched video' and prints celebrating and exploring ideas raised by the iconic Spit Bridge. A stop motion animation created with copper plate etchings, the video will immortalise the Spit Bridge as the artist reflects on the Spit itself and its standing as the 'entry to the Northern Beaches'. - $3,000.00
Catharine Barrett Plummer - We Believe You Babcia
A multimedia art installation about storytelling Polish grandmothers, intergenerational relationships, and the often-untraced creative lineage of familial storytelling. With sculpture, sound and augmented reality, the work will be exhibited at MAG&M in conjunction with Express Yourself and asks young artists to take stock of their own, perhaps unacknowledged familial creative lineage. $5,000.00
Craig Wiles - The Art of Craig Wiles
An exhibition of mixed-media artworks sharing the lived experience of a trained local artist Craig Wiles, presenting a series of works exploring his lived experience of schizophrenia at Curl Curl Creative Space. $4,000.00
Emily Jane Lecky - Dancing On the Edge: A Vertical Dance Expedition
Post-production of a short documentary and dance film leading to a local premiere screening. The documentary follows an all-female expedition of Northern Beaches dancers as they traverse 200km through the Murchison River Gorge in Western Australia. The film then shifts into a cinematic portrayal of a breathtaking vertical dance work on the cliff walls that border the gorge. $3,000.00
J.A Nicholson & F.C Verity - Art Wank Podcast
Equipment and marketing support for a prominent visual arts podcast to develop its content opportunities and expand its audience. The podcast focuses on the process and practice of contemporary art within the Northern Beaches community and beyond to learn more and demystify the art world. $772.00
Katherine Edney - I Want to Lie in the Clouds with You
Creation of a series of paintings responding to themes of love, comfort and loss. The artist will explore and express the subject of anxiety, reflecting on their own struggles with mental health, to connect with and bring comfort to viewers, especially women, who may be dealing with their own mental health struggles. $3,748.00
Kristina Brook Wilson - Northern Beaches Songwriter's, Live Performance Development
Enable an emerging musician to produce new music and foster meaningful collaborations with fellow local artists. Through recording and releasing more music, and gaining skills in music production along the way, the artist will develop their practice and expand their audience. The artist will build their profile through increased live performances at Northern Beaches venues. $3,000.00
Nicholas Andrew Price - Wax Rat
Post-production to complete and launch a short film set on the Northern Beaches, produced with local creatives and crew. Wax Rat is a drama about a young girl who discovers joy in surfing amidst the breakdown of her family. Written and co-directed by local author Kirsty Eagar, adapted from a scene in her award-winning novel, Raw Blue. $5,000.00
Patrick O'Dwyer - Oceanic Organ
A mobile performance installation using a wave-powered musical pipe organ that combines sculpture with sound art and environmental activism. The work will be presented at the Ocean Festival hosted by the Manly Environment Centre and serves as an educational installation, teaching valuable lessons on rising sea levels and the power of renewable energy. $3,800.00
Working Title Writers' Group - Women and Myth: An Illustrated Anthology
Local authors and an illustrator will collaborate to produce a published collection of short stories on 'Women and Myth'. Exploring new and traditional myths, the project aims to reinvigorate public consciousness of the power of foundational myths, highlighting the often-forgotten feminine in the source material. $1,950.00
Creative Community Projects 2023/24 Grants
Alex Colley Hart - Photo: Synthesis
An immersive multidisciplinary group exhibition exploring the fragile and multidimensional relationship between the environment, light, and contemporary artistic practice. Providing support for an emerging local curator, and artist fees for a diverse selection of prominent Australian-based artists working within the intersection of contemporary photography, video/sound installations, and sculpture. $8,000.00
Amy Frances Gopperth -Sustainable Jewellery Workshops for Community and Mindfulness
Development of a creative business to build a skilled jewellery-making community on the Northern Beaches through expanding and reimagining jewellery making workshops that focus on sustainability and connection. Key to this is the establishment of mobile jewellery workshops, able to be taught in flexible spaces with broader audiences. $3,000.00
Emma Sinclair - Manilla to Manly – Beach to Bush: Communities in Action
A public program for Creative Open 2024, inviting creative community action for climate action. Connecting beach to bush, artists from the rural Renewable Manilla festival will come to Manly for an exhibition and workshops. Activities include the development of a giant sun sculpture, solar lanterns, mending circles, and more. $5,700.00
Felicity Jane Lenehan Life Stories: Writing Workshops and Community anthology
Writing workshops provide community, education, and support for people who wish to write their life stories. Participants contribute to a published Anthology, focussing on heritage and place. The group will convene monthly at a Northern Beaches Library, developing their stories and learning techniques used by biographers and oral historians. $7,665.00
Gaimaragal Group Pty Ltd - The Power of 8
8 First Nations women will participate in a multi-media art project whereby each participant adds to the artwork started by another sister. Over 8 weeks, 8 artworks will be developed, complimented by a shared journal capturing the artists' life stories and art practices. The artworks and associated stories will be captured in a publication. $8,454.00
Les Sculptures Incorporated - Les Sculptures Refusées
Development and documentation support for a free and high-profile exhibition that re-imagines the Quarantine Station location and its cultural context and provides a major public art event in Manly. As an alternative selection to Sculpture by the Sea, it creates opportunities for artists to exhibit work and local audiences to engage with significant sculptural works. $1,967.00
Linda Doreen Haigh - Pittwater Artists Trail
An alliance of 21 artists who collectively open their studios to the public twice a year, creating a trail for art lovers over 3 days. Artists share their work, allowing audiences from the Northern Beaches and beyond to personally engage with artists and their practice, and buy original artworks. $2,289.00
Manly Theatre Group Incorporated Manly Theatre: Group Education Program and Theatre Production
Inter-disciplinary performing arts workshops and classes focussed on acting, writing, directing, and producing theatre. Out of the workshops, the group will produce a full-length play written, produced, and performed by local creatives. The group provides an inclusive community and skill-building opportunity for theatre practitioners in the Northern Beaches. $3,200.00
Melanie Hitchcock - Cultiv8: Creative Waves Workshops
Workshops using the art and meaning of Hip Hop culture to connect with some of the most disadvantaged young people in our community. Workshops will be delivered across four elements of Hip Hop culture - dance, DJ'ing, graffiti art, and lyric writing - providing a platform for mentorship and intergenerational sharing. $4,900.00
Nicole Megan Buckland - Collage for Carers
Creative workshops for local carers to connect and visualise their personal stories with collage. Facilitated by Angie Cass, a collage artist and community educator, and Nicole Buckland, a collage artist, educator, and occupational therapist. Participants are encouraged to utilise creative expression as a means of self-care and community building. $8,495.00
Northern Beaches Chorus Incorporated Sing in the Season: Christmas Music Learning Program
Northern Beaches Chorus (NBC) women's choir is a community group focused on performance, fun and music education. NBC will run a Christmas music program in November, inviting local women to attend four weekly sessions at the Warringah Mall Community Rooms and learn to sing Christmas carols in four-part harmony. $1,760.00
Northern Beaches Readers Festival Incorporated - The Northern Beaches Readers Festival
A biennial, three-day celebration of popular Australian fiction. Attracting 1000+ ticket bookings in 2022, the 2024 edition will feature 17 curated author talks and panel sessions. With nearly a quarter of the sessions free, the festival aims to attract some of the biggest names in popular fiction, engaging even more local readers. $5,000.00
Reid & Meagher Pty Limited Northern Beaches Artists: Career and Collector Fast Track
Two-part workshop for artists and collectors. For artists, how to break into the commercial gallery scene, promote themselves, and sell their work. For collectors, how to connect with artists and ways to think about artworks, including their value, and develop their collection. $5,200.00
Scotland Island Residents Association Inn - Sydney's Three Underworld Queens: Tilly V Kate V Nellie
Development and performance of a new play based on three Sydney women of the early 1900s, Tilly Devine (Queen of Darlinghurst), Kate Leigh (Queen of Woolloomooloo), and Nellie Cameron (Queen of Darlinghurst). Unlike previous stories about these women, the work will explore their class backgrounds and the motivation for their activities. $5,000.00
Streetwork Australia Limited - Changing Strokes: Empowering Young People through Creative Art
A creative mentorship program seeking to improve young people's ability to re-engage in school and education whilst stabilising and/or improving their risk of youth crime and mental health concerns. It will see them engaged in a trusted one-on-one relationship-building environment through a tailored art program with counselling support. $7,000.00
Tania Murphy - Hands in Clay
Ceramics workshops for teenagers and seniors focusing on mental health and art therapy practices. Based at North Head Arts Precinct, participants will create ceramic bird baths/reptile ponds for installation by local regeneration groups. Working with clay allows participants to disconnect from mental struggles and gain the freedom to express themselves. $4,100.00
Creative Sector Innovation Projects 2023/24 Grants
Evergreen Music Pty Ltd Tea By the Brook: Live Music Series
A live music event series for artists and audiences to enjoy a vibrant and intimate experience. Collaborating with local businesses, and focussing on musical and cultural diversity, Evergreen aims to fill the venue gap in the Sydney music scene, while providing mentorships for local sound engineers. $7,000.00
Awarded 2023 Community Development Grants
The 2023 Community Development grants program was endorsed by Council at the meeting on Tuesday 24 October 2023.
Action For People With Disability - Clear pathways
Workshop for parents whose child/ren have the diagnosis of a learning disability, providing expert information, advice and referrals to help parents navigate the school system and obtain required adjustments for their child, while maintaining positive relationships with school staff. $4,000.00
Artability, under the Auspices of the Northern Beaches Creative Leisure and Learning Inc- Artability, Accessible Community Creative Arts Program
Artability is a not-for-profit Community Accessible Arts Program that provides a comprehensive arts program increasing social inclusion for the Northern Beaches Disability Community for people living with severe intellectual and physical disabilities. $2,302.00
Be Centre Foundation Limited - Sensory Integration Room
Creating a 'sensory integration room' that meets emotional, physical, and sensory needs of these children and their families with complex needs. $5,239.00
Blue Apple Art Studios, Unisson Disability - Blue Apple Art Christmas Markets
This project will open up the Blue Apple Art Studios in Terrey Hills to the public, showcasing artwork by artists with disabilities, including selling Christmas art and craft handmade by our artists and staff at Blue Apple. $1,240.00
Bridge Housing Limited - Narraweena Social Inclusion Group
Creating community connections, reducing isolation and improve physical and mental wellbeing of social housing tenants and the surrounding community in Narraweena. $4,396.00
Easylink Community Services Limited - Easylink Creative Social Program
Bringing together isolated elderly and those living with disability on the Northern Beaches by taking them to a weekly art class, supporting the local arts sector and promoting positive mental health outcomes and a sense of connection among participants. $5,633.00
Fusion Pride Northern Beaches - Fusion Pride Picnic
Providing a 2024 Fusion Pride Picnic at Dee Why Strand to celebrate and show support to LGBTQIA+ people and families on the Northern Beaches, raise awareness of local support organisations. $5,000.00
Literacy Network Manly Warringah Incorporated - Cross Cultural Awareness Workshop
Creating a Cross Cultural Awareness Resource to support people from diverse backgrounds with challenges transitioning into community life on Northern Beaches. $3,000.00
Manly Wheelchair Basketball Association - Support for Manly Wheelchair Basketball Association
Build and deliver a sustainable Wheelchair Basketball Program that encourage and supports players' goals, removes barriers to accessing sport and equip players with the necessary skills, knowledge, support networks and resources. Includes accomplished, local Paralympians volunteer as coaches, running free training sessions and free membership. $5,000.00
Mentoring Men - Reducing Social Isolation for men on the Northern Beaches
Providing volunteer mentoring, community events, mentor Peer Support Groups and Men's Groups to increase social connections, facilitate socialising, networking, and life skill development for men, through meaningful discussions, promoting self-improvement and enhanced well-being. $4,230.00
MWP Care Limited - Creating Safer Homes
Providing training to Occupational Therapists and local tradespersons about home modifications prescription, including practical skills, to increase collaboration between Occupational Therapists, tradespeople and suppliers and raise awareness about dementia. $2,500.00
Nest Incorporated Balkan Seniors - Place to call Home
Enabling seniors from the Balkan area to share stories and experiences, enjoy cultural and art activities, reduce social isolation, work on projects including photography, cultural cooking and poetry events. $2,000.00
Northside Enterprise Incorporated -Inclusive Bush Regeneration at Orara Reserve
Providing employment for people with a disability through Bushlink, engaging students at risk from the Beach School to work alongside them, restoring remnant bushland within Orara Reserve adjacent to Beach School. $10,000.00
Northern Beaches Multicultural Communities - Maes & Madres
Creating a safe space for Portuguese and Spanish-speaking women, this project emerged from identified needs within a Brazilian mothers' group. It aims to offer mental health support, information, and referrals, fostering a supportive network for women seeking connections and empowerment. $6,710.00
One Meal It Makes a Difference Incorporated - Breakfast and Snack Packs
Young people with disabilities pack Breakfast and Snack packs for vulnerable primary and high school children on the Northern Beaches. $10,000.00
Spanish community Care Association Inc Weekly Social support group
Bringing local senior Spanish-speaking communities on the Northern Beaches together to share culture, and language and increasing community safety, inclusion and mental health. Activities include information sessions, exercises, music, dance, morning tea, light lunch and games. $3,000.00
Streetwork Australia Limited - Advocacy 101
Expanding Advocacy 101, an induction training of volunteer youth advocates on the Northern Beaches who provide support to local Police when a young person is arrested, and ongoing assistance if the matter progresses to court. $5,000.00
Sydney North Health Network - Compassionate Connected Senior Carers
Compassionate Connections for Carers provides a series of themed social activities, bringing together seniors 65+ who are carers to reduce social isolation, facilitate access to social networks, health and well-being services and support. $5,000.00
Taldumande Youth Services - Beach Reach
Beach Reach provides a night mobile outreach service where experienced youth workers assist local Police engage positively with young people and assist in reducing anti-social behaviours in community. $10,000.00
Women and Children First - Community Cooking Program for Parents
Supports disadvantaged families impacted by abuse, mental health, social isolation and CALD with limited English. Cooking program would run for 3 school terms during daytime, with free childcare. Cooking demonstrations, cultural engagement, shared lunch for parents each week, recipes & free slow cooker provided to attendees. $2,500.00
Small Grants Recipients 2023/24
Armenian Seniors Association Inc The more you move, the younger you feel
Helping elderly Armenian seniors with activities to help with physical stability and mobility to reduce social isolation and increase social inclusion. $5,000.00
Mowana Safe Space Incorporated - Wednesday Workshops
Weekly workshops including diversity, mindfulness, meditation, mental health, wellbeing, resilience, healthy eating, storytelling, stress management, coping strategies, ADHD, improving communication and finances. $1,250.00
Armenian Youth Federation Youth camp - Leadership and Mental Health
A youth camp in the Northern Beaches promoting mental health and wellbeing and developing the leadership skills amongst Armenian-Australians and newly arrived refugees of Armenian ancestry from Iraq, Syria and Lebanon. $5,000.00
Northern Beaches Dementia Alliance (NBDA) - Becoming Dementia Friendly
Create a highly engaging and informative video for local businesses, community organisations and emergency services to demystify dementia, provide insight into recognising signs of dementia, how to communicate and engage effectively and compassionately. $5,000.00
Northern Beaches Men Real Men of the Beaches
Capturing local and real stories to showcase examples of resilience and hope through interviews and media for publication. $3,500.00
Tibetan Community of Australia (NSW) Inc - Tibetan Seniors support
Providing support for newly arrived senior Tibetan migrants in the Northern Beaches. $3,500.00
Youth Voice Grant Recipients 2023/24
KYUP! Project - Self Worth and Self Defence Workshops
Providing four KYUP Project Mums and Daughters workshops is a fun, safe, hands-on workshop that teaches personal safety tips and self-defence techniques. $10,000.00
Streetwork Australia Limited -StreetJam
StreetJam is a mobile DJ unit offers at-risk young people (YP) an opportunity for self-expression through music and song writing in a safe and exclusive environment. It is the hook by which to connect YP with relevant support services. $10,000.00
The Burdekin Association - Safe Summer Workshops
A series of four (4) fun and interactive workshops and mentoring sessions giving young people the tools to have a fun and safe summer that build resilience, confidence and understanding on cyber safety, alcohol and other drugs. $9,892.00
Young Change Agents Limited - Youth Social Entrepreneurship Project
Delivering a Train the Trainer capacity-building program with PCYC workers and young people to develop practical skills in collaborative problem solving, design thinking and entrepreneurship fundamentals. $9,750.00
Events Grants 2023/24
Council agreed to the following funding and fee waivers through the Events Grants Program 2023/24, to support organisations to hold community events on the Northern Beaches.
The Mito Foundation - The Bloody Long Walk (BLW) – Sydney North is an annual health and fitness challenge open to persons of all abilities including local residents of the Northern Beaches Council area. The BLW is a 35km walk through the picturesque coastline spanning from Governor Phillip Park in Palm Beach to the Manly Promenade with tremendous benefits for local businesses including restaurants, cafes and shops as it brings a significant number of visitors to the Northern Beaches Council. $2,000 one-year sponsorship + Fee waivers up to $3,000
Brookvale Arts District Brookvale Arts District Festival is the ultimate convergence of music, art, film, and culture, set to revolutionise the festival experience. Nestled in the vibrant community of Brookvale Arts District (BAD), this breakthrough event promises to attract talent from across the globe, captivating audiences with its immersive and boundary-pushing offerings $10,000 three-year sponsorship
Volleyball NSW Volleyball NSW host the biggest beach volleyball event each year, the NSW Champs. Teams are welcomed not only from all over NSW but from other States as well as they compete in preparation for the National Tour. This event has been historically held in Manly Beach with the help of the local club NBVA. $2,500 three-year sponsorship + Fee waivers for beach hire
Coordinate Production Services - The Saturday Swap is a community focused sustainability event that encourages clothes to be swapped and kept out of landfill. After the success of the Saturday Swap event in June 2023, the event is back for a second time - but this time bigger and better, drawing on learnings from the first event and wonderful community feedback received. $1,000 grant
The Link Church Eggs by the Lake is an anticipated Easter event on the Northern Beaches, attracting families from all around the community for a day of fun, games, and of course, an exciting Easter egg hunt. With over 10,000 Easter eggs hidden throughout the event area, it promises to be a thrilling experience for kids of all ages. This free-to-attend event aims to celebrate the spirit of Easter while providing a safe and enjoyable environment for families to come together. $2,500 three-year sponsorship + Fee waivers for reserve hire
Avalon Beach SLSC Carols at the Beach is a free community event that celebrates the festive season. This event allows the surf club to connect with its community to demonstrate the importance of their services whilst at the same time thanking our community for supporting them. The event starts at 4:00pm with local high school students given the opportunity to showcase their talent and gain performing experience on stage. At 6pm the Jubilation Choir leads a community Christmas Carol sing-along. The surf club car park turns into a festival area with fairy lights, food trucks, community fund raising stalls, face painting, roaming kids' characters and a visit from Santa. The evening closes with a spectacular fireworks display off the beach. $2,500 three-year sponsorship
Women's Resilience Centre The Women's Resilience Centre plan to host a Reignite Runway Fashion Parade. A sustainable fashion show based on recycled and reused clothing. A community social event to build a culture of commitment to environmental sustainability inspiring Women to celebrate creativity and diversity in community through fashion. $2,000 grant
Warringah Rugby Club 2024 Sevens By the Sea, Sydney's premier Rugby 7's tournament. This aims to be a community-based event filled with live sports, music entertainment, kids activities and market activations for people of all ages. A true festival for all. With our connections, it will also be sanctioned by NSW Rugby. $5,000 one-year sponsorship + Fee waivers for reserve hire
North Curl Curl SLSC The 3 Points Challenge and Ocean swim is an iconic local run/swim. Up to 750 competitors participate in this event with many competitors travelling interstate, from Wollongong, Cronulla, Central Coast, Eastern Suburbs and Western Suburbs. The local community benefits, through hospitality and accommodation sectors as well as local fitness groups and swimming pools befits through additional patronage as competitors prepare for the races. Mental health, physical fitness and general wellbeing are the other significant community benefits of these events. The ultimate aim of these events is to raise much needed funds for rescue equipment. $3,000 one-year sponsorship + $2,000 two-year sponsorship
RSL LifeCare Anzac Day commemorative Dawn Service for the residents and their families, staff and their families and the Narrabeen/Collaroy Plateau community. The commemorative service includes traditional elements such as the reading of hymns, readings, Anzac Address, Catafalque Guard, wreath laying. Anthems and the act of remembrance - The Ode, Last Post, one-minutes silence, and Reveille. Followed by a complimentary community breakfast. $2,000 grant
Frenchs Forest Anglican Church In 2023 the aim is to replicate and expand on the successful Carols in the Park event held in 2022. Aiming for more people to attend and, as the event becomes a regular, recognised community event being held annually at Ararat Reserve, to attract a consistent following. $2,500 three-year sponsorship
The Link Church The Link Church is thrilled to present the "Carols by the Lake," a joyous and unforgettable community event that will spread holiday cheer and foster a sense of togetherness. Set against the picturesque backdrop of Narrabeen Lake, this magical Christmas celebration aims to bring the local community together in a spirit of love and unity. $2,500 three-year sponsorship
Rotary Club Upper Northern Beaches Christmas Carols in the Park will be held to invite local community to participate in a picnic atmosphere and sings Carols. There will also also be entertainers in between the Carols and of course Santa Claus will be paying a visit. A number of vendors will be selling their foods including Rotary with a BBQ. $2,500 three-year sponsorship
Frenchs Forest Lions Club Lionel Watts Carols run by the Lions Club of Frenchs Forest has run for over 45 years. Started in 1977 and is a much-loved event by every generation in the forest and a family tradition. The event hosts a group of schools, local community schools and entertainers. $2,500 three-year sponsorship
Market Lane Live Live & Local - the aim of the event is to provide an opportunity and a platform for artists without large followings to engage with new audiences. For emerging musicians, one of the toughest challenges is finding a venue that will give you a shot and getting in front of people that will give you enough exposure to kick off your career. We want to help artists overcome these challenges and give them a head start on their journeys. This event is aimed at engaging the local community to come and help us discover new talent, helping the careers of the next generation of musicians. $2,000 one-year sponsorship
Manly Theatre Group Incorporated The Manly Festival of Plays 2023 will showcase the original works that have been developed and nurtured over the past year. The increase in participants in all workshops has been overwhelmingly positive and the work that is being developed through collaboration and guidance is a testament to the local talent in our community. $2,000 one-year sponsorship
Australasian Dark Sky Alliance After Dark is an event featuring stargazing, night food markets, planetarium, public talks, nocturnal walks at Lionel Watts Park. $2,000 three-year sponsorship + Fee waivers for reserve hire
Newport Beach Chamber of Commerce The Spring into Summer, Newport Celebration festival will take advantage of the influx of people to Newport to celebrate and showcase businesses of Newport with market stalls in Bert Payne Park and Newport Surf Club. Local shops will have trestle tables outside their stores, dining venues will offer delicious food. Robertson Road will be closed to traffic for local food/clothing/gift stalls, roaming musical entertainment, kids events and local artists events. The event will run from 8am-6pm and encourage attendees to stay on to support local restaurants for dinner. $2,500* one-year sponsorship + Fee waivers for reserve hire
Zonta Club of Northern Beaches 2024 Australia Day Breakfast at Newport Beach will feature egg and bacon rolls, sausage and egg rolls, pancakes, coffee and drinks for sale, rides for the children, music from the Northern Beaches Concert Band and thong throwing. $5,000 one-year grant + Fee waivers for reserve hire
OceanFit Swimrun Australia has pioneered the relatively new sport of swimrun in Australia. A swimrrun is an exciting multisport race that involves teams swimming and running over a course that involves multiple swim and run stages. Swimrun Australia events are designed as 'urban adventure races' where teams are challenged to navigate an inner-city course in its natural state without any exclusive use of any part of the course. The Swimrun Australia: Sydney North event is designed to showcase the beautiful northern coastline of Sydney Harbour from Clontarf to Manly. $3,500 three-year sponsorship + Fee waivers up to $1,500 for reserve hire
Bondi to Manly Ultra The Bondi to Manly Ultra is an 80km ultra marathon starting on Bondi Beach and finishing on Manly Beach. It is the first Ultra in the world to traverse a global city. The event is not-for-profit with all funds raised donated to Bondi to Manly Walk Supporters and reinvested into the protection, preservation and enhancement of the public land and natural environment around Sydney Harbour along the Bondi to Manly Walk. $4,000 one-year sponsorship + Fee waivers up to $1,500
Ocean Rockpool Tour Ocean Rockpool Tour 2024 is a weekend community charity event aimed at inspiring Northern Beaches resident and beyond to celebrate the iconic Ocean Rockpools from Manly to Palm Beach by swimming activities that are linked to raising the awareness of mental health issues and offering support and wellbeing to community members in need through fundraising for nominated charities. One-year grant, fee waivers for reserve hire up to $2,500
Fight For A Cure Colour Run for a Cure at the James Meehan Reserve in Dee Why has the primary objective to raise funds for Fight For A Cure. Before and during the event, participants will have the opportunity to purchase tickets for entry, allowing them to join in the colourful festivities while contributing to the fight against cancer. Enticing prizes will be awarded in recognition of the efforts made by the participants who go above and beyond in fundraising. To further enhance the overall experience, food trucks will provide participants with a delightful assortment of refreshments to recharge and enjoy. The event will be an unforgettable day filled with fun, camaraderie, and goodwill, uniting the community in a collective effort to support Fight For A Cure. $2,000 one-year sponsorship + Fee waivers for reserve hire
Fair Play Publishing The idea of a writers' festival (or literary or book festival) is to bring writers and readers together to discuss the issues, big and small, arising from books that are recently published. It helps to promote the books, the local authors, and to foster a love of literature and writing. The Manly Writers' Festival will be a two-day/one evening festival in March 2024 which will showcase the work of local and national authors, provide a literary workshop for secondary students, a book reading and performance for younger children, a poetry reading, and provide authors the opportunity to talk about their work and their ideas with the community. $3,000 one-year sponsorship
The Shack Inc. The Northern Beaches Music Festival is an annual, not for profit, community-based music festival. It has been created and operated through the amalgamation of seven not for profit music and folk clubs on the Northern Beaches. The festival connects and involves local musicians including young and up and coming local artists (as well as national and international performers), community groups, disability groups, local schools, TAFE and university students, indigenous and other multi-cultural groups. The event celebrates the richness of multi-cultural food, music, dance and customs, creating an opportunity to unite and bring together our whole community in a positive, fun, cross generational and creative way. $2,000 one-year sponsorship
Pittwater Junior AFL Club The Northern Beaches Kids Fest is planned to be the largest children's outdoor spectacular on the Beaches for 2023. It will transform the entire Pittwater Rugby Park and North Narrabeen Reserve into an interactive playground where children and parents are encouraged to engage, participate and have fun. One-year sponsorship, fee waivers for reserve hire up to $4,000
Whiteley Ventures trading as Seadrift Distillery Seadrift Wellness Community Events is a series of four wellness events to be held at Seadrift Distillery, where the local Brookvale industrial community and surrounding Northern Beaches communities, are invited into the distillery to connect and hear from local speaker on managing stress, anxiety, happiness and community wellness. $1,000 two-year sponsorship
Wayki Productions The Latin Lights Music Festival 2023 will be the second edition! The Festival is looking to showcase Latin American Music and also amazing food. More importantly, it thrives to unite the Latin American culture with the Australian culture in one of the most beautiful parts of the world: The Northern Beaches. $2,000 one-year sponsorship
Special Olympics Sydney Northern Beaches The Special Olympics NSW State Swimming Competition is a swimming meet for people with an intellectual disability and/or autism. The event is expecting athletes from all over NSW and the ACT accompanied by their families, carers and coaches. One-year grant, fee waivers up to $3,400 for pool hire
Disabled Surfers Association Collaroy Smiles on Dials - Hands on Event. DSA Sydney aims to support a collaborative event between persons with disabilities and volunteers, to allow all members of the community to share a surf experience and unite in a love for water. The day begins with an orientation for all volunteers and participants outlining the structure of the day, safety briefing and key leaders who will help facilitate the day. Persons with disabilities are supported in a safe, inclusive and enjoyable environment by trained volunteers and specialised surfboards/equipment. Surfing, beach games and supervised unstructured pool activities. $2,000 three-year sponsorship + Fee waivers for reserve hire
Northern Beaches Bodysurfers - Festival of Froth will feature 2 bodysurfing competitions run over 1 weekend. Celebrating Northern beaches bodysurf history and our surf side community arts and food culture. One-year sponsorship, fee waivers up to $3,700 for water safety
Pet Au Pair Canine Carnival is a festival dedicated to canines and celebrating the best Northern Beaches dog parks and the owners and pets that enjoy them. Attendees will gain access to a portrait photographer to have free family portraits taken with their loving dog(s). While attendees await their moment in front of the camera, they will be able to look at displays by local dog businesses (groomers, trainers, pet foods, pet supplies). The goal of the project is to gather locals to celebrate their dog(s), discover local dog-friendly parks, and connect with local pet businesses such as groomers, trainers, and pet supply manufacturers. $2,000 one-year agreement + Fee waivers for hire of dog parks
Indian Film Festival Australia The second edition of Indian Film Festival Australia will be held in November 2023, the Festival aims at bringing together vast majority of the community for a fun, educative, cultural, colourful, enjoyable, experience while showcasing Films from one of the biggest film industry in the world, spiced up with some amazing food and apparel on display to make the event an engaging experience that people will look forward to. Indian Film Festival Australia will be a fantastic opportunity to build Australian and Indian ties and create enormous business opportunities. $5,000 one-year sponsorship
Sport and Recreation 2023/24 Successful Projects
On Tuesday 26 September at the Ordinary Council meeting, Council approved provision of funding under the 2023/24 Sport and Recreation Infrastructure Grants Program, as follows:
Manly Warringah Field Archers Inc; to install an all-weather structure over a target range, one disabled parking bay and new paths at the archery complex, JJ Melbourne Hills Memorial Reserve, Terrey Hills - $30,000
Northern Beaches Volleyball Association Inc; to install 2 dual-use seats with storage at North Steyne Reserve, Manly - $20,000
Allambie Heights Community Tennis Club Ltd; to convert one synthetic surface tennis court to a hard-court surface at the Allambie Heights Tennis Complex, Allambie Heights - $18,000
Avalon Beach Pickleball Association Inc; to install 6 sandstone seating blocks and a path for the multi-use courts at Avalon Beach Reserve, Avalon - $12,000
Long Reef Golf Club Ltd; to redesign and improve the bunkers at the 13th hole on the Long Reef Golf Course, Collaroy - $10,000
The Mona Vale Golf Club Ltd; to redesign and rebuild an existing golf teaching and practice facility consisting of a chipping green and bunker at the Mona Vale Golf Course, Mona Vale - $10,000.