July 17 - 23, 2022: Issue 546
Arts News: July 2022 - local arts/culture grants now open + suzanne davey part of 12th annual rookwood HIDDEN sculpture exhibition + north sydney council announces 2022 writer in resident + Little Tornadoes Coming To Avalon Cinema + Poet nerida cuddy to do show in allambie + Northern Beaches Environmental Art & Design Prize Exhibition Finalists Announced; exhibition of works will be across 3 venues this August
Mona Vale artist to exhibit in one of Sydney's most unique sculpture events
Mona Vale artist Suzanne Davey has been selected to have one of 60 creative artworks exhibiting as part of the 12th annual HIDDEN Rookwood Sculpture exhibition.
Held within the grounds of Sydney's iconic Rookwood Cemetery, HIDDEN will include student and film categories – as well as the renowned sculpture works. During the month-long exhibition, the cemetery transforms into an open-air exhibition, providing a unique way for visitors to engage with and experience Rookwood.
Davey, who has exhibited in HIDDEN Rookwood Sculptures three times, works in mixed media installation and sculpture and has exhibited widely in gallery, public and natural spaces. By creating spatial ensembles from textiles, ceramics, natural and everyday materials she investigates the emotional territories of power and control and reflects on human behaviours and actions or inactions in spaces.
"HIDDEN is a fantastic opportunity to engage Sydneysiders with the layered histories and current relevance of Rookwood as a working cemetery," said 2022 curator, Kath Fries.
"The artists bring a diverse range of perspectives to the experiences and narratives of this unique place. HIDDEN invites the public to rediscover Rookwood through a different lens. Art and creative activities enable people to use the space in different ways and HIDDEN is just one of these."
"I'm excited to again be curating this expansive exhibition which will allow visitors to engage with creative arts in this unique place, on Dharug Land, so integral to Australian history." Dr Fries said

"I find the history and diversity of funeral practices at Rookwood fascinating," said Suzanne Davey,
"I enjoy going on long walks around the cemetery, observing the decorative details, the architecture, the gardens and the moving written words that honour the dead. It's just an amazing place to experience and contains so many human stories and tales of living and grieving. Living through the worldwide pandemic and the effects of climate change has just underlined even more the fragility of humans and the natural systems we cohabit with plants and animals."
The iconic HIDDEN Rookwood Sculpture walk, which began in 2009, was created as a platform for community engagement and showcases Rookwood's historic monuments and cultural gardens. It enables artists to creatively respond to the cemetery's contemporary relevance by reflecting on personal narratives, cultural practices, history, and the cemetery's evocative sense of place.

With artworks strategically placed among historic monuments and impressive architecture within Rookwood Cemetery, the month-long event aims to encourage the community to enjoy Rookwood's Victorian-era inspired surroundings.
This year, there is a poignant emphasis on the themes of loss and mourning, as many of the selected artists have a personal connection to the cemetery through their loved ones.
This year's exhibition runs from September 10 to October 9.

The Public Program for HIDDEN 2022 will include:
Self-guided audio tour
Weekend curator tours
d/Deaf-led tour
Tactile tour
Short film screenings
Curator dusk tours
Rainbodhi tour
Public photography competition
Shape note singing
Family day
Performances
Artist talks
Education events with VADEA (Visual Arts & Design Educators Association) for high school art teachers
HIDDEN satellite exhibition at ACU McGlade Gallery, Strathfield, featuring behind-the-scenes developments of the artworks.
Please join our e-mailing list for updates here.
For more information about HIDDEN Rookwood Sculptures, visit www.hiddeninrookwood.com.au

Local arts and culture grants open
July 12, 2022: NSW Government
Local councils, not-for-profit organisations and Local Aboriginal Land Councils can now apply for funding to support creative cultural infrastructure projects that improve arts and cultural facilities.
This funding is part of the NSW Government's $72 million Creative Capital program. Minor Works and Equipment grants are available for minor capital works projects, master-planning and equipment including systems for recording, broadcast and digitisation.
Minister for the Arts Ben Franklin said the Minor Works and Equipment round of the NSW Government's Creative Capital funding program will reinforce NSW's position as the national leader in the creation and presentation of arts and cultural experiences.
"NSW is known for producing world-class arts and cultural experiences. It's critical the cultural infrastructure in our state matches our artistic aspirations, and we have gold-standard facilities to showcase this extraordinary creative talent," Mr Franklin said.
"Creative infrastructure funding will support new and improved facilities as well as allow organisations to purchase essential equipment that enables artists to create and present vibrant and innovative work.
"It also ensures the many museums, galleries, performing arts and cultural centres throughout the state are fit-for-purpose, accessible and meet the needs and expectations of communities across NSW.
"Everyone deserves access to high-quality creative experiences, and the NSW Government's ongoing commitment to creating world-class arts and cultural infrastructure ensures the State's creative sector has the capacity to innovate, reach new audiences and develop skills."
Applications for Minor Works and Equipment Round Two for grants between $5,000 to $250,000 is open from Monday 11 July 2022 and closes at 12pm on Monday 8 August 2022. Guidelines are available on the Create NSW website at: www.create.nsw.gov.au/create-infrastructure/creativecapital/
north sydney council's New Writer in Residence
July 13, 2022
A lover of storytelling in both the written word and visual arts, Kate Austin-Raffan is North Sydney Council's new 2022 Don Bank Writer in Residence.
Kate is currently working on Strays, a novel about prolonged grief set in rural Australia. Kate was long listed for the First Five Pages award for All the Ghosts Call. Her short story FullCircle was shortlisted for the Asham Prize and her screenplay Three Small Pieces was longlisted for the First Film Development Competition.
Kate said she is excited to be the 2022 Don Bank Writer in Residence.
"It's an amazing opportunity to work on my novel in such a tranquil and special place. I'm greatly looking forward to sharing my experience as a writer, as part of my program of events over the coming months."
Kate is also an MA student at Middlesex University and a Copywriter for an animal rescue organisation. She has previously worked in publishing and in community education, helping young people realise their potential through literacy-focused book groups, as well as film and animation workshops.
Kate lives in Sydney with her husband, three children, cat and two rescue dogs.
North Sydney Council states it looks forward to working with Kate on community programs in the year ahead and wish her the best of luck with finishing her manuscript, Strays.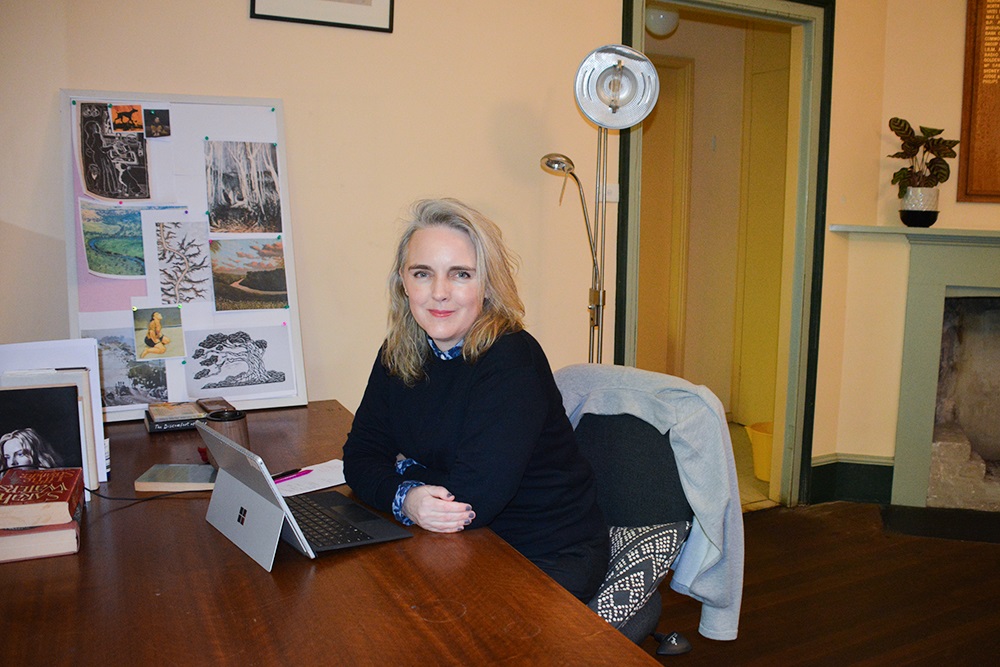 Kate Austin-Raffan

More about North Sydney Council's Don Bank Writer in Residence Program:
North Sydney Council offers writers the opportunity to pursue their inspiration in the tranquil, historic Don Bank Museum - a heritage home with a wonderful Victorian-remnant garden setting. Previous Writers in Residence include children's writer Ursula Dubosarsky, playwright and author Justin Fleming and crime writer P.M. Newton.
About Don Bank Museum
Don Bank (also known as the Don Bank Museum) is a heritage-listed former residence and now house museum at 6 Napier Street, North Sydney, New South Wales, Australia. It was built from 1853 to 1858 for Edward Wollstonecraft. It is also known as St. Leonard's Cottage. The property is owned by North Sydney Council. It was added to the New South Wales State Heritage Register on April 2nd 1999.
Edward Wollstonecraft arrived in the area and took possession of Portion 323 in September 1819, which was eventually granted to him on 30 June 1825. He is also associated with the formation of the "The Agricultural Society of New South Wales" in 1822.
Don Bank was built on part of 212 hectares (524 acres) of Portion 323. Wollstonecraft built Crows Nest Cottage on his land (now the site of the present Presbyterian Church in Shirley Road). Don Bank was not built between 1820 and 1830 as was previously assumed as recent research based on survey plans and title investigation conclusively establish that it was built no earlier than July 1853 and was extended in November 1854 when it is referred to by description in a contemporary newspaper advertisement for the sale of land and property on the North Shore by Mrs. Charlotte Carr.
In 1853 William Carr, a solicitor, had purchased the site. Before completion of that sale, Don Bank was built as the intended residence of his widow, Charlotte Carr. From 1853 it was known as 'St. Leonard's Cottage' and described as a four roomed home in an advertisement offering it for sale in November 1854. Room 6 (dining room), 1 and 7 (kitchen) were constructed between 1856 and 1858.
Don Bank is now surrounded by high rise office buildings. Its primary frontage is (north-east) to Napier Street, with a secondary (rear) entrance from Oak Street to the west. The building sits north of (i.e. its southern boundary abuts) a public garden and pathway which forms a pleasant green setting to it and allows pedestrian access between Napier Street and Wheeler Lane.
Neighbouring Victorian Georgian Revival style single storey identical houses are arranged in symmetrical pairs directly opposite Don Bank (at 1-7 Napier Street) forming a strong visual and contextual relationship with it. Along with the timber-fenced Victorian garden on the Napier Street frontage, Don Bank forms an oasis amongst high rise commercial buildings. Traffic along Napier Street is directed to the Pacific Highway to its east, a major road on North Sydney central business district. Napier Street is a one-way street parallel to the highway.
The area west of Don Bank, along Oak Street displays Victorian Georgian Revival single storey houses with skillion verandahs (2-10 Oak Street). This along with the residential character of Oak Street retains the context of Don Bank as a former house. When built in 1853-4 Don Bank would have enjoyed sweeping views across (east) to Neutral Bay.
Don Bank's front garden is broadly a sweep of grass with various trees and shrubs dotting and edging or framing it. An array of small trees line its front fence and more along with shrubs are nearer the house which is set well back from the fence and up a small slope. An Illawarra flame tree (Brachychiton acerifolius) is near the front gate. Two Lord Howe Island palms (Kentia fosteriana) are along the front path uphill.
Other trees are to the house's northern side. Old-fashioned perennials such as flowering sages (Salvia sp./cv.), bushes such as Cape leadwort or plumbago (P.capensis) grow along its front fence. Main trees comprise Californian desert fan palm (Washingtonia robusta), coastal banksia (B.integrifolia) - a large old specimen to the north, crepe myrtle (Lagerstroemia indica) and others.
Little Tornadoes coming to avalon cinema on july 21 - director series of Q&A screenings in sydney
Little Tornadoes
featuring Newport/Bilgola Actress Silvia Colloca, will be screening at Avalon Cinema from July 21.
Set in 1971 rural Australia, introverted Leo is a metalworker at his small town's local plant. After his wife vanishes, leaving him to care for their two young children, he is bereft – barely able to cook a decent meal or keep the household running. When a recently-arrived Italian colleague suggests that his sister, Maria, act as surrogate homemaker, Leo reluctantly accepts. But can one woman's warm, nurturing presence fill the void left by another, and can Leo yield to the winds of change?
The film distils the many upheavals of 1970s Australia – immigration and post-war resettlement, to urbanisation, anti–Vietnam War protests and the women's liberation movement – into a narrative about one man's struggle to adapt. LITTLE TORNADOES is a portrait of a country at a turning point and the human desire for connection.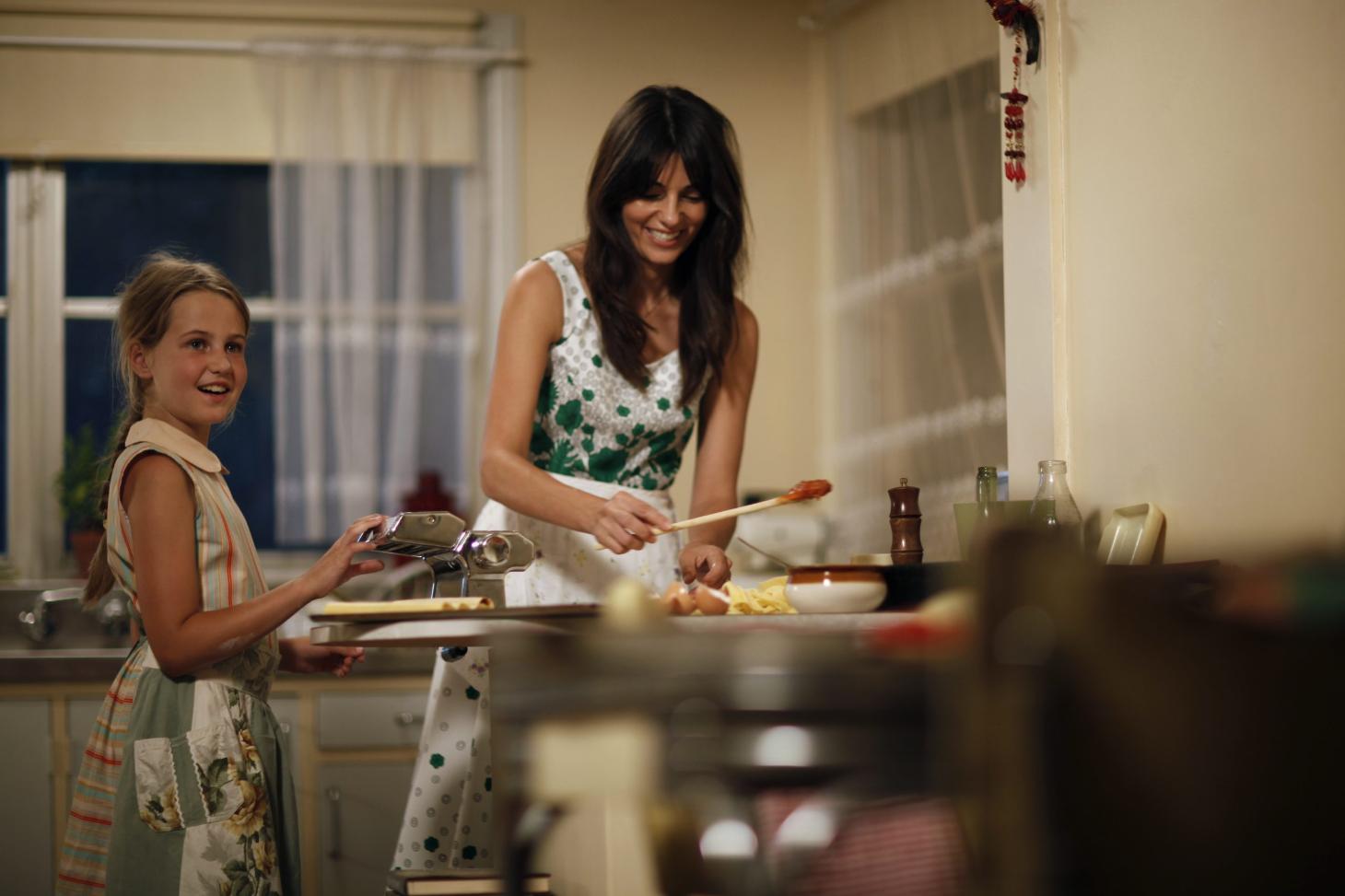 Silvia Colloca and Minnie Lisukiewicz cooking in a scene from the film 'Little Tornadoes'. Photo supplied; Production Still - Little Tornadoes, filmed in regional Victoria & NSW.
Aaron Wilson, Director, who will be in Sydney during the coming weeks for a series of Q and A screenings, says:
The film explores cross-cultural connection, vulnerability, and the universality of such experiences as they relate to all of us – men and women. In its broadest sense, the story of LITTLE TORNADOES comments on the changing social and cultural landscape in rural Australia in 1971, in a small community still suffering the legacy of war.




The film's story reflects on how World War Two has a lasting impact on families across the generations, and on the greater society. It opens with a young father tasked with raising his two young children -- but he cannot do it alone. He must rely on support from new Italian immigrants in town (who represent change and a different perspective on the world), while trying to manage the confused connection with his war-affected father (a representation of the past informing the future). The film looks inward at one person's vulnerabilities in one small town, but it's this daily human struggle that is relevant to us all.




The film is set in a period of great social upheaval in our country, and I feel it parallels what people are feeling today. Not just in Australia, but everywhere. It's a very relevant and timeless story about despair, frustration and a feeling of helplessness in the face of change.




The emotional isolation in the film allows me to explore the Australian culture of stoicism, and how this can be damaging when trying to establish one's own masculinity and self-identity. This film is my way of trying to understand humanity and belonging, and how to recognise and cope with factors beyond our control that shape and affect our lives.
Director, Writer and Producer Aaron Wilson was born in rural Tocumwal and has lived and worked in and around the South-East Asian region. He works as a director and writer across film, VR, multi-platform and installation. He is drawn to narratives that explore human vulnerability, and connection between peoples across neighbouring country and cultural divides.
In 2006, he was selected to take part in a filmmaker residency program with The Objectifs Centre for Filmmaking and Photography in Singapore where he developed the script for his debut feature, CANOPY (TIFF 2013). LITTLE TORNADOES is his second feature.
Wilson's 2013 film CANOPY is an Australian/Singaporean psychological suspense war film, starring Khan Chittenden in the role of Jim and Mo Tzu-yi. Set against the backdrop of the Battle of Singapore in World War II, the film is nearly wordless. Australian fighter pilot, Jim (Khan Chittenden) is shot down and he awakens suspended in the treetops. While looking for a safe place he encounters Singapore-Chinese resistance fighter, Seng (Mo Tzu-Yi), who, injured and frightened, also seeks to survive their tenuous surroundings and common enemy.
On the genesis of Canopy and what inspired Aaron Wilson to make it he stated:
Canopy is one man's journey, but told from a collection of true stories of isolation and loneliness in war. Stories that I heard growing up in a small town in rural Australia about far-away lands, and from war veterans and war survivors in Australian and Singapore.

The film was first conceived at a filmmaking residency in Singapore in 2006. What drove me to create the film was hearing first-hand accounts of war in Southeast Asia during World War II. Personal stories revealing the vulnerability of young men—just boys, really—navigating life in between the sorts of battles we're accustomed to seeing in war films. Moments of being fearful, lonely, and isolated… emotions that I as a person who had never been to war could connect with. Canopy is about these spaces between battles, and the sorts of emotions and connections with other human beings that would stay with them for the rest of their lives.
Actor Robert Menzies plays older Jim in CANOPY and has a role in LITTLE TORNADOES as well. As father to Leo and ex-POW still living in the shadow of his WW2 war experience. Robert is a veteran of film, TV and theatre. As the grandson of former Australian Prime Minister Sir Robert Menzies and his wife, Dame Pattie Menzies, he would have grown up hearing about WWII and then witnessed the subsequent conflicts Australians served in.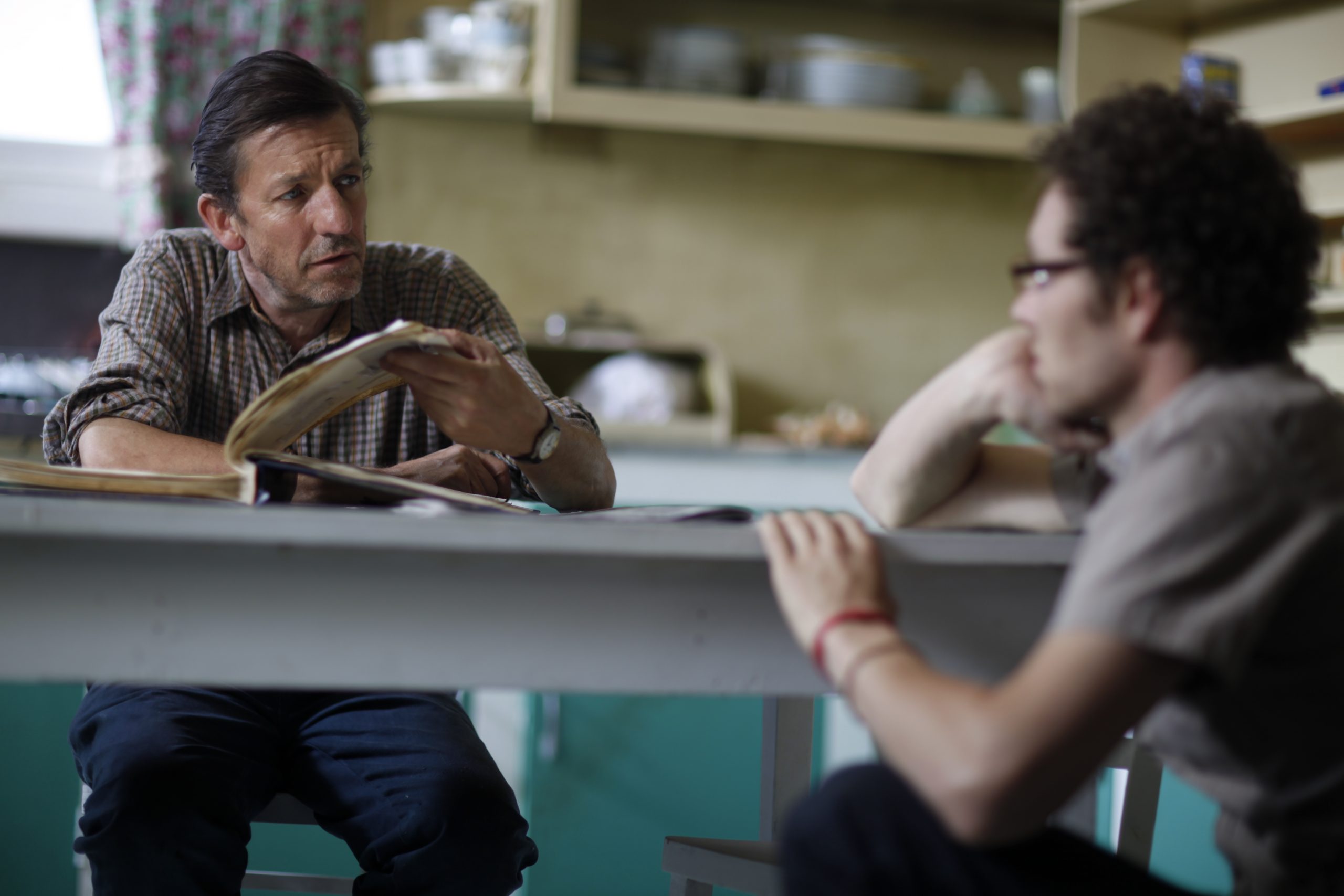 Robert Menzies and Aaron Wilson - Behind the Scenes Production Still - Little Tornadoes, filmed in regional Victoria & NSW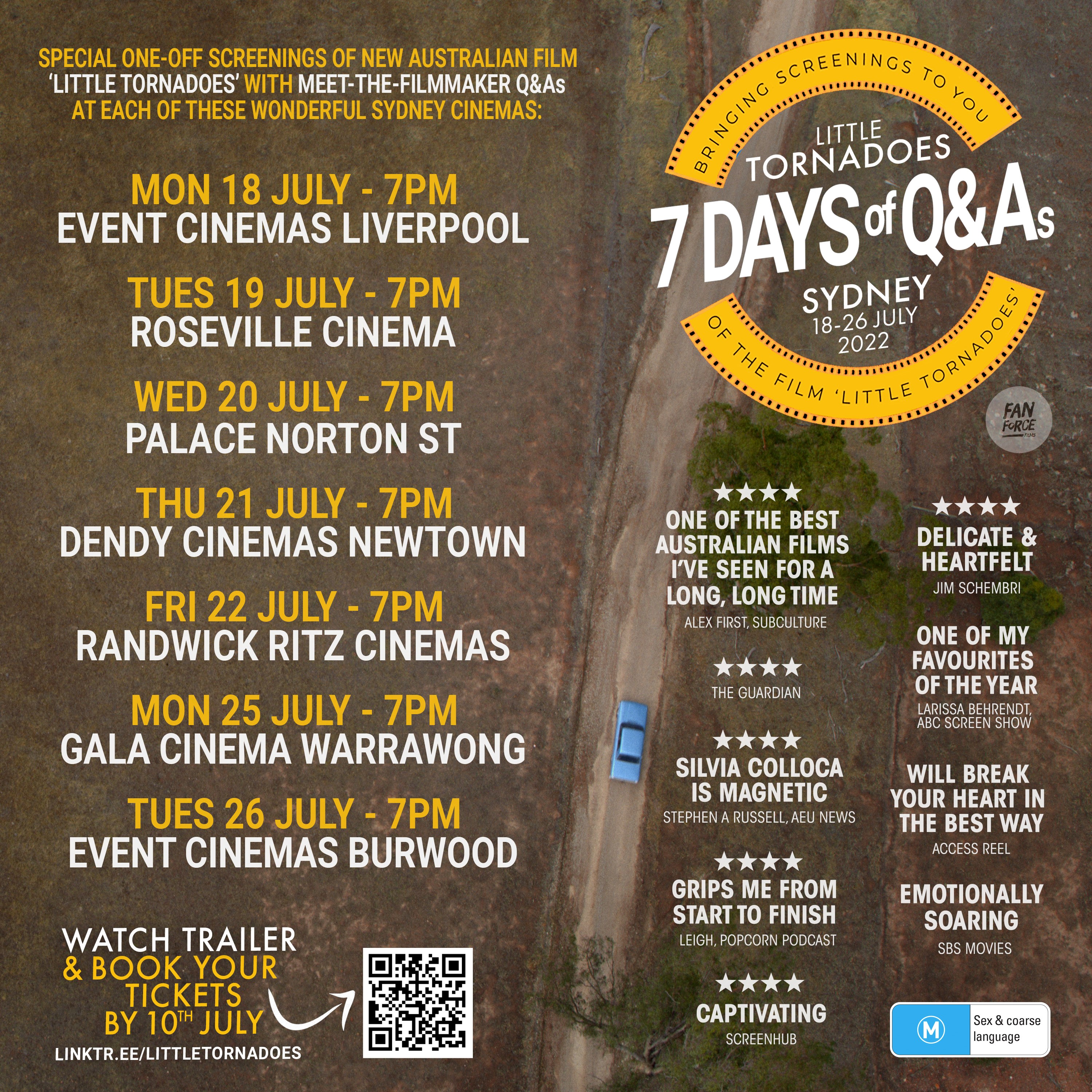 Nerida Cuddy - Rare Treats Comes to Allambie
On Friday night, July 29, from 7pm, Humph Hall in Allambie Heights will play host to musicians who have a rich night of original music to share. Singer-songwriter, Nerida Cuddy, and the band Real Treats, are enjoying the opportunity to once more perform live after the limitations of the past two years.
Nerida is a songwriter and poet whose work thrives in the beautiful landscape and rich community life of Canowindra, Central West NSW, her home of 20 years. Having written songs for thirty years, Nerida has been deeply influenced by the landscapes she's been in, and the people she has met. As well as performing in gigs, festivals and folk clubs around NSW, the Covid years opened up several regular online opportunities in the UK, as well as New Zealand and Boston. It also saw Nerida develop her film making skills to make a series of "Wide Open Air" songs for YouTube. Her latest album, Woven, a collection of Australian story-songs, was released in 2021. Visit: www.nerida.info
Real Treats band are a group of multi-instrumentalists of wide experience, who got together to be a real hit on the streets at the National Folk Festival. Cec Bucello, Trudy Von Laar, Greg Frohlich and Terry Carlan have a lot of energy and fun to share.
Wayne Richardson, of Humph Hall, urges concert goers to book via 0400 803 804, as seating is limited. Entry is by donation ($25 suggested). Humph Hall is at 85 Allambie Road, Allambie Heights. More information can be found at: www.humphhall.org/index.php/upcoming-events/rarecuddy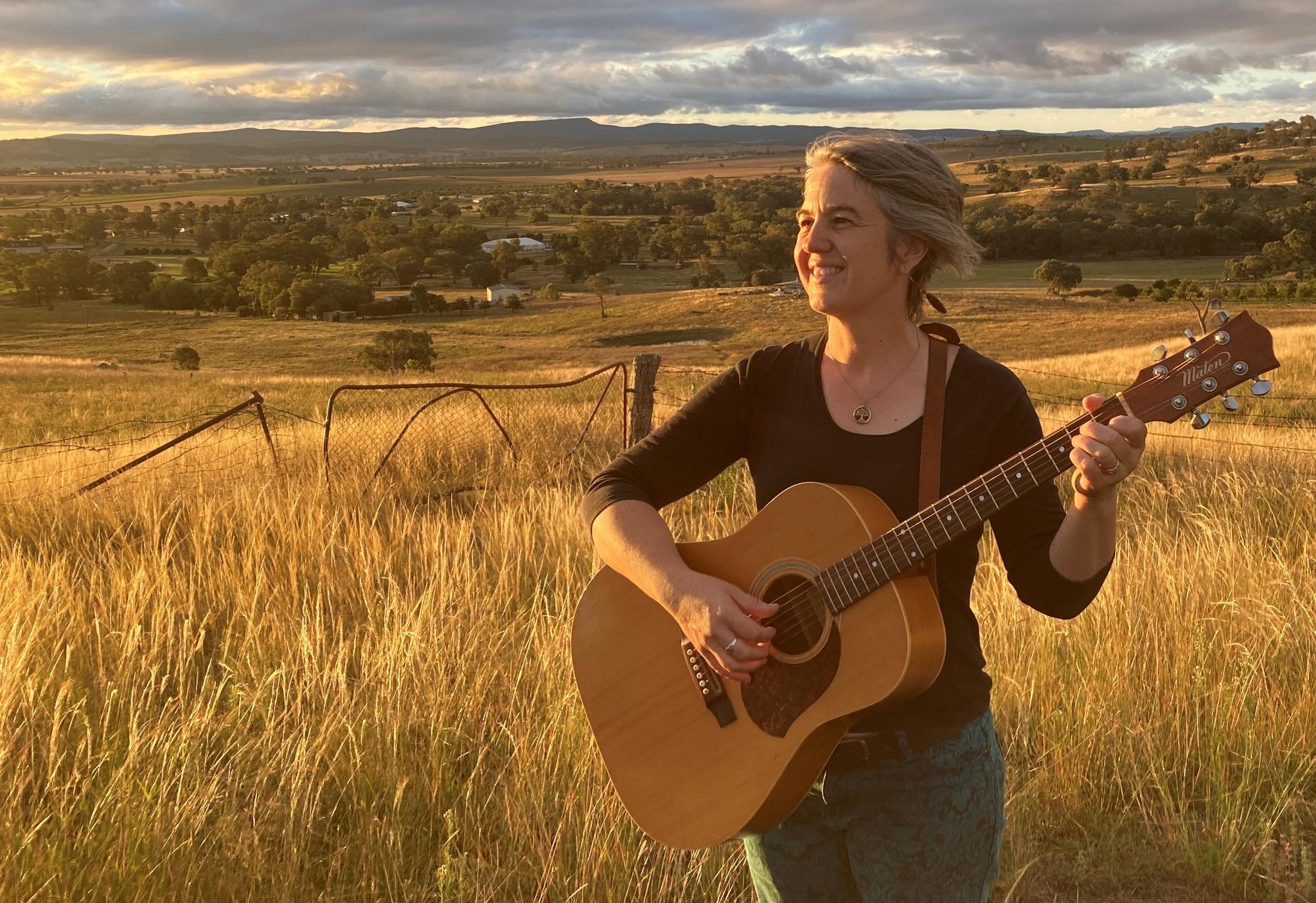 Nerida Cuddy

The Northern Beaches Environmental Art & Design Prize Exhibition finalists announced
Over 640 National Entrants with 212 Finalists

Exhibitions from Friday 5 August to Sunday 28 August at:

Manly Art Gallery & Museum, Curl Curl Creative Space & Mona Vale Creative Pop Up
212 finalists from across Australia were announced by Northern Beaches Council MayorMichael Regan for the prestigious annual Northern Beaches Environmental Art & Design Prize Exhibition which has a prize pool of over $40,000.
This year's exhibition brief was for artists and designers to reflect on our environment and respond to the crucial issues facing us and our climate. They were invited to create work that brings meaning and relevance to communities from across Australia.
Over 640 artists and designers from across Australia submitted their work across nine categories for competition in this non-acquisitive prize.
This year, works across categories encompassing a range of contemporary practices, from fashion and design to ceramics and small sculpture, painting and mixed media, photography, digital media, film and video, functional and wearable design and more will be on display.
All the finalists will have their works exhibited across three Northern Beaches venues from Friday 5 August to Sunday 28 August.
The Curatorial Team said "The 2022 Environmental Art & Design Prize finalists build on last year's strong inaugural exhibition with fresh perspectives on our global climate crisis and issues of living sustainability.
"This year's themes of fire and flood, decay and regeneration, and our planet's beauty are explored across all nine prize categories.
"The 212 exhibition works invite audiences to challenge perceptions of what is possible and participate in creating a better world."
Mayor Michael Regan said he is thrilled to announce that this year our local Northern Beaches creatives are joined by finalists from all Australian states and territories for another inspiring exhibition.
"For its second year, the Environmental Art & Design Prize Exhibition brings together a dynamic community of artists, designers and audiences from across Australia who care deeply about our future on the planet.
"The breadth of entries from all over the country clearly shows that our Environmental Art & Design Prize Exhibition is making an important contribution to the national conversation about how we can work collectively towards a better future for ourselves and our children."
Of the 212 finalists there are 54 Young Artists and Designers across the age categories: 7–12 years and 13–18 years.
The esteemed external judging panel of leading creative practitioners and thinkers will assess the finalist works and award category prize winners. This year the panel includes: Dr Michael Mossman, a Kuku Yalanji man and Lecturer, University of Sydney School of Architecture Design & Planning; Australian Artist, Janet Laurence; and Kit Willow a leading Australian luxury fashion designer.
Dr Mossman said: "Connecting with country is a really foundational quality of how I practice architecture and what I teach. That connection of people, their different expertise and skills is where we can bring critical mass to issues of environment."
Janet Laurence said: "Art is a wonderful way to bring the public's attention to climate change issues. Using data and information from scientists, artists can create compelling, new ways of sharing information and stories, which is absolutely necessary for people to really care and to be driven to act."
Kit Willow said: "I strongly believe in a better world, through the simple mantra of making women look and feel beautiful, without harming our planet, so everyone can win."
Prize winners will be announced on Friday 5 August at 6pm at the Manly Art Gallery & Museum by Dr Michael Mossman.
The People's Choice Awards will be announced on 27 August. The exhibition entry is free.
Venue Information: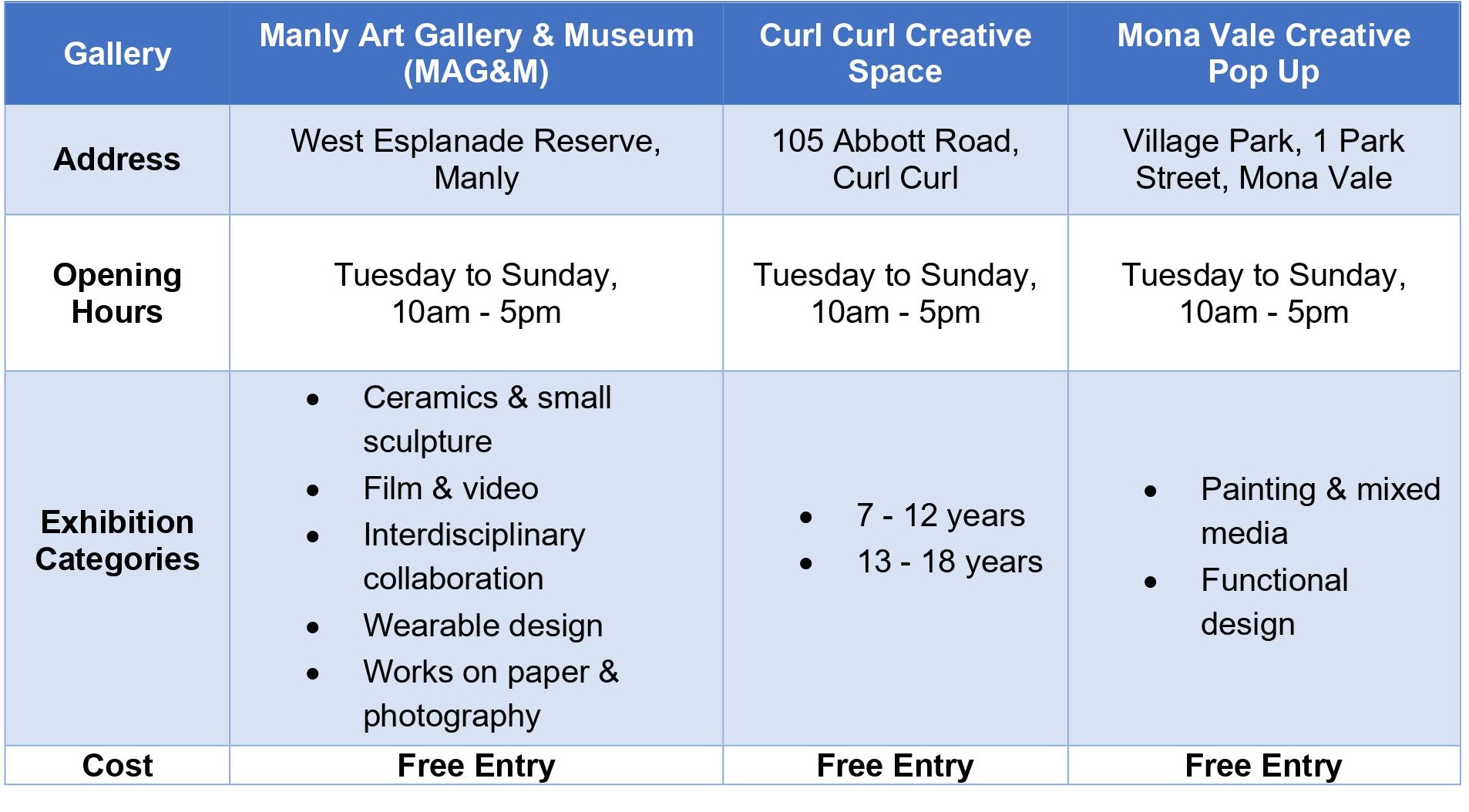 For additional information please visit Council's website.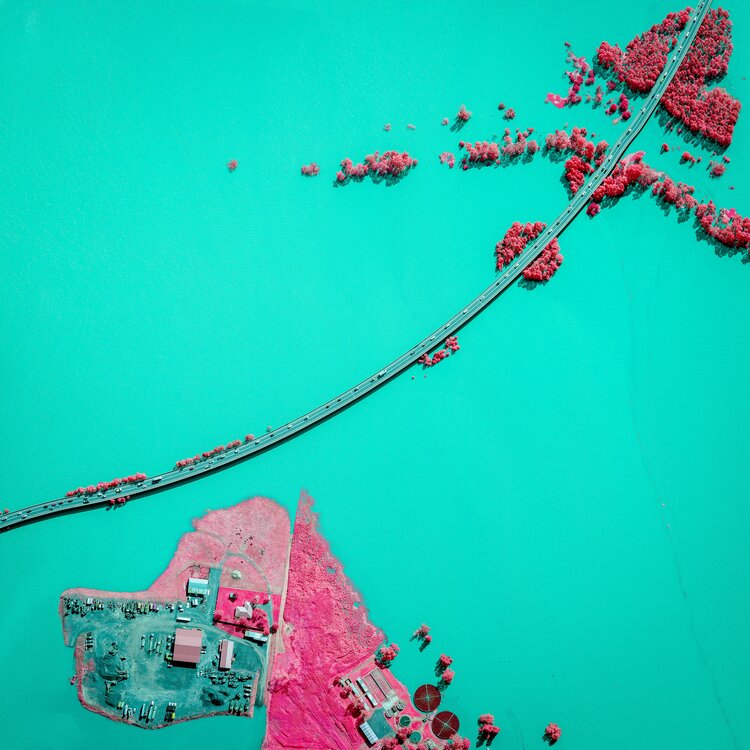 Image: Chad Ajamian, Road to Recovery - Hawkesbury River Flood in Infrared (Works on Paper Photography)

Sydney Art Space
63 Bassett Street, Mona Vale
Sydney Art Space is a supportive, nurturing and fun place for adults and children to make different types of art via creative workshops, courses and events
Sydney Art Space, in Mona Vale, is the vision of artist and educator Christine Simpson who has created a supportive, nurturing, and fun place for adults and children to make all different types of art.
Whether you want to:
* engage your child in a quality creative program
* get help with the HSC Body of Work
* begin and explore your journey into creativity
* further your arts practice
* do a Sunday or Weekend Creative Workshop
* book a Sunday morning art party
* or have a social dabble with creativity after work,
Sydney Art Space is the place for you!