June 30 - July 6, 2019: Issue 411
Artists encouraged to join Northern Beaches Public Art Artist Panel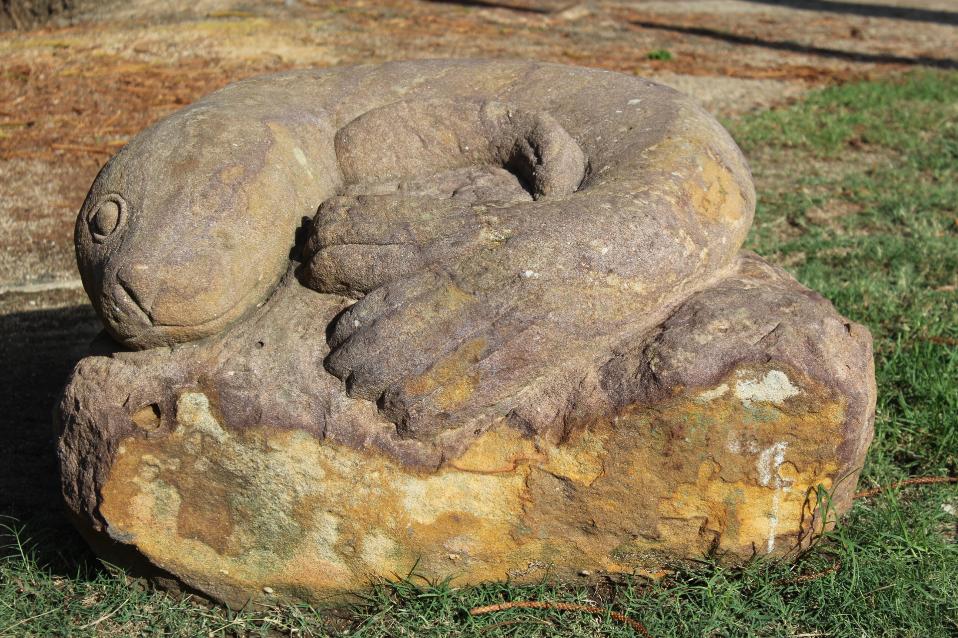 Stone Seal Sculpture in Dunbar Park, Avalon Beach - photo by A J Guesdon in March 2019
Monday, 24 June 2019
By Northern Beaches Council
Northern Beaches Council has a unique opportunity for qualified and experienced artists as well as arts project teams to join the new Northern Beaches Public Art – Artist Panel.
Panel artists will have the chance to develop integrated artworks for sites along the 36km Northern Beaches Coast Walk from Manly to Palm Beach as well as other potential public art projects on the peninsula.
Once completed, the Northern Beaches Coast Walk will be a signature experience of Sydney's stunning coastline. It will feature dramatic headlands, bushland, rock platforms, wetlands, lagoons, beaches and ocean views, further emphasised by the area's unique identity, character and history.
Northern Beaches Council Mayor Michael Regan has called on emerging and established artists to support the high profile art project.
"Everyone at Council is very proud about what the Coast Walk will bring to area once completed.
"I'm also excited that the art works will be of such high quality and have the potential to really inspire our community.
"We have an opportunity to develop the most extraordinary art and environmental experience for locals and visitors to embrace and enjoy. "To be a part of a permanent gallery along our extraordinary coastline will be a real achievement for artists who are successful in gaining a commission."
A total of 20 sites have been selected for major integrated artworks that are to be both high quality and deeply respectful of the coastal landscape in which they are placed.
Additionally, due to the multi-layered, multi-use, harsh weather and corrosive nature of the coastal environment, artworks must be made of robust, durable sustainable materials and include approved protective coatings that require minimal maintenance.
Artists will need to submit an application outlining their artistic approach, credentials and qualifications, their ability to undertake the work, a record of their previous completed public artworks, fee proposals and references.
Aboriginal artists and artists from the Northern Beaches are strongly encouraged to apply.
The Artist Panel Tender closes on Thursday 25 July 2019, 2pm (AEST).
For additional information about the Northern Beaches Coast Walk Project, please refer to the following https://yoursay.northernbeaches.nsw.gov.au/publicarttrail;
https://www.northernbeaches.nsw.gov.au/council/current-works-and-projects/major-projects/connecting-northern-beaches/coast-walk
Northern Beaches Council reserves the right to adjust the selection process and artist selection as required for the delivery of the project and/or changing program requirements.
Interested parties are required to register via Northern Beaches Councils E-Tendering portal: https://www.tenderlink.com/northernbeaches/
PLEASE NOTE: Council will disqualify any Tenderer that:
engages in unethical, corrupt or inappropriate conduct;
approaches Councillors or Council officers in relation to this RFT in a manner not consistent with the RFT; or
displays intimidating behaviour.