Artist Of The Month July 2022: Alyson Bell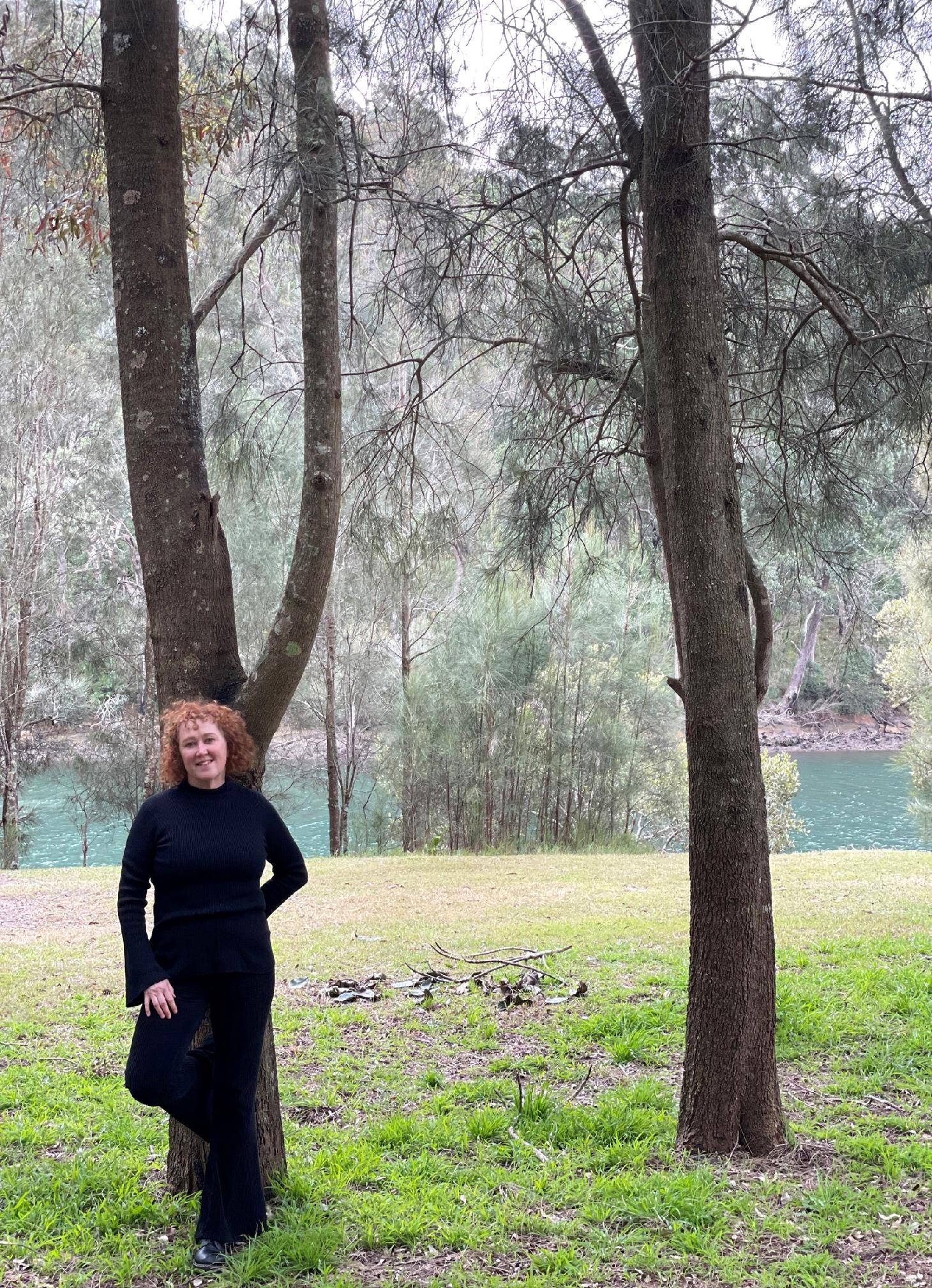 Alyson Bell is a visual artist working primarily with the moving image and installation. Her artworks often centre around a connection to place and may explore darker interior and transformational themes, sometimes surprising with an element of playfulness.
Alyson's background in Graphic Design (BA Hons degree, UK), in Film (VCA Film & Television School graduate diploma) as well as the Visual Arts have hugely informed her artwork. With a career encompassing work in London and Sydney as a designer, photographic stylist, magazine and advertising art director, film-maker of award winning short films, museum exhibition videos, commercials and promos have all naturally merged into what is now her current practice.
Alyson has been exhibiting since 2014 in various festivals, galleries and art prizes. Most recently she received the Major Open Award at the 2022 North Sydney Art Prize with her video installation The Twilight Hour. Alyson was also the 2015 winner of Adelaide's Kennedy Prize with her video installation Never-Ending Tide.
In 2017 Alyson projection mapped her animation 'Spirit' in the window of Arthur Boyd's studio for Bundanon's Siteworks Festival, theme: Birds and Bees, and in 2018 was selected for a year long Studio Artist Residency at the Northern Beaches Creative Space in Curl Curl.
Recent exhibitions include the 2022 North Sydney Art Prize at the Coal Loader, 'Daily Rhythms' exhibition at The Saywell Gallery Marrickville May 2022, and as a finalist in the 2021 Northern Beaches Environmental Art & Design Prize (also In 2020), 'In Plein Light' at the Gaffa Gallery Sydney 2021, and 'Beyond Matter' at The Incinerator Gallery Willoughby 2021.
In Plein Light:
The premise of this exhibition was to showcase a selection of artwork made from sound, light, video, projections and neon art. The aim was to exhibit a range of works from different mediums and skill sets that give a glimpse into the creative lives of such artists.
Beyond Matter:
An immersive and collaborative art installation inspired by the beliefs of animism. Curated by Cassia Bundock, Beyond Matter was an immersive art installation generated by sound, video projection, painting, collage, drawing, print, sculpture and aromas. It seeks to simulate a sentient environment which explores the possibility of immaterial phenomena and the existence of non-physical realms within Nature. Collaboratively created by seven artists, the installation space becomes an imaginary sacred place by referring to concepts of animism and ritual drawn from indigenous, ancient and contemporary beliefs of the East and the West as well as from science. Alyson contributed 'Tree Spirits' to this collaboration.
Alyson is currently working towards the show Untethered at the Grace Cossington Smith Gallery Wahroonga with 4 other artists in late October.
Website: www.alysonbell-visualartist.com.au
Instagram: @alysonbell.art
The popular North Sydney Art Prize was back with more than 110 artworks displayed across the historic grounds of the Coal Loader Centre in Waverton from 14 to 29 May 2022.
This transformed industrial site provides a unique backdrop for visitors to experience a broad range of artworks from immersive, site-specific installations within the atmospheric underground chambers and tunnels, to sculptures dotted throughout the picturesque parklands, and paintings, works on paper and multimedia works displayed in the Cottage.
Mayor Zoe Baker said the Art Prize is a wonderful opportunity for the community experience a range of unique and fascinating artworks, right at their doorstep.
"Not only does the Art Prize offer the best of contemporary art from across Australia, but all works explore themes of sustainability and environment. Art has a beautiful power of moving hearts and prompting formative conversations. We are proud to be holding this exhibition that highlights some meaningful topics."
The 2022 curatorial theme encouraged artists to consider the overarching principles of the Coal Loader Centre for Sustainability. In response, many of the selected artworks explored the impacts of climate change and consumerism, as well as responding to the inspiring natural and industrial elements of the Coal Loader site.
Alyson's Major Open Ward winning work - The Twilight Hour - provided visitors with an immersive experience which, like much of her work, strips away all that surface noise that so often gets in the way of what's being said, simply, so what is actually occurring may fill our own forms long enough to be heard.

Below run a selection of recent and past creations.
THE TWILIGHT HOUR
The Twilight Hour highlights a small window of opportunity before darkness falls in the fast diminishing timeline of climate change.
In these last moments of light, we are lead to an imminent crisis point where mankind's incessant path of destruction is juxtaposed with nature's own quiet beauty.
Created in response to the 2020 bushfires.
EXISTENTIAL ANGST
- video & assemblage installation
Small picture frames on wall in various sizes with Eye reproductions from ​famous paintings & hand-painted detail.
Broken wall mirror in frame
Framed LED screen with 'Eye' video
Two-way mirror with 'Live' interactive video
Vintage half-moon hall table
Adapted hand-mirror containing iPhone with 'Invading Bugs' video
Vintage hairbrush with hair
Table stand picture frame with iPhone
'Ageing Portrait' video
Old book edition 'For Your Eyes Only' by Ian Flemming
Glass crystal perfume atomiser with hand-sanitizer
​Royal Albert floral china cup & saucer
Reading glasses
Glass crystal vase with dying flowers
IN PLEIN AIR exhibition GAFFA GALLERY City of Sydney, ​ ​November 2021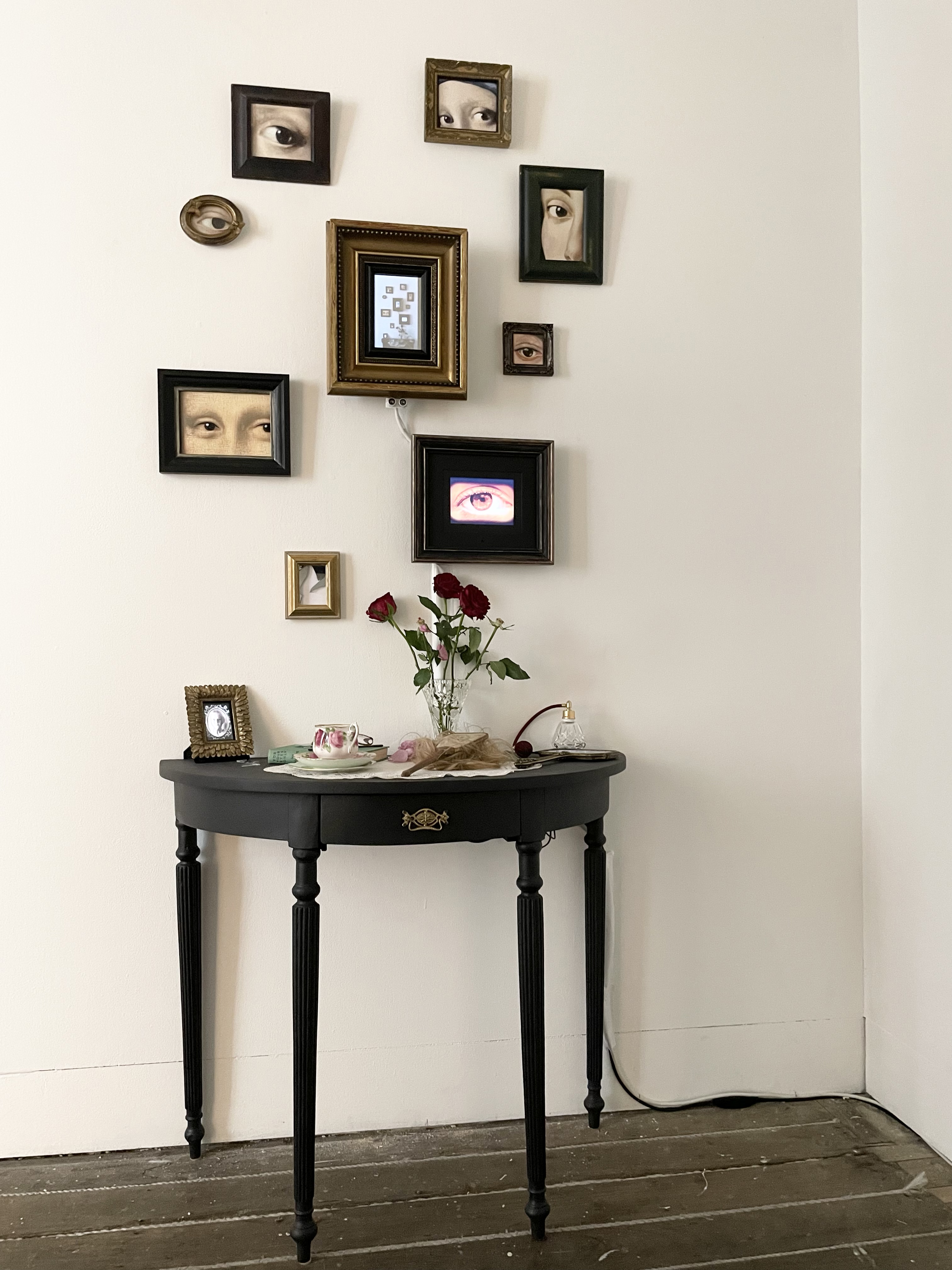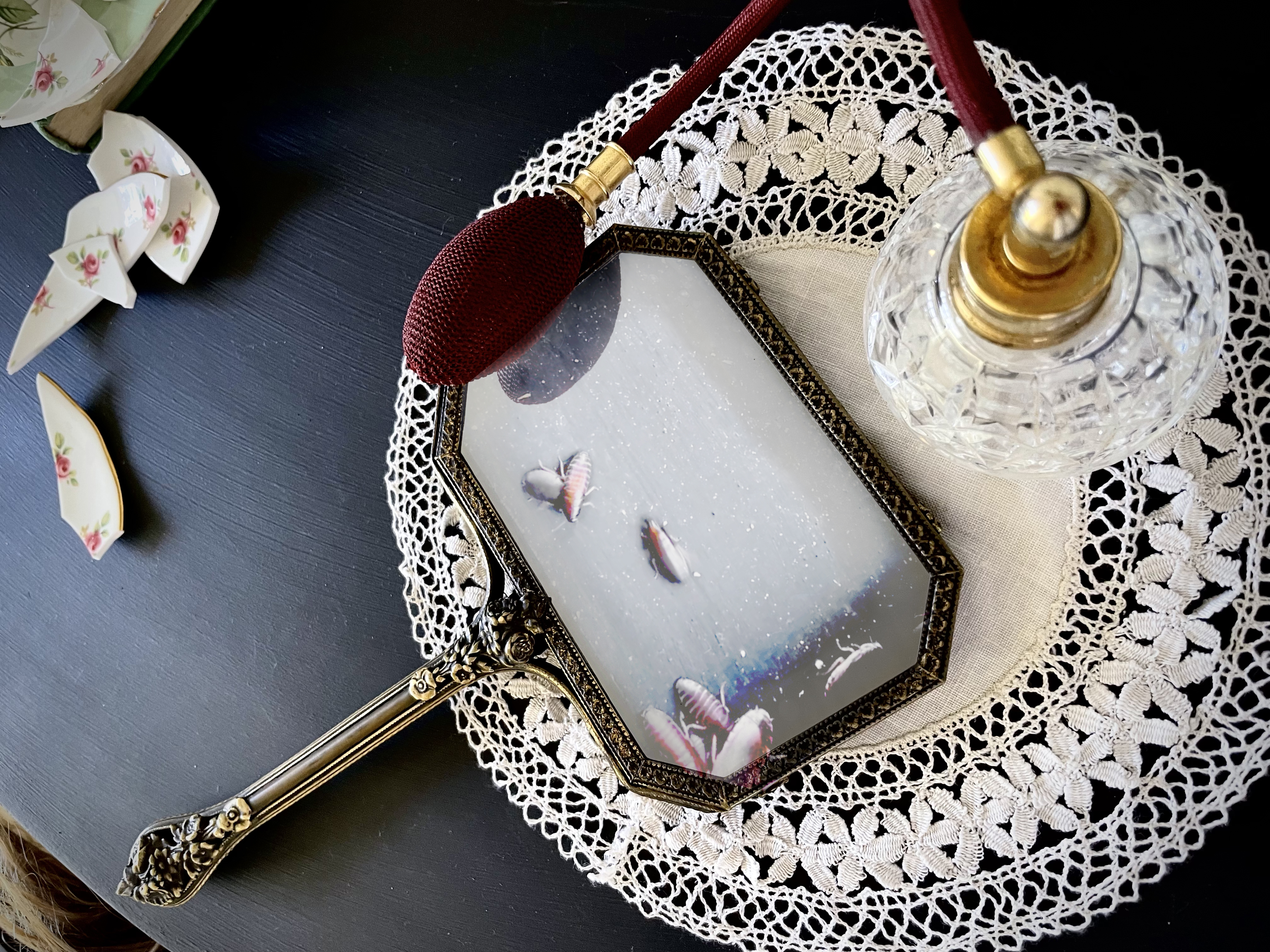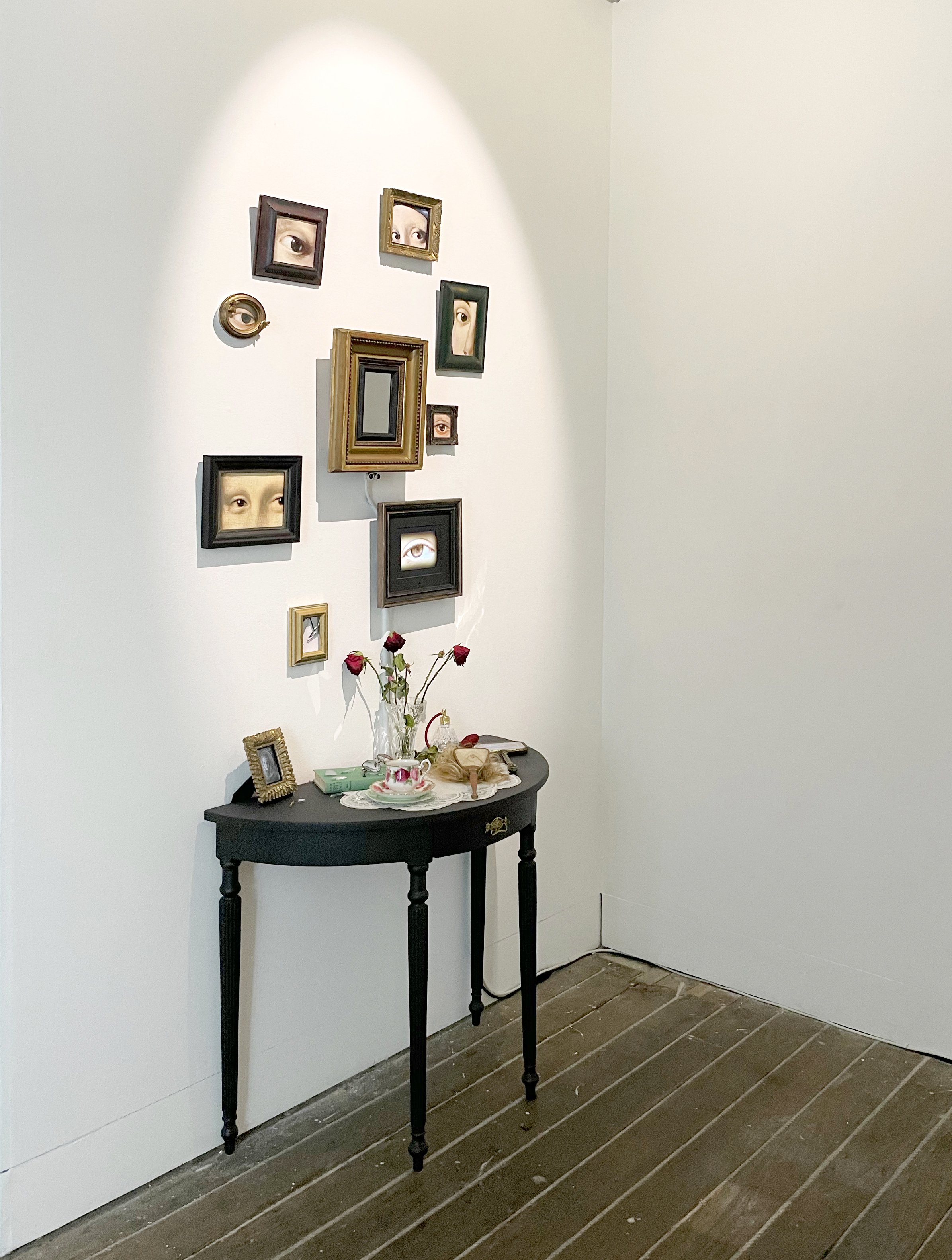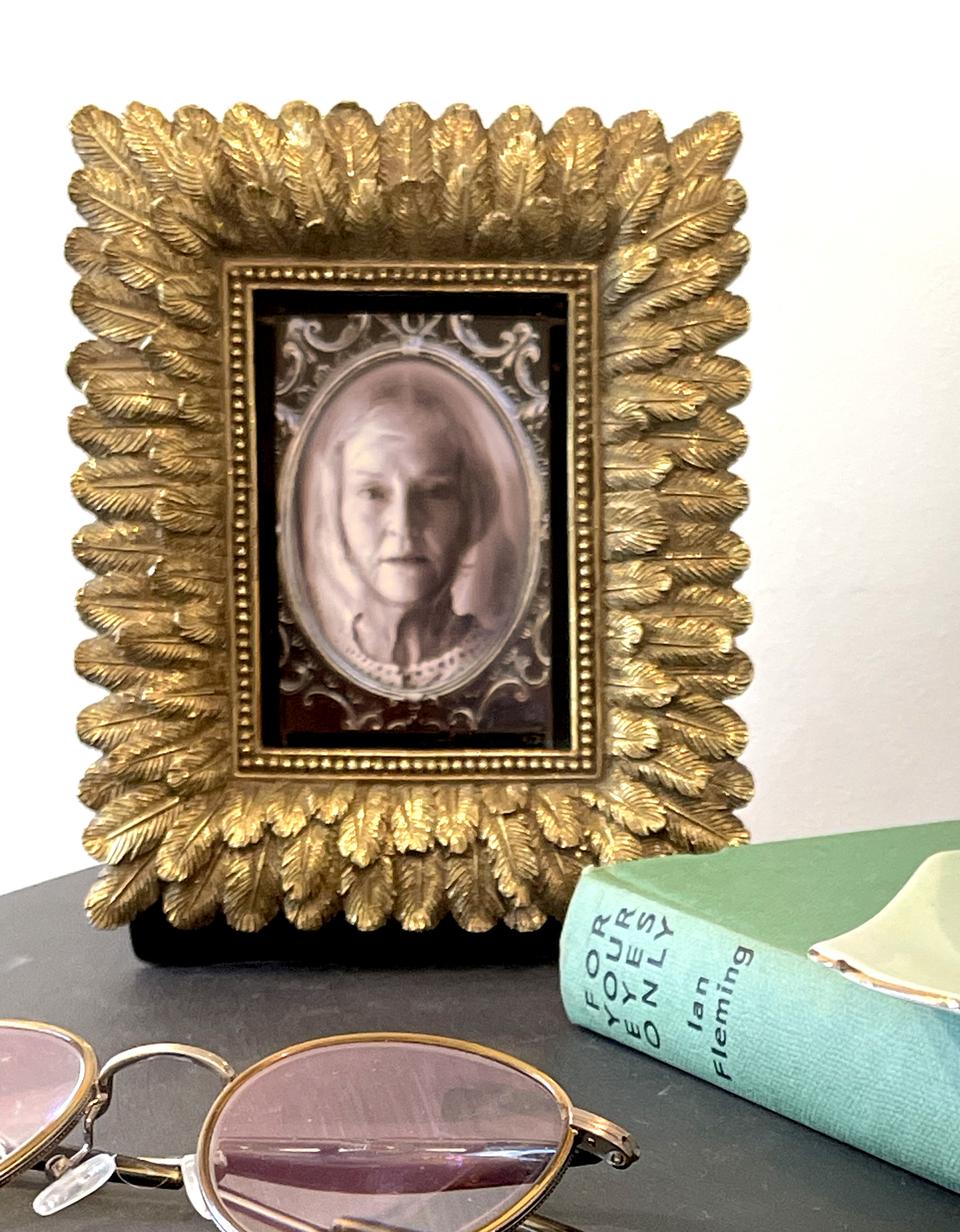 TREE SPIRITS
​VIDEO INSTALLATION 2021
HD colour digital video composition
4 minutes
various lengths of red tulle
135cm w X 350 - 500cm h
THE INCINERATOR ART SPACE
Like centurions of the forest, the blackest of trees step back deep into the smouldering depths. We are witnesses to the devastation ​of bushfire but also to a strange and surreal beauty.
The trees' vertical lines slip by, merging, separating and mesmerising us, until we are immersed in the very essence of nature's rhythm and of hope... ​​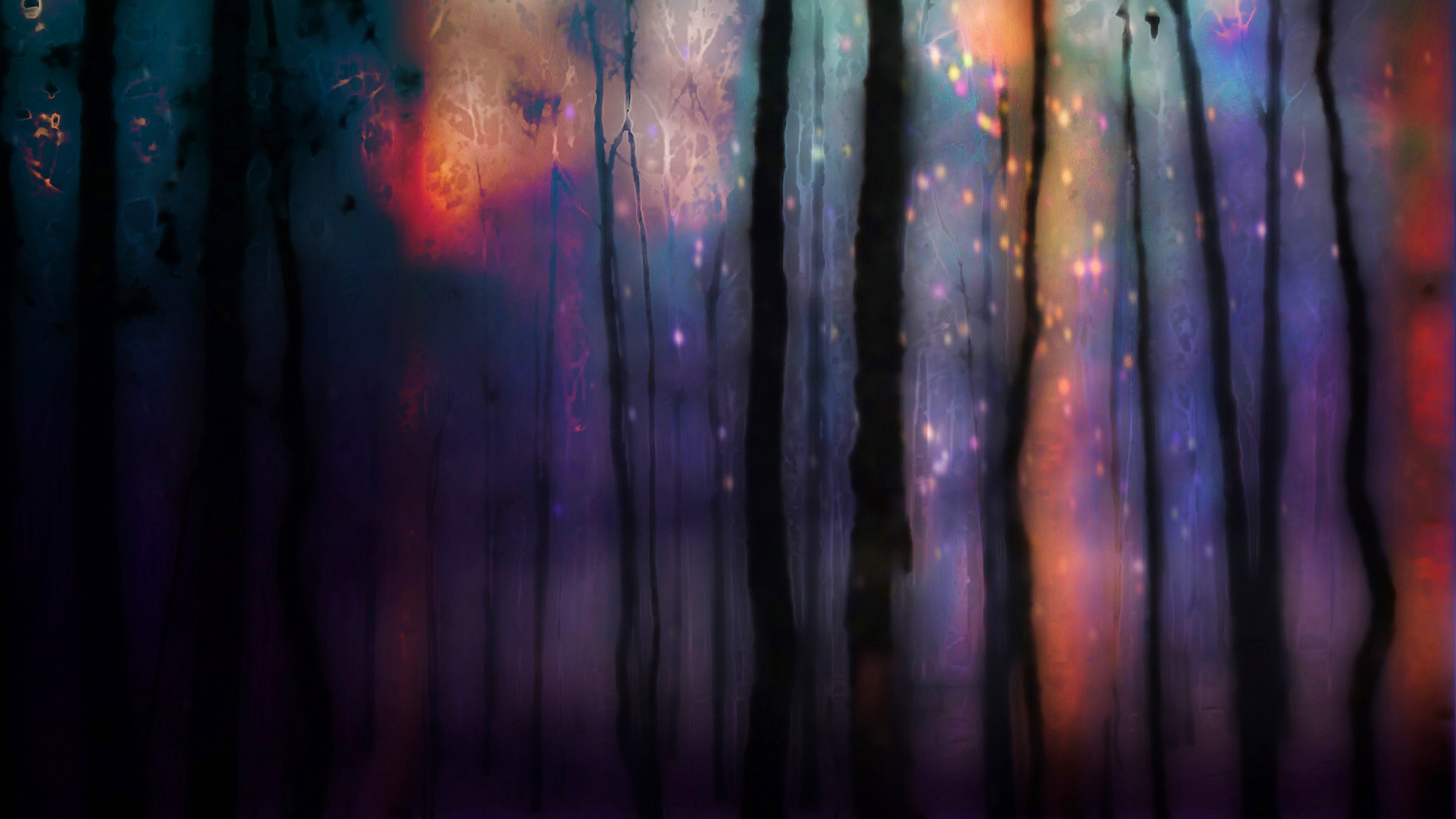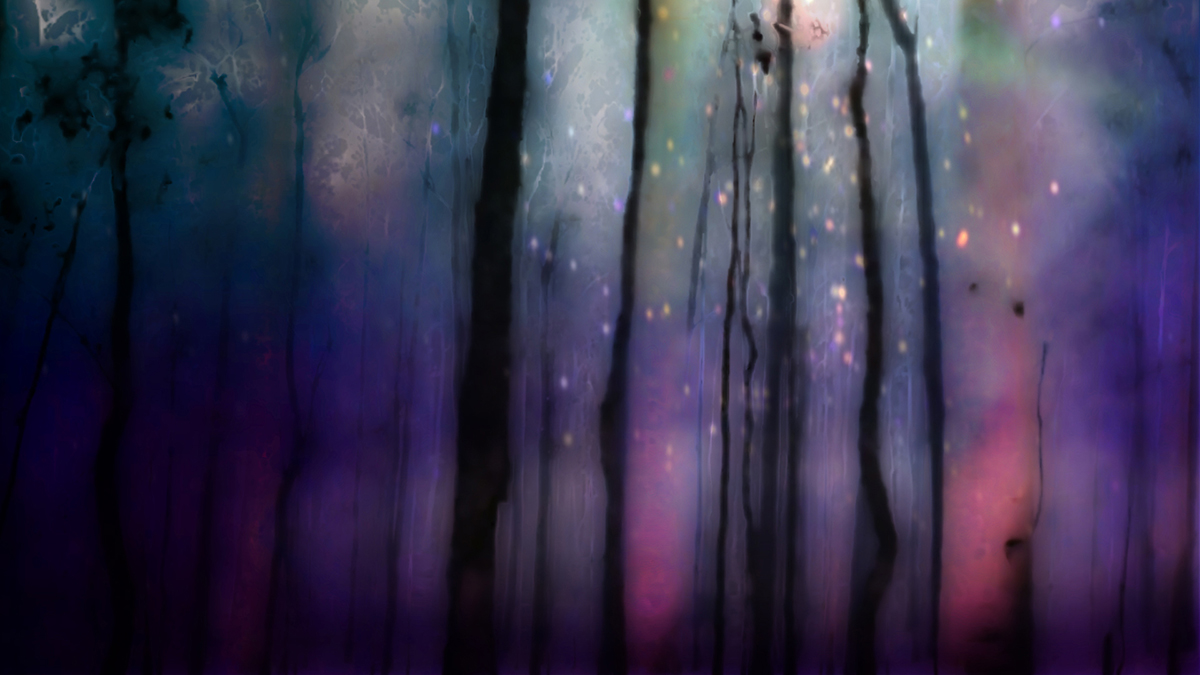 ​THE WINDOW WITHIN
​projection video installation
2 channel HD video projection, broken mirror
​STICKS & STONES EXHIBITION
ERAMBOO GALLERY Terrey Hills Sydney
​April 2022
DAILY RHYTHMS EXHIBITION
SAYWELL GALLERY Marrickville Sydney
​May 2022
The Window Within is based around perceptions, thoughts and perspectives of our inner-selves and of others.
The influx of social media in today's age of communication and a world-wide addiction to the internet has created a myriad of mental health issues.
Looking in and looking through, the window becomes a metaphor for our exterior and interior self. As we walk around the window our perception shifts and distorts, are we inside or outside… are we looking inwards or are we looking outwards?
Through one mirror we watch like voyeurs on the other side of the wall as a young woman performs her daily ritual… In the next mirror we see our own reflection; but who are we? And are we presenting a true or a masked version of ourselves to the world?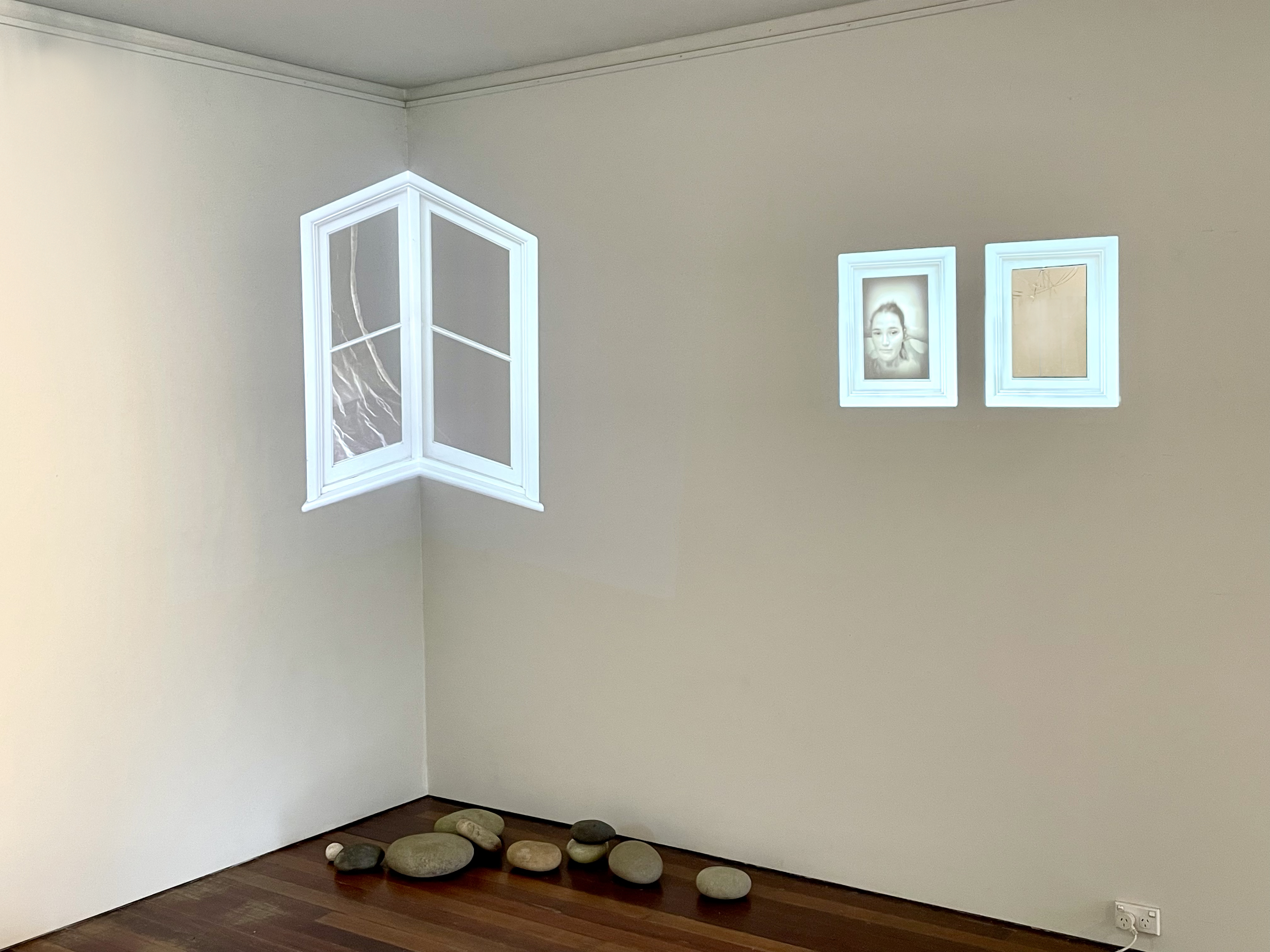 ESPY
- video installation
REPLAY EXHIBITION 16 - 27 October 2019
THE CREATIVE SPACE, Northern Beaches, Sydney
vintage mirror
1.10 min looped video projection
w:50cm x h:72cm x d:3cm
ESPY - as a source of literary inspiration, mythology and superstition, our senses are captivated in the ethereal reflections of the mirror.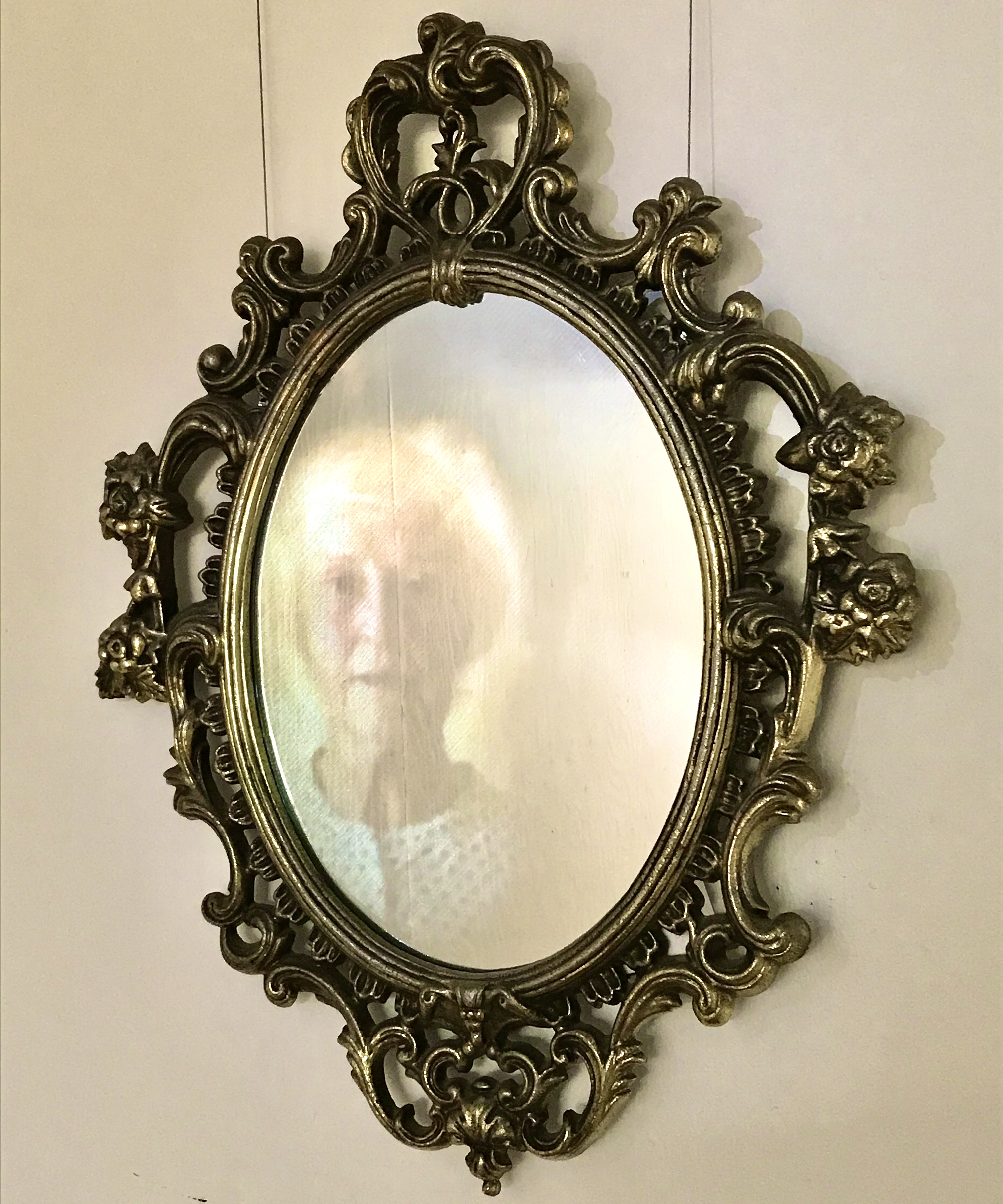 INTO THE PATHLESS WOODS
projection / video installation and 10 metre collaborative drawing event - facilitated by Ingrid Bowen​
THE MANLY ARTS FESTIVAL September 2019
ERAMBOO GALLERY
The 'living, breathing forest' offers energy and revitalisation, connecting us physically, mentally and emotionally to its immediate environment
7.20 minute looped video-works, doubled onto two walls with breath soundtrack,
3 x 30 second looped video porthole projections;
1.Homage to Magritte 2.Leaf 3.Sky
animated white bird projection on ceiling
gum tree branch, bark,
installation through open door: white curtains,
​paper porthole door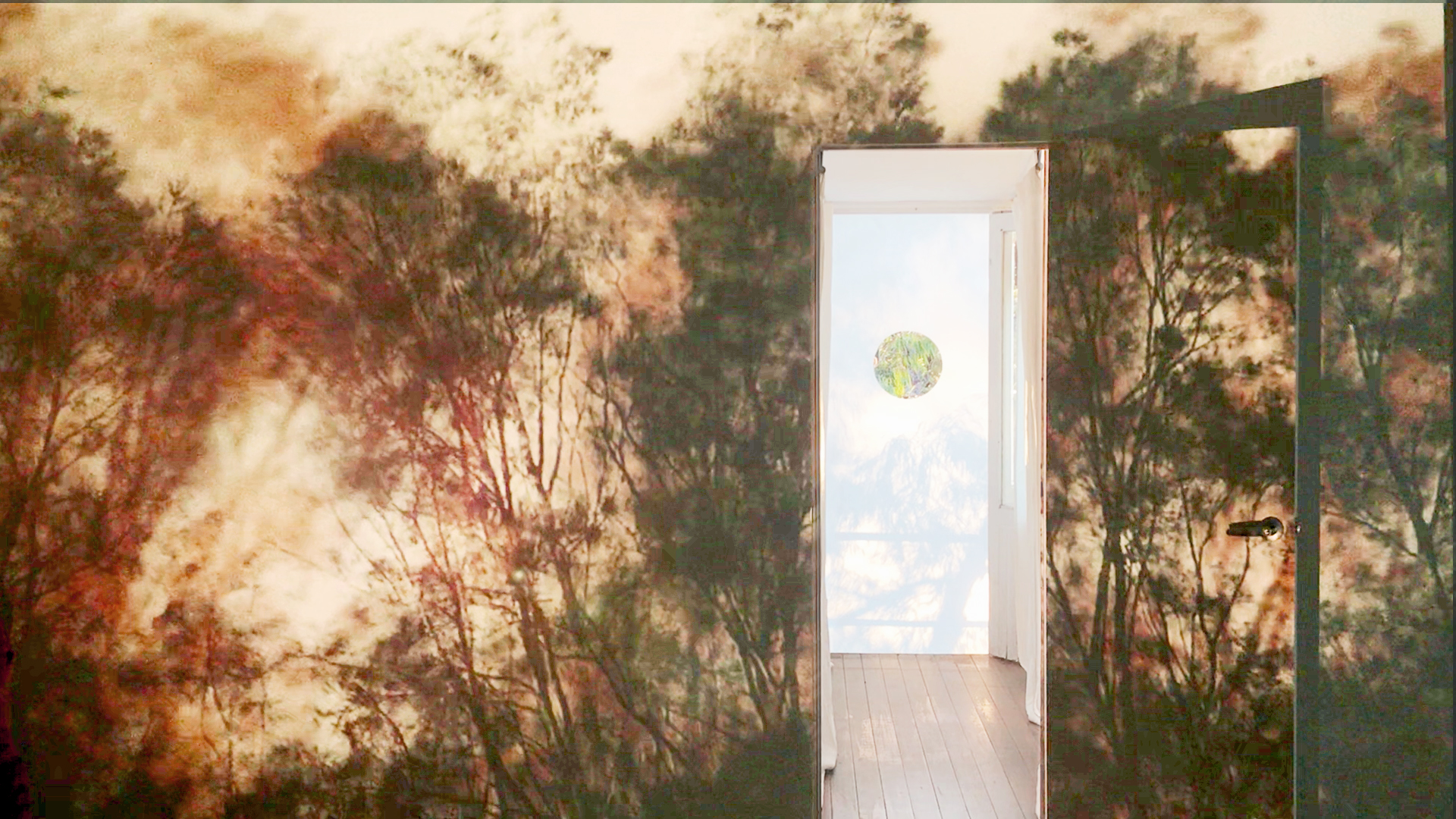 NEVER-ENDING TIDE
- Video Installation
WINNER of THE KENNEDY PRIZE 2015
Adelaide. South Australia November 19 - 28 2015
SALTWATER EXHIBITION
Manly Art Gallery, NSW October 30 -November 29 2015
5.30 min looped digital video projected onto bed sheet
with sound 120cm x 195cm
NEVER-ENDING TIDE reminds us of our deep connection to the coastline of Australia and its imprint on our psyche. It reminds us of the power of the moon and of the cycle of life itself. On the brink of womanhood, the sleeping girl acts as a metaphor for these connections and of her future in an uncertain world.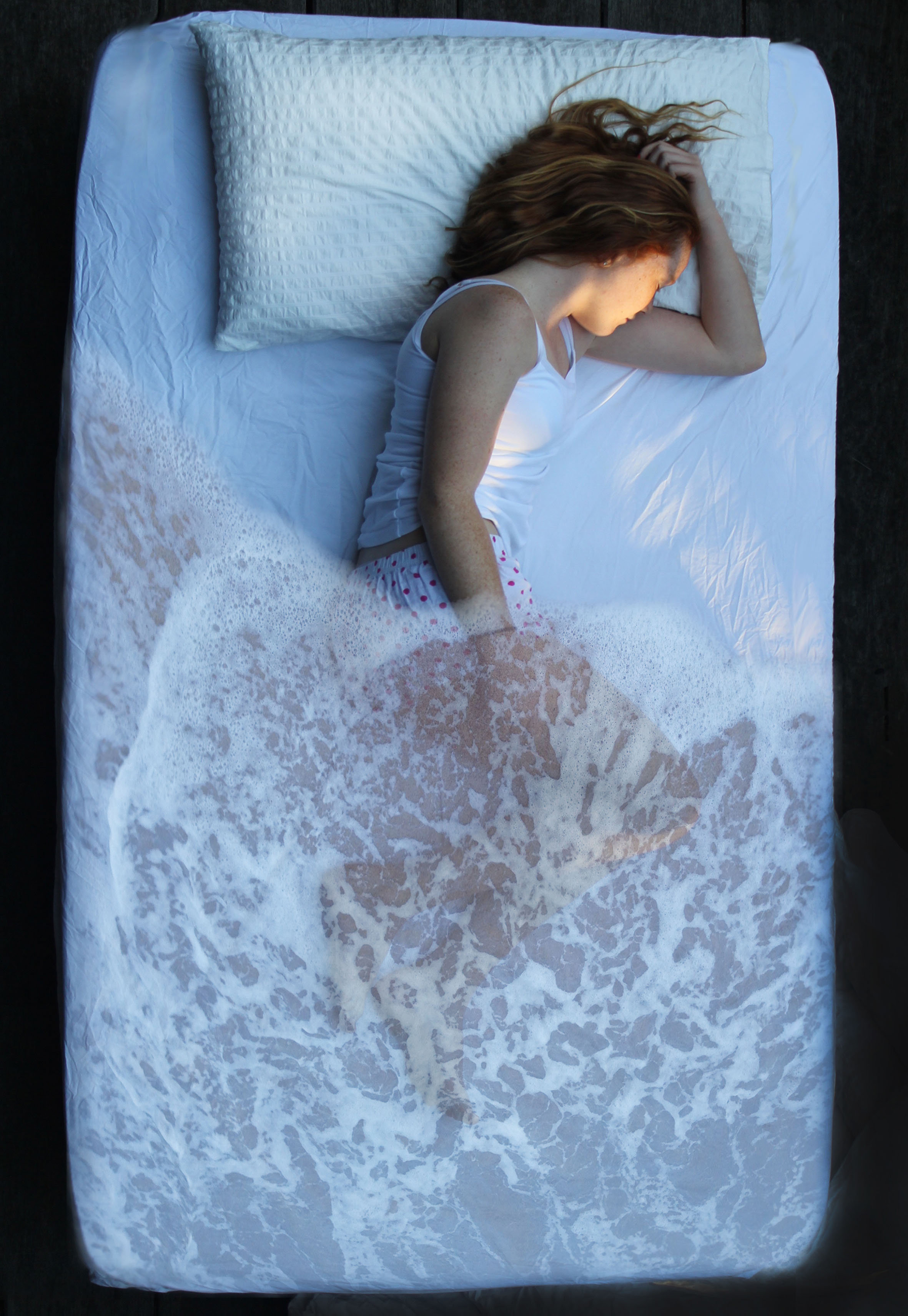 EARTH (Mother)
- video installation
EARTH EXHIBITION 17 - 27 November 2016
THE CREATIVE SPACE, Northern Beaches, Sydney
2.15 min looped video with sound projected onto 900mm helium balloon
EARTH (mother) explores our connection to earth and the idea of all things interconnected in our being – it's vivid imagery and breathing rhythmic soundtrack embodies the life-giving and nurturing aspects of nature in the form of mother earth.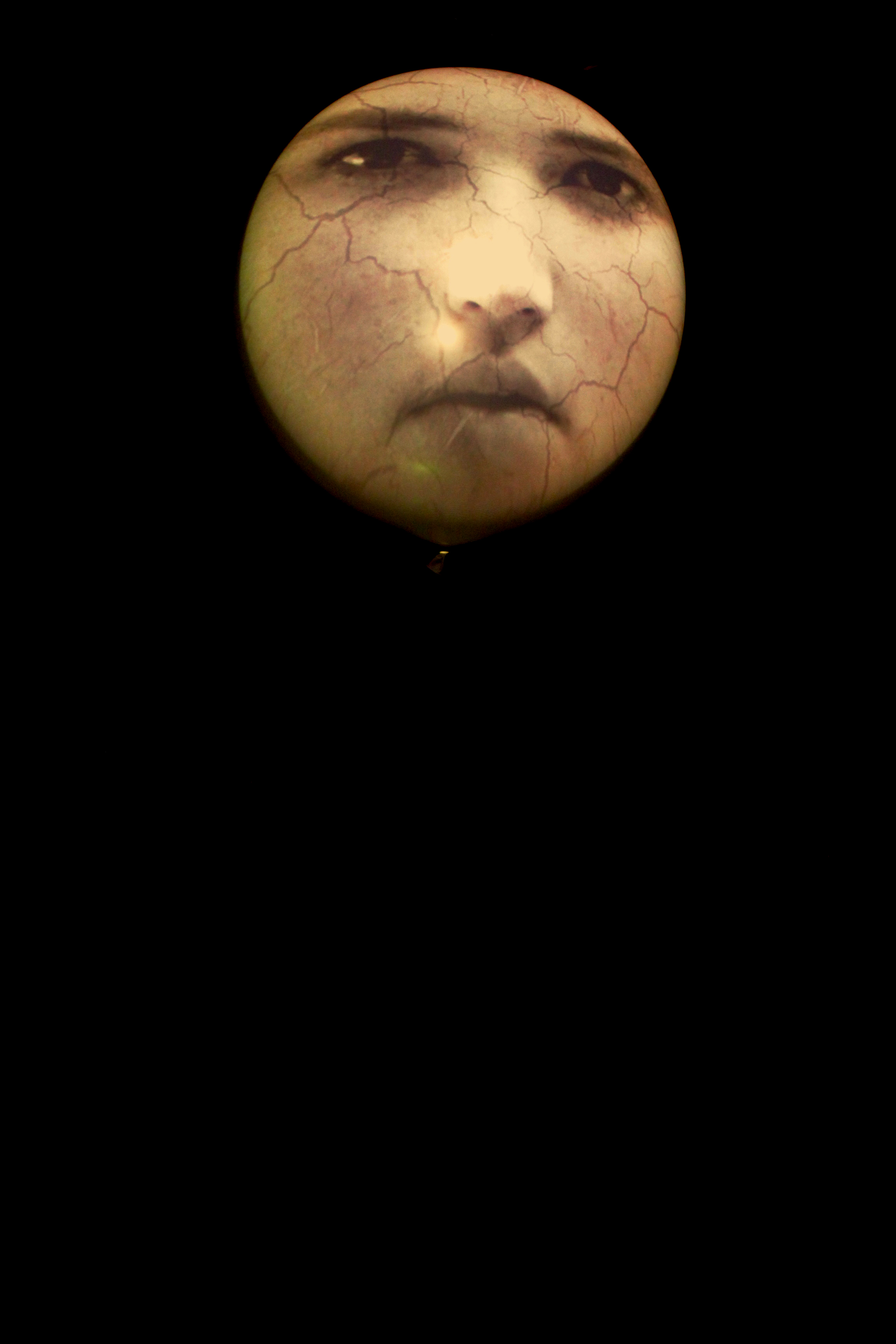 CREATIVE BLOCK
- video projection
CREATIVE BLOCK
the artistic process and torment...​
SHE FLIES WITH HER OWN WINGS EXHIBITION
THE CREATIVE SPACE, Curl Curl December 2018
​shadow moving Image, projection mapping
11 minutes - 205cm x 820cm