Artist Of The Month April 2022: Stephen Cooney - Unearthed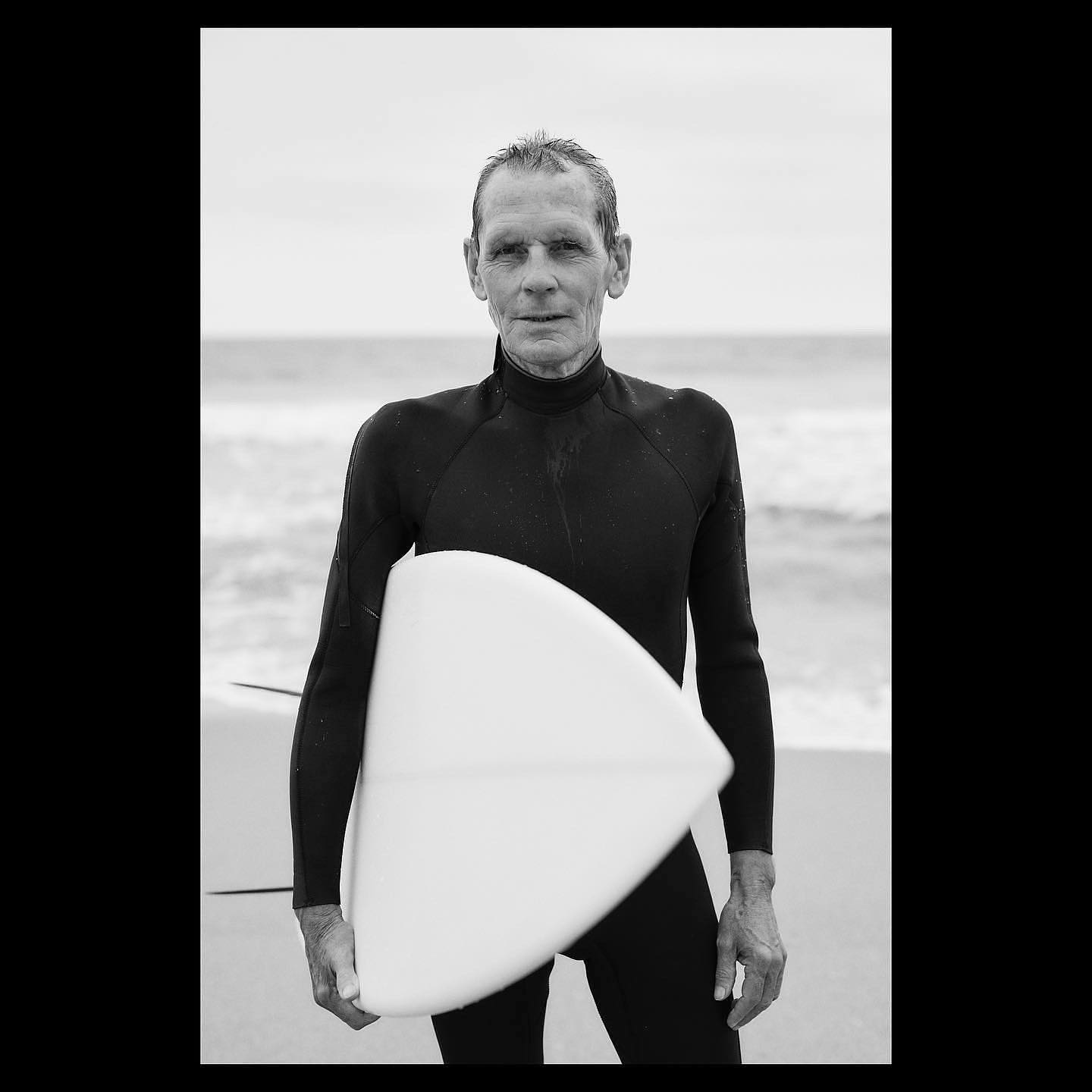 On February 25th 1972 Morning of the Earth first premiered at the Manly Silver Screen Theatre. Renowned as one of the great surf films of all time, this edge of the 1960's-1970's epic combines a great soundtrack with some of the best surfing from the best surfers of then and great breaks in Australia, Hawaii and the then as yet unsurfed Uluwatu on the very southern tip of Bali - with a young Stephen Cooney the first to do so.
During the Covid lockdowns Steve put pen to paper to chart a pretty unusual life and commenced sorting out his library of photographs with the result being Unearthed.
Stephen Cooney will be in conversation with Tracks editor Luke Kennedy this coming Wednesday April 6th at Rip Curl Narrabeen 6-8pm, 1270 Pittwater Rd, Narrabeen, which will be a bit like going home as Steve worked at Tracks, honing his skills as a writer and photographer soon after it commenced, when the office was still at Whale Beach.
Born in October 1955 Steve attended Narrabeen schools, lived at Collaroy then Long Reef and began surfing at Long Reef point before a move to Narrabeen put that beach at his toe tips.
His surfing naturally became better - he won the NSW junior title at North Narrabeen in 1971.
However, it's not all glory days - Steve's dad, afflicted with illness after an accident, took his own life when he was very young and his mother, with six children to raise alone in the mid 1950's, had no easy task before her.
Steve charts his own beginnings, the places and times he has been and the works he has done, that also brought him into contact with trailblazers whether out in the world of surfing or communicating that and the rising culture and counter culture made available through Tracks. In 1970 Falzon was co-founder and publisher of the surfing newspaper Tracks, with David Elfick and John Witzig.
Steve Cooney was a teenager when he travelled with Albert Falzon, Rusty Miller and David Elfick to shoot the fabled Bali section of Morning of the Earth. The trip to Bali had been preceded by trips up the north coast surfing with Falzon. John Witzig was around too, so Steve was with both of them shooting surfing at spots now renowned for surfers.
''The lead-up to leaving was fairly hectic. It was obviously a big deal for Alby and the rest of the crew as they were sticking a fair bit of faith (not to mention the movie budget) in an untried destination, with only sketchy information about the 'known' surfing spots and conditions.

We planned to be away for six weeks - four to five weeks in Bali and the rest spent travelling through Java. There was Alby, Tanya Binning, David Elfick and Lisa, Paul and Geoff Hutchinson and Peter De Bono (my main sponsors), and Rusty Miller all on the same aircraft heading for this place none of us knew existed until a couple of months before. There was a real feeling of camaraderie among the group despite the differences in ages - Alby and Rusty were pretty close to 30, I think David Elfick was a touch older than that, and De Bono was even older than that. Paul and Geoff were about 18 and it was hard to tell how old the girls were. As for me, I was the youngest - due to turn 15 in October '71.

We all had one train of thought that seemed to act as a catalyst - find waves at any cost - which made us feel real comfortable with each other. I had no feeling of trepidation going to a strange country, away from my family and friends with these people. There was a general feeling of confidence and great excitement. Everyone made me feel part of the team even though I was just a grommet. All of us were actually on the same Garuda flight looking at the red centre of Australia from a great height - all starting to wind up on what we would find, if we'd get waves, who we'd meet and what they'd be like. To put it mildly, the five hours on the plane were pretty exciting!'' - Steve Cooney, ULU 32 - ULU 32 chronicled the last 32 years of surfing history in Bali, Indonesia. Produced by Steve Cooney, the film features recent and archival footage of over 50 of the world's best surfers on the world's best waves.
The film Morning of the Earth was shot by Albert (Alby) Falzon and David Elfick. Surfers featured are Chris Brock, Stephen Cooney, Terry Fitzgerald, Barry Kanaiaupuni, Gerry Lopez, Rusty Miller, Michael Peterson, Baddy Treloar, Mark Warren and Nat Young among others.
Morning of the Earth is about immersing yourself in saltwater until everything has a white haze when you finally emerge, the sixties ethos of growing your own food, making your own music, shaping your own board, building your own shelter and staying attuned to the rhythms of Nature. The lyrics from Morning of the Earth by G. Wayne Thomas, one of 12 now Australian classics from the soundtrack, epitomises what you are invited to witness as a film goer:
The forces of the universe
And the elements of space
Conjured up your being
Your size, your time, your shape
You were created
With all the beauty they could call
And earth, you surely are
The measure of them all
...
This was a uniquely Australian young voice being heard and seen; the mateship and questioning that followed WWII now grown and prepared to pursue a peaceful and harmonious existence, especially if that meant living outside the little boxes of suburbia.
Reviewing the film in Tharunka Scott Robertson said:
Billed variously as a "positive ecological statement" and as the "total rock-surf trip", that all-Australian film by Albert Falzon is strictly speaking neither. Rather "Morning of the Earth" is a creation - a creation of a planet of beautiful dimensions and forms; a creation of an animal at one with this dawning planet, at one with the colours and shapes of a world of nature and water; a world being extruded from molten rocks and swirling clouds of gas. Out of a foaming wave streaks an object, hair flying, body twisting; a Venus emerging half-naked - the surfie. He is the animal who has established a rapport with the essence of a young, not yet pubescent world. You can take or leave this suggestion that the surfie is the height of all creation but you definitely cannot leave unseen the film which, despite photographic imperfections in places, is a tremendous statement of Australian youth searching, through film and music, for a young world when "one ocean once covered the world". "We are the measure of all things. And the beauty of our creation, of our art, is proportional to the beauty of ourselves, of our souls." — Jonas Mekas. MORNING OF THE EARTH (1972, April 11). Tharunka (Kensington, NSW : 1953 - 2010), p. 13. Retrieved from http://nla.gov.au/nla.news-article228114076
It is the surfing that epitomises the core of this film and it was, and remains, the surfing that can reconnect anyone to the pure rhythms - those inside the waves, those inside the land, and those inside yourself.
A remastered version is currently being shown in selected cinemas, with the recently rediscovered outtakes comprising a bonus 30 minute film. You can find out more about that at: morningoftheearth.com
Likewise, Unearthed is an articulate memoir of being around the shortboard revolution, seeing surfing shift from being an amateur sport to a professional one, and celebrates early peninsula surfboard clubs and surfing, as well as a passion for life from someone who found their own way through doing what they love - surfing leads to working in a surf magazine leads into being an Art Director, leads into other creative and paying projects.
Filled with great anecdotes on many other subjects, and wonderful photos by Steve and others, you will return to this work again and again - for the records it has put in print, for the smiles, for the inherent message that it's more than ok to just be you.
For those who want to remember - this book is for you. For those who want to see and hear what happened here before them - this book is for you.
UNEARTHED
The Story Of One Kid's Surf Journey
by Stephen Cooney
Foreword by Albe Falzon
Published by Cyclops Press
RRP $49.95 (GST inclusive)
ISBN 9780648952725
Flexi-cover / Pp: 224
SHORTBOARD EVOLUTION - MORNING OF THE EARTH - TRACKS MAGAZINE
When Collaroy surfer Nat Young won the World Championship at Ocean Beach, San Diego, in 1966, his home break would momentarily become the centre of the surfing universe as board design adapted to a more 'radical' style of surfing. Ten-year-old Stephen Cooney and his older brother Butch were friends of the Young brothers and would become deeply involved in the shortboard evolution. By the age of 14, Stephen had left school to pursue his love of surfing fulltime, eventually joining Albe Falzon for the filming of the seminal surf film Morning of The Earth. He was only 15-years-old when he became the first known person to surf Uluwatu in Bali.
Stephen's account of his childhood and life as a grom is in turn both funny and poignant, as he reveals some of his family's tragedies and struggles. The stories of filming MOTE and those early days at Tracks will surely one day make it to the silver screen. All three acts of Stephen Cooney's early life will entertain and enlighten you, and serve as a companion piece to other works celebrating the 50th anniversary of the seminal surf film Morning of the Earth.
"… growing up on the Northern Beaches of Sydney, Australia, and experiencing the exciting days of shortboard development, then being swept up in the creative approach to surf filmmaking that became the perennial movie Morning of The Earth, and finally, working on a ground-breaking surfing commentary known as Tracks magazine: these were three distinct eras in which I was the grommet …" Stephen Cooney