Avalon Craft Cottage At Warriewood Square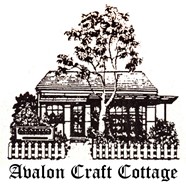 Our first stall for 2023 will be at Warriewood Shopping Centre the week starting Monday 20th March to Sunday 26th March.

We will be trading from our usual spot outside Kmart.
There will be many wonderful handcrafts created by skilled local people. Our work includes local art, greeting cards, screen printing, jewellery, patchwork quilts, children's and baby wear, shawls, rugs, scarves beanies and bed socks. We also have cross-stitched cards, and embroidered towels, potted succulent gardens and Australiana. The work of our newest member, Anna, who is skilled in decorative weaving, using natural and upcycled materials to create unique pieces will also be available.
We look forward to seeing you, to catch up and to tempt you to buy that special gift for a friend or a treat for yourself.
Avalon Craft Cottage Members
Pittwater Artists Trail Group Exhibition: 2023
Meet one of our new artists, Stephanie Galloway-Brown at our 2023 Group Exhibition.
Opening Night 24 March 6 - 8pm, then 25 & 26 March, 10am - 4pm.
Newport Community Centre.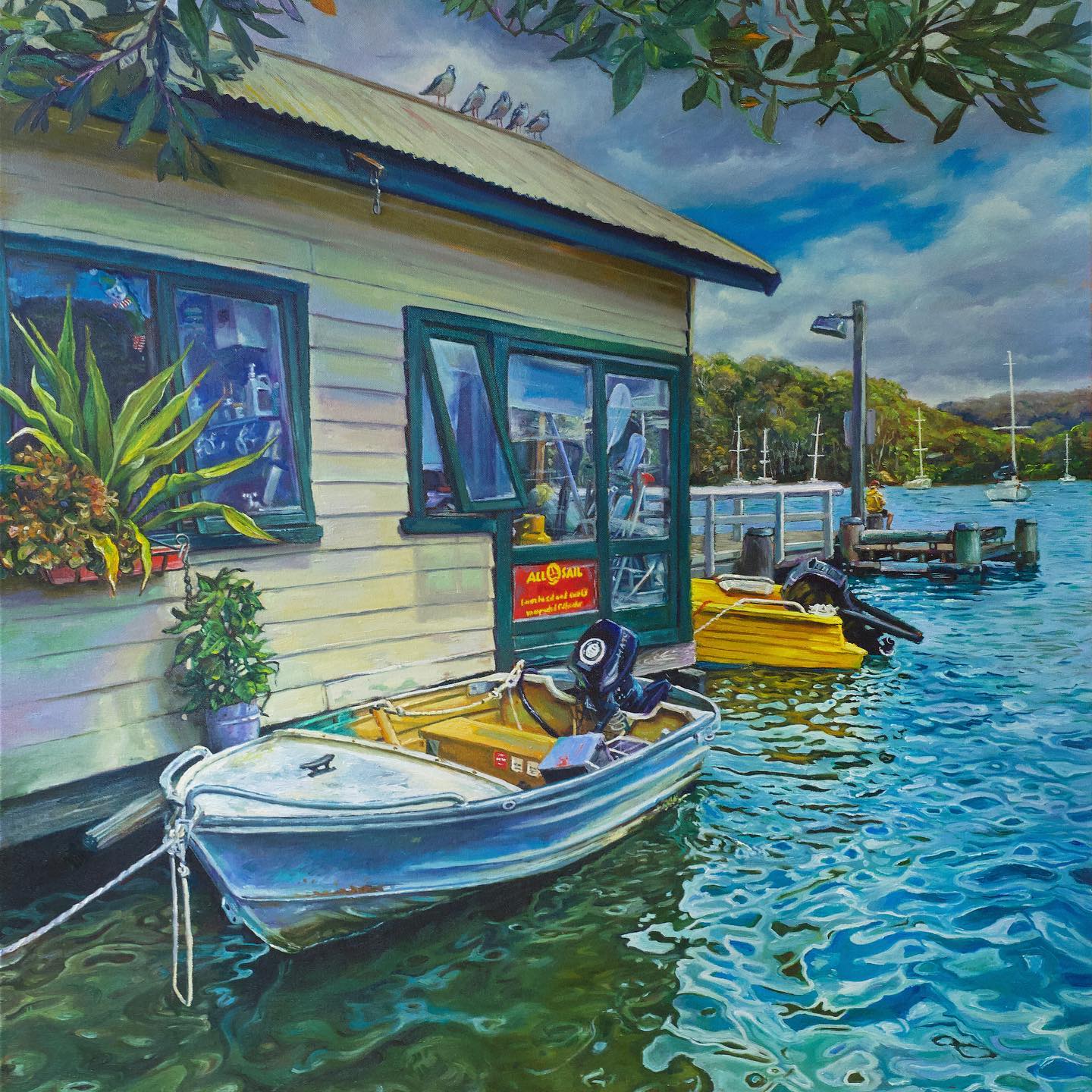 Church Point - Painting: Stephanie Galloway-Brown
Mural Painting At Mona Vale
Patrick Hunter Inkhunter our local mural artist is painting a huge blue wave on the side of our Mona Vale office on Pittwater Rd, Patrick has produced a great design with some bold colours and it is going to look amazing.
Our office building on the corner or Pittwater and Mona vale roads which is 100 years old has had a number of different murals of waves on the side since the 1980's and is very iconic for the area, it is with pleasure that Spannenberg and Son have teamed up with Patrick Hunter to keep the vision alive.
Look out for the finished product coming soon.
Spannenberg and Son Pty Ltd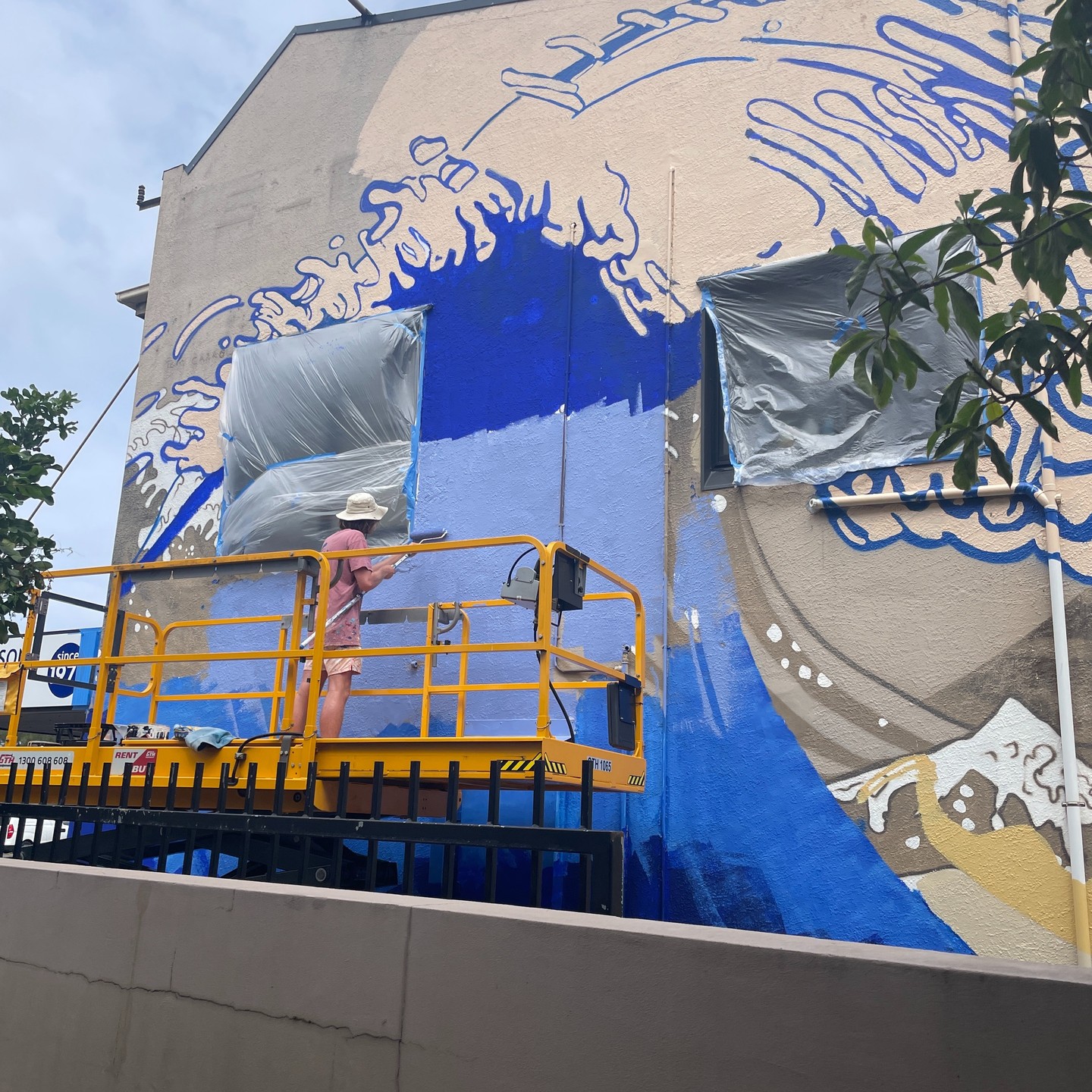 Narrabeen Artist Releases New Music: 'Hill'
Elsa Cleary (17) from Narrabeen has released her song "Hill" on March 23rd 2023.
Orders available now https://noisehive.ffm.to/hill
''Hill is a song about the imagination, solace and yearning within the serenity of nature. I hope to encapsulate the beauty of ephemeral moments in time made permanent within music through my song Hill.''
Inspired by the rolling hills of Western River, Kangaroo Island.
The duet is sung by Elsa Marilyn and Gordon Mitchie (aka gordy).
The video was filmed on location in and around Lithgow NSW.
Written By - Elsa Marilyn
Music Video - Sanet Lindeque for Platinum Artist Development
Audio - Phillipe Marc Anquetil
StreetWork NB + Community NB Art
Community Northern Beaches offered Streetwork the opportunity to create aerosol art, on the large panels outside their Raglan Street Centre in Manly. One of our talented young people, together with local aerosol artist Pasio (Instagram @
sam_pasio
), created BRAVE - a word that perfectly suits the young people in our
Kickstart mentoring program.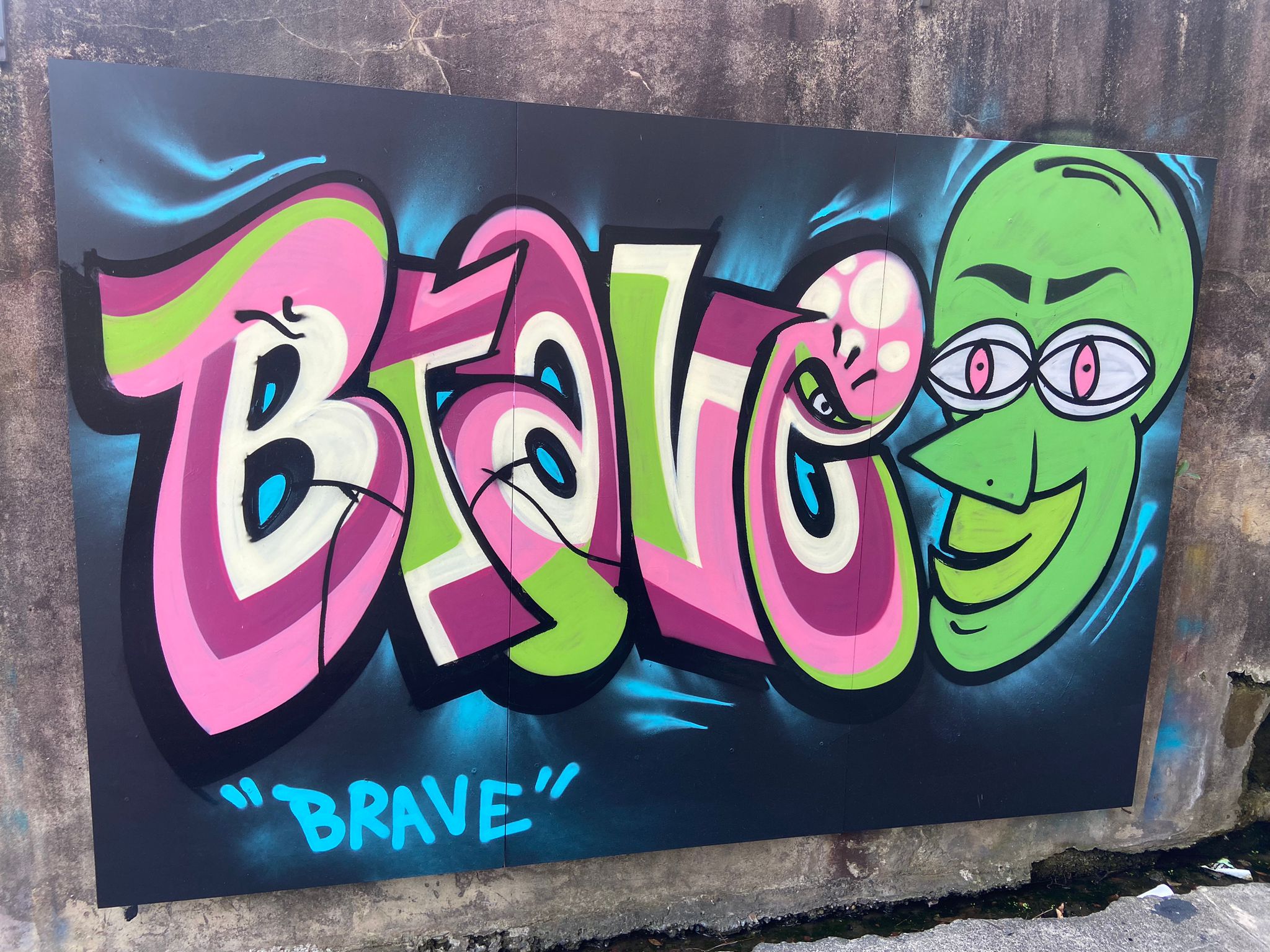 If you're on the Northern Beaches pop down and take a look at BRAVE and watch out for future works around similar themes. A massive thanks to those who created and displayed this inspirational message.
About Community Northern Beaches
We are a community-based organisation supporting vulnerable and at-risk people with a range of services for domestic & family violence, homelessness, refugees and families, youth and children.
Since 1977 we have been serving the Northern Beaches community and were previously known as Manly Community Centre.
We're now called Community Northern Beaches. We are a small local community-based organisation supporting vulnerable and disadvantaged people. We're often the first point of contact for people experiencing homelessness, domestic & family violence and refugee settlement challenges.
We also focus on targeted earlier intervention with families, youth and children to make the biggest difference early on.
Our Community Hub Drop-in also enables us to foster meaningful connections to assist people in crisis with their immediate needs and help connect them to support.
Founded in 1980 by Peter Hobbs, OAM, StreetWork's early intervention and prevention program has turned young lives around for over 40 years.
Peter's belief that youth mentors should be accessible to young people is still relevant today. Our trained youth case workers meet young people in parks and cafes, outside - in the street – rather than an office. That's why we are called 'StreetWork.'
"When I started StreetWork I witnessed a gap in services to youth-at-risk who, in increasing numbers were ending up homeless, addicted, or committing youth crime and sentenced to time in juvenile detention or in prison. What was needed was support - on the ground - when young people first showed signs of disconnection" explains Peter.
Forty years after its launch, StreetWork has grown and now serves the Northern Sydney Region. Because community connections are important to our success, StreetWork is supported by local boards with deep links into local businesses, clubs, banks, churches, and volunteers - who care about improving the physical and mental wellbeing of vulnerable young people.
Jane Vincent (Co-Chairperson)
Phil Loveday (Co-Chairperson)
Scott Atkinson
Dominic Guy
Andrew Hottes
Phillip Loveday
Rob Madden
Austin Kimble
John Barker
Marg Murden
Sonya Mears
Thomas Dent (Youth Services Manager)
Ambassadors
Tani Ruckle
Michael Lynch
Mike Pawley
Founding Partner - Bronze Sponsor
Tribe Tech
2023 Environmental Art & Design Prize + 2023 Creative Open: Call For Artists Now Open For Your Entries + Ideas
Image credits: Creative Open 2022.Photo by Kayapa Creative Studio
Council has issued the call out for two of its great Arts programs - one is just for homegrown talent, the other is an invitation issued to Artists Australia wide.
Details are:
Calling All Artists: Creative Open Is Back On The Beaches
Expressions of interest are now open for Creative Open - an art, design, and music festival held on the Northern Beaches from 27 – 30 July.
This winter Creative Open returns to showcase the very homegrown creativity on the Northern Beaches. The annual program features exhibitions, performances and events, open studios, walks and talks, a maker's market and public art.
Council is seeking applications from entertainment venues, creative businesses, and arts practitioners to deliver innovative activities and fun events for the Creative Open 2023 program.
Creative Open provides an opportunity for participating venues and practitioners to connect with new audiences, promote their business and build stronger relationships with the local community and creative sector.
Northern Beaches Mayor Michael Regan said Creative Open is the jewel in the crown of the Winter arts calendar.
"The Northern Beaches is a powerhouse of creative energy and home to a diverse community that is full of creative venues and cultural experiences."
"This event will celebrate creative venues and showcase our talented, musicians, designers, artists and creatives of all kinds. "
"Last year Creative Open welcomed more than 9000 locals and visitors to 80 venues, and this year we want to build on that momentum.
"We'd love to attract even more people from across the Beaches and further afield, and offer more live music at this year's festival," Mayor Regan said.
From concerts, Aboriginal weaving and jewellery making to art installations, group exhibitions and interactive discussions, everyone can find their creative home at Creative Open.
Who can apply?
Any business, venue, or practitioner can apply to be a part of Creative Open if they provide creative programming that aligns with event dates. Your event must occur on the Northern Beaches between Thu 27 – Sun 30 July; however, events can start earlier and/or finish later. Eligible participants include but are not limited to:
live performance venues
galleries, creative spaces
designers, makers, surfboard shapers
recording and music studios, film and editing suites
creative workshops e.g. screen printers, digital labs
creative businesses such as bookshops, bars, and cafes
Have an idea or work you want to share but no space to do it? Council is also accepting applications from local designers, workshop facilitators, and artists for a pop-up market event and creative workshops at selected Council venues.
What Council need from you
Pitch your event and tell us about your space, lock the event dates in your calendar, and help us promote Northern Beaches' best to the rest of Sydney.
What support will you receive?
Council provide marketing and promotion support to participating artists, venues, and businesses. As a participant, you will receive marketing materials, print and digital, to help promote your unique event. Council will provide an event calendar for all activities, performances, and happenings on their website. The full program will be released in July.
To apply or find out more, visit: www.northernbeaches.nsw.gov.au/things-to-do/arts-and-culture/creative-open
Applications open 17 March and close 21 April 2023.
Creative Open will run from 27-30 July 2023.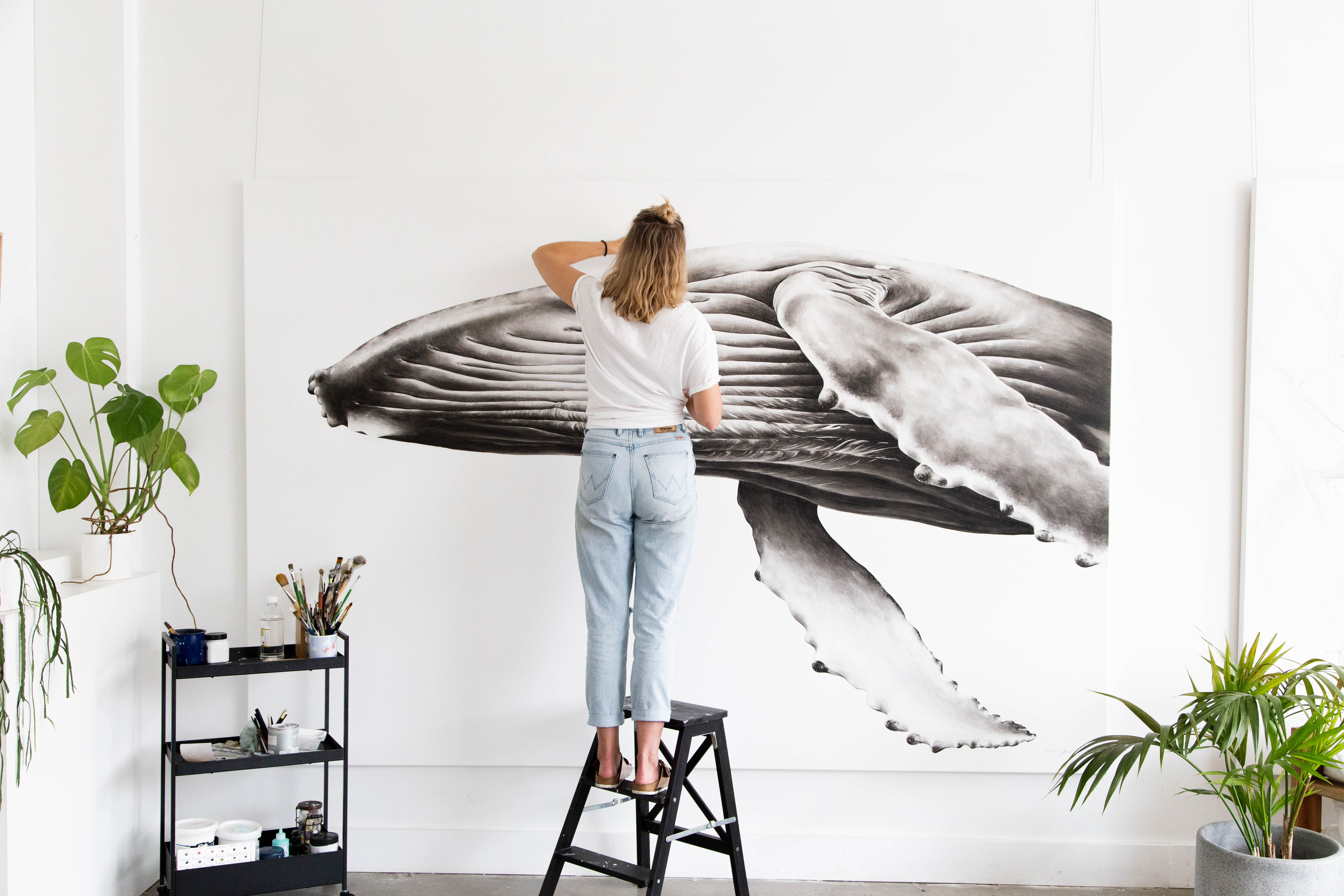 Jaimee Paul Studio. Photo by Joelan Wong
Australia-Wide Call For Entries – 2023 Environmental Art & Design Prize
Artists and designers are invited to submit art and design works exploring environmental themes for this year's Environmental Art & Design Prize. The call-out is open 17 March – 14 May.
Works by finalists will be exhibited at Manly Art Gallery and Museum (MAG&M), Curl Curl Creative Space and Mona Vale Creative Space Gallery from 4 – 27 August 2023. Now in its third year, the non-acquisitive prize celebrates Australian creativity and innovation in response to the environment, reflects on climate change and explores the challenges we face with our natural environment.
Mayor Michael Regan said the prize provides an important platform to bring together a dynamic community of artists and designers and is a chance to connect with audiences who care about the future of our planet.
"On the Northern Beaches, we value our natural environment and sustainable living, so it makes sense for us to continue to highlight environmentally focussed art and design," Mayor Regan said.
"The natural environment has inspired local artists for centuries, and the Environmental Art & Design Prize continues that tradition. In previous years we have seen some truly incredible and provocative works that have prompted us all to reflect on the precious and precarious nature of our environment."
This year, winners will be awarded by an esteemed external judging panel of three leading creative practitioners including renowned industrial designer Adam Goodrum, Powerhouse First Nations Curator Emily McDaniel, and contemporary artist Caroline Rothwell.
Designer and judge Adam Goodrum said that artists and designers are agents of change, often taking the lead in responding to environmental or societal challenges.
"The role of creatives is to influence, educate, expose, challenge and generate solutions. Contributions can be intangible and elicit an exchange of ideas and emotions or they might consider materiality and production," Mr Goodrum said.
"At the core, contributions should be inventive, to address societal needs through creative work."
The $42,000 prize pool will be divided across the nine categories encompassing a range of contemporary practices, from fashion and design to ceramics and painting.
Entries open at 10am Friday, 17 March and close at 5pm, Sunday, 14 May.
The exhibition of finalists' artworks will be displayed at Manly Art Gallery & Museum, Curl Curl Creative Space and Mona Vale Creative Space Gallery from 4 - 27 August.
Artists and designers nation-wide can apply here: www.northernbeaches.nsw.gov.au/things-to-do/arts-and-culture/northern-beaches-environmental-art-and-design-prize
The Environmental Art and Design Prize brings together a dynamic community of artists, designers and audiences who care deeply about our future. Artists and designers are agents of change, often taking the lead in responding to environmental or societal challenges.
Each year, Council invites audiences to explore the diverse ways artists and designers Australia-wide have interpreted our unique Australian landscape, responded to our climate emergency and advocated for our planet through their creative practices.
The Prize categories are:
Ceramics & small sculpture
Film & video
Interdisciplinary collaboration
Painting & mixed media
Works on paper & photography
Wearable design
Functional design
Young artists and designers 7-12 years and 13 - 18 years.
Winners from each category are awarded by an expert panel of judges.
For more information about this year's judges and the complete list of categories visit the Northern Beaches Council website.
Rotary Club Of Upper Northern Beaches 2023 Art Show: Opening Night
"Art helps us make sense of the world". - Pittwater MP Rob Stokes at the 2023 Rotary Art Exhibition Opening
A celebration of local artistic talent that will make a lasting difference in the community is happening through the Rotary Upper Northern Beaches Art Show 2023, 24th-26th February.
There are over 220 paintings and works from 80 artists this year, including Catherine Frostick, Tony Cabassi, Greg Hyde, Nina Paine, Andrew Taylor, Thomas R Poole.
The Rotary Club of the Upper Northern Beaches proudly supports local charities, as well as being contributing to a strong international network of global programs.
The Upper Northern Beaches Rotary Club's Art Show has fast become a popular annual community event and major charity fundraiser with the funds dedicated to supporting local and international charity beneficiaries. 50% of art sale proceeds are donated to worthy charities and all contributing artists are also in the running for a First Prize of $2,000 and Peoples' Choice Award of $500.
This year Trevor Harvey of Harvey Gallery Seaforth who was the club's Judge of the Major Prize.
The winner announced was Lena Nimmo for 'Yellow Mobile' #128 winner.
Trevor stated '''Interior' 126 also great. Her abstract 'Fly Away' #127 also great.
''Lena shows a confidence in her subject matter and materials. Whether it be a figurative painting, a miniature interior or a loose abstraction. They are all executed well. '' Trevor said
Special Mention; Mira Goldsborough. Beautiful work ! #70 I'm tempted to buy it.
Congratulations to all.'' - Trevor Harvey.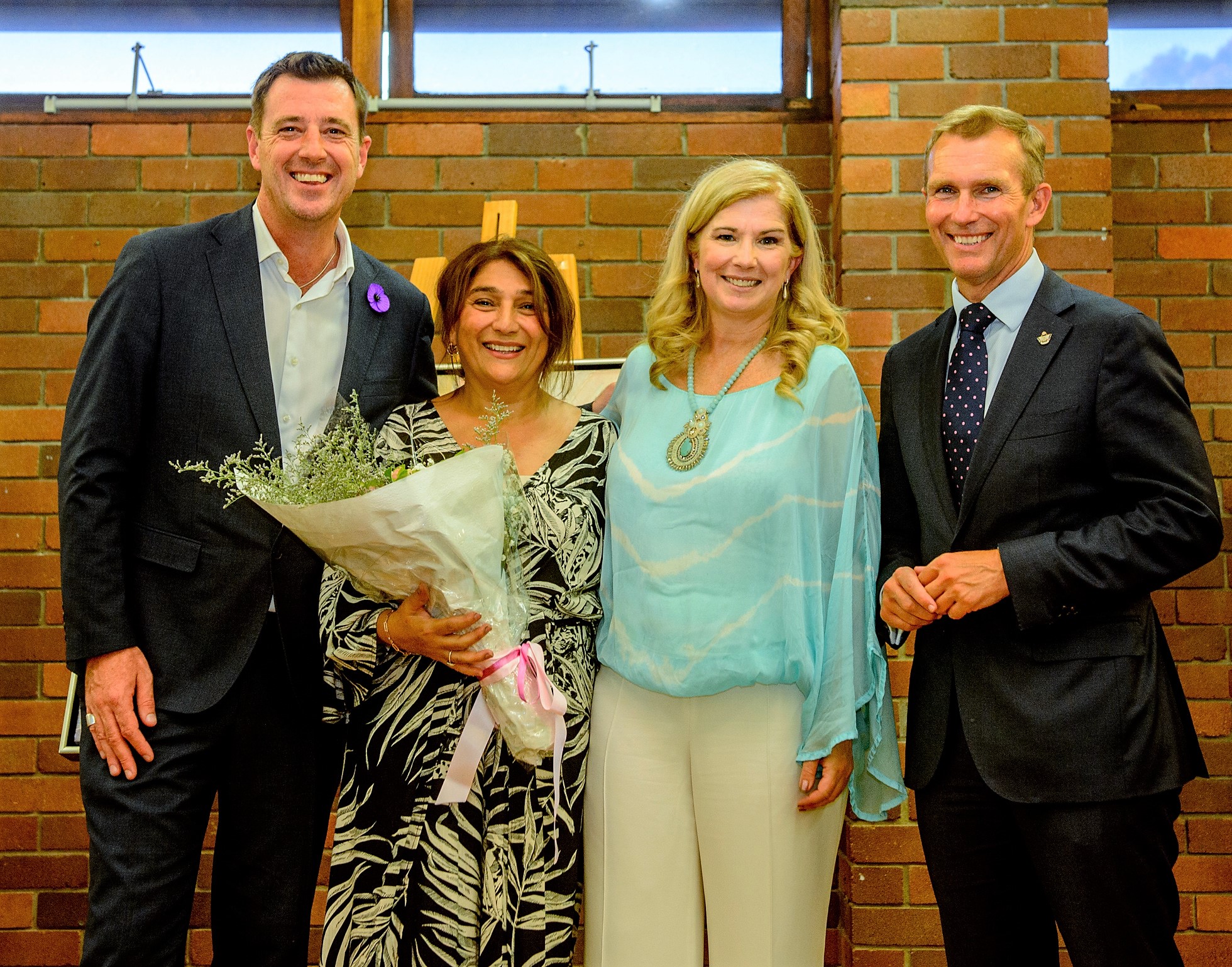 Mayor Michael Regan, Lena Nimmo, Liz Lovell and The Hon. Rob Stokes, MP for Pittwater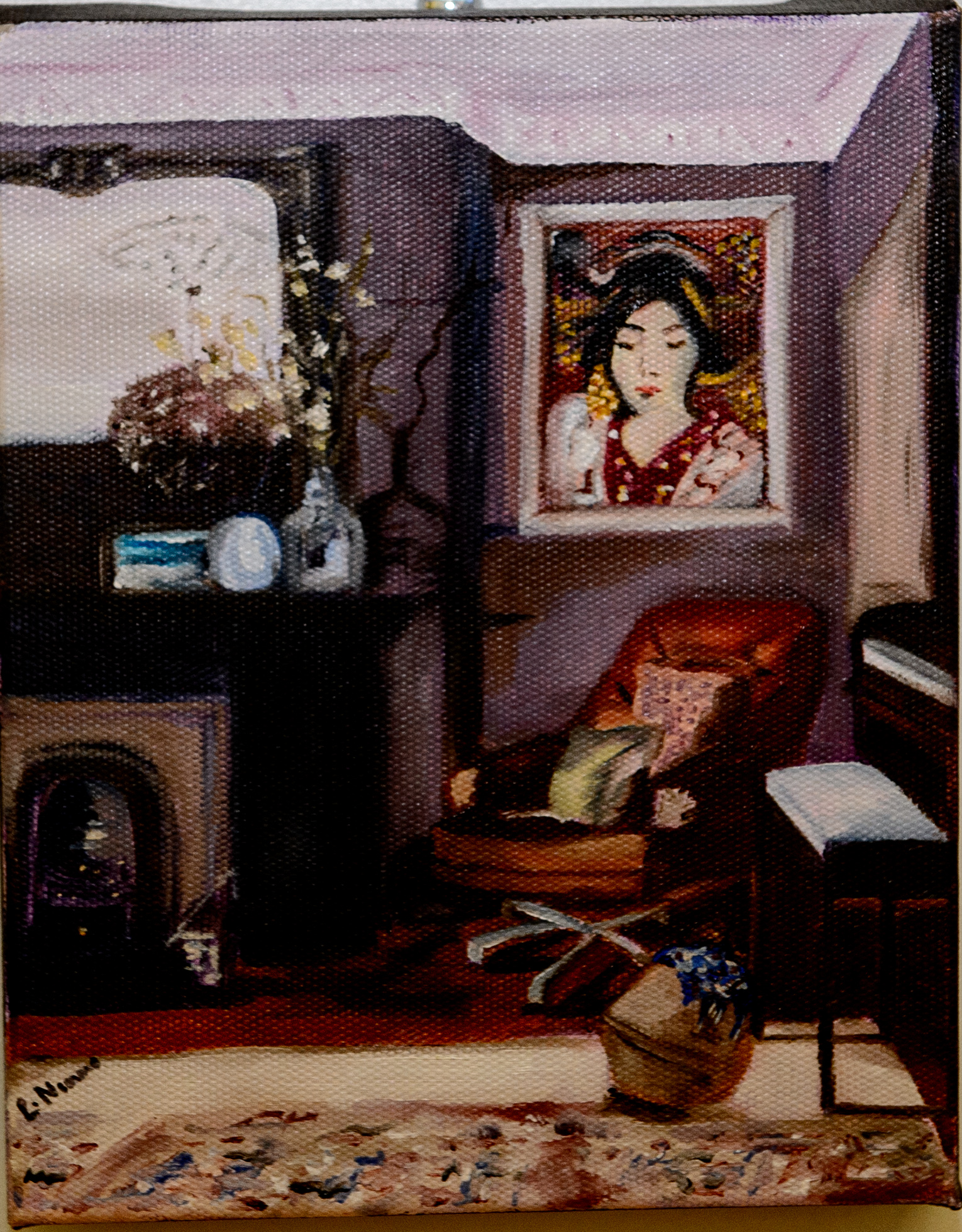 Lena Nimmo prize winning painting 'Yellow Mobile'

Congratulations to Liz Lovell, immediate Past President who was 'running the show' this year, along with the great team from the Rotary Upper Northern Beaches Club, MC Ian Stuart from Turramurra Rotary and Auctioneer Jake Downs for a great Opening night.
Supported by generous partners including Johnson Brothers Mitre 10, the local art exhibition is a weekend of activity to remember. It involves a range of stunning works across a wide variety of different price ranges, the Friday-night drinks and auction event, as well as art sales and exhibition all weekend.
The public has an opportunity to take pleasure in art whilst helping charities do great work.
Art captures what our eyes and heart see in the world and hope to recall – a memory, an impression, or a created image that takes us elsewhere with its symmetry, the design, the materials used, the colours, a feast for the eyes. As well as the pure pleasure of art, studies have shown that engaging with the arts can actually improve stress, memory, and empathy. Visiting a gallery has been found to relieve people of mental exhaustion, the same way the outdoors can.
The Rotary Upper Northern Beaches Club is dedicated to strengthening mental wellbeing, health and communities, and the Art Show has become an important event supporting these goals.
Over many years, funds raised by the Rotary Club have assisted many important organisations working locally in our area and this year, the Art Show will also directly support four charities:
Community Pantry at Narrabeen

, helping those in need for companionship and a good meal

Gotcha for Life

which is focused on building stronger mental health across the community
and, by working alongside internationally based Rotary Clubs, provide funds for additional projects including

Cambodia (Building Futures)

and

Timor Leste (Soibada)

, changing the lives of tens of thousands of children, women, and men.
The Upper Northern Beaches Rotary Club has grown stronger during the past three Covid-affected years and membership has grown. Members can be involved in their own personal areas of interest, from volunteering at events, driving much needed Christmas gifts to charities before Christmas, being part of an event such as this art show (hanging paintings), or creating great meetings with guest speakers and where members enjoy each other's company.
Some of this year's artworks and captures from the Opening Night: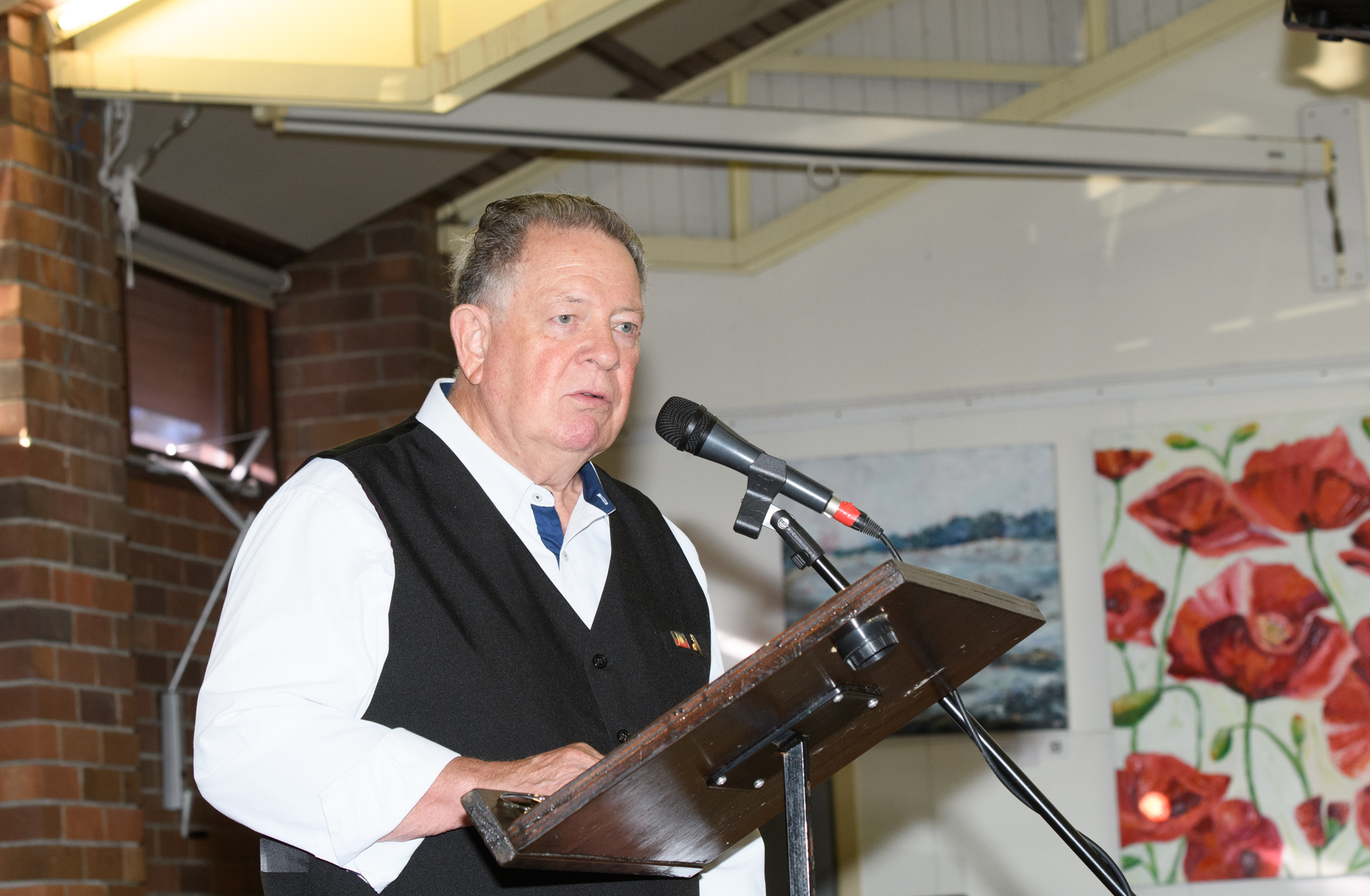 Neil Evers, Aboriginal Support Group Manly-Warringah-Pittwater gave the Welcome to Country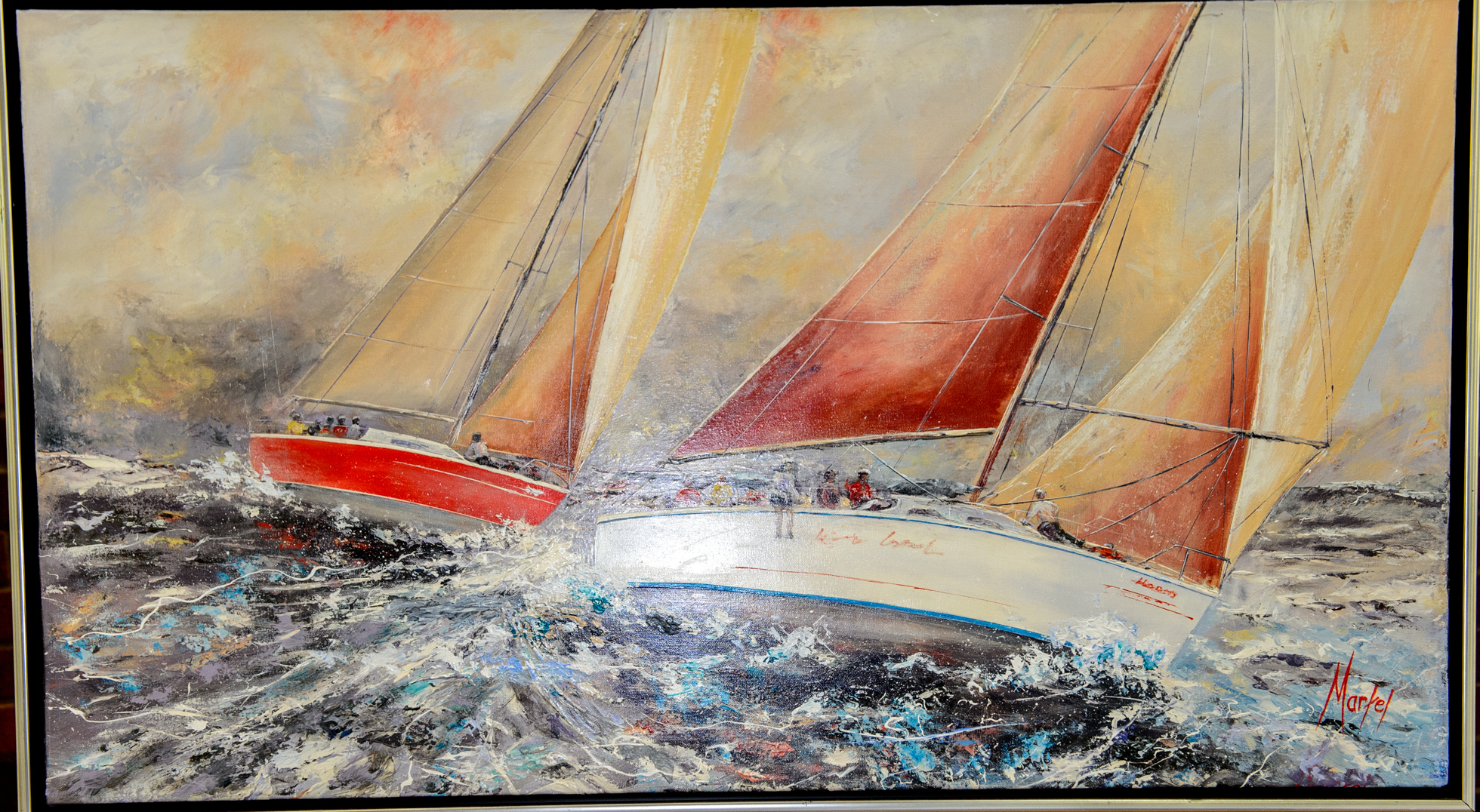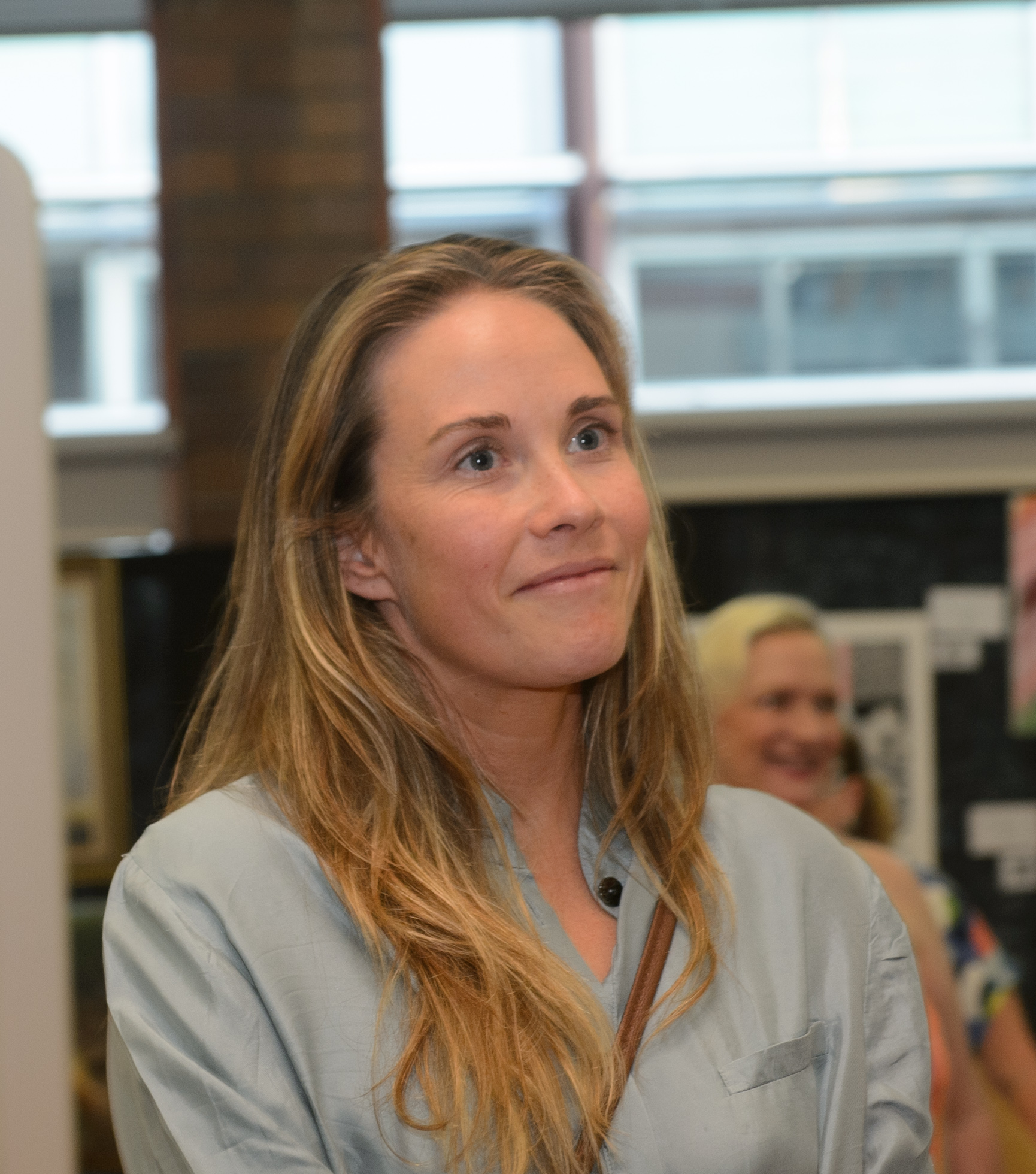 Independent Candidate for Pittwater, Jacqui Scruby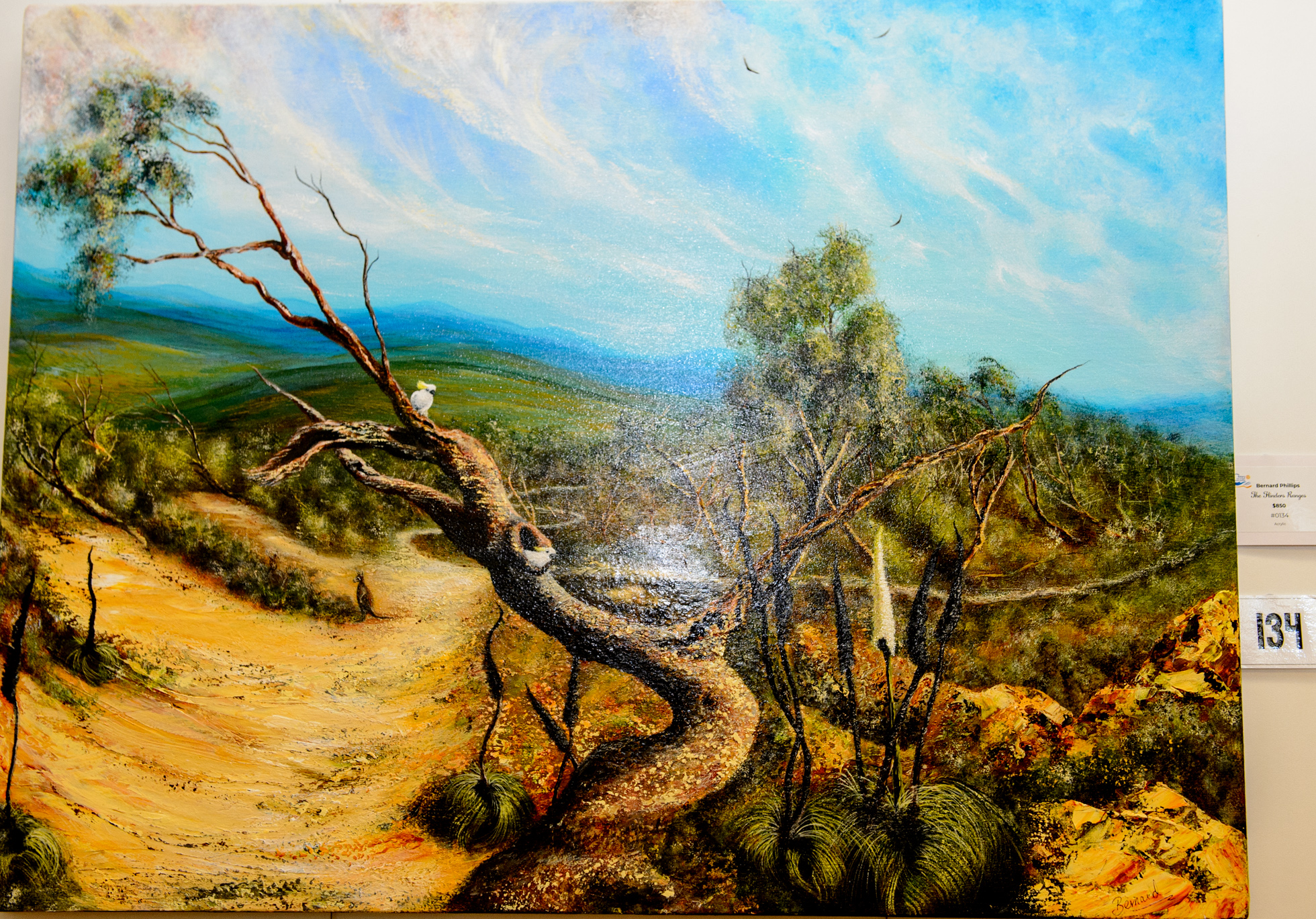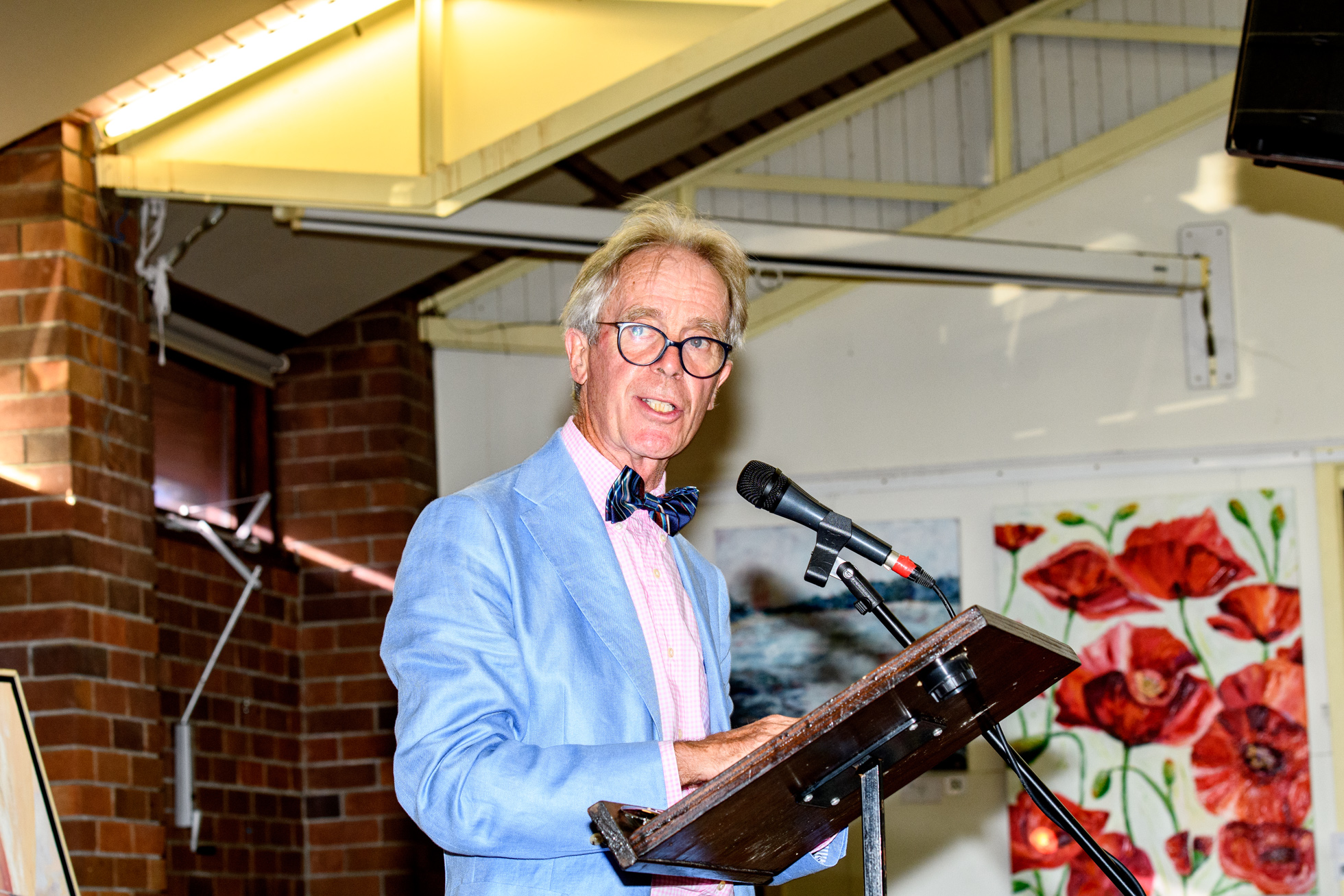 MC Ian Stuart from Turramurra Rotary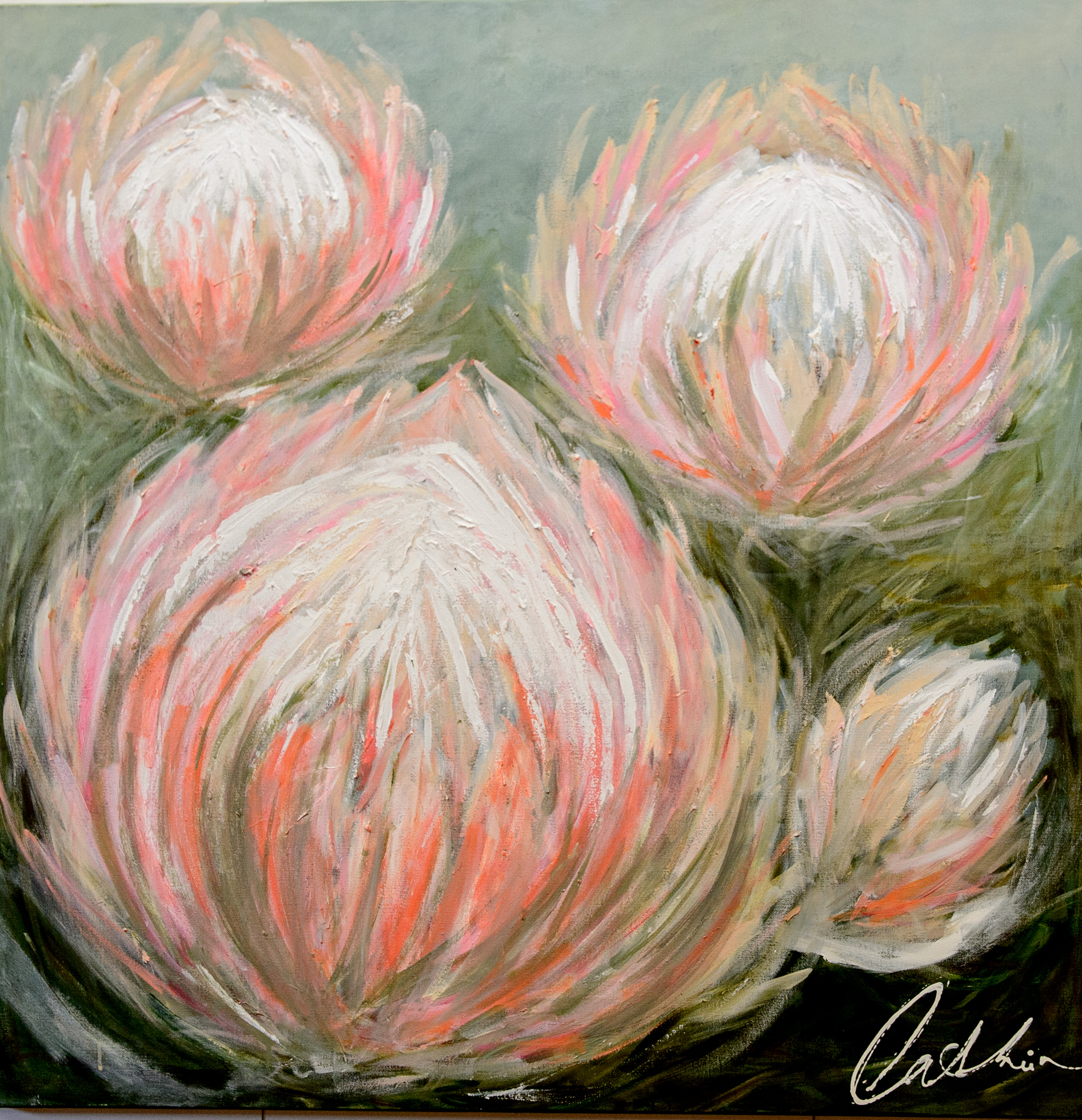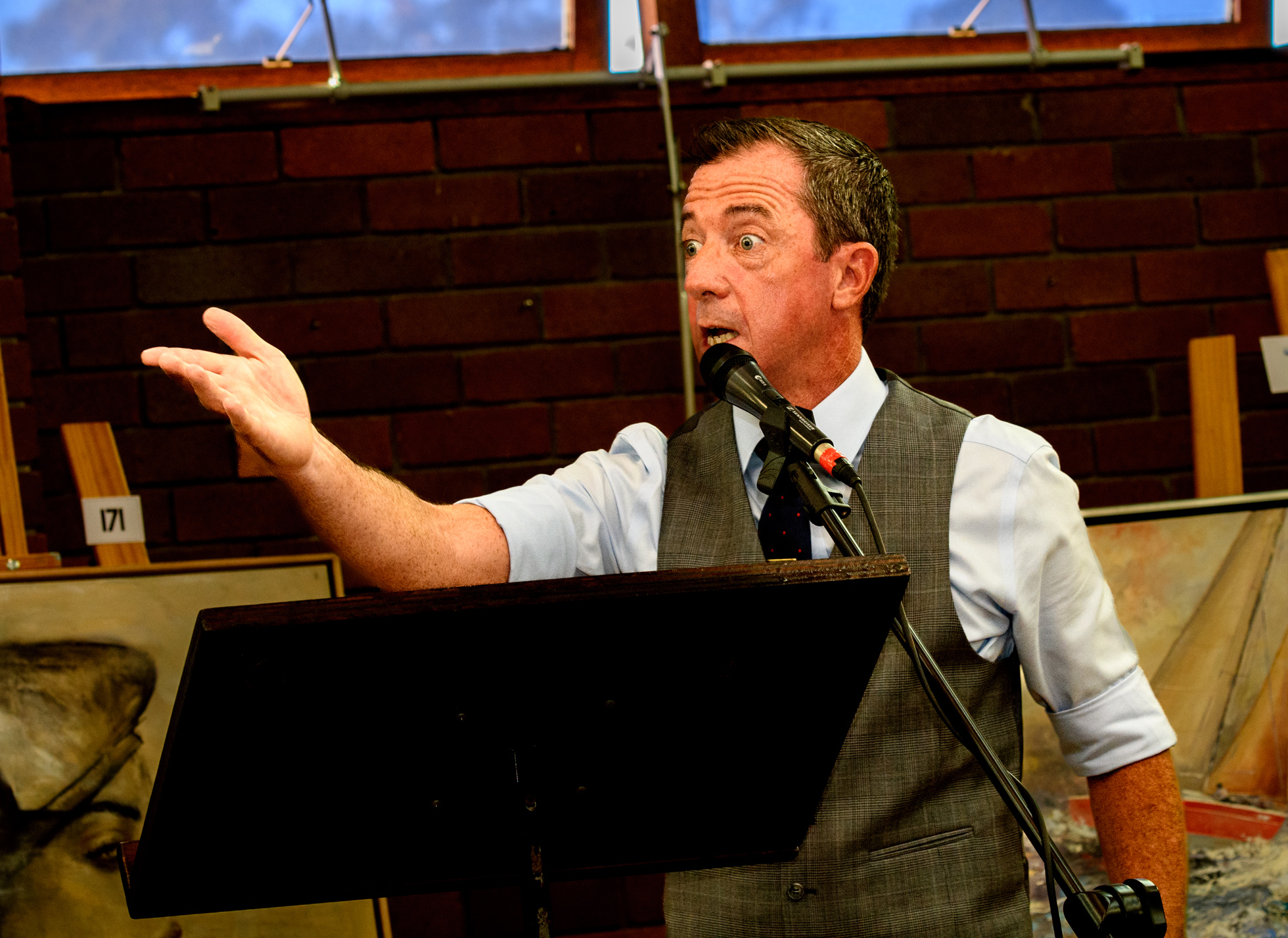 Auctioneer Jake Downs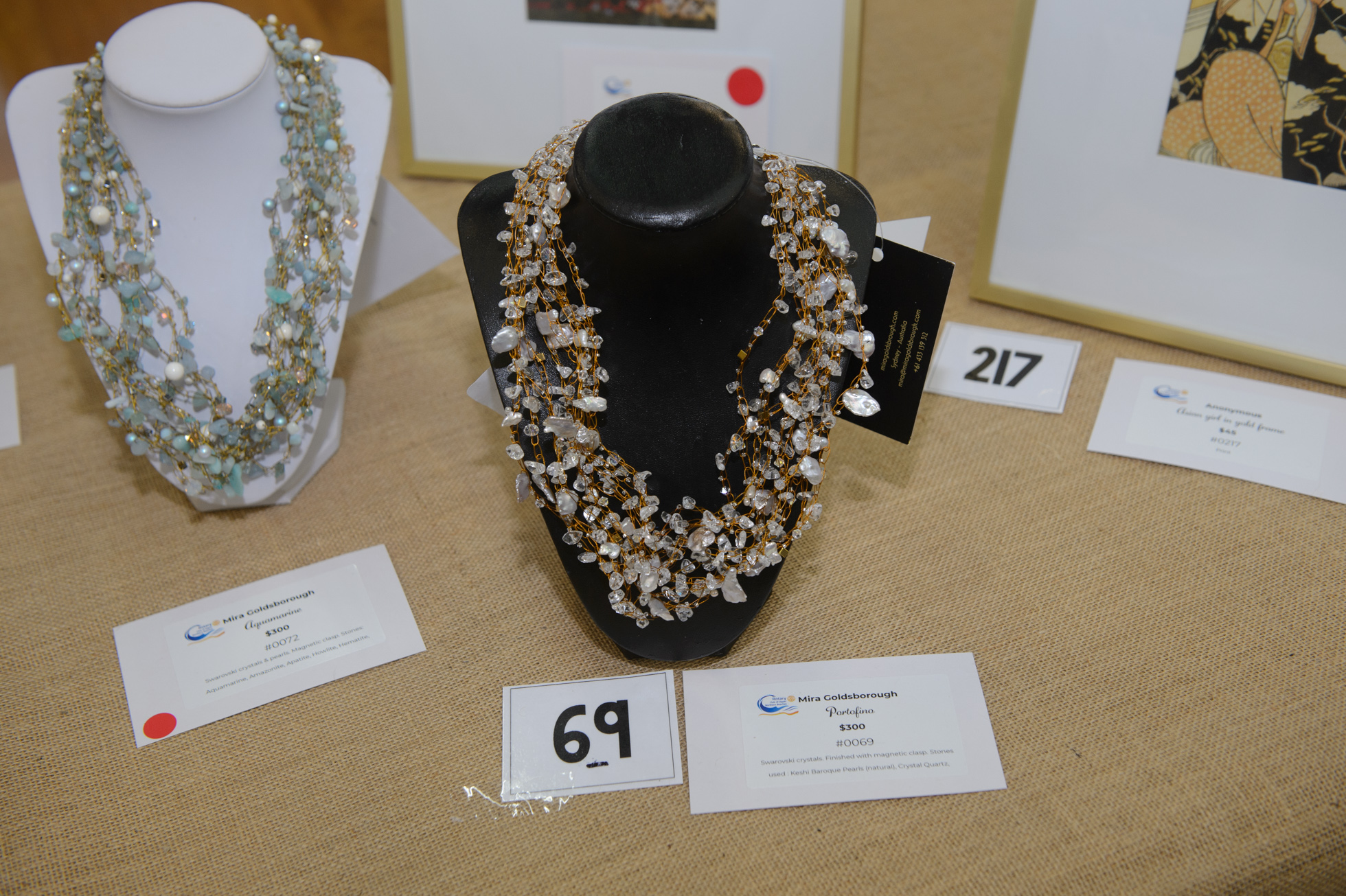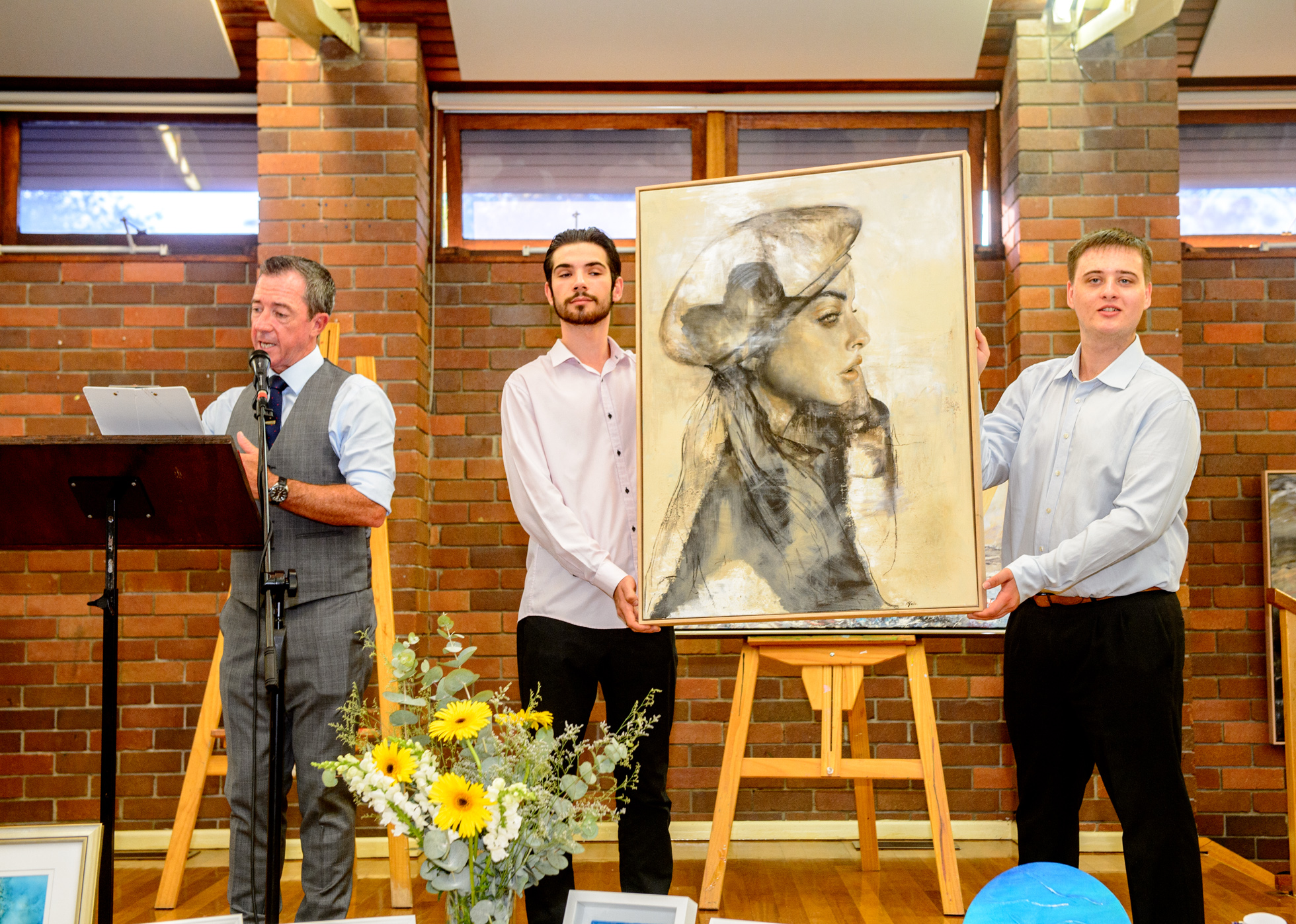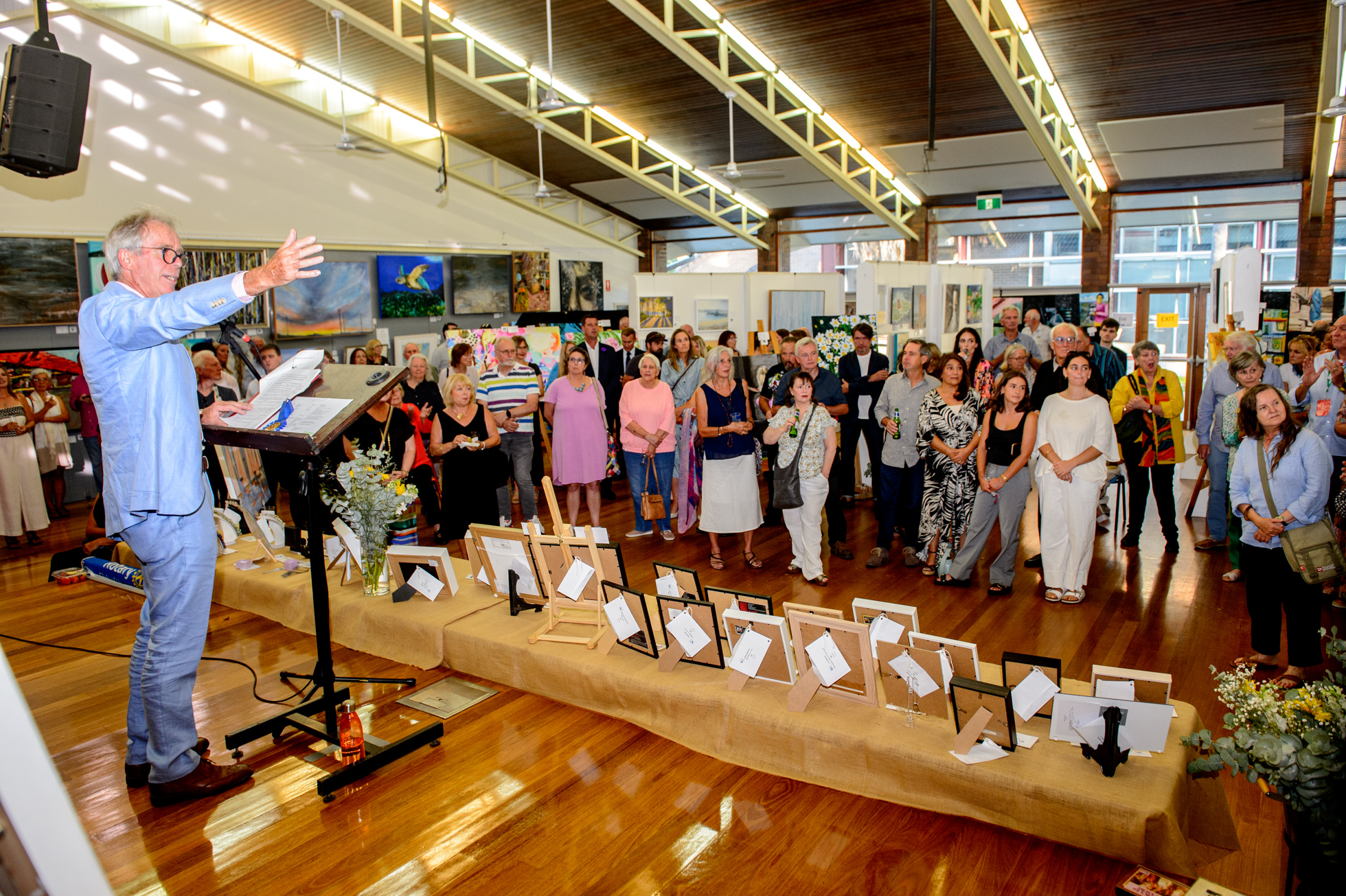 Report: Tony Butera. Photos: Michael Mannington OAM, Community Photography
March Exhibitions - Events
Colours Within Nature This March In Mona Vale Creative Space:
Zenabi Pixels
Colours within Nature
Monday, 20 March 2023 - 9:00am to Friday, 31 March 2023 - 5:00pm
'Colours within Nature' exhibits a collection of Zenabi Pixels' works that use primary colours to seek (invite) stillness, peace and a sense of transcendence.
Entering a game of layers, Pixel's paintings open up different windows that lead the viewer to explore the unknown, at times, kindly guided by lines, at times by bringing attention to the centre, so that the spectator may discover the mysteries present in nature in gurailand. Sunsets, the moon, the clouds, the bush, the sea world or the depth and infinity of the sky are displayed in his distinctive gestural abstract style. Having studied architecture and gained expertise as a photographer, he ventures into light, shadow, and the use of space.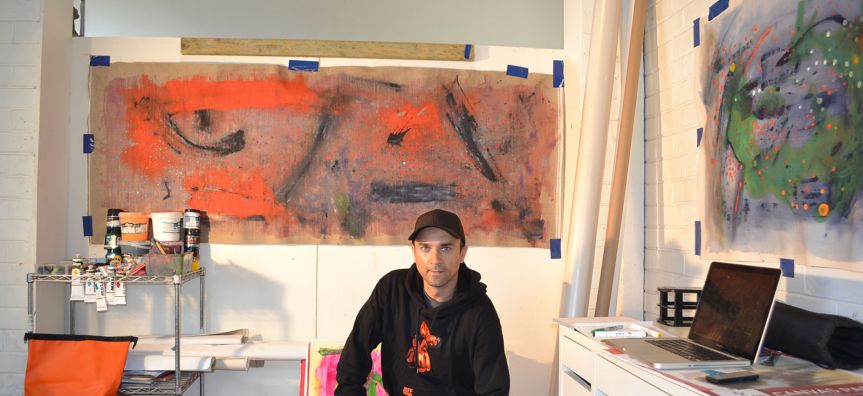 There is a whole background of how to treat the game of silence, and how it affects us since we live immersed in constant noise. After studying the work of John Cage, and his piece (4` 33`), a musical composition by the American artist, where no sounds by any instruments are played in the entire work. Another of his latest research was on the cinematographic work of Zhang Yimou, and how colours have their own symbolic meaning, in his films "Heroes" or "The House of Flying Daggers". ¨
According to Pixels, the artist lives in constant movement and a clash of forces, where he needs to generate works of how to show what we live, feel, think, listen, eat and sleep;
I´m an architect, but always dedicated to painting. After living in Manly(Sydney) for some years, and swimming around The Cabbage Three Bay Aquatic Reserve several times, I have learned to experience the variety of colours and shapes present in the ocean. No new day is the same as the one that passed. Change is ever-present, following the clouds, the lights, the tides and the water during each moment.

The submarine world follows a set of codes, laws and perspectives, which invites humans to experience a unique fascinating reality. The viewer is invited to access a place where fish, algae, and crustaceans live together and contribute to enriching their shared environment. Lights, shines, bubbles, sounds and movements are displayed all at once in the immensity of the sea. They ask that we answer their call. - Zenabi Pixels
Exhibition
Dates: Monday 20 March to Friday 31 of March.
Times: Monday - Fridays, 9am - 5pm
Entry: Free
Meet the artist
Friday 24 March, 9 am -11 am
Artist talk on the exhibition works featuring a Q&A session
Mona Vale Creative Space Gallery
1 Park St, Mona Vale
ART Gallery On Palm Beach
1095 Barrenjoey Road, Palm Beach
Sculpture. Art. Ceramics. Photography
Gallery open 10-3.00.

Just a short walk from the Palm Beach ferry jetty or a leisurely drive from Sydney CBD to the Northern Beaches, ART GALLERY on Palm Beach has something for everyone. Either for your home or as a special gift, customers from all over Sydney have discovered the little gem of our unique gallery with prize winning artists at reasonable prices from the artists studio to you!
Art Gallery on Palm Beach is an artist run initiative of professional & prize winning artists. 
Local artists from the Northern Beaches and greater Sydney ensure that new high caliber art is created and curated weekly for the discerning customers from the Palm Beach area and the thousands of visitors who visit the beautiful area either for holidays or day tripping.
We offer shipping, lay-bys, in house design advice, commissions for bespoke pieces for your home or office with full consultation with all the artists directly.
As we pay very little commission on sales, we can offer original art at reasonable and affordable prices.
For all enquiries contact Vanessa on 0488 400 053.
New work by Painter Vicki Ratcliff, photographer Robert Gardini and art and ceramicist Lia Klugman currently on exhibition. To answer all your questions on their art, pop in and meet the Artist.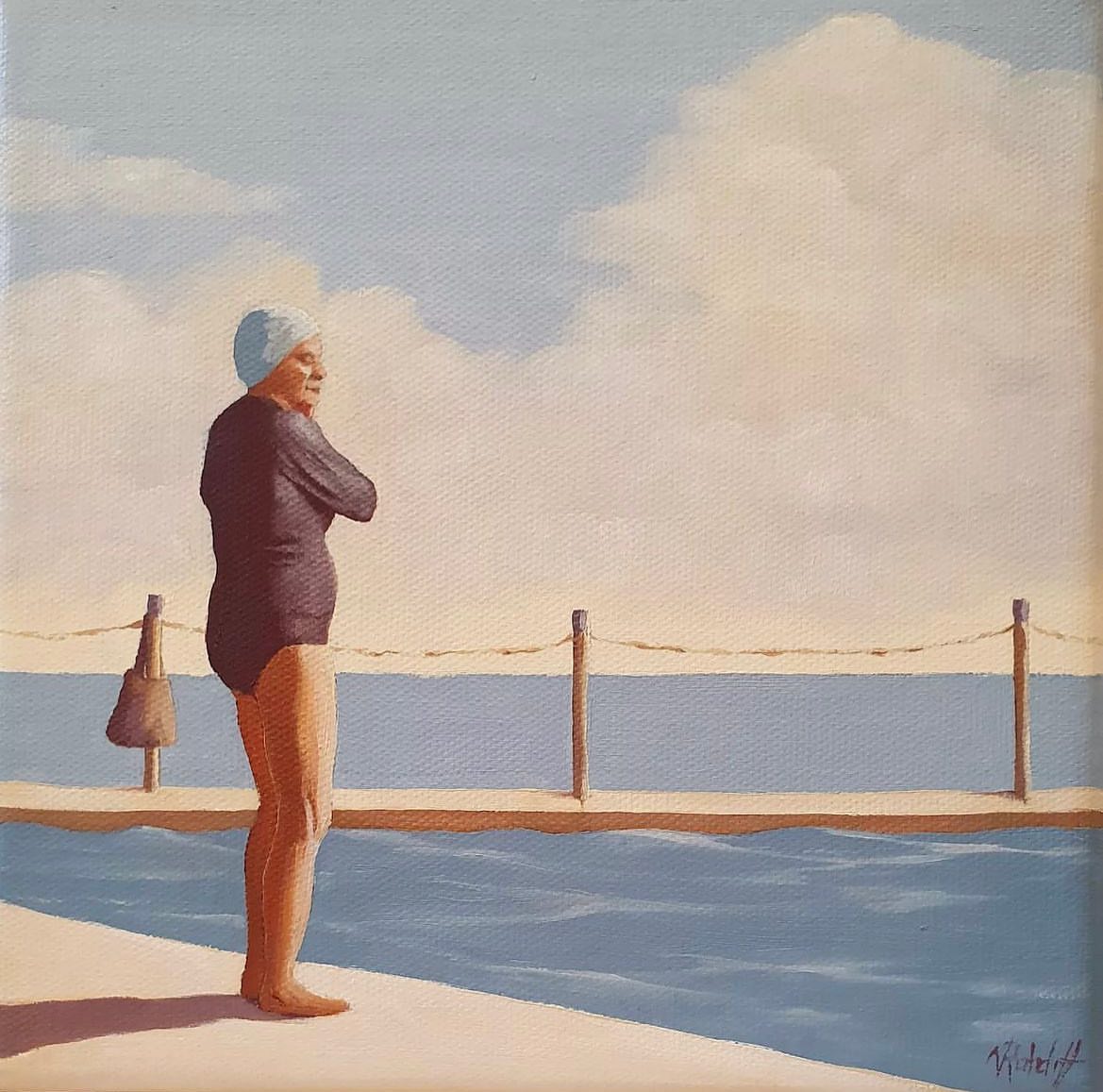 New work by Mona Vale Artist Vicki Ratcliff
Journaling With The Artful Bea
FRIDAY, 3 MARCH 2023 FROM 18:30-20:30
Plushtown Studios
Unit 3/228 Headland Rd, North Curl Curl
Have you always wanted to establish a regular journaling practice but struggle to get past the daunting blank page?
Journaling is an invitation into the act of observing and being awake to the world. Keeping a daily diary is not only good for mental wellbeing, it's a great way to connect with your creativity, look at the world around you through a different lens and develop a creative practice.
Come and join me for a short, fun journaling workshop, where I'll be sharing some simple but effective techniques to help you develop a practice and open up your creative brain!
We'll explore sketching, hand-lettering and doodling to get our creative juices flowing, and tools to use in creating a visual journal.
$50pp, max 12 people TICKETS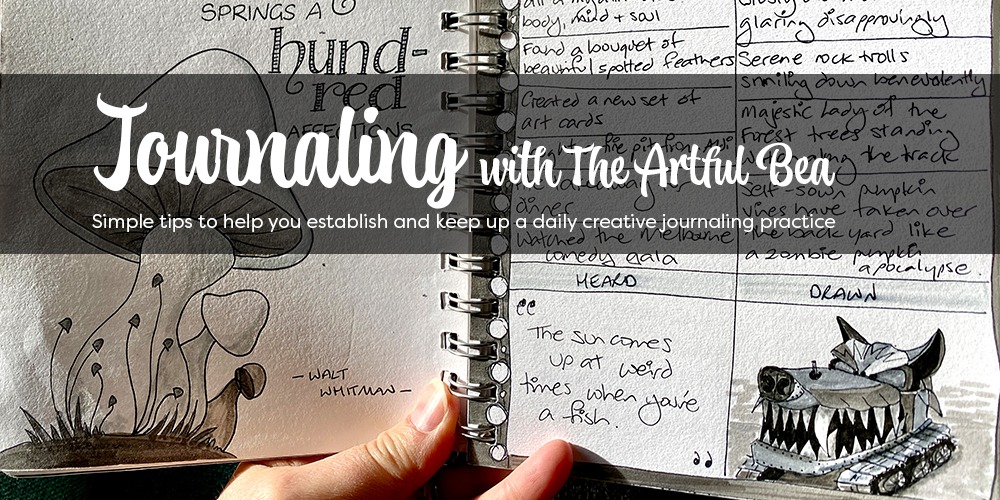 Express Yourself 2023
Manly Art Gallery & Museum is proud to present Express Yourself from March 3 – April 16 2023.
Express Yourself is comprised of over 50 artworks by HSC Visual Arts students, selected from the 20 secondary schools across our area.
At its core, the exhibition displays the voice of our youth – raw and authentic and presents young artists as commentators and advocates, who are questioning the status quo, and opening minds and conversations to help us imagine new futures.
Mayor Michael Regan said the exhibition has been an important part of the Gallery's program since 1995 and demonstrates Council's continuing commitment to supporting visual arts education.
"Express Yourself provides a chance every year to connect with the artists emerging from secondary schools across the region. It's a loved centrepiece of the annual program and an exhibition that brings new life and ideas into the Gallery to be celebrated and exposed to new audiences.
"I'd like to congratulate each and every artist selected to take part in 2023 and to acknowledge the tremendous work they have put in to be included," Mayor Regan said.
The works by 2022 HSC students show incredible diversity, depth and skill.
Featuring a broad range of expressive artforms, the high technical and artistic calibre of the works reflect the continuum of creativity in our region, and helps to reveal the quality of teaching and learning in Visual Arts at this level.
Some artworks reflect very personal themes of family and relationships, or draw on their cultural heritage; some explore the environmental crisis, and our connection to the land and to place; while others reflect on all that it is to be human in an ever-changing world.
Now in its 29th year, Express Yourself is presented by MAG&M and the Council in partnership with local secondary schools and the MAG&M Society.
To learn more about the programmed events, awards and to view a catalogue
click here
.
Express Yourself 2023 events
Meet The Artists:

From 2-5pm on Sunday, 26 March 2023
RSVP here
Express Yourself 2023 offers a unique opportunity to Meet the Artists and enjoy some Live Music and Performance. Here visitors can engage with selected Express Yourself 2023 artists as they move through the gallery, listening to stories of inspiration and the creative process (2-3pm) and are then invited to sit back and enjoy live performances by top young local musicians and performers (3-5pm).
Manly Art Gallery & Museum West Esplanade Reserve, Manly NSW 2095
Open Tue – Sun, 10am – 5pm (closed Mondays & Public Holidays)
Free entry
T: 02 9976 1421
Express Yourself 2023 Winners Announced
Manly Art Gallery & Museum is proud to present Express Yourself from March 3 – April 16 2023.
Express Yourself is comprised of over 50 artworks by HSC Visual Arts students, selected from the 20 secondary schools across our area.
At its core, the exhibition displays the voice of our youth – raw and authentic and presents young artists as commentators and advocates, who are questioning the status quo, and opening minds and conversations to help us imagine new futures.
This week, five winners were announced to share in prizes as part of the Express Yourself exhibition on show until 16 April at Manly Art Gallery and Museum (MAG&M).
Greatly anticipated each year, Express Yourself unearths the best work from HSC students living on the Northern Beaches. It's a special time of year when MAG&M throws open its doors to share works created in art departments across twenty local high schools.
Mayor Michael Regan congratulated all students exhibiting works in this year's collection.
"Our local schools continue to produce some of the most talented artists in the state and indeed, Australia," Mayor Regan said.
"The calibre of the 50 works on display is truly amazing. We continue to be impressed by what these talented young artists are able to achieve – and we wish them every bit of success in their future artistic practice."
The exhibition features a broad range of expressive artforms including painting, printmaking, ceramics, documented forms, drawing, graphic design, photo media, sculpture, collection of works, and time-based forms.
Two winners were jointly named, out of 10 eligible students who applied, for the $5,000 Theo Batten Youth Art Award. This recognition is awarded to students continuing tertiary study in the arts or a related field and.
Three artists also shared in the $3,000 prize money awarded by the Friends of MAG&M Youth Art Award.
Theo Batten Youth Art Award – joint winners
HAYLEY BENNETT, for My latio dissonante vulgari (My Cacophony) - The Forest High
CHARLOTTE YAN, for Devolution - NBSC - Freshwater Senior Campus
Friends of MAG&M Youth Art Award – shared winner
JOSH BOEHM, for Power of now - St Paul's Catholic College
MIA HAMILL, for The Joy of Dance - NBSC - Freshwater Senior Campus
JADA JONES, For the Love of Pa - Barrenjoey High School
Friends of MAG&M Youth Art Award – highly commended
MIA McDONALD, for Search for Self - NBSC - Manly Campus
HANNAH PEREIRA, for Women's human form - Davidson High School
XANTHE HUNGERFORD, for Les feuilles fragiles de l'esprit (The fragile leaves of the mind) - The Pittwater House School

The KALOF People's Choice Award will be announced at the end of the exhibition period. Visitors are encouraged to vote for their favourite work.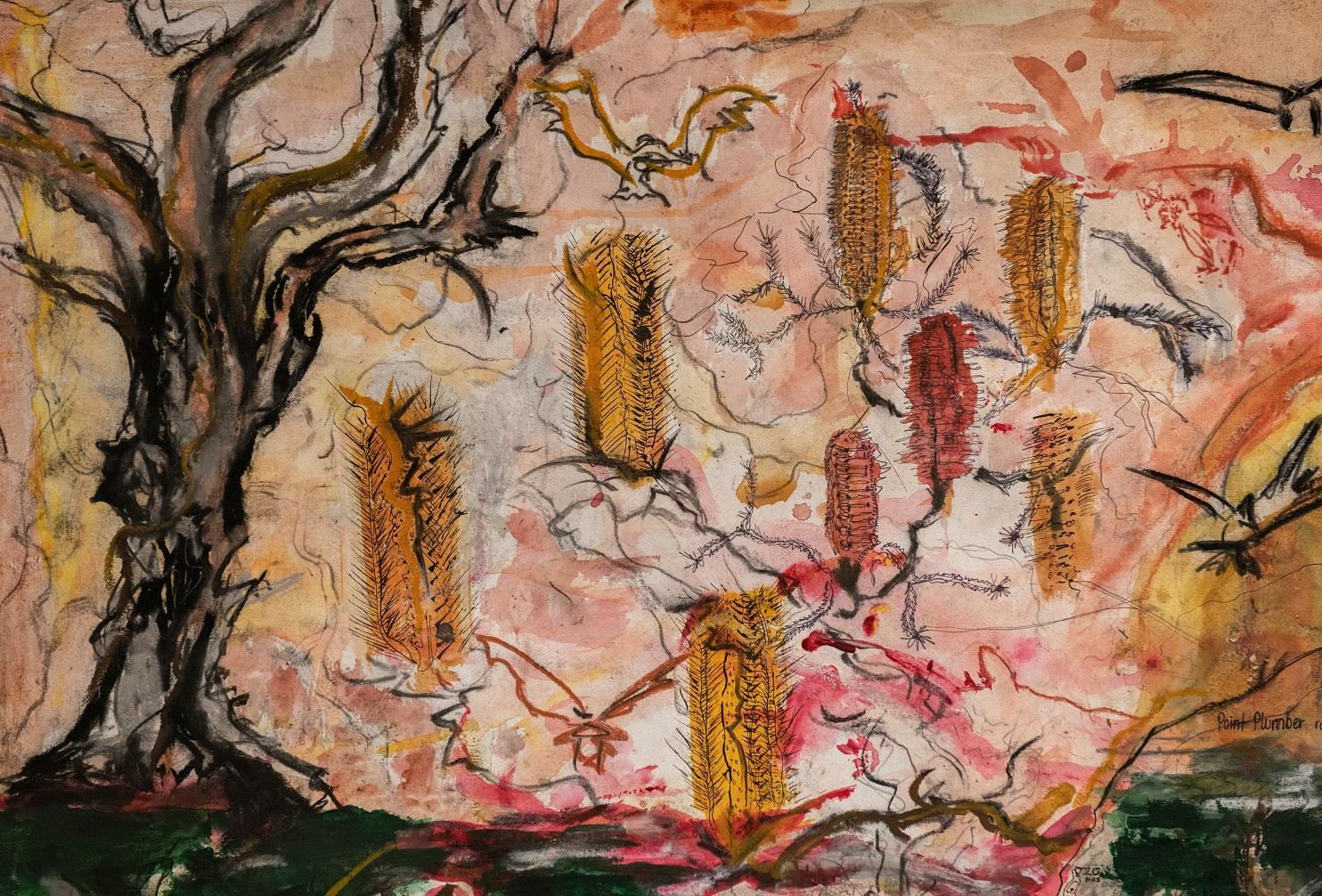 Joe Boaler, The land is ours; this land owns me, Barrenjoey High School
Coming Up In April
Pittwater Artists & Craftsman Exhibition April 2023
It's free entry for all visitors to the first of four exhibitions this year for the Artists and Craftsmen of Pittwater Inc.
This is your opportunity to buy a beautiful piece for your home, your AirBNB property or as gifts for your friends and family, at affordable prices.
You'll find visual arts - watercolours, acrylics, oils, photography and exclusive digital prints - as well as sculpture, woodwork, jewellery, toys, clothing and more. Whether your taste is traditional or abstract, our members are showcasing and selling items to love and treasure.
Our members are local people so you'll find scenes you recognise - our exhibitions have a very local feel, celebrating the joy of Pittwater suburbs, as well as work inspired by travelling.
Join us at Mona Vale Memorial Hall (next to Mona Vale Library in Pittwater Road) and tell your friends and family. Share this post!
EFTPOS is available as well as cash.
Find out more about our artists and craftspeople at acop.com.au
We are a not for profit organisation.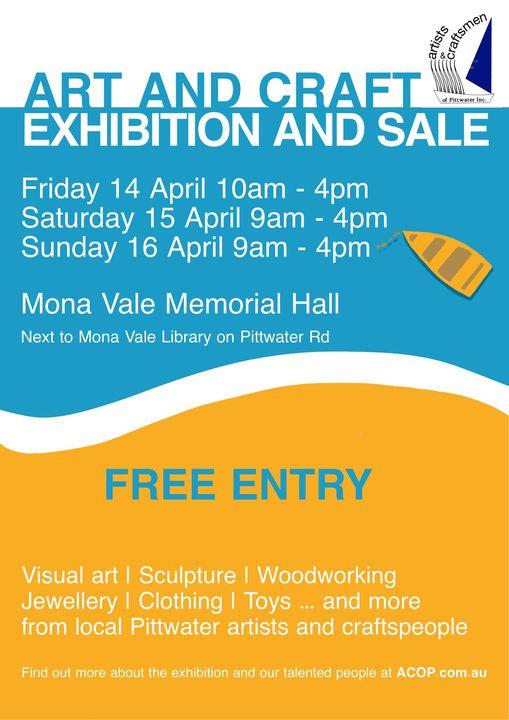 Mona Vale School Of Visual Arts
Shop 6 / 18-20 Park Street Mona Vale
Website: mvartschool.com.au
Mona Vale School of Visual Arts is a professional art studio in the heart of the village. We provide a place for school age students to explore their creative side in a fun and relaxed environment. Our programs are designed to build technical skills through the use of a variety of mediums. Students are then able to apply these skills to develop their own style and choice of subject matter. There is the opportunity to visit exhibitions as a group to develop a deeper understanding of art, artist and world.
Proprietor: JACKIE BROWN, BACHELOR OF ART EDUCATION COFA
We also offer Term Art Classes, Holiday Workshops, Manga Drawing Classes, and more. Visit our website for details.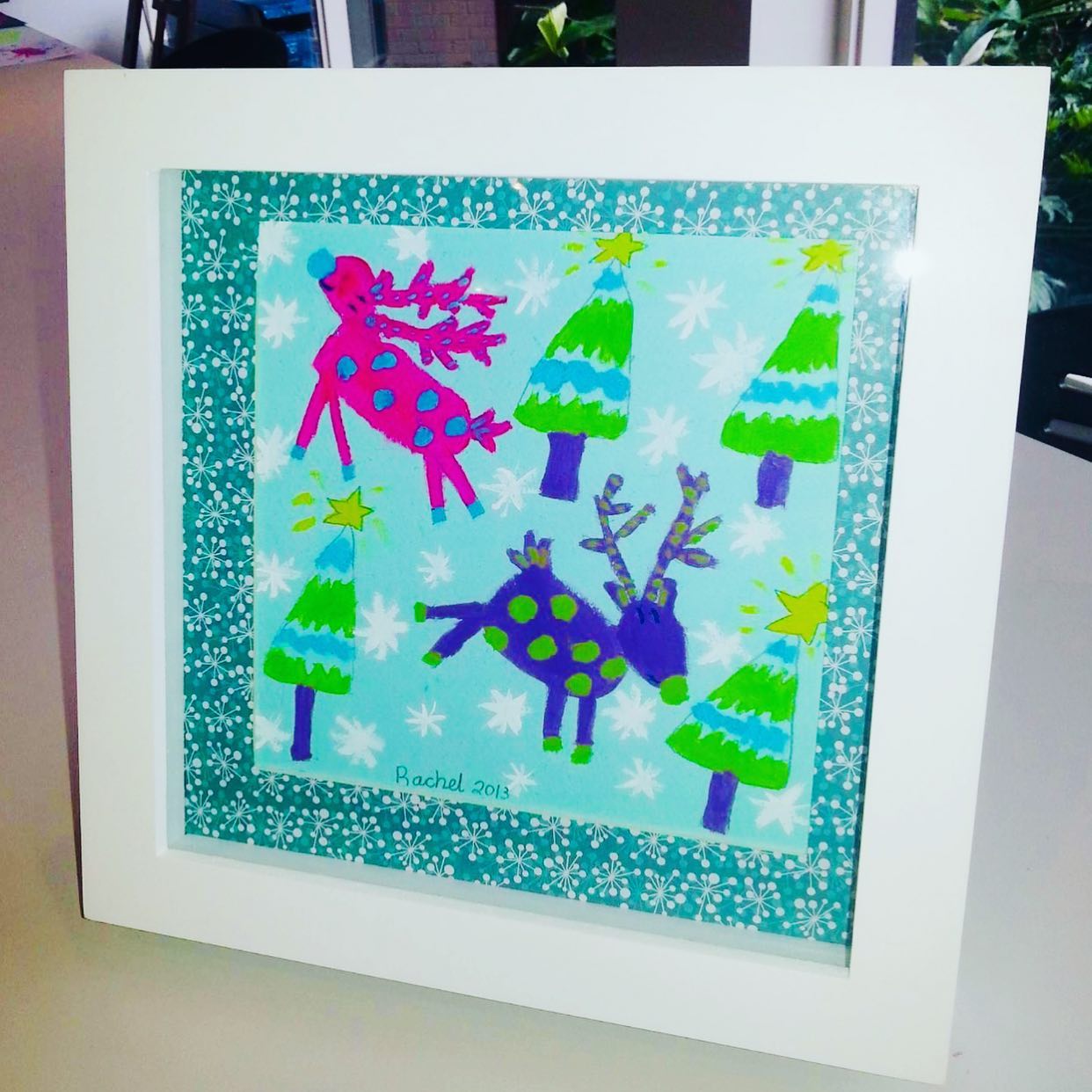 Artist Of The Month Becomes Art News
During the past 13 years we have run an Artist of the Month page to celebrate and showcase local Artists in all mediums; Painting, Sculpture, Music, Literature, Photography, Theatre and more.
There was always more demand then could be fulfilled by showcasing just one Artist and running all others in the Events page or through Snippets in the Community News or Profile of the Week pages, or as stand alone Features.
Although these options will still remain open to local Creatives, an Art News page dedicated to helping Artists reach their local audience, and including everyone, launches this Spring so you can not only catch-up on what's been happening but also see what's coming up locally or further afield, especially when a local Artist is part of that Event.
If you have something coming up, something to say, or something to showcase, we want to hear from you. What you need to include in your 'package' to make it easier for us to help you:
A biography of yourself: include what you have done before
A portrait (photograph) of yourself
What the Event is: and

when

and

where

it will happen
A sample/s of your work
Once you have those four 'needs' ready, email them to pittwateronlinenews@live.com.au with the heading 'Art News'.
Remember it's always a great idea to give people advance notice of your Exhibition or Event, so once you have firm dates, get in contact.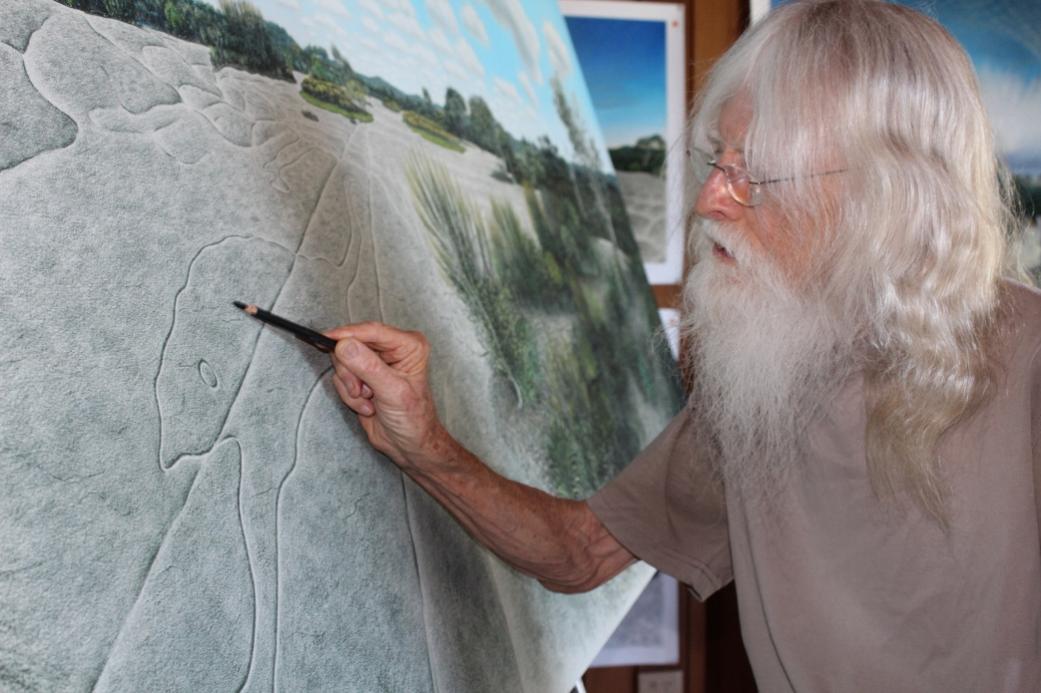 Mick Glasheen at work in 2018. Photo: AJG