September 15 - 21, 2019: Issue 421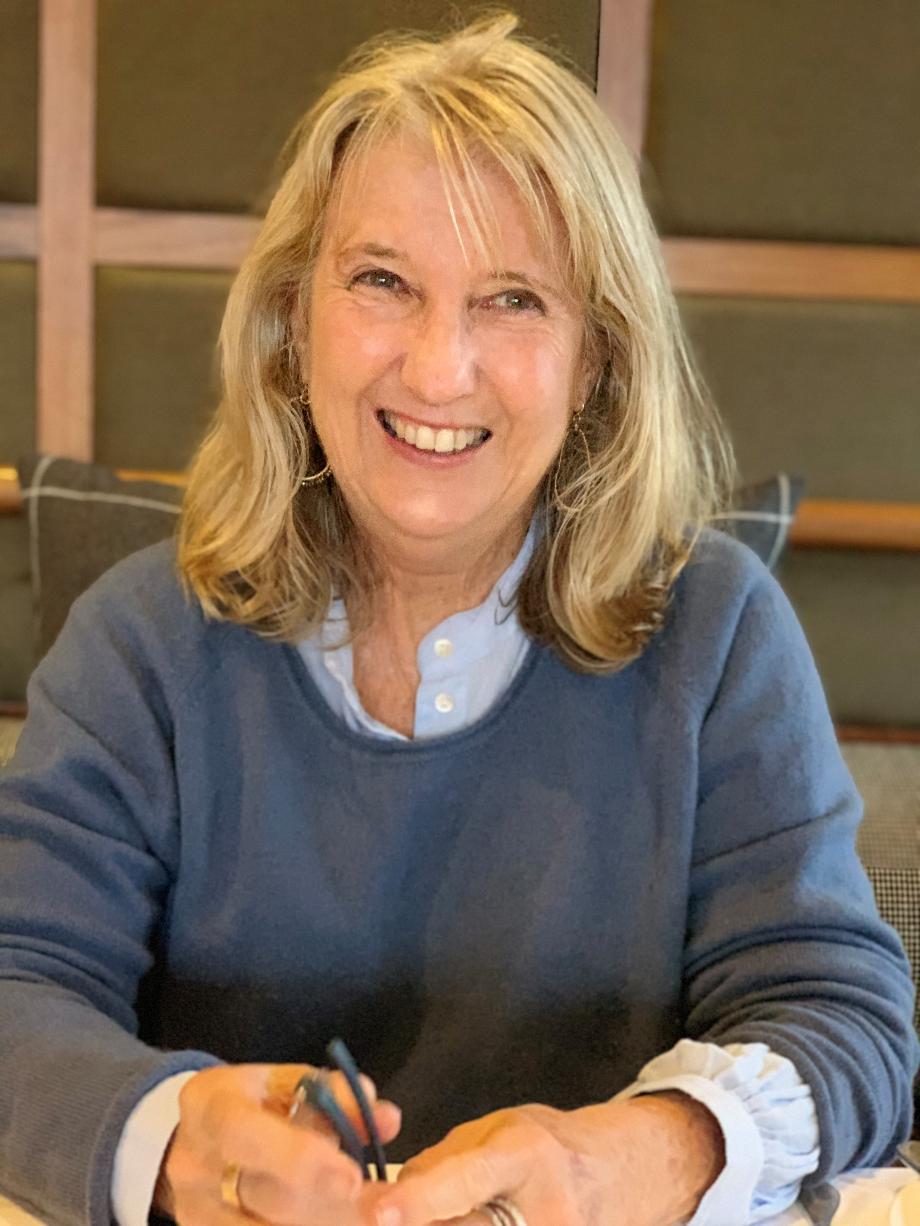 For years now our 'go to' lady for all things Bilgola Beach has been Anne Spencer. With MWP Historical Society then Editor Tony Dawson overseeing the work, Anne penned,
BILGOLA - THE STORY OF A POLITICIAN, A PILOT AND AN EPICURE
.
This former secretary of the Bilgola Preservation Society, with husband Colin, were among those fought tirelessly over the years to protect the beauty of Bilgola Beach.
Anne Spencer is much more than an advocate for retaining the beauty of Bilgola Beach though. Anne Spencer is a beautiful now Narrabeen based Artist whose artwork has continued to sell solidly since her first exhibition. Concurrently exhibiting and studying art making, Anne has completed traditional techniques of oil painting with Celia Gullet and earlier, year courses on tonalism with Graeme Inson and watercolours with the Julian Ashton Art School.
Australian art history with the NSW Art Gallery have been another focus while various short courses and workshops with the National Art School and leading artists like Jo Bertini and Stephen Harvey, have helped to expand her art education. Anne's artworks have sold to a multitude of local Australian clients as well as internationally in London, Switzerland, Singapore and New York City (MOMA). She currently paints full-time.

Recently we sent through a series of questions to Anne to delve a little deeper and find out more about this brilliant Wordsmith and Artist. Anne will run as Artist of the Month for October 2019 - for now, a few words from, by and about one of our great creatives.
For those who can't wait, please visit: www.annespencer.com.au
_________________________________________________
The Start
My imagination must have been a little awry from an early age. My uncle, noted journalist and author Ian Moffitt, once wrote a lovely little article for the Daily Telegraph about his 4-year-old niece Anne from Dee Why whose imaginary friend, Mrs Bongzay, lived in a snake's mouth at Parramatta. At school, multiple choice tests always gave me anguish because I always had so many answers. I loved to illustrate my margins in notebooks too, rather than listen to the names of places and dates. I still can't do boring facts but I can think; I can't knit, but can paint an abstract painting.
I went to Beacon Hill High School. Year 12 was quite successful for me because I won the Level 1 Year 12 Art Prize and was selected for Art Express, the students' HSC Exhibition in the city. Then I won a university scholarship to study earth sciences, so I put aside art studies for the moment. But I loved creating art and when my children were small and the opportunity presented itself, I commenced my formal art education part-time over several years at Julian Ashton Art School in the Rocks, a little later with Sydney Tonalist Graeme Inson at his art school and more recently with Celia Gullett.
Bilgola Beach
By then my husband Colin and I were living at Bilgola Beach. We felt lucky to live in a kind of urban paradise. Bilgola House adorned the beachfront but it slipped from one heritage list to another and during the 1989 Christmas period, the beautiful old house was demolished. Thus started our local activism. We were appalled that a building as important as this was to our limited history of English settlement times could be obliterated from the landscape at an owner's whim. We felt that this small piece of paradise needed protection from greed and ignorance and that we had little chance of making a difference anywhere other than locally. From this demolition of Bilgola House, the Friends of Bilgola and then the Bilgola Preservation Society eventually was born and has lately ceased. We now live in Narrabeen.
Meanwhile, being a little too committed and over zealous perhaps, I had a go at founding the first Montessori Kindergarten in the area with lots of help from other parents. Around the same time Colin ended up as Chair (very early on) of the Save Mona Vale Hospital Committee. Along the way I helped to introduce Indonesian as a parent-run language education program at Bilgola Plateau School and I seemed to be good at writing submissions for funding for Barrenjoey High School's greening projects and getting a permanent home for the Montessori Kindy with Barrenjoey High School's enthusiastic support. I think I worked pretty much full time, teaching geography and Labour Market Programmes with TAFE NSW, through a lot of this.
Bilgola House was gone but the remnant ancient cabbage tree palms and lots of stonework in gardens under these trees were not! A few caring locals knew snippets about Bilgola Beach's history but nothing much had been documented as a story that could be told to younger residents. I had to do something and decided to research and so the paper for the Manly Warringah and Pittwater Historical Society was written with Tony Dawson's guidance. What came out of this is my current admiration for Oswald Watt, Australia's first pilot with a flying certificate. Oswald flew in the fledgling French Air Force at the beginning of World War I. There were no other air forces at the time. He was a hero, a great leader of men, and trained Australian pilots near Tetbury in England. His plane had a kangaroo emblem on it and he loved Australia. He also owned the weatherboard Bilgola House weekender from 1911 until he drowned at Bilgola in 1921.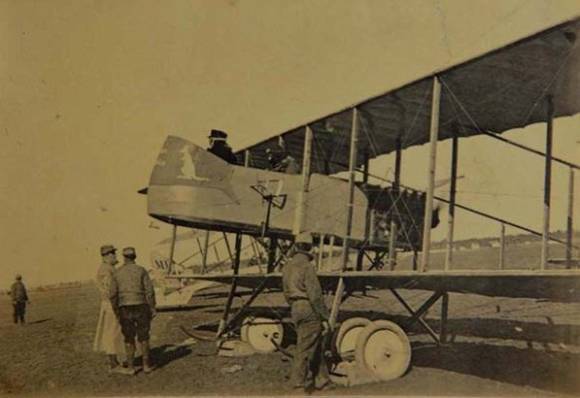 Above: Watt's Farman biplane "Advance Australia", c.1915, In Walter Oswald "Toby" Watt photographs, 1914-1915. Coll. No. 2008.045. Repository: McFarlin Library, Department of Special Collections and University Archives, University of Tulsa. 2933 E. 6th St. Tulsa, Oklahoma 74104-3123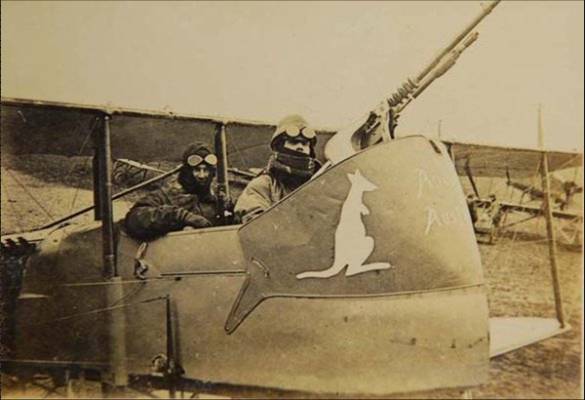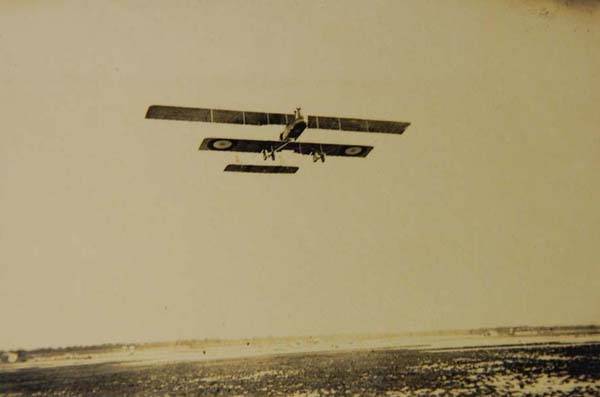 Above: Same plane flying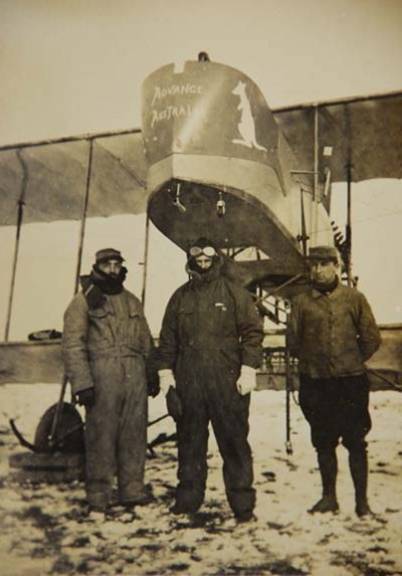 A playground for the rich during the 1900s meant that Bilgola Beach kept the large block sizes and the cabbage trees weren't eradicated and the low population density meant that parts of the valley – so special but so fragile – were not spoilt.
However, the dumping of earth from the excavations for the Roseville Bridge at the back of the valley over the remnant tropical rainforest nearly destroyed Bilgola and even today the Northern Beaches Council persists in naming the (1920's?) dry stone walled Bilgola Creek, a drain on council plans. This small action alone, appals me. It makes important features so easy to wipe out overtime, unnoticed. There would be no remnant cabbage tree (Livistona Australis) rainforest without this Creek and thus no 300-400 year old trees.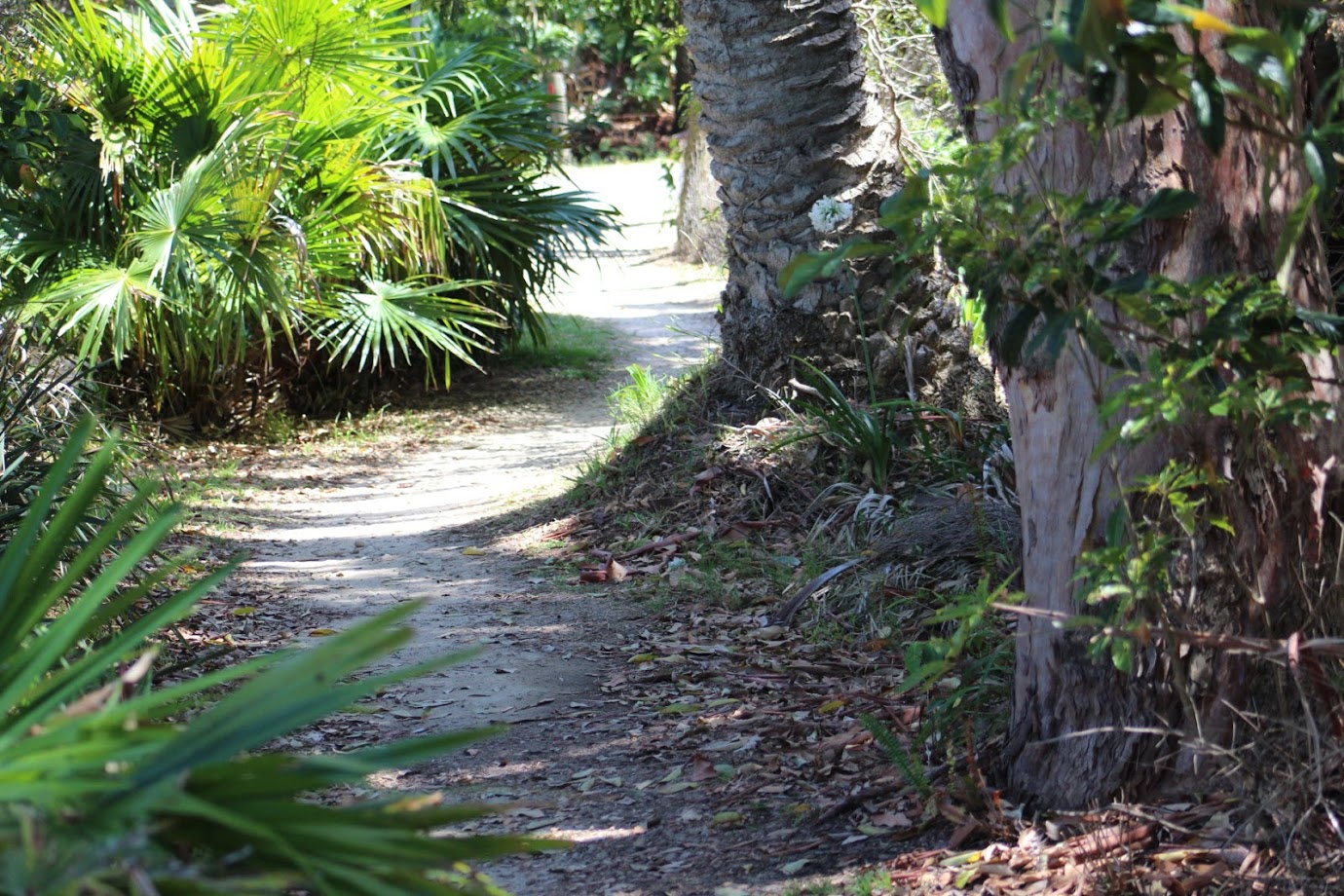 So ART.
The kids got older, I grew more cynical and decided it was time for me as well to follow my passion, my art. This was 17 years ago. Living with a nod to beauty in my everyday life seemed to be a precursor to art making. Caring about our environment, caring about what we see and about whom we are, seemed really important to me and my small family. So I took on more art classes. Then I was painting in a studio in Newport. My first exhibition was at Newport Artworks (thanks Gary) and achieved some pretty good sales. I've travelled extensively too, spending hours in major galleries all over the world and I've been lucky enough to study with artists of the calibre of Idris Murphy, Elizabeth. Cummings, Jo Bertini and Barrenjoey's own Wendy Sharpe.
Memorably, local artist Dianne Ogg and I applied to paint in Monet's Garden in Giverny, France. We were selected and allocated a day when it was closed to the public. It was a triumph. A divine experience. There were only ten of us with the whole garden to ourselves. Water lilies, that Bridge, the house, the beautiful gardens and I remember two fabulous macaw parrots in the garden behind Monet's, in this tiny village.
Another exciting experience I had was in 2017 when the Museum of Modern Art in New York – MOMA NYC projected an image of one of my abstract painting onto its wall at a feature opening of abstract painters participating in online learning with MOMA. My daughter and her husband who live in New York went along to the opening for me. How incredible to see one of my Imagined Landscapes on the wall at MOMA, even if only for seconds at a time! I've shown and sold my work at The Affordable Art Fairs in New York City and San Diego and I have painted in deserts, London, Matisse's house in Provence and of course found inspiration in Pittwater, especially in my water garden in what was that Bali House, Bilgola Beach.
I have had good gallery support over the years from Newport Artworks then Charles Hewitt Gallery in Darlinghurst and Marrickville, the Janet Clayton Gallery in Paddington and now Project Gallery90 at 90 Oxford Street Paddington. Next year I will have another solo exhibition, there. Meanwhile I have also been approached and signed a contract with Gallery 104 in the NYA art centre on Manhattan. I am yet to throw myself into this but I have a couple of paintings with them online.
Why abstract art?
Well first it's hard and challenging. I like this and I like the eternal quest to improve. It's a lot harder to paint something that is not there but in your imagination. It's also about the way you feel about things, so your work is tied up with an emotional response or a mood. Decorative yes, but more than this. It's about knowing your art, about knowing your materials and techniques and then working by instinct, in my case to produce a painting that perhaps meets most of the criteria used to judge the success of any painting, for example composition etc. Yet there is often no discernible subject or only a vague link to one and perhaps I can appear to have ignored all I might know about art making. But trust me, I haven't. Look and look at a good abstract work. It can entertain you for hours. Abstracted painting represents something inside the head of the artist and yet the image produced has to satisfy what is another whole new topic. To me, the resulting abstracted image is far more interesting to look at than an image locked in the real world, time and time again.
Living with such an artwork can bring a joy to every day. Painting to achieve this, keeps me busy and happy.
Anne Spencer