November 14 - 20, 2021: Issue 518

An Aquatics Mix: 22nd Annual Newport Surfboat Carnival On November 20th, RPAYC Youth Events + MC38 Nationals 2021 + Two New Life Members Named By Surf Life Saving Australia + Surfing NSW Launches The Inaugural Aloha Award In Memory Of John Shimooka + NSW Boardrider Clubs And Surf Schools To Be Eligible For Grants To Encourage Female Participation
22nd Annual Newport Surfboat Carnival
Saturday, November 20th, 2021.
All welcome.
First block- 0800-1100
Opens and Reserves
Second Block - 1100-1400
U23s and U19s
Entries close Monday November 15th
Photo: Michael King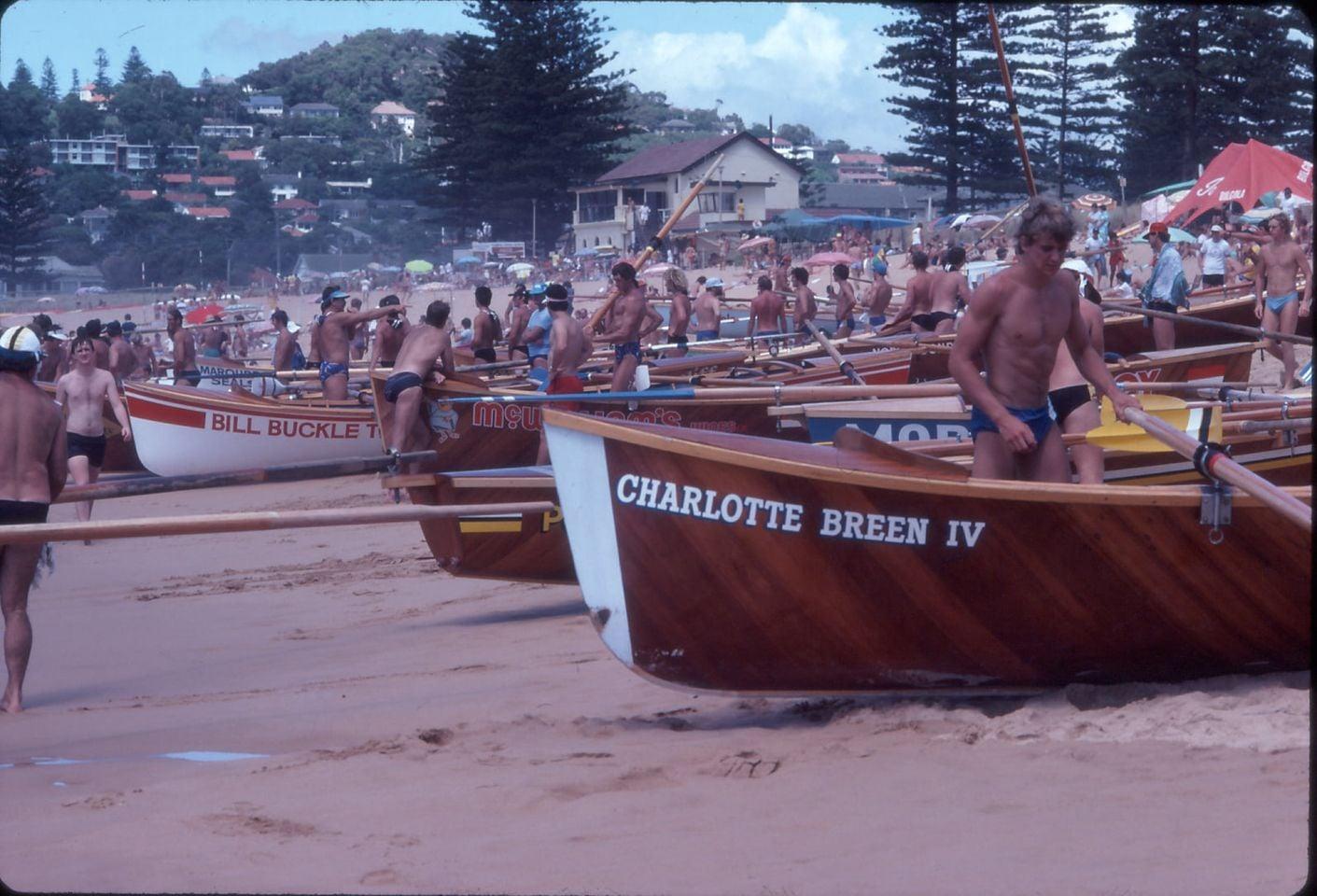 RPAYC Youth Development Squad Returns To The Water
RPAYC Youth Development squad sailors have returned to the water to resume their preparation for upcoming one design and match racing regattas over the 2021-22 season! Despite an interrupted winter training program, nine sailors have been active in the clubs 2021 Youth Development Match Racing squad.
RPAYC has also been very fortunate to engage Rob Brewer to coach the match racing teams this season.
Rob commented "It is an absolute pleasure to be training such a talented group of young sailors. It is very special to watch our teams bring together their experience from many disciplines of sailing to represent the Alfred's at a high level."
The first event for the RPAYC Youth Development teams will be a new event to the calendar with the ecostore Match Racing Regatta, taking place on 20-21 November 2021. Up to 8 teams will take part in this Grade 4 match racing regatta, which will be an exciting return to racing following the absence of events in 2021 due to COVID lockdowns.
Royal Prince Alfred Yacht Club is also pleased to welcome back local teams from our friends at Cruising Yacht Club of Australia, and Royal Sydney Yacht Squadron who will be partaking in the event.
Youth Development squad member Cam Whiteside is excited more than ever about the return to racing.
"We cannot wait to get on the race course with our fellow Sydney clubs back and resume the racing action from early 2021. We are also thrilled to have the support of ecostore, boatwash.com.au, for this event. Our youth team is proud that our home event is supported by a product which is safe for boaties and better for our oceans health."
Other upcoming events over the coming months include the CYCA Bolle Match Cup, and the RSYS Christmas Cup.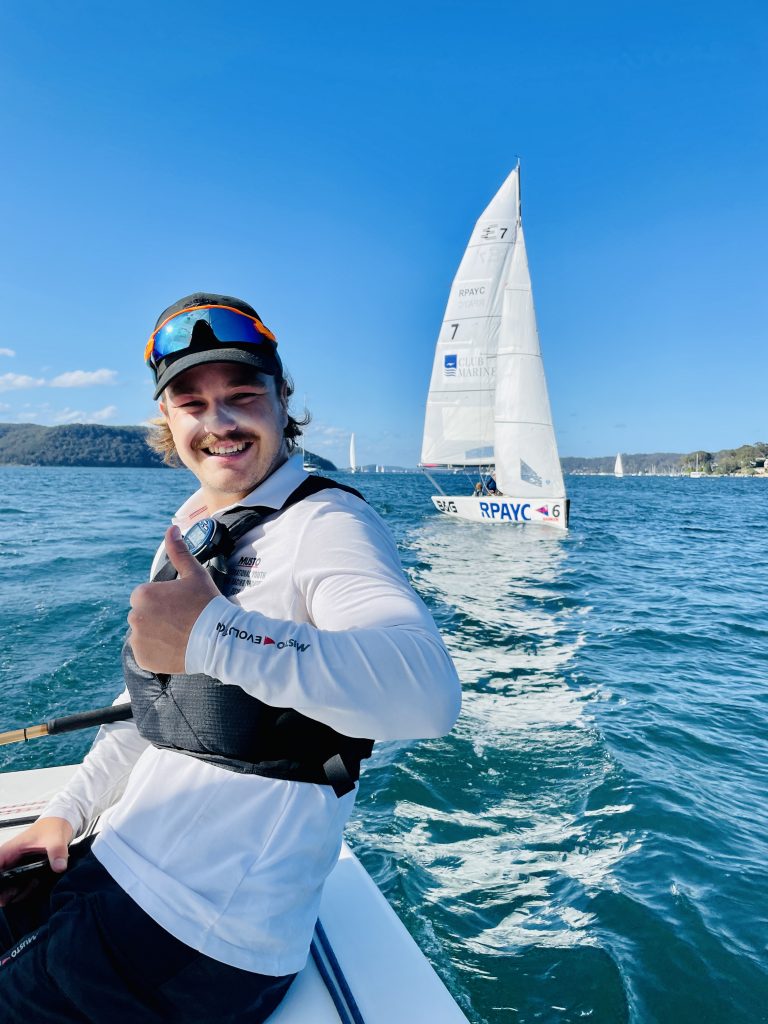 Lazy Dog's Back-To-Back MC38 Nationals Victory
November 7, 2021: MC38 2021 Australian Championship hosted by Middle Harbour Yacht Club with racing on Sydney Harbour
Back-to-back national MC38 titles for Shaun Lane and Quentin Stewart's Lazy Dog was no picnic, hours of floating around Sydney Harbour expectantly on the final day yielding an empty scoresheet which meant victory reverted to day two's narrow lead of one point over Marcus Blackmore's Hooligan.
Middle Harbour Yacht Club tried valiantly to get a race away on Sunday November 7 under heavy cloud that quashed the breeze and storms that pulled what little wind there was wildly around the dial. Race officer Steve Tucker finally managed a start after 1pm (the first race was scheduled to start at 11am), only to have the light northerly swing to the south which saw half the fleet sailing from the top mark with kites and the other half sailing to the top mark also with kites.
That race was abandoned and the 1400hrs time limit gave Hooligan no chance to reverse the top order.
Recapping the three-day series Quentin Stewart said: "We felt the boat was quick all weekend. Friday there wasn't much breeze and it was shifty, and a lot of chop – a tough day's sailing. Saturday was a glamour with 15 knots out of the nor'east, 16-18 knots for the last race of the day (watch the video), and today was a glass-out.
"I'd like to congratulate the Hooligan guys on a hard-fought weekend – they certainly made it more difficult for us than we would have liked. We haven't raced for a while and all had moments when we didn't execute well. Even so, the quality of the fleet is very good and that makes it a pleasure for everyone to sail."
Olympic and America's Cup sailor Iain Jensen, who was on mainsheet for Hooligan, said: "It's always hard to lose by a close margin. Lazy Dog was the stronger team this weekend." It's been a few years since Jensen raced with the MC38s and he enjoyed the depth of talent and tight racing this series, adding "the feeling in the class is really good".
Third place went to InfoTrack skippered by 14-year-old Indy Beck.
Sydney's extended COVID lockdown over the winter months generated significant turnover in the one design class and a new-look MC38 fleet fronted the nationals, the first hit-out since June.
Out is Chris Dare's Easy Tiger, Steve Barlow's Lightspeed and Ross Hennesy's Ghost Rider. In is a second InfoTrack, helmed at the nationals by Barlow and boasting a who's who including America's Cup legend Joey Newton and North Sails'/Black Jack's Mark Bradford, Matt Hanning's Thor, and David Wills' Law Connect.
Hanning finished fifth in his first MC38 regatta, his young team making up for limited time on the water with their pedigree - Australian Sailing Squad 49er sailors Jim Colley (tactics), Shaun Connor and Max Paul plus well-known match racer and SailGP's James Wierzbowski among Thor's crew. "It was a COVID purchase inspired by Mitch White who helped me put a team together. This regatta was a lot of fun – it's a really social class," Hanning said after racing.
Norse mythology inspired him to name his Beneteau First 53 Odin and now he's added Thor to the stable.
The 2021 Australian Championship marks the end of a shortened season pointscore that went to the Royal Prince Alfred Yacht Club-based Hooligan.
MC38 regatta dates for 2022 have been posted on the website https://mc38racing.com/events2022
Facebook page: https://www.facebook.com/MC38Class
Insta: @mc38aus
Website: https://mc38racing.com/
Report by Lisa Ratcliff, OCC and Australian MC38 Association media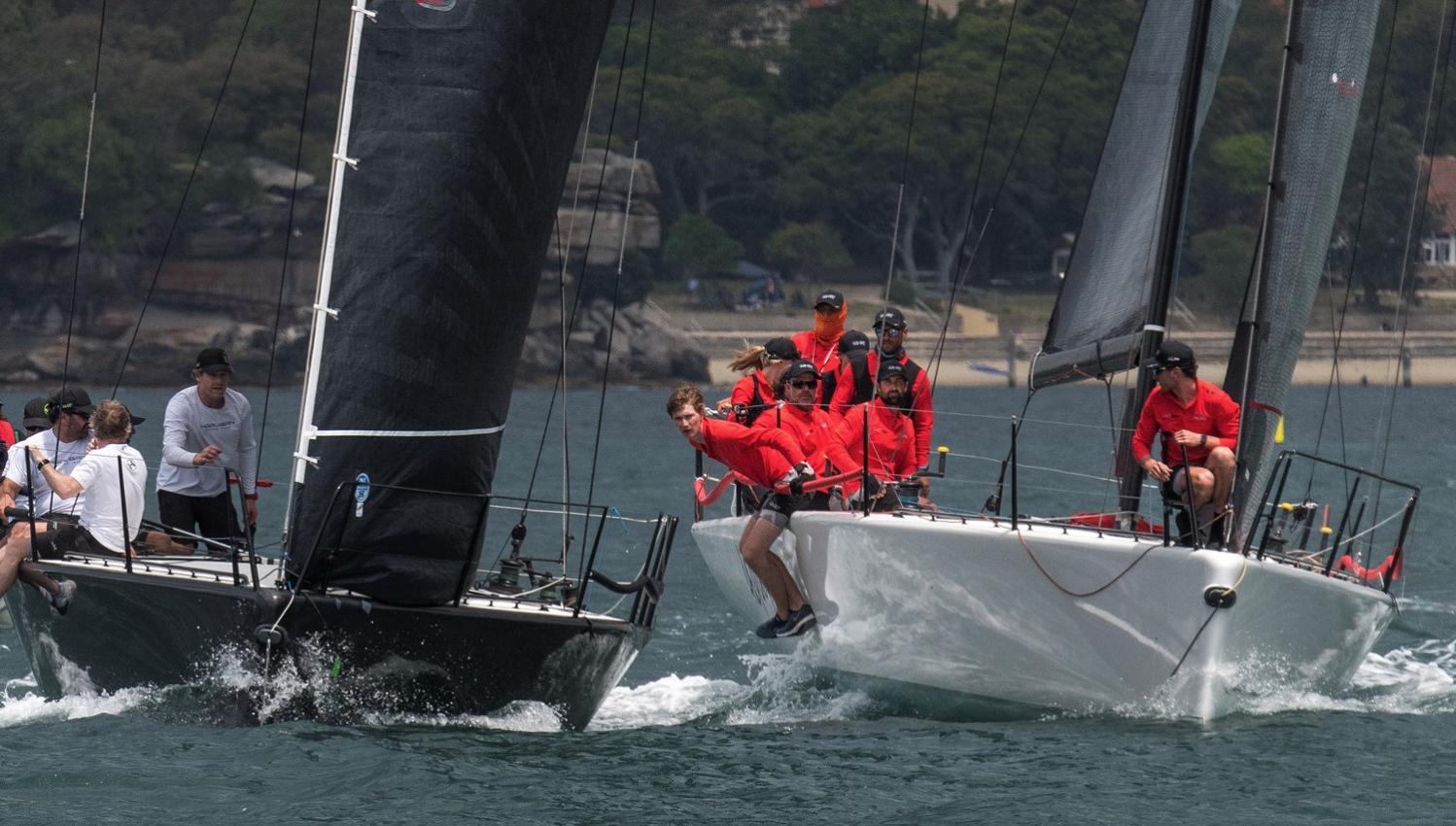 Hooligan & Lazy Dog. credit: Marg's Yacht Photos
Tip Of The Cap To Newest SLSA Life Members
More than a century of wisdom, experience and dedication has been recognised by Surf Life Saving Australia, with two of Freshwater SLSC's finest awarded Life Membership by the national organisation.
Both Michael Bate and John Mills OAM have taken their love of the ocean to other clubs over time – Michael began his surf lifesaving journey at Fairy Meadow SLSC in the Illawarra and John is a member of Coffs Harbour SLSC – but they share a connection to the northern beaches club and a fierce loyalty to both Surf Life Saving and the community therein.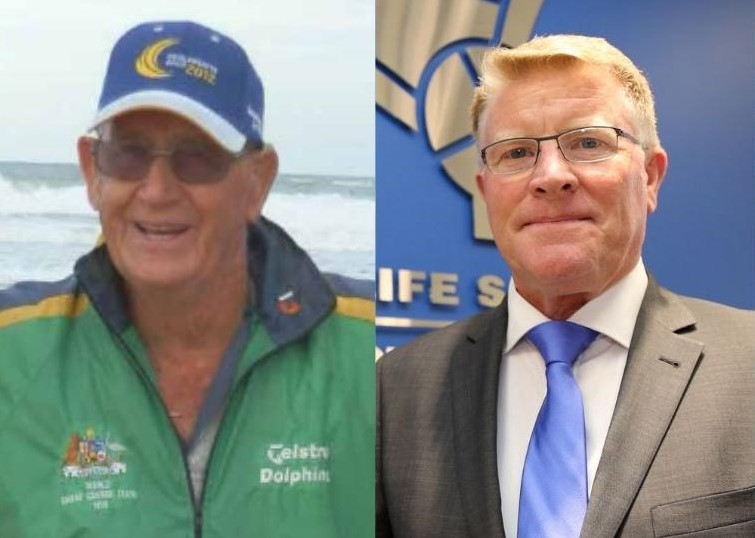 For Michael, Life Member Cap 305, it's a loyalty forged through more than 50 continuous years of service where he has made a prominent, notable, and outstanding commitment through various roles at Club, Branch, State and National levels.
Cherry picked from a long list of achievements, and using his business and financial background, of note among Michael's highlights is securing a Branch headquarters for the Sydney Northern Beaches. As a result, Sydney Northern Beaches is the first Branch in Australia to direct SLSA funds back to Clubs.
As a member of the NSW Executive Board, he was integrally involved in the purchase of the new SLSNSW Headquarters and played a significant role in the successful establishment of a long-term future fund to help protect SLSNSW from financial stress.
Michael is also a distinguished Referee who is respected by organisers, officials, and competitors. He has led teams in the international competition arena and was highly regarded by team members, international officials as well as opposing teams.
"Most important for me, however, is the friendships," Michael said.
"You never go striving for accolades, and while I am humbled by the award (SLSA Life Membership) and the various achievements I have been a part of, it's the lifetime friends that I started with and still catch up with that make it worthwhile.
"Surf has been very good to me, my wife and my five kids. We went through it together, and we've all become better people.
"The longer you're involved, the more it means."
If that is indeed the truth, then a man who embodies the very meaning of Surf Life Saving is fellow SLSA Life Member, John Mills OAM.
John, Life Member Cap 308, is one of Australia's longest serving and most successful surf sports coaches. At 93 years young, he has had an unbroken level of commitment to the movement, actively competing at the highest level for 20 years before excelling as a coach at the highest levels for some 60 years, all on a voluntary basis.
Countless competitors have benefited from his extensive knowledge, versatility, enthusiasm and experience over multiple disciplines. An innovator across disciplines as diverse as R&R, Craft and the art of surf swimming, John has proven himself an elite sporting brain.
John has made an eminent, highly respected contribution to the development of surf lifesavers at all levels over half a century – one that is both significant and influential.
SLSA Life Membership is given to members who go above and beyond in their duties and responsibilities in Surf Life Saving, and who have shown distinguished voluntary service to the movement over a sustained period of at least 20 years.
Report and photo: Surf Life Saving NSW, Thursday, November 11, 2021
Surfing NSW Launches The Inaugural Aloha Award In Memory Of John Shimooka
November 9, 2021
In November 2020 the worldwide surfing community was deeply saddened by the premature passing of former Championship Tour surfer and Surfing NSW Partnerships General Manager John "Shmoo" Shimooka.
To commemorate John's life and his contribution to surfing, Surfing NSW would like to announce the inaugural Aloha Award in Memory of John Shimooka on what would have been his 52nd birthday (9th November).
The award will be both democratic and equitable by design and will rotate between male and female winners annually, with a committee accepting nominations from all comers in 2021 to choose the first, standout candidate, regardless of gender.
Nominations will open from November 9, 2021, with a request for each nomination to explain how the nominee has contributed to building a better community through surfing. Nominations will close on November 30, 2021.
The award winner will be someone whose passion and community spirit spreads stoke and aloha during the calendar year. Their achievements may be in fields as diverse as performance surfing, coaching, mental health, surf rescue, boardrider clubs, commentating or surfing administration.
The chosen winner will receive a custom surfboard from Shmoo's shaper Wade Tokoro as well as a range of products from Vissla and a commemorative trophy.
Nominations will be taken here
The Aloha Award in Memory of John Shimooka is run by a committee of Shmoo's family, former colleagues and friends and will be chaired by Surfing NSW Chairman John O'Neill.
The committee members include:
Brandon Shimooka – John's son
John Mossop – Vissla Managing Director
Luke Madden – Surfing NSW CEO
Ben Johnston – Johnston Advisory Director
Suzy Tight - Former colleague and General Manager of Vestal Watches
"Aside from a general greeting, Aloha also is an essence of love, peace, respect and compassion, which Shmoo had in spades. Unfortunately, he knew - more than most - the challenges of mental health and was an advocate and co-author of Surfing NSW's Mental Health program," said O'Neill.
"As the anchor of Surfing NSW's "Boardcast" program, John took the joy of surfing to a global audience and the world's best surfers, commentators and shapers were always prepared to give up their time to speak with him on the program."
The NSW Parliamentary Friends of Surfing, chaired by the Member for Manly, James Griffin, will also be asked to encourage nominations from within appropriate electorates.
The award will be presented annually in conjunction with the presentation of Surfing NSW's Midget Farrelly Award for Lifetime Achievement.
Because of COVID-19, Surfing NSW plans to announce both 2021 winners but will formally present their awards in 2022, along with the 2022 winners.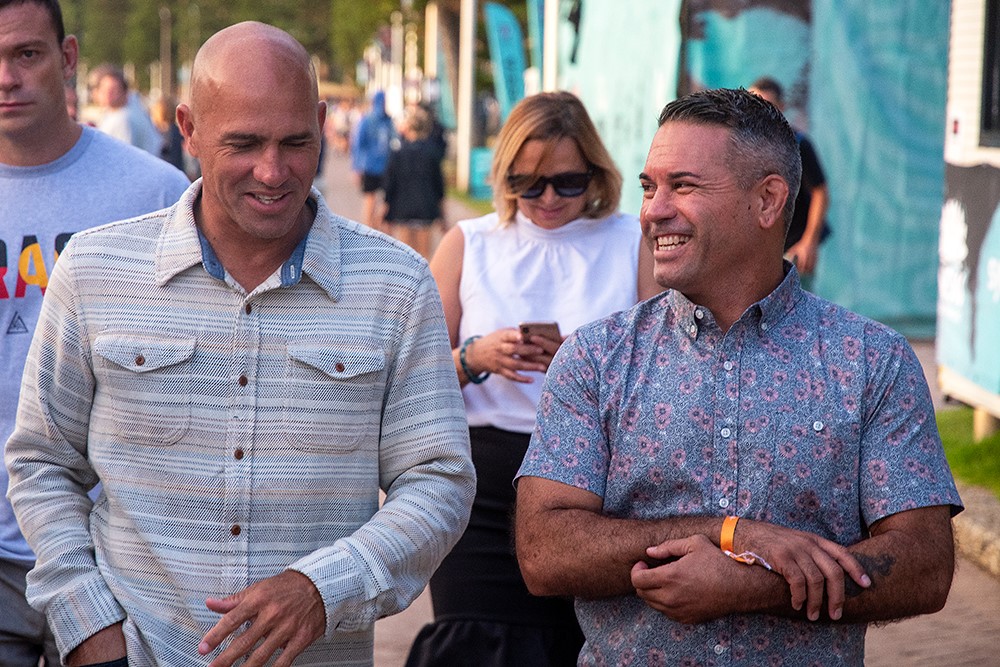 ABOVE: Surfing NSW has announced the inaugural Aloha Award in Memory of John Shimooka. Here is John pictured with 11-times World Champion Kelly Slater in Manly in 2019. Photo: Ethan Smith / Surfing NSW
NSW Boardrider Clubs And Surf Schools To Be Eligible For Grants To Encourage Female Participation
November 12, 2021
Surfing NSW is providing grassroots boardrider clubs and surf schools in NSW the help they need to attract and retain more female participants than ever before.
Twenty affiliated boardrider clubs and surf schools in NSW will share in $50 000 as part of the inaugural round of Her Wave // Get Her Onboard Grants Program presented by ROXY and the NSW Government.
The Grants Program was built on the back of stage one of the ROXY and Her Wave "Get Her Onboard" campaign earlier this year, which resulted in 1100 women joining the ROXY and Her Wave community, which included being offered discounted learn to surf lessons through their local participating surf school.
Minister for Sport Natalie Ward said the NSW Government is committed to removing barriers and increasing participation of women and girls across all sports.
"I'm thrilled to support this fantastic initiative which will encourage more women and girls to pick up a board and get involved in this exhilarating sport," Mrs Ward said.
"Through the NSW Government's Her Sport Her Way strategy, we aim to work with organisations such as Surfing NSW to cultivate positive change and ensure women and girls have equal choices and opportunities."
"Grassroots surf schools and boardrider clubs are at the heart of NSW surfing communities. They keep families connected, groms happy and healthy and communities safe. With the introduction of Surfing NSW's new female surfing platform, Her Wave, there will be a greater focus on supporting and nurturing female participation in 2021/2022," said Surfing NSW CEO Luke Madden.
ROXY Australia / New Zealand Marketing Manager Simon Macgregor stated: "ROXY has been empowering girls to get out in the waves since 1990 and the Her Wave program that has been put together by Surfing NSW and the NSW government is the benchmark inclusive platform in Australia to get more girls out in the waves, no matter what their ability is. We believe that surfing has so many positive attributes from healthy living, to better mental health, to the ability of being able to bring communities and people together, which is all emblematic of the Surfing NSW Her Wave program and what ROXY is about. This will be our second year involved with Her Wave and we cannot wait to see where we can take it from here."
Surfing NSW's feedback and findings from consultations with the wider surfing community uncovered numerous perceptual and physical barriers affecting female participation at grassroots levels.
As a result, the program provides boardrider clubs and surf schools with the opportunity to develop their own initiatives to encourage and nurture female participation.
Overall, the Grants Program will help grow to build a more inclusive, accessible, and enjoyable female surf culture that will attract and promote ongoing female surfing participation in NSW.
Grant applications can be made from mid-November via surfingnsw.com.au. Successful grant projects will be promoted and available for public registration in 2022.
About Her Wave:
At its essence, Her Wave aims to empower all females through surfing. It is committed to supporting gender equity, making surfing more inclusive and accessible to all women and girls of all ages and abilities in NSW and works to build a more joyful experience for everyone.
A key objective of Her Wave is to grow and nurture female participation in the sport as a collective. Here, the aim is to work collaboratively with our networks, partners and communities to deliver the Her Wave message and programs throughout the state.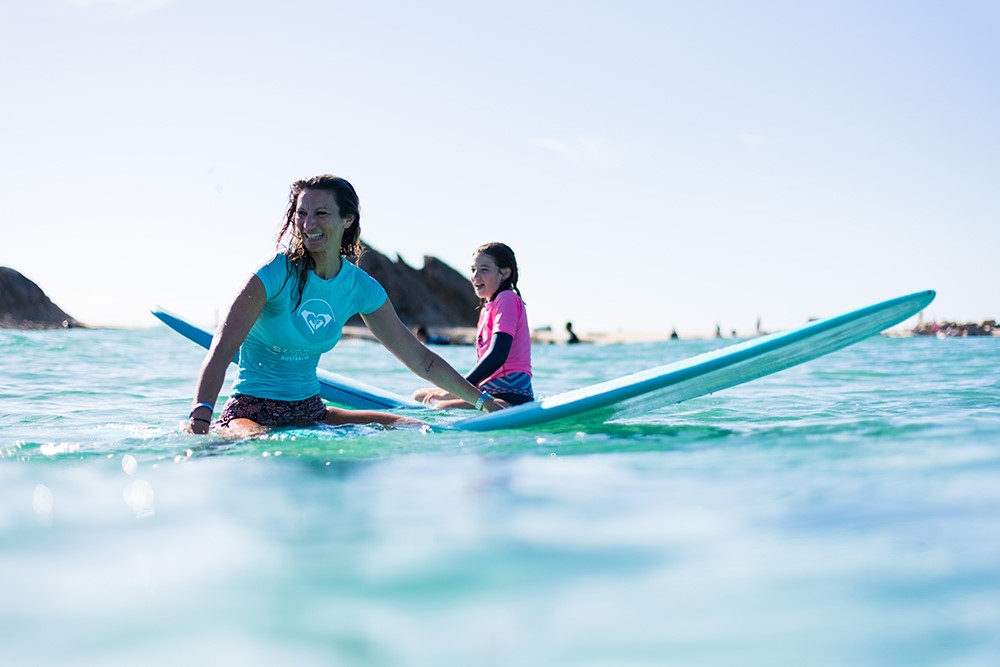 ABOVE: Surfing NSW is providing grassroots Boardrider Clubs and Surf Schools in NSW the help they need to attract and retain more female participants than ever before. Image credit: ROXY