December 15, 2019 - January 19, 2020: Issue 433
Sailing heavyweights named as ambassadors for Sydney to Auckland Ocean Race 2021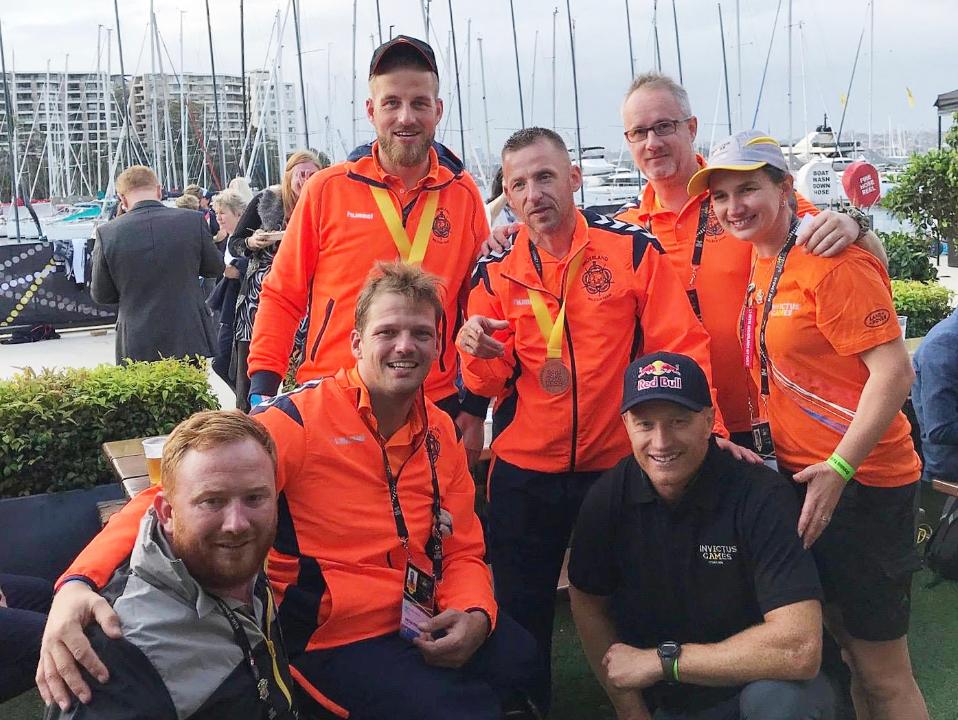 RPAYC's James Spithill (Red Bull cap), sister Katie and brother Tom (first left) - photo by Arthur Spithill
The Royal Prince Alfred Yacht Club (RPAYC) in Sydney and the Royal New Zealand Yacht Squadron (RNZYS) in Auckland, have named Australia's most famous sailor, James 'Jimmy' Spithill and one of New Zealand's rising stars, Bianca Cook, as ambassadors for the inaugural Sydney to Auckland Ocean Race 2021.

Spithill, a product of the RPAYC Youth Development Programme, came to the attention of Syd Fischer. In 1998 he appointed the 19 year-old, who became the youngest skipper in the history of the America's Cup at the helm of Young Australia 2000. Spithill's aggressive pre-start and start tactics became his trademark, creating a demand for his services on the world stage. In 2003 he helmed One World and in 2007 Luna Rossa Challenge, reconnecting with the latter for the upcoming Cup.
In 2010, the Pittwater raised sailor joined Larry Ellison's BMW Oracle Racing and at 30, became the youngest skipper to win the America's Cup. 'Jimmy', as he became known, went on to defend the Cup twice against Emirates Team New Zealand.
In 2013 Spithill and crew came back from the brink against Emirates Team New Zealand (ETNZ). Oracle Team USA was at a seemingly unbeatable 1-8 deficit, but won the next 11 races to retain the Cup. In Bermuda for the 35th America's Cup in 2017, ETNZ were on the warpath and exacted their revenge, defeating their nemesis 7-1.
In between, Spithill has won many other sailing events, including 2017 Rolex Sydney Hobart line honours and the race record, at the helm of LDV Comanche.
"I'm really honoured to be included with Bianca as an ambassador for the Sydney-Auckland Ocean Race 2021," Spithill said from Sardinia.
"I think for a lot of competitive sailors between the two cities, we have flown over that piece of water many times. However, I imagine very few have actually sailed it, or ever had the chance to race Sydney to Auckland. What better chance than now, with the America's Cup coming to Auckland in 2021?
"Having raced up and down the coast of Australia in the Sydney Hobart and Sydney Gold Coast races, along with New Zealand's Coastal Classic, both coastlines offer really challenging, tactical racing. Combining a bit of both will make it a really fascinating event, with a great ending of watching the Americas Cup.
Spithill ended, "I hope to see a lot of Aussies on the water in New Zealand come 2021!"
Across the paddock, Bianca Cook is a rising sailing star. Ten years younger than Spithill, she has accumulated over 100,000 offshore miles, around 45,000 of those aboard the Dee Caffari skippered 'Turn the Tide on Plastic' in the 2017-2018 Volvo Ocean Race (VOR).
Since then, Cook, who came up through dinghies and match racing, also joined Stacey Jackson's all-female crew for the 2018 Sydney Hobart on Wild Oats (Ocean Racing Respect), and finished in an impressive second place overall.
Cook recently announced her next goal is to skipper a boat in The Ocean Race (former VOR) in 2021 and has purchased Turn the Tide on Plastic, the VO65 she knows so well. As part of crew selection and training, the 30 year-old will appropriately sail it in the Sydney to Auckland Yacht Race.
"It's a great race to showcase the southern hemisphere talent. Lots of sailors have started their offshore sailing endeavours between these two countries," Cook remarked.
"It will be fantastic to get some miles in, in this part of the world, before The Ocean Race," Cook ended.
The inaugural Sydney to Auckland Ocean Race has attracted supporting sponsors, but naming rights is currently open and offer a prospective sponsor unusually diverse international opportunities. To discuss, please phone Rob McClelland on 0416 294 942 or email: gomer@ozemail.com.au
For all details and Notice of Race for the Sydney to Auckland Ocean Race 2021, go to the official race website: www.sydneytoauckland.com
By Di Pearson