September 27 - October 10, 2020: Issue 468
NSW's best juniors to fly the flag for their clubs when the Aloha Manly Junior Teams explodes in October 2020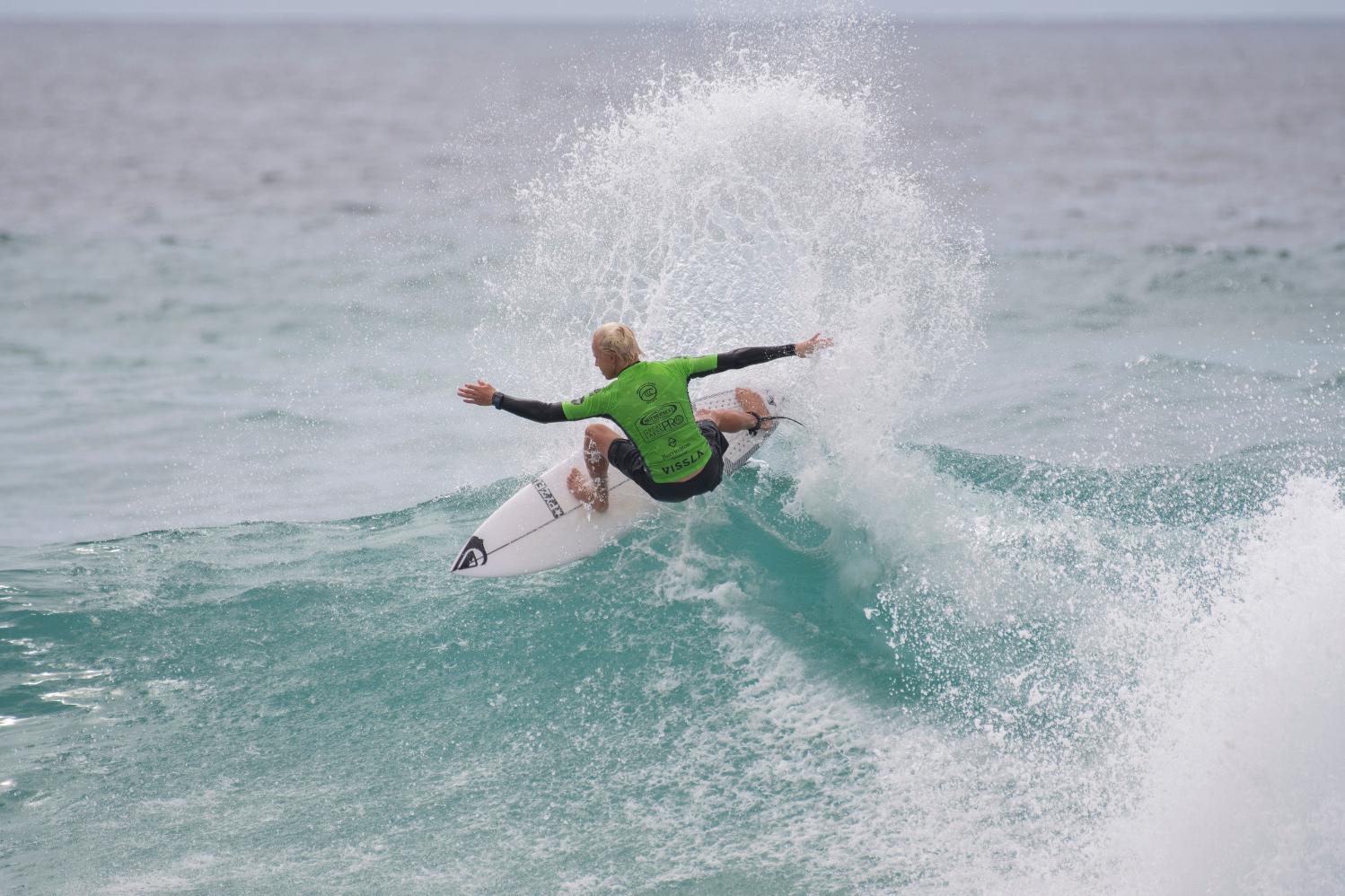 Joel Vaughan ripping it up - photo by Ethan Smith/Surfing NSW
The Aloha Manly Junior Teams event presented by Hurley, will explode onto the NSW surf scene for the first time during the October school holidays at Manly Beach.
With $10,000 in prize money, some of the country's best junior talent - and the largest contingent of NSW grassroots board riding - will be on show.
Each team will consist of eight surfers: two x Under-12s; two x Under-14s; two x Under-16s; and two x Under-18s.
All surfers will get to surf one heat, with points allotted for individual heat placing, meaning the most consistent team over the two days will take home the title and the $5000 first prize.
The event that will run from the 6th – 8th October 2020, is the brainchild of the North Steyne Boardriders Club, who wants to provide junior surfers from around the state with a focal point during the tough COVID-19 period.
Club President Adam Hennessey said: "Mental health issues within the youth demographic have been elevated during the COVID-19 period and I personally think hosting a team's event of this magnitude will bring back a bit of normality into the competitive lives of kids. To see so many of the countries strongest clubs entering will also guarantee a high standard which will add to the excitement levels."
Entries for the event are now closed with the draw full.
Host club and defending Kirra Junior Team Challange champions North Steyne Boardriders will be hoping for a hometown victory with their talented side led by the likes of George Pittar, Saxon Reber, Fletcher Kelleher and NSW State Grommet Champions Sol Gruendling and Ben Zanatta Creagh.
With 24 quality sides in the event, clubs such as North Shelly (Joel Vaughan), North Narrabeen (Jamie Thompson), Merewether (Mike Clayton Brown), Queenscliff (Winter Vincent), Bondi (Grayson Hinrichs ), Avalon (Arch Whiteman), Frenchmans (Ethan Hartge), Long Reef (Kobe Clements), Avoca (Lennox Chell), Southbridge (Lennix Smith), Maroubra United (Tye Koolis), Freshwater (Kai McGovern) and Scarborough (Fin McLaren) will be very dangerous and hard to hold out in the race for the title.
The contest is at the same venue as the Sydney Surf Pro and major sponsor Aloha Surf Manly is stoked to be a part of an event which will provide a major boost for the local economy.
Aloha Manly owner Tim Hanrahan said:
''Bring it on. The grommets will be fired up and ready to rip in. We have been the major sponsor of North Steyne since 1998, so it's great to be able to bring some of the country's best surfers back to Manly."
The event will be broadcast live on the North Steyne Boardriders Facebook page and also on the Live Heats platform.
For the safety of yourself and others, the state government has put a number of rules in place to reduce the risk of COVID-19. We, as an event, must adhere to these restrictions and our event has been approved by providing COVID safe measures that we are implementing.
Northern Beaches Council asks that any attendees adhere to these measures including - not gathering in groups of more than 20 people, maintaining 1.5m social distancing and following Surfing NSW's strict COVID event plan.
The event is proudly sponsored by Aloha Surf Manly, Hurley Australia, Open 4, Live Heats, Dolce Terra, Doctor V, Surfing NSW and the Hotel Steyne.