September 9 - 15, 2018: Issue 375


Pittwater is known for its good sports and individuals who are involved in everything from sailing to snowboarding. Did you know we have a motor sports aficionado too though?
Many of us have grown up watching Bathurst or been enthralled with the lead into Bathurst, the Sandown 500.
The Sandown 500, running next weekend September 14th to 16th, has been promoted since 2016 as a 'retro-round' with a back to the 60s, 70s and 80s theme as Supercars celebrates its touring car heritage with historic liveries, team uniforms, fashions and merchandise at Sandown Raceway.
Will there be flares, thick rimmed sunglasses, moustaches and Elvis sideburns? Yes. Sunnyboy frozen triangles for the littlies? - perhaps. Will the cars look fantastic? - definitely!
Among the laps raced by SuperUtes and that long Sunday afternoon one by the Supercars will be a category raced by Touring Car Masters. These are Touring Cars from the classic period of muscle car competition between 1964 and 1979 such as Ford and Holden, classic Mustang and Camaro, AMC, Valliants, Chryslers, AMC and even Porsche's.
The Touring Car Masters has become one of Australia's premier racing categories, and one of the most popular and spectacular V8 Supercar support classes.
The Touring Car Masters series is structured across three classes at each round: ProMASTER – For the professional drivers, ProAM – For part-timers or drivers doing it as much for fun as they are success and ProSPORTS – allows entrants to cross-enter in the same car, enabling two (or more) drivers to score points for the vehicle and still compete for the class championship.
In 2017 Adam Bressington placed first in the ProAm in the TCM and third overall for the series, only 36 points off taking it outright. He won the Dometic Trophy Race on the opening day of the Adelaide 500 this year - the first race of the first Round on the TCM Calendar.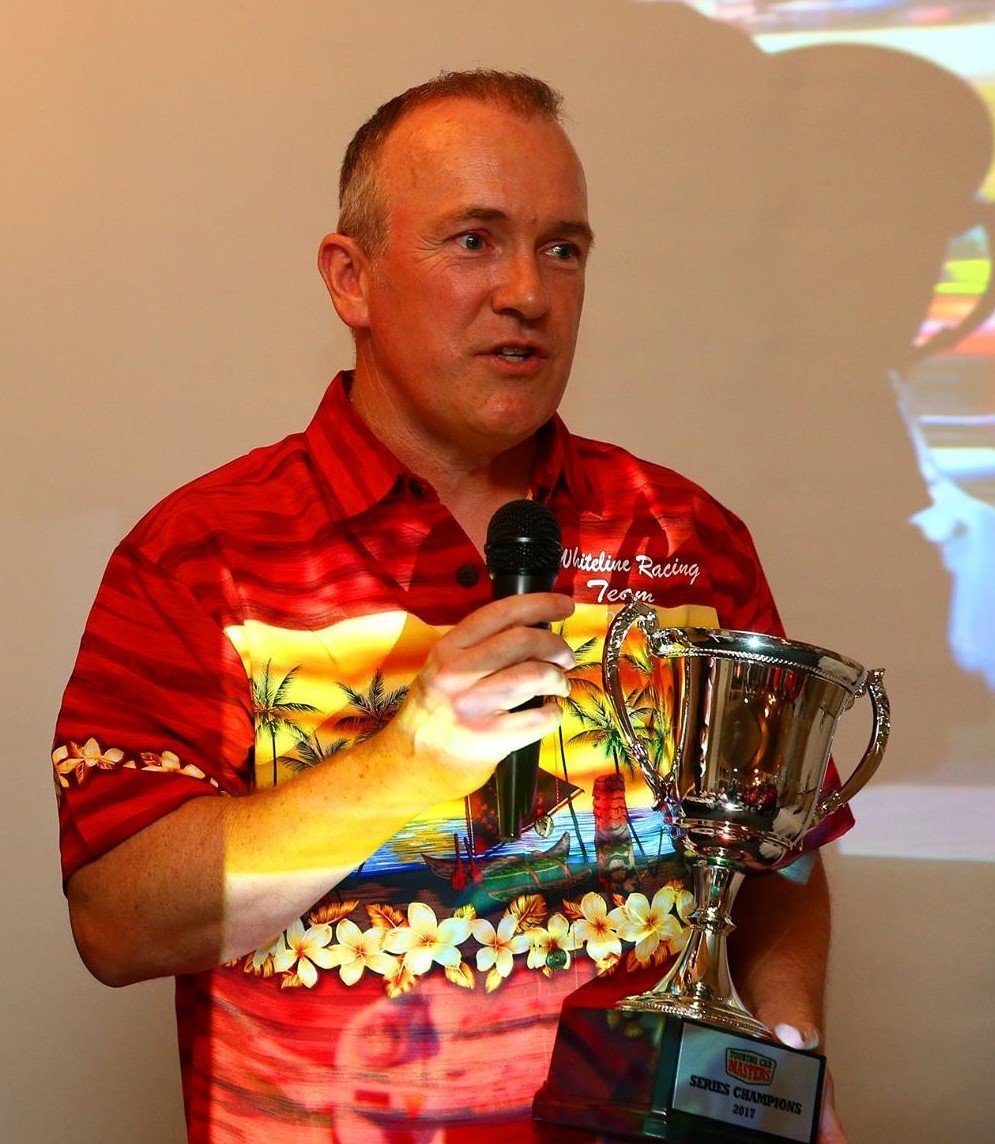 2017 TCM ProAM Champion - photo by Speed Shots Photography
TCM contests eight rounds across Australia, all of them running with the Supercars Championship and with drivers such as Bathurst legends Jim Richards and John Bowe in these cars.
As the Touring Car Masters head into the final Rounds of their 2018 calendar - Sandown, Bathurst and the Newcastle 500, Adam sits in 3rd spot overall again, only this year he's racing in the ProMASTER class, with 140 points between him and leader Bowe, a multiple Australian Champion including two Bathurst 1000's and Steven Johnson, son of former racer and now team-owner Dick Johnson.
Adam is the son of a gentleman who liked the cars too though - Bill Bressington remaining a bit of a legend himself to those who came before us at Bathurst, particularly during the 1950's, and the gentleman who established Partco Trading in 1970 which became Midel Pty. Ltd., until it merged with FABRE in 2007, where Adam works as a Director.
Midel manufactured, imported, exported, restores and distributed SU fuel systems and SU carburettors, in addition to the broad range of engine parts and accessories for classic cars, and also offers a range of restoration services for SU fuel systems and SU carburettors. Check this out: fabre.com.au
Adam drives for iconic South Australians' Bob and Sharon Middleton of Greenfields-based Whiteline Transport fame and equally well-known Whiteline Racing. Mr. Middleton has decades in racing as well.
It's clearly something that's in the blood or gets in the blood and stays there.
This week an insight into a local motor sportsman as he readies himself for Sandown, Newcastle and his favourite - Bathurst !
Where and when were you born?
1967, in Sydney, at the Royal Prince Alfred.
Where did you grow up?
On the Northern Beaches. Believe it or not, I still live in the same house my parents had when I was born at Bilgola. My parents built this house in 1963 and about 22 years ago I bought it off mum and dad.
What did you do for fun while growing up?
Typical northern beaches stuff – down to Bilgola beach. We used to spend a lot of time at Church Point too, my grandparents owned a waterfront home there so I did a lot of time on Pittwater in tinnies and on surfboards. We'd go to The Basin for the weekend and camp there – all typical Pittwater stuff.
The racing of cars, how did that start – wasn't your dad a racer?
Yes, dad, Bill Bressington, was involved in motor sports through the early part of his life. He decided he wasn't very good at it but took on the roles of being an Official. He worked for a business that supplied a lot of people in motor sports with parts they needed so that kept him in contact with it too.
Dad was in the class that ran the course at Bathurst in 1956. Back in those days Bathurst was still a large rural town but the track was fairly simple – barbed wire fences, no real safety as you have today. A lot of people dad knew were, unfortunately, killed or had bad accidents as a result of how things were in those days. And of course the helmets and restraints and rollbars that they had then aren't like what we have in the cars today.
For my part in getting involved there are two stories that come to mind. On the Sunday morning we would always watch the Bathurst race on television – that's one memory while growing up of doing that with dad because he would always watch it.
The other story for me was when I was going to school. I attended Pittwater House for two years. Dad used to take me to school and we'd leave early, too early for him to drop me to school.
Around the corner from Pittwater House used to be two friends and customers of his, one of whom was Kevin Bartlett, a very well known racing car driver. He had a workshop near there.
The other was a chap called Bob Holden, another well known racer who is actually 84 years old and still racing. I talk to him quite a lot still.
When dad would deliver parts to him I would sit in Bob's race car and obviously have the dream of one day racing myself, and that is probably what was the real catalyst of me having the ambition to one day race cars.
What's the process towards that?
Well it was just one day when I was walking with dad and I was probably around 16 years old and I remember saying to him 'I want to race cars'.
He looked at me and said, 'well, first off you need a lot of money to do that. Secondly, it will not only make you poor, there's only one man who has ever raced professionally and made a living out of it and that's Peter Brock. I don't think anyone else has ever done it in that way.'
He basically poobahed the idea.
It wasn't until I was 19 and I went and bought a go-cart and did a few years of go-carting on my own, doing it all myself. To be honest with you, it was something that got me started but I never really enjoyed it that much as it was a funny version of motor sports for me. I wasn't used to the go-carting scene.
When I was about 20 a friend of my dad's brought a car from Hong Kong down to Australia, a sports car called a 'Mallock'. He drove that car and I went and helped him go to a few of the race meetings. He liked the way I was keen and interested in all aspects of racing and said 'well, I have another one in England I've just bought and I'm going to ship that one to Australia too and when it gets here you can drive it.'
So Neville, this friend of ours, brought the other car to Australia and we ran the two cars for quite a few years together. That's what started my real opportunity to get into proper motor sports racing on the big tracks in Australia and in front of motor sports fans and people who like this.
How did you become part of the Touring Car Masters?
Touring Car Masters started for me in 2012. One of my customers at that time was preparing a car for a Newcastle race team. They then acquired another car so he wasn't running the other. I made a passing comment that I'd like to drive the car. He went and negotiated with the gentleman from Newcastle who owned it, Steve Mason, and we made a deal for me to run it.
I ran four rounds in 2012 in the same specification car that I actually drive now – a '69 Camaro. Steve was good enough to let me run it – we ran in the Muscle Car Masters in Sydney. The first meeting we were racing with John Bowe, Jim Richards, Andrew Miedecke, a lot of these high profile drivers who have driven in motor sports Australia wide for 30+ years and who are now racing in the Touring Car Masters.
I came along and managed to qualify the car on the second row among all these guys who didn't know who I was. We didn't upstage them but we managed to show that the car and myself were a good combination and in that year we did a full round and we were a top 5 challenger and did quite well.
That's what sparked the Touring Car Masters passion for me.
How many rounds are there on the Touring Car Masters circuit?
The Touring Car Masters runs as a support category for the Australian Super Cars Series. They run 16 rounds which start in March each year in Adelaide for the Adelaide 500. We do that round. We do 8 rounds as to be a proper national category you have to do 8 rounds each year. We do 8 selected rounds with the Super Cars. So we do, as mentioned, the Adelaide 500, we do the round up in Darwin, Townsville, Sandown in Melbourne, then we do Bathurst and the last round for us will be Newcastle at the street circuit up there.
We ran that first street circuit last year up there which was an amazing event. They had over 200 thousand people attend that event, a huge success. That was actually the first meeting where I won my race.
Fantastic! So you'll be defending this year?
(laughs) I hope so, yes. It ended in a bit of controversy for me but I look back at it as being a pretty amazing weekend.
(Adam was denied a victory in Newcastle last year after receiving a penalty for a restart infringement – dropping him down the order despite crossing the line first.)
Because we don't really have a proper Sydney round a lot of people that I know and who support me came up and cheered me on. The event is right next to the harbour, beautiful scenery and boats – you have Nobbys' Head right there on the headland where we come down the hill on the main strait. It's a pretty amazing circuit to drive around.
I think one of the senior Touring Car Masters drivers summed it up best as stating it's the Monaco of Australia the way the track is worked out, a pretty amazing track to drive on and a great event to be a part of.
Which is your favourite among these?
At the end of the day I guess Bathurst is still my favourite meeting and track to drive on. It's 6.2 kilometres so it's a fairly long track and fairly challenging. It's suits our car. Every year we've run the car there it's been in the top four and we've consistently had some good success at Bathurst. It's by far the fastest track we race – we get up to speeds of 285 kilometres an hour down Conrad Strait, an amazing sensation. The cars were never that fast in my dad's days. The modern technology that is put into these cars today has made them a lot quicker than what they were when they first came out.
What are you driving at present?
The Whiteline Racing '69 Camaro, I've had a lot of success in Touring Car Masters in the Camaro, so that's been good.
Is that your favourite car?
Yes it is. This car I'm driving at present is owned by Bob Middleton, who owns Whiteline Transport; they're an Adelaide based team that runs two Camaros. I drive one and Mark King, my teammate, drives the other.
Mark is in a '70 model Camaro, so it looks a little bit different.
This has been an amazing car to drive and they're a great bunch of people to be with on race weekends. It's not all about racing – we spend the whole weekend together and work hard in preparation and running the car. It takes a lot of work to run the two cars. We have a team of 8 guys that are helping us over the weekend and Bob and Bob's wife Sharon also helps run the team, does a lot of the PR and Marketing as well as feeds all the guys and looks after us all for the weekend.
Sounds like it's a family really?
Yes, it is. We all get on together really well – we sit down at night and have dinner together. We're all really good mates and this makes it an enjoyable weekend – in fact that goes across the whole category.
At the end of the day we're all racing against each other but there's a lot of goodwill and camaraderie among all the fellow drivers and among the teams. We look out for each other I think.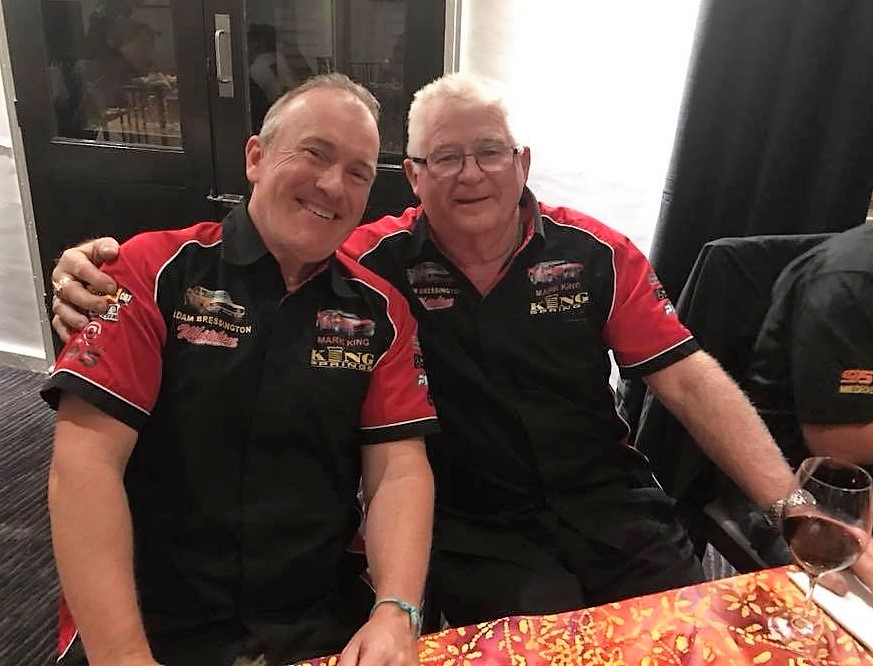 Adam and Bob Middleton
There's a lot of work involved though; getting a car to Darwin, then Townsville – obviously you're not flying the car in – how does it get there?
Bob, who is 74 years old, owns a transport company so for Darwin, as an example, he left Adelaide where they're based in June and drove straight up to Darwin. Then he went from Darwin to Townsville and from there back to Adelaide. That was a 12 thousand kilometre round trip and he drove the truck there and back, the whole way, himself.
He's a young 74 year old I think, has a lot of youthful qualities and a real passion for racing. He's the driving force behind us, always enthusiastic and enjoys me driving the car, which makes for a great combination. Bob will get to the track and takes a lot of time and effort to set everything up.
We're probably the closest category to Super Cars that's not considered a professional category but Bob and the whole team treat it as though it is, and this makes for exciting racing for those in the Touring Car Masters and those who like watching the events.
You must have to do a fair amount of other activities to keep yourself mentally and physically fit – what is your regime there?
We all have a competitive edge and you do have to work on that too, away from the racing. I try to keep fit by swimming and spend a fair amount of time down at Bilgola Rock pool doing laps there, which is obviously a great part of where I've grown up and live. I also have as part of my routine doing walks around Bilgola headland and Avalon headland and down into Newport. I don't run as much as I used to but still stay fairly active and try to keep fit. I have a young family and with that and driving the car the time is now limited for this, but I still do it.
As far as the mental side of things, the races aren't long marathon ones but the cars that we drive does require a fair amount of focus and staying in one mindset. You also have to keep in mind you're racing against guys that are very good at what they do and have been doing it for a long time. I can tell you they never give an inch and never allow any advantage over each other. This makes it an extremely competitive category and exciting to be a part of.
The Sandown 500 runs next weekend, September 14-16th – that's an iconic race on the calendar each year. How do you prepare for that?
That is one of the older rounds that we always do. The Super Cars actually call that their Retro Round so it's quite ironic that the old touring cars race there as well. A lot of guys get into the spirit of it, growing moustaches, wear their old clothes, their 1960's and 1970's gear – lots of flares and sideburns. It's a really great way of celebrating what was a really exciting time in car racing in Australia, that 1970's era, and of course, that's the cars that we drive.
For us we're a great part of that weekend.
The car gets prepared in between race meetings at the workshop based in Adelaide at Whiteline Racing and there's a lot of work involved in doing that.
I get down there the day before and we get together as a team and prepare our strategy on how we're going to run the weekend. We get a practice and then qualifying – we have four races. They changed it this year, normally we have three races but this year we will have an extra race and we have to work out how we're going to survive the weekend as you only get four tyres as your weekend allocation. So we have to work out how to use the four tyres carefully and make sure we don't destroy them in the first race and that they last the full four races, which can be a challenge.
You are underplaying how good you are it's well known you're now signing autographs and have quite a following. How would you advise anyone who has a passion for motor sports to get into doing this?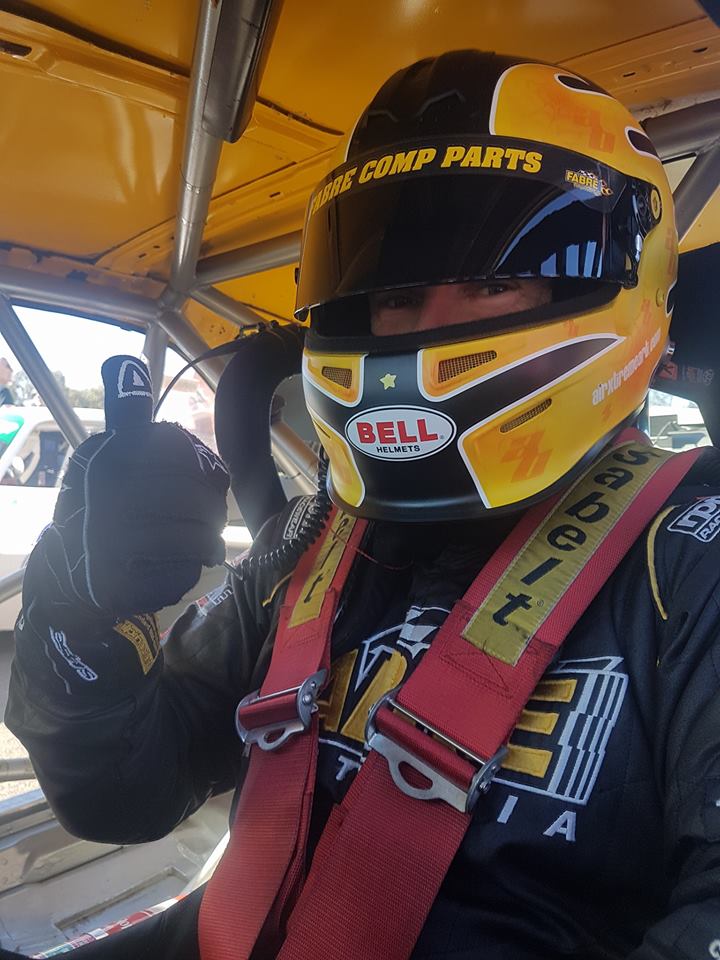 I think in this day and age, no matter what sport you choose, and it doesn't necessarily have to be motor sports, you have to have a passion and a want to participate that drives you. Motor sports is one that can be difficult to get into but most younger people who have that drive start by doing it through go-carts. Go-carts are a great way of bringing you into understanding how the motor sports works; the driving, the craft – go-carts is definitely the best start up point.
When we have had signing sessions, as the popularity of the Touring Car Masters is something that just keeps growing, a lot of the kids ask 'is it fun to drive the car' or 'how do I start' and I tell them to try out the go-carts first. You can buy a second-hand go-cart to start with and see how you go that way and work your way up. At the end of the day you have got to find someone that is going to help you, whether it's mum or dad or an uncle. The go-cart clubs are very well equipped to bring new people in and show them how to do it and do it well.
I know through my time of racing them that a lot of people started out this way. Dean Canto for example, he started in go-carts and then went on to race Supercars and he's a very successful driver. He still drives a co-driver for the Bottle-O Racing Team for Mark Winterbottom and now makes a living out of teaching young people how to drive and get into the category. He does driver training and various other forms of motor sport management and he does all of this very well. So this proves you can go from a start in the go-carts on to do well in motor sports.
I remember seeing him as an 8 year old in the go-carts.
I now have my two girls, Billy who's 11 years od and Poppy who's 9, they can't wait to go go-carting. We've done dodgem cars and now they can't wait to try out the go-carts. Poppy has to turn 10 before we can try out the ones they want to get on – they're very keen.
There are a lot of girls who are now interested in motor sports and I see this a lot now. We have a girl driver in the Supercars this year, Simona De Silvestro, from Switzerland. Simona is a very competitive driver and not only very good she does make girls realise that this is not only a man's domain – it's for everyone to be involved in. To be successful in this, as in anything else, it doesn't matter who you are it's just hard work and commitment.
There's three generations of racers or soon to be racers in your family – do you think it's in the blood?
Yes, it would seems so, in our family at least. A lot of people do ask me that and yes, I think there is a bit of truth in that. I'd be happy for my girls to do anything, but if they want to get into motor sports I'll certainly support them to go the same way. At the end of the day it doesn't matter what you do as long as you're happy with what you do and you have got to be able to enjoy yourself, that's the most important thing.
So 8 rounds, 8 weekends away?
Yes. Generally I'll start by flying out on the Thursday morning if it's Adelaide or Townsville or Darwin when flying is the only option. I usually get there about lunchtime on the Thursday and we spend the afternoon getting ourselves prepped for the weekend. We then race the Friday, Saturday Sunday and then Sunday night it's usually 8 or midnight or whenever I can get a flight to get back out and home to Sydney to get back to my real job on Monday.
What is your 'real' job Adam?
I run an automotive parts business, FABRE, where we supply specialised performance parts for people and their cars.
You'd have an inside track there then?
(laughs) Yes, it does help. I do get to meet and talk to a lot of people and that just adds to the enjoyment as well of course. At the moment I'm racing against two people I do know through the business.
So after Sandown?
We have three more rounds this year, Sandown in September, October is Bathurst and then Newcastle in November, which is our last for this year. It's basically almost one a month for us.
We're currently sitting third in the championship behind John Bowe and Steven Johnson so we're still within a chance of doing better as it's not over just yet.
We won the Pro-AM series outright last year. This year I'm in the Pro-Masters series which is with all the big boys so I'm pretty happy with how we're going. We've had some strong results and it's been enjoyable.
Well good luck, or break a leg – Pittwater will be cheering you on.
What are your favourite places in Pittwater and why?
Well, my home is my favourite place. Outside of that is when we're on Pittwater and there my favourite place is Morning Bay. For us, when we do get out on the boat, I can just sit there all day and all night and just watch everything going on around me. The kids get into swimming or they're on their kayaks and backwards and forward from the boat to the beach a hundred times a day. So Morning Bay and Towler's Bay is where I really am at my happiest.
I've been lucky enough to watch my girls do what I did when I was a kid, whether swimming or diving and chasing fish, or exploring and looking for things along the foreshores or hunting for crabs. Those two bays are relatively unchanged from what they were when I was younger. I talk to the girls about the old ruins up from the old wharf. The girls and I have been there umpteen dozen times and we sit there and wonder what it would have been like to live there when those ruins, the old footings and chimney, were still a house.
I encourage them to respect what we have there and hope that this remains pretty untouched for generations to come.
What is your 'motto for life' or a favourite phrase that you try to live by?
My motto is always to enjoy what you're doing.
My favourite is that 'Life is not a dress rehearsal, this is it'. So in that, to enjoy what you're doing and get on with it.