September 20 - October 12, 2019: Issue 423
Artists add a splash of colour to B-Line Project: 22 new artworks installed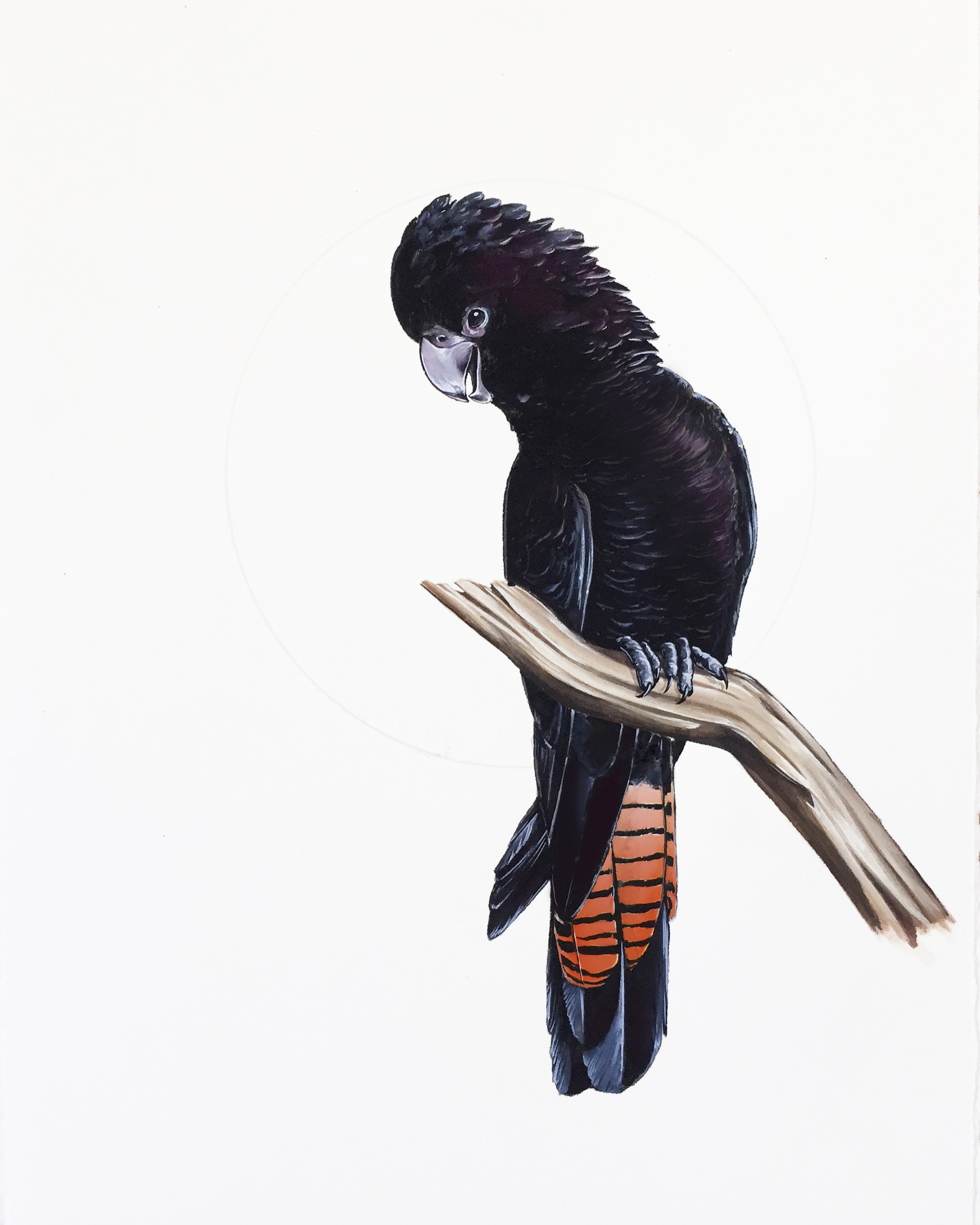 Glossy Black Cockatoo – Thomas Jackson
New art installations celebrating the history and culture of the local area have started popping up from Manly Vale to Mona Vale as part of an initiative led by the NSW Government's B-Line project.
Member for Manly James Griffin said Be Here! explores the faces and places that define the Northern Beaches community through the theme, faces and stories of identity, environment, and lifestyle.
"The Be Here! collection comprises 22 artworks by 13 different artists that reflect the distinctiveness of our local environment, heritage and cultural identity of the Northern Beaches and lower North Shore," Mr Griffin said.
"The artworks are installed on the utility boxes that support the passenger information displays at B-Line bus stops along the main corridor from the CBD to Mona Vale.
"They feature distinctive traits of the local environment such as the flora and fauna of Manly Dam, the diversity and culture of our communities and the indigenous knowledge of the first people of the Northern Beaches."
Some of the artists featured on the Northern Beaches include ESEM Projects, whose artworks show the connectedness and diversity of the community, Thomas Jackson who features the iconic black cockatoo and an artwork by Jessica Birk which represents how Aboriginal people are culturally and spiritually connected to their families and everything around them.
Paul McDonald has captured the natural environment of the Warriewood wetlands, Egg Picnic the migratory bird life at Long Reef and Neathway the lifestyle and arts of Mona Vale.
Each of the artworks are connected by a common design by Elliott Routledge which is featured on the top and sides of the cabinet representing ripples of the ocean, trees and flora, and lines of classic North Shore architecture.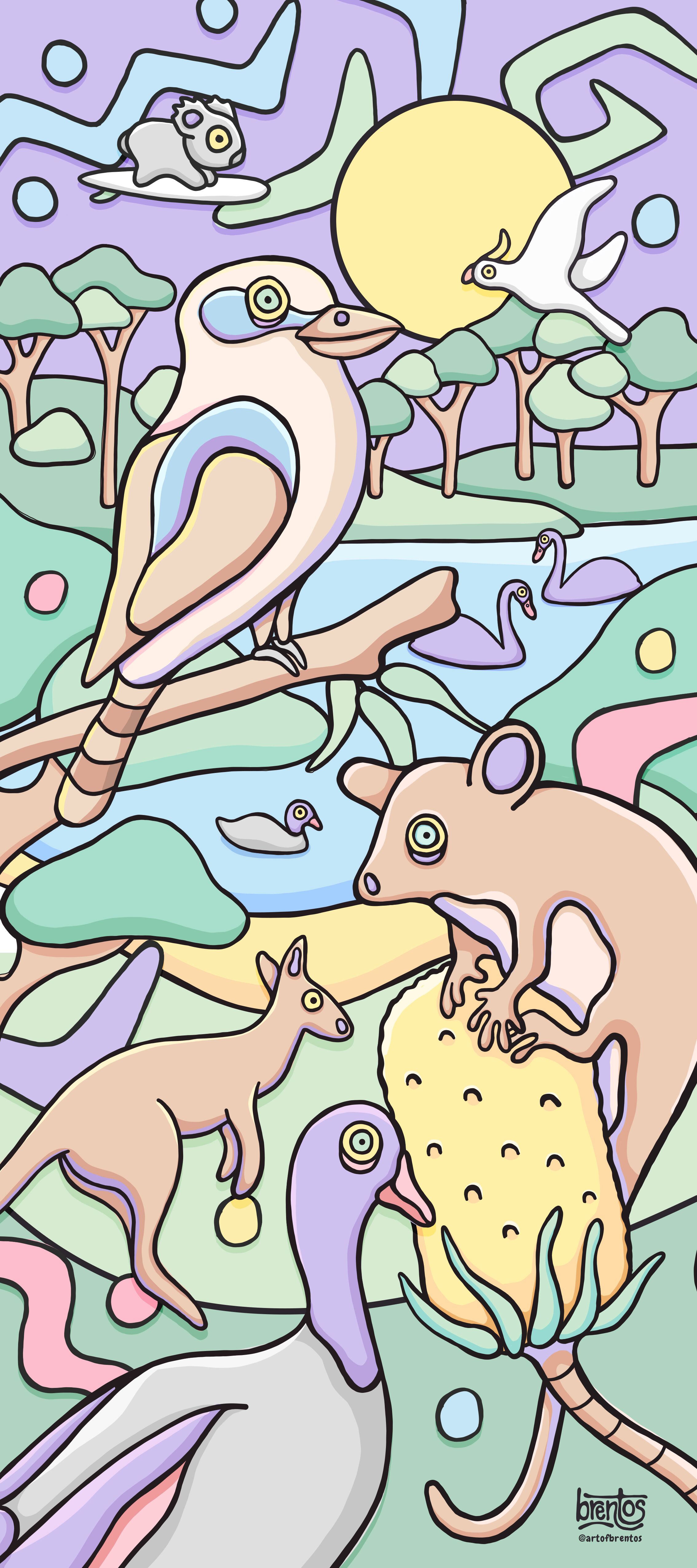 Brentos - Creatures of Manly Dam

The Artworks have been installed on the ITS cabinets between Mona Vale and Neutral Bay during September. The B-Line bus stop cabinets are challenging canvasses and the selected works activate, transform, inspire, connect, educate, celebrate, unify and welcome locals and visitors alike.
There are references to the history and heritage of the area and its diverse communities, a look to the future, to preserving unique environments, flora and fauna and a strong sense of fun, wit and whimsy and will attract a broad range of audiences.
At Mona Vale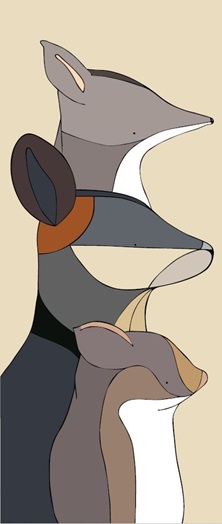 Marsupials by Eggpicnic
"It is difficult to imagine these species surviving the aggressive rush of hundreds of thousands of people commuting to and from work, the unforgiving noise and the endless additions to the concrete jungle that is an urban habitat. However, a handful of birds and animals have become urban residents of the Northern Beaches, with functioning ecosystems, very different to hundreds of years ago. Cities are changing the ecology of the systems they are built on, and animals are adapting to them and are here to stay. Marsupials binds species that have been reported and sighted by citizens of the Northern Beaches and form part of the living system of Mona Vale. We invite local residents to identify the iconic species that call our suburbs home and embrace our intimate connections with the natural world."
Eggpicnic is a Sydney based illustration and design studio set up by designers, Camila De Gregorio and Christopher Macaluso devoted to wildlife conservation. They produce fine art prints and toys to end wildlife extinction through education. Playful and passionate, Eggpicnic tells the stories of the birds and wildlife we love the most and aims to open our hearts and minds, using simple lines and shapes to create characters that tread a fine line between art, design and cartoon, but also exude a serene stateliness that is utterly contemporary. Their iconic birds can be seen currently on hoardings in the City of Sydney area. https://eggpicnic.com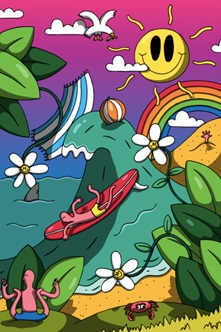 Beach by Neathway
"This artwork reflects the joy of going to beach on the Northern Beaches. While there are literal people in this artwork, I have also represented people through flowers and the sun – the beaming smiles of anyone immersed in beach culture. The Northern Beaches typically have large expanses of golden sand with a nice grassy place nearby to soak it all in. At any of the beaches you will find experienced local surfers, all the way to tourists learning to surf. Among other classic locals I've included the notorious chip stealing seagull. When people see this artwork, I want them to smile and imagine their feet in the sand."
Neathway works across a range of art forms - illustration, animation, graphics, logos, murals, sculptures and more. His work has an iconic Australian surf culture style, reminiscent of early Mambo imagery. Joe uses bold colours, strong lines and a sense of humour to portray Australian contemporary life. He was born and lives in the Northern Beaches and has a studio in Brookvale. http://www.neathway.net/info/
Microbat by Thomas Jackson
"The Microbat was once very common all over Sydney and its surrounding suburbs but has become less so in recent years as people have started seeing them as pests invading their roof spaces or garden. Many conservation organisations have started creating 'bat hotels' in attempts to give these little guys housings within urban environments as alternatives to people homes. The Micro Bat is a nocturnal animal that feeds on mostly flying insects and can be seen flashing through the light stream of street lights snatching up moths and other insects. I personally think these guys are beautiful and love seeing them while out at dusk.
Colonies of Microbats have been found along the Northern Beaches. At least four species of Microbats have been sighted in the Mona Vale area. Efforts are being made to protect this vulnerable species.
Moving from the UK to Sydney's northern beaches as a child, artist and illustrator Thomas was instantly drawn to the natural wildlife of this new country. Fascinated by the local animals and landscapes, he drew inspiration from his new home, as well as scientific plant and animal specimens, entomology and taxidermy.' Today, Thomas puts a modern take on 'Natural History Illustration', painstakingly creating smaller scale works for galleries and translating these into large scale public murals. http://www.thomasjackson.com.au

At Warriewood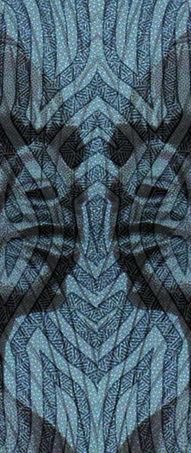 Proud by Warwick Keen
"My rationale and concepts are centred on the continuity of Aboriginal cultural practices, whilst retaining the dynamic with a contemporary twist. My designs are an evolution of an antiquated arts practice that signifies the strength and resilience of Aboriginal people and culture."
Warwick has been a practising artist for over 40 years and has taught Fine Arts, Visual Arts & Aboriginal Cultural Arts at TAFE NSW for over 20 years. He creates mainstream and indigenous imagery experiments with a wide range of mediums, including drawing, painting, wood- carving, photography and digital manipulation to express his "stories". He was a featured artist in the exhibition "Bungaree: the First Australian" at Mosman Art Gallery as part of the bicentennial celebrations associated with the establishment of Bungaree's Farm, the first land grant by colonial authorities to an Aboriginal person in Australia.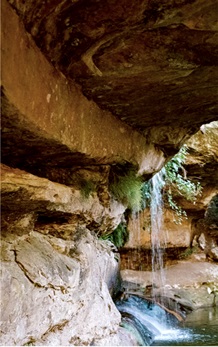 Warriewood Waterfall by Paul McDonald

"Northern Beaches Council is running a 'Charge Ahead' program to take action on climate change....'The ocean and the bush were central to the life of the Guringai people, the traditional owners and original inhabitants of our region. That remains true for our community today." In response to this, I propose to document the local environment, landscape and nature or people within the landscape."
Paul McDonald has 20 years' experience in photography and is an experienced educator, mentor and curator. He is currently Director of contact sheet, an international initiative based in North Sydney promoting excellence and innovation in photographic practice. Previously employed at Australian Centre for Photography as Associate Director, Paul has developed photographic programs for LGBTI, migrant and indigenous youth. He has judged competitions for Shoot the Chef (Fairfax), Powerhouse Museum and Sydney Mardi Gras. His work has been exhibited in Europe, USA, China and Australia, and he is currently curating exhibitions for emerging and established artists, Head On Photo Festival, Sunstudios and Canon Australia. https://contactsheet.com.au
At Narrabeen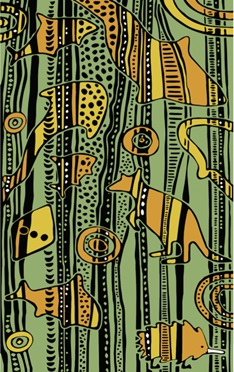 Bloodlines by Jessica Birk
"This artwork concept has been developed as a symbolic reference to the layered kinship systems and lore that define the way Aboriginal people are culturally and spiritually connected to their families and everything around them. This includes their "Country", the land they belong to, the objects they use, the foods they eat and the medicines they use. It also includes the many animals and plants that live alongside them and elements that surround them. Cultural knowledge and kinship lore have ensured generations of families living on and caring for the landscape of Northern Sydney and the beaches for thousands of years. The graphic designs and linear patterns used...are a contemporary expression of this cultural knowledge...that illustrate how Aboriginal people view and connect to the land as part of a contemporary, ongoing practice."
Born on the Northern Beaches of Sydney where she still lives and works, Jessica is a proud descendant of the Yaegl people from the Northern Rivers of NSW, the Clarence Valley. Her imagery serves as a metaphor for the strength and enduring quality of the ancestral presence within the landscape. She was named the joint winner of the 2009 QANTAS Young and Emerging Indigenous Art Award, was a finalist in the 2006 Parliament of NSW Indigenous Art Prize, had a solo Exhibition at Willoughby Council's Incinerator Art Gallery in 2012 and continues to work on commissions. https://www.boomalli.com.au/jessica-birk/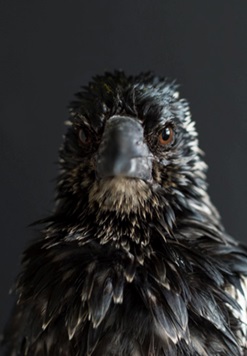 Magpie Portrait by Cameron Bloom
"My images have always portrayed a sense of beauty, whether physical or emotional. In the images I have submitted ... there is a distinct theme of belonging which is central to the Be Here! creative vision and overview. I want people to feel inspired by seeing how a connection to our local environment and nature in general is key to our well-being. And the more connected with nature we are, the happier we feel."
In Aboriginal culture, Magpies are the peacemakers and the great communicators. As totem ancestors they are the fearless ones and if given this as a personal totem you are considered fearless in the face of adversity but have the knowledge to know when there are disagreements to listen and take stock. In other words, they know when to swoop and take stock and when to depart and keep peace. The magpie in this work is called Penguin – the star of one of the Northern Beaches most famous contemporary stories. Cameron is probably best known for this work photographing his family's relationship with Penguin in the internationally famous book "Penguin Bloom" soon to become a film.
A professional photographer of 20 years' experience with a body of work spanning corporate, travel and portraiture. Cameron has held successful solo shows both in Australia and overseas and has had work published in several publications. Cameron's personality lends itself to portraiture – people and creatures -and he is also probably best known for his work photographing his family's relationship with a magpie in the internationally famous book "Penguin Bloom" soon to become a film. Cameron lives with his family on Sydney's Northern Beaches. https://bloomphotography.com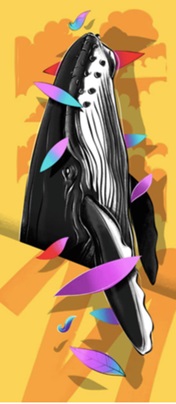 Whale by M-Lon

"Humpback Whales are an important symbol for the beaches in Sydney. During their migration season they can easily be spotted. The first time I saw one from shore was in Narrabeen. Whales are an animal that make us think of magic, strength, beauty, movement and peace – just like the Northern Beaches make us feel."
Miguel Gonzalez [AKA M-Lon] is from Caracas, Venezuela currently based in Sydney's northern beaches. He is an architect and is self-taught in visual arts and illustration. His figurative yet conceptual style using acrylic, charcoal, graphite, spray paint, ink and digital media portray issues that affect society and the people living in it. Miguel has participated in murals, illustrations for magazines, customizing art toys, art for video games, concept art for the TV industry, publications and has been part of national and international group and solo exhibitions. https://www.m-lon.com.au
To see the Be There! B-Line art at Collaroy, Dee Why, Brookvale, Manly Vale, Spit Junction and Neutral Bay please visit:

b-line.transport.nsw.gov.au/b-line-PA-be-here-the-linear-and-the-local