July 8 - 21, 2018: Issue 367

A Body of Work: Photography by Adrian Boddy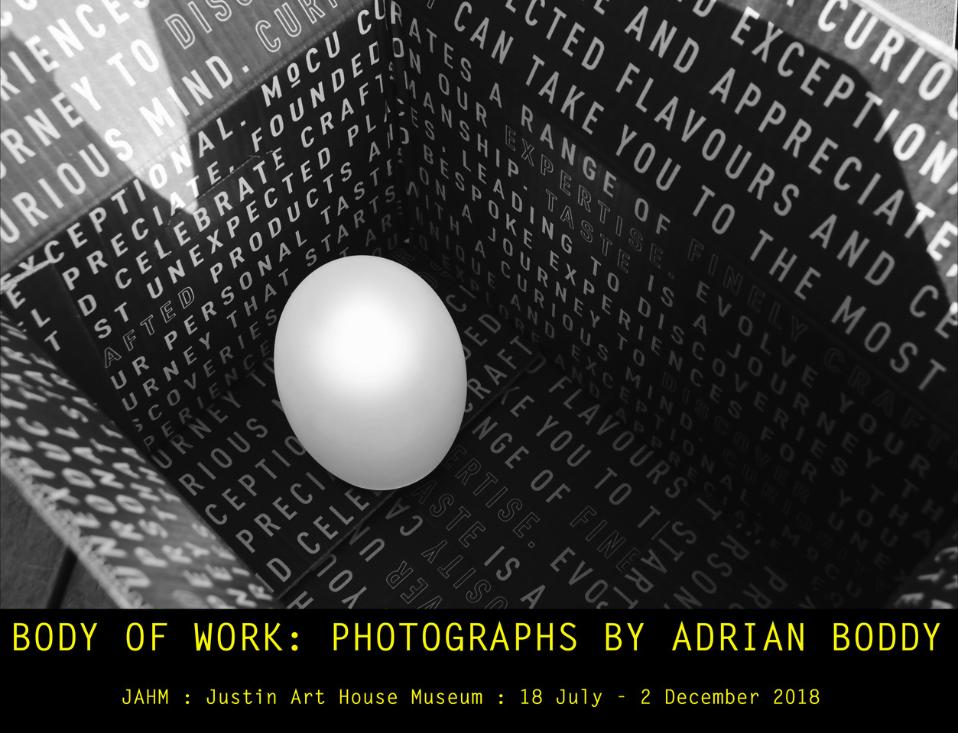 A Body Of Work: Photography By Adrian Boddy
At some point in their lives
How well they know themselves.
Details become lost through the mists of fading memories.
Photographers seek moments of recognition,
A glimpse of truth in the lives of others — including their own.
Social and environmental awareness; appreciation of life's fragility; beauty…
Mostly these subjects become competent visual or documentary records.
Occasionally, even elusively, art may enter.
(AB)
My career has always been an admixture of architecture, education and photography, though the proportions of the ingredients vary considerably depending on time and place.
Father and grandfather were both commercial photographers in Melbourne's Bourke and Collins Streets. As a youngster, cameras, a home dark room, film and photographs were an integral part of family life. There were very special moments such as; brown paper bags full of assorted black and white prints — all randomly spread out on the floor in front of the fire on a wet Melbourne day: 'who is this?' 'where was that taken?'; hysterical laughter about muddy shoes or screwed up expressions…; my father Max's Sunday night slide shows illuminating Cradle Mountain's dramatic landscape or the industry of a day at Port Melbourne's docks; a visit to Edward Steichen's seminal Family of Man exhibition in Melbourne in 1959.
Yet, the prospect of a third generation of photographers received little family encouragement. Perhaps this was because the mystique of photography was rapidly disappearing in the 1950s — 35mm cameras became widely available and the public was enthusiastic about taking their own images rather than relying on professionals.
I graduated in-absentia (much to my parents' disappointment) from the University of Melbourne School of Architecture in 1971. An academic career quickly unfolded at the Papua New Guinea University of Technology and later at the University of Technology, Sydney, the Queensland University of Technology and (briefly) Victoria University, Wellington New Zealand.
During those thirty or so years, high quality architectural photography became vital to my educational delivery. I have always been aware of a limited story telling ability; the gift of off-the-cuff explanations and being fast on my feet were skills never quite comfortably acquired.
Thankfully architecture is a visual art — and my photography informed and inspired teaching in numerous ways. For example: student projects, drawings and models were photographed relentlessly and slide presentations became the basis of regular and enthusiastic critical debate. Students actually arrived early to see and discuss their work on the big screen! Images gathered on Study Leave engaged student and public audiences during formal lectures.
In 1982 the Royal Australian Institute of Architects National Conference (at Singapore's Mandarin Hotel) offered a unique opportunity to showcase my photography. With the bravado of the inexperienced, I prepared an introductory, "cutting-edge-at-the-time" audiovisual presentation titled: Images of Australian Architecture. An international audience of over 500 architects and planners viewed four projectors dissolving slides across a twenty-foot wide screen accompanied by music specially composed by Sydney Conservatorium students. The concept worked. Harry Seidler said "Son, today you made me proud to be an Australian.".
Commissions followed, and a modest architectural photography career was launched in parallel with academic life. This new stream of photography also introduced contemporary practice into the student lecture program.
Fast-forward — just another decade.
Can we even remember the pre-internet era?
In Australia it was any time prior to 1989.
This year marked a revolution in world wide communication. Computers and digital cameras also developed rapidly; clunky, pixelated images were replaced by high-resolution files; film buffs, like me, became dinosaurs or reluctantly re-invented themselves.
And there was more! Smart phones had built-in cameras. Now everyone including tiny children could become photographers. Each year more photographs are 'posted' than in the collective history of photography; technological change marches on at an ever-increasing pace.
And where is my photography now?
Just when my 35mm slide collection was gathering mould and dust; just when my digital data-base of 100,000 plus files was about to burst the capacity of my computer hard drive, Charles and Leah Justin invite — no, challenge me, to hold this retrospective exhibition at JAHM.
Do I have anything worthwhile to say? Red lights flash; alarm bells ring; questions are posed and gratitude sets in. Here then is a glimpse into recent sifting, sorting, remembering… a staccato trace of a romantic academic-architect-and-dilettante-with-camera.
Perhaps the German poet and philosopher J. W. von Goethe (1749 – 1832) should have the last word:
"The hardest thing to see is what is in front of your eyes."
Please be the judge — and hopefully enjoy the exhibition.
Viewers may also wish to consider this collection of short essays, written to compliment our final curatorial selection.
A Body of Work: Short Essays.
1.
Japan's great northern island — Hokkaido — was once the home of the Ainu people. Sadly these hunter-gatherers suffered a brutal collision with the 20th century. Demand for agricultural land, in concert with Honshu's population expansion, led to a widespread disregard of the indigenous peoples' traditions. Today, few Ainu remain.
Standing alone in a Niseko birch forest I was mindful of the tragic plight of such minority groups — including our Australian aboriginal communities.
Then, when snowflakes fell, a white-silence enveloped the panorama. Landscape Transformed. Colour de-saturated to near black and white; details obscured. Trees dissolved before one's eyes, then returned to focus — as snow-bearing mists advanced and retreated. Oh for a tripod and time-lapse photography! (You will have to take my word). Abstraction entered; my Nikon D700 made visual notes of the unfolding event.
A favourite artwork also came to mind: the six-panel screen 'Pines in the Mist' by Hasagawa Tohaku (c. 1580). I had always regarded this seminal Sumi-e painting as highly stylized. Yet the truth is quite different: it is much closer to realism.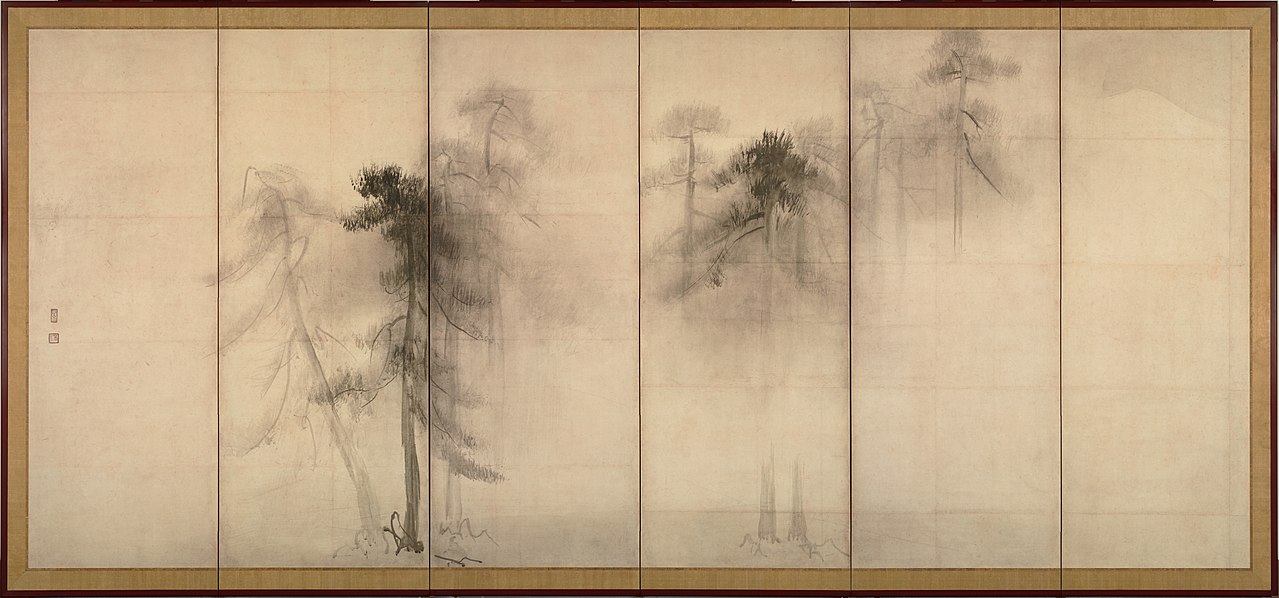 And now to Haiku, the old form of Japanese poetry, generally a syllabic observation about a fleeting moment, often involving natural phenomena.
In the 1750s, artist-poet Yosa Buson travelled to remote parts of Japan. His formal prose encapsulates the essence of my Hokkaido winter experience:
To those who wait
Only for flowers
Show them a spring
Of grass amid the snow
In a mountain village.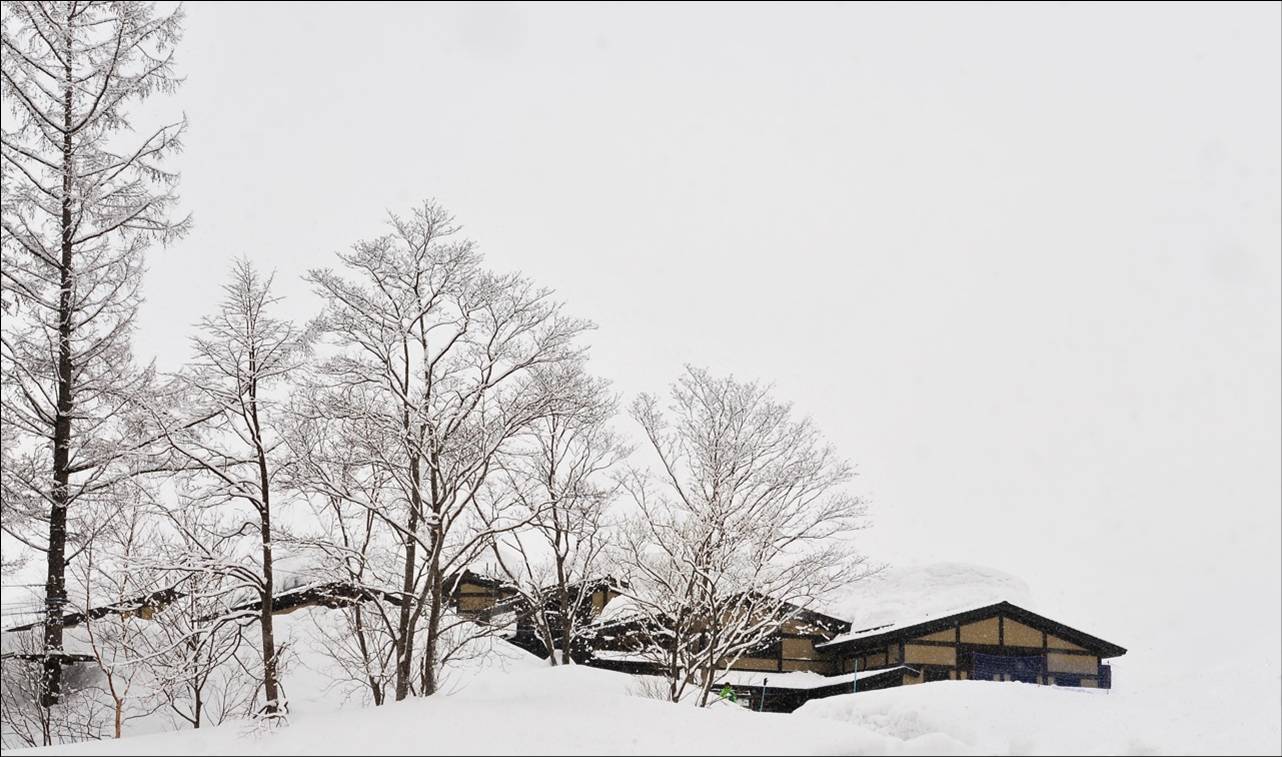 Buson's poetry alerts us to the seasons and alternative ways of thinking — an important message to everyone — including photographers. Significant images are about 'form' and importantly 'content'; engage the camera, engage the mind.
2.
It is difficult to find a more compelling piece of writing about Antarctica than Captain James Cook's journal entry on January 1774.
"The clouds near the horizon were of a perfect 'Snow Whiteness' and were difficult to be distinguished from the Ice Hills whose lofty summits reached the Clouds. The outer or northern edge of this immense Icefield was compose[d] of loose or broken ice so close- packed together that nothing could enter it; about a mile in, began the field ice, in one compact solid body and seemed to increase in height as you traced it to the South. In the field we counted Ninety-Seven Ice Hills or Mountains, many of them vastly large".
Cook's voyage was one of unimaginable hardship and courage. With history acknowledged, it is also appropriate to begin an aesthetic appreciation of Antarctica's glacial grandeur with mention of the man regarded as Australia's greatest Heroic Era photographer: Frank Hurley. He described Antarctica in his diary as: 'A land of savage grandeur that measures each man at his Worth'. I'd suggest that the two, man and the ice-mountains were made for each other.
Hurley first visited the Antarctic with Douglas Mawson's expedition in 1911. There he experienced horrendous weather conditions, but he was determined to make these extreme conditions the subject of glass plate negatives and cinematic vision. His diary recalls:
"On one occasion… I was lifted bodily. Carried some fifteen yards with my camera and tripod, which together weighed 80 pounds, and dumped on to rocks. I was reduced to crawling on all fours".
On another occasion, Hurley and his assistant were lowered through a hole, by rope, to enter a yawning unstable sea of ice. Mawson was the master of understatement in describing the maneuver as 'risky'. He titled Hurley's stunning picture 'A Grotto of Mysteries'. The photograph depicts a cavern formed at the base of the coastal ice cliffs. Such a location is almost certainly glacial; one where ice cracks with explosive force. These were cool, courageous, and sometimes foolhardy men.
By December 1914 Hurley felt the call to the deep south again. This time he had convinced Ernest Shackleton that he should be the expedition photographer on his ship Endurance. Many more adventures unfolded.
My own Antarctic experience was ten days of comfort, security, and comparative luxury on the ice-hardened, Russian crewed, Polar Pioneer.
Writing about or even painting Antarctica's grand frozen landscape eludes most artists. The scale of this constantly changing land- and sea-scape is deceptive in the extreme. Whilst viewing my photographs you may ponder this prose — adapted from writings by author Helen Garner and novelist Jenny Diski;
The iceberg emerged… like a mirage, a dream appearance, a matt-white edifice, ghostly in the misty grey light.
The fog lifts, the sun breaks the cloud-cover. There it is, the Antarctic Peninsular — a continent of dark rocks, of ridged and bony snow.
To be at the base of an iceberg, rocking on the sea is a remarkable feeling… uncanny, peaceful, near oblivion, but deceptive. There's no sound at all except for the water lapping against the wall of ice.
Each berg is fissured, flawed with a wandering seam of unnatural cellophane blue-green almost dayglo… like the flaw in an opal.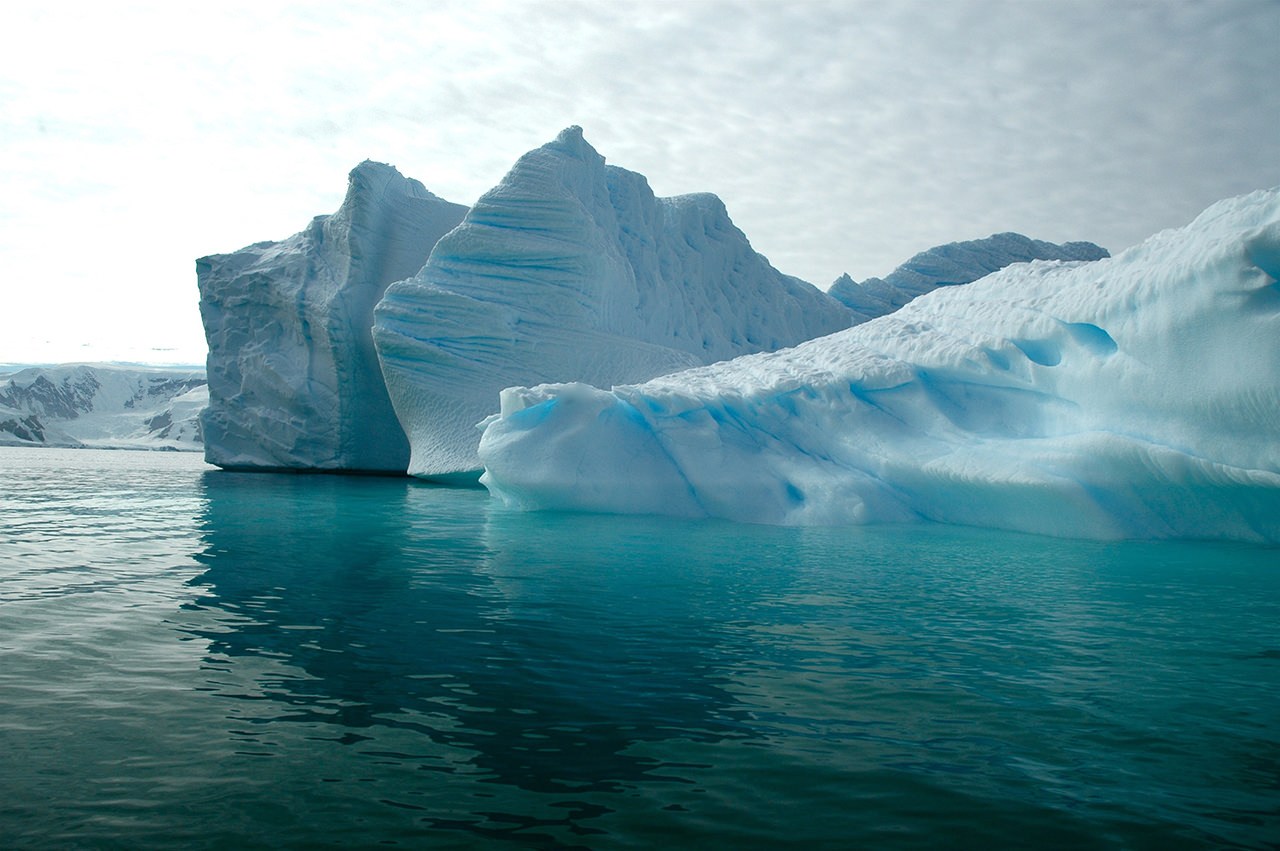 The forms are inhuman. Pocked. Dimpled. Chiseled. Chamfered. Beveled Striated. Fringed. Carved. Scrolled.
Smooth biomorphic shapes — the simplicity of their curves, swellings and tapering gradients reminiscent of Barbara Hepworth or Henry Moore sculptures.
People cry out in wonder.
Floating mountains of blue ice shaded with white; white ice shaded with blue. Confections.
Carved by wind and water into bizarre shapes— ships, castles, monuments, mythic creatures… this is the Antarctic equivalent of Rudofsky's "Architecture without Architects"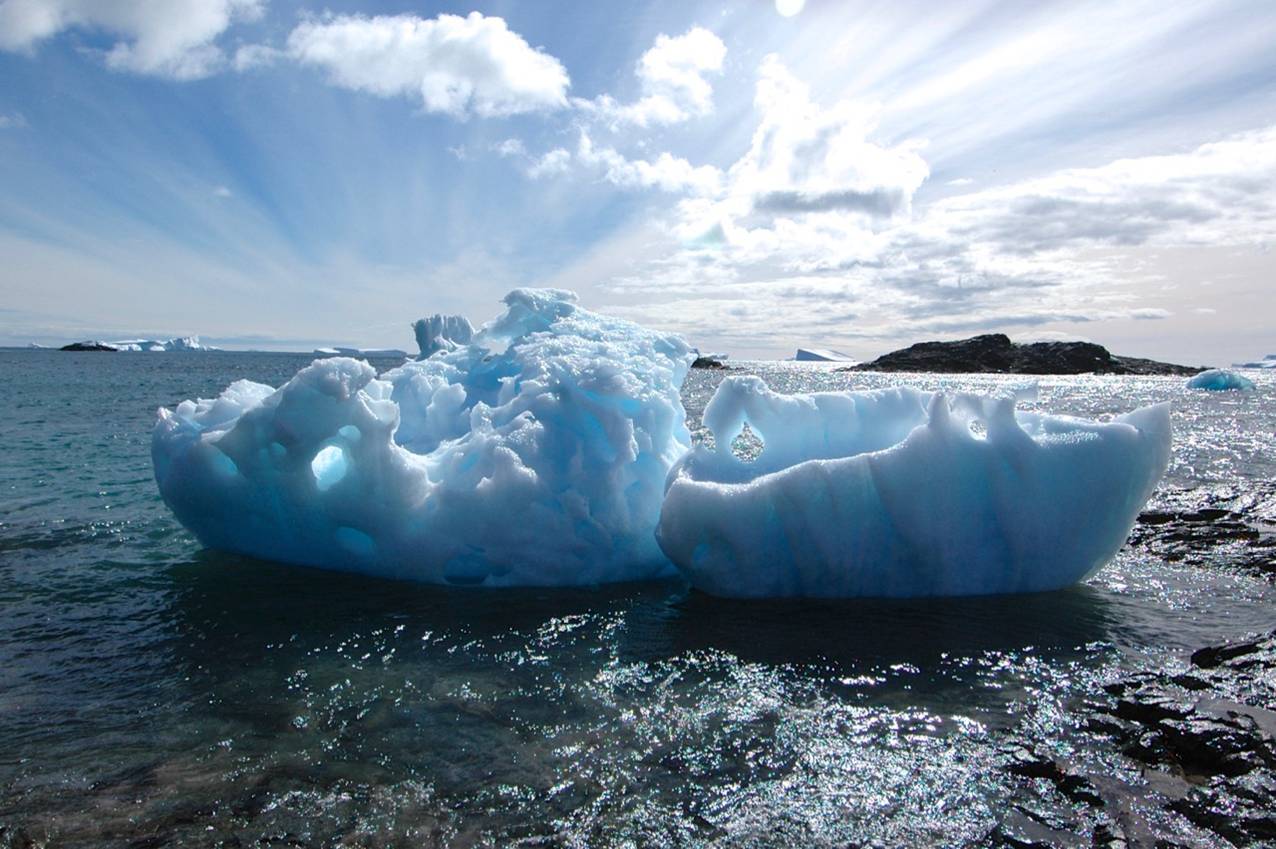 Sometimes the most breathtaking experiences are simply vast walls of ice — passing so close they cut out the rest of the world.
Seals make temporary lodgings; penguins appear from every nook and cranny.
Everything about this seascape changes, but it remains essentially the same; it's elements merely re-jigging, re-jagging, re- aligning with Nature's forces of Wind, Water and Season.
If dramatic ice-theatre is your love, then perhaps a visit to Antarctica is the only way to grasp a true understanding.
Girt by Sea
(2007 – 2016)
"The oceans are the planet's last great living wilderness, man's only remaining frontier on earth, and perhaps his last chance to prove himself a rational species".
- John L. Cullney, "Wilderness Conservation," September-October 1990
'Girt by Sea' is a naughty-nod to the Australian National Anthem. The phrase reminds us that we are an island continent surrounded by the Indian, Southern and Pacific Oceans. Water is our isolation, our playground and our livelihood.
We are enthusiastic traders, beach-goers, surfers and fishermen — and we are proud, thus far, that our surrounding waters are relatively clear and clean.
This small portfolio of photographs celebrates sea and sky — and our good fortune to be living in the great southern land. Far from being nationally representative, they are recorded in and around Pittwater, NSW.
Palm Beach, on Sydney's near northern beaches was home for more than thirty years. The spectacular peninsula is terminated by Barrenjoey Headland, it's lighthouse and National Park. A walk around the headland reveals the complex waterways of Broken Bay, panoramic aquatic vistas, crashing waves, cliffs of sandstone boulders and dry sclerophyll heathland — a coastal landscape that has changed little since the Carigal people (Erina, Narara, Terrigal and Wyong clans) hunted and fished the area, pre 1788.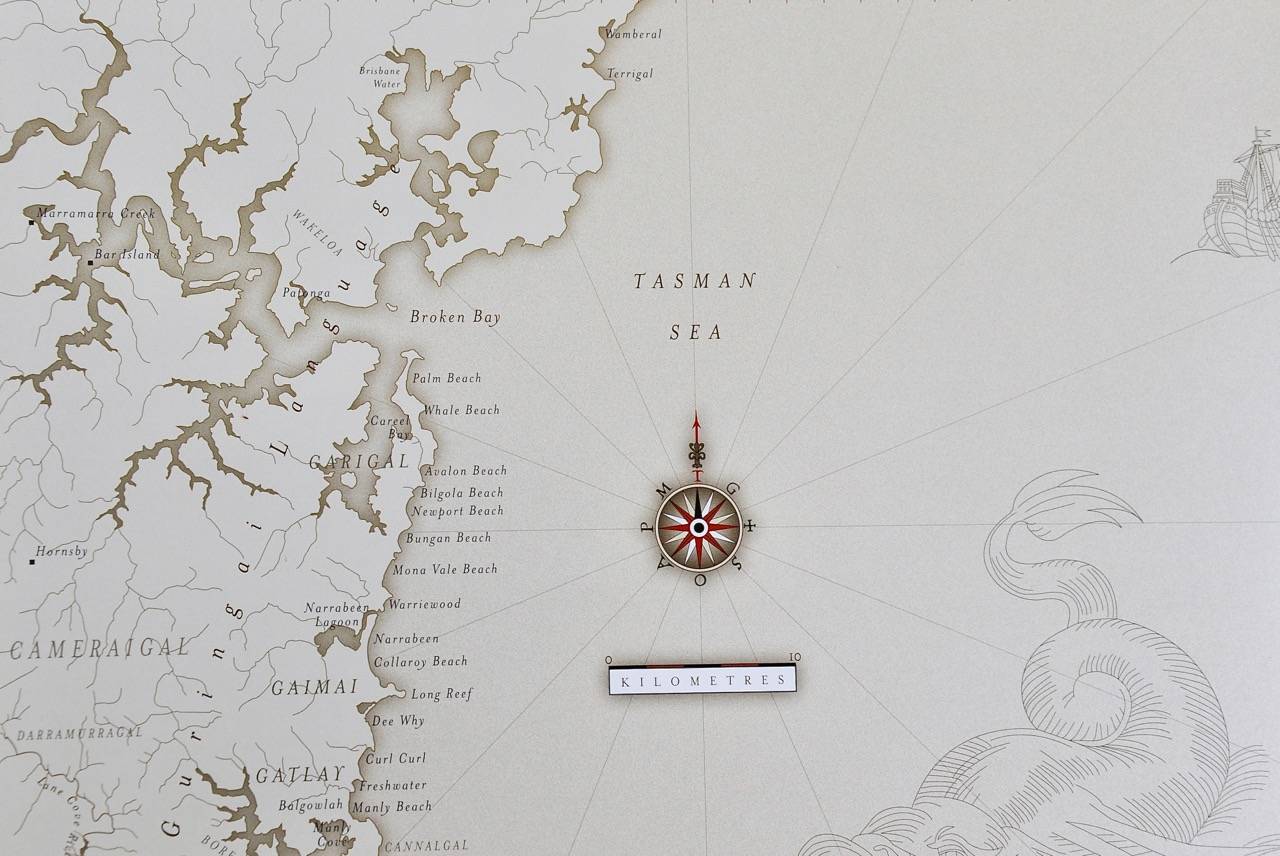 Our tiny cottage was located on a sliver of land with the Pacific Ocean to the east and Pittwater to the west. As time passed, the fertile soil and sub-tropical climate gave rise to a thriving rain-forest-like garden. Having access to this coastal environment is both a privilege and obvious source of subject matter for any photographer. The forces of nature — winter storms, summer heat, turbulent or placid moods of sea and sky are ever present. Hundreds of 'moments' were recorded, yet in retrospect, the portfolio seems somewhat incomplete.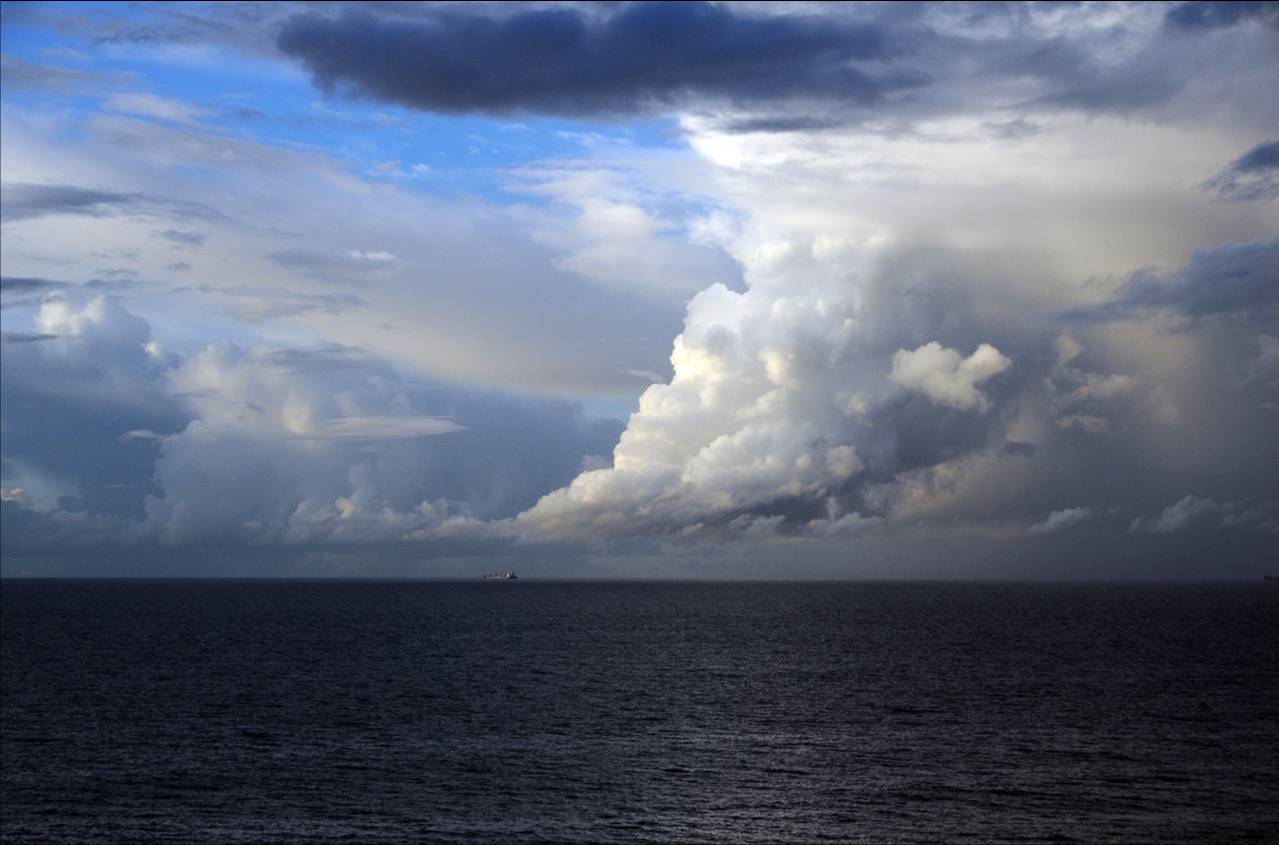 Fortunately we now live in Avalon — where Pittwater seascape remains close-by — to the strains of 'Girt by Sea'.
4.
Outback Ochres
: (2006 and 2009)
As a nation, Australians predominantly rely on the fertility and comfort of our coastal edge. For many, the vast interior desert remains unknown — even intimidating. It does generally require a little 're-education' to appreciate the subtleties of a flat stony gibber plain or sleeping in a dry riverbed with dingo footprints surrounding one's swag in the morning.
Further, we are urban coastal people. 'Landscape' is often understood as planted trees in a suburb — or at best, prescribed National Parks.
Durrell, Adams and Lindbergh amongst many others alert us to the wider significance of natural ecosystems:
"We are the children of our landscape; it dictates behavior and even thought, in the measure to which we are responsive to it".
Lawrence Durrell (Author)
"Landscape photography is the supreme test of the photographer - and often the supreme disappointment".
Ansel Adams (Photographer)
"Life is like a landscape. You live in the midst of it, but can describe it only from the vantage point of distance".
Charles Lindbergh (Aviator)
But for tangible insight into the outback I find it difficult to surpass Kakadu elder, Bill Neidjie, who wrote about 'his' landscape in clear, spare prose:
"We all lying down on grass in dry season.
Sky, cloud, all made for us.
Look up at stars.
I tell kids,
'See them stars.
They been there for million years.
Star, he'll stay for ever and ever…
When you lying down in the night, look at star.
I was lying down, I look at star…
I know just about time for wet season.
I know from star…
My grandpa taught me that.
He said: 'don't forget this.
Tell this story with kids so he can listen slow…
This story right, exactly right, because it dreaming.'
Those trees, they grow and grow.
That grass, no matter it burn.
When it drink, it grow again.
When you cut tree, it pump life away, all the same blood in my arm.
Earth, same thing.
You brought up with earth, tree, water.
Water is your blood.
Water, you can't go without water.
No matter no food two days, three day, four day, if you got water.
If no water, little bit weak, getting hard.
Water important".
(Gagudju Man: Bill Neidjie, Kakadu National Park, NT, Australia, 2005)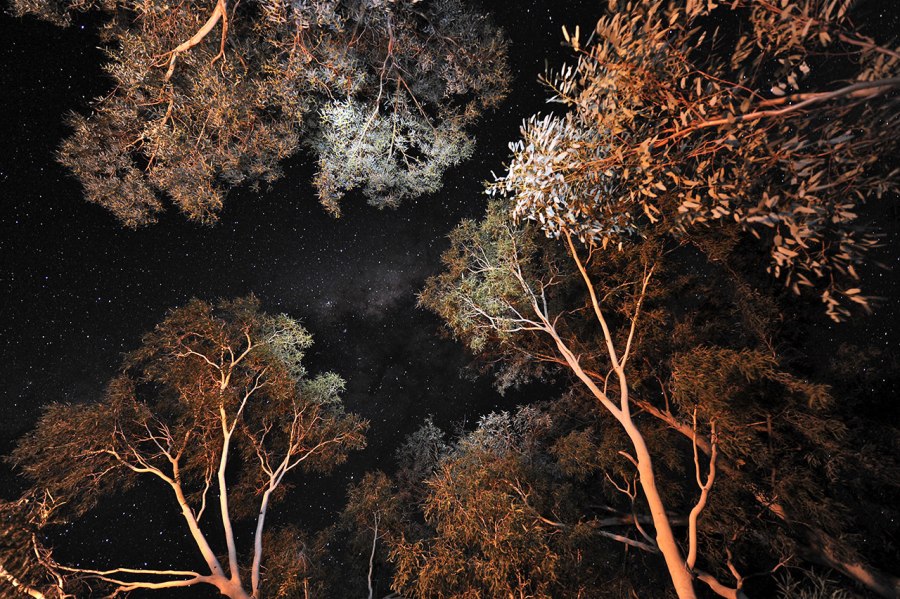 Outback Ochres is actually made up of two dry-landscape narratives: the first photographed along sections of the Larapinta Track, MacDonnell Ranges, NT, 2009; the second, in the Flinders Ranges, SA, 2006.
Photographically I have included a broad range of scale and dimension: vast panoramic context; objects such as abandoned buildings; details of bark, fire and rock particles and finally evidence of human occupation.
There is a chromatic thread linking this broad tapestry: yellow, red, burnt, sometimes white ochre — hence the title: Outback Ochres.
5.
Architecture Framed
. (2010 – 2018)
"The true architectural photograph is primarily an instrument of communication between the architect and his [sic] audience — an audience with the capacity and desire to understand and appreciate, but lacking the opportunity to experience the work in question at first hand. The camera, ideally, is the anonymous vehicle for this journey; yet the ideal is never quite achieved, for a variety of reasons". (Ezra Stoller 1963).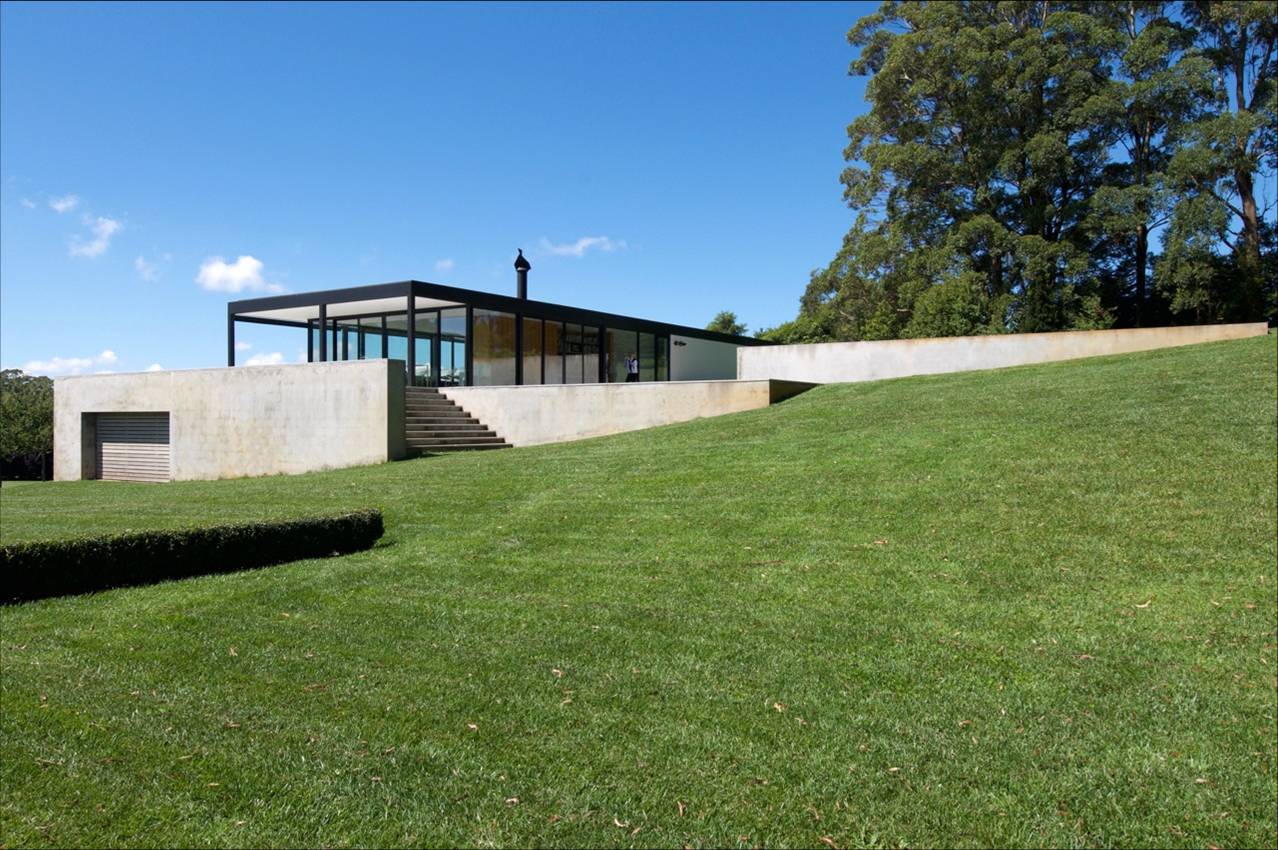 Architecture, with or without architects has been the subject of my camera's framing for more than fifty years. Indeed it has been the main focus of my vision and thinking.
Architecture is a complex act. Patrons, a wider society, environments, design talent, financial legal and regulatory constraints, materials, systems and the construction industry are just some of the variables that contribute to, and weigh upon the physical outcome. Architecture lives and breathes for individual and community benefit (or otherwise).
Every single time architecture is photographed I appreciate the profession's complexity. Sometimes I wonder that architecture is ever achieved at all! Relatively, the architectural photographer has a privileged role: arriving when the project is complete — preferably before occupants have had time to paste A4 instructions about all manner of issues, move furniture into inexplicable places, place pot plants.... Architecture could be so good if it wasn't for those damn people!
Seriously, 'Architecture Framed' is but a fragment of the buildings and interiors I've photographed.
It is useful to clarify what is not represented here:
Endless photographs of students' models and drawings became the basis of teaching and critical discourse; tens of thousands of 35mm transparencies were taken to illustrate lectures; and there was a similar number of medium format and 5 x4 view camera commercial interior and exterior architectural studies. All this work was directed and useful at the time — as architecture is a highly visual act. Both students and professionals gain understanding from an intelligent framing of their work. These images, as precise and careful as they may be, are generally documents — interpretive visual records. They are equivalent to carefully written files in a lawyer's office. Very few belong, in my opinion, to an art gallery.
What architectural photography is selected then?
As John Gollings pragmatically wrote in the 1990s: "A symbiotic relationship has always existed between architects and their photographers… Photographers need good buildings to photograph and publish for a living, architects depend on good photographs to promote a design or attract new clients".
We thus chose:
A selection of houses by Glenn Murcutt, Philip Thalis, Stephen Kennedy, Atalier Haefeli and others. Each photograph is representative of a larger portfolio.
Apartments in major Australian capital cities are now a sought after typology — and Turner Associates have made an important contribution to Sydney's urban consolidation. Some of their work at Green Square is presented in black and white to emphasise the sculptural qualities of structure and fabric.

Public architecture, is perhaps most significant genre. The Sydney Opera House is Australia's national (built) symbol — it's sleek tiled skin is seductive — and steel framed windows a counter-point. Our somewhat conservative National War Memorial hosts over one million visitors annually . Nevertheless I have taken digital liberties to accentuate the symbolism of that sacred place.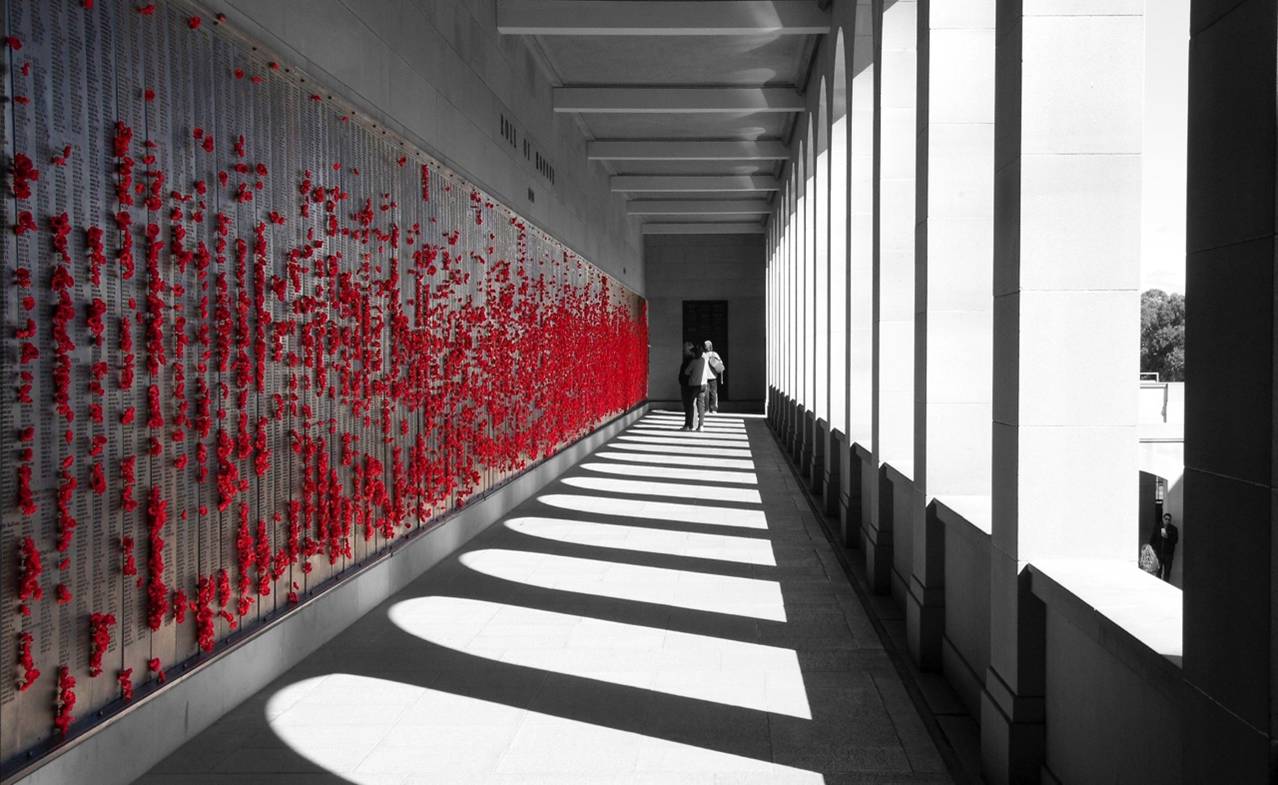 The National Gallery of Victoria's Great Hall, with its tapering steel columns and 'galactic' stained glass ceiling by Leonard French is remembered by all. The Main Reading room at the NSW State Library is characterised by an equally luminous, if much calmer glass ceiling. These are important public institutions that elevate the spirit — as a first-hand experience — and the photographer's subject.
Urban art, such as Jenny Turpin's 'Halo' reminds us that external public spaces can become inspirational art galleries. Even building hoardings that serve to reduce noise, particulate pollution may add witty, insightful temporary statements to the public domain.
John Szarkowski in his article "Photographing Architecture"
(1981) was most concise about the subject:
"A series of photographs can convey a meaning greater than the sum of the individual images. The individual pictures of a photographic essay can easily be considered as sentences. Each should have clarity and precision of form, but their functions will vary profoundly".
6.
Lives Distilled
… people and portraits (2006 — 2018)
"The most difficult thing for me is a portrait. You have to try and put your camera between the skin of a person and his shirt".
(Henri Cartier-Bresson)
Here Bresson reminds us that successful portraits — painted, sculpted or photographed require a conscious interaction between artist and subject… how else does one (metaphorically) place themselves between skin and shirt? Bresson's assertion does not preclude an 'off camera' depiction — one where the sitter is distracted from the camera, yet knowing the 'click moment' is likely to take place. Indeed 'eye contact' with the camera may lead to a degree of self –consciousness — an expression not often sought by either party.
Perhaps it is useful to relate just a few of my portrait-making experiences with pictures and words:
Study 1: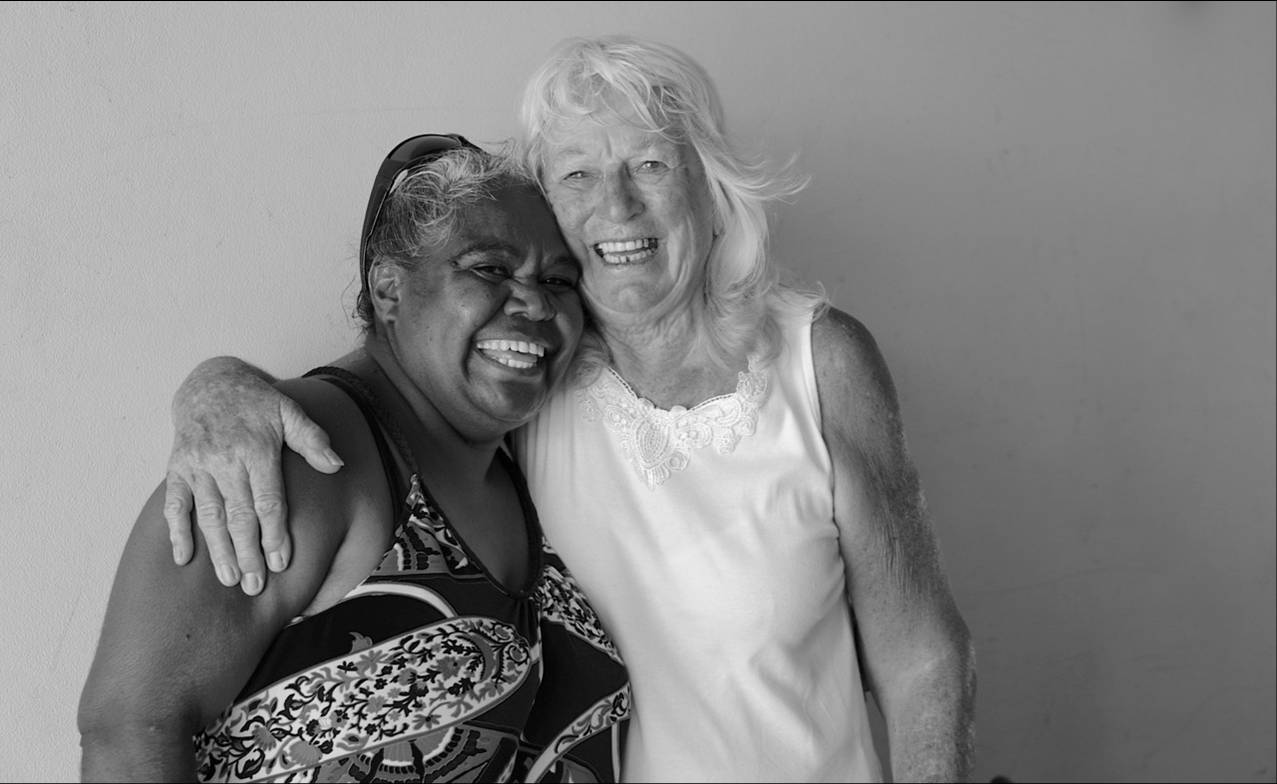 'Good Australian Friends'
This happy duo was photographed at the South Narrabeen Surf Life Saving Club in the summer of 2016.
Mary, on the left, is a community member of the Brewarrina Mob, from western NSW. Beryl Driver, OAM, (Variety Club Member) is one of her long-standing friends. Each year members of the Brewarrina community escape their summer heat and dust for coastal surf, sand and entertainment.
Everyone has fun — including Mary and Beryl. This image is a testament of genuine engagement — it speaks of the ties that bind — love (to use an over-used word). Their warm smiles are a beacon in a world sadly in need of humanity.
Some details about 'the making' of this picture might also be helpful. The location is a shaded surf club poolroom — importantly, bright daylight from a door opening (to the left) is reflected across the pair — this lifts skin-tones and smiles without dark shadows. The pair is radiant in front of the dull rendered background wall. Clearly the picture is 'posed', that is, both women want to be photographed; they are happy in their own aged bodies and very happy to cuddle one another. Getting psychologically close to this pair is easy and rewarding. They look at themselves in the camera — and want more!
Study 2: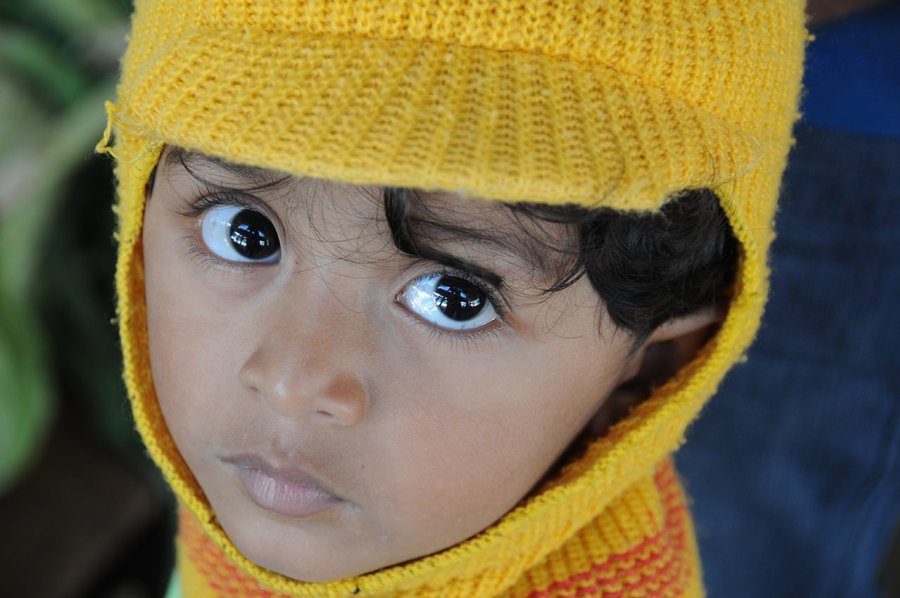 'The Eyes Have it'
Location: Galle, Sri Lanka, 2014
I remember the moment as if it was yesterday.
A decrepit motorcycle came to an abrupt halt in front of me at the dusty Galle Market hall. The rider, of no memorable appearance (I'm ashamed to say) was on a mission to purchase food for his family. Between him and the handlebars sat a little bundle — his daughter — wearing a yellow woollen beanie. The bundle moved, looked up and completely took my breath away. This calm, dark-eyed child simply stared at me… possibly thinking: Is this Santa Claus?...
'Is it ok to take her photo?' I asked fearing a negative reaction — 'Go ahead' dad's gesture suggested. Here is the lovely result of that chance encounter. I wish I knew their names; wish she and her dad could see what I regard as timeless beauty. Sadly their lives are engaged in a more important quest: survival.
This little story is what Henri Cartier Bresson referred to as: "The Decisive Moment." He refers to photographing a subject or event that is ephemeral and spontaneous; one where the image represents the essence of the event itself.
Bresson was a remarkable artist, humane thinker and gifted writer.
Study 3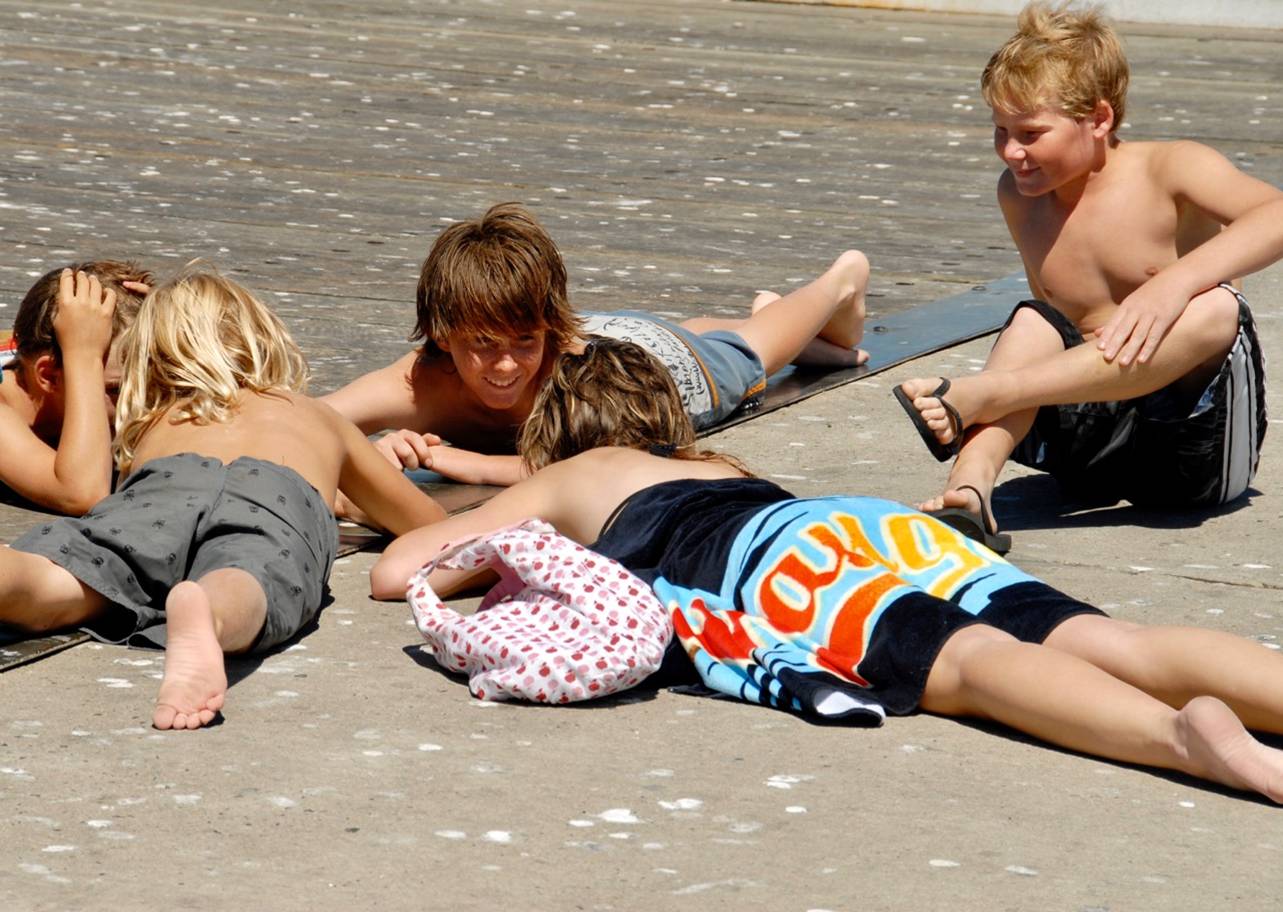 'Boys meet Girl', Port Arlington, Victoria, 2008
Here we see a spontaneous gathering of people (in this case children) interacting on a seaside jetty. It is strictly a 'snap' and the players are unaware of the old man (me) photographing them. Why would they be thinking of anything other than themselves? This is one of those early encounters between boys and girl(s). Within the grouping there are the 'innocents' on the left; there is the 'spectator' on the right — he's interested, but the boy and girl, centre stage, are engaging in all-important bonding chatter that we adults call socialising. Will they become boy/girl friends? What is so funny? What are they planning? We will never know.
There is little technique here: a simple diagonal line slices the seagull - pooped ground plane; the actors' heads are all directed toward the centre of the picture. Herein lies the unity of the composition.
Perhaps the writings of Edward Steichen, Director of New York's Museum of Modern Art and instigator of 'The Family of Man' photography exhibition in the mid-1950s underscore this genre:
"We are seeking photographs covering the gamut of human relations, particularly the hard-to-find photographs of the everydayness in the relationships of [humans], to [their] family, to the community, and to the world we live in… There can be special emphasis on children, as the universality of [people] is not only accepted, but taken for granted among children. We are concerned with the individual family unit as it exists all over the world and its reactions to the beginnings of life…"
The emergence of mobile phone cameras has blasted my somewhat old- fashioned world of photography. Blasted? Maybe not, rather simply afforded creative access to a public that loves to see itself . Facebook's daily download of billions of photographs confirms this.
7
Inherited Vernacular
(2010 — 2013)
Australia is an ancient landscape — eroded and shaped over many millions of years.
For some sixty thousand of those years and prior to 1788, aboriginal inhabitants touched the ground very, very, lightly (apologies Glenn Murcutt). It could be argued that their bough-and-bark structures were the original vernacular… the common way shelter was formed by disparate indigenous communities. By their very nature these original structures no longer exist — though photographs enable replicas to be built.
The portfolio: Inherited Vernacular contains examples of our Post-European settlement building types: timber-and-tin and sandstone (though they are arranged in the opposite order).
Being an incurable romantic I'm repeatedly drawn to these, often abandoned, structures. "Why?" I ask myself? Perhaps it's a yearning for an ancient Australian architecture that never truly existed. A need that is only satisfied when visiting hill houses in Greece, earth-covered courtyard Chinese settlements, or a coastal village in Papua New Guinea.
Returning to "somewhere-in-Australia" — where a leaning shed on a remote property stands eerily silent. It has avoided bush fire, withstood flood, probably housed long-obsolete machinery or even been a temporary home for farm animals. Joints are strained, sometimes corrugated cladding or weatherboards have been removed for another project. As the photographer in me wanders about looking for traces of the past — a door creaks in the wind, it's restraining lock has long since rusted; a curse as old mattress springs hamper my
clambering; a swallow flashes past, disturbed on its nest high up in the rafter; a bunny bolts in fear of being shot.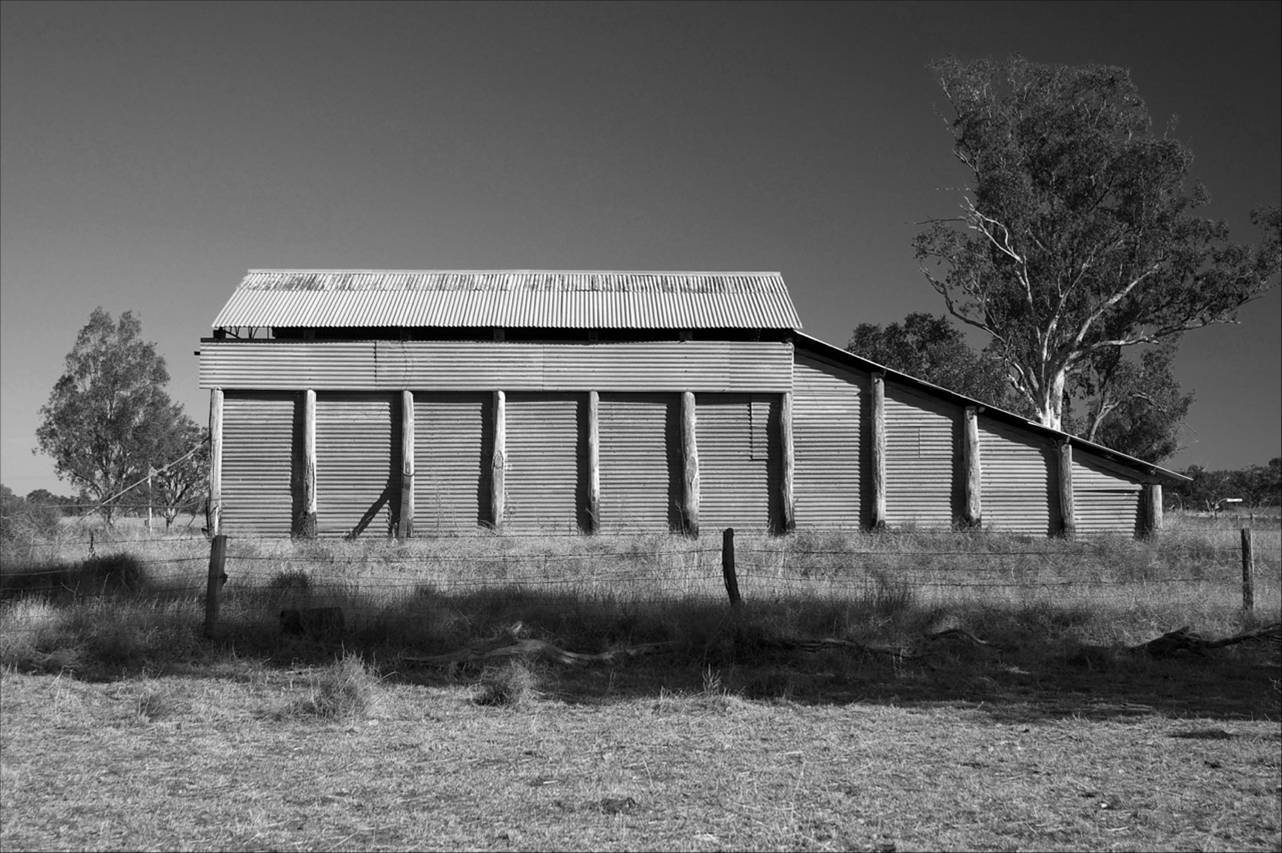 Many architects such as Philip Cox and Glenn Murcutt have been inspired by the economy and directness of these rude timber and tin structures. Many artists and photographers interpret this vernacular, these diminishing relics of our past. Why? — perhaps simply for posterity.
The use of sandstone as a building material continues to be prestigious, particularly in New South Wales. Originally convict labour chiselled bedrock boulders into carefully measured and dressed blocks, which in turn were assembled into high, thick walls. Decoration was minimal: quoins marked doorways, perhaps a celebratory date was inscribed, however craftsmanship was often superb. Examples abound: a visit to the bond stores and warehouses at The Rocks, the excavations on Cockatoo Island, or the sheer finesse of Barrenjoey Lighthouse, all confirm this proud, if harsh past.
These sandstone structures are a vernacular expressing permanence; they must have implied: we Europeans are here and we're here for a bloody long time.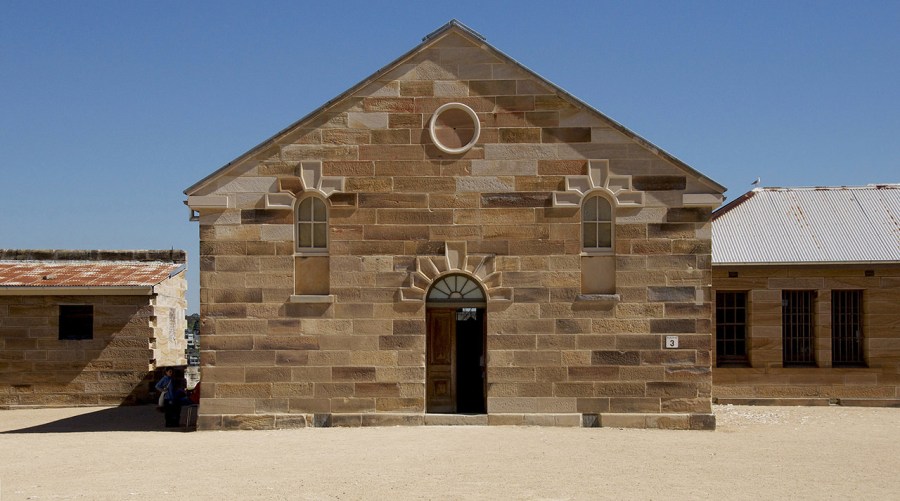 8.
Thredbo off Piste
(2006 - 2017)
"Cry black cockatoos
for a blizzard
Fly gang-gangs
grey ghosts,
through a curtain
of flakes.
Bloom snow crystals
on wind-twisted
snowgum limbs,
cling to the coloured trees.
Whisper and creak
bark strips
on the mountain ash.
Sway and rustle
Bark streamers
make eerie
A solitary camp.
Blow wind…
and bless
with ancient dreams".
Elyne Mitchell
A Vision of the Snowy Mountains
The long view —
and the far, high, peaks bring a sense of wonder
that has space and remoteness and eternity,
Way up on the mountain
stands a tree so tall and bare
leaves once growing
a life without a care.
And down in the valley
lies a stream so long and still
boulders-a-million
rolling down the hill.
Read the horizon like a book.
Go ahead, be amazed
at this panoramic over-look.
Look up at our sky today
the clouds are morphing in their form
a darkness creeping
here comes another storm.
(A.B. Self published, 2017)
I have been privileged to visit Thredbo Village and its surrounds in the month of June for eleven years. The title: 'Thredbo off Piste' is derived from a book of the same name.
Each winter season presented distinctly different environmental circumstances: the aftermath of wild fires, dustings of, or deep snow, driving wind, bright blue skies, dull grey light or icy rain.
There is nothing really remarkable here — just the vicissitudes of the Australian Alpine environment.
The two poetic works above highlight two signatures of our Australian Alps:
-
The
snow gum
(Eucalyptus pauciflora) with its unique polychromatic trunks as old bark peels away during annual growth. On display are oranges, greens yellows — even pinks and blues — these colours really only show themselves during damp and snowy conditions.
Kandinski-esque if there is such a word! (There is a section in the book under the heading: 'Barking Mad' that has further examples)
Glistening bark of snow gums.
Appearing from grey surrounds,
A display of saturated colour,
like no other
Very 'appealing' indeed!
(AB)
and
-
Granite boulders
which make up much of the high country land-form. Features like Ramshead Range are remnants of huge volcanic eruptions from the Silurian and Devonian periods. Today out-crops stand like giant tombstones marking that once violent outpouring of the earth's lava, prominent because other substrates eroded more rapidly.
Clouds fly above Ramshead
Zenith blue, then clouds.
Clouds of many types: light-fluffy, dark, heavy-billowing, translucent…
What settles within its boulders?
Snow and ice — ice and snow.
Who or what watches over Thredbo?
Ramshead Range.
(AB)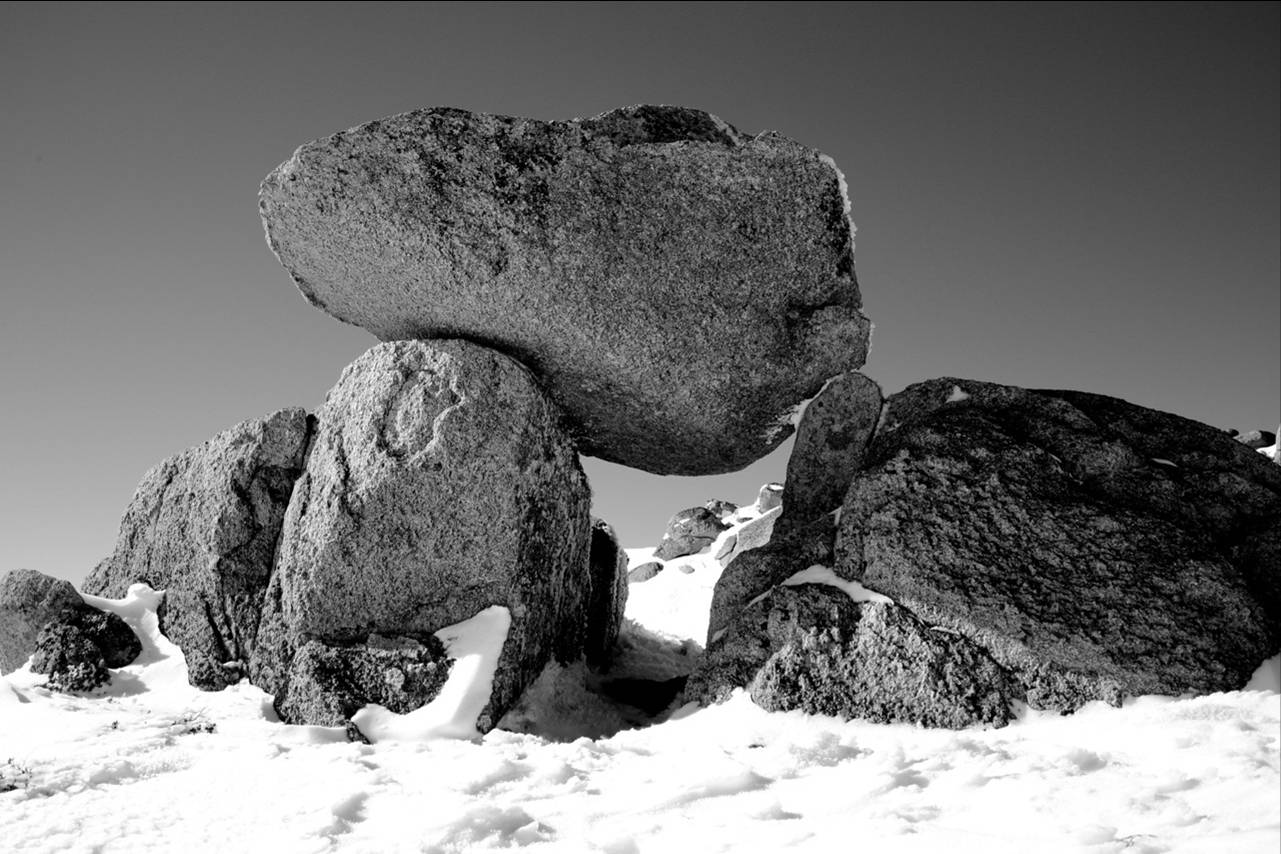 It may interest some viewers to compare Hokkaido and Thredbo under similar snow-covered conditions. How profoundly different!
9
Japan Re-imagined
, 2009, 2015 and 2018
Take 1:
'Japan Re-imagined' had its un-imagined origin during my fifth trip to Japan in 2009.
Most tourists/travellers are stimulated by exotic surrounds — and photography is a common response. Why? Well, we all enjoy looking through photographs to recall past experiences and I'm no exception. There is another answer, and it lies in our 'first world' work ethic. Even on 'holidays' we feel the need to invest energy in our recreational experience. Reaching for a phone, tablet or camera satisfies this educated urge to 'achieve'. And the dreaded social media adds aviation fuel to the communication fire.
Take 2:
In 2015 Mark Stiles curated 'Japan: Australian Perspectives' at the Willoughby Incinerator Art Space, Sydney. I was one of a group of architects, designers and artists invited to participate.
Challenge: what might make a meaningful contribution? Personal travel pictures, taken without the aim of an exhibition would not suffice. Perhaps another trip to Japan with this project in mind… might be nice, but might need a sponsor too. Then I remembered my friend Neville Quarry's advice: "Adrian", you take too many photographs —why not make more use of existing work!
Thus my inspiration was to re-interpret aspects of those existing digital files.
Of these pictures, the themes of 'people' and 'place' occurred most frequently — hence the two selected categories of portraits (Shozo) and buildings (Tatemono).
Take 3:
History: This 're-interpretation' is simply a digital version of a refined late 19th century photographic technique known as the 'double exposure'.
By the early 20th century, avant-garde photographers were experimenting with artistic possibilities. Following Leica's introduction of the 35mm film format in 1925, pioneers of the era started to recreate the double exposure style in the confines of the darkroom. The process was known as sandwich printing; it involved placing two (or more) negatives together in an enlarger — which was then used to create the finished print.
As digital photography (including user-friendly software) became the norm, the multiple/merged/double exposure enjoyed something of another re-emergence.
Take 4:
Almost all of my images in this portfolio have been contextualized: that is, given a setting that importantly relates to the person or place in question. For example I have merged a calligrapher in calligraphy, or given the rail commuter enhanced high-speed train and surrounds. There are many examples.
It should be emphasized that this fusing of two or more images is not random or willful — rather the intent is to clarify the individual as he/she goes about daily life in Japan. It is also hoped that this technical intervention is unobtrusive — after all, it is the expression of Japanese culture that is of primary interest.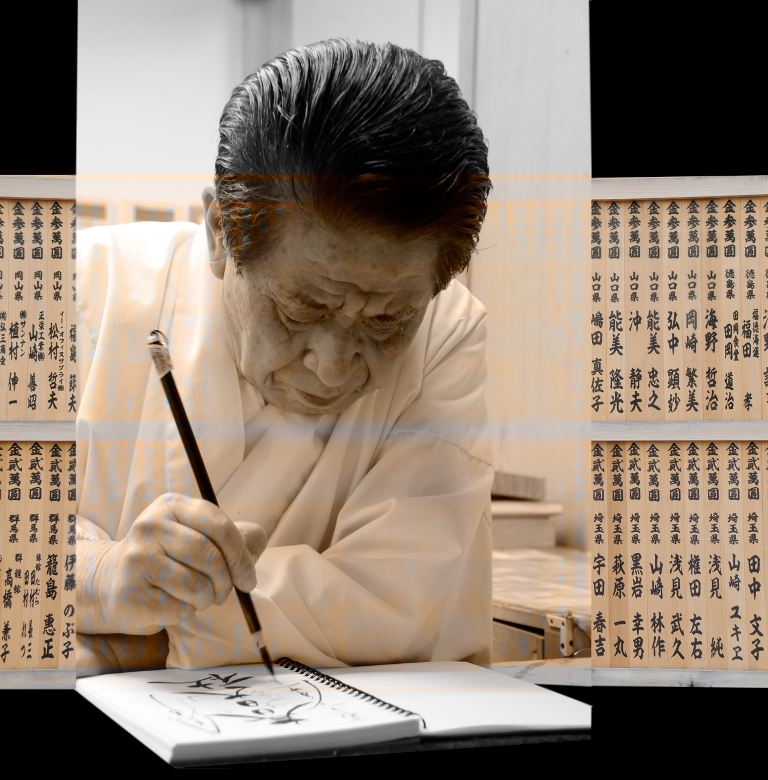 Take 5:
In contrast, my architectural photographs are essentially 'straight'. The images suggest something of the long history of Japanese building excellence; of space, light, structure, concepts and refined details.
This collection seeks to transform the document, the record… to go beyond and seek a questioning audience. Ultimately it encourages the viewer to engage in their own re-imaginings.
10
Nature Nurtured
( 2010 — 2018)
These opening paragraphs are written as optimistic notes of encouragement for all parents. Never give up setting good examples — eventually your children will see the error of their ways!
The first twenty years or so of my life saw me in severe conflict with plants.
Footballs, cricket balls and tennis balls are not comfortable bedfellows with iris, sweet peas, broad beans, lemon trees, roses… you can easily imagine the carnage. Gladioli and dahlia with their heads lopped or limp; a row of lettuce uprooted. The suburban garden to which I'm alluding was my parents' pride and joy. One of my father's missions in life was to provide fresh fruit and vegetables for his three children. My mother added her botanical interest via specimen plants such as a lemon tree, magnolia, boronia, hydrangea, with borders of pansies and daisies (all of which she referred to by their correct Latin names). Damage equalled punishment (and lots of it!). To add insult to injury — the acquisition of necessities such as Essendon football sweaters and boots, running spikes or tennis racquets… were tied to: mowing lawns, endless weeding, digging in tired vegie patches… all the most unrewarding of gardening tasks.
Life in PNG saw a truce in my battles with Botanica. Heat, humidity and rich soil gave rise to rapid overnight growth. Bamboo for instance, shot up 300 mm daily. Unlike the patience required in cool climates, the tropics provided instant gratification. Surprise, surprise: I planted my own garden.
If we fast-forward, today I tend some fifty-five bonsai, numerous orchids, flowering anthurium, spathiphyllum and variety of herbs. I'm a 'cutting tragic' — if prunings can grow, I can't resist... You guessed it, our house sometimes seems in danger of being over-run with plants… and in the case of Palm Beach — over-run with animals too.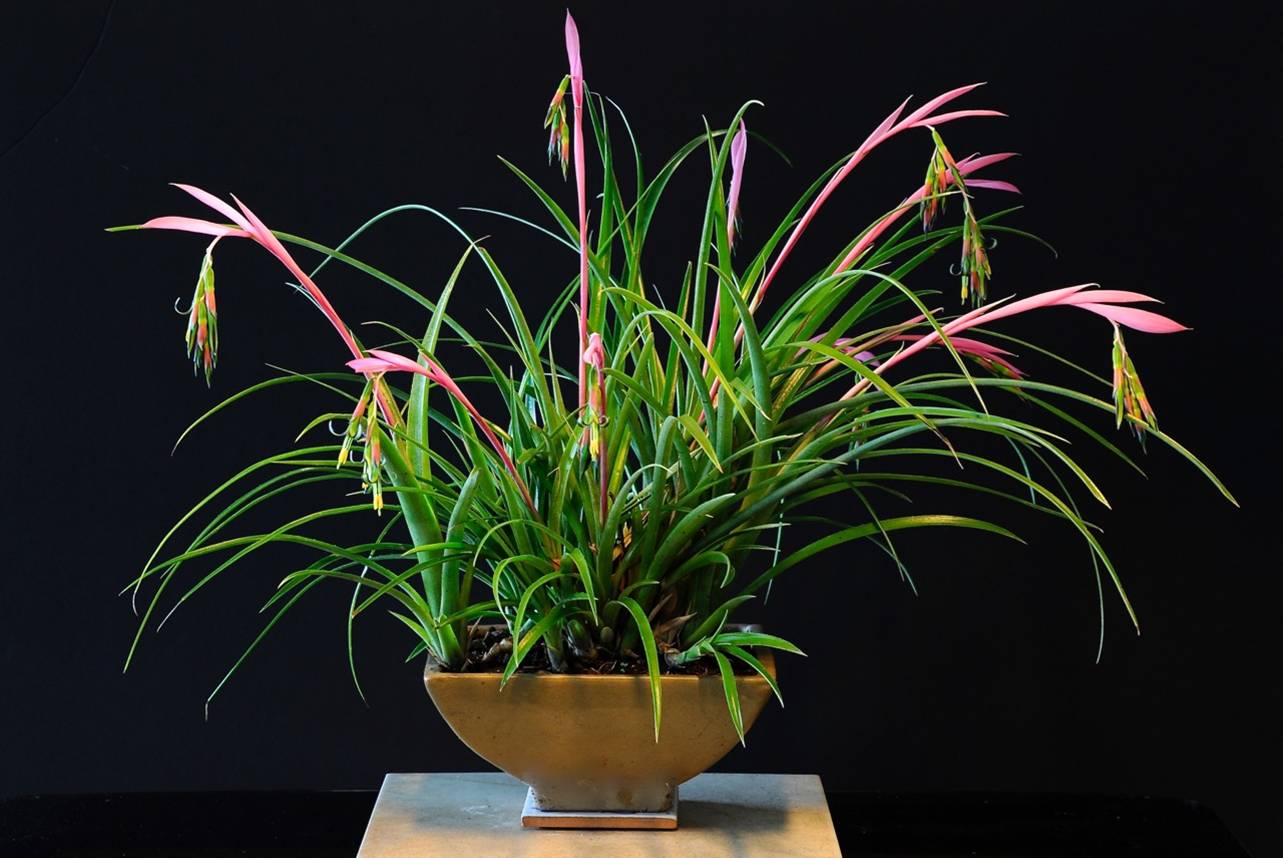 My interest in bonsai can be traced to a broader interest in the cultures of Japan and China. The notion of the 'miniature portable garden' was first conceived in the Tang Dynasty court fifteen hundred years ago — then refined in Japan, as the Japanese are wont to do. However, I suspect this interest would have failed to germinate, or would never have blossomed, if my mother hadn't taken up the art of Ikebana during the 1960s. She pressed my father into the collection of pine-cones, drift-wood, sea-weed, dried seed-pods; all manner of plant material. Each week the home would be blessed with a new botanical 'arrangement'. As the years passed she qualified to teach in the Sogetsu School style, and her 'constructs' became larger and more complex. We all admired her creativity and benefited from her bringing the garden indoors.
There is no doubt my parents passed on the baton of environmental understanding and appreciation — and for that I'm eternally grateful. The photographs you see in this section of the exhibition are but a few of many hundreds. I have learned to see, and photograph, abstract patterns in a tree's bark, fallen petals, the character of eucalyptus leaves, leaf structure generally and new growth after fire. This natural micro-world has its own panorama of delight.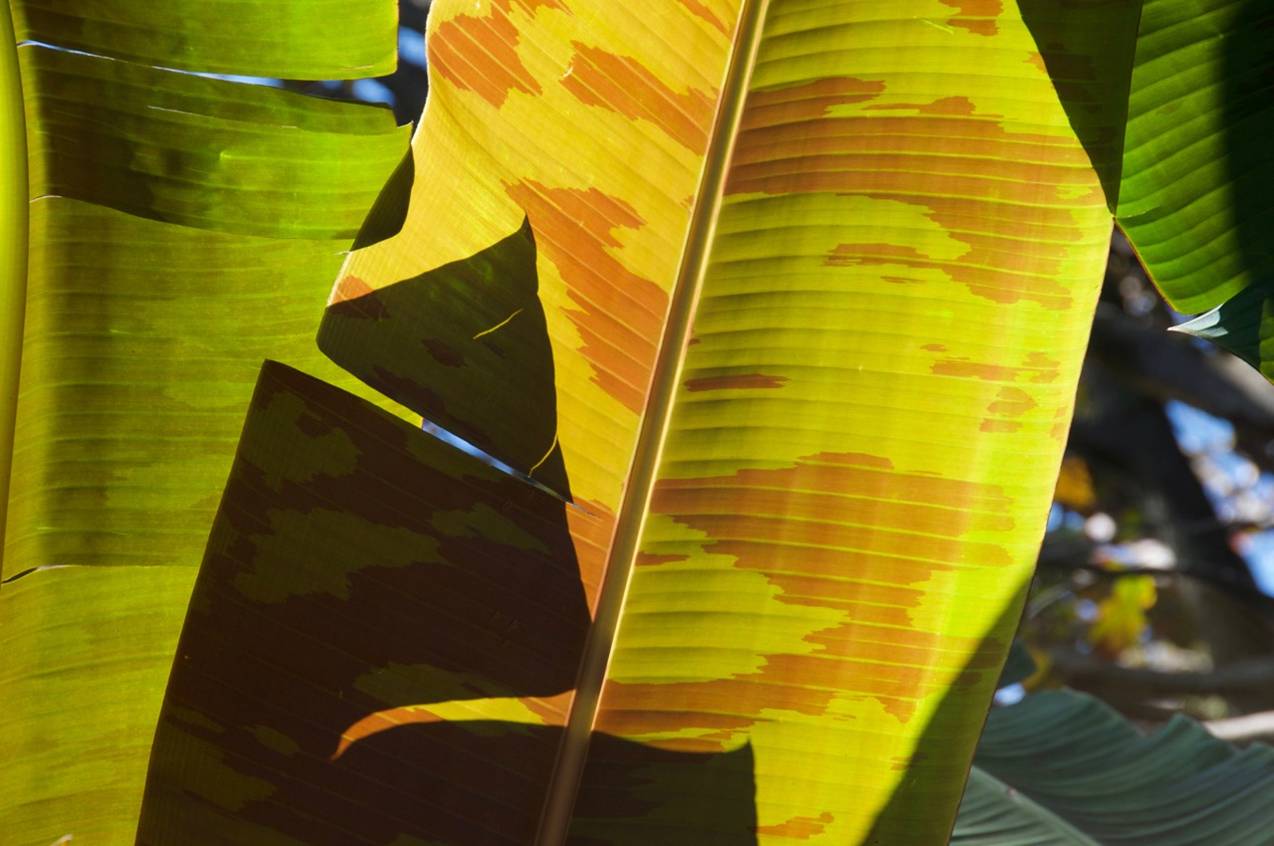 William Blake said it most poetically:
"To see a world in a grain of sand.
And a heaven in a wild flower,
Hold infinity in the palm of your hand.
And eternity in an hour".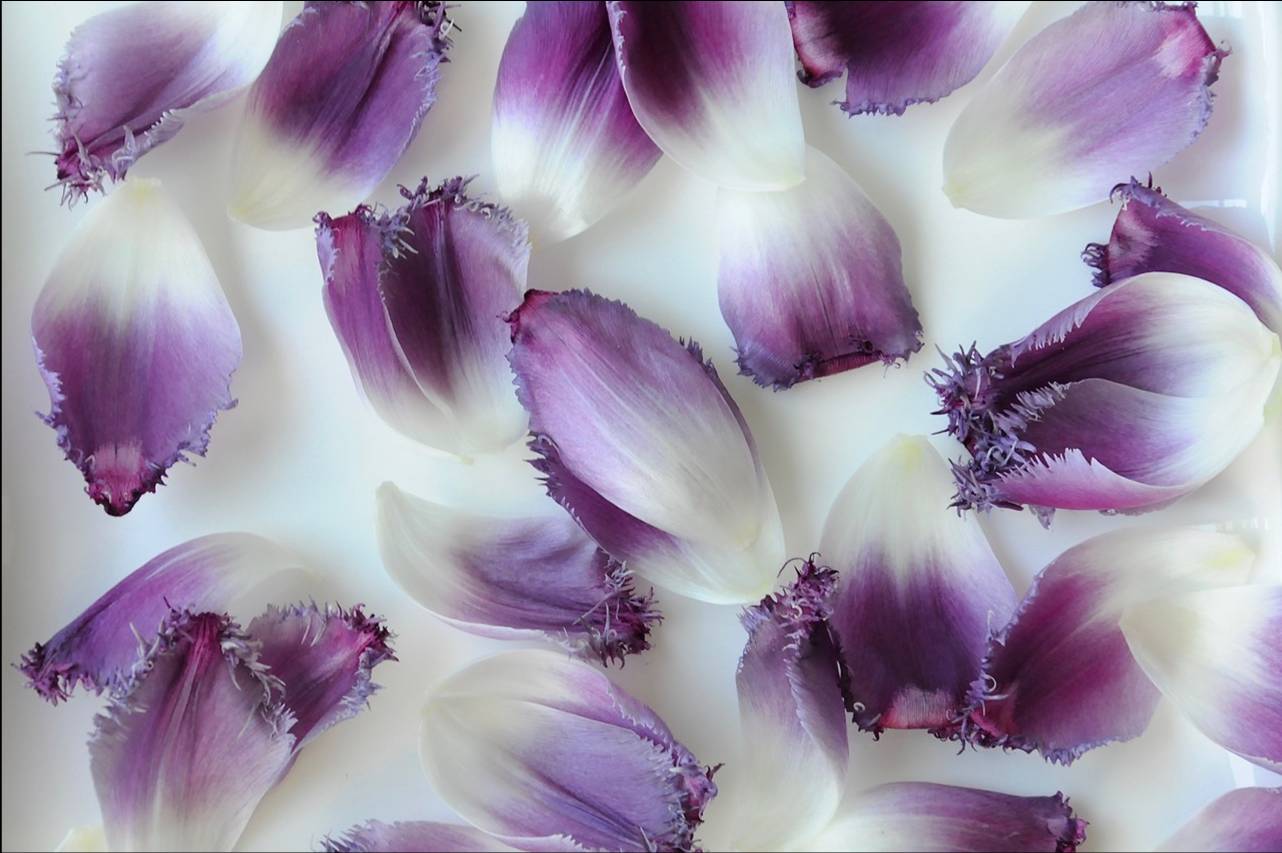 Conclusion: hang in there parents, some times the kids 'get' your inspiration immediately; sometimes, like me, they can be frustratingly slow!
A Body Of Work - Photographs By Adrian Boddy
A collection of photographs charting a life's journey as seen through a lens. 10 screens scrolling over 300 images of landscapes, fauna and portraits fill the space with haunting beauty.
A visit includes a fully guided tour and concludes with refreshments in the apartment.
Wednesday 18 July 2018 - Sunday 2 December 2018
FLOOR TALK WITH ADRIAN BODDY
Join photographer and architectural academic Adrian Boddy ,as he walks through the exhibition of his works A Body of Work, sharing stories of his influences and inspirations; his changing techniques and processes, discussing the challenges that photography presents today, in an era of image saturation.
Cost: $30 including refreshments -
Bookings
About the Justin art House Museum
Justin Art House Museum is an initiative of Charles and Leah Justin, who are passionate collectors of contemporary art. Through their house museum they hope to share both their collection and their passion for art with the public.
Charles and Leah Justin have been collecting contemporary art for over 40 years, more seriously over the last 20 years. Their collection comprises over 250 works and continues to grow. The collection includes a diverse spectrum of art practice including painting, sculpture, works on and from paper, and photography. There is a strong emphasis on digital and video work. The collection is broad based and includes established and emerging artists practicing both locally and internationally.
JAHM's aspiration is to provide a distinctive experience, one that is intimate and personal for its visitors. There are two curated exhibitions per year, one exhibition will be drawn from the Justin Collection, the other will be based on either another private collection, a commissioned work for the gallery space or curated by an invited expert or artist.
Each visit includes a tour of the exhibition conducted by Charles and Leah, after which visitors are invited to their apartment for refreshments, and to enjoy a conversation about the exhibition, art collecting or whatever is of interest. Visitors will also have the opportunity to observe how collectors such as the Justins live with their art.
Charles and Leah Justin have a strong belief in cultural diversity and hope to introduce another voice to the visual art world.
3 Lumley Court
Prahran VICTORIA
PH: +61 411 158 967