May 30 - June 5, 2021: Issue 496
50th Anniversary Celebration Of Laser Dinghies Aims To Set World Record On Sydney Harbour: June 20, 2021 - All Welcome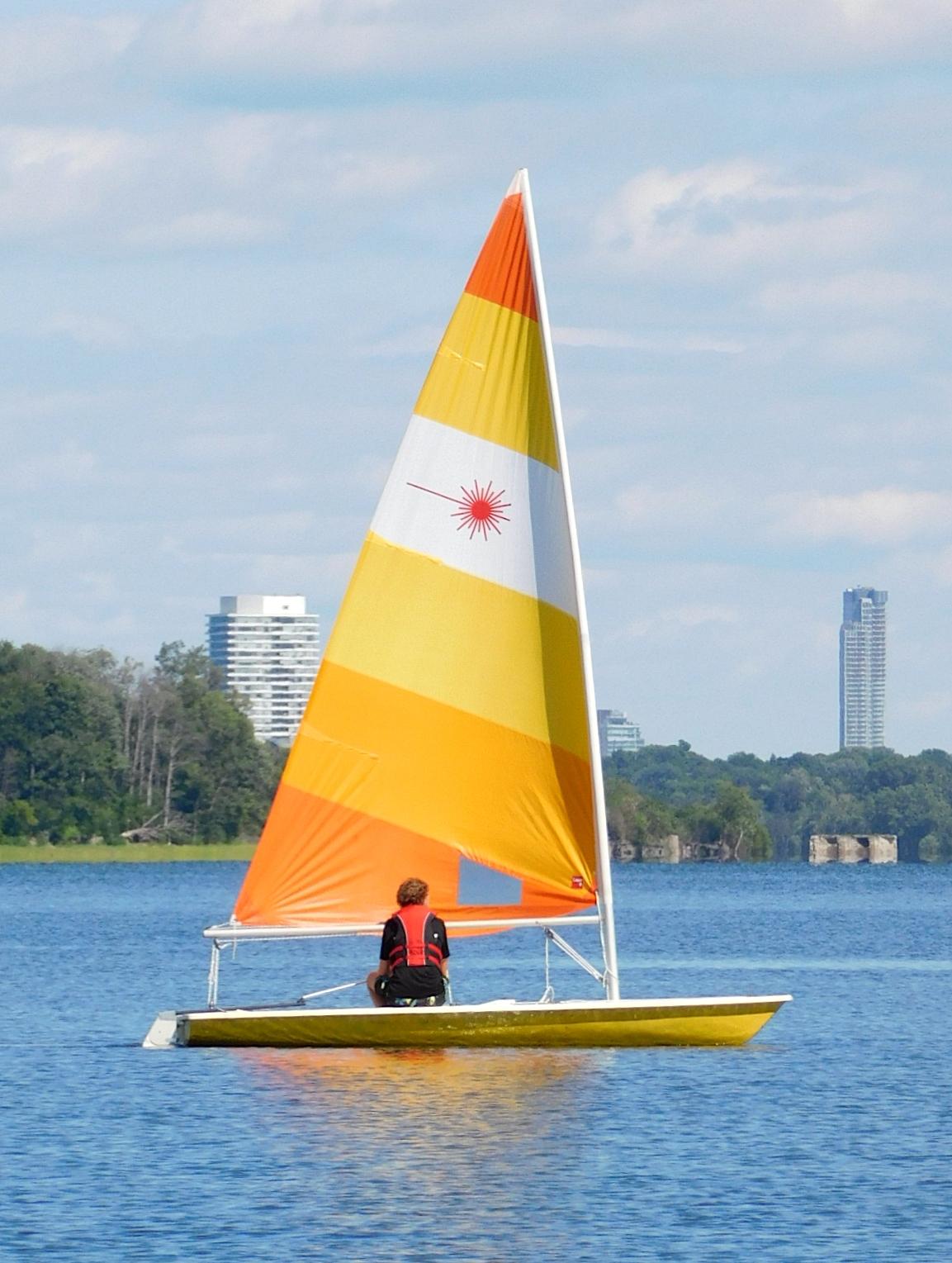 Laser sailboat in original sail and hull colours from the 1970s. Photo by A Hunt
Double Bay Sailing Club will host a large exhibition of ILCA Laser dinghies sailing on the iconic Sydney Harbour on Sunday, 20 June 2021, to mark the 50th anniversary of the one-design class.
Double Bay Sailing Club Commodore, Andrew Cox, said, "The exhibition will be a visual spectacle, with up to 200 boats sailing en masse against the backdrop of the Harbour Bridge and Opera House, in what we expect will be the largest single fleet of ILCA Laser dinghies ever to sail on Sydney Harbour, and possibly anywhere in the world."
The event is significant because of the popularity of the ILCA Laser class in Australia and globally, with over 218,000 boats sold in its 50 years of existence. It is the boat of choice for single-handed dinghy sailors worldwide, whether sailing competitively or for pleasure, because it is affordable, simple to rig, and easy to sail.
Since its first introduction as an Olympic one-person dinghy class in 1996, Australia has won three medals, including gold in the last two Olympics, making the ILCA Laser the ultimate goal of rising stars in single-handed sailing.
With one of the largest fleets of active ILCA Laser dinghy sailors in the world, Double Bay Sailing Club is inviting anyone who has access to a Laser across greater Sydney and beyond, to participate in this historic event, and sail from the Sydney Opera House to South Head, starting at 9.30am for 10.00am start, on Sunday, 20 June 2021, followed by festivities at Double Bay Sailing Club.
"We are excited to be hosting this showcase event, which will highlight the popularity, the competitiveness, and the fun of the ILCA Laser class, and which we hope will inspire new and returning sailors to the sport", said Commodore, Andrew Cox.
The Event will be a demonstration spectacle, not a race. There will be prize draws for sailors who register and participate. It is intended to be a historic Event that will be fun for participants and remembered into the future, including what we hope will be a world record for the number of Lasers/ILCAs sailing in a single fleet.
Anyone is welcome to launch from DBSC and sail to the start line together, or sail from another club and meet at Farm Cove at 0930h. Street parking is available (unrestricted on Sundays) and trailers can be left outside the club.
0830h - Launch from DBSC
0930h - All participants meet at Farm Cove
1000h - Event start from Mrs Macquarie Point

>> sail to Watson's Bay as a single fleet

1300h - Free BBQ on the deck at DBSC - all welcome
Notice of Event - published 06/05/2021, amended 28/05/2021
Sailing Instructions - published 24/05/2021, amended 28/05/2021
More at: www.dbsc.com.au/laser-50th
Canadian Ian Bruce, with a concept in mind and a set of line drawings from friend and fellow Canadian, Bruce Kirby, in 1970 created a boat, rig and manufacturing process and, very importantly, class rules and member association, that has essentially remained unchanged to this day, and that still represents the epitome of one-design sailing.

Bruce Robert William Kirby, CM (born 2 January 1929)is a Canadian-born sailboat designer, dinghy and offshore racer and journalist. His designs span in size from the single-handed Laser dinghy to the 12-meter class Louis Vuitton Cup yacht, Canada One. He continues his design work in his American company, Bruce Kirby Marine. A Canadian newspaperman and former editor of Yacht Racing (predecessor to Sailing World), he designed the Laser in 1969 according to some sources.

The American Sailing Hall of Fame states:
''In 1964, Kirby moved to Finns and made the Canadian Olympic team. He didn't quit his day job. By the mid-1960s, Kirby had become editor of One Design Yachtsman (now Sailing World ). He jumped into a Star boat in 1968, and again represented Canada in the Olympics. In 1971, a car-top dinghy he had designed at a friend's request was launched, and Kirby's fame was assured. The boat was called the Laser. More than 250,000 of this demanding Olympic class dinghy have been built.

In the summer of 2011, at age 82, Kirby sailed in the Sonar European Championships held in Scotland. He won two races. He continues to sail the 24-foot Sonar, personal favorite of his 63 designs, out of the Noroton Yacht Club in Darien, Connecticut. He gives away 20 years to the next oldest skipper, but still manages to record frequent top three finishes. "I do my best work in 15 knots and above," he says. "Once I'm in my Sonar, the aches and pains go away."
The Laser is a highly popular family of small one-design sailing dinghies using the same common hull and interchangeable rigs with different sail areas. The Laser is designed to be sailed single-handed although class rules permit two sailors. Bruce Kirby designed the Laser with an emphasis on simplicity and performance.

By 1974, Ian Bruce had opened nine majority-owned plants worldwide building the Laser, and the rest is history. Often regarded as the Father of the Laser, in 2009 Ian received The Order of Canada, the nation's highest honour. Ian sailed in two Olympics (1960 and 1972 in the Finn and Star Classes), and also designed and/or built 11 other international sailboat classes.

Locally ex-Narrabeen Boys High School student Rob Mundle OAM, yachtsman, maritime commentator and author, recalls building these at Brookvale:
WHOA! I have just been reminded it's 50 years since I introduced the Laser class to Australia. The first boats came in large cardboard boxes in a shipping container from Montreal to Sydney. Those boats sold for $695!!!. I set up a factory in Brookvale and at the height of production we were building 15 boats a week! Great memories - super regattas - fun times. - Rob Mundle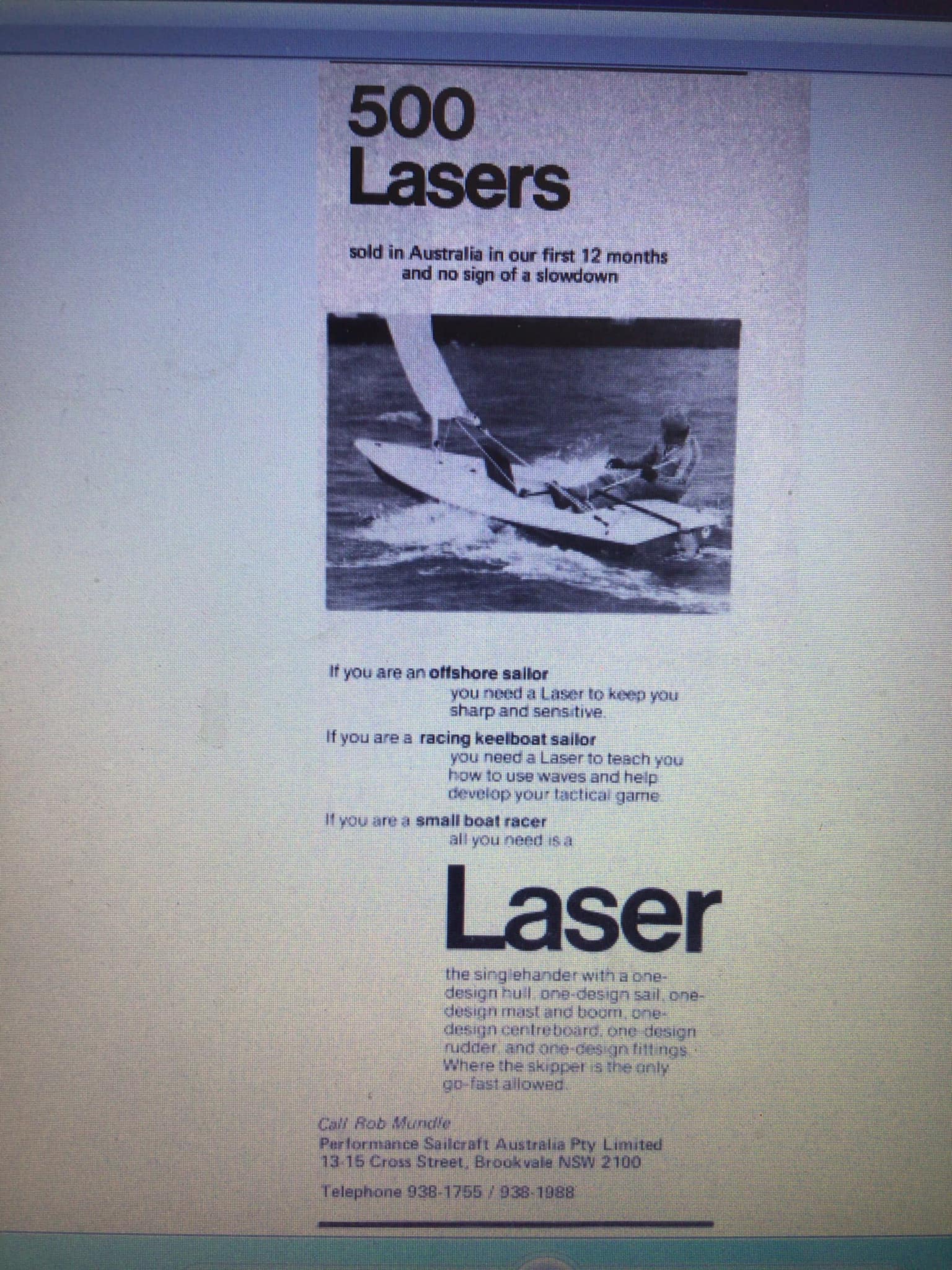 It didn't take long for local sailors and clubs to include them in regattas:
Pittwater regatta
SYDNEY: Nearly 400 yachts ranging from small cherubs to large ocean going craft will compete in the 71st Pittwater regatta today.
"This is the largest field of craft on Pittwater for many years", said regatta Commodore Ken McLean yesterday.
The regatta is the Royal Prince Alfred Yacht Club jubilee year event. Small boats including cherubs, lasers and Manly juniors will race in the morning and the starting gun will, go for the ocean yachts at 1.30pm.
"The small boats will be held to Pittwater but the larger yachts will race to a point two miles off Barrenjoey, weather permitting", Commodore McLean said. Pittwater regatta (1977, December 27). The Canberra Times (ACT : 1926 - 1995), p. 12. Retrieved from http://nla.gov.au/nla.news-article110884632
The RPAYC continues as a local venue for laser fans. On February 16th 2021 they reported:
Nine RPAYC members participated in one of the most popular sailing regattas of the year, the 2021 NSW Laser Master Championships At Callala Bay last weekend. The event was sailed on the pristine and clear (no traffic) waters of Jervis Bay and 6 races over 2 days were run in perfect 12-18 knots with 1-2m waves.

With an awesome attendance of no less than 75 Radial rigs and 62 Standard rigs on the start lines, starts were a great sight and competition was, as typical in Lasers, very tight. The Grand Master Standard division went down to the wire in the last race and ultimately Jan Scholten emerged victorious after battling out with Victoria's Steve Gunther, and Chris Dawson 3rd. In the Masters Standard Division Stuart Holdsworth had a consistent regatta with all top 10 results and came in 5th amongst a highly competitive fleet lead by multiple champion Brett Byer. Pru Bennett built on her NSW State Championship in the 4.7 Rig to take out the 4.7 Division also.

RPAYC put in a sound performance with results including:
– Jan Scholten 1st Grand Master and 4th overall Standard Rig
– Stuart Holdsworth 5th Master and 8th overall Standard Rig
– Chris Dawson 3rd Grand Master and 17th overall Standard Rig
– Steve Bryant 13th Grand Master Standard Rig
– Dave Taylor 14th Master Standard Rig
– Bruce Ferguson 20th Grand Master Standard Rig
– Jenny Danks, 2nd Female, 10th Grand Master Radial Rig
– Lindsay Whitton 15th Grand Master Radial Rig
– Pru Bennett – 1st 4.7 rig and 1st Grand Master
For those interested in joining the RPAYC Laser fleet, age is no barrier and the RPAYC fleet continues to maintain a healthy racing program and Masters attendance with the next Masters regatta being the South Pacifics at RQYS July 9-13th.
The RPAYC has represented Australia on the world stage in this class, with members claiming accolades in the International Laser Class; 1979: Colin Beashel, 1988: Glen Bourke, 1989: Glen Bourke, 1990: Glen Bourke, 1995: Heidi Gordon, International Laser Class Masters; 2008: Jan Scholten.
In September 2019 then reigning Men's 470 World Champions Mat Belcher and Will Ryan and back-to-back Laser European Champion Matt Wearn were announced as the first athletes selected to the Tokyo 2020 Australian Olympic Team. Belcher and Ryan were rewarded for their stunning 2019 season, which has seen them bank five successive international victories.
World number one ranked Laser sailor Wearn will be making his Olympic debut in Tokyo, winning selection after consistently strong results over the last two seasons. This included wins at the European Championships and Olympic Week in Hyeres, as well as second places at the Laser World Championships and the World Cup Series in Enoshima.
"I'm just ecstatic with the selection," said Wearn. "I am really excited to be able to go and compete for Australia."
Wearn will continue a fine tradition of success for Australia in the Laser class, which includes Gold at both the London and Rio Olympics. The Western Australian sailor will be well prepared for the conditions he expects face in Enoshima.
"Enoshima can have quite a big swell with bigger waves, which is similar to sailing off Sydney heads. The wind tends to come off the land there, which makes conditions shifty and quite hot. We can recreate those conditions whenever there's a hot westerly in Sydney, so it gives us confidence to be able to train in similar conditions at home."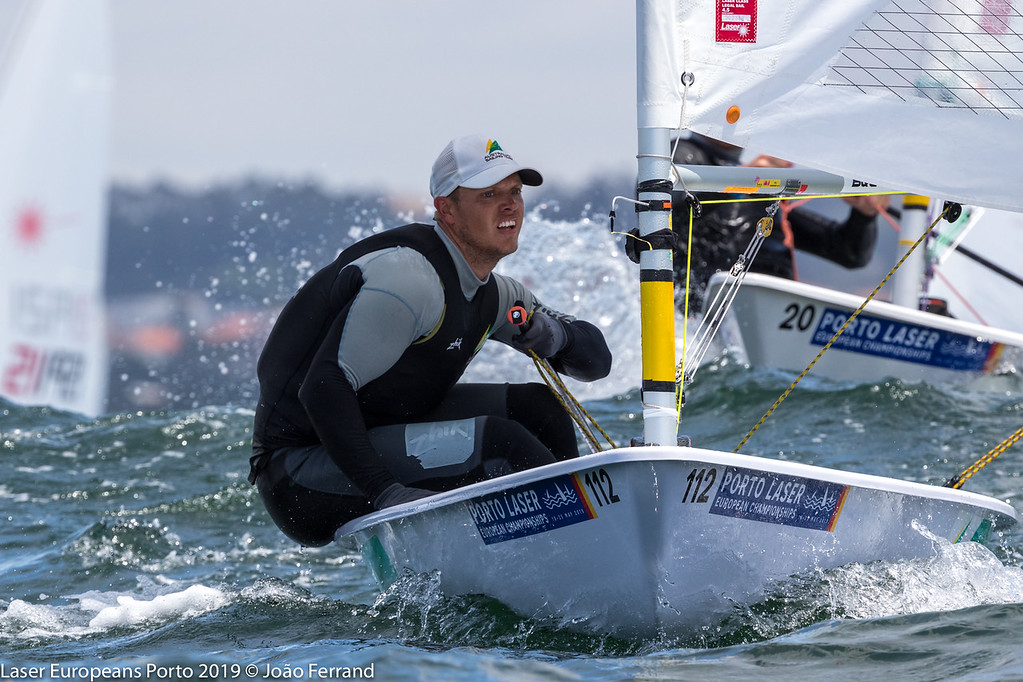 Australian Sailing President Matt Allen AM highlighted the depth of the Australian Sailing Team when he spoke shortly before the announcement.
"Australian Sailing has a proud history of success at the Olympics, and this group is no different," Allen said. "We have won six gold medals at the past three games, and we head to Tokyo with three classes currently ranked in the top three in the world including two top seeds."
Australian Sailing's High Performance Director Iain Murray AM also paid tribute to reigning Olympic Laser champion Tom Burton, who missed out on selection this time round.
"Australia is extremely fortunate to have the world's top two ranked Laser sailors amongst our fleet, but unfortunately Olympic rules state that we can only send one athlete per class," said Murray. "Most countries would have given anything to select either athlete, so this was a particularly tough decision for the panel to have to make."
The decision to nominate Wearn was made by Australian Sailing's Olympic Nomination Panel. This highly qualified panel of eight includes Chairman David Kellett AM, Murray, three-time Laser World Champion Glenn Bourke and five-time Laser World Champion and London gold medallist Tom Slingsby.
The Sydney Harbour event to celebrate 50 years comes days after a May 20th 2021 announcement from the International Laser Class Association; -
ILCA is pleased to report that the World Sailing Council voted to re-select the Laser class and Laser Radial class sailing dinghies as Equipment for the Men's and Women's singlehanded competition at the 2024 Paris Olympic Games.

The World Sailing Council, which represents sailing in every region of the globe, voted via secret ballot 36 to 5 and 37 to 4 to keep the world's most popular racing dinghies in one of the worlds most prominent sporting events. The overwhelming support for the ILCA bid, the only bid submitted by a class association rather than a builder, was the culmination of a tough evaluation program and is a testament to the strength of ILCA as a world wide organization of sailors dedicated to their sport at all levels of competition.

The vote was an important milestone but is not the end of the process. All contractual agreements must be successfully concluded by 1 August or the council will select new Equipment. ILCA has been working to ensure that the class is able to implement World Sailing's FRAND compliance policy, which is a requirement for Olympic Equipment. ILCA is looking forward to a scheduled meeting later this week with representatives of World Sailing, Performance Sailcraft Australia, Performance Sailcraft Japan, and LaserPerformance, to look for ways we can move forward together for the benefit of sailors and the sport worldwide.
The Laser is operated under the International Laser Class Association (ILCA). The Class association operates on four levels: the world level; a regional level based around continents; a district level based around states in the USA and Australia, and nations elsewhere; and at a local fleet level. The association plays a major role in ensuring conformity to Laser class rules worldwide.