August 12 - 18, 2018: Issue 371
$5.1 Million for Royal Far West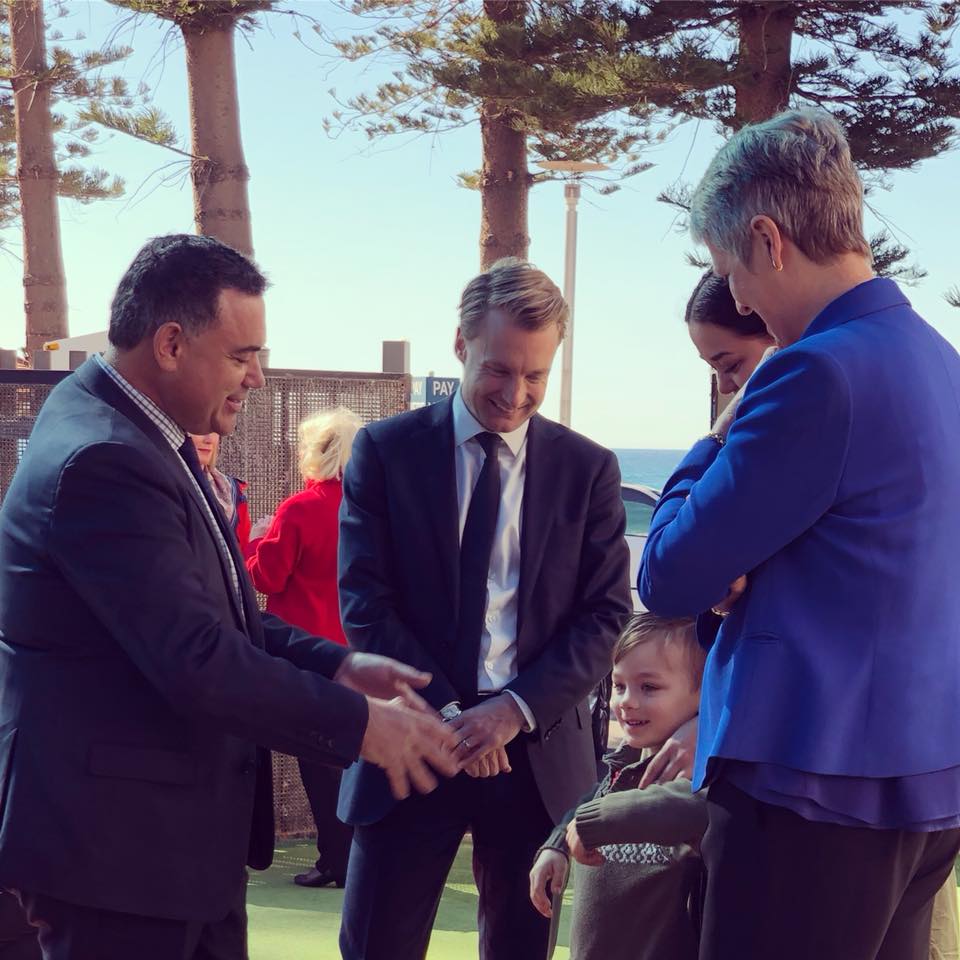 August 10, 2018
The Deputy Premier and Minister for Regional NSW John Barilaro and Member for Manly James Griffin MP today announced the NSW Government would commit an additional $5.1 million to the children's charity Royal Far West to help the organisation build its new state-of-the art health and learning facility, and in turn support thousands more vulnerable children and families across regional NSW.
Mr Barilaro and Mr Griffin made the announcement this morning while attending a "topping out" ceremony at the Manly site – a construction tradition which marks the last beam being installed at the highest point of a new building.
Mr Barilaro said the funding would go towards the construction of the new Centre for Child Health & Learning, the expansion of its globally-recognised Telecare for Kids program, on-site accommodation and schooling for children and their families, and a fleet of vehicles which will allow Royal Far West staff to travel further into remote and rural areas.
"Royal Far West provides services that children and families in regional areas would otherwise struggle to access, and right now, with the drought hitting hard across the state, the work they do could not be more important," Mr Barilaro said.
"The tyranny of distance means so many children with developmental problems in rural and remote parts of NSW are at risk of 'falling through the gaps', and Royal Far West is all about making sure those kids don't miss out, and instead get the specialised health care they need," he said.
CEO of Royal Far West Lindsay Cane said the NSW Government grant was timely, given the immense hardship that children and families in remote and rural areas were facing due to drought conditions.
"Despite the resilience of country people, there's no doubt the current drought has amplified the tremendous challenges faced by the families we work with, who are also coping with the stress of caring for a child with developmental issues," Ms Cane said.
"This $5.1 million grant will go a long way to helping Royal Far West fulfill our goal of tripling the number of children and families we help each year, to 15,000 by 2020.
"We need to connect with and help these kids urgently. The long term-consequences of not treating children with developmental problems can have damaging long-term consequences – from fostering at-risk adults, to poorer education, higher rates of chronic disease, unemployment, homelessness and crime – the list goes on.
"The NSW Government has shown leadership in supporting our new Centre, and it's indicative of their commitment to regional people," she said.
Mr Griffin said the $5.1 million grant builds upon a $10 million grant from the NSW government in 2014.
"Every year 1000 families visit Royal Far West in Manly, where they can get specialised care while enjoying a scenic break from life in the bush," Mr Griffin said.
"When complete, the new state of the art facility will also house the Royal Far West School, which accommodates about 20 teachers and 50 children, including their siblings, allowing for continuous schooling while the family is away from home," he said.
The building is set to be officially opened in December, however the charity is hoping to have most of the construction work done ahead of a potential royal visit by Prince Harry later this year. Buckingham Palace has already notified Royal Far West that the charity has been shortlisted for a visit by His Royal Highness, who would be following in his grandmother's footsteps, after Queen Elizabeth toured the Manly site in 1970.
On a yearly basis, Royal Far West sees thousands of children from rural and remote areas, through either its face-to-face Paediatric Developmental Program in Manly, or by beaming into schools and clinics in remote areas via telecare. The children helped by Royal Far West are treated for a wide range of health issues including intellectual and speech delays, ADHD, Autism, behavioural difficulties, disabilities mental health and other complex issues.