June 18 - 24, 2017: Issue 317
35th America's Cup Final Stage Begins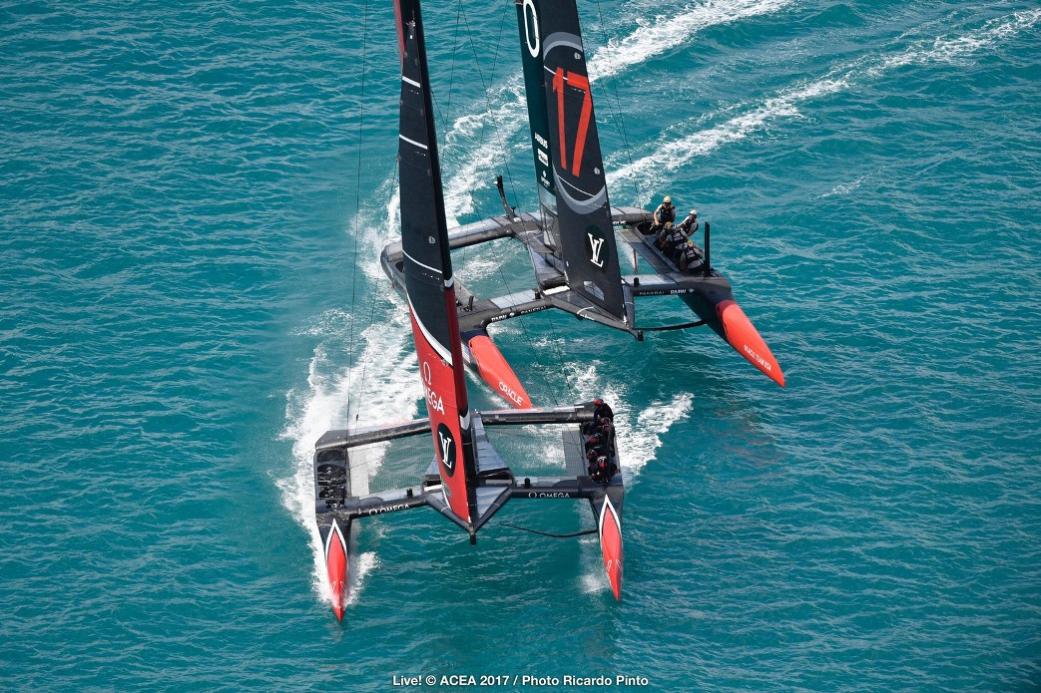 35th America's Cup Final Stage Begins
Sunday, June 18th, 2017: 4.30 a.m. (AEST)
Peter Burling and Emirates Team New Zealand lead by a point at the end of day one of the final stage of the 35th America's Cup Match. The Kiwi Challengers to James Spithill's ORACLE TEAM USA took back-to-back victories in the first two races over the 'Defenders' of the 'Auld Mug'.
The New Zealanders' first race victory of the day put the scores at 0-0 as Spithill's team started the America's Cup Match with a one point advantage over their rivals having won the Louis Vuitton America's Cup Qualifiers.
The match-up between ORACLE TEAM USA and Emirates Team New Zealand is cited as a rematch of the 2013 America's Cup Match in which ORACLE TEAM USA turned an 8-1 deficit to their Kiwi rivals into a 9-8 victory in San Francisco.
Race One
The wind on Bermuda's Great Sound was in the 7 to 8 knot range when ORACLE TEAM USA skipper James Spithill turned for the starting line early and found himself with too much time to kill, pushing across the starting line before the start gun and picking up a penalty.
The infraction cost ORACLE TEAM USA a two boat-length penalty and allowed New Zealand to lead by 13-seconds and over 100 meters at mark one.
The Emirates Team New Zealand Team and Peter Burling took full advantage, holding a 32 second lead by the turn at the second gate.
In relatively light winds, Burling continued to sail smoothly, extending the Kiwis' advantage to a healthy margin of one minute and 52 seconds over their rivals by the fifth gate
Burling did not have it all his own way though and mistakes began to creep in. Two poor manoeuvres reduced Emirates Team New Zealand's advantage.
There was to be no late drama, as Burling's team crossed the finish line 30 seconds ahead of Spithill's ORACLE TEAM USA, wiping out the minus one point deficit to the Defenders and levelling the overall scores to 0-0 ahead of race two.
Race Two
Having cut the point deficit, Peter Burling and Emirates Team New Zealand set about building on the momentum of victory in the first race by again beating Jimmy Spithill's ORACLE TEAM USA away from the start line.
Race two was much closer than race one, but Emirates Team New Zealand were still able to pull clear, establishing a lead of up to one minute, 34 seconds by the time they rounded mark four.
However, once again Emirates Team New Zealand gave their rivals a glimmer of hope in the closing stages as ORACLE TEAM USA dramatically cut the gap to Emirates Team New Zealand on the run to the fifth mark. As both boats headed towards the turn the gap was down to just over three seconds, and it looked like the US team might record their first win of the 2017 America's Cup Match.
Having closed the gap, ORACLE TEAM USA's yacht came down off its foils and that gave Emirates Team New Zealand the chance to re-establish their lead.
With the pressure now off, Burling guided his team around the sixth and final gate and coasted to the finish line an entire minute and 28 seconds ahead of Jimmy Spithill's ORACLE TEAM USA, taking not only their second successive win of day one, but also moving into a one point advantage in the battle for the 'Auld Mug'.
"We had our opportunities," said skipper Jimmy Spithill after race two. "It's a shame we couldn't pull our gybe off around that last top mark."
Spithill is referring to the first gybe of the final downwind leg, when the team was nose to tail with the Kiwi boat, who had a better manoeuvre and extended to win the race.
Despite Emirates Team New Zealand securing back-to-back victories on day one, Burling is not getting carried away just yet.
"Jimmy (Spithill) and ORACLE TEAM USA sailed really well to put us under a lot of pressure, but we managed to keep our composure and sail really well." he stated after the races.
"We've said all along that we are learning all the time and although we won both races we got a lot wrong and made too many mistakes today.
"We will go away and look at what we need to improve because we all know for a fact that Jimmy won't give up and so we have to keep progressing.
Despite relinquishing the point advantage they held at the beginning of the day, ORACLE TEAM USA helmsman James Spithill is refusing to panic.
"We're obviously disappointed with what was a tough day, but the deficit is only one point so we we're not panicking," James said at the post races press conference.
"Clearly we didn't sail our best today, but we still had opportunities and that is what we will take away with us.
"It is too early to draw conclusions on what went wrong for us but we will go away and look at what we have to change ahead of tomorrow.
"Credit to Peter (Burling) and Emirates Team New Zealand because they made fewer mistakes to win both races.
In the 2010 match against Alinghi's giant catamaran, Spithill won 2-0. At 30, he had become the youngest skipper in history to win the Cup.
In 2013, he led his team to perhaps the greatest comeback in all of sport, James and his crew won 8 consecutive races over Emirates Team New Zealand to defend the Cup 9-8. Factoring in a 2 point penalty, Spithill actually won 11 races in the 34th America's Cup.
A win in the match this summer would see him skippering the team to three consecutive Match wins, something not seen in the Cup since the 1930s.

James actually debuted in the America's Cup as a skipper at age 20 with Young Australia in 2000, becoming the youngest helmsmen in the revered race's history, and then had stints at the helm of the Oneworld, in 2003, and Luna Rossa Challenge in 2007. So he is breaking records for America's Cup longevity even as we speak.
It's a long way from Elvina Bay, where he began his sailing life, but with regular stints at home and a down-to-earth attitude he proves you can take the man out of Pittwater but you can't take Pittwater out of the man.
The winner of the Louis Vuitton America's Cup Challenger Playoffs meets the Defender, ORACLE TEAM USA, in the 35th America's Cup Match presented by Louis Vuitton. If the team that wins the Qualifiers is in the Match (whether as the Defender or the Challenger), they begin with a one-point advantage - effectively this means that the opposing team must win 8 races to win overall.
The Match is scheduled for June 17-18 and June 24-25. If necessary, racing will continue on June 26 and 27. Races 3 and 4 commence Monday morning, Australian time and continue with races 5 through 8 next weekend.

How to watch
Foxtel - on FOX3
2017 AMERICA'S CUP SCHEDULE (All times AEST)
Best-of-13 series (Team NZ start on -1)
Sunday June 18 - Races 1 & 2 from 3am AEST
Monday June 19 - Races 3 & 4 from 3am AEST
Sunday June 25 - Races 5 & 6 from 3am AEST
Monday June 26 - Races 7 & 8 from 3am AEST
Tuesday June 27 - Races 9 & 10 from 3am AEST* if required
Wednesday June 28 - Races 11, 12 & 13 from 3am AEST *if required

Burling and Emirates Team New Zealand push ahead
Battle resumed on Father's Day in the America's Cup Match, presented by Louis Vuitton with Jimmy Spithill's ORACLE TEAM USA looking to seize back the advantage gained by Peter Burling's Emirates Team New Zealand on day one. However, it was day two to the Kiwis again, with Emirates Team New Zealand recording two more back-to-back victories over the Defenders of the America's Cup, putting themselves 3-0 up in the first-to-seven series that will determine the winner of the 35th America's Cup.
After racing had finished on day two, Jimmy Spithill looked ahead to the five day break before racing restarts on 24th June and what ORACLE TEAM USA can do to put themselves back in the fight. "These are going to be the most important five days of this America's Cup campaign for us.
"I thought we took a good step forward from yesterday, but it is clear we have to find some speed from somewhere, that is no secret.
"If we were forced to race day after day we'd be in some serious trouble at the moment. This break coming up is a massive opportunity for us as a team to go away and regroup.
"Everything will be put out on the table, nothing will be off limits, and over the next five days our incredible shore team will be looking at every aspect of our boat.
"Nothing will escape our eyes, I can guarantee that. Whether it's system related, appendage related, sailing technique or strategy, we are going to look at absolutely everything.
"The motivation is always there, the team is hungry and we're a very competitive group, but we are also a candid group and it is quite clear we need to make some changes.
"We feel that with the resources we have here we can make the changes to improve the boat and give us more speed. It looks like we have some good sailing days coming up over these next five days so we'll be into 24 hour shifts.
"We've been in a situation like this before and we've had less time. We've got five important days and we'll be using every single hour of them.
"We have to respond."
In reply, despite knowing that repeating the opening weekend's performance when racing resumes on 24th June would confirm Emirates Team New Zealand as the 35th America's Cup champions, Burling again warned his team against complacency.
"We are walking away with two victories again but, much the same as yesterday, we made too many mistakes," said the Kiwi helmsman.
"We now have five days to keep pushing on and progressing because everyone in this team is hungry to keep on improving and learning.
"We know full well if we stand still, Jimmy (Spithill) and ORACLE TEAM USA will catch us so we have plenty of work on in the next five days.
"We're happy to take those four wins because it is no secret that we are here to win the America's Cup. We knew to do that we had to win eight races and so we have to keep on battling to ensure that is what we do."