June 11 - 17, 2017: Issue 316
27th Australian Women's Keelboat Regatta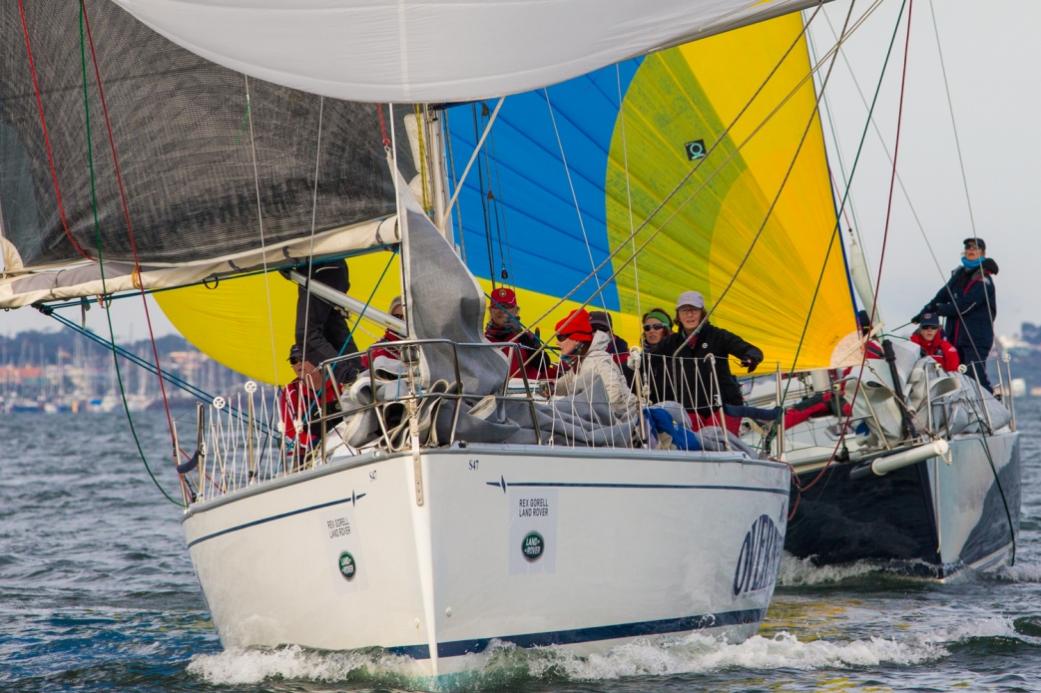 Mrs Overnewton & Javelin - photo by Bruno Cocozza
27th Australian Women's Keelboat Regatta over and out
June 12, 2017
Event: 27th Australian Women's Keelboat Regatta, June 10-12, 2017 on Port Phillip hosted by the Royal Melbourne Yacht Squadron, Victoria
Racing wrapped up along the north-east edge of the vast expanse of Port Phillip at the 27th Australian Women's Keelboat Regatta with a third and final light air day for the Queen's Birthday public holiday, Monday June 12, 2017.
A minor delay preceded a last start in light northerly winds for the two divisions fighting for final points across various handicap scoring systems.
In AMS division one results, Elyse Rattray-Guevara and Kat Wotherspoon's Melges 32 Envyus representing the Cruising Yacht Club of Australia led from the outset and closed out the series by two points from the Colleen Darcey skippered Archambault 35 Absolut (Derwent Sailing Squadron). Third was Jungle Juice.
Wotherspoon helmed Envyus for the series' second half, a different experience for the Cherub sailor from Lane Cove 12ft Sailing Skiff Club who summed up the regatta: "The highlight for us was that last race; I feel the whole team worked really well together. We had talked about the boat being a handful in heavy winds so we got really lucky as the breeze is coming up this afternoon. We wanted good starts and clean air and once we got away it all worked out. I'll be back next year if I can; it was a really great weekend."
AMS division two top honours went to the Townsville crew of Imaginer on a countback from their clubmates on another S80, Good Question. On the delivery trip back to Sandringham Yacht Club Imaginer's skipper Renee Cordingley said, "Thanks to the Royal Melbourne Yacht Squadron for a great regatta. We definitely didn't expect to do as well as we did. I am a dinghy sailor so one design is what I love; between that and the light weather I was in my element!"
For those boats racing under IRC handicap, final series results put Absolut in the division one box seat from the Monica Jones skippered Jungle Juice, an Adams 10 sailing under the host club's burgee.
First in IRC division two was Tasmanian skipper Judi Marshall and her Recycled Reputation crew sailing for the Townsville Sailing Club with a combined Queensland and Tassie crew.
Series stalwart Sabina Rosser, who has competed at every AWKR since inception, skippered the S80 Mood Indigo into second place overall, first and second decided on a countback following arbitration. Before racing Rosser spoke about her monumental AWKR innings spanning 27 years, see the video
here
.
Third in division was Karen Koedyk's Rock N Roll representing Western Australia's Royal Perth Yacht Club.
Tough class racing over six races in the 11-strong S80 division produced a close set of top three scores. Despite a solid crack at the top place by the Kiwi crew on Escape, Townsville's Imaginer crew held off the international challenge by one point in the one design results. Third was Deb Parker's Jack Tar from Hobsons Bay Yacht Club.
Some of the crew off Escape, which represented the Tauranga Yacht and Power Boat Club, have been waking up at 3am daily to watch the America's Cup Playoff Finals then going racing all day. They are thrilled that as of Monday morning Melbourne time the Kiwis have four wins against two in the first to five knockout, and today they sent messages of support to the team and in particular TYPBC clubmate Peter Burling, the AC helmsman they've known since he was a boy sailing on the Bay of Plenty.
See video
.
Finally, EHC division one and division two honours went to Sally Crowley's Royal Queensland Yacht Squadron crew on the J122 Javelin and Maria Ferrario's Escape respectively.
Organising committee spokesperson and immediate past RMYS Commodore Janet Dean was delighted with the turnout and the winding-back of weather compared to the last couple of years. "It was dry and sunny instead of the heavy airs we've had in the last few years. We've noticed a high number of returnees bringing new crew and the spirit of competition and camaraderie was outstanding as always. Thanks to all the owners who loaned boats and the volunteers who made the regatta possible," Dean added.
Competitors gathered at the RMYS in the late afternoon for the final presentation and cocktail party before the local sailors farewelled new friends and the many interstate and one international team prepared to board planes back to their hometowns, telling tales of tricky on-water competition, great hospitality and lots of laughs.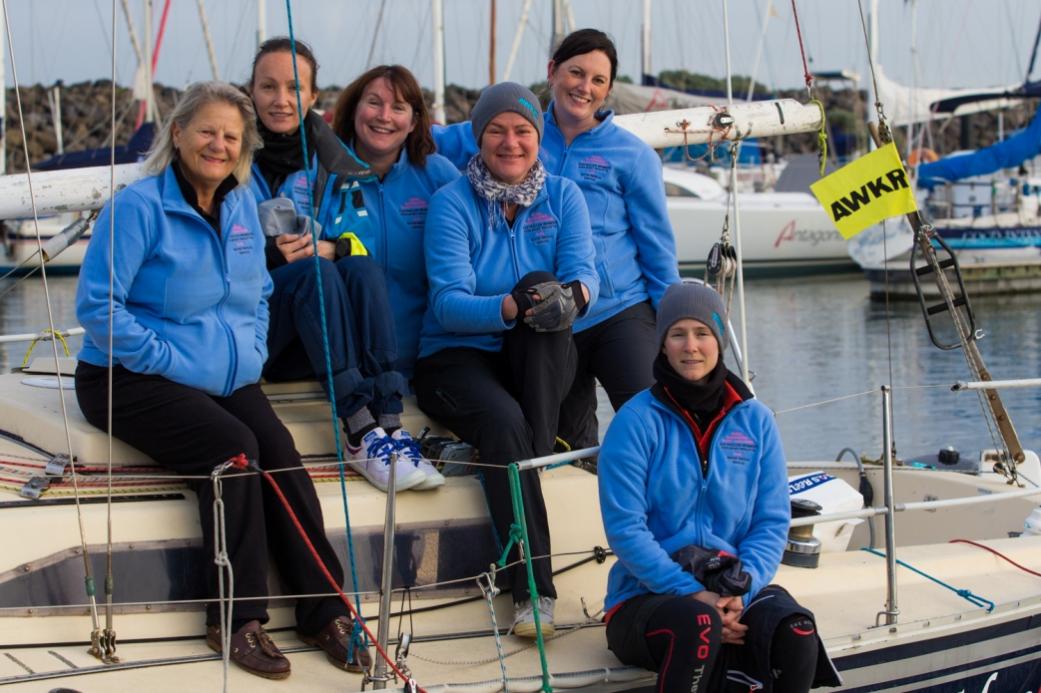 Sabina Rosser (left) & Mood Indigo crew- photo by Bruno Cocozza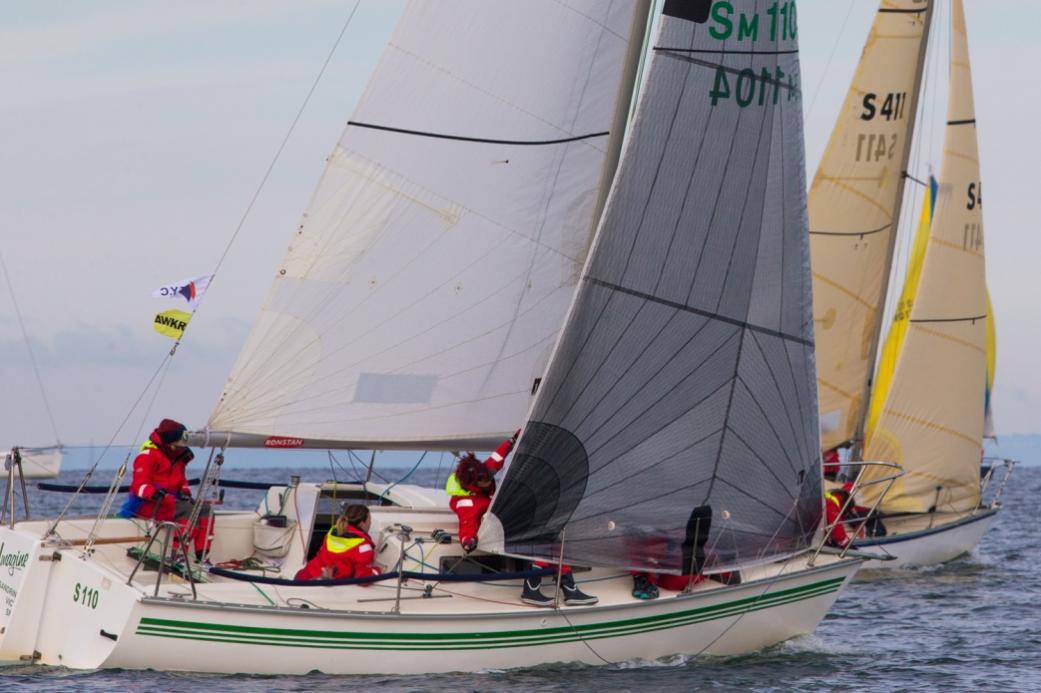 AWKR2017- winning S80 Imaginer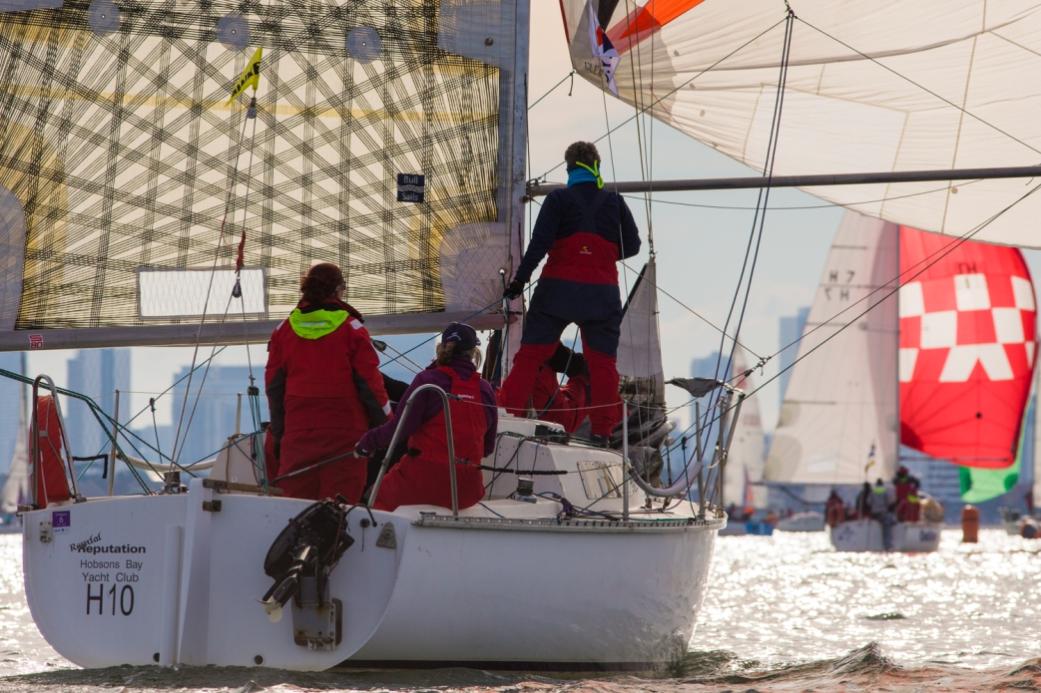 Recyled Reputation first IRC div 2- photo by Bruno Cocozza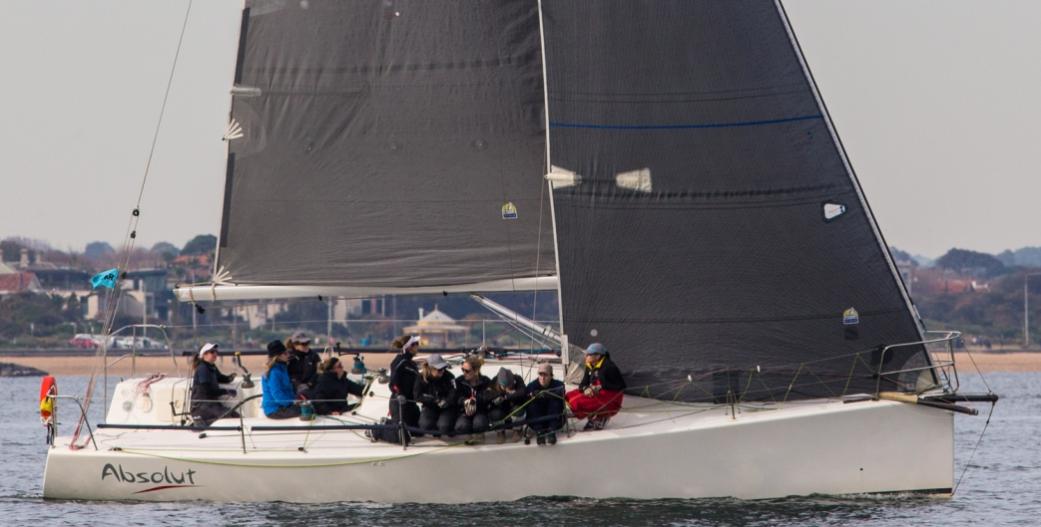 Absolut second AMS div 2 & first IRC div 1- photo by Bruno Cocozza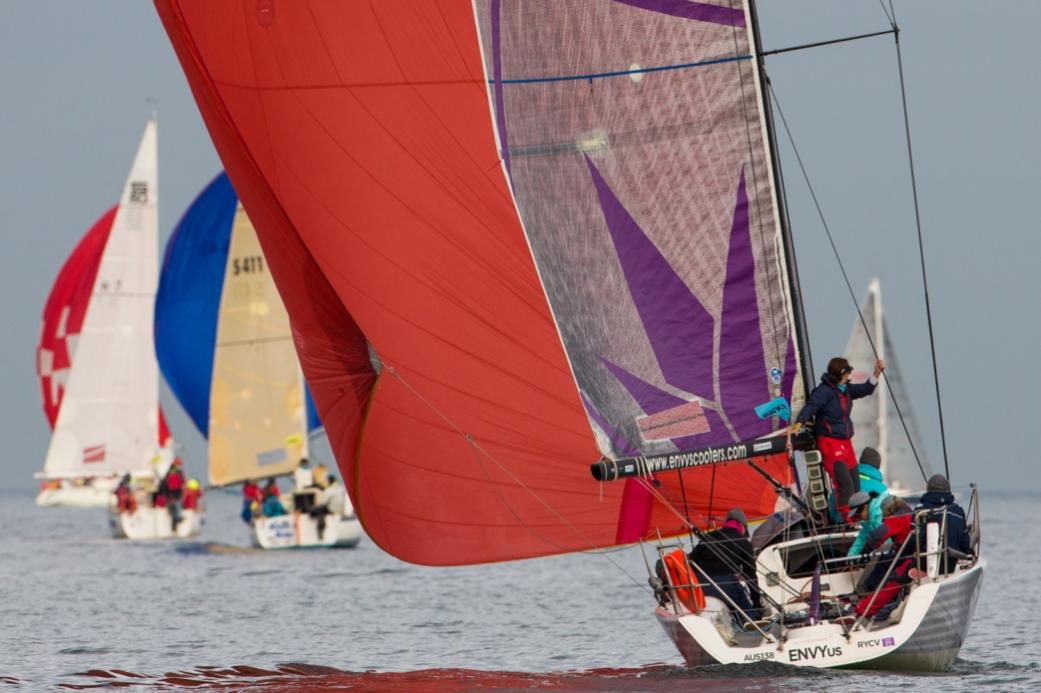 AMS div 1 winner Envyus - photo by Bruno Cocozza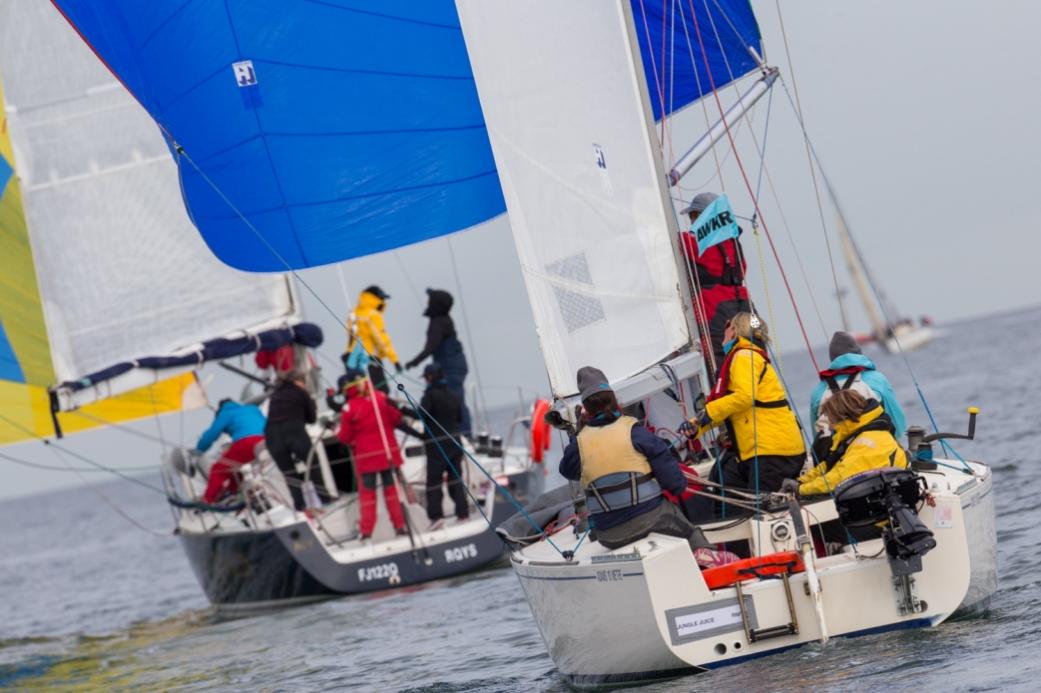 Jungle Juice (foreground) & Javelin- photo by Bruno Cocozza
Melges envy and Townsville triumph at Australian Women's Keelboat Regatta day two
11 June 2017
Day two of the Australian Women's Keelboat Regatta looked like a fizzer mid-morning, only good for rafting-up and dolphin spotting until a light southerly breeze set the wheels in motion for race officer Lou Hutton and her Royal Melbourne Yacht Squadron team to set up for races four and five.
Another light air day required good starts, tactics and crew work, and yesterday's front-runners again excelled, adding up to a similar looking top three in most divisions.
Colleen Darcey's Tasmanian crew on the Archambault 35 Absolut has thrown everything at the slippery Melges 32 Envyus and its talented NSW crew, but single digit wind strengths are giving the Melges the edge and they now lead AMS division one by three points and EHC results by one point with one race to go.
"The conditions have been ideal for the Melges and they have done very well," Darcey acknowledged. "The best part of today was getting 10 knots of wind and being able to stay with them. The regatta has been really good, though light and I think the crew has done a phenomenal job to keep the boat moving. I don't think we've stalled at all and I'm really proud of my guys."
Darcey, still first on IRC handicap, is hoping a couple of the larger boats absent this year return in 2018 so there's a bigger division one and maybe the option for the Derwent Sailing Squadron to field a second team. "It's great to see the S80s in big numbers and the camaraderie among the fleet and I hope next year some of the bigger boats return as I've got crew coming out my ears wanting spots!"
First and second in AMS division two results are two of the three S80 teams from the Townsville Sailing Club, Imaginer skippered by Renee Cordingley and Good Question skippered by Donna Heath. Collectively the 15 TSC sailors call themselves the 'Magnetic Maidens' and they have brought plenty of energy and sailing know-how, to this year's regatta.
Video of an interview with Jennifer Telfer from Imaginer
.
Fiona McManus, skipper of the S80 Outlaw representing the Northern Territory and Darwin Sailing Club, has travelled to Melbourne with five sailors, four of them new to the AWKR. Late afternoon back at the Royal Melbourne Yacht Squadron while enjoying a beer and a sausage – courtesy of the Boat Buoy team of men supporting the women's regatta – McManus spoke about day two: "It was a challenging day though we do a lot of training in light weather in Darwin so it was ideal for us."
"This is my fourth AWKR and there are six of us altogether, four are new to this event and they are having a great time though they are a little thankful it's not blowing 20 knots. We'll all go home and talk up the weather and maybe we'll coax a few more down next year. The interest is building in Darwin for this regatta."
A drop now comes into play, allowing those crews which disappointingly missed the cut-off in race one to lose their DNF (Did Not Finish).
There is one race remaining in the series and Hutton expects to run a final laid course of a reasonable distance, likely to be four miles for division two and six miles for division one, if the forecast westerly wind holds up on Monday June 12, 2017. The Bureau of Meteorology is predicting westerly winds during the morning then tending west to south westerly 10-15 knots during the late afternoon.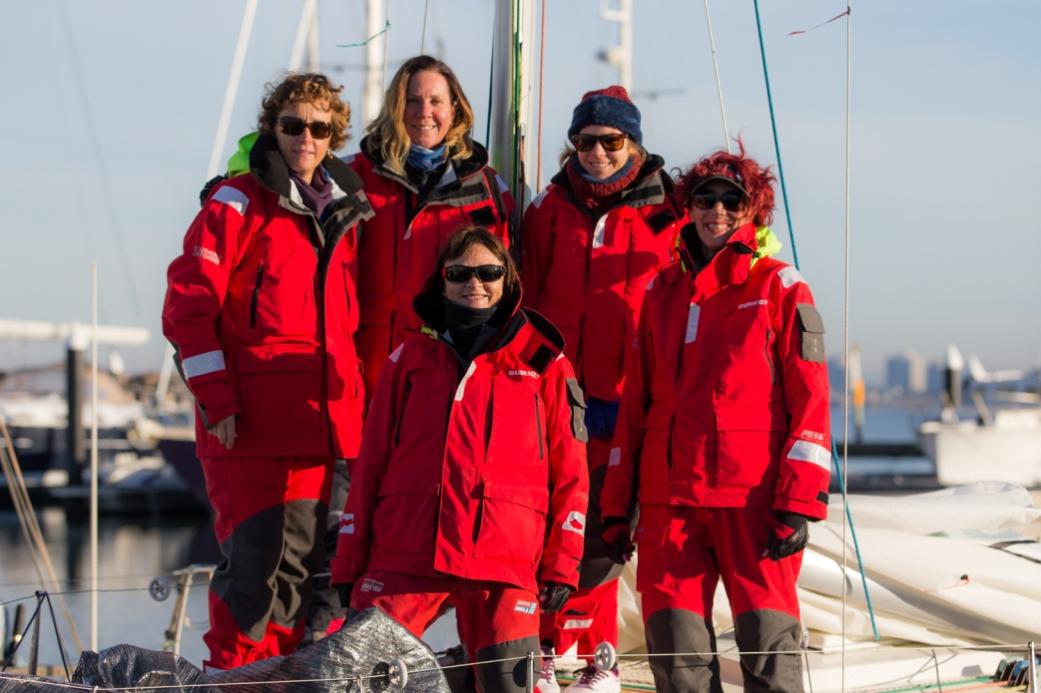 Imaginer Townsville crew - photo by Bruno Cocozza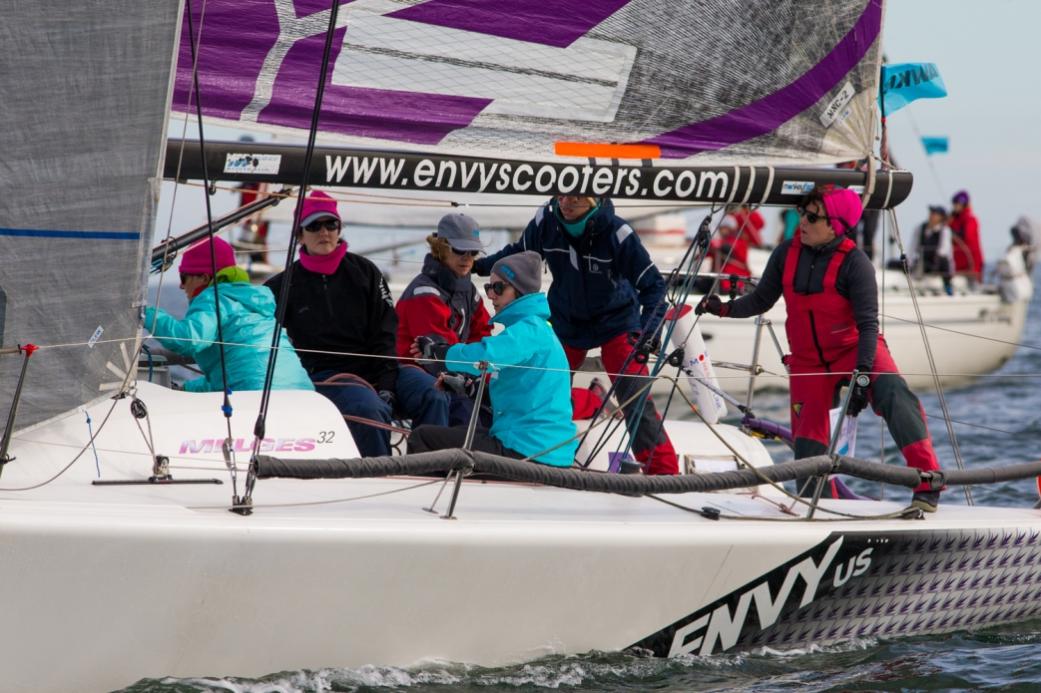 Envyus starting - photo by Bruno Cocozza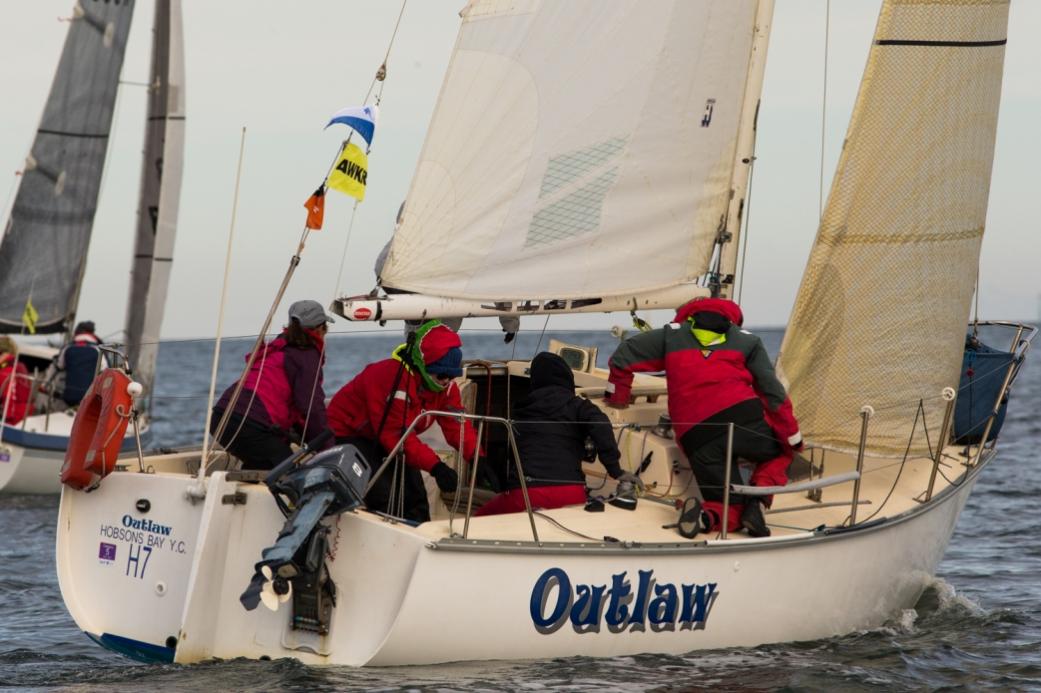 Darwin crew of Outlaw
- photo by Bruno Cocozza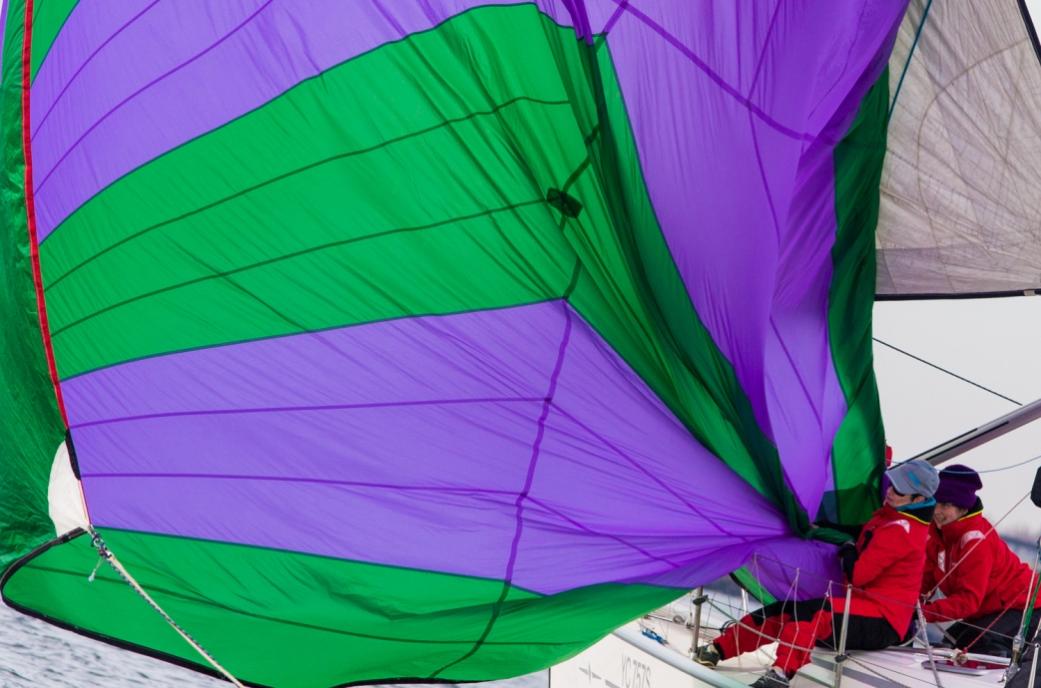 Kite drop on School's Out
- photo by Bruno Cocozza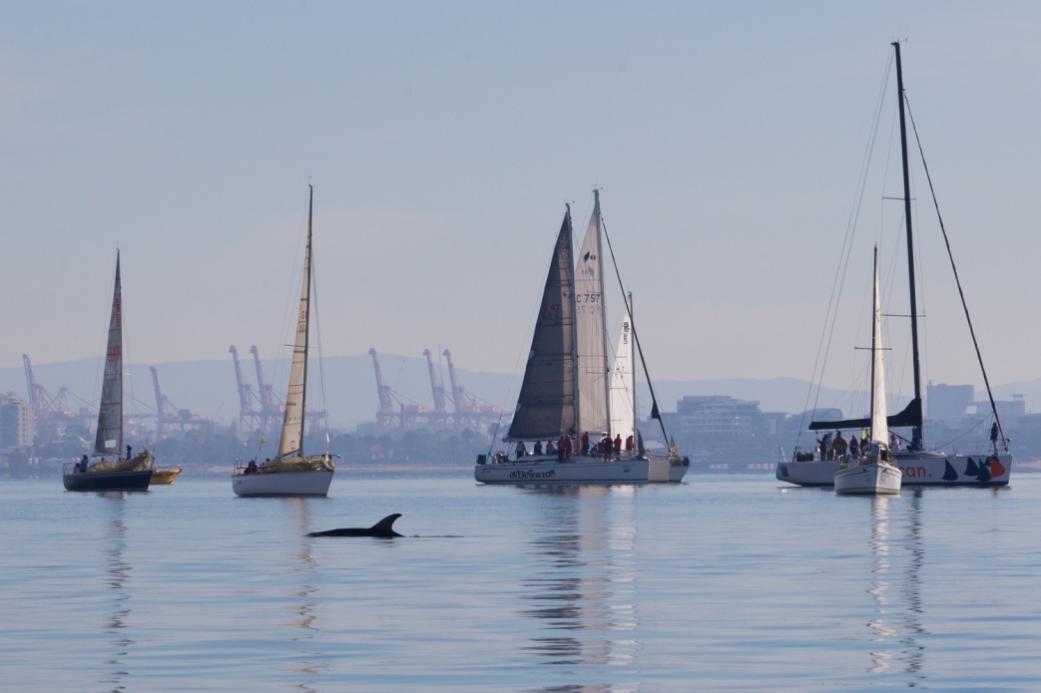 Dolphin during the morning glass-out -
photo by Bruno Cocozza
Light Forecast For Australian Women's Keelboat Regatta: 2017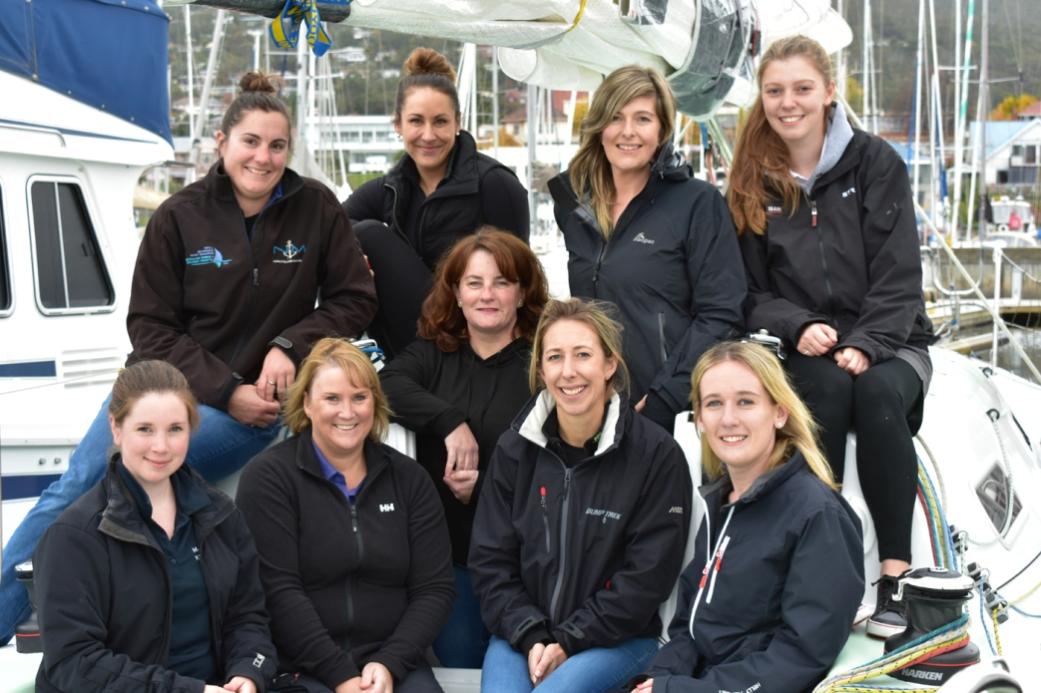 Skipper Colleen Darcey (centre, front row) with 9 members of the Tasmanian crew contesting the AWKR - photo by Jane Austin
Light forecast for Australian Women's Keelboat Regatta
Event: 27th Australian Women's Keelboat Regatta, June 10-12, 2017 on Port Phillip hosted by the Royal Melbourne Yacht Squadron, Victoria
Twenty four all-female crews representing each Australian state, the Northern Territory and New Zealand will be highly visible on Melbourne's Port Phillip this weekend at the annual Australian Women's Keelboat Regatta, June 10-12, 2017.
The Royal Melbourne Yacht Squadron and other bay clubs are facilitating three days of competition and camaraderie for close to 150 sailors of all experience levels from Olympians to novices racing a variety of designs from Colombia 22s at 22-feet up to the largest 40-foot keelboat.
A high pressure system means a long-range forecast of winds 10-15 knots and variable across the Queen's Birthday long weekend. Not the news South Australian skipper Mary-Ann Harvey wants for the Bavaria 40 cruiser School's Out that owner Adrian Wotton delivered to Melbourne for the women's regatta.
"We are a heavier cruising boat so we'd rather have a bit more wind," Harvey admits. "It's not looking like our best conditions but we'll have tons of fun and get some experience, and maybe next year there'll be more wind!"
First-time regatta skipper Harvey and her crew from the Cruising Yacht Club of South Australia were encouraged to put team together by the AWKR regulars and fellow South Australian sailors who have campaigned the Melbourne based Bavaria 38 Mrs Overnewton for many years.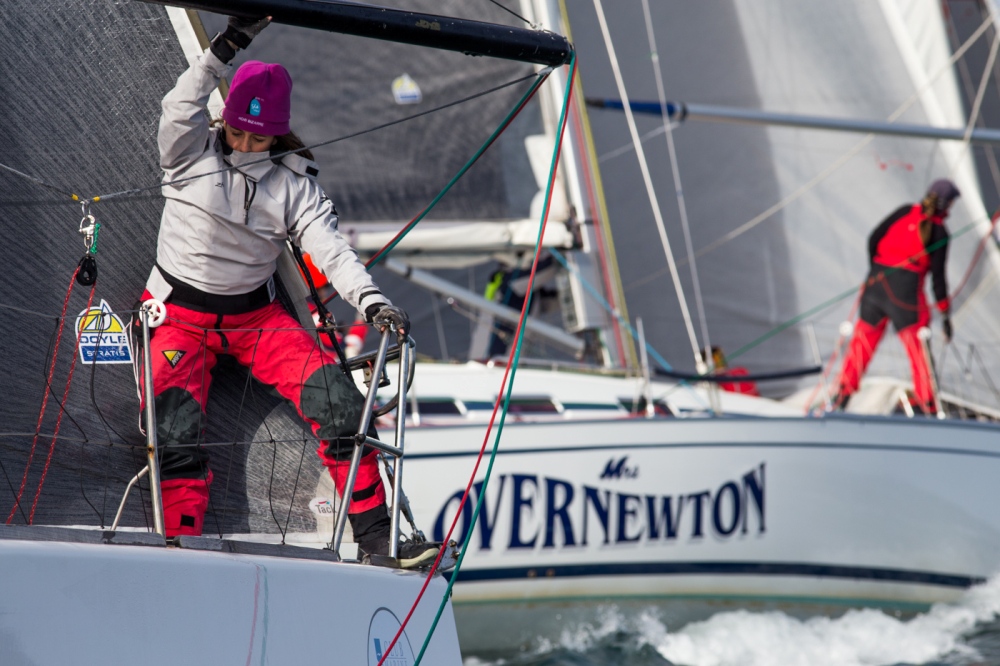 AWKR 2016 Mrs Overnewton in the background - photo by Bruno Cocozza

Tasmania is fielding its usual strong contingent, led by skippers Colleen Darcey and Judi Marshall. Darcey has an excellent AWKR record including winning all three handicap categories with the chartered Archambault 31 Penfold Audi Sports in 2012. This year's she's skippering an Archambault 35 called Absolut.
Many of the Tassie sailors are regular crew and helms among Hobart's big fleet of SB20 sports boats preparing for the SB20 world championship on the River Derwent next January.
Joining Darcey's crew of 10 this weekend is AWKR first-timer Jo Breen, who has signed on for next year's double-handed Melbourne to Osaka race. Breen worked as a delivery skipper, clocking up close to 30,000 nautical miles including delivering solo a 28-footer from the Azores to the UK, until joining the Tamar Yacht Club as sailing manager a year ago. She's entered her S&S 34 called Morning Star in the 5,000nm Osaka odyssey and is getting on with the completion of a huge refit including new mast, rudder, electronics and sails, in time for the race start next March.
"I'm really fortunate to be a part of the Tassie team this year, having met Colleen and many of the other team members through the SB20 racing in Hobart," Breen said. "It's been a great experience training and racing with these talented women and this weekend is a fantastic opportunity for us all to come together from the various yachts we usually race on."
RMYS on St Kilda's foreshore will host local and visiting crews and coordinate the 27th edition of the traditional long weekend schedule of racing and social activities. An AWKR briefing commencing at 1900hrs on Friday June 9 at RMYS will open the program and following Saturday's races the club will host a large-scale dinner function. Monday's trophy presentation straight after the completion of racing will mark the final organised event.
The long weekend forecast is for light winds south to south-westerly 10-15 knots decreasing to about 10 knots during Friday morning then on Saturday winds are likely to be variable below 10 knots.
The AWKR runs on the principles of generous owners, mostly RMYS members, loaning their boats for the weekend, encouraging and developing women in the sport, and fun. Two races are scheduled to start daily from 1000hrs to the west of the St Kilda breakwater and east of the shipping channel.
Major sponsors of this year's AWKR include Logie-Smith Lanyon Lawyers, Engine Property Group and Solid Group.
List of entries
Website
Facebook
By Lisa Ratcliff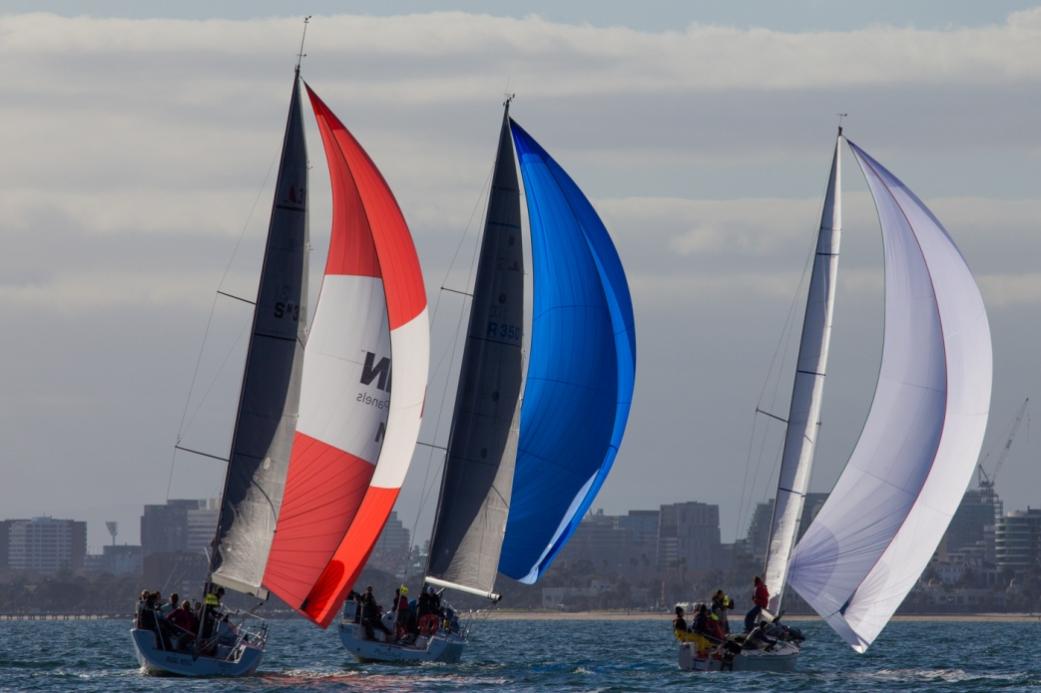 AWKR 2016 coloured kites on Port Phillip_credit Bruno Cocozza