August 11 - 17, 2019: Issue 416
24 Hour Row for One Eighty and Gotcha 4 Life 2019: set to sweat next weekend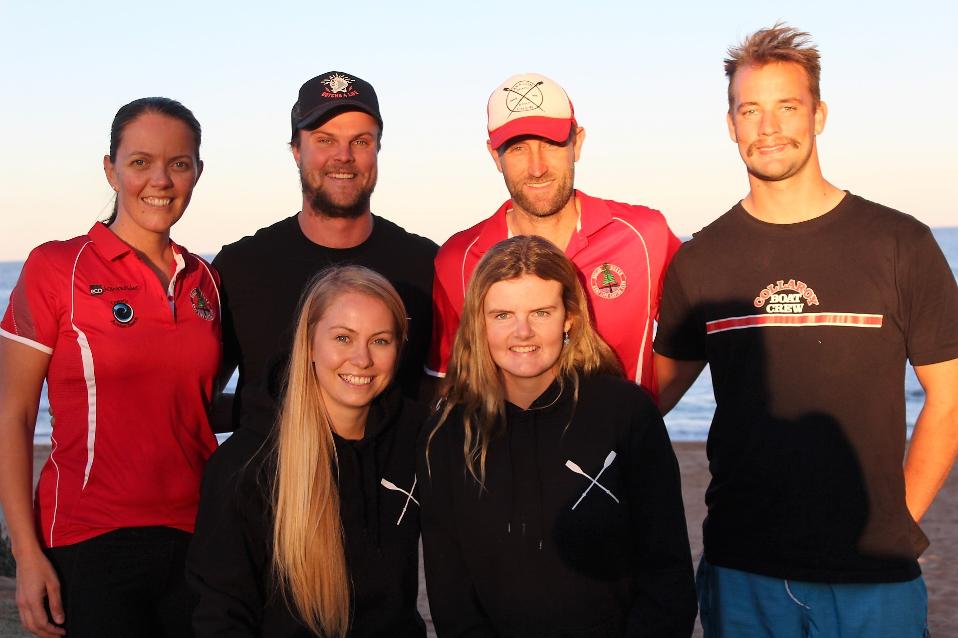 Left to right (back): Melissa Wellings, Nick Sampson, Nathan Wellings, Charles Jormanainen, (front) Daana Stoker and Laura Oliver.
Next weekend Avalon Beach SLSC, South Curl Curl SLSC and Collaroy SLSC/Chocolate Box Training groups, as well as members from other surf clubs such as Mona Vale SLSC and Bilgola SLSC, will be hopping on Rowing Machines to row continuously for 24hrs.
The rows are in order of raising awareness and funds for One Eighty and Gotcha 4 Life.
Donations are going straight into mental health, specifically local projects focused on developing awareness and equipping teenagers and young adults with skills in mental health care, for themselves and others.
In 2018 Avalon Beach SLSC raised $14,000 for the two groups to continue their work and support in our communities. This year they're aiming to do better than that total.
In order to do that Avalon Beach SLSC Boaties Division put the call out for other clubs on the Northern Beaches to undertake the 24 hour row and that challenge was taken up.
This year rowers are going for gold on rowing machines at their surf clubs and at Chocolate Box Training. The clubs have different teams and all team members will row without break for an hour and keep going until 24 hours have elapsed.
It's going to be a sweaty, testy, row-fest - and all for a great cause.
One Eighty began in March 2017 in response to a number of youth suicides in the local community. The group is behind initiatives such as Open Up, which offers an opportunity to sit, listen and talk openly with others.
'We talk about all kinds of stuff at Open Up, including: expectations, family, social media, identity, alienation, work pressures, school, anxiety, masculinity, body-image, depression, friends, control, lessons learned, challenges we're dealing with, relationships, life lessons... the list goes on.' - One Eighty
Open Up has sessions for guys + gals aged 18 - 29 years at Mona Vale and Manly and one for men over 30 which runs at Avalon Surf Life Saving Club - every 1st and 3rd Monday of the month, starting at 7 pm. There are also plans to have an Open Up based in Dee Why too.
Based here One Eighty is about developing, and implementing youth-focused mental health programs that equip young adults with skills in mental health care.
Some One Eighty Stats. (up until December last year):
Over 25 free workshops held across the Northern Beaches
Over 550 men engaged at two Tomorrow Man community events
Over 60 people trained in either Lifeline Accidental Counsellor or Mental Health First Aid
Gotcha 4 Life, as the name implies, is about getting each other's backs during those tough times we all experience. Gotcha 4 Life was established to reverse the tide of declining mental health and reduce suicide in men and boys.
Their focus is about the concept of healthy masculinity, giving men and boys the tools to start meaningful conversations by developing better social and emotional connections with their mates, families and community.
They champion the idea of mental fitness, building the social and emotional muscle and the resilience required to deal better with the challenges that life throws at us.
"We see a world where boys, men, mates and communities are open, honest and supportive in their relationships and comfortable to express themselves when they are not ok. We envisage a society in which all males have a Gotcha4Life mate who they can open up to, warts and all and rely on no matter what" - Founder Gus Worland
The rows are on Saturday 17 August 2019 to Sunday 18 August 2019, and all that sweating starts from 12 pm and will continue until the same time the next day – visit and cheer them on and throw some coins in those donation buckets or donate online.

Donations can be made now at:
Avalon Beach donations at: https://24hrrow2019.raisely.com/t/avalonslsc
Collaroy SLSC donations at: https://24hrrow2019.raisely.com/t/collaroy-slsc-chocolate-box-training
South Curl Curl donations at: https://24hrrow2019.raisely.com/t/southcurlcurlslsc