April 30 - May 6 2023: Issue 581
More than 220 new police recruits sworn in during first graduation of 2023: 8 allocated to Northern Beaches PAC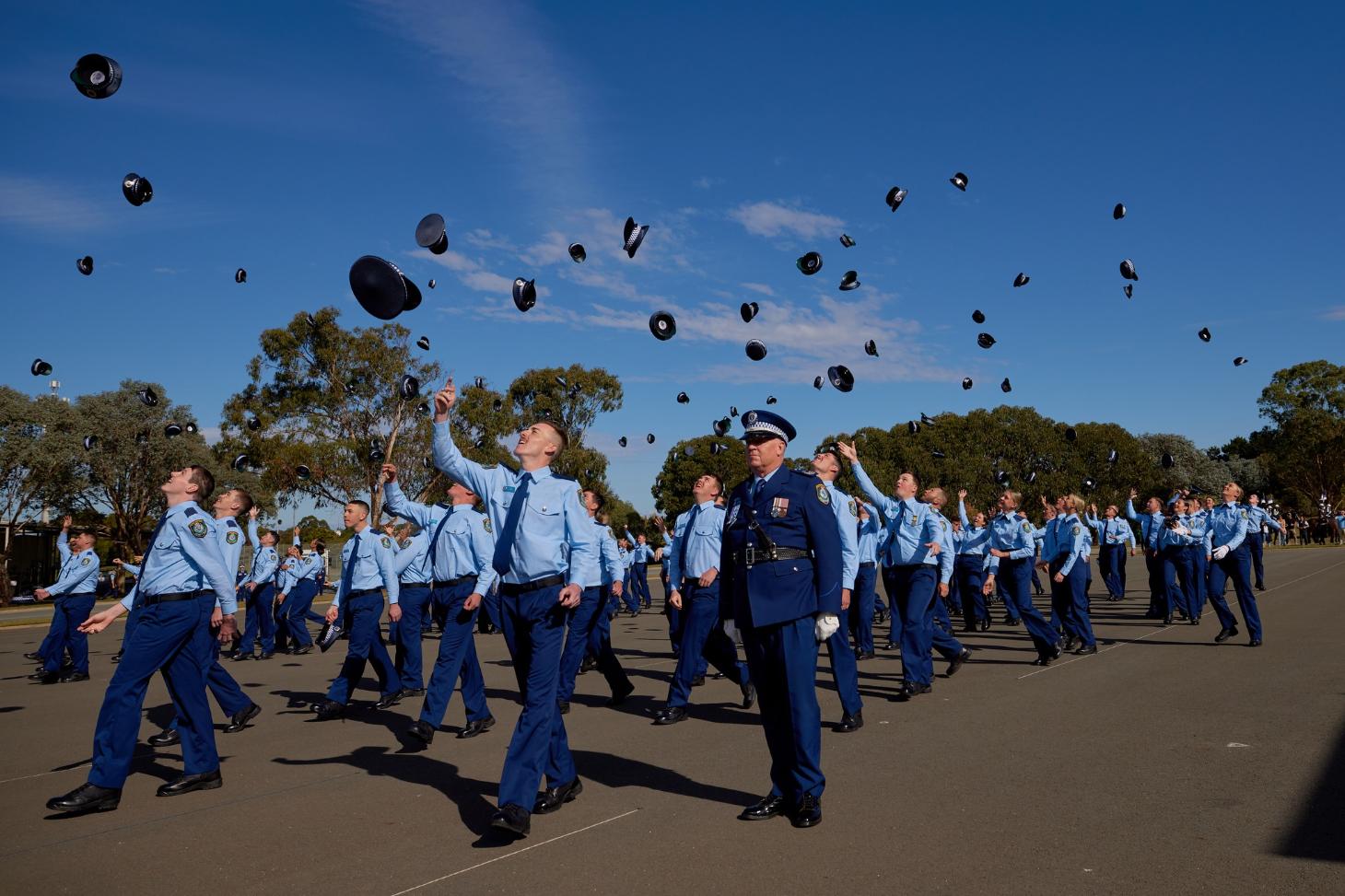 The NSW Police Force has welcomed 221 new probationary constables in the first class to attest in 2023 – Class 357 – at the Goulburn Police Academy on Friday 28 April 2023.
Minister for Police and Counter Terrorism, Yasmin Catley, joined NSW Police Commissioner, Karen Webb APM to welcome the new recruits, who will be deployed to police stations across the state from next week where they will complete their first year of on-the-job training.
The Northern Beaches PAC will receive 8 of these probationary constables and has extended a warm welcome.
Five police officers, who have collectively served as NSW Police officers for almost two centuries marched off the parade ground during the formal ceremony as they retire from the Force.
Additionally, three protocol and drill officers will marked their retirement on Friday, including Drill Sergeant Tony Wade who marks the end of his career at his 40th consecutive attestation parade, during which he oversaw more than 9000 graduating probationary constables.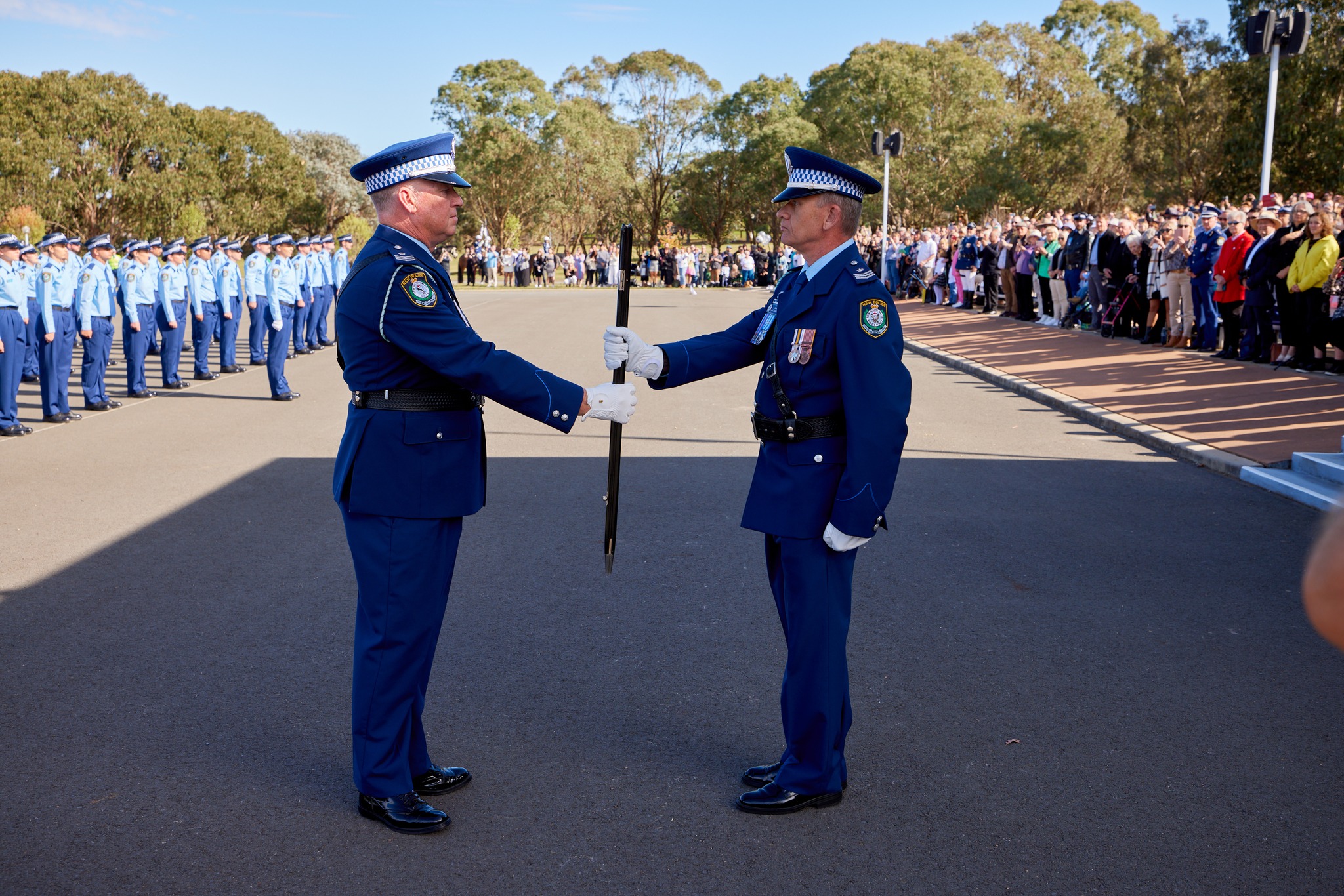 Minister Catley welcomed the new probationary constables to the NSW Police Force and thanked them for the important work they will be doing protecting and serving the public.
"Congratulations on being sworn in today as the newest members of our Police family; the enthusiasm, drive and commitment you will bring will be a great asset for many years to come," Ms Catley said.
"There's no escaping the reality that policing can be challenging – it is a role like no other and you are entrusted with great powers and responsibilities, but with the right support to guide you I look forward to seeing you all develop and thrive.
"To be a NSW Police officer takes great courage, resilience and compassion, but is also an important and satisfying job and I urge anyone considering it as a career to come forward and put yourself to the test.
"As Police Minister, I pay tribute to the hard work and dedication you have shown to get to this point, standing here proudly on the parade ground in the blue uniform that signifies your capability, commitment and promise to serve the people of NSW."
While many recruits are Australian-born, this year the graduating cohort is also made up of students from diverse backgrounds including India, Iraq, Nepal, Egypt and Argentina.
Of the 221 recruits, 158 are men and 63 are women.
NSW Police Commissioner, Karen Webb APM said each of today's attesting constables will have an integral part to play in keeping the NSW community safe.
"Today marks a very special day for the 221 probationary constables, as they officially join our modern and world-class Police Force and commence what can be an incredibly rewarding and diverse career," Commissioner Webb said.
"While today marks the end of one chapter in their policing journey, it also represents the beginning of another; one in which they will experience the great challenges and rewards of serving the community.
"Throughout their careers, I encourage all the attesting probationary constables to seize every opportunity, never stop learning, and to take pride in the uniform you wear everyday – as a NSW Police officer you are an integral member of your community and the work you will do throughout your career will make a difference to countless lives."
Commissioner Webb also saluted the five retiring officers and three protocol and drill sergeants as they march off the parade ground for the last time.
"The five officers marching out today, together with the three protocol and drill officers, have each led distinguished and exceptional careers and I am grateful for their dedication to the Force.
"They are exemplary role models for the recruits we are welcoming today and have demonstrated the very best of the Force throughout their varied policing careers, which span collectively over 200 years of service.
"On behalf of those who've had the pleasure of working with these distinguished officers, I would like to pass on my sincere thank you and wish them all the very best in their retirement."
Four of the recruits also received awards for outstanding academic, physical, marksmanship and practical policing achievements.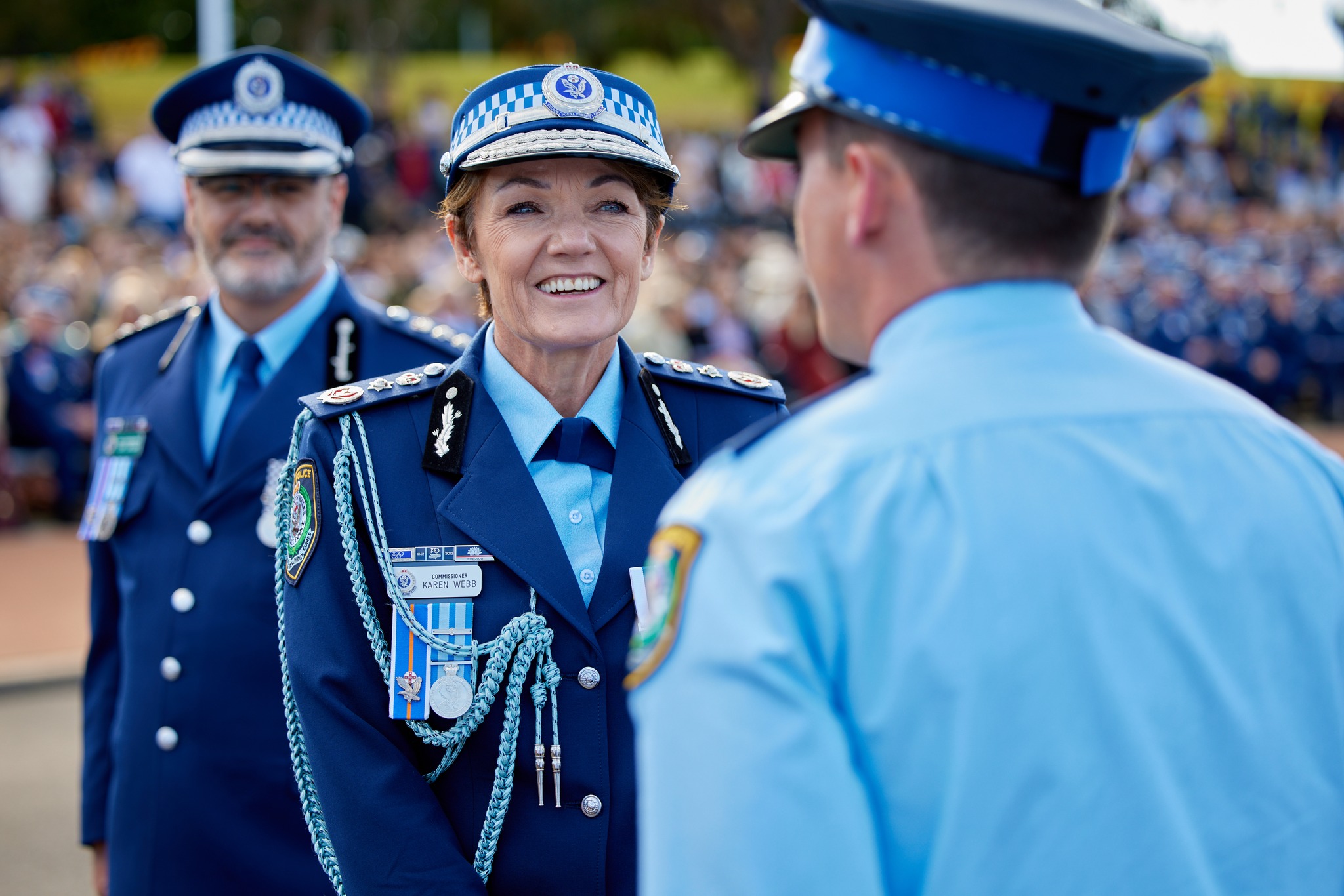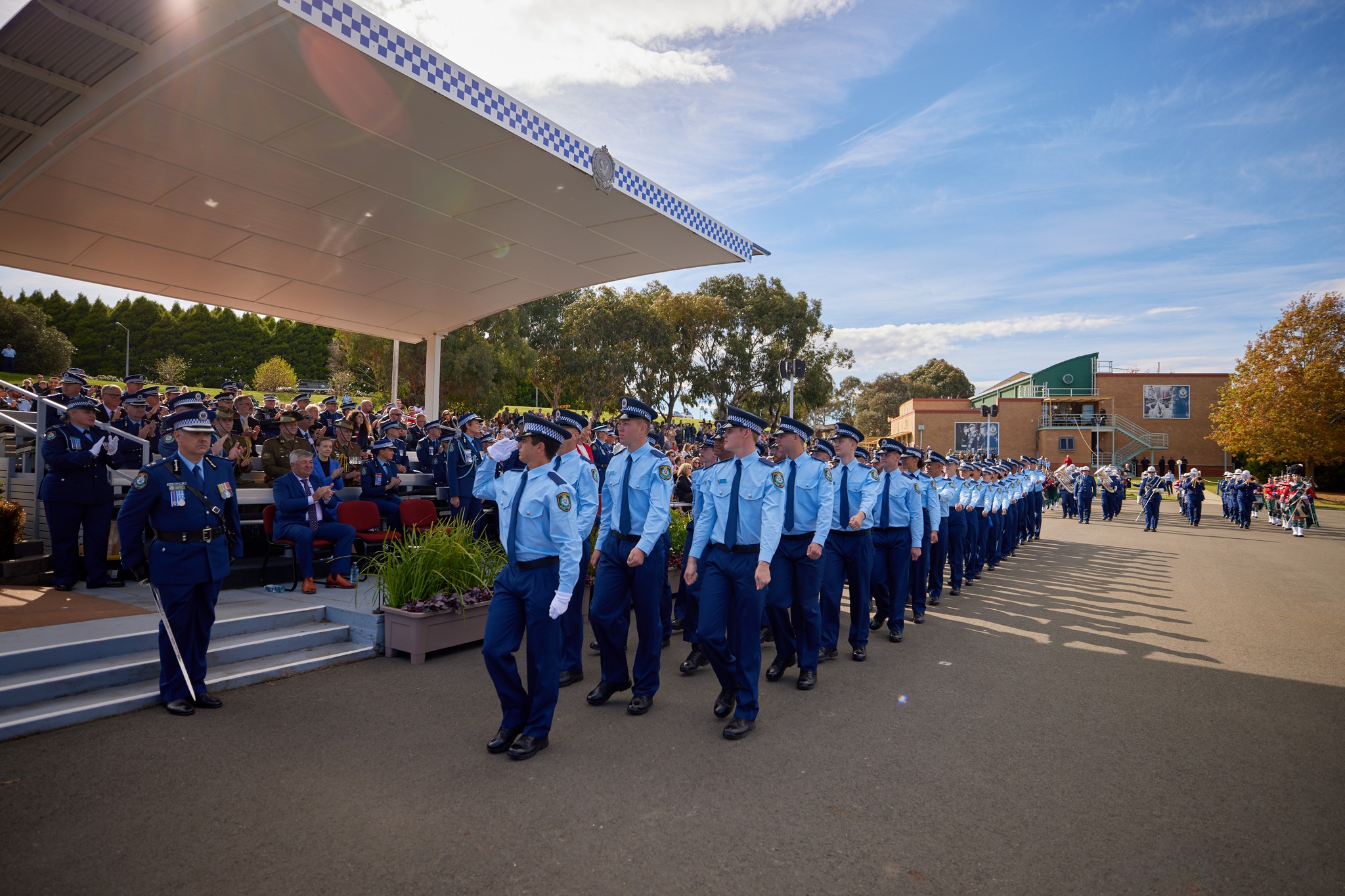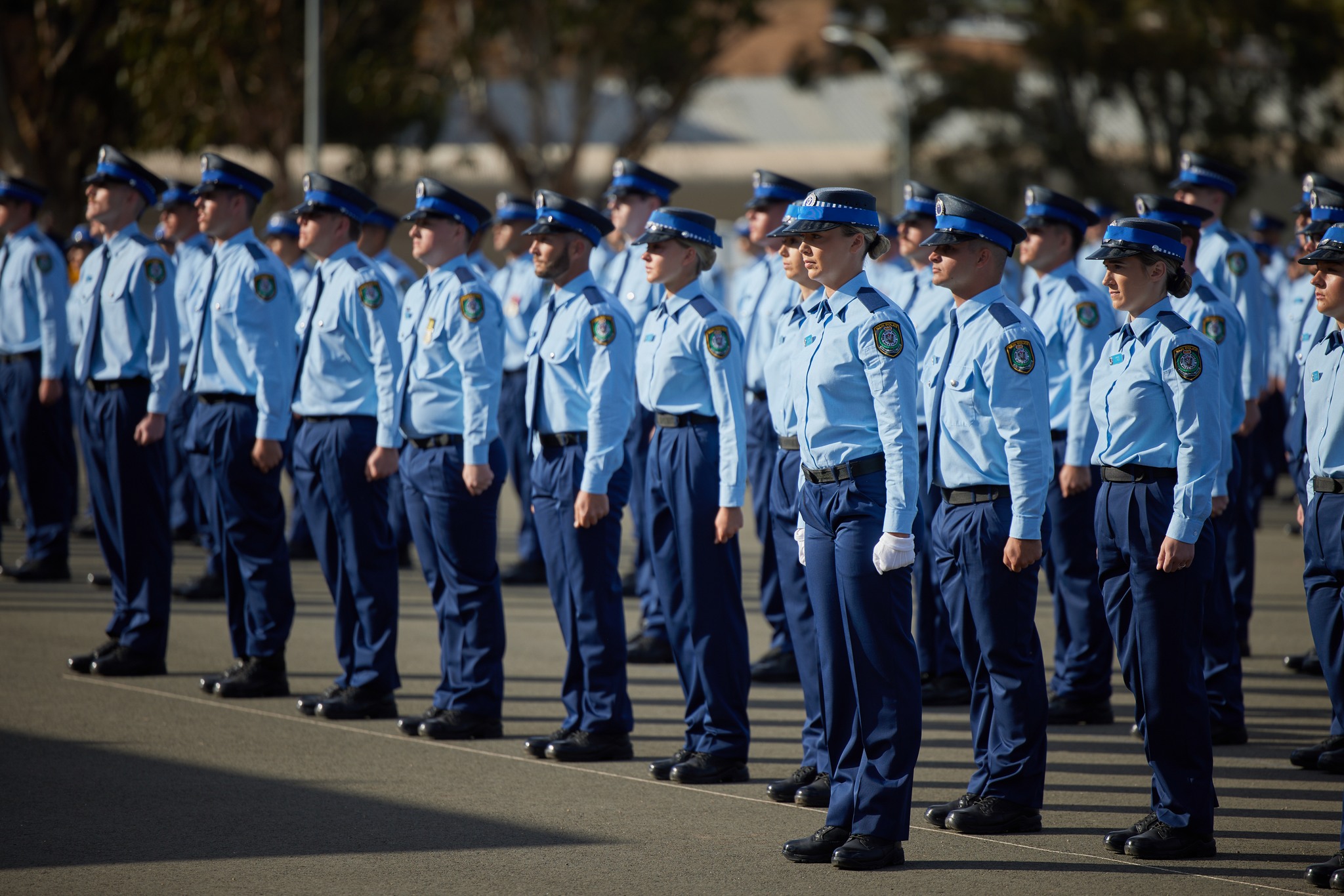 FACTS AND FIGURES ABOUT CLASS 357
A total of 221 recruits are being sworn in today. The class comprises of 158 men and 63 women.
The students will attest with the rank of probationary constable. Recruits will report to their stations for work from Monday 1 May 2023.
They will then complete 12 months' on-the-job training and study by distance education with Charles Sturt University.
They officially graduate with an Associate Degree in Policing Practice once they have passed all academic and operation standards. The officers will then be confirmed to the rank of constable.
Of the probationary constables attesting today, 190 were born in Australia and 31 were born overseas. Their countries of origin include Philippines, Nepal, India, Iraq, France, Italy, Japan, and Egypt. Seven recruits are Indigenous.
Class 357 comprises of ages:
18-20 – 45
21-25 – 90
26-30 – 52
31-35 – 24
36-40 – 7
Over 40 – 4
ATTESTATION – Police Area Command & Police District Allocations
CENTRAL METROPOLITAN REGION – 62
Eastern Beaches PAC – 8
Eastern Suburbs PAC – 5
Inner West PAC – 6
Kings Cross PAC – 3
Leichhardt PAC – 2
South Sydney PAC – 8
St George PAC – 6
Sutherland Shire PAC – 10
Surry Hills PAC – 6
Sydney City PAC – 8
NORTH WEST METROPOLITAN REGION – 36
Blacktown PAC – 2
Kuring Gai PAC – 4
Hawkesbury PAC – 3
Mt Druitt PAC – 6
Nepean PAC – 6
North Shore PAC – 5
Northern Beaches PAC – 8
Parramatta PAC – 3
Riverstone PAC – 2
Ryde PAC – 6
The Hills PAC – 2
SOUTH WEST METROPOLITAN REGION – 26
Auburn PAC – 5
Burwood PAC – 4
Camden PAC – 2
Campbelltown City PAC – 6
Campsie PAC – 1
Cumberland PAC – 6
Fairfield City PAC – 5
Liverpool City PAC – 4
NORTHERN REGION – 44
Brisbane Water PD – 3
Coffs/Clarence PD – 6
Hunter Valley PD – 2
Lake Macquarie PD – 3
Manning/Great Lakes PD – 3
Newcastle City PD – 4
Port Stephens-Hunter PD – 2
Richmond PD – 6
Tuggerah Lakes PD – 4
Tweed/Byron PD – 4
SOUTHERN REGION – 33
Lake Illawarra PD – 1
Monaro PD – 3
Murray River PD – 6
Murrumbidgee PD – 7
Riverina PD – 3
South Coast PD – 2
The Hume PD – 2
Wollongong PD – 2
WESTERN REGION – 21
Barrier PD – 3
Central North PD – 2
Central West PD – 2
Chifley PD – 3
New England PD – 5
Orana Mid-Western PD – 4
Oxley PD – 2
TOTAL ALLOCATIONS – 221
Report and photos by NSW Police Force