November 5 - 11, 2023: Issue 604
2023 Sydney To Hobart: Entries Close With 120 Teams + Hall Swaps Two-Handed Racing For Exciting New Project With Youth Sailors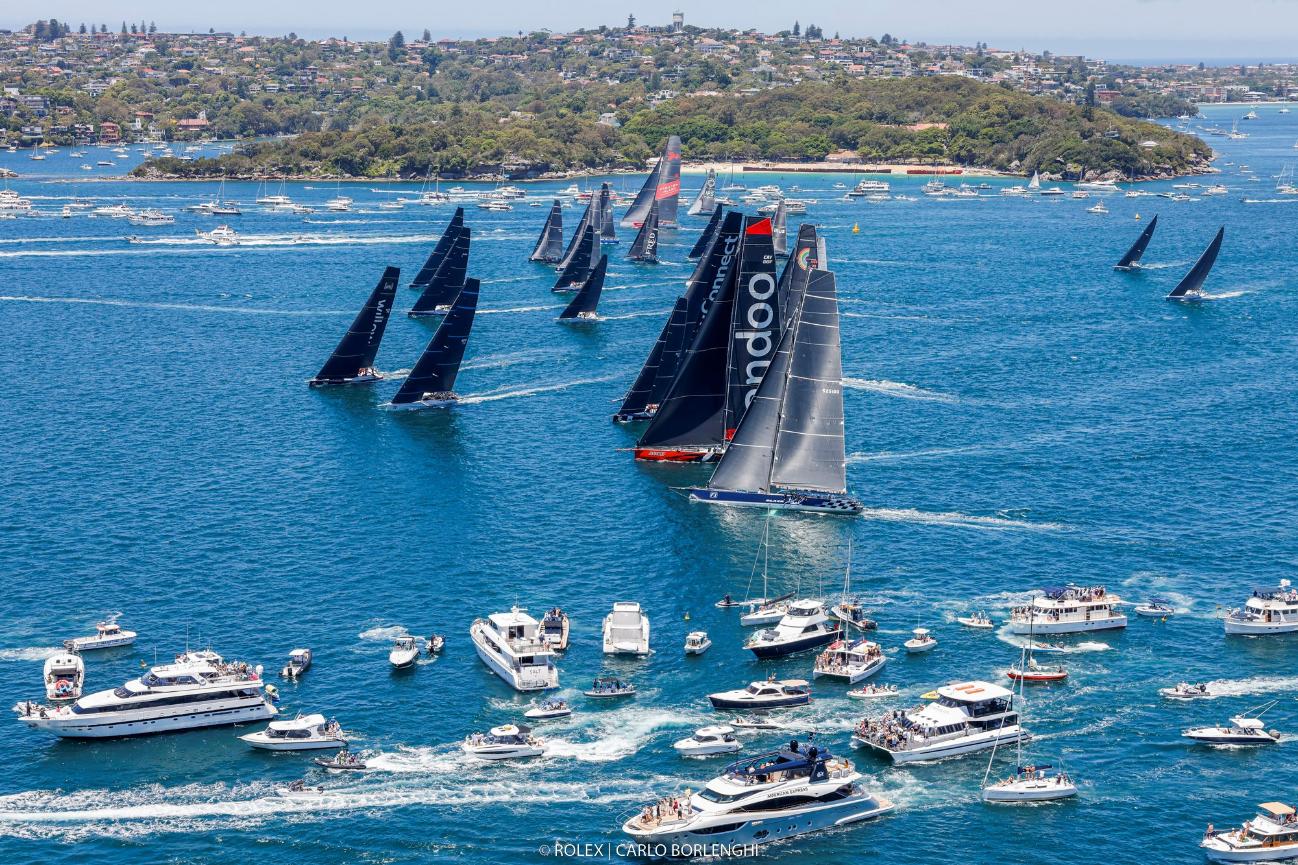 photo: Start of the Rolex Sydney Hobart Yacht Race 2022.Credit: Carlo Borlenghi | Rolex
Entries for the 78th Rolex Sydney Hobart Yacht Race closed on Friday October 27 and the lineup of 120 boats is one of the most open and diverse fleets in years.
The 628nm classic which starts on Sydney Harbour on Boxing Day, 26 December, has attracted entries from around the globe and features ten international teams - representing New Zealand (3), Hong Kong (2), New Caledonia, USA, France, Germany and Ireland.
There are 110 Australian boats hailing from six states – NSW (64), QLD (20), VIC (16), TAS (7), SA (1) and WA (2).
Boats range in size from the smallest - two diminutive 30-foot two-handed entries, Kathy Veel and Bridget Canham's Currawong 30 Currawong and Marc Michel and Logan Fraser's Dehler 30 Niksen from New Zealand - all the way up to the four maxi 100-footers: Andoo Comanche, Law Connect, SHK Scallywag and Wild Thing 100 (formerly the Botin 80 Stefan Racing). The John H Illingworth Challenge Cup for Line Honours victory will be hotly contested by these larger boats who have all featured in recent years.
The oldest boat in the fleet is Ena Ladd's Colin Archer-designed double-ender Christina, built in 1932. Robert Williams is campaigning Sylph VI, built in 1960, which competed in the Sydney Hobart five times up until 1972 and is making its return to the Great Race after having circumnavigated the globe and spending the past five decades cruising. Four boats were built in the 1970s: the ubiquitous Victorian entry Bacardi, first all-female two-handed entrant in 2022, Currawong, three-time Overall winner Love & War and Queensland's Son of a Son. A further 27 were launched in the last century.
21 boats will be competing two-handed –17.5% of the fleet. This number is testament to the growing interest and standard of competition in the division across Australia and around the world.
There are 96 boats competing under IRC for the prestigious Tattersall Cup and 24 under PHS Handicap.
With only two more races scheduled in the 2023/24 Audi Centre Sydney Blue Water Pointscore and the 2023 Australian Maxi Championship (1-5 December) ahead of Boxing Day, it will be a busy two months of training and fine-tuning of boats and crews to prepare for what is traditionally one of the most challenging yacht races in the world.
"The 2023 Rolex Sydney Hobart promises to deliver another enthralling spectacle for both sailing afficionados and general public alike. As one of the most watched sports over the Australian Summer and with worldwide interest and coverage of the race continuing to grow each year through the support of media and broadcast partners, the race is truly one of the highlights of the international sailing calendar." CYCA Commodore Arthur Lane
Visit the Rolex Sydney Hobart website to view the full fleet. : www.rolexsydneyhobart.com/the-yachts
Hall Swaps Two-Handed Racing For Exciting New Project With Youth Sailors
Disko Trooper­_Contender Sailcloth was launched in time for Jules Hall to contest the 2021 Rolex Sydney Hobart - in two-handed mode with Jan 'Clogs' Scholten - the pair making a name for themselves and the boat early on, but this year a change in circumstances means they have adopted a new approach to the race.
Scholten, a respected figure in sailing, is unable to race this year, so Hall hatched a new plan and Scholten has given it his seal of approval, agreeing to continue on as naming rights sponsor with Contender Sailcloth.
The J/99 design is contesting the Cruising Yacht Club of Australia's (CYCA) 2023 Audi Centre Sydney Blue Water Pointscore, inclusive of the Rolex Sydney Hobart Yacht Race. The program has also benefitted from the considerable support of Ian Short Sails.
In his role as a director of the CYCA (the organising authority of the 628 nautical mile Rolex Sydney Hobart), Hall along with the Board and management team are actively encouraging age and gender diversity in the Club's offshore fleet, so it seemed the right time to do the race fully crewed – with women and a mix of youngsters from the CYCA Youth Sailing Academy (YSA).
Scholten remains involved in a more comfortable shore-based capacity as Head Coach and Chief Adviser for the team.
"I was at loose end with Clogs unable to sail two-handed with me this time, so I decided to do it completely differently," Hall shared.
"I asked Wendy Tuck to join me as my second in charge. From there, a rigorous training schedule was put in place after my return from the Rolex Fastnet Race in August.
"It started with essential safety training, led by Wendy, the previous Chief Instructor of the Clipper Race training base in Sydney and now On Water Operations Manager for the Making Waves Foundation," Hall said.
"From there, it progressed to boat handling and offshore racing principles.
"Wendy's training experience is invaluable" Hall said of the first woman to win an around the world race.
The Flinders Islet race was the crew's first race together. "We were leading the race overall, then we found a hole and ground to a halt," Hall commented with a wry laugh.
"Since then, we've scored third overall in the 260nm Tollgate Islands Race and placed second in IRC Division 2 and first in the Wild Rose Pointscore (25 percent of crew has to be female to be eligible for the latter pointscore)."
Tuck, from Sydney, has 15 Hobarts to her credit and has given many the benefit of her expertise since her world victory, twice skippering yachts in the Clipper Round the World race, crewed mainly by novice sailors.
Tuck is supported by Emma May, who since sailing with the YSA, has contested seven Hobarts on the bow of several top performing yachts, while Charlie Watts did his first Hobart last year. First timers on the crew are Nathan Gulliksen and Mark Murray.
Disko Trooper_Contender Sailcloth, a J/99 design, is the perfect yacht for the newly formed crew. It is set up for two-handed sailing making it simpler to sail.
It was on this boat that Hall and Scholten won the Two-Handed division in the 2021 Hobart. Although not eligible for the Tattersall Cup that year, they would have finished an incredible fourth overall had they been included. The pair then finished second overall in last season's Cabbage Tree Island and Pittwater to Coffs Harbour Races in two-handed mode.
Of sailing his boat fully crewed, Hall says, "In the UK when we were 25, three of us bought a 28 footer, Jameson Irish Whiskey sponsored us and we won our division at Cowes Week. We also won the JOG offshore series in the UK." Then he came to Australia and sailed with a number of high-profile offshore campaigns.
"But this is the first time I've campaigned the J/99 Disko Trooper_Contender Sailcloth fully crewed. It's fun learning something new. It's completely different to sailing two-handed. I was surprised how quickly we went in the light Flinders Islet Race," he said. "And it's fantastic to have more people to talk to!"
"Sailing two-handed is really single-handed sailing a lot of the time. The youngsters are proving to be rather entertaining company, as well as handy sailors."
For his part, Scholten conceded, "Contender Sailcloth has built a fantastic partnership with team Disko Trooper, proving the performance of panel sails and our ZZ Jet Black sailcloth on boats of this size.
"We're especially excited to be continuing our support for this season's program with the youth crew. It's an incredible opportunity for these younger sailors to take on leadership roles in a serious offshore program, learning a lot from Jules and Wendy."
To follow Disko Trooper_Contender Sailcloth's progress in the 2023 Rolex Sydney Hobart from 26 December, visit: https://rolexsydneyhobart.com/ and click on 'Tracker' and/or 'Results' or their Instagram handle @disko_trooper
By Di Pearson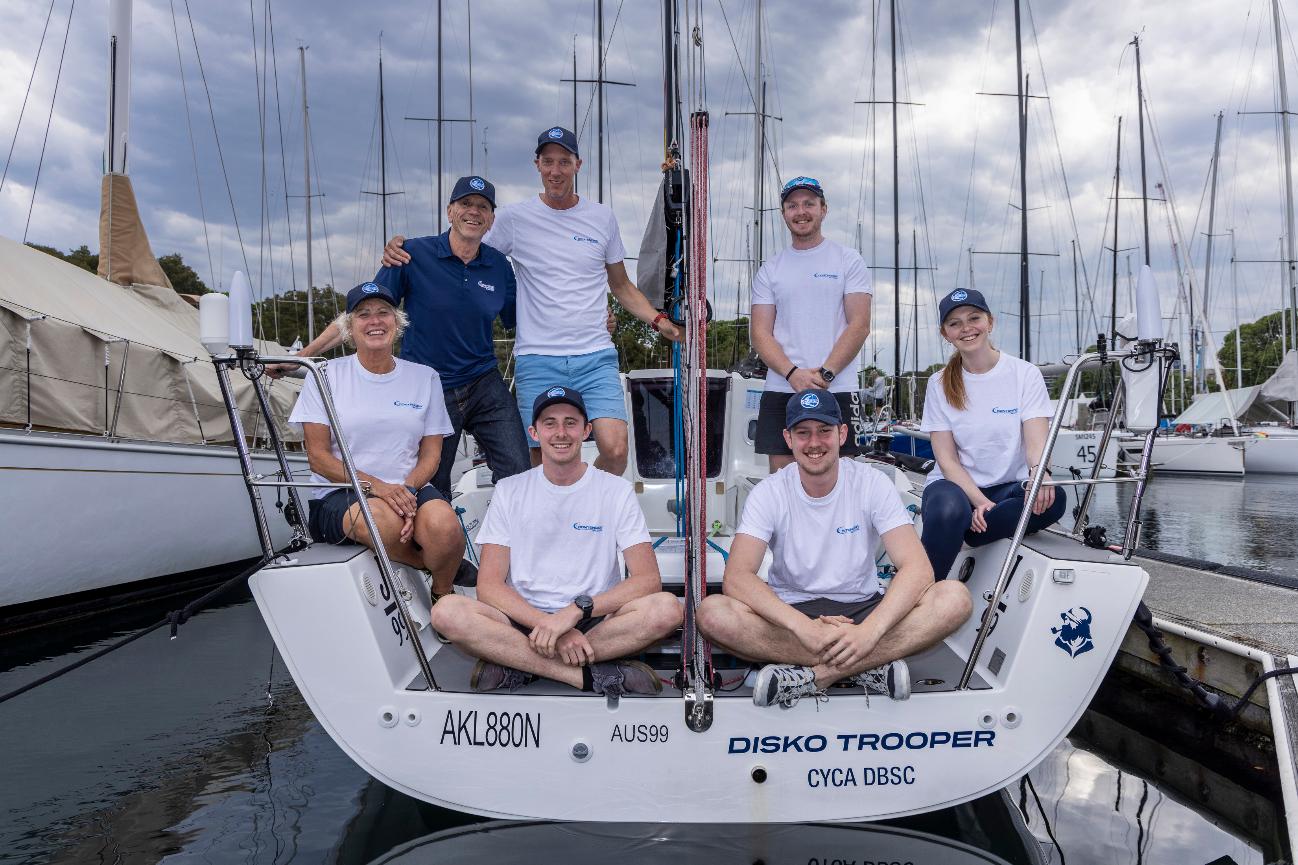 Photo shows: Back left Wendy Tuck, Jan 'Clogs' Scholten, Jules Hall, Nathan Gulliksen, Emma May. Front from left – Mark Murray, Charlie Watts. Photo: Andrea Francolini