October 15 - 21, 2023: Issue 601
2023 Referendum: Yes in Mackellar by less than 1%, Yes in Warringah by 18%, Yes in North Sydney by 19%, Yes in Wentworth by 25.32% - despite a no total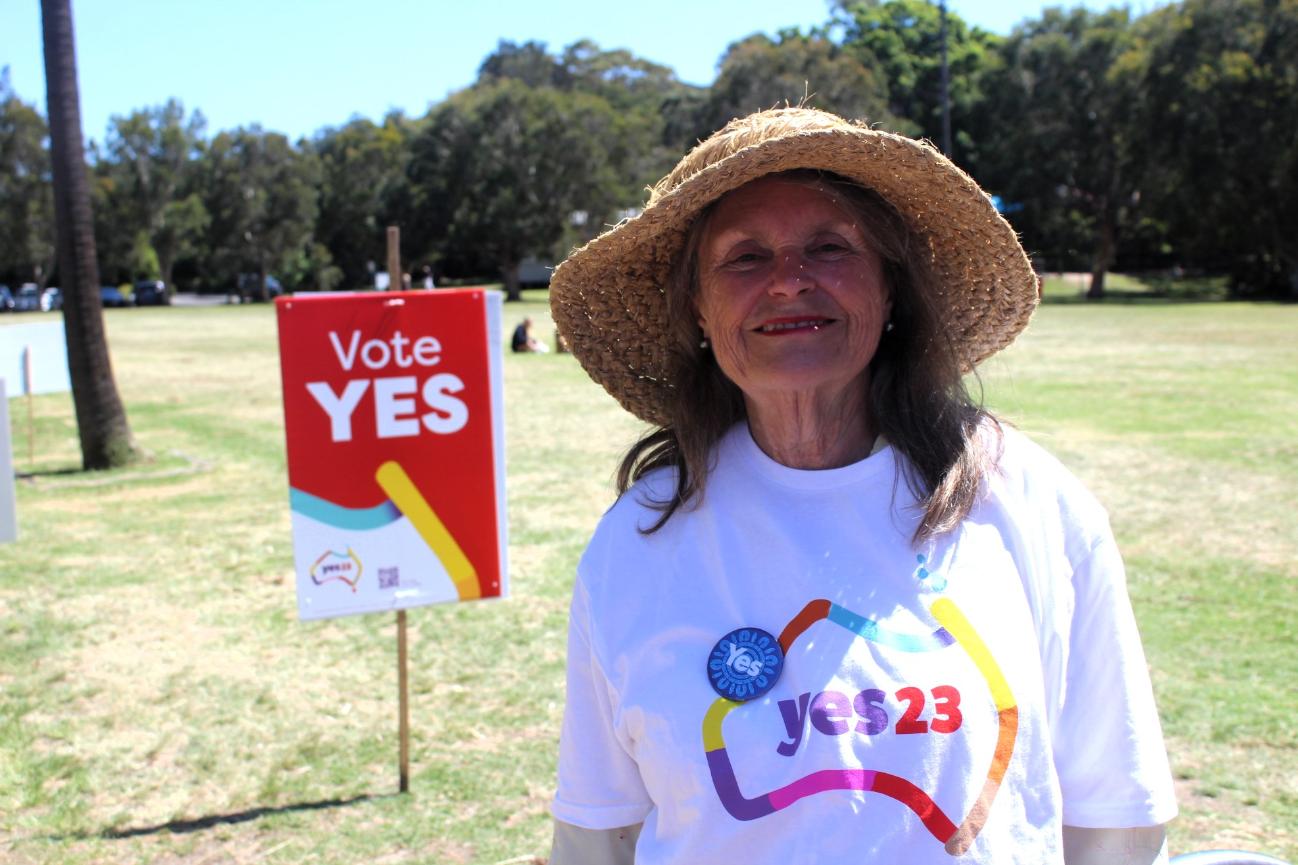 A Yes campaigner handing out flyers outside Avalon Rec. Centre yesterday, October 14.
The 2023 Referendum to record in the Australian Constitution recognition of our First Nations people as the original custodians of this place may have been lost but across the Independent seats won at the last Federal election there has been a resounding 'yes' to the proposal with Mackellar showing the slimmest margin, according to the AEC's
NSW Tally Room
.
The highest margin occurred in Allegra Spender's Wentworth electorate, named for the first Mackellar MP's ancestor William Charles Wentworth. Bill Wentworth was a campaigner and part of the 1967 Referendum and the Minister in Charge of Aboriginal Affairs, the first Minister to hold this office.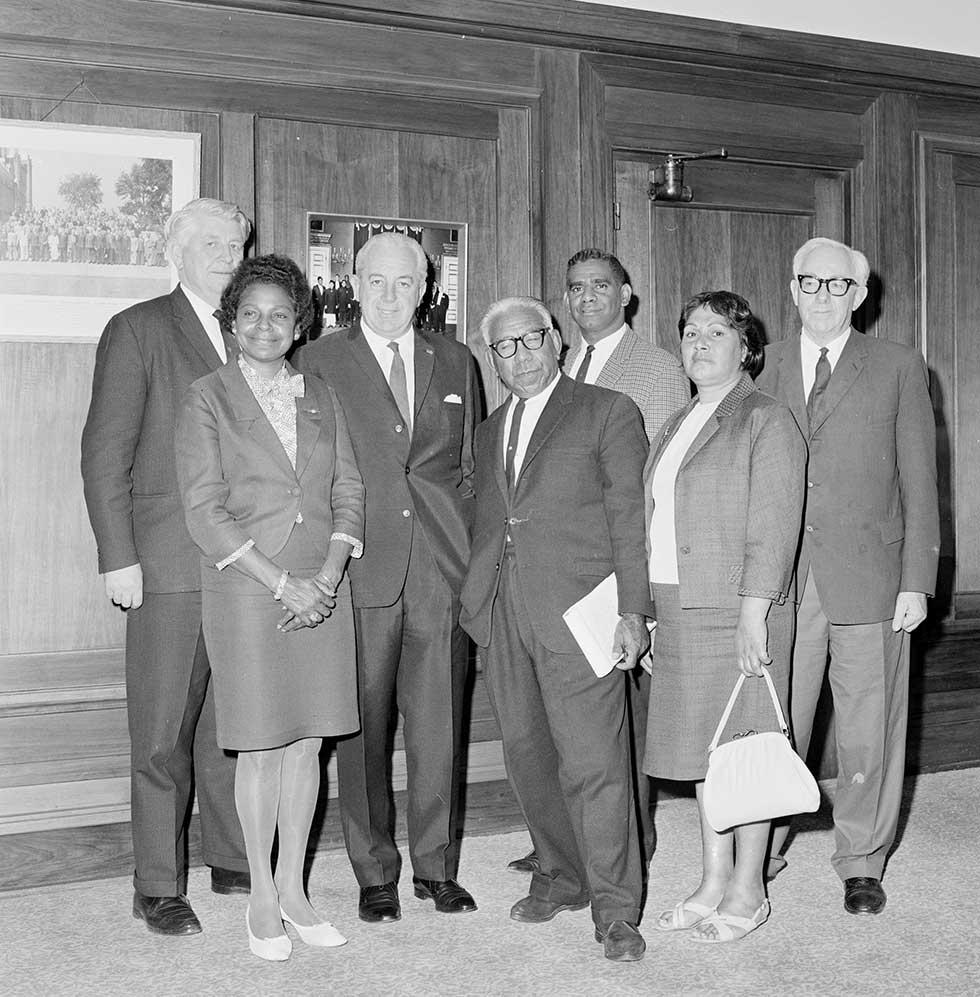 First Australian campaigners meet with Prime Minister Harold Holt seeking support for the 1967 referendum. Left to right: Gordon Bryant MP, Faith Bandler, Prime Minister Harold Holt, Douglas Nicholls, Burnum Burnum (Harry Penrith), Winnie Branson, William Wentworth MP
The highest margin differences at polling booths across the Mackellar electorate were at Terrey Hills Community Centre PPVC, Yulong Ave, yes; 2,014 no; 3,218, Bilarong Community Hall PPVC, Bilarong Reserve, Wakehurst Pkwy, yes; 5,049 to no; 6,449, a PPVC that was festooned with 'no' campaign material, and Avalon Recreation Centre PPVC, yes; 4,380 to no; 3,535 and the Brookvale PPVC, yes; 3,007 and no; 3,730.
That so many had voted at Pre Poll Voting Centres accounts for an emptiness around these booths and streets on Saturday October 14 and some disappointment for youngsters who had baked cakes and manned sausage sizzles to raise much need funds for their sorting clubs and community organisations. People had already made up their minds and cast their votes before Referendum Day 2023 and were not taking part in any Saturday election atmosphere.
Today, Sunday October 15, is a day of mourning for Indigenous peoples who wanted this to be a Yes across Australia, one of thousands that have occurred since this land was colonised by Europeans, and a day of satisfaction for those who campaigned against this referenda, with some media outlets asking if Prime Minister Anthony Albanese should resign two hours after polls had closed, thereby revealing their agenda as propagandists still upset over losing the last election instead of non-partisan reporters.
Across Australia there have been First Nations people who voted 'no' as well - most of these individuals stating no one consulted them about whether they wanted this and they are weary of a handful who place themselves in charge deigning to speak for them and certainly don't want that to be instituted at a national level.
This has been a debate that was turned into a conflict. Residents have witnessed racist attacks on people in the street for wearing a 'yes' t-shirt, angry arguments on social media between neighbours, and disinformation alike that seen in America spread.
The AEC had to run a webpage disabusing lies such as:
Disinformation: Postal votes are not a safe way of casting a vote. This form of voting can lead to the AEC changing your vote to 'rig the referendum'. A 'stack' of postal votes will appear at 2am the morning after the referendum for one side of the referendum to ensure a predetermined result, as happened in the US Presidential election.
Disinformation: The provision of pencils at polling places by the AEC is part of a plan by the AEC, or officers of the AEC, to change the referendum result by rubbing out votes.
Disinformation: The writ for the 2023 referendum is not legitimate as it was not issued with the Great Seal of the Commonwealth. The Writ must be displayed at all polling places.
Disinformation: Increases in the number of people on the electoral roll, and the achievement of a record high enrolment rate, indicate 'roll stacking' or an integrity issue with the roll.
Disinformation: There will be two questions on the 2023 referendum ballot paper. If you vote a particular way to one question it will 'override' the answer to the other question.
Disinformation: Promoting enrolment for Indigenous Australians is campaigning for a Yes vote "by stealth".

Liberal MP Julian Leeser, who quit the Coalition frontbench to champion a Yes vote and was a member of a forum held by the Aboriginal Support Group Manly Warringah Pittwater in Mona Vale, said he remained optimistic the "cause for reconciliation will ultimately succeed".
"To every Indigenous Australian I say, this was a vote about the constitution, it was not a vote about you. It is an undeniable fact that you are our land's first peoples and I honour you this night," he said.
Likewise Ken Wyatt quit the Liberal Party over its decision to formally oppose the government's plan to enshrine an Indigenous Voice.
Tasmanian Liberal MP Bridget Archer, a campaigner for Yes in the federal Coalition party room, said it would be "very difficult" for Australia to move forward.
"There has been really terrible things said that are very hard to repair the damage from," Ms Archer said.
Independent senator Lidia Thorpe, a leading No campaigner, continues to call for a treaty with First Nations people before the constitution was changed.

Mackellar MP Dr Sophie Scamps posted on social media on Saturday night;
While the Voice may not have been successful, it's time for Australia to come together and do what we can to improve the lives of Indigenous Australians.

We know that Indigenous Australians experience worse health, social and economic outcomes than Non-Indigenous Australians.

It's time for politicians from all sides to end the arguments, and come together to help create policies that will Close the Gap and lead to better lives for Indigenous Australians.
Others have called throughout this debate, and call still for 'truth-telling'. Truth-telling is defined as involving activities at local, state, national, and international levels. For example: official apologies, truth and reconciliation or other inquiries and commissions, memorials, ceremonies and public art.
It can be a way to reclaim lost of pushed aside facts. One example often cited is to tell the under-told aspects of our history is the Myall Creek Massacre Memorial. The renaming of places has also grown as a means of truth-telling; museums and cultural centres are thinking about how to better take account of our shared Australian history.
Of course Neil Evers, as local descendant of Indigenous peoples in what is now called Pittwater has explained, we cannot rename or have access to the meaning of the language spoken here and its meanings and knowledge as that is mostly lost - we have the word Barrenjoey, meaning little kangaroo, petroglyphs marking scared places and songlines through our area, but little else has survived.
Truth-telling is available though, if you look hard enough. Old Bayview residents such as the Shaws' oral histories recount First Nations peoples tending the sick here and in turn being tended when they were ill. The Queen of Scotland Island is no figment of the imagination either.
Nor is our ability to search old newspapers and read what was recorded there. Andrew Thompson, who was given Scotland Island as a land grant, appears in The Sydney Gazette and New South Wales Advertiser 1805 accounts, just 17 years after First Nations Broken Bay peoples showed Governor Phillip where clean water, food and shelter were in Pittwater, as one who hunted and shot the original residents of this place, just as he and his fellow colonists were being hunted and killed themselves:
The successful assault made upon the Branch natives by a party of Richmond Hill and adjacent settlers a fortnight since would perhaps have been decisive, as most of the principals must have fallen into our hands, had not the treachery of a man but little suspected prevented their surprise.
The country being much inundated at the time the party operating with Mr. Thompson, set out from the Green Hills for the Nepean, Mr.T. having provided a baggage waggon, in which among other necessaries a boat was conveyed for the purpose of crossing the River, not then fordable.
The depth of water in many parts of the road approaching the river preventing the waggon from proceeding the boat was of necessity taken out, and transported by the party on their shoulders for several miles. When they had crossed the river at the spot where the native encampment had been the day before, they perceived that the tents were abandoned; and here the pursuit must have closed had it not been for the assistance rendered by a couple of Richmond Hill natives, who in consequence of repeated proofs of fidelity, added to a contempt of their brethren were entrusted with firelocks to attend as guides with no other desire of reward than a promise of being permitted to seize and retain a wife a-piece. After much additional fatigue the settlers perceived a fire at a distance out of the track they were then in; and taking it for granted they were encamped there, would have made towards it, but were prevented by the assurance of their conductors that it was only a feint to decoy them into a track which their present prospect commanded; so that if they were once alarmed it would be impossible to come up with them. This assurance proved to be just; and in a short time after they found themselves within gun-shot. But still unperceived, they reconnoitred well the situation on of the natives, and soon discovered that they were mostly employed in preparing their weapons for the purposes of destruction.
Yaragowby, who Mr. Thompson left the day before at the Green Hills under every assurance of strict friendship, had by a nearer cut made his way to their first encampment, to warn them of the attack designed by the settlers; he was now equipped from head to foot in the spoils of the unfortunate men
whom they had murdered;
his person was not recognized at the distance, especially as he was supposed to be at the Green Hills;
and he was the first of seven or eight that fell.
Such was the consternation at the appearance of so large a party, that they made off without a stand, leaving behind several thousand spears, frightfully jagged, and almost certain of carrying mortality along with them. The faithful guides next prevented a division of the expedition from following a number who retreated towards the foot of a precipice, on the summit of which another party had stationed themselves to hurl stupendous rocks upon their heads. All the spears and other war implements were burnt, and little molestation had since been felt about Hawkesbury.
Before the settlers quitted the Mountains Mr. Thompson proposed leaving a defence with Serjeant Aiken, his being a solitary farm on the Mountain side of the Nepean. This was a truly fortunate circumstance; for the same evening the well known and little suspected Charley paid a visit to Mr. Aicken, and in a friendly manner requested and obtained such relief from pretended want as the house afforded. After making minute enquiry whether any arms were in the house or not, but at the same time breathing the kindest assurances of his protection, he advanced towards the bed room in which the armed persons were concealed; and Mr. Aiken in not willing that his state of preparation should be known, requested him not to enter that apartment. A que to friendship—a volley of abuse was poured forth by the villain. A single call brought Mr. Aiken's friends from their cover, upon which Charley endeavoured to escape, but was shot dead. The others disappeared in a few minutes; but the next morning rallied, and were again repulsed.
In consequence of a report on Thursday to the Commanding Officer of the New South Wales Corps stating that a body of hostile natives were assembled between Sydney and the half-way houses, two parties were detached to disperse them, one by land, and the other by water, in order to examine the numerous creeks and avenues along-shore :—
but upon the strictest search it was clearly determined the information was erroneous, as was happily the report also of some barbarities being actually practised at the house of the district constable.
On Wednesday last a party of the Corps detached for the defence of the out-settlers having occasion to cross the Nepean, availed themselves of an offer from two natives who declared themselves amicably disposed, to ferry them over one by one in their canoe, but whether from design or accident cannot exactly be reported, the vehicle was upset in the center of the river when Robert Rainer was passing over, and he, we are concerned to add, was unfortunately drowned.
Yesterday fo'nnight an attempt was made by a large party to arrest W. Evans on the Parramatta road, three miles beyond the Half-way-houses. He fortunately happened to be well mounted; and had overtaken an unfortunate pedestrian just before the natives shewed themselves on each side of the road. Evans presented a stirrup, of which the other eagerly availed himself ; and as the urgency of the moment would not permit the slightest accommodation from a slack pace, the poor fellow was necessiated either to quit his hold
and lose all hope of security, or match himself against the speed of a Pegasus, whose wings were but little shortened by the terror of its rider. The black legion gave chase; but finding themselves out galloped, declined the pursuit after scampering about 300 yards, which one of the parties lengthens to at least three miles. SYDNEY. (
1805, May 12
).
The Sydney Gazette and New South Wales Advertiser
(NSW : 1803 - 1842), p. 2. Retrieved from
http://nla.gov.au/nla.news-article626761
A report prevails, that
two of the persons employed by Mr. A. Thompson as salt boilers at Broken Bay are missing since Monday last; and that the apprehension is strengthened by the circumstance of their arms being found
, it being improbable, that if they had fled for security from the natives, they should have gone off unarmed, unless unfortunately cut off from the place they were left at, and preciptately obliged to take refuge in the woods. SYDNEY. (
1805, April 21
).
The Sydney Gazette and New South Wales Advertiser
(NSW : 1803 - 1842), p. 2. Retrieved from
http://nla.gov.au/nla.news-article626732
We are happy to state, that the
two men employed as salt boilers by Mr. A. Thompson at Broken Bay were not, as conjectured, so unfortunate as to become the victims of native barbarity,
though they narrowly escaped their fury.
These men were conducted in from Pittwater by two friendly natives, joined in their route by four others, who appeared equally anxious in their preservation.
They had been attacked by a body, one of whom, a very old man, had discharged a spear; but was afterwards induced to desist from an unprovoked assassination by humiliating intreaty, and a willingness to acquiesce in whatever should be insisted on their cloathing and provision fortunately purchased their respite from a fate that appeared inevitable; and naked being permitted to depart they knew not whither, were soon precipitated by extreme terror into an unknown and trackless part of a wood in which they wandered hopeless for the term of fifteen days, miserably sustaining nature with such precarious fare as their misfortune reduced them to the necessity of subsisting on, so that when they came in their ghastly appearance and painful debility must be submitted to the reader's own imagination, as language is inadequate to the distressing picture. The poor fellows, in return for the kind services of their guides, who would have parted company before they entered town, prevailed on them to continue their friendship, and in turn led them to the house of Mr. M. Kearn's, in Pitt's Row, who testified his satisfaction at the event by an abundant supply of food, with which they retired amply satisfied for their salutary labour and humane assistance to the otherwise devoted objects in whose preservation it had been the will of Providence to render them immediately instrumental. SYDNEY. (

1805, April 28

). The Sydney Gazette and New South Wales Advertiser (NSW : 1803 - 1842), p. 2. Retrieved from http://nla.gov.au/nla.news-article626742
The assault made by the natives upon the Hawkesbury vessel, mentioned last week, took place off Mangrove Point. There were five persons on board,
one of whom had set out in a small boat for Mr. Thompson's saltpans at Mullet Island
; but being menaced by the natives availed himself of the offer to go in the vessel. This man and Pendegrass, who had charge of her, went down the after-hatch, and the others the fore hatch to take an hour's rest, being fatigued: the natives had been on board, but prevailed on by presents to leave the vessel. All were asleep but Pendergrass, and he, slumbering off, conjectured he heard a whisper upon deck.; he started suddenly, and looking up the hatch way, beheld several natives with spears, the foremost of whom, Woglomigh, seized hold of him, and the old man gaining the deck, maintained a struggle unheard by any of his companions. Giving way to superior strength, and numbers having now surrounded him, he was thrown across the fire-tub and received a wound in the hand from the jag of a spear he caught hold of as one of the assailants was about to thrust it into his breast.
Another weapon was raised by Woglomigh himself, and upon the very point of being lunged in his body, when the salt boiler, who had been awakened by his cries, sprung upon deck with a pistol, and applying its muzzle to the ear of the assassin, sent him to the shades.
A dismal yell alarmed the whole, and overboard they leaped. The report of the pistol alarmed the men forward, who immediately went up to the aid of their companions, but by this time their antagonists were overboard and swimming for the shore, where numbers of both sexes continued to howl & shriek.
Among those that leaped overboard was Branch Jack, the leader and chief aggressor in the last barbarities exercised by the natives, and the villain that murdered the late unfortunate Llewellyn.
This wretch
was thrice fired at in the water, as he rose to breathe, and to all appearance severely if not mortally wounded in the head. He gained the shore, however, but was unable to totter many paces before he threw himself on the ground, and in a languid tone declared himself in a dying state. His father was among the shore party who went to his assistance; while several of the boarders were clinging to the stern of the little vessel's boat supplicating quarter, which they obtained—as the ammunition was expended.
A number of jagged spears were found in their canoes and destroyed ; those that still conceived themselves in danger were permitted to paddle themselves on shore upon a promise of future amendment ; and as an early proof of their contrition, exposed a jacket with some other articles they had stolen, at the same time inviting one of the people to come for them—with what design the menaces and imprecations that succeeded their disappointment was a sufficient testimony.
Thus were the lives of five persons preserved by the merest accident that could possibly have been ordained by a protecting providence; and even after the danger was discovered, without arms their resistance might have availed but little. That the death of one of the most noxious and rancorous pests of that part of the river Hawkesbury, and probable death of another, may open a prospect of security is much to be hoped, but the survivors of their impetuous and daring tribe equally to be dreaded. To be vigilantly prepared and well guarded must therefore constitute the hope of future safety. SYDNEY. (
1805, September 15
)
. The Sydney Gazette and New South Wales Advertiser
(NSW : 1803 - 1842), p. 2. Retrieved from
http://nla.gov.au/nla.news-article626907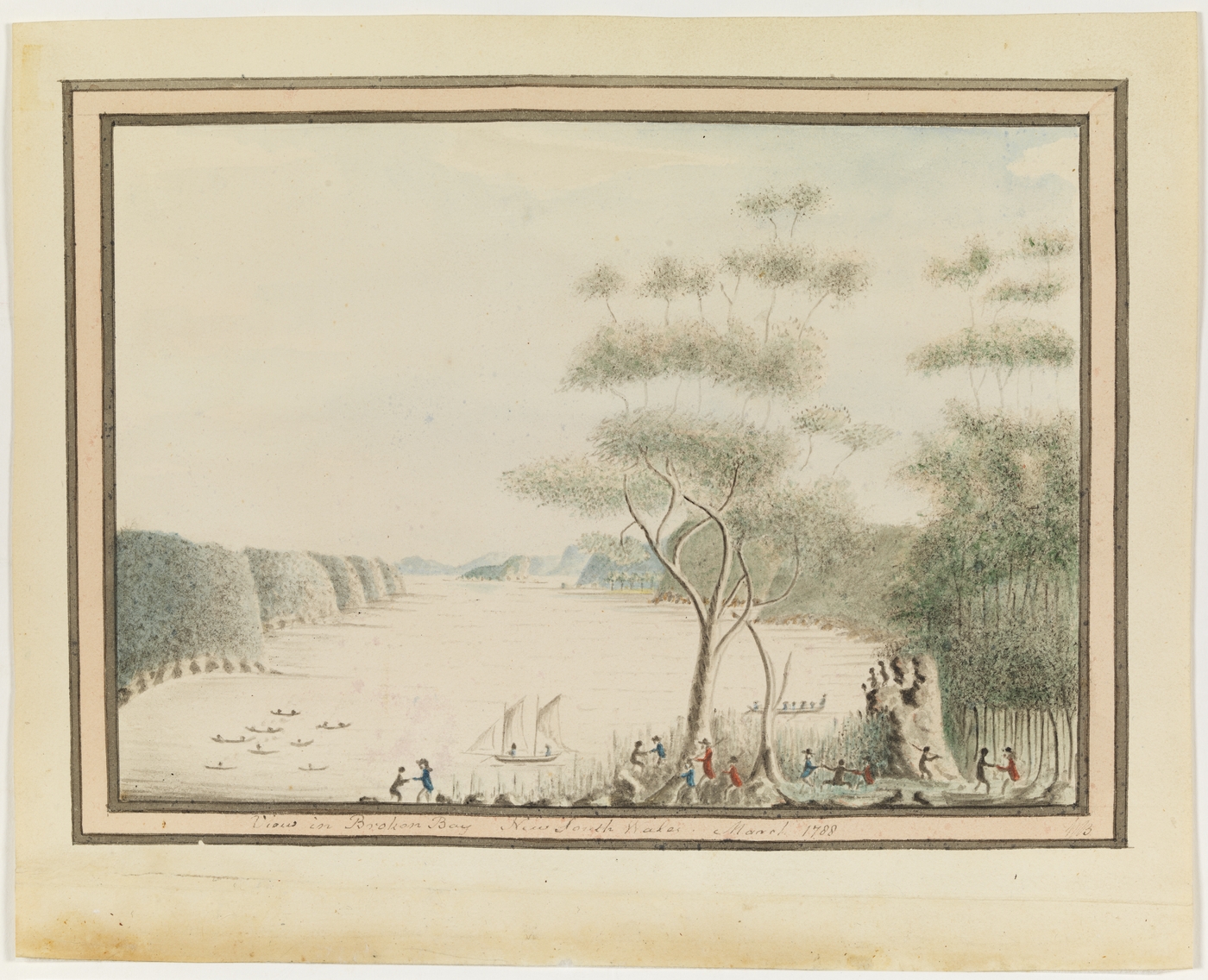 'View in Broken Bay New South Wales. March 1788' by William Bradley. Aspect likely to be sketched from current day Clareville beach; then a place of oysters - note the fishing canoes to the left of the picture.
Late on Saturday October 2014, Reconciliation released hew following statement:
The referendum result is a profound disappointment to us all.




Despite this setback the work of reconciliation is needed now more than ever.




Reconciliation Australia has been part of the long process which led to the Uluru Statement from the Heart and the simple and modest proposition rejected tonight.




As we grapple with this weekend's outcome, we must also grapple with the ugly acts of racism and disinformation that have been a feature of the debate despite regular calls for respectful engagement.




All Australians must ask ourselves whether this is a standard we are comfortable with.




While the results are devastating, they are not the first setback to the aspirations of Aboriginal and Torres Strait Islander people.




This is a familiar story and one that has never deterred Indigenous Elders and leaders to be a voice for change. We pay homage to their courage and example. The fight for justice and the rights of Aboriginal and Torres Strait Islander people will continue.




Reconciliation Australia is buoyed by the enormous contributions to the Yes campaign by the tens of thousands of ordinary Australians who spanned political beliefs and who volunteered their time and support, who walked for recognition, and who repeatedly and patiently explained the Voice and its benefits to Australia.




This weekend, as a nation we stumbled on our reconciliation journey. We must acknowledge and sit with this.




However, we are confident that in due course, the millions of Australians who voted Yes, and those who voted No but who are committed to better outcomes for Aboriginal and Torres Strait Islander people, will unite for a more just Australia.




Now is a time for healing.




While the work of reconciliation must continue, as we regroup, we will be led by how First Nations people wish to engage.




Clearly the imperatives for Indigenous Australians have not changed and the issues written about so eloquently in the Uluru Statement remain to be addressed.




Listening to the voices of First Nations peoples and providing opportunities for all Australians to learn from the vast knowledge and experiences which First Nations people possess, will ensure the best outcomes for this nation.




We are determined to continue the journey of reconciliation and remain confident that away from the noise and clamour of the recent campaign, millions of Australians will ensure that the status quo does not remain.




The powerful movement built over the past few months is not going away.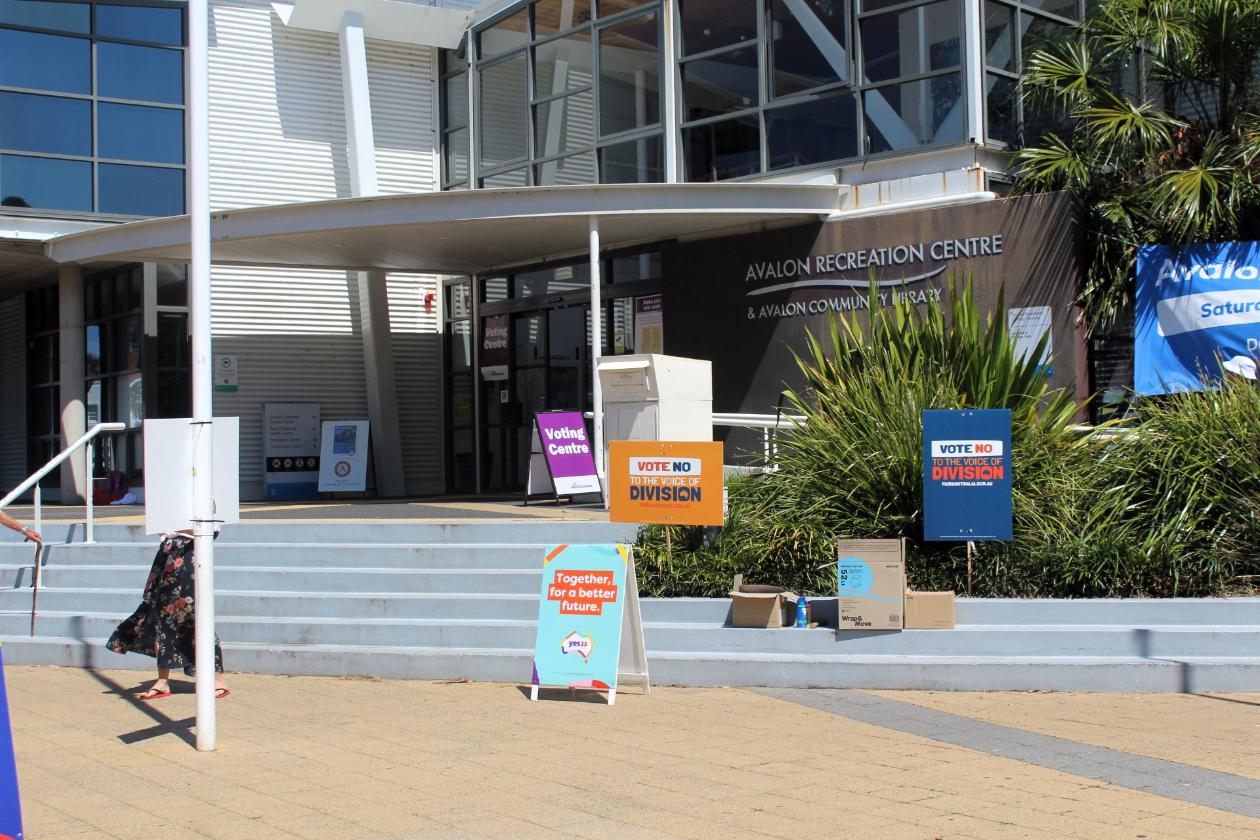 referendum Day 2023: Avalon Beach village almost deserted.