May 7 - 13, 2023: Issue 582
2023 Manly Longboard Classic: Competitors cross-step and weave their way to QS victory + World Longboard Tour wild cards confirmed
+ Winners Of The NSW Longboard State Titles Confirmed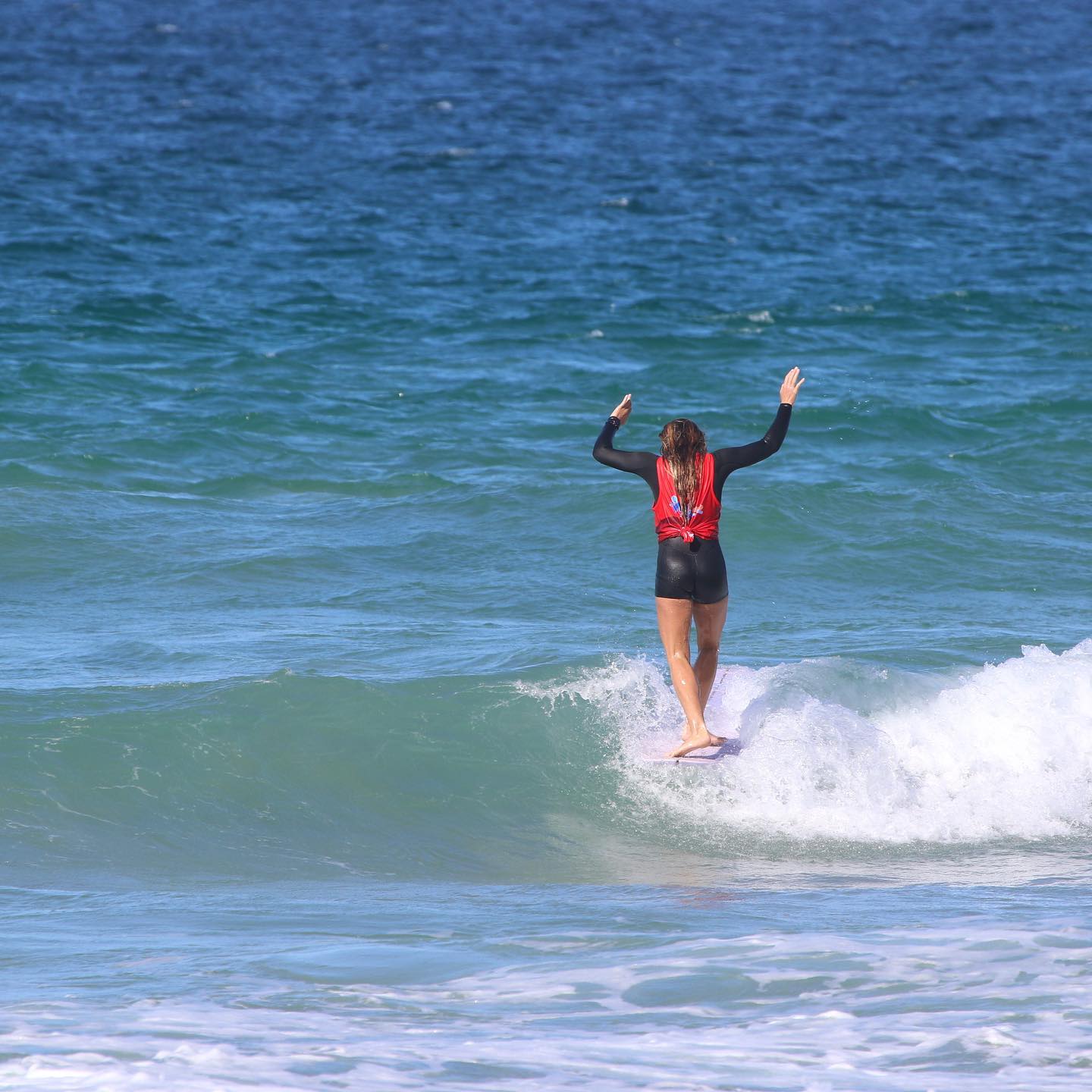 Kai Ellice-Flint (Byron Bay) and Tully White (Manly) have claimed victory at the 2023 Manly Longboard Classic presented by Okanui, World Surf League (WSL) Longboard Qualifying Series event (LQS) on Friday May 5th. As the second and final stop on the LQS, Manly offered clean one-to-two foot surf similar to the conditions at the Noosa Longboard Pro held earlier this year.
Manly local, Tully White who has already qualified for the 2023 Longboard World Tour and took out the female division today with grace and style as she leveraged her local knowledge and passion for the sport to her advantage. White dominated every heat, walking toes to the nose with a win after win from the Quarter Finals to the Final. This will be White's second campaign on the world stage, with the first stop at Bells Beach in August this year.
"Although I'm already on the 2023 WLT, it's always nice to have such a big event in my backyard and to practice the WSL format in as many heats as possible. I'm really looking forward to the World Tour and want to say a massive congratulations to all the finalist's today, it was a great heat." White said.
White's talent has been one to watch as many anticipate her first WLT victory in 2023, which would override her current competitive career highlight as third place in the 2022 GWM Sydney Surf Pro WLT.
Kai Ellice-Flint, the smooth natural footer based in Byron Bay scored first place in Friday's final against confirmed 2023 World Tour competitor and Manly local Declan Wyton, by just 0.40 total score difference. Every time the judges looked up from their scoring tablets, they would witness Kai seamlessly gliding across the face of the wave, weaving, cross-stepping and nose-riding his way to a 7.17 and a 6.70 score count in the final.
The event's top scored waves were confirmed before the North Easterly wind picked up. During the Semi Final Heat 1, Declan Wyton locked down a near perfect ride with a 9.33, followed by Kai Ellice-Flint in Heat 2 finishing with a 9.17. Lara Murphy swerved onto a 7.50 point score ride in the Female Quarter Final Heat 4, cementing this ride as the top score ride across the female heats.
The Manly Longboard Classic presented by Okanui also had two 2023 WLT Wild Cards (one male and one female) to confirm from today's results. Based on the total LQS rankings from the Noosa and Manly events, and with the consideration at Declan Wyton and Tully White who have both secured their spot on the WLT, Max Weston (Pittwater) and Roisin Carolan (Byron Bay) will officially compete at Bells Beach in August as the first World Tour Longboard event of the season kicks off.
The Manly Longboard Classic presented by Okanui was proudly supported by the NSW Government, Okanui, Bennett Surf and Surfboard Souls Manly.
Manly Longboard Classic results

Mens Final
Total waves 31 Avg. heat score 12.78
1st place: Kai Ellice-Flint Australia 13.87 7.17 + 6.70
2nd place: Declan Wyton Australia 13.47 7.00 + 6.47
3rd place: Landen Smales Australia 11.90 6.00 + 5.90
4th: Ben Considine Australia 11.87 6.30 + 5.57
Womens Final
Completed May 5
Total waves 23 Avg. heat score 9.41
1st place: Tully White Australia 11.06 6.23 + 4.83
2nd place: Kirra Molnar Australia 10.17 5.40 + 4.77
3rd place: Jasmin Howarth Australia 9.76 5.13 + 4.63
4th place: Roisin Carolan Australia 6.63 3.93 + 2.70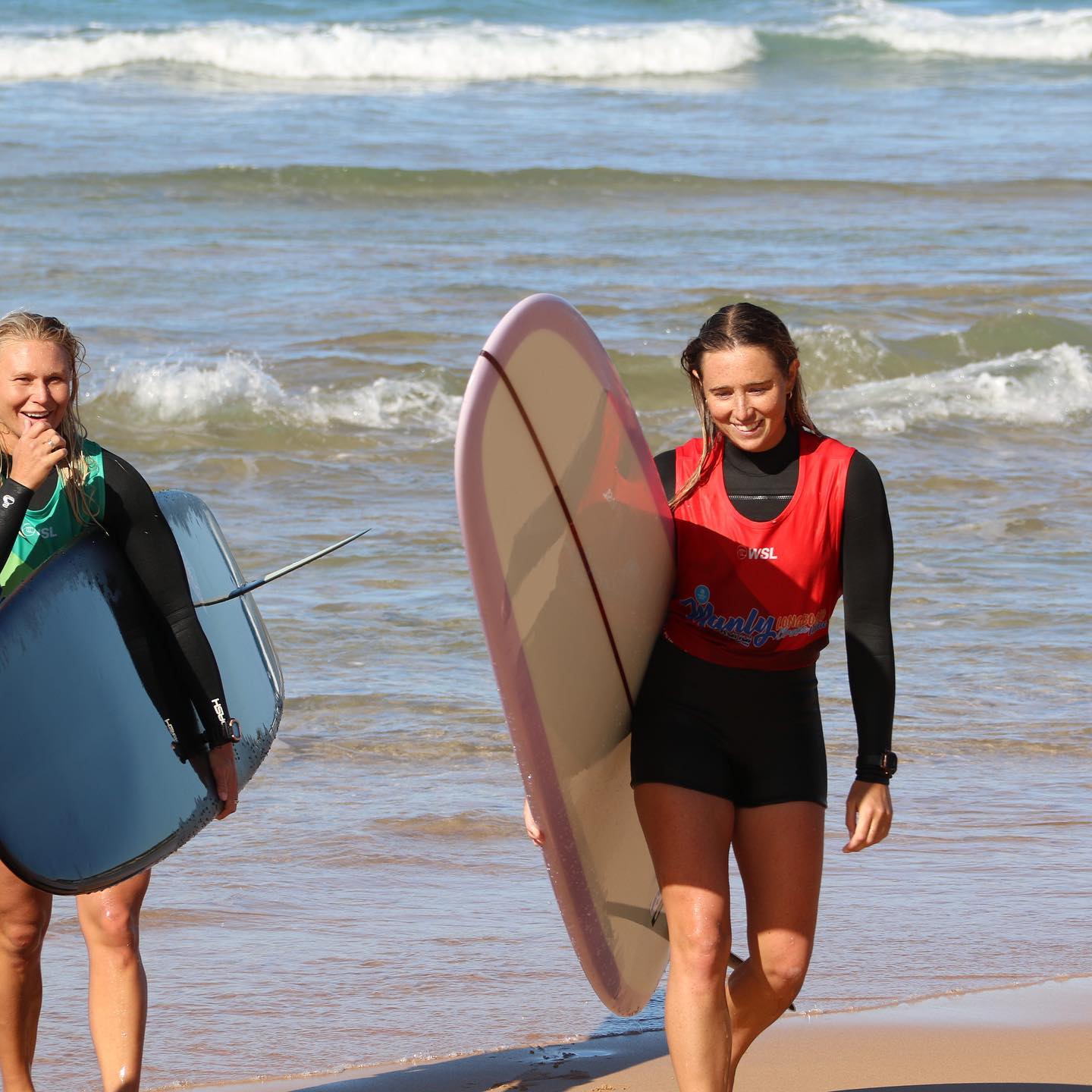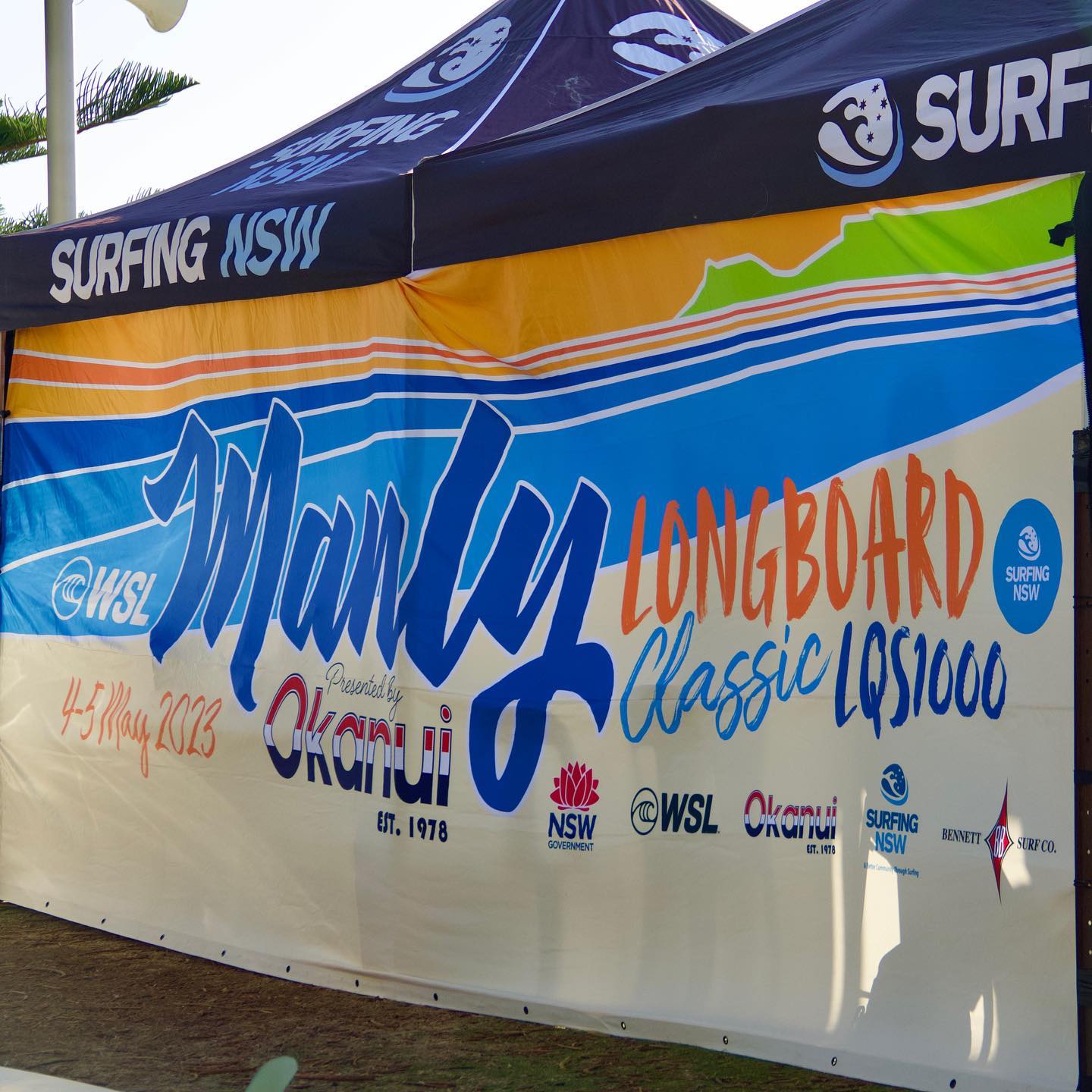 Report and Photos by Surfing NSW

Team NSW 2023 Grows as Winners of the NSW Longboard State Titles are Confirmed
In related Longboard news, Surfing NSW's 2023 Port Stephens Surf Festival presented by Okanui concluded on May 2nd with an incredible display of talent and sportsmanship. The event which included the SUP State Titles and Longboard State Titles, saw surfers from all over NSW compete for the chance to secure their place at Aussies, which will take place later this year.
The Port Stephens region is an iconic stretch of the NSW coastline, and the event was held at two of its most beautiful beaches – One Mile Beach and Birubi Beach. Depending on the swell, Surfing NSW hopped between the two locations to set up the day's event, ensuring athletes had the best possible conditions to showcase their skills.
The Longboard State Titles spanned across five days (29th April – 3rd May) where the promising east coast swell consistently delivered sets from 2-4ft daily. This allowed the longboarders to show off their stylish manoeuvres on the waves and provided a challenging but rewarding experience for all the participants.
This event attracted longboard lovers of all ages, from groms competing in the Junior and U18 divisions, up to competitors in the Over 70 division whom the majority have competed in Surfing NSW events for decades, and all share the same sentiment that a few days surfing in Port Stephens, catching up with old mates, will always be on the cards.
"We are stoked with the success of the 2023 Longboard State Titles and Port Stephens Surf Festival presented by Okanui," said Surfing NSW Board Member Mark 'Winny' Windon who was on site throughout the event and sharing the commentary mic.
"The competition was intense, the standard of surfing was high. It's great to see so many talented athletes showcasing their skills in such beautiful surroundings, and I'm looking forward to cheering them on as they compete at Aussies this year. Longboarding has such a rich history with the members of Surfing NSW and I hope to see this board discipline increase in participation."
Congratulations to all the winners and athletes for their efforts. Winners of each division:
Junior Log: Charlie Ticknor
Under 18 Male Longboard: Charlie Ticknor
Under 18 Female Longboard: Jasmin Howarth
Open Log Male Log: Tom Bennett
Open Log Female Log: Blaze Angel
Open Male Longboard: Kyle Teale
Open Female Longboard: Blaze Angel
Over 40 Male Log: Shane Baker
Over 40 Male Longboard: Shane Baker
Over 40 Female Longboard: Laura Pigott
Over 45 Male Longboard: Jason Livingston
Over 50 Male Longboard: Jason Livingston
Over 50-60 Female Longboard: Suellen Goyne
Over 55 Male Longboard: John Fraser
Over 60 Male Longboard: Richard Smith
Over 65 Male Longboard: Storm Carter
Over 70 Male Longboard: Greg Bedggod
Ken Williams Tag Team: Manly Mal Club
More in Issue 581's report: Local Surfer Andrew Cassidy Wins Longboard SUP In Port Stephens Surf Festival; Blaze Roberts Wins Open Women Log AND Open Women Longboard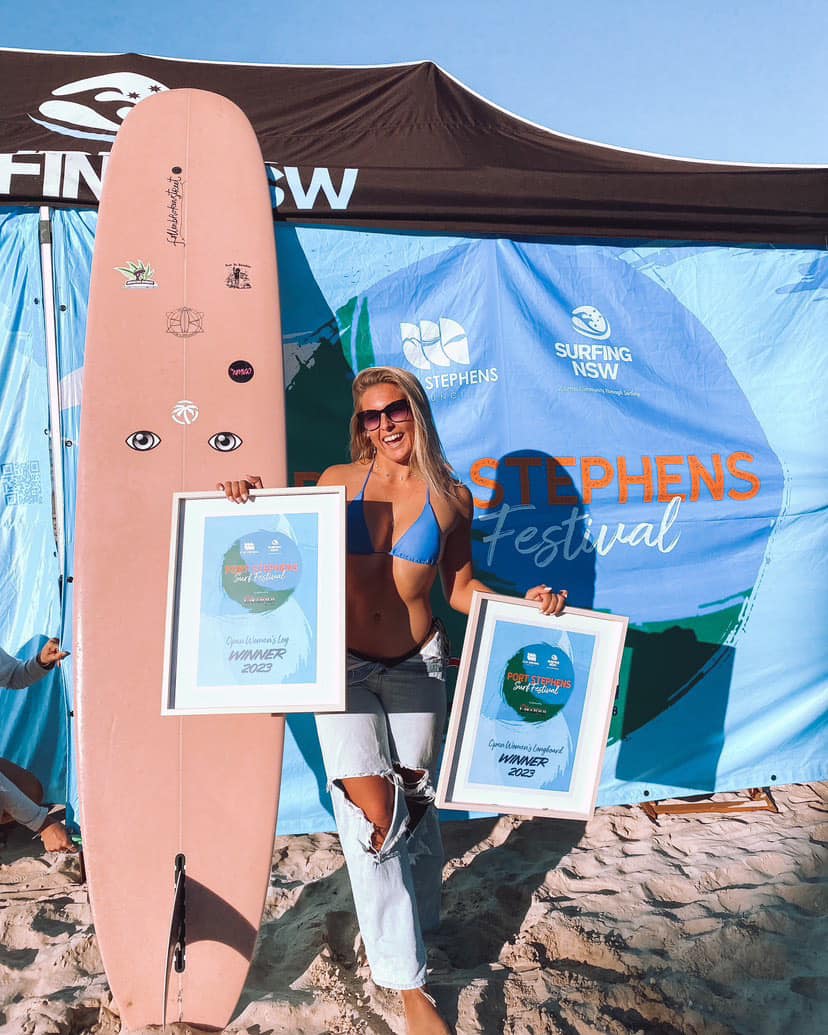 Blaze Angel Roberts: winner of 2023 NSW Open Women's Longboard State Title and Open Log. Photo: Fiona Roberts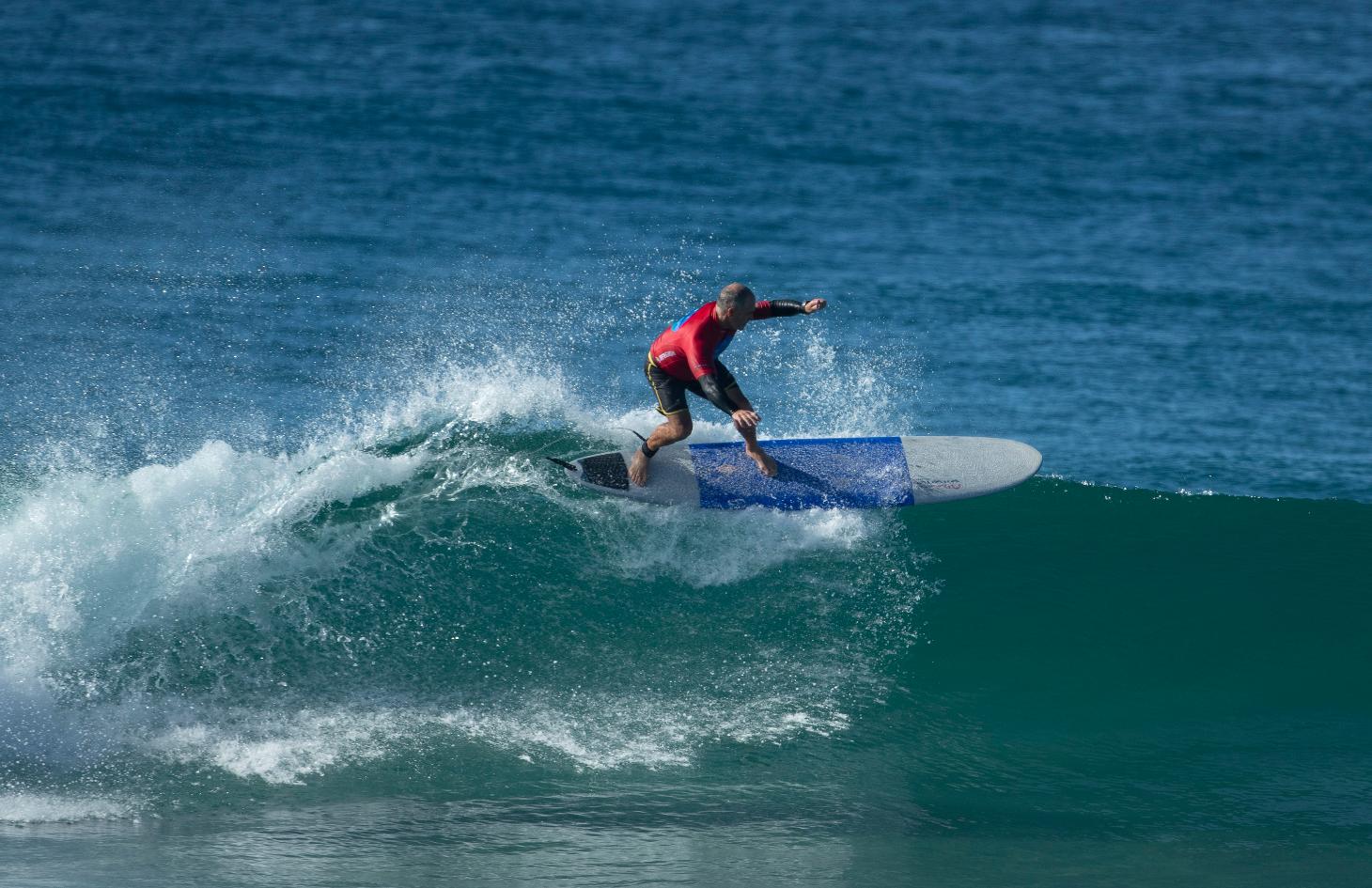 Jason Livingston at Port Stephens State Titles. Photo: Peter 'Bosko" Boskovic / Surfing NSW Reports:
Surfing NSW