May 7 - 13, 2023: Issue 582
2023 Hyeres Regatta in France: australian athletes on course for paris 2024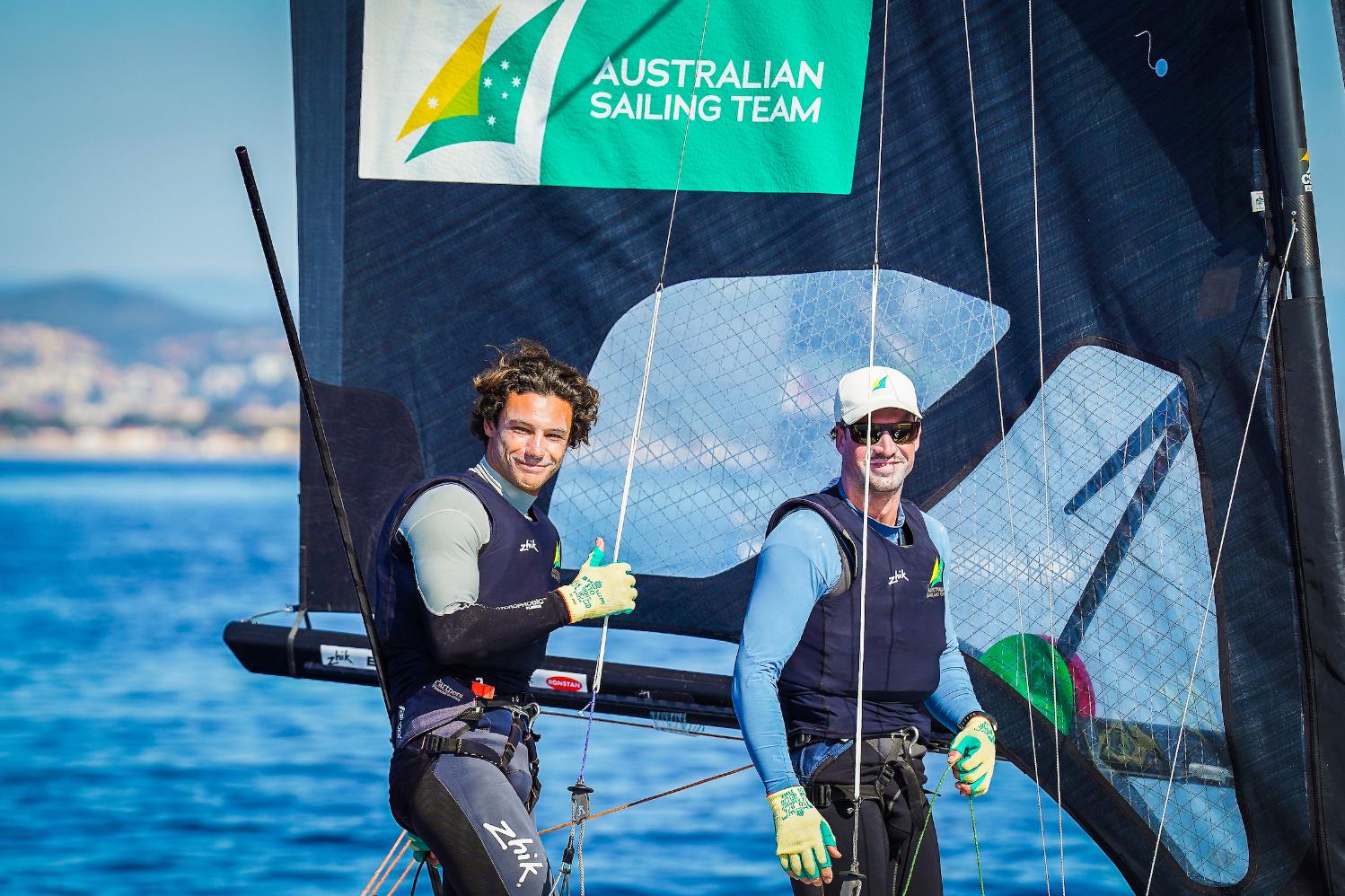 RPAYC's Jim Colley and Shaun Connor won Silver in the 49er. Photo: Sailing Energy
A 60-strong squad from Australia was in Hyeres, France preparing to take part in the 2023 Semaine Olympique Francais, colloquially known as the 'Hyeres Regatta'. Most had recently competed at Palma in Spain where three came away with silver medals. However, the competition from within the Australian camp and internationally, is becoming more robust as the Paris Games loom.
High Performance Director, Iain Brambell, has been keeping a close eye on the squad. He says: "The team was excited to be returning to Hyeres to progress and positively advance their 2023 international campaigns.
"All crews are looking to build on their individual performances in Palma to seek, test and instil their desired improvements. As a collective team, we are striving to repeat and increase the number of crews achieving Gold fleets, Medal Races and podium performances.
"Competing in both Palma and now Hyeres will go a long way to building the team's confidence and preparation into this season's Olympic Team Event and our first opportunities to qualify classes for the Paris Olympic Games during the 2023 World Championships," he finished.
Pittwater sailors Jason Waterhouse and Lisa Darmanin opened their account in the Nacra 17 with a clear win in the Yellow fleet.
"Very Australian conditions," Waterhouse commented. "We knew it would be a battle of attrition. Lisa and I said, 'Let's try and keep things simple and trust our training and boat handling'."
Nacra 17 coach, Darren Bundock said, "Jason and Lisa had a comfortable win. They were a long way in front. That's quite a pleasing start. It's a shame there weren't more races, but tomorrow's conditions are looking similar."
More wins and other top placings for Australian athletes competing on Day 3 of the 2023 Hyeres Regatta in France. With only one race on the board coming into the day, organisers sent the Nacra 17s out for four races. Jason Waterhouse and Lisa Darmanin followed up on their win on Day 2 with another bullet in Race 2, and 4-12-6 results followed. The Rio silver medallists retained their overall lead, but the two teams behind them were on the same points as the Aussies.
"Palma (earlier this month) was our first European event for the year and we were rusty. We learnt what not to do," Waterhouse said with a laugh. "We learned lessons there and now we're putting what we learnt into practice. ''
Ruben and Rita Booth also made their mark in the light air. Their 2-3-3-8 scores elevated the siblings to sixth overall and they are just four points adrift of the leaders in what is shaping up as a tight series.
By Day 5 at the 2023 Hyeres Regatta in France the races decided who would make the cut into the Medal Race stage. Jason Waterhouse and Lisa Darmanin were into the Nacra 17 Medal Race. Four more races were sailed and they ended the day in seventh place overall.
"We dropped to seventh, we had a tough last race, which didn't help," Waterhouse said of their 19th in Race 12, which has been discarded.
"It was a super tough day. We're still a bit rusty and making a few mistakes. We need to work on our light air sailing," he said, adding, "We'll use the Medal Race as experience for the next event."
Jim Colley and Shaun Connor's day went well in the 49er. Following four consistent results inside the top nine, the NSW pair moved up to fifth overall and into the Medal Race. Only three points separate second to fifth places, so the race is sure to be a thriller.
"It's all to play for tomorrow," Connor commented ashore. "We'll check the weather, then it will be critical to go out and sail the best race we can, execute the basics."
The NSW athlete said the shifts were hard to read today. "Jim and I share responsibility for reading the conditions. We cross check each other. The other boats are a key indication of what's happening too.
"We had good speed, especially downwind, but it came down to trying to find opportunities to stay clear of the rest and then pick the right way to go. Once you got clear of the congestion - and there was a lot of that at the marks - you could make gains or get hurt. It was critical to get it right rather than having to fight your way through the pack," Connor said.
Day 6, Medals Race day, resulted in Australia coming away from the 2023 Hyeres Regatta in France with a silver medal in the 49er and Bronze in the ILCA 6 from the eight Australian athletes in the Australian Sailing Team (AST), Australian Sailing Squad (ASS) and Australian Sailing Futures (ASF) programs that made it into the Medal Stage.
Jim Colley and Shaun Connor won Silver in the 49er and Casey Imeneo took Bronze in the ILCA 6. The three are first-time medallists at a major international competition.
Colley and Connor, from Royal Prince Alfred Yacht Club, were fifth going into the Medal Race, restricted to the top ten competitors. They knew Gold was not possible, as Diego Botin and Florian Trittel Paul (ESP) came to the race with an unassailable lead. However, just three points separated the next four competitors, including the Australians, who sailed well throughout the race to win Silver.
"It's pretty cool, considering after the first day I didn't think I could race, as I was ill with flu," Colley revealed. "It's a testament to Shaun, I'm full praise for him. He's done everything for me this week, I only had to get on the boat and sail it, he took care of the rest.
"It's so special. To see it turn into a result like this is gratifying after all the work we've put in on and off the water. Hopefully this is the first medal of many."
Colley said he and Connor had some nerves as they waited for the race to start, "We knew what the stakes were, though. Our motto is always one step at a time, one day at a time. We wanted to execute the start and not sail too conservatively. It was an easy race in a small fleet when we got the jump off the line like we did."
Colley and Connor thanked Brady Lowe, "He's been coaching us over the last two events and Euan McNicol, whose been coaching us at home.
"A big thank you to our supporters back home. We've been getting messages from loads of people who stayed up to watch on the tracker. Thanks to our sponsors, who have backed us for a long time. To represent them and deliver a medal is special."
Colley and Connor have been showing consistency across all conditions this past year, with fifth at Palma early this month and fifth at the 2022 European Championships.
Casey Imeneo was the first Australian to medal in Hyeres, as the ILCA 6 race was one of the first classes up. This is a personal best at a major European regatta for the athlete, who sails for McCrae Yacht Club in Victoria.
Imeneo went into the Medal Race in third place and held off a chasing pack to finish fifth for the bronze medal. She has been in good form throughout the regatta. Her squad mate, Tokyo Olympian Mara Stransky, finished second in the Medal Race to improve her position from seventh to fifth overall.
The gold medal went to Tokyo Olympian Sarah Douglas (CAN). Silver was claimed by the reigning Olympic gold medallist, Anne-Marie Rindom (DEN).
"It's pretty unreal, my first major podium. I'm rapt how I performed across the week," Imeneo said.
The Medal Race, she said, "Was going well, I was positioned nicely, there were a couple of boats I had to watch out for. Things changed up a bit on the run, so I was trying to get back in the race and to make sure there were no boats between the Hungarian (Maria Erdi, who finished fourth overall) and me. I had a good final run on the inside and overtook two boats."
Her first medal, Imeneo said, "Will sink in at some point. It felt unreal when I crossed the line, to celebrate with Ben (Walkemeyer) my coach and Mara. I had a message from Carolijn (Brouwer) my coach back home and my parents and brother, I'm so glad I could make them proud.
"I heard people from my Club, McCrae, were tuned in to watch the race. Happy faces to come home to. I finally got all the process working for me this week, so, yes, I am happy."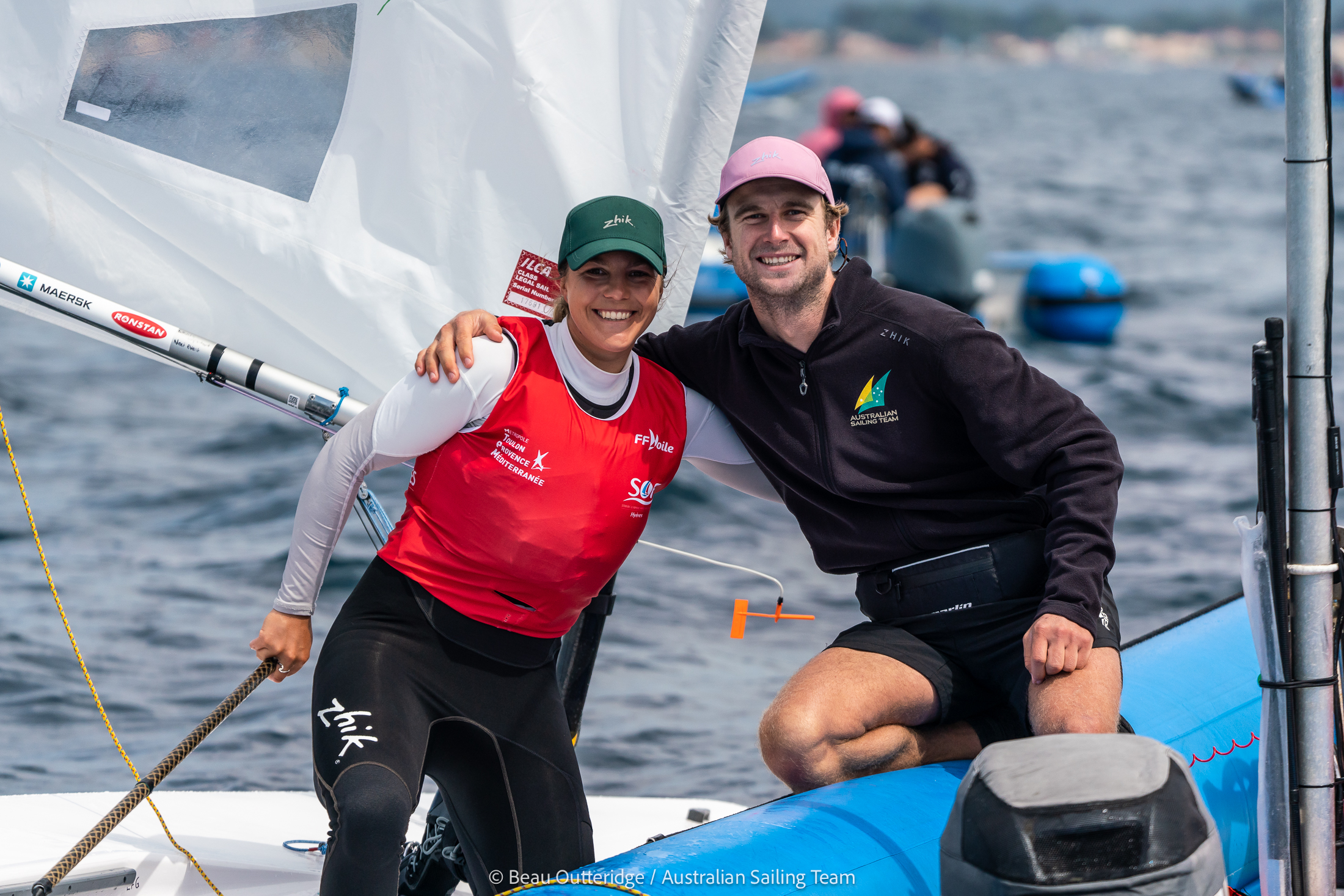 Casey Imeneo and Ben Walkemeyer. Photo: Beau Outteridge

Matt Wearn started the day in fourth place overall in the ILCA 7 and that is where the Tokyo Olympic gold medallist finished after a sixth in the Medal Race.
In the Nacra 17, Rio Olympic silver medallists Jason Waterhouse and Lisa Darmanin finished eighth overall, following a seventh in the Medal Race.
''Some Highs and lows in Hyeres this week- we'll take those highs and learn from the lows. '' the pair stated
Jason and Lisa will head back to France at the end of May for more training.
Breiana Whitehead went into the Formula Kite Medal Race in 10th place and finished in 10th place. The class will make its Olympic debut at the 2024 Paris Games and Whitehead, from Townsville in Queensland, has been holding her own at international events. Best results are third at past World and European Championships.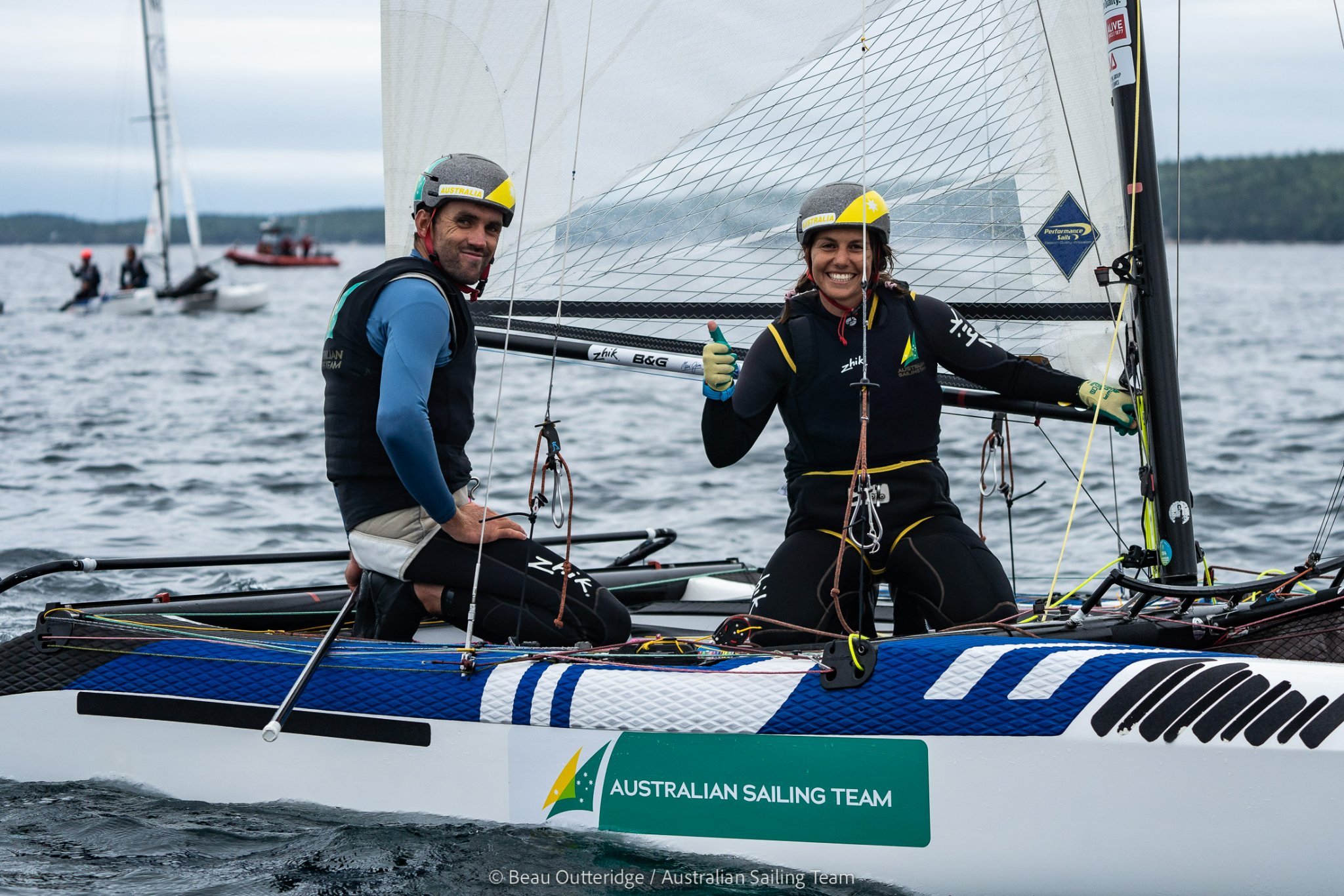 Jason Waterhouse and Lisa Darmanin. Photo: Beau Outteridge

Australian Sailing Team (AST), Australian Sailing Squad (ASS), Australian Sailing Futures (ASF) and Australian sailors final results in Hyeres:
49er – Medal Race final results (Medal Race points in brackets)
Gold Diego Botin and Florian Trittel Paul (ESP) (14) = 78 points
Silver Jim Colley and Shaun Connor (AST) (4) = 87
Bronze Mikolaj Staniul and Jakub Sztorch (POL) (10) = 90
49er – Gold fleet – 13 races (one drop)
21st Tom Burton and Max Paul (ASS) 6, 12, 6, 16, 7, 7, 8, 6 (DNC), 22, 19, 5, 22 = 136
49er – Silver fleet – 10 races (one drop)
27th Thomas Needham and Joel Turner (ASS) 6, 12, 8, (18), 17, 12, 6, 9, 11, 3 = 94 points
34th Tom Cunich and Miles Davey (ASF) RDG, RDG, 14, 15, 3,13, (17), 5, 9, 16 = 113.14
ILCA 6 – Medal Race final results (Medal Race points in brackets)
Gold Sarah Douglas (CAN) (20) = 74 points
Silver Anne-Marie Rindom (DEN) (18) = 75
Bronze 3rd Casey Imeneo (ASS) (10) = 83
5th Mara Stranksy (ASS) (2) = 94
ILCA 6 – Gold fleet –10 races (one drop)
23rd Elyse Ainsworth (ASS) 14, 20, 16, 15, 14, 17, 11, 27, (36), 15 = 149
ILCA 6 – Silver fleet – 8 races (one drop)
57th Sylvie Stannage (ASF) 24, 24, 15, 32, (36), 29, 9, 28 = 161 points
71st Paige Caldecoat (ASF) 20, 17, (UFD), 35, 41, 39, 29, 8 = 189
ILCA 7 – Medal Race final results (Medal Race points in brackets)
Gold Elliot Hanson (GBR) (2) = 36 points
Silver Michael Beckett (GBR) (8) = 37
Bronze Pavlos Kontides (CYP) (4) = 43
4th Matt Wearn (AST) (12) = 56
ILCA 7 – Gold fleet – 10 races (one drop)
13th Finn Alexander (ASS) 7, 2, 2, 1, 13, 13, 32, 19, (51), 14 = 102
18th Luke Elliott (ASS) 5, 6 (BFD), 3, 24, 26, 16, 13, 15, 7 = 114
31st Ethan McAullay (ASS) 1, 5 (BFD), 1, 10, 50, 15, 35, 35, 8 = 160
45th Stefan Elliott Shircore (ASF) 21, 10 , 17 33, 8, 33, 27, (52), 30, 32 = 211
46th Zac Littlewood (ASS) 6, 15, 10, 12, 28, 17, 41, (44), 44, 41 = 214
ILCA 7 – Silver fleet – 8 races (one drop)
72nd Michael Compton (ASF) 44, (BFD), 27, 27, 27, 18, 8, 15 = 166 points
98th Lawson McAullay (ASF) 20, 17, 22, 14, (47), 41, 44, 45 = 203
99th Will Sargent (ASF) 40, 36 (BFD), 26, 20, 23, 34, 26 = 205
ILCA 7 – Bronze fleet – 8 races (one drop)
137th Jack Eickmeyer 32, 36, 33, 48, 39, 38, 37, (DNC) = 263
Nacra 17 – Medal Race final results (Medal Race points in brackets)
Gold John Gimson and Anna Burnet (GBR) (4) = 32 points
Silver Mateo Majdalani and Eugenia Bosco (ARG) (10) = 70
Bronze Gianluigi Ugolini and Maria Giubilei (ITA) (12) = 77
8th Jason Waterhouse and Lisa Darmanin (AST) (14) = 95 points
Nacra 17 – Gold fleet – 12 races (one drop)
13th Ruben and Rita Booth 11, 2, 3, 3, 8, 19, 16, 10, (UFD), 6, 21, 11 = 110
19th Brin Liddell and Rhiannan Brown (ASF) (DSQ), 8, 11, 9, 3, 16, 18, 12, 18, 23, 6, 13 = 137
22nd Jake Liddell and Lucy Copeland (ASS) (UFD), 9, 8, 2, 6, 20, 19, 20, 20, 17, 16, 15 = 152
Nacra 17 – Silver fleet – 10 races (one drop)
30th Archie Gargett and Sarah Hoffman (ASF) 13, 13, 13, (15), 10, 10, 11, 5, 6, 10 = 91 points
Formula Kite Women – Medal Race final results (Medal Race points in brackets)
Gold Lauriane Nolot (FRA) (1) = 34 points
Silver Daniela Moroz (USA) (2) = 56
Bronze Jessie Kampman (FRA) (3) = 58
10th Breiana Whitehead (AST) (10) = 112 points
Formula Kite Men – Silver fleet – 8 races (two drops)
39th Hector Paturau (ASS) 9, 12, 8, 13, (DNC), (21), 17, 10 = 69 points
51st Oscar Timm (ASF) 15, 17, 12, (21), 10, 18, (26), 21 = 93
49erFX –Gold fleet – 13 races (one drop)
11th Olivia Price and Evie Haseldine (ASS) 3, 4, 1, 5, 9, 12, (23), 22, 9, 12, 12, 18, 7 = 114 points
16th Laura Harding and Annie Wilmot (ASS) 1, 4, (22), 12, 1, 18, 12, 21, 15, 8, 10, 19, 22 = 143
49erFX –Silver fleet – 10 races (one drop)
28th Tess Lloyd and Dervla Duggan (ASS) 16, 15, (21), 11, 8, 7, 8, 15, 1, 9, 7 = 97 points
iQFOiL Women – 22 entries – 14 races (three drops)
14th Samantha Costin (ASS) – 2, 4, 4, (20), 13, 13, 15, 15, 15, 16, (20), 15, 15 (DNC) = 127 points
iQFOiL Men – 21 entries – 14 races (three drops)
21st Jake Lilley (ASF) (DNC), (DNC), 19, 18, 19, (DNC), 16, 18, 20, DNC, DNC, DNC, DNC, DNC = 220 points
470 Gold fleet – after 10 races (one drop)
30th Nia Jerwood and Conor Nicholas (ASS) 9, RDG, 4, 18, 16, 25, 24, 30, (BFD) 12 = 149.75 points
470 Silver fleet – after 10 races (one drop)
53rd Sophie Jackson and Angus Higgins (ASF) 19, 5, (UFD), 23, 25, 16, 20, 22, 7, 28 = 165 points
59th James Jackson and Lily Richardson 28, 26, (29), 18, 29, 27, 26, 14, 25, 18 = 211
For full results, please go to: https://sof.ffvoile.fr/official-notice-board/
By Di Pearson