March 19 - 25 2023: Issue 576
2023 Environmental Art & Design Prize + 2023 Creative Open: call for artists now open for your entries + Ideas
Image credits: Creative Open 2022.Photo by Kayapa Creative Studio
Council has issued the call out for two of its great Arts programs - one is just for homegrown talent, the other is an invitation issued to Artists Australia wide.
Details are:
Calling all artists: Creative Open is back on the Beaches
Expressions of interest are now open for Creative Open - an art, design, and music festival held on the Northern Beaches from 27 – 30 July.
This winter Creative Open returns to showcase the very homegrown creativity on the Northern Beaches. The annual program features exhibitions, performances and events, open studios, walks and talks, a maker's market and public art.
Council is seeking applications from entertainment venues, creative businesses, and arts practitioners to deliver innovative activities and fun events for the Creative Open 2023 program.
Creative Open provides an opportunity for participating venues and practitioners to connect with new audiences, promote their business and build stronger relationships with the local community and creative sector.
Northern Beaches Mayor Michael Regan said Creative Open is the jewel in the crown of the Winter arts calendar.
"The Northern Beaches is a powerhouse of creative energy and home to a diverse community that is full of creative venues and cultural experiences."
"This event will celebrate creative venues and showcase our talented, musicians, designers, artists and creatives of all kinds. "
"Last year Creative Open welcomed more than 9000 locals and visitors to 80 venues, and this year we want to build on that momentum.
"We'd love to attract even more people from across the Beaches and further afield, and offer more live music at this year's festival," Mayor Regan said.
From concerts, Aboriginal weaving and jewellery making to art installations, group exhibitions and interactive discussions, everyone can find their creative home at Creative Open.
Who can apply?
Any business, venue, or practitioner can apply to be a part of Creative Open if they provide creative programming that aligns with event dates. Your event must occur on the Northern Beaches between Thu 27 – Sun 30 July; however, events can start earlier and/or finish later. Eligible participants include but are not limited to:
live performance venues
galleries, creative spaces
designers, makers, surfboard shapers
recording and music studios, film and editing suites
creative workshops e.g. screen printers, digital labs
creative businesses such as bookshops, bars, and cafes
Have an idea or work you want to share but no space to do it? Council is also accepting applications from local designers, workshop facilitators, and artists for a pop-up market event and creative workshops at selected Council venues.
What Council need from you
Pitch your event and tell us about your space, lock the event dates in your calendar, and help us promote Northern Beaches' best to the rest of Sydney.
What support will you receive?
Council provide marketing and promotion support to participating artists, venues, and businesses. As a participant, you will receive marketing materials, print and digital, to help promote your unique event. Council will provide an event calendar for all activities, performances, and happenings on their website. The full program will be released in July.
To apply or find out more, visit: www.northernbeaches.nsw.gov.au/things-to-do/arts-and-culture/creative-open
Applications open 17 March and close 21 April 2023.
Creative Open will run from 27-30 July 2023.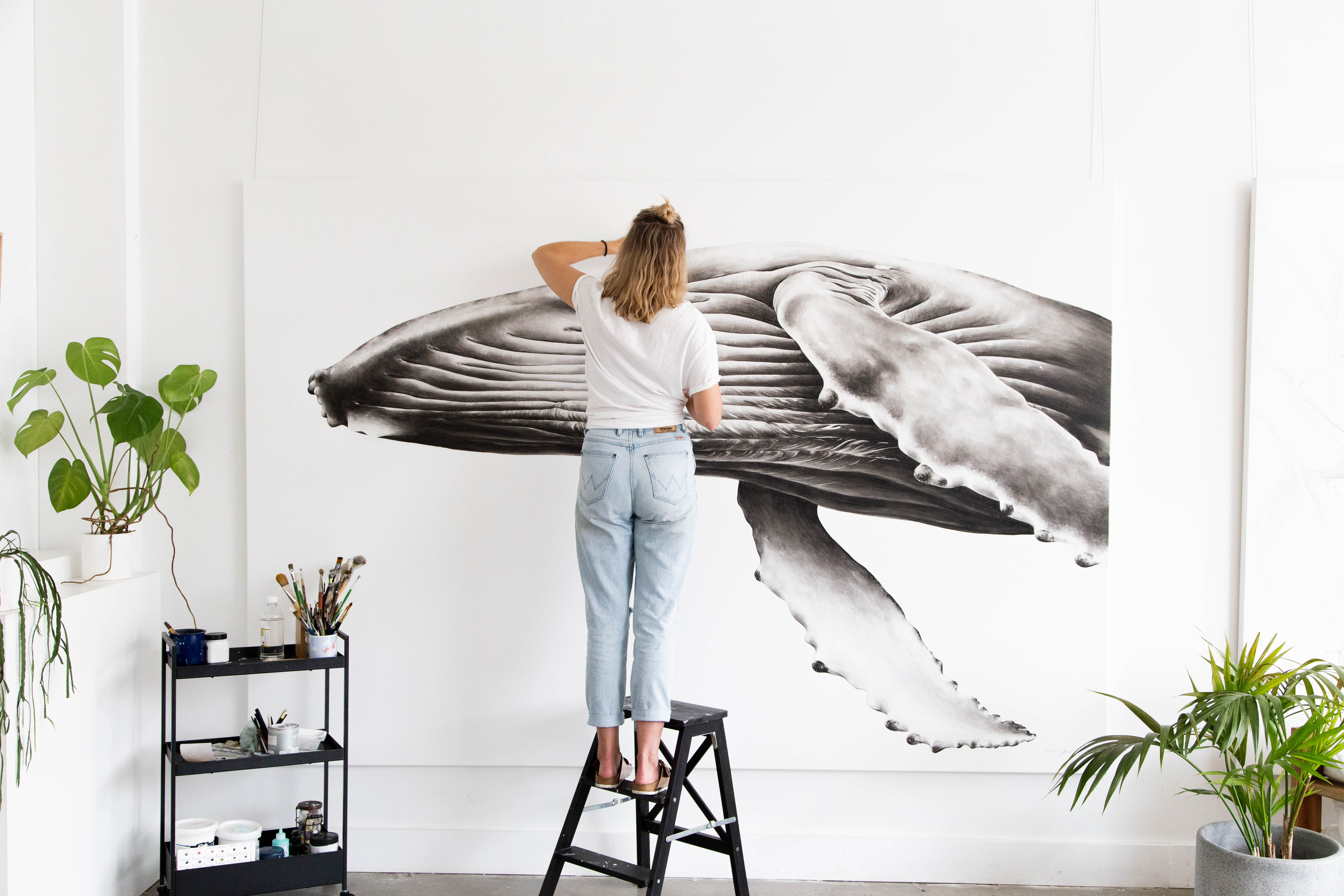 Jaimee Paul Studio. Photo by Joelan Wong
Australia-wide call for entries – 2023 Environmental Art & Design Prize
Artists and designers are invited to submit art and design works exploring environmental themes for this year's Environmental Art & Design Prize. The call-out is open 17 March – 14 May.
Works by finalists will be exhibited at Manly Art Gallery and Museum (MAG&M), Curl Curl Creative Space and Mona Vale Creative Space Gallery from 4 – 27 August 2023. Now in its third year, the non-acquisitive prize celebrates Australian creativity and innovation in response to the environment, reflects on climate change and explores the challenges we face with our natural environment.
Mayor Michael Regan said the prize provides an important platform to bring together a dynamic community of artists and designers and is a chance to connect with audiences who care about the future of our planet.
"On the Northern Beaches, we value our natural environment and sustainable living, so it makes sense for us to continue to highlight environmentally focussed art and design," Mayor Regan said.
"The natural environment has inspired local artists for centuries, and the Environmental Art & Design Prize continues that tradition. In previous years we have seen some truly incredible and provocative works that have prompted us all to reflect on the precious and precarious nature of our environment."
This year, winners will be awarded by an esteemed external judging panel of three leading creative practitioners including renowned industrial designer Adam Goodrum, Powerhouse First Nations Curator Emily McDaniel, and contemporary artist Caroline Rothwell.
Designer and judge Adam Goodrum said that artists and designers are agents of change, often taking the lead in responding to environmental or societal challenges.
"The role of creatives is to influence, educate, expose, challenge and generate solutions. Contributions can be intangible and elicit an exchange of ideas and emotions or they might consider materiality and production," Mr Goodrum said.
"At the core, contributions should be inventive, to address societal needs through creative work."
The $42,000 prize pool will be divided across the nine categories encompassing a range of contemporary practices, from fashion and design to ceramics and painting.
Entries open at 10am Friday, 17 March and close at 5pm, Sunday, 14 May.
The exhibition of finalists' artworks will be displayed at Manly Art Gallery & Museum, Curl Curl Creative Space and Mona Vale Creative Space Gallery from 4 - 27 August.
Artists and designers nation-wide can apply here: www.northernbeaches.nsw.gov.au/things-to-do/arts-and-culture/northern-beaches-environmental-art-and-design-prize
The Environmental Art and Design Prize brings together a dynamic community of artists, designers and audiences who care deeply about our future. Artists and designers are agents of change, often taking the lead in responding to environmental or societal challenges.
Each year, Council invites audiences to explore the diverse ways artists and designers Australia-wide have interpreted our unique Australian landscape, responded to our climate emergency and advocated for our planet through their creative practices.
The Prize categories are:
Ceramics & small sculpture
Film & video
Interdisciplinary collaboration
Painting & mixed media
Works on paper & photography
Wearable design
Functional design
Young artists and designers 7-12 years and 13 - 18 years.
Winners from each category are awarded by an expert panel of judges.
For more information about this year's judges and the complete list of categories visit the Northern Beaches Council website.