July 30 - August 5, 2023: Issue 592

2023 Australian Museum Eureka Prizes Finalists Announced: The Full List Runs Here

Protecting Water Quality at Beaches - Finalist 2023 Eureka Prize for Applied Environmental Research- University of Technology Sydney; NSW Department of Planning and Environment; and Central Coast Council
The Australian Museum (AM) has announced the 55 finalists selected for Australia's leading science awards, the 2023 Australian Museum Eureka Prizes. The AM Eureka Prizes offer $180,000 in total prize money across a diverse spectrum of science, from environmental sustainability to cutting-edge technology, citizen science initiatives, leadership, and mentoring.
The 2023 AM Eureka Prize finalists include:
A revolutionary wearable UV radiation sensor for skin cancer prevention;
Radical research on a new chemical strategy to put cancer cells to sleep;
Innovative 3D-printed imaging devices, the size of a hair for more accurate disease diagnosis;
Pioneering circular economy solutions for sustainable development;
Research on the spread of viruses and bacteria via surface contamination;
A global initiative to understand and prepare for our AI-driven future.
The first comprehensive typology of Earth's ecosystems that fosters understanding of environmental responses, informing diverse biota conservation.
A citizen science led census of Sea Slugs, documenting sea slug diversity and changes likely due to climate.
A program that engages citizens in hands-on turtle conservation.
Eco-friendly, innovative wastewater treatment technology that minimizes environmental impact, reduces harmful contaminants, and guides sustainable policymaking.
In 2023 there are three new prizes for Research and Innovation: The Australian Institute of Botanical Science Eureka Prize for Excellence in Botanical Science, The Australian Research Data Commons Eureka Prize for Excellence in Research Software and The University of Sydney Eureka Prize for Innovative Research in Sustainability.
Finalists from almost every state and territory across Australia are in the running for 18 AM Eureka Prizes across four categories: Research and Innovation, Leadership, Science Engagement and School Science.
The AM Eureka Prizes are the nation's premier science awards, celebrating achievement across a broad spectrum of science, from environmental to innovative technologies, citizen science, leadership and mentoring.
Australian Museum Director and CEO Kim McKay AO said: "The AM Eureka Prizes are a testament to the ground-breaking work and immense contributions of Australia's leading scientific minds. Over 33 years since the inaugural event, more than $4.5 million in prize money and a total of 490 Eureka Prizes have been awarded.
"Eureka Prize winners have gone on to become global leaders in their respective fields of scientific discovery, like Professor Emma Johnson, who transformed marine ecology research, and Professor Alan Duffy, who has brought complex astronomy to the public with simple analogies. The global leadership of our laureates resonates beyond the scientific community and into everyday life."
"The AM Eureka Prizes continue to bring together top scientists, emerging researchers, and young schoolchildren, making it the only national science awards of its kind. The Australian Museum is extremely proud to recognise and celebrate the outstanding achievements of this year's finalists. The profound societal impact of their work is expected to resonate for many years to come."
"As we navigate the era of artificial intelligence, the importance of trustworthy, evidence-based, and peer-reviewed information becomes paramount. Our laureates and finalists epitomise this ethos, supplying factual and fact-based insights that profoundly shape key policy decisions."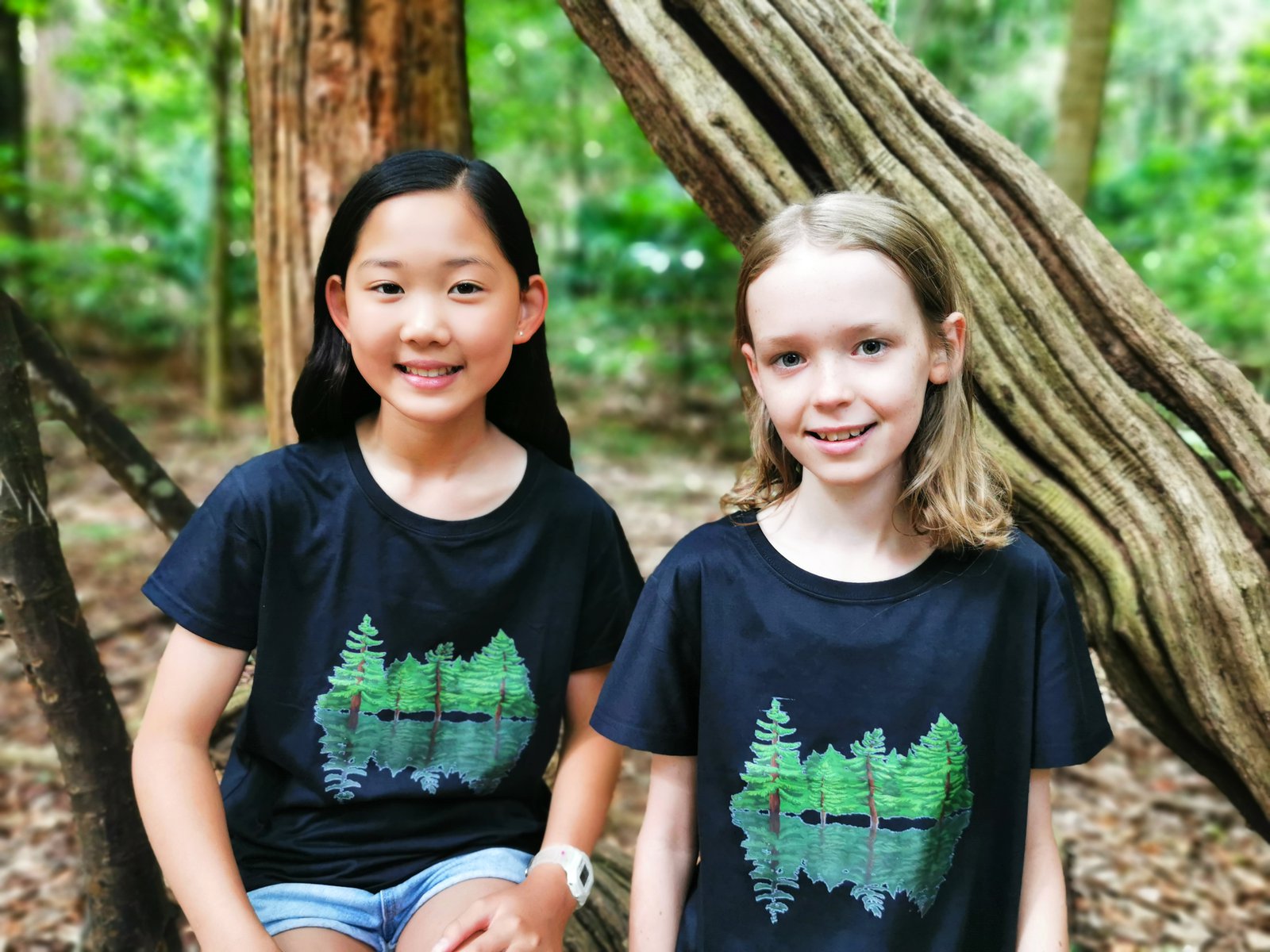 University of Sydney Sleek Geeks Science Eureka Prize - Primary Sophia L. and Scarlett P., Wollongong Public School, NSW Year 6 students Sophia Lee and Scarlett Pawson Image: Supplied
The School Science category of the AM Eureka Prizes shines a spotlight on the country's most promising young scientists and science communicators from primary and high schools. Finalists in this category were selected based on their short video submissions centred around the theme of 'Green', with films examining everything from the preventive qualities of green tea to the symbiotic relationship between trees and fungi.
The young Sleek Geeks have continued to impress and inspire with their scientific curiosity and creativity in exploring the world around them. The 'Green' theme has provided a platform for these young minds to share their unique insights into a wide array of scientific topics, contributing significantly to the overall discourse of scientific learning.
Australian Museum Director and CEO Kim McKay AO said "Engaging in science and conducting experiments empowers children to enhance their skills and learn through evidence-based exploration. It nurtures their natural curiosity, enabling them to identify patterns and gain a deeper understanding of the world around them."
Renowned science communicator Dr Karl said, "The Sleek Geeks Science Eureka Prize, sponsored by the University of Sydney, is an invaluable platform for sparking curiosity and fostering a love for science amongst today's school students. It's amazing to see these youngsters dive deep into the world of 'Green' science, revealing perspectives that are not only thought-provoking, but also innovative.
"Their captivating short films not only hold the potential to seed and grow the next crop of science leaders, but also serve as excellent peer-to-peer learning materials. These films are being embraced by science teachers and used in classrooms across the country, showing the incredible value of this initiative. We are indeed cultivating a culture of scientific exploration that will echo well into the future."
Brandon Gifford, three-time Sleek Geeks Science Eureka Prize winner and current judge said "The Sleek Geeks Science Eureka Prize sparks the curiosity of young scientific minds across Australia, providing a platform for them to explore and share their passion for science. Winning the prize multiple times was a personal achievement that shaped me into a science communicator and conservationist. It gave me confidence and valuable tools to educate others in engaging ways."
"The Eureka Prize also opened doors to work in wildlife facilities and provided media opportunities, deepening my passion for wildlife conservation. Being a Sleek Geeks Science Eureka Prize judge is a remarkable full-circle moment and an incredible honour. It allows me to connect with the next generation of Australian scientists and nurture their passion through encouragement and recognition of their films. As a judge, I am privileged to have a front-row seat to witness the brilliance of these young scientists and communicators."
The full list of finalists, and short bio's on why they have been nominated, runs below.
Research & Innovation
NSW Environment and Heritage Eureka Prize for Applied Environmental Research
Protecting Water Quality at Australian Beaches
University of Technology Sydney; NSW Department of Planning and Environment; and Central Coast Council; Poor water quality at beaches negatively impacts both ecosystem and human health, but the causes are often unknown. Scientists used cutting-edge molecular microbiological tools to pinpoint causes of contamination and collaborated with state and local government agencies on a sewer network remediation program, improving water quality at popular NSW beaches.
Sustainable Wastewater Treatment Team
University of Technology Sydney and South East Water; The Sustainable Wastewater Treatment Team has developed new technology to address the environmental challenges associated with wastewater treatment. Their on-site, closed-loop system prevents pollution – including antibiotic resistance genes, microplastics and 'forever chemicals' – from entering the environment. The technology also cuts waste discharge, carbon emissions and the physical footprint of treatment tanks.

The Waterbirds Aerial Survey Team
UNSW and NSW Department of Planning and Environment; The Waterbirds Aerial Survey Team has conducted one of the largest and longest-running wildlife surveys in the world. As well as influencing the Murray-Darling Basin Plan and nomination and management of Ramsar-listed wetlands, their data has contributed to the gazettal of three new national parks, and conservation of waterbirds and freshwater ecosystems, including rivers.

Australian Institute of Botanical Science Eureka Prize for Excellence in Botanical Science
Professor David Keith, UNSW; Professor David Keith has created a new universal framework classifying ecosystems based on their shared ecological processes. This tool, adopted by the United Nations and already applied in Australia, has been instrumental in formulating effective conservation strategies and helps maintain plant diversity in the face of accelerating environmental change.
Dr Noushka Reiter, Royal Botanic Gardens Victoria; Dr Noushka Reiter leads an internationally recognised orchid conservation program, which has bolstered the populations of 14 endangered species by up to 260%. Using innovative methods to study pollinators and symbiotically propagate over 20,000 plants across 80 endangered species, her work safeguards Australia's unique botanical diversity, providing a blueprint for global plant conservation.
Tropical Mountain Plant Science Project, Australian Tropical Herbarium at James Cook University; The Tropical Mountain Plant Science Project is working to preserve unique plant species found in Australia's cloud forests before they are impacted by climate change. By building conservation reserves of at-risk wild populations in botanic gardens and seed banks, this multidisciplinary team is ensuring protection of Australia's tropical flora for future generations.
Aspire Scholarship Eureka Prize for Excellence in Interdisciplinary Scientific Research
Cystic Fibrosis Lung Health Imaging
University of Adelaide; Women's and Children's Hospital, Adelaide; 4D Medical Pty Ltd; and Monash University
To treat children with cystic fibrosis (CF), it is critical to know the location and extent of abnormal airflow. Combining expertise across physics, medicine and engineering, this interdisciplinary team developed a novel medical imaging method called X-ray Velocimetry. With further development it promises to help detect, treat and monitor CF and other lung diseases.
The Extreme Heat and Health Adaptation Team
University of Adelaide
Heatwaves – intensified by climate change – pose many health and safety risks, especially for vulnerable populations. Leveraging expertise in sociology, epidemiology and meteorology, the Extreme Heat and Health Adaptation Team systematically assessed these risks to develop evidence-based life-saving interventions, guidance and targeted educational resources, enabling Australia's flagship heatwave warning system.
The Time Travellers
University of Wollongong
Little is known about the Denisovans, an ancient group of humans once widespread across Asia. Collaborating with archaeologists and geneticists, The Time Travellers combined new methods of dating sediments with clues collected from ancient DNA, fossils and artefacts to create a timeline of their activities and the climatic conditions they experienced.
Australian Research Data Commons Eureka Prize for Excellence in Research Software
Dr Minh Bui and Professor Robert Lanfear
Australian National University
Dr Bui and Professor Lanfear combined their computer science and biology expertise to develop IQ-TREE2 – free, open-source software that turns DNA data into crucial evolutionary insights. Used to investigate everything from early life forms to the virus causing the COVID-19 pandemic, this user-friendly tool, first released in 2019, has become a staple for life scientists worldwide.
GPlates
University of Sydney
GPlates is open-source software that brings geodata to life by tracing tectonic shifts over geological time. Through virtual models of Earth's systems, GPlates helps researchers better understand our planet's complex geological history and possible future. Broadly applied across science, education and industry, it has contributed to more than 1500 research papers.
mixOmics
University of Melbourne
Created by statisticians, bioinformaticians and computational biologists, mixOmics is a statistical toolkit that gives researchers across academia and industry the ability to analyse large, complex datasets from cutting-edge biotechnologies. The software allows scientists to integrate data from a wide range of sources into a single, unified view, helping them make significant medical and biological discoveries.
Australian Infectious Diseases Research Centre Eureka Prize for Infectious Diseases Research
Cloaking Antibodies Treatment
University of Queensland and Prince Charles Hospital
Antibiotic resistance is one of the biggest threats to global health, as 'superbugs', such as the multi-drug-resistant bacteria Pseudomonas aeruginosa, dodge even last resort therapies. Using a ground-breaking approach to remove an antibody that counter-intuitively protects the bacteria from the immune system, this research has led to improved health outcomes in critically ill patients.
The Corona Queens
University of Melbourne and Peter Doherty Institute for Infection and Immunity
The Corona Queens, a three-person research team, has advanced the medical community's understanding of how the human immune system fights against COVID-19. The team's work on immune responses in high-risk groups – including children, the elderly, pregnant women and cancer patients – accelerated global research into infection and vaccination.
Immunity to COVID
University of Melbourne and UNSW
The Immunity to COVID team shed crucial light on the role of antibodies in combating COVID-19. Their insights – derived from integrating in-depth virological and immunological studies with mathematical modelling – shaped global vaccination policies and accelerated vaccine distribution. Their unique approach also offers a new method for future infectious diseases.
University of Sydney Eureka Prize for Innovative Research in Sustainability
Professor Ali Abbas
University of Sydney
Professor Ali Abbas pioneers circular economy solutions using process systems engineering and clean energy technologies. As founder of the Waste Transformation Research Hub and Australian Circular Economy Conference, he drives research collaborations and advances policy change. He is also responsible for emissions-cutting inventions, including low-carbon concrete and concrete carbon capture.
The Economic Fairways Mapper Team
Monash University and Geoscience Australia
The Economic Fairways Mapper Team developed an open-source toolkit to facilitate renewable energy and mineral projects for a net-zero emissions future. It integrates advanced mapping technology and diverse datasets to identify the most sustainable locations for resource development. This work has informed Australian policy, attracted industry investment and is being replicated globally.
UNSW Chandrawati Nanotechnology for Food and Medicine Laboratory
UNSW
The current, flawed system for use-by dates contributes to 1.3 billion tonnes of food waste globally each year. To better signal when perishable products can be consumed safely, the UNSW Chandrawati Nanotechnology for Food and Medicine Laboratory has developed patented colour-changing sensors that indicate freshness or spoilage of food products in real time.
ANSTO Eureka Prize for Innovative Use of Technology
IMAGENDO
University of Adelaide; and OMNI Ultrasound and Gynaecological Care
Endometriosis affects one in nine Australian women and people assigned female at birth, who experience significant pain and economic impacts during the six or more years it takes to receive a diagnosis. IMAGENDO is building innovative artificial intelligence capabilities to pair with MRI and ultrasound technology that, with further development, will provide rapid, non-invasive diagnosis.
Perovskite Solar Window Team
Monash University and CSIRO
Cities will need to find new sources of renewable energy to reduce the impacts of climate change. The Perovskite Solar Window Team has developed a next-generation solar window technology using a class of materials called perovskites. The new use of this material has the potential to transform the windows of urban buildings into power generators.
The UNSW Bone Ink Printing Team
UNSW
Merging ceramic engineering and biofabrication, The UNSW Bone Ink Printing Team has demonstrated the feasibility of using 3D printing technology to construct living cell-laden structures that closely replicate real bones. With potential for directly repairing or replacing patients' bones, this breakthrough offers substantial promise in the fields of regenerative medicine, orthopaedics and dentistry.
Macquarie University Eureka Prize for Outstanding Early Career Researcher
Dr Fengwang Li, University of Sydney; Dr Fengwang Li has created an affordable and more efficient process for using renewable energy to convert waste carbon dioxide emissions into ethylene, a basic component of plastic. This improved process brings real-world carbon capture and utilisation a step closer, offering emissions-intensive industries a path towards net-zero.
Dr Jiawen Li, University of Adelaide; Dr Jiawen Li invented a microendoscope as thin as a strand of hair and powerful enough to accurately detect signs of heart disease, a leading cause of death worldwide. The highly-sensitive 3D-printed imaging device has the potential to provide cardiologists with high-resolution and accurate molecular insights not possible from existing technologies.
Associate Professor Noushin Nasiri, Macquarie University; Associate Professor Noushin Nasiri invented Sun-Watch, a smartphone-connected, wearable device designed to alert users in real-time to UV radiation overexposure. It relies on a nanostructure that allows a large surface area within the minuscule design. Customised to individual skin types, Sun-Watch will soon enter its next research evaluation stage
Department of Defence Eureka Prize for Outstanding Science in Safeguarding Australia
Professor Clinton Fookes, Queensland University of Technology; Through his research in artificial intelligence, Professor Clinton Fookes is enhancing our understanding of human behaviours and automating the analysis of sensors. Using advanced vision and signal processing, he has led the development of new tools to enhance situational awareness and threat detection, bolstering Australia's national security preparedness.
MetaSteerers Team, University of Technology Sydney; Defence Science and Technology Group; and Macquarie University; The MetaSteerers Team developed a low-profile, energy efficient and steerable antenna system to help the Australian Defence Force (ADF) gain a crucial advantage in battle. Their unique system allows the ADF to transmit large volumes of data or track suspicious radio activity across a wide bandwidth, while remaining almost invisible to adversaries.
UNSW Eureka Prize for Scientific Research
Associate Professor Kate Quinlan and Professor Merlin Crossley AM, UNSW; Associate Professor Kate Quinlan and Professor Merlin Crossley have shown how a mutation causing foetal haemoglobin production beyond gestation might benefit patients with blood disorders. They used CRISPR gene-editing technology to demonstrate that a beneficial mutation could be introduced to patients with sickle cell disease, a debilitating condition affecting millions globally.
Associate Professor Tim Thomas and Professor Anne Voss, WEHI; Over more than a decade, Associate Professor Tim Thomas and Professor Anne Voss identified and investigated a complex family of enzymes that contributed to cancer growth but were resistant to drug development efforts. A recent breakthrough from their research is an entirely new class of drugs that can stop the growth of lymphoma cells and liver cancer cells.
Professor Antonio Tricoli and Professor David Nisbet, University of Sydney and University of Melbourne; Using advanced microscope techniques to understand how microbes stick to surfaces, Professor Antonio Tricoli and Professor David Nisbet developed a water-repelling, non-chemical coating that actively hinders surface contamination. They co-founded Nanostraus to commercialise the technology for use in anti-microbial and anti-fouling coatings to help prevent and reduce the toll of future pandemics.
Leadership
Eureka Prize for Emerging Leader in Science
Associate Professor Laura Bray, Queensland University of Technology; Associate Professor Laura Bray is a rising leader addressing the significant need for new preclinical models in biomedical research. Applying state-of-the-art bioengineering techniques, she has developed sophisticated 3D human tissue models as innovative devices for drug and toxicity testing. Her leadership has been recognised in the scientific, clinical and industry sectors.
Dr Tongliang Liu, University of Sydney; As director of the Sydney AI Centre and founder of the Trustworthy Machine Learning Lab, Dr Tongliang Liu leads teams of researchers to ensure artificial intelligence (AI) is more accurate, fair and responsible. His own theories and algorithms, designed to advance trustworthiness, are shaping how AI is developed and applied globally
Dr Stephanie Partridge, University of Sydney; Dr Stephanie Partridge harnesses technology and nutrition science to improve youth wellbeing. Putting adolescent experiences at the heart of her research and advocacy, she collaborates with young people to learn how technology can help them live a healthier lifestyle. Her work has informed major public health policies in Australia and globally.
Eureka Prize for Leadership in Science and Innovation
Professor Michael Kassiou, University of Sydney; Professor Michael Kassiou is driving new approaches to drug discovery for challenging health conditions such as brain disorders and cardiovascular disease. Combining medicinal chemistry, disease biology and advanced imaging, his discoveries have been commercialised by three start-ups. As a leader and mentor, he also fosters the next generation of medical innovators.
Professor Peter Quinn, University of Western Australia; Professor Peter Quinn is a world-renowned astrophysicist who led discoveries about the nature of dark matter. He played a leading role in Australia's successful bid to host the Square Kilometre Array telescope, and supports the next generation of astronomers as Founding Director of the International Centre for Radio Astronomy Research.
University of Technology Sydney Eureka Prize for Outstanding Mentor of Young Researchers
Professor Maria Forsyth AM, Deakin University; Professor Maria Forsyth is committed to developing Australia's capability in materials science and engineering through mentoring students, postdoctoral fellows and early career researchers. She has been pivotal in integrating her mentees into academic and applied research organisations around the world, and recognises them as future educators, problem solvers and leaders.
Professor Kate Jolliffe, University of Sydney; Strategically and empathetically mentoring over 150 researchers, Professor Kate Jolliffe has nurtured the careers of many leaders. She established both national and international supramolecular chemistry networking groups, which fostered collaborations, as well as promoting gender equality and strengthening Australia's global research standing in this field.
Professor Renae Ryan AM, University of Sydney; Professor Renae Ryan has advanced the careers of many young researchers through mentorship, networking and advocacy. Driving university-wide gender equity initiatives and founding the Sydney Medical School Early Career Researcher Network, she helped increase representation of women at professor level in her faculty, fostering a more inclusive and supportive academic environment.
Science Engagement
Department of Industry, Science and Resources Eureka Prize for Innovation in Citizen Science
1 Million Turtles
Western Sydney University; La Trobe University and University of New England
The 1 Million Turtle Team's Community Conservation Program uses the TurtleSAT app to involve citizen scientists in hands-on activities such as habitat construction and restoration, nest protection and fox management. Emphasising STEM literacy and First Nations knowledge, the Australia-wide program has influenced policy, and saved over 1000 freshwater turtles and 200 nests in 2022 alone.
Dr Grey Coupland
Murdoch University
Dr Grey Coupland's Miyawaki Forest Outreach Program immerses students in climate and biodiversity action. With guidance and mentorship from Dr Coupland, participants plant and monitor dense native pocket forests in their own school. The young citizen scientists learn valuable STEM skills, and can see the tangible impact of their environmental stewardship.
Sea Slug Census
Aquamarine Australia
Since its inception, the Sea Slug Census has seen over 3000 divers, snorkelers and ocean enthusiasts photograph more than 930 species of slugs, including some never before documented in Australian waters. This project feeds into global biodiversity databases to allow scientists to detect important changes in the distribution of Australia's sea slugs.
Celestino Eureka Prize for Promoting Understanding of Science
Dr Lila Landowski, University of Tasmania; From viral videos to record-breaking Zoom lectures, multi-award-winning neuroscientist and science communicator Dr Lila Landowski reaches across mediums and platforms to deliver her message of scientific progress for a brighter world. Her relatable style draws on the inspiring story of her own journey into STEM, engaging an audience of millions globally.
Professor Euan Ritchie, Deakin University; In the face of dual climate change and extinction crises, Professor Euan Ritchie is a sought-after voice, writing popular articles and influential opinion pieces, live-tweeting field research and offering insight in radio interviews. He guides policy and fosters public understanding of the natural world and how science can help overcome significant environmental challenges.
Professor Toby Walsh, UNSW; Professor Toby Walsh is a world-renowned authority in artificial intelligence (AI), exploring subjects such as self-driving cars and autonomous weapons. On television, in books and at academic forums he leads conversations about our AI-driven future: what it will look like, how we can prepare and what we should be wary of.
Australian Museum Eureka Prize for Science Journalism
Jo Chandler, Griffith Review; Jo Chandler's longform essay Buried Treasure follows the most ambitious Australian Antarctic endeavour in a generation. The award-winning journalist had tracked the story for over a decade before pitching her article, which skilfully navigates urgent questions about science, our heating planet and the human condition. Published in the Griffith Review (Edition 77: Real Cool World), 2 August 2022
Nicky Phillips, Nature; In her article, 'She was convicted of killing her four children. Could a gene mutation set her free?', Nicky Phillips skilfully guides readers through the complex genomics research presented at a new judicial inquiry into the convictions of Kathleen Folbigg. Published just before the first hearing, it became one of Nature's most-read online stories that week. Published in Nature, 9 November 2022
Michael Slezak, Australian Broadcasting Corporation; As ABC's national science, technology and environment reporter, Michael Slezak regularly delivers accurate, engaging coverage of scientific advances to millions of Australians. From NASA missions in central Australia, to the ecological impact of gas development projects and the politics of climate change – his reports are newsworthy, accessible and impactful. Aired on ABC TV and published online 18 May, 11 June and 4 October 2022
Department of Industry, Science and Resources Eureka Prize for STEM Inclusion
Indigenous Australian Engineering School
Engineering Aid Australia, University of Sydney and Curtin University
The Indigenous Australian Engineering School strategically supports First Nations students across Australia to complete STEM studies at secondary and tertiary levels, opening up career opportunities in engineering and technology. Of the 247 students who attended annual on-campus events since 2018, 71 have enrolled in a STEM-related course at an Australian university.
Little Bang Discovery Club
Children's Discovery
Designed in collaboration with STEM experts, Little Bang Discovery Club ignites a curiosity for science in children from preschool age up – more than half of whom live in regional areas. The program reaches over 80,000 kids a year in the playful and familiar environment of their local public library.
That's What I Call Science
Based in Tasmania, the volunteer-run radio show and podcast, That's What I Call Science reaches over 10,000 people a week with programming designed to increase representation of diverse voices in STEMM. Since 2019, they've given the science community a platform to upskill and create engaging and accessible content for a breadth of listeners.

School Science
University of Sydney Sleek Geeks Science Eureka Prize - Primary
Sophia L. and Scarlett P., Wollongong Public School, NSW; Are the trees sharing secrets with each other beneath our feet? Sophia and Scarlett think so, and it's a concept they explore in their educational and engaging video Intriguing InTREEnet, which uses timelapse animation, graphics and drone footage to explain mycelium networks and their role in the forest.
Chase M., Shellharbour Public School, NSW; The human eye discerns more shades of green than any other colour. In Nurinnurun-Green: The SEEN Colour, Chase combines drone video, claymation and stop-motion graphics to explain how the retina and the colour green (or Nurinnurun, in the local Dharawal language) have impacted human evolution and survival.
Anna P., PLC Sydney, NSW; In Green Infrastructure: The Solution to Coastal Erosion, Anna uses humour and graphics to explain the phenomenon of coastal erosion and its causes in an accessible and entertaining way. She also highlights how green solutions such as vegetation and natural barriers can be used to protect homes and assets.
University of Sydney Sleek Geeks Science Eureka Prize - Secondary
Darcy B., Ashfield Boys High School, NSW; In The Crazy World of Chlorophyll, Darcy investigates the dominant colour in nature: green. With the help of animation and stop-motion, he explains why so many leaves and plants share the same traits, visualises the photosynthesis process and shares just how many living things rely on the superpower pigment, chlorophyll.
Alison P. and Kathlin Q., Lauriston Girls' School, Vic; Antioxidant-rich green tea has been known to reduce cell damage in the body. In their animation, How can drinking green tea prevent Alzheimer's Disease? Alison and Kathlin explain why the ancient Chinese drink may also be an effective natural preventative for memory loss and physical deterioration associated with Alzheimer's disease.
Jacob W., Bayview Secondary College, Tas.; The combined challenges of population growth and climate change will require innovative, green solutions to food production. In Aquaponics: Tomorrow's Farming, Jacob explains how aquaponics – a form of fish farming – relies on the symbiotic relationship between fish, bacteria and plants to create a holistic, sustainable food system.
University of Sydney Sleek Geeks Science - Highly Commended
Sleek Geeks Science Highly Commended - Primary School
Plant Kitchen, Isla B., Glenmore Road Public School, NSW
The Greatest Green, Abelia C., Abbotsleigh Junior School, NSW
Why Don't Kids Eat Their Greens?, Kaelyn C., PLC Sydney, NSW
Astonishing Auroras, Saalih D., Homeschooled, QLD
A Little Green Stowaway, Charlotte M,. PLC Sydney, NSW
Smart Farming, Madoc T., Knox Grammar Preparatory School, NSW
The 'Dirty' Secret: Green Farming, Alessandro V., Holy Family Parish School, NSW
Green Catastrophe, Ruby W., PLC Sydney, NSW
Sleek Geeks Science Highly Commended - Secondary School
Why are Green Screens Green, Tyler B., Newcastle Grammar School, NSW
Green Hydrogen: The Future of Clean Energy, Zander C., and Jonathan SC., Oakhill College, NSW
The Radium Girls - Explained, Hannah M., St Clare's College Waverley, NSW
Green Space - The Science of Our Surroundings, Iestyn R., St Johns Anglican College, Forest Lake, QLD
R'eco'nsider - The Revolutionary Way to Write, Grace S., Perth Modern School, WA
Green Chemistry: The Future of Sustainability, Marko S., Oakhill College, NSW
Detecting Life on Exoplanets, Ronan T., Oakhill College, NSW
Green Glow in the UV, Neomi V., Abbotsleigh, NSW
Award Ceremony
The 2023 Australian Museum Eureka Prize winners will be announced on the evening of Wednesday 23rd of August during a live broadcast event. Join the Australian Museum online for this special evening to celebrate some of Australia's brightest minds, whose contributions span the areas of research & innovation, leadership, science engagement and school science. With a dedicated segment for each of the 18 prizes, you can expect a variety of presenters, live winner reactions and insights into each achievement.
Hosts and speakers
Your hosts for the evening will be Bernie Hobbs and Rae Johnston, who will be joined by presenters from some of the country's leading scientific institutions, government organisations and universities.
When: 7.30 pm AEST, Wednesday 23 August
Cost: Free of charge - Register now
The Waterbirds Aerial Survey Team - Finalist, 2023 Eureka Prize for Applied Environmental Research - UNSW and NSW Department of Planning and Environment