September 4 - 10, 2022: Issue 553

2022 24 Hour Row For Mental Health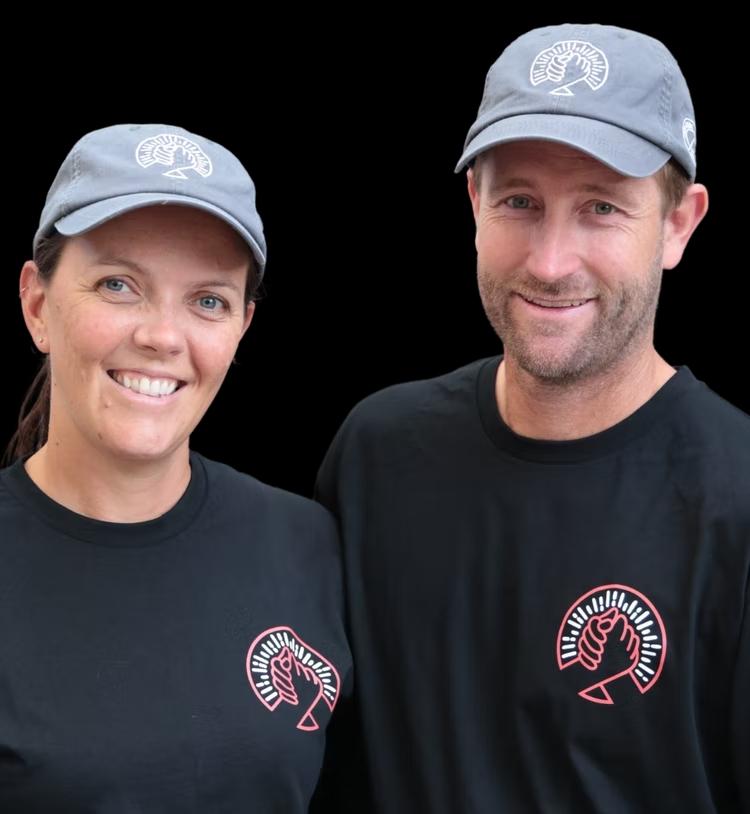 Sign up or support your local team at: 24hourrow.com.au
If you're looking for something to kick off your training for the season, there are 9 clubs in SNB running the 24 Hour Row next weekend (10-11th September) and there are still spaces at all clubs. If you and your crew, or just you want to jump in message 24 hour row and they will put you in touch with one of the organisers at the club closest to you.
Visit: www.facebook.com/24HrRow
Local Clubs are: Palmy, Avalon Beach, Mona Vale, Narrabeen, Long Reef, North Curly, South Curly, Freshie and North Steyne.
If you row between midnight and 4am you go in the running to win a night for two at the 5 Star Ovolo Hotel Woolloomooloo. There's also a Concept 2 Ergo up for grabs.
The 24 Hour Row is now in its 5th year. Started by long time Avalon Beach surf lifesaving club members Nathan and Mel Wellings back in 2018, initially, just one club wanted to make a difference after seeing too many lives lost to suicide on the Northern Beaches of Sydney. Each year the event has grown with more surf life saving clubs taking part.
"We love this event because it brings so many communities together and shows solidarity and passion for a suicide free Australia."
After the success of the Avalon Beach 24 Hour Row over the past years, the event expanded in 2021 despite the pandemic and extended lockdowns; 35 locations from Queensland, New South Wales, Victoria, South Australia and Western Australian Surf Life Saving Clubs and gyms took part in the event last October.
Rowing machines were set up at each location and participants took turns rowing for up to one hour each, keeping the machines going for the full 24 hour period. Some of Australia's top athletes including Olympic rower Georgie Rowe took part alongside well-known figures such as Paul Gallen and Hugh Jackman, and participants who had never been on a rowing machine in their lives.
Together they worked through the mental and physical challenge of rowing and raised funds for Gotcha4Life which help deliver mental fitness programs that engage, educate and empower Australians to end suicide.
The event is the brainchild of one of the country's top surf boat coaches Nathan Wellings from Avalon Beach SLSC and his wife Mel who rallied their community in 2018 after a tragic spate of youth suicides in the area.
"After such a tough year we were so happy that the 24 Hour Row was able to go ahead and can't believe how many additional clubs participated this year," said 24 Hour Row founder Mel Wellings.
"Mental fitness and the awareness of how to help friends and family is so important and we're glad that our little event is now able to help save lives nation-wide," she said.
"Our local community was struggling to come to terms with the loss of a number of our young people in 2018 and our team of surf boat rowers wanted to do something positive to help. We set up a couple of rowing machines at the club and rostered everyone to row for an hour each, over 24 hours.''
"It was such a great event, with great support from all the community, not just our club members. We even had the local MP Rob Stokes jump on a machine and row for an hour with us. He didn't do too bad a time either," said Mel Wellings.
In 2021, the event expanded again to include five Western Australian clubs for the first time. "There was some healthy rivalry between clubs and states this year in both the fundraising side and the total distances that each rowed in the 24-hour period," said Mel.
All locations were connected via Zoom and a livestream was broadcast on the 24 Hour Row Facebook page for everyone to watch and support.
At Avalon Beach SLSC rugby union legend Sharni Williams took the last hour on the Sunday of 2021, with Gus Worland cheering her on.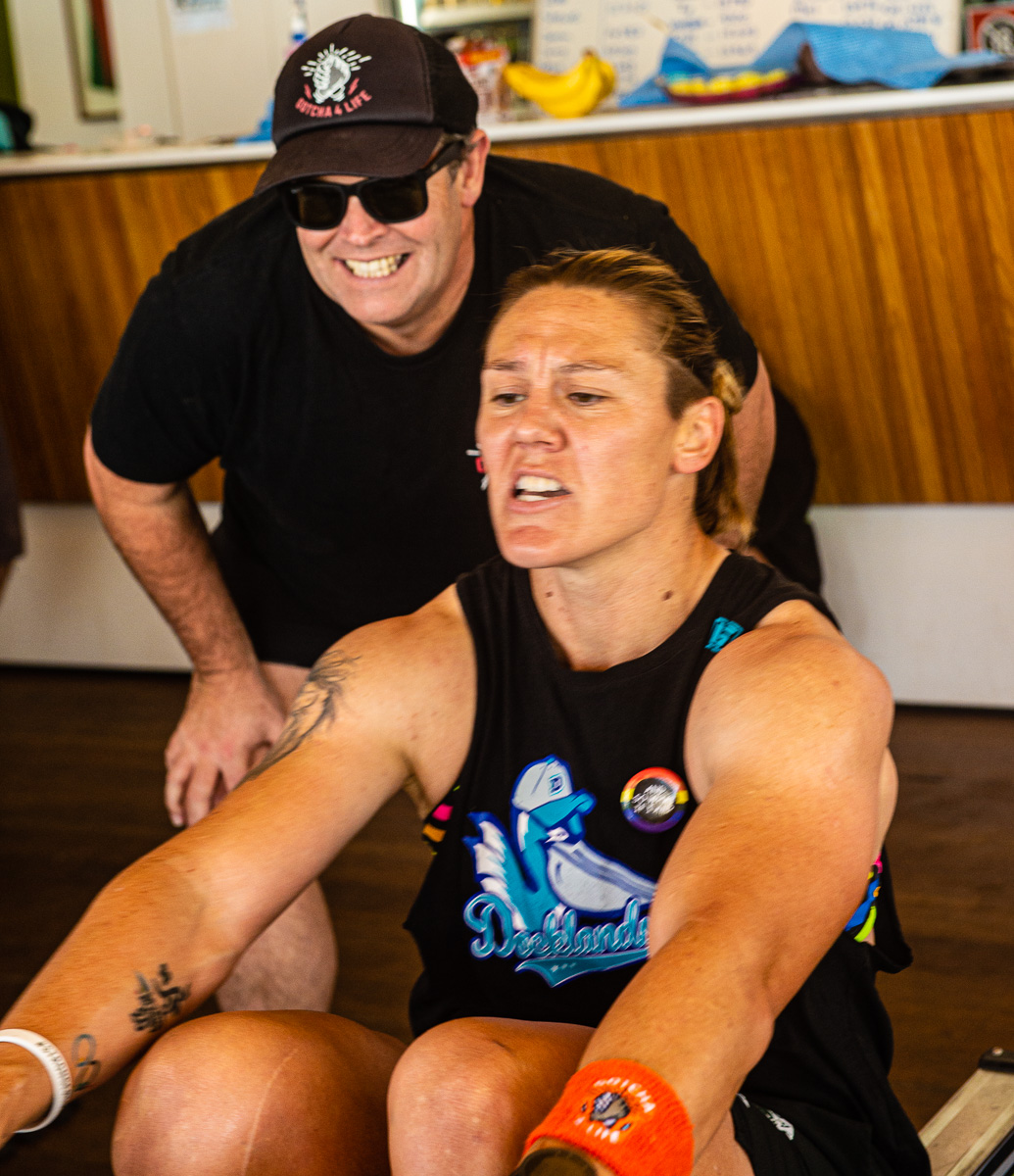 Sharni going for broke - Gus watching the k's clock up. Photo: Michael Mannington, Community Photography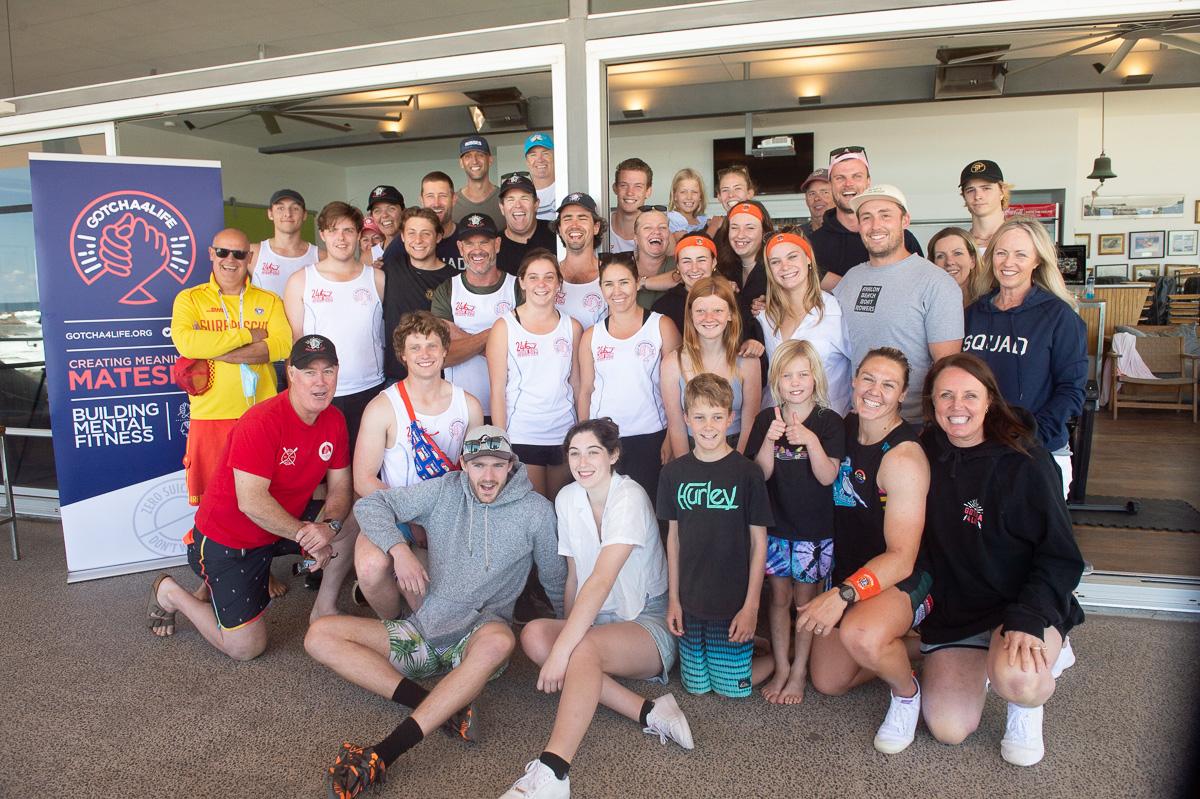 At the Avalon Beach SLSC clubhouse after the finish of this year's 24Hour Row of 2021. Photo: Michael Mannington, Community Photography
In 2021 the 24 Hour Rowers collectively raised an incredible $155,350 enabling Gotcha4Life to deliver programs for more than 3,883 Australians.

In 2022 they're aiming for 50 to participate in this year's event and raise $250,000.

Over the weekend of September 10-11 everyone involved will be going the distance for mental fitness. This year there is an open invitation for all 314 SLS clubs across Australia plus gyms, clubs, schools to be part of the biggest row in history.
There are 3 easy steps to getting involved:
STEP 1
REGISTER
Register your team/club to row and this will create your team fundraising profile.
STEP 2
RECRUIT
Recruit your rowers and get them to create their own individual fundraising profiles within your team/club.
STEP 3
FUNDRAISE
Ask your friends, family and colleagues to donate to your club or individual fundraising page. Let them know that all donations go towards educational workshops and programs.
Gotcha4Life's vision is zero suicides.
When you fundraise for the 24 Hour Row, you support the mental fitness of your community.
Every donation helps Gotcha4Life reach others – and prevent suicide.
Small donations add up to make a big difference. Just $40 means someone can attend a workshop that could change or save their life.
Every contribution helps Gotcha4Life to deliver workshops that build mental fitness and social connections needed to deal with life's stresses, skills needed to identify and offer help to others in need, so everyone has someone to turn to and no one has to worry alone.
Surf Life Saving NSW continues its support of the expanded event assisting with promoting the event through their alliance with Gotcha4Life.

"We love the 24 Hour Row, now in its fourth year," said Gus Worland, Gotcha4Life's Founder. "It's a great opportunity for the community to come together, raise funds to build mental fitness and have fun along the way! Our programs are needed now more than ever, and funds raised will allow us to work with individuals and communities to reduce instances of poor mental health and build stronger connections." Worland said.
Every $40 raised allows a participant to take part in a life saving Gotcha4Life mental fitness workshop. The ripple effect of that one person being connected and supported could mean many more lives are saved.
REGISTER & DONATE: www.24hourrow.com.au
START: 12 Noon, Saturday 10 September 2022 (AEDST)
FINISH: 12 Noon, Sunday 11 September 2022 (AEDST)
Each club will have one or more rowing machines set up at their own location. Each location will follow their state's health/ COVID-19 guidelines based on restrictions at the time of event.
GOAL: To raise funds and awareness for mental fitness charity Gotcha4Life by keeping people connected by encouraging them to train for both an individual and team goal, through a mental and physical challenge – row for one hour and keep your club's machine moving for a full 24 Hour period.
WATCH LIVE: Each location will be linked through Zoom and the Zoom will be broadcast live through Facebook via www.facebook.com/24HrRow for the 24 hour period of the row with interviews and live distance updates to keep the rivalry and energy up and encourage donations.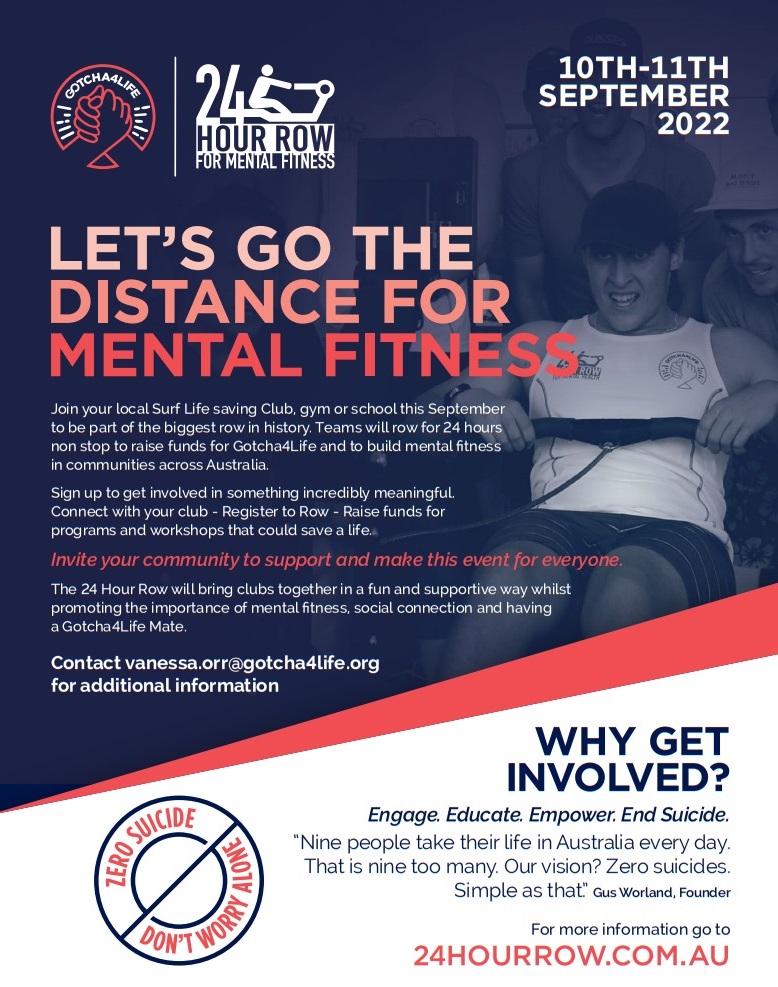 ____________________
If you or anyone you know needs help, please call: