March 21 - 27, 2021: Issue 488

2021 Pittwater Challenge - Round 1 Of PNSW Harbour Series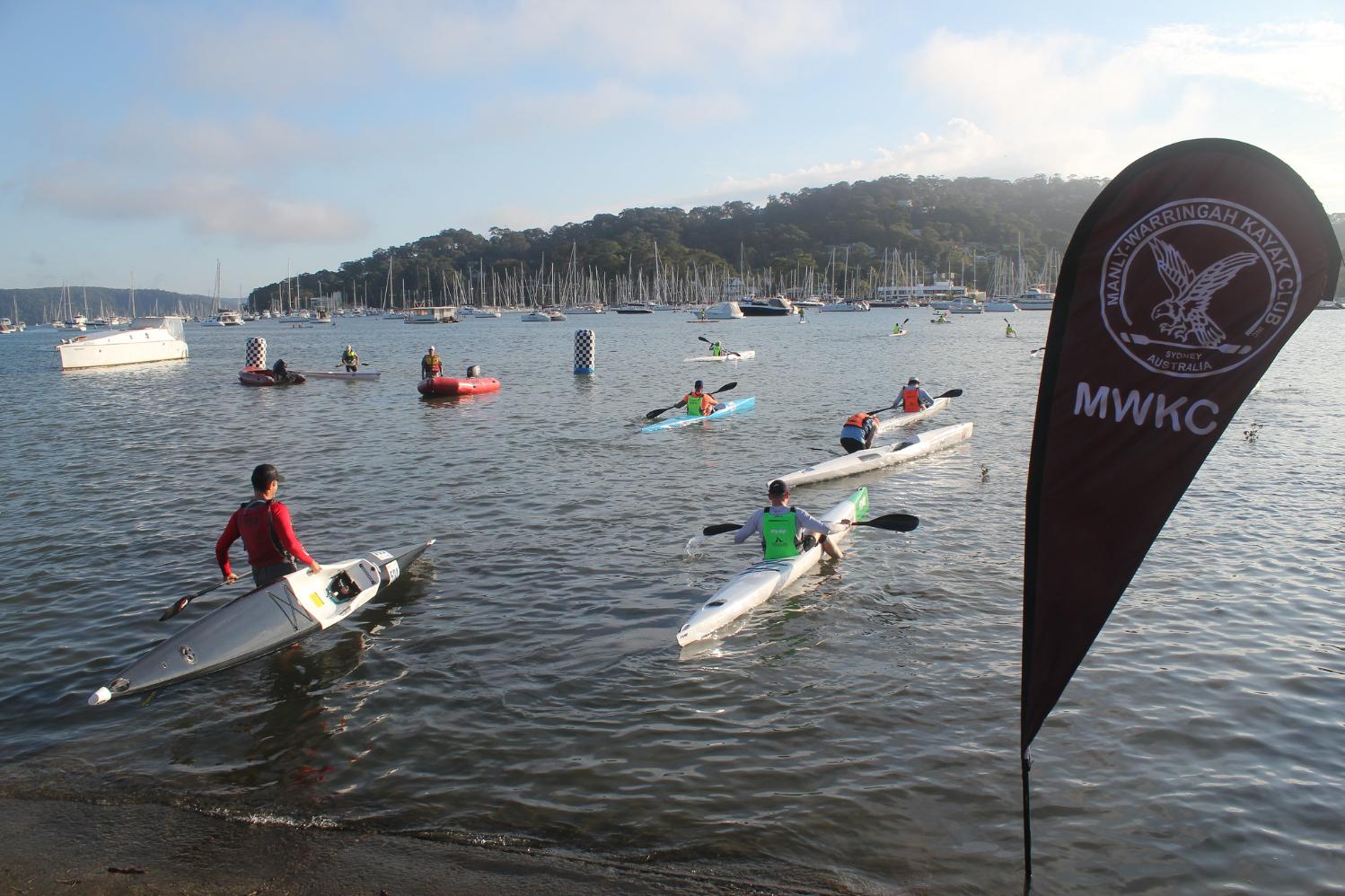 Manly Warringah Kayak Club (MWKC) hosted the Pittwater Challenge 2021 on Saturday March 13trh, on the Pittwater estuary. This is the first race of the 2021 PaddleNSW Harbour Series.
The Race started from Rowland Reserve boat ramp at Bayview on Pittwater. There were two courses, Long Course (14km) and Short Course (9km). In order to manage crowd sizes (Covid-19) the host club had separate check-in times depending on which course and craft you intended to use.
In the Pittwater Challenge, over forty of MWKC members raced, out of a field of 125. There were also a big group of Mona Vale SLSC members in both courses. Congratulations to all participants. It's wonderful to see so many young juniors racing, some individually, some together in doubles and some with their fathers.
New MWKC member Spencer Richards was the overall winner on the day, with young Ziko Vesely 3rd. Catherine Atkinson finished second in the women's race with Guy Robinson and Sean Ryce taking out the double ski.
In the short course, father and son pairings, Chris and Tom Maker and Viliam and Max Mako finished first and second across the line, with Sam Ruben 4th on a Spec ski (second individual). There were many others of MWKC members who won categories, and congratulations to them. For full all results and photos visit out the Flickr and Webscorer linked to here. Some images from the 2021 Pittwater Challenge run below this Issue.
A massive thank you to Rich Robinson and his team for organising and running the event. Thanks too to Geoff Horsnell and PaddleNSW for the images.
The SLSNSW, State Master's Championships were held at Swansea Belmont over the two days of the weekend, and again MWKC members raced. Our medallists being, Mario Vesely (North Curl Curl) Silver in the 50-54 years male single ski, Bronze in the double ski and silver in the 150 yrs taplin relay. Jacque Grimes (North Narrabeen) silver in the female 30-34 single ski.
This weekend is the Australian Ocean racing series, "Bridge to Wharf" race, where MWKC members will again compete. Plus a contingent of MWKC marathoners have travelled to Canberra for the PNSW Marathon Series Rd 3 on Lake Burley Griffin.
Yours in Paddling
Peter Grimes
President MWKC
About the 2021 Harbour Series

The 2021 Harbour Series offers paddlers new to open water four unique courses in the lower risk racing environment of enclosed harbour and lake waters. Long courses are generally between 14 and 18kms, while short courses are between 8 and 12kms.
Race 1: Pittwater Challenge, Saturday 13th March
Race 2: Dolls Point Classic, Saturday 8th May
Race 3: Brisbane Waters Open, Sunday 30th May
Race 4: Hacking Classic, Saturday 10th July
Harbour Series reserve date: Sunday 18th July
In response to feedback from last season, the 2021 Harbour Racing Series sees the introduction of a new format designed to cater for Surf Lifesaving Juniors and Junior Teams (U17 and U19) for both Males and Females. The date for determining age groups is aligned with SLSA and defined as your age on October 1st 2021.
This category is for only for Juniors paddling SLSA Spec Skis and will compete over the Short Course only. All other juniors paddling other craft will fall under existing Paddle Australia/ICF rules, which for the Harbour Series is U18 and defined as your age on January 1st 2021
Additionally, there will also be a Junior Spec Ski Team competition, whereby the top three U17/U19 finishers from each SLSA Club will accumulate points to a Teams Competition total. To ensure your points are included, U17/U19 entrants must also enter the Club you are competing for. The top three placegetters from each Club will score points for their nominated Team (Club) Points are awarded on a sliding scale - 1st place = 100 points, 2nd place = 99 points, 3rd place = 98 points, etc.
About the Manly Warringah Kayak Club
Manly Warringah Kayak Club (MWKC) is situated on the beautiful Narrabeen Lake at Berry Reserve (behind Tram Shed and Ambulance). A social and racing club catering to Kayaking, Canoeing and Surfskiing. We welcome new members.
The club has over 240 members of all ages and abilities, from ages 8 to 86 and from paddlers struggling not to fall in to Gold Medal winning Olympians.
We are primarily a racing club and our members enjoy competing in events such as the Paddle NSW Marathon Series, Harbour Series and Sprint Series as well as ultra-marathons like the Hawkesbury Classic and Myall Classic. There are the paddlers who always have a coffee at the local cafe after a Sunday Race or Club paddle to the time-poor who squeeze in a morning or afternoon training session. Members paddle a variety of boats from stable TK1's and ocean skis through to top of the line K1's and C1's.
New members are always welcome, go to www.mwkc.org.au for more information. New members can undertake three trial paddles in our introductory squads for no charge before committing to membership. Note MWKC is a competitive club for people keen to build their paddling skills in club squads, races and events.
Find out more at: http://mwkc.org.au/
2021 PaddleNSW Pittwater Challenge Results
Long Course Winner Winning time Total racers
Overall Spencer Richards 1:04:06.3 50
Female Montannah Murray 1:11:32.1 6
Ski Single (19+) Montannah Murray 1:11:32.1 3
Ski Single (40+) Phillipa Le Roux 1:19:19.5 1
Ski Single (50+) Rachel Mosen 1:29:39.7 2
Male Spencer Richards 1:04:06.3 42
Outrigger Single Matthew Spies 1:18:41.6 1
Ski Double (19+) David Russell/David Heathcote 1:06:26.9 1
Ski - Double (40+) Jason Benn/David Benn 1:06:14.0 2
Ski - Double (50+) Cameron Tunbridge/Brett Worth 1:06:12.4 1
Ski - Double (U18) Guy Robinson/Sean Ryce 1:05:34.9 1
Ski - Single (19+) Spencer Richards 1:04:06.3 4
Ski - Single (40+) Cade Barnes 1:04:07.7 12
Ski - Single (50+) David Coward 1:05:46.5 14
Ski - Single (60+) Bruce Moller 1:10:24.2 3
Ski - Single (U18) Ziko Vesely 1:04:37.2 3
Female/Male David Young/Allison Bilbow 1:12:06.0 2
Ski - Double (40+) David Bird/Helen Tibbs 1:18:52.8 1
Ski - Double (50+) David Young/Allison Bilbow 1:12:06.0 1
Short Course Winner Winning time Total racers
Overall Chris Maker/Tom Maker 48:26.2 55
Female Jessica Tyson/Makayli Byrne 54:53.3 14
Other - Single - All ages Ann Lloyd-Green 1:12:33.4 2
Ski - Double (40+) Joy Robinson/Jaki Edwards 57:40.5 1
Ski - Double (50+) Merry Sugiarto/Alanna Ewin 55:23.0 1
Ski - Double (U18) Jessica Tyson/Makayli Byrne 54:53.3 1
Ski - Single (50+) Sue Hobbs 59:40.9 3
Ski - Single (60+) - - 1
Ski - Single (U18) Elizabeth Tyson 58:41.8 1
SUP - All ages Nicole Spencer 1:34:13.2 1
U17 SLSA Spec Ski Kira Beuzeville 57:04.4 3
Male Chris Maker/Tom Maker 48:26.2 39
Ski - Double (U18) Joel Newton/Mate Eles 1:00:47.9 1
Ski - Double (Vet/Junior) Chris Maker/Tom Maker 48:26.2 3
Ski - Single (19+) Richard Crampton 1:02:11.9 2
Ski - Single (40+) Lee Kirk 1:00:05.5 5
Ski - Single (50+) Matthew Sheather 49:53.5 13
Ski - Single (60+) Ian Heath 52:41.8 9
Ski - Single (U18) Noah Lynch 54:45.2 3
SUP - All ages Mike Hayes 1:08:31.5 2
U19 SLSA Spec Ski Sam Ruban 52:34.3 1
Female/Male Lee-Anne Andersen/Nigel Carson 54:11.0 2
Ski - Double (40+) Lee-Anne Andersen/Nigel Carson 54:11.0 1
Ski - Double (50+) Charl Kellermann/Gonda Kellermann 59:08.2 1