March 7 - 13, 2021: Issue 486
2021 NSW Inclusive Championships: Athletes Shine In Surf And On Sand
On Sunday 28th February, 35 members from 16 clubs across the state came together to compete in the Inclusive events at the 2021 NSW Age Championships proudly supported by Your local club.
This was the third year of Inclusive events, welcoming old and new competitors from as far north as Coffs Harbour down to our clubs in Sydney Branch. Event size was capped at 40 competitors who were joined by parents, water safety and supporters. Competitors were split into Junior, Youth and Senior age groups, and members competed in Swim, Sprints, Flags, Board and for the first time a Wade race.
The Inclusive Championships' aim is to provide a fun and competitive pathway for the 34 NSW clubs who run weekend programs.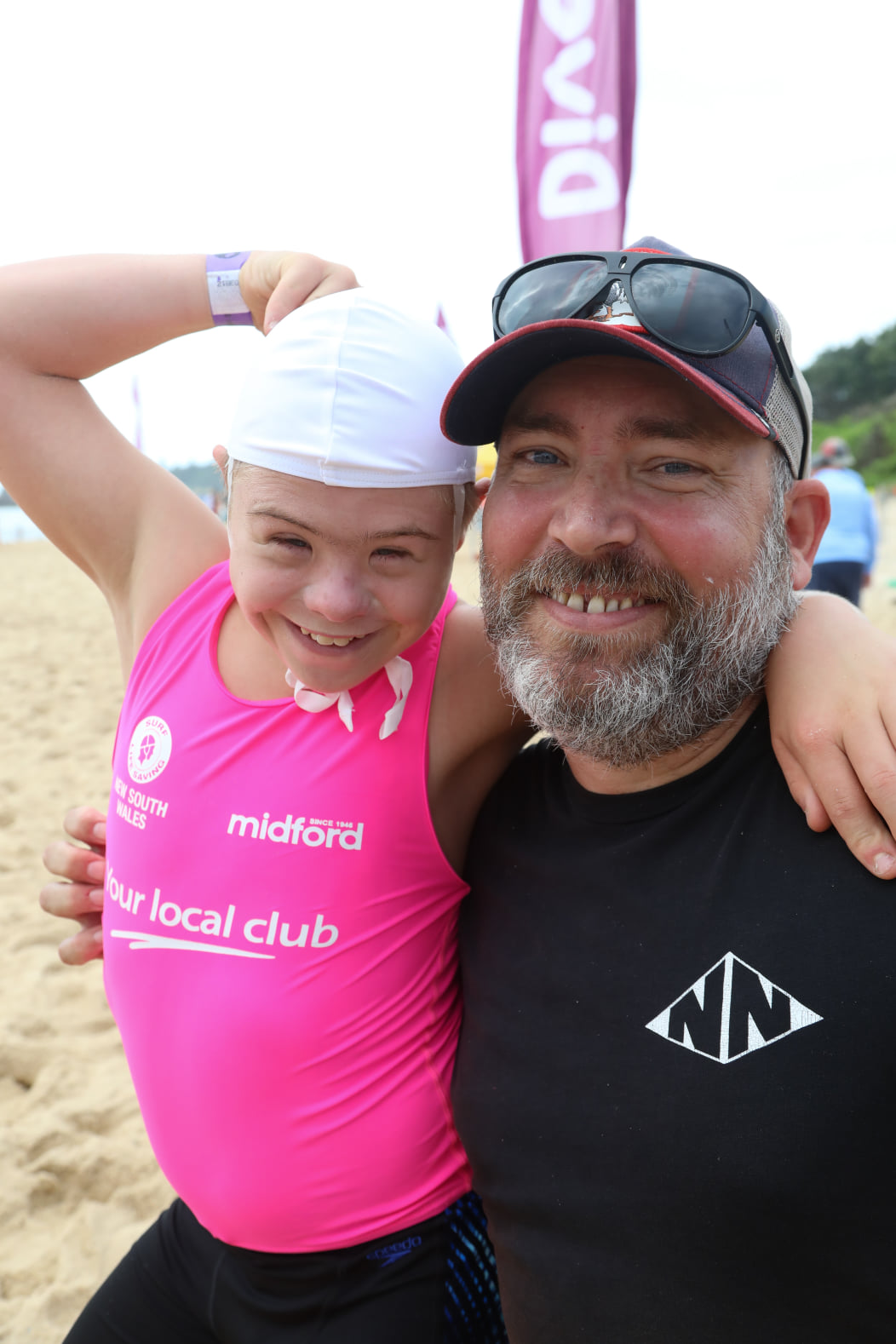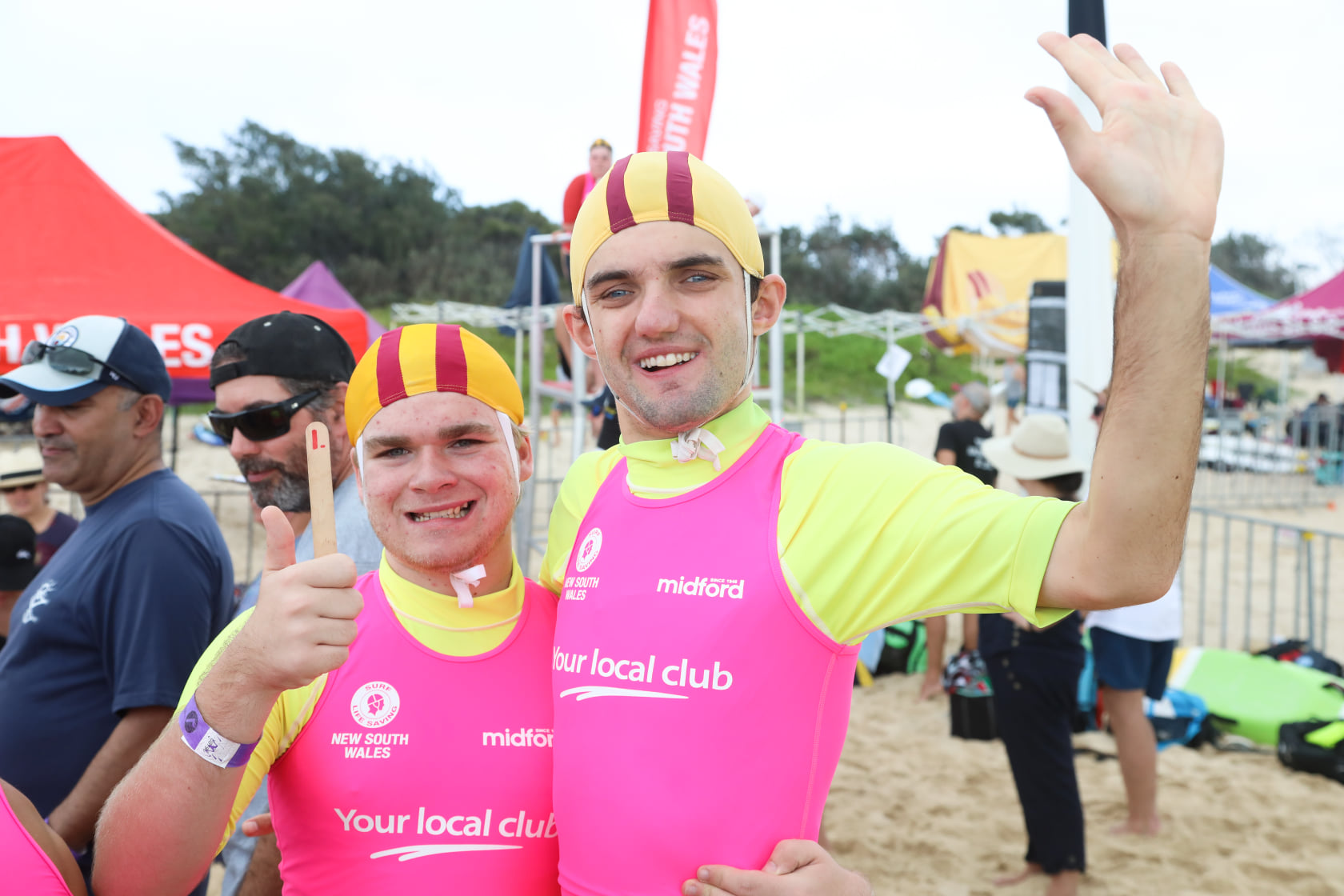 Conditions were spectacular allowing many competitors to get in the water for swim, wade and board events and almost all competitors getting involved in the Beach Sprints and Flags. The Inclusive events aim to provide a fun and competitive pathway for the NSW clubs that run Inclusive weekend programs for their members. Thanks to our dedicated team of volunteer officials who made the events run smoothly, and allowed for some fierce competition with many close finishes!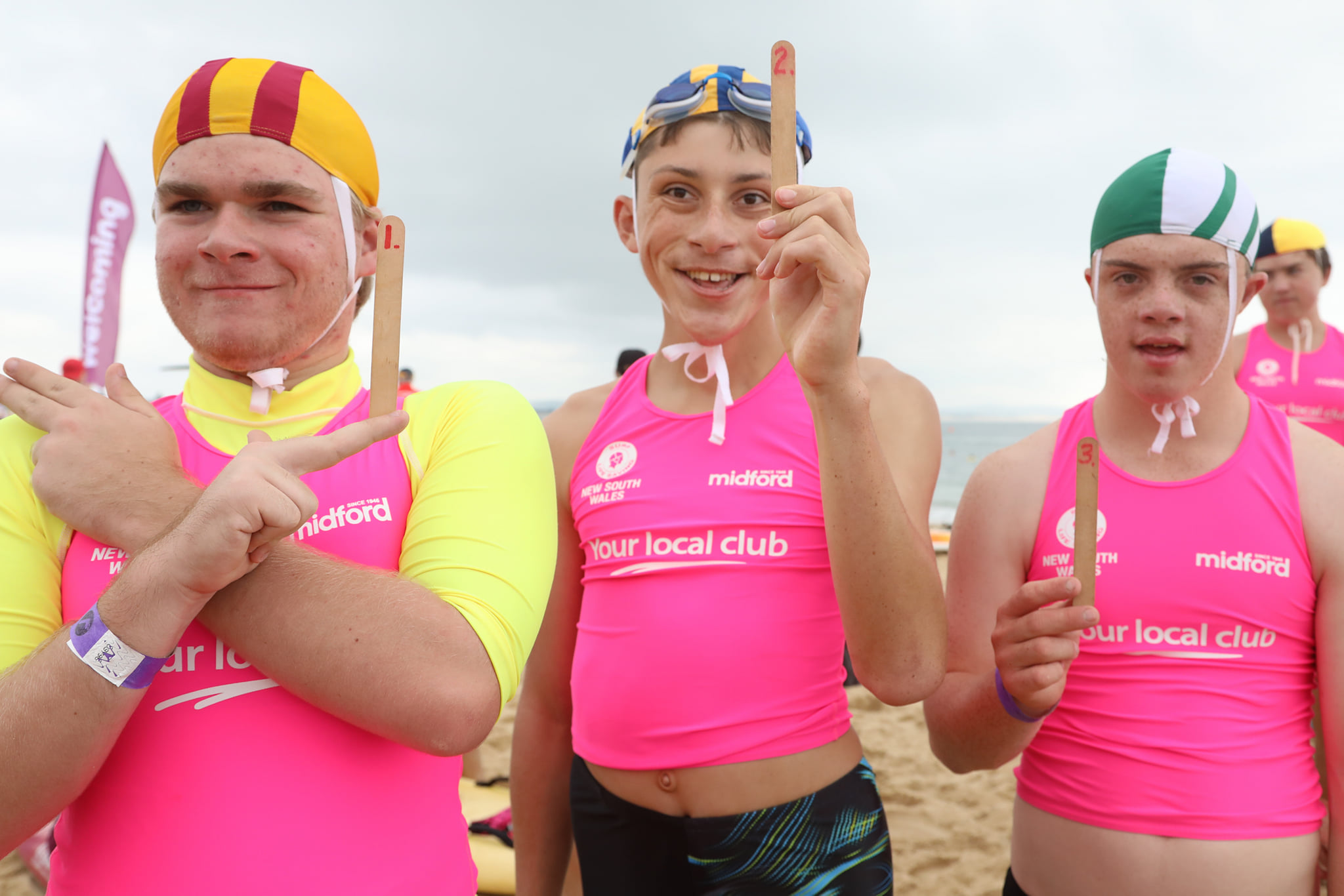 Hosting the Inclusive events at the Age Championships aligns with SLSNSW's strategic objective to be an all-inclusive organisation that protects, educates, prepares, and embraces everyone. SLSNSW will continue to support this event and the inclusion space, to grow numbers in future years.
In 2020, as part of a National Volunteer Week focus and Profiles, Surf Life Saving NSW had a chat with Kate Broadhurst. Kate has been leading inclusive programs at Avoca Surf Life Saving Club on the NSW Central Coast.
How long have you been involved with Surf Life Saving, and what club are you currently a member of?
I have been involved in Surf Life Saving for 29 years. I joined the nippers at North Entrance Surf Life Saving Club when I was 11 years old. I am currently a member at both Avoca Beach SLSC and North Entrance SLSC. I have been competing for Avoca SLSC now for 15 years and have more recently become involved at North Entrance SLSC again, which is where I patrol and my kids do nippers.
What was it that triggered you to join a club? Was it a defining moment and reason?
When I was young I loved going to swimming club at the local ocean baths but hadn't really done any formal training. At the time, my dad was a maths teacher who often tutored students after school. One of the students he was tutoring had parents who ran the nearby pool and suggested I come and join the squad. Luckily for me, this person was a legend of the sport. Brian Hutchings coached, mentored and supported me from the very beginning. He was still competing in Masters competition for North Entrance SLSC at the time and encouraged me to join.
Have you performed or been part of a rescue?
I've done lots of rescues over the years both on patrol and working as a council lifeguard. The common link between most of them is that the person being rescued didn't realise how quickly things could go wrong.
What's one of the most inspirational or memorable things that you've witnessed either within your club or on patrol?
One inspirational thing that comes to mind is Col Laing (North Entrance SLSC) being awarded life membership of SLSA recently after 60 continuous years of patrolling. Col coached us at North Entrance when I was in nippers and is still actively involved with the nippers there today with my kids. The kids think he is a total rockstar (and he is!). He personifies the spirit of volunteerism in Surf Life Saving and the whole club was so excited to see his dedication recognised.
Why is volunteering as a surf lifesaver important to you?
Volunteering as a surf lifesaver is important to me for a number of reasons. It's a great community to be part of and I enjoy being able to contribute to my clubs, especially now that my children are involved. I'm fortunate enough to be still competing in surf sports, but volunteering in different capacities will allow me to stay involved with the movement once I retire from competition.
Why do you think surf sports is such an important part of Surf Life Saving?
Surf Sports is such an important part of Surf Life Saving as it teaches people the skills required to enjoy the ocean safely, as well as patrol their local beaches and give something back to their own community. As a sport, it teaches young competitors invaluable life lessons and develops determination, perseverance and resilience through its unpredictable and sometimes unfair nature.
Tell us about your involvement in inclusive programs in Surf Life Saving.
In 2015, I was taking a break from competing after the birth of our second son. I still wanted to be involved in the surf club and was thinking about how I wanted to make a contribution. Our eldest son has a vision impairment and had just started tiny-tots nippers at North Entrance SLSC. With my background in surf lifesaving and a degree in Occupational Therapy, I felt pretty confident that I would be able to support him to participate in nippers by modifying activities to make it more accessible for him. I realised that this might not be the case for all families of children with additional needs, so I started an Inclusive Nipper Program at Avoca SLSC. There has been a huge demand for inclusive programs like ours on the Central Coast and as a branch we now have more than half of our clubs running dedicated inclusive programs - and others supporting individual children within their age groups.
What does it mean to you as a surf lifesaver to be changing communities and changing lives?
It means a lot to me to be able to contribute to the local community. I have gained so much from my involvement in the Surf Life Saving movement and I'm really happy to be able to pay it forward. After patrolling for many years and holding positions within the Branch, I think the most rewarding thing I have been involved within Surf Life Saving has been the Inclusive Nipper Program. I'm really proud of the fact that we have become a more inclusive club at Avoca and have made it possible for children who need extra support to access and enjoy the sport that we love so much.
What's one word to describe the feeling you get from being a surf lifesaver?
Community.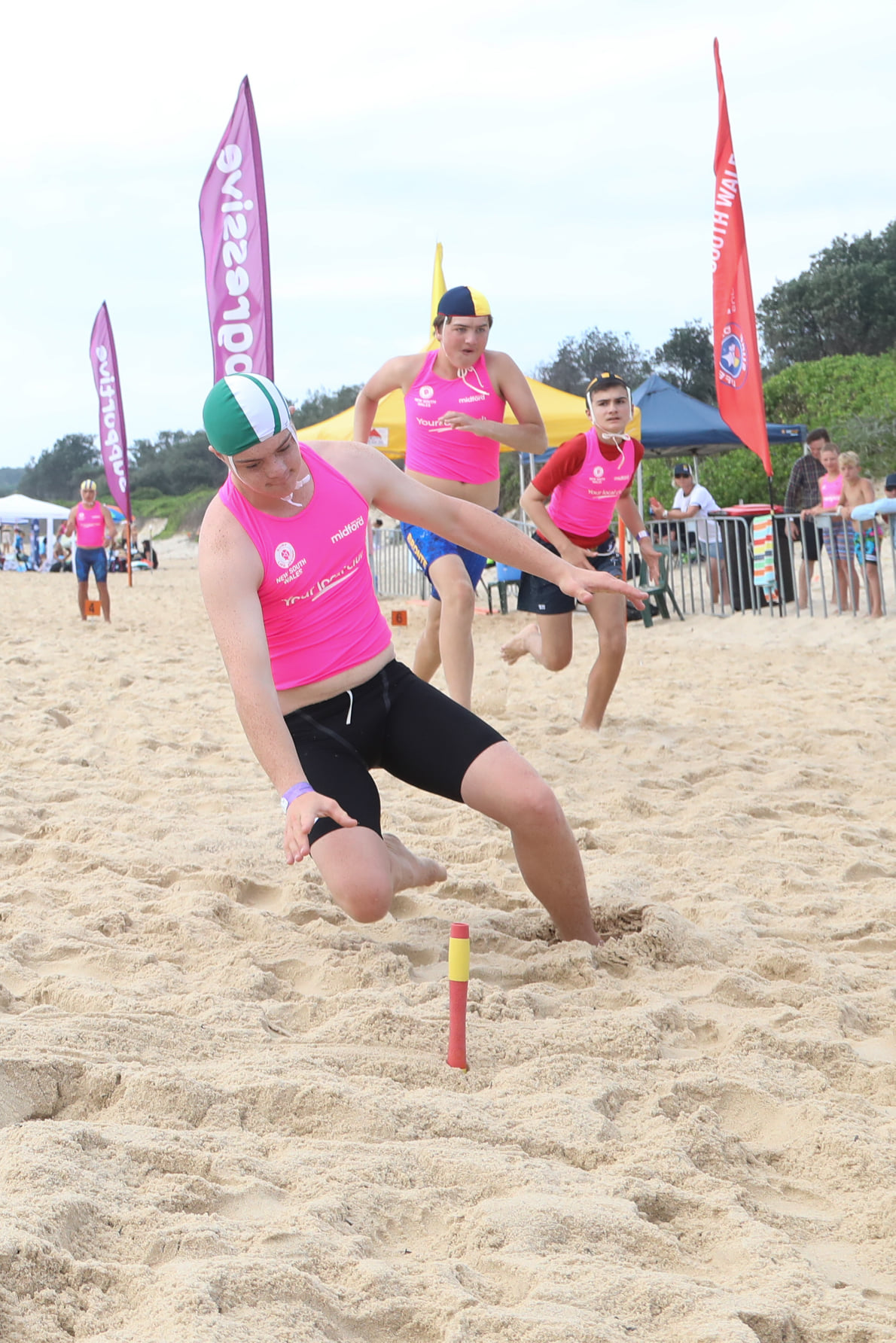 Report and photos by Surf Life Saving New South Wales
2021 NSW Surf Life Saving Championships - Inclusive Championships Results
Junior Male Wade
1. Mitchell Ting – Wanda SLSC
2. Greyson Broadhurst – North Entrance SLSC
3. Felix Tran – Wanda SLSC
4. Eddie Clare – North Cronulla SLSC
5. Reece O'Brien – Fingal SLSC
6. Oren Barlow – Avoca SLSC
Junior Female Wade
1. Charlotte O'Meley – Fingal SLSC
Youth Male Wade
1. Kai O'Brien – Fingal SLSC
2. Daniel Driscoll – South Maroubra SLSC
3. Oscar Jessup – North Narrabeen SLSC
4. Dalton Rowlands – Wanda SLSC
5. George Kassi-Hurley – Avoca SLSC
6. Advait Heroor – Newport
7. Jason Upneck-Nel – Fingal SLSC
Youth Female Wade
1. Taylah Nies – The Entrance SLSC
2. Laura Barnett – Elouera SLSC
3. Aimee Smith – Ocean Beach SLSC
Senior Male Wade
1. Josh Smith – Ocean Beach SLSC
2. Ryan Murphy – Newport SLSC
3. Zac Fry – Mona Vale SLSC
4. Aden Clarke – North Cronulla SLSC
5. Liam Skeete – Bronte SLSC
6. Andres Sanchez – North Cronulla SLSC
7. Josh Samimi – Fingal SLSC
8. Cooper Travers – North Cronulla SLSC
9. Jacob Rowe – Newport SLSC
Senior Female Wade
1. Katelyn Smith – Ocean Beach SLSC
2. Sara Bergen – Coffs Harbour SLSC
3. Laura Cropp – North Cronulla SLSC
4. Taj Withers – North Cronulla SLSC
5. Maison Whitehead – Ocean Beach SLSC
Junior Male Swim
1. Felix Tran – Wanda SLSC
2. Greyson Broadhurst – North Entrance SLSC
3. Eddie Clare – North Cronulla SLSC
4. Mitchell Ting – Wanda SLSC
Junior Female Swim
1. Charlotte O'Meley – Fingal SLSC
Youth Male Swim
1. Kai O'Brien – Fingal SLSC
2. Oscar Jessup – North Narrabeen SLSC
3. Daniel Driscoll – South Maroubra SLSC
4. Jason Upneck-Nel – Fingal SLSC
5. Advait Heroor – Newport
6. George Kassi-Hurley – Avoca SLSC
Youth Female Swim
1. Aimee Smith – Ocean Beach SLSC
2. Laura Barnett – Elouera SLSC
3. Taylah Nies – The Entrance SLSC
Senior Male Swim
1. Josh Smith – Ocean Beach SLSC
2. Cooper Rowlands – Wanda SLSC
3. Aden Clarke – North Cronulla SLSC
4. Zac Fry – Mona Vale SLSC
5. Josh Samimi – Fingal SLSC
6. Liam Skeete – Bronte SLSC
7. Andres Sanchez – North Cronulla SLSC
8. Jacob Rowe – Newport SLSC
9. Luke Brennan – Fingal SLSC
10. Cooper Travers – North Cronulla SLSC
Senior Female Swim
1. Sara Bergen – Coffs Harbour SLSC
2. Katelyn Smith – Ocean Beach SLSC
3. Laura Cropp – North Cronulla SLSC
4. Taj Withers – North Cronulla SLSC
Junior Male Board
1. Eddie Clare – North Cronulla SLSC
2. Felix Tran – Wanda SLSC
3. Reece O'Brien – Fingal SLSC
Junior Female Board
Nil competitors
Youth Male Board
1. Daniel Driscoll – South Maroubra SLSC
2. Kai O'Brien – Fingal SLSC
3. Oscar Jessup – North Narrabeen SLSC
4. Jason Upneck-Nel – Fingal SLSC
5. Advait Heroor – Newport
Youth Female Board
1. Taylah Nies – The Entrance SLSC
2. Aimee Smith – Ocean Beach SLSC
Senior Male Board
1. Cooper Rowlands – Wanda SLSC
2. Zac Fry – Mona Vale SLSC
3. Josh Smith – Ocean Beach SLSC
4. Ryan Murphy – Newport SLSC
5. Aden Clarke – North Cronulla SLSC
6. Andres Sanchez – North Cronulla SLSC
7. Josh Samimi – Fingal SLSC
8. Cooper Travers – North Cronulla SLSC
9. Luke Brennan – Fingal SLSC
Senior Female Board
1. Sara Bergen – Coffs Harbour SLSC
2. Katelyn Smith – Ocean Beach SLSC
3. Taj Withers – North Cronulla SLSC
4. Laura Cropp – North Cronulla SLSC
2021 Inclusive State Championships Results
Junior Male Beach Sprint
1. Greyson Broadhurst – North Entrance SLSC
2. Mitchell Ting – Wanda SLSC
3. Felix Tran – Wanda SLSC
4. Eddie Clare – North Cronulla SLSC
5. Reece O'Brien – Fingal SLSC
Junior Female Beach Sprint
1. Charlotte O'Meley – Fingal SLSC
Youth Male Beach Sprint
1. Kai O'Brien – Fingal SLSC
2. Oscar Jessup – North Narrabeen SLSC
3. Daniel Driscoll – South Maroubra SLSC
4. Dalton Rowlands – Wanda SLSC
5. Advait Heroor – Newport
6. Jason Upneck-Nel – Fingal SLSC
7. George Kassi-Hurley – Avoca Beach SLSC
Youth Female Beach Sprint
1. Laura Barnett – Elouera SLSC
2. Taylah Nies – The Entrance SLSC
3. Aimee Smith – Ocean Beach SLSC
Senior Male Beach Sprint
1. Ryan Murphy – Newport SLSC
2. Andres Sanchez – North Cronulla SLSC
3. Zac Fry – Mona Vale SLSC
4. Cooper Travers – North Cronulla SLSC
5. Josh Smith – Ocean Beach SLSC
6. Aden Clarke – North Cronulla SLSC
7. Liam Skeete – Bronte SLSC
8. Jacob Rowe – Newport SLSC
9. Josh Samimi – Fingal SLSC
Senior Female Beach Sprint
1. Sara Bergen – Coffs Harbour SLSC
2. Katelyn Smith – Ocean Beach SLSC
3. Laura Cropp – North Cronulla SLSC
4. Maison Whitehead – Ocean Beach SLSC
5. Taj Withers – North Cronulla SLSC
Junior Male Flags
1. Greyson Broadhurst – North Entrance SLSC
2. Felix Tran – Wanda SLSC
3. Eddie Clare – North Cronulla SLSC
4. Mitchell Ting – Wanda SLSC
5. Reece O'Brien – Fingal SLSC
6. Oren Barlow – Avoca Beach SLSC
Junior Female Flags
1. Charlotte O'Meley – Fingal SLSC
Youth Male Flags
1. Daniel Driscoll – South Maroubra SLSC
2. Oscar Jessup – North Narrabeen SLSC
3. Kai O'Brien – Fingal SLSC
4. Dalton Rowlands – Wanda SLSC
5. Jason Upneck-Nel – Fingal SLSC
6. Advait Heroor – Newport
Youth Female Flags
1. Aimee Smith – Ocean Beach SLSC
2. Taylah Nies – The Entrance SLSC
3. Laura Barnett – Elouera SLSC
Senior Male Flags
1. Ryan Murphy – Newport SLSC
2. Cooper Travers – North Cronulla SLSC
3. Josh Smith – Ocean Beach SLSC
4. Andres Sanchez – North Cronulla SLSC
5. Zac Fry – Mona Vale SLSC
6. Aden Clarke – North Cronulla SLSC
7. Liam Skeete – Bronte SLSC
8. Jacob Rowe – Newport SLSC
9. Josh Samimi – Fingal SLSC
Senior Female Flags
1. Katelyn Smith – Ocean Beach SLSC
2. Sara Bergen – Coffs Harbour SLSC
3. Laura Cropp – North Cronulla SLSC
4. Taj Withers – North Cronulla SLSC
5. Maison Whitehead – Ocean Beach SLSC