July 25- 31, 2021: Issue 503
Council elections postponed until December 4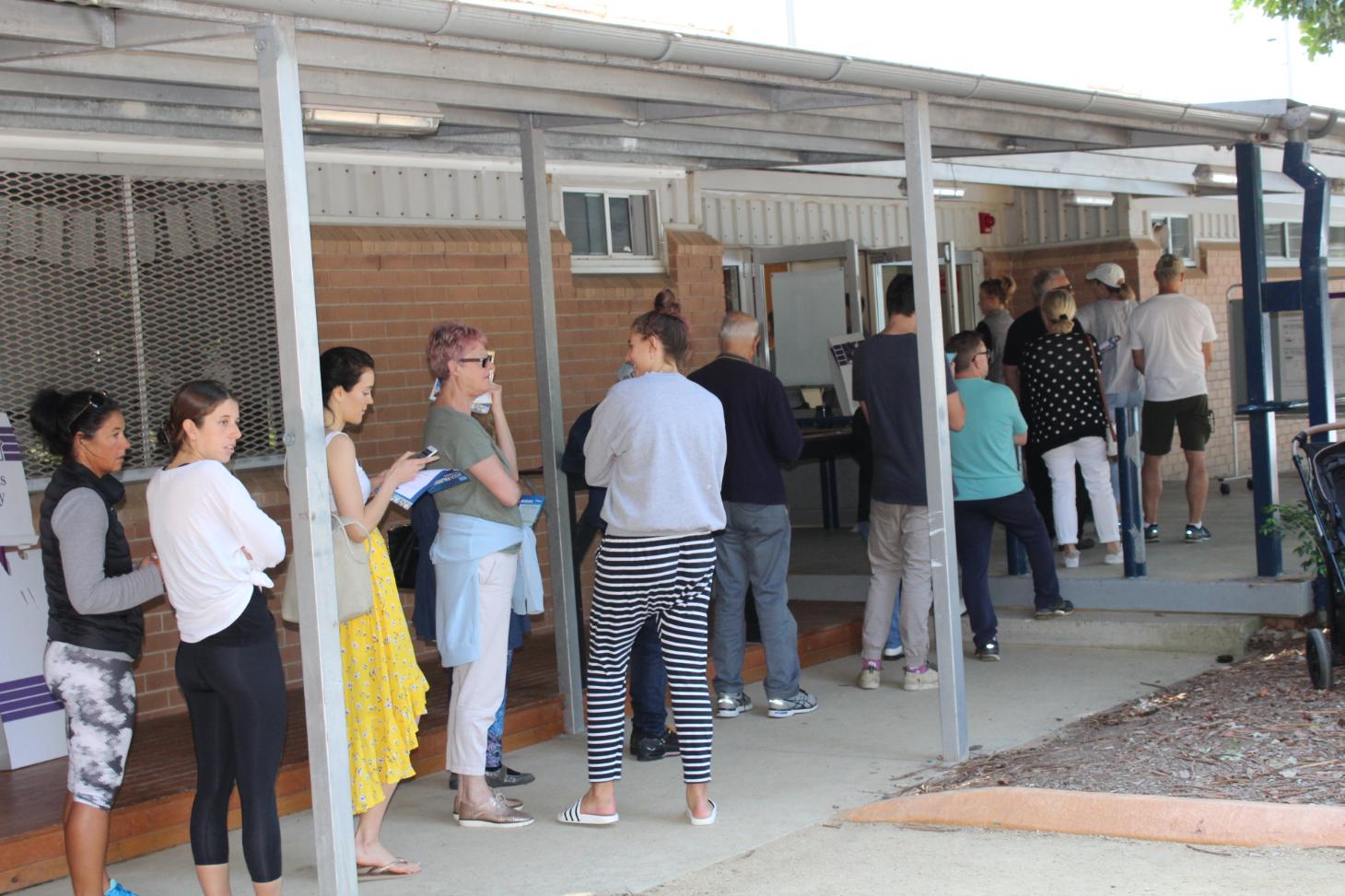 Barrenjoey High School on election days. Photo: A J Guesdon
July 24, 2021
The Minister for Local Government has announced today that the September 2020 local government elections will be postponed again to address the risks posed by the COVID-19 virus currently facing Sydney and now spreading to rural areas.
After being postponed in March last year, the elections were set down for September 4 but have now been delayed until December 4, affecting more than five million voters in 128 local councils. The order, made under Section 318C of the Local Government Act 1993 also pertains to any casual vacancies arising between now and December.
Local Government Minister Shelley Hancock said on Saturday afternoon ( July 24) that the decision was a direct response to the pandemic affecting Greater Sydney. She described it as a difficult one that had been made following consultation with the NSW Electoral Commission and NSW Health.
"We have taken this step to postpone the election to ensure the safety and wellbeing of our communities, voters, polling staff and candidates," the Minister stated.
Voters will be able to participate in the December elections in person, by post or online and pre-poll voting will begin two weeks before election day. Nominations, which had been due to open on Monday, will instead be postponed until October 25th.
Where the Minister exercises the power to postpone elections under section 318B, the election requirements of the Act are suspended for the period specified in the order and current councillors will continue to hold their civic offices.
Popularly elected mayors will continue to hold their office until an ordinary election is held. In the case of mayors elected by councillors, mayoral elections will need to be held for mayors elected in September 2018 when their two year-terms expire. Mayors elected in September 2019 will continue to hold office until September 2021, once the election date is determined.
The postponement of the 2020 election will not change the future schedule of council elections, with the subsequent election still to proceed in September 2024.

The risks posed by the fast-spreading Delta variant of the Covid-19 virus and concerns that elections could become super spreader events prompted growing pressure on the NSW Government as a record 163 COVID-19 cases were recorded on Saturday.
Local Government NSW president Linda Scott, a Labor councillor and candidate for City of Sydney lord mayor, said the elections needed to be held this year to uphold democracy and ensure renewal.
"There's never been a more important time for NSW local governments to be led by leaders who are skilled, willing and able to undertake the role. Why should the rest of NSW have to suffer because of COVID cases in Sydney?" she said.
Concerns had also been raised that stay-at-home restrictions across the Greater Sydney area would favour incumbents as new candidates would be unable to actively campaign in their communities.
Organised groups, and their supportive lobbyists, with access to funds for election material, would also benefit from campaigning during restrictions.
Around 5000 candidates were expected to nominate for the council elections and commence campaigning when the caretaker period for the September 2021 local government elections commenced on Friday August 6th 2021.
Some already have commenced speaking abut their priorities. Pittwater Candidate Miranda Korzy spoke with Northern Beaches Radio Community Voices program host Michael Lester just before the postponement announcement was made. Her interview may be accessed at: www.mixcloud.com/michael-lester5/local-council-election-issues-miranda-korzy-greens-candidate-pittwater-nbc-volunt159/
A copy of the published Order can be found here: https://gazette.legislation.nsw.gov.au/so/download.w3p?id=Gazette_2021_2021-347.pdf
Worth noting:
Councils are expected to assume a "caretaker" role during election periods to ensure that major decisions are not made which would limit the actions of an incoming council.
Councils, general managers and other delegates of councils (other than a joint regional planning panel, a local planning panel or the Central Sydney Planning Committee) must not exercise the following functions during the caretaker period:
entering into any contract or undertaking involving an expenditure or receipt by the council of an amount equal to or greater than $150,000 or 1% of the council's revenue from rates in the preceding financial year (whichever is the larger)
determining a "controversial development application"*, except where a failure to make such a determination would give rise to a deemed refusal, or such a deemed refusal arose before the commencement of the caretaker period
appointing or reappointing the council's general manager (except for temporary appointments).

In certain circumstances, these functions may be exercised with the approval of the Minister.
*"Controversial development application" means a development application for designated development under section 4.10 of the Environmental Planning and Assessment Act 1979 for which at least 25 persons have made submissions during community consultation.