February 9 - 15, 2020: Issue 437
Australian Sailing Team at 2020 49er and Nacra 17 World Championships - hosted by Royal Geelong Yacht Club
by Australian Sailing Team - February 8th, 2020
Tess Lloyd and Jaime Ryan aboard their 49erFX are a relatively new pairing at barely 18 months.Long time skiff sailor Lloyd and ex-470 crew Ryan have combined well, both collectively as a crew and on the scoreboard during their somewhat short tenure.
Skipper Lloyd commented, "We're both pretty excited and have been in Geelong for a month training to get used to it all. We had a good lead-up in the Oceania regatta coming sixth overall and winning the Australian title as a result. We certainly have learned a lot, especially as it was a windy regatta, so now we hope to get a few days of lighter breeze to check in with those types of conditions."
The 49erFX World Championship represents another big test for the pair, to which Lloyd looks towards positively by commenting, "Jaime and I are clicking and working well together, and it all seems to be coming together at the right time. We were happy with all the training in that last regatta, and it comes on the back of some great results in Japan last year. Now it is up to us for the big one."
Their coach, Emmet Lazich, has had them working on their starts and gear selection during racing. Just like the very athletes he is charge of, Men's 49er Coach Euan McNicol said, "Having a home-based title makes it exciting, and also important. Our crews are all motivated to put their best efforts forward, and all of the crews have done great preparation both here in Geelong and late last year in New Zealand."
"Now we are looking forward to seeing how all the work now unfolds, and we have been fortunate to have all the top international crews around to get a real gauge on where things are at. Apart from being a big positive, this also afforded us a nice training environment. The Oceania titles were a good warm up and seven of the top ten crews were Antipodean. Having the two Championships in the Southern Hemisphere in close proximity has been wonderful, and now the crews are comfortable that they have to perform under pressure. We have also been fortunate enough to have Chris Nicholson here for both the Oceania and World titles as an addition to our coaching team, and both he and the crews are very happy with that."
The Nacra 17 foiling catamaran is an exciting class to watch, and for the moment the only mixed crew event in the Olympic regime. Skipper Jason Waterhouse, who with crew (and cousin) Lisa Darmanin won Silver in Rio, commented from Geelong, "We have been enjoying the conditions. It will be interesting racing with one fleet of 35 boats, which will make it the Gold Fleet all the time. The breeze has been very shifty of late, so this will make it game on the whole way. Consistency will reign supreme, even if it is hard to find. The boat is all sorted and tested, and we have been working with different sails for flat water."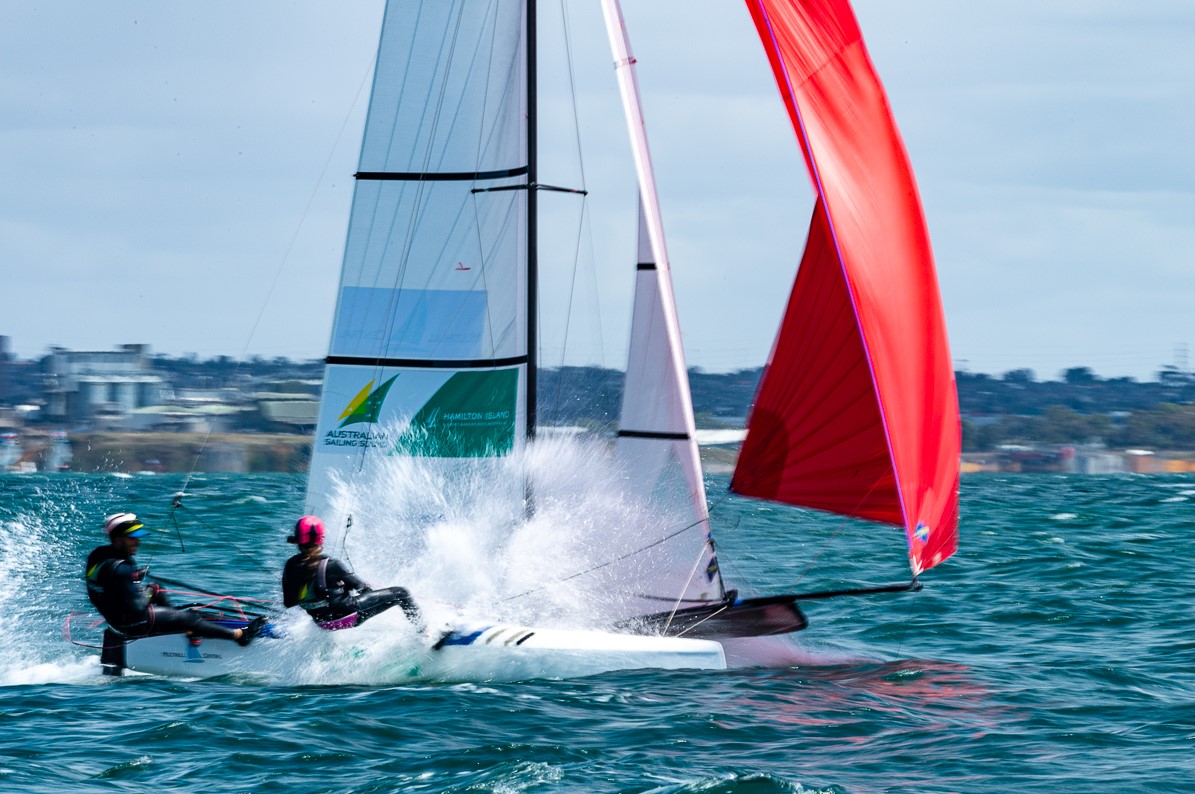 2020 49er and Nacra 17 World Championships - photo © Drew Malcolm

Nacra Coach, the well credentialed Darren Bundock, said, "All of our athletes have all put in the time with their training in Geelong. and are looking forward to competing at a home World Championships."
All in all, the AST is very much poised to see just how well all the preparation and endless hours on the water have gone. It would be easy to comment that Japan is looming, but the truth is that the focus is much shorter, and for now exists only from February 10 to 16 and on the inner harbour of Geelong's Corio Bay.
Australian Sailing Team (AST), Australian Sailing Squad (ASS) and other Australian entries (AUS) at the 2020 49er and Nacra 17 World Championships at Geelong:
Nacra 17 (38 entries)
Jason Waterhouse and Lisa Darmanin (AST)
Nathan and Haylee Outteridge (AST)
Paul Darmanin and Lucy Copeland (ASS)
Miles Davey and Dervla Duggan (AUS)
Steven Brewin and Karma Randall (AUS)
Jake Liddell and Bec Hancock (AUS) Emma Jones and Hugo Hamilton (AUS)
49er (80 entries)
Will and Sam Phillips (AST)
David Gilmour and Lachy Gilmour (ASS)
Tom Needham and Joel Turner (ASS)
James Grogan and Simon Hoffman (ASS)
49erFX (45 entries)
Amelia Staback and Caitlin Elks (ASS)
Natasha Bryant and Annie Wilmot (ASS)
Tess Lloyd and Jaime Ryan (ASS)
For more information visit 49er.org/event/2020-world-championship
The 49er, 49erFX and the Nacra 17 World Championships will be held from February 8 to 15, 2020, hosted by the Royal Geelong Yacht Club.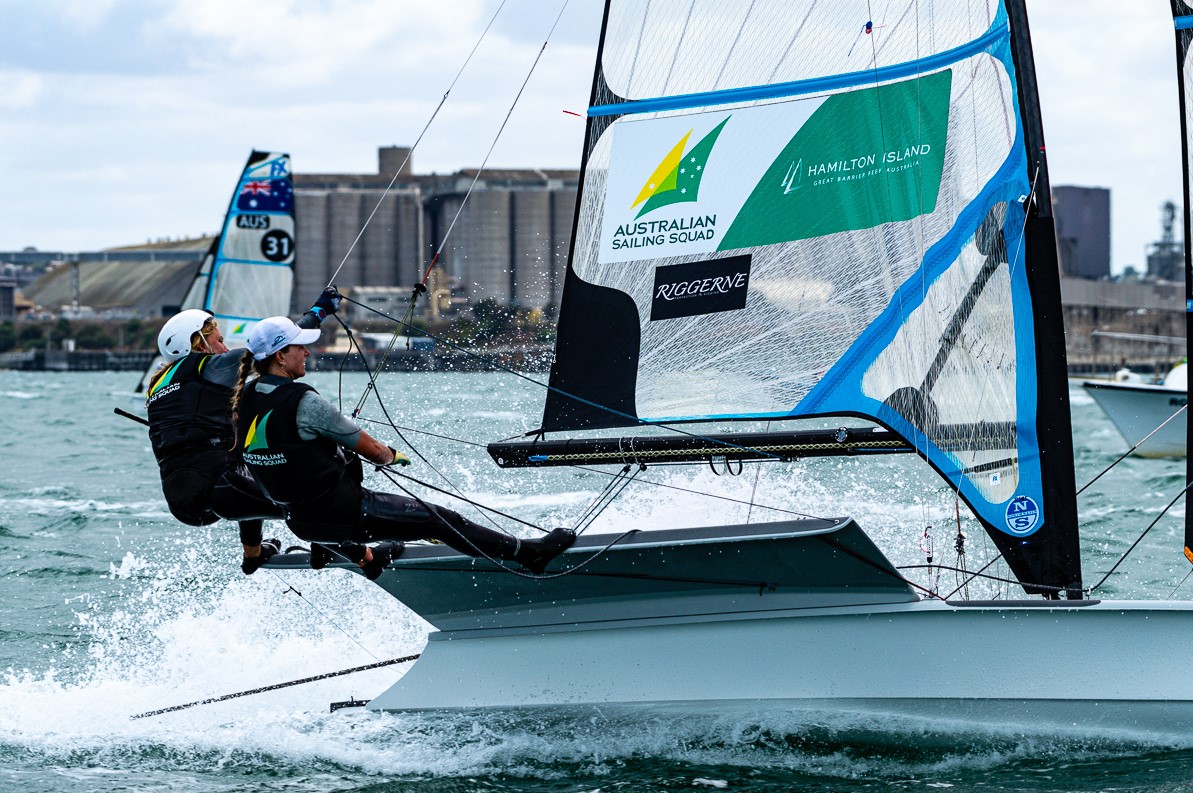 2020 49er and Nacra 17 World Championships - photo © Drew Malcolm