April 28 - May 4, 2019: Issue 402
2019 NSW Veteran Golfers Association (NSWVGA) Stroke-Play Championships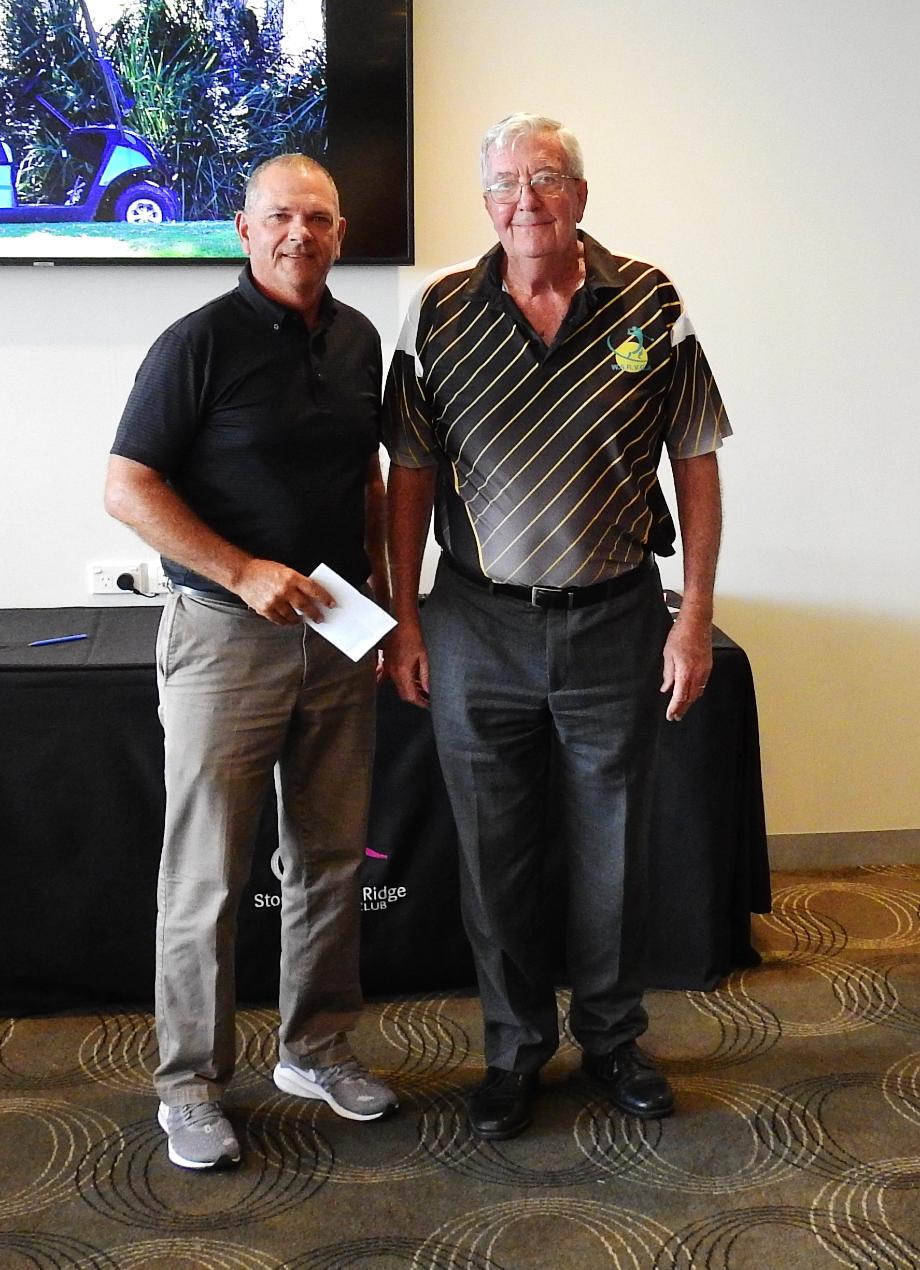 Geoff Cranfield (Long Reef GC) at the Presentation Ceremony, being presented with his runner-up prize by Tournament Director Les Knox - Vice President of the NSWVGA
The Western Sydney Region Veteran Golfers Association (WSRVGA) hosted NSW premier Senior Golf Event, the 2019 NSW Veteran Golfers Association (NSWVGA) Stroke-Play Championships over 25th-27th March, at Richmond GC, Glenmore Heritage Valley GC and Stonecutters Ridge GC.

Incessant rain hampered the organisers at Richmond on Day 1, with Tournament officials finally calling an end to the day's play mid-morning due to flooded greens and fairways.
Day 2 at Glenmore saw a field of 138 golfers treated to brilliant Autumn sunshine, with the course in great shape despite days of preceding rain.
Mudgee GC member John Osborn set the pace on Day 2, finishing two shots clear of the field with a round of 73, ahead of Richard Wood (Cumberland CGC) 75, 2018 champion Ricky Allison (Lakeside Golf Club, Camden) 75, Glenn Rosewall (Pymble GC) 76 and David McClelland (Wyong GC) 76.
Day 3 saw Senior Order of Merit (SOOM) leader Matthew Taylor return to the field and the big man showed his class, scorching around the testing Stonecutters course with the days best round of 70, while Geoff Cranfield (Long Reef GC) made a serious challenge for the overall title with a solid 71.
Osborn dropped back from the pace of his Day 2 form to finish with a 75 but his total score of 148 would see him claim the Des Coady Memorial Shield and first place prize-money, just one shot ahead of the fast-finishing Cranfield on 149.
David Owen (Wakehurst GC) finished 15th with 79-79 (158), Rod Fraser (Monash GC) 21st with 82-80 (162) and Darryl Hearsch (Manly GC) 23rd with 81-82 (163).
photos and report courtesy of Noel Rowsell (www.photoexcellence.com.au)
The
NSW Veteran Golfers Association (NSWVGA) and

The NSW Veteran Golfers Association (NSWVGA)

Promoting and supporting fun and fellowship for veteran golfers and their Clubs in NSW

The NSW Veteran Golfers Association (NSWVGA) has some 15,300 members including around 1,500 lady members (as of November 2018). The state is broken into seven zones and has 32 Groups of Clubs, with a number of individual clubs participating in each group. Veteran golf is growing and you can be assured of a great day out wherever you decide to play. You meet all sorts of people, strange characters, brilliant golfers, burglars, academics, businessmen and others from all stations in life, the 19th hole conversation is never dull. Veteran groups have access to some of the best golf courses in Australia, and you get to play on any, or all of these courses, at our regular regional veteran golf days, at very reasonable rates. The NSWVGA conducts around 52 Annual Weeks of Golf throughout NSW each year plus state Matchplay, 4BBB and sand green championships.

ASG usually publishes a full calendar of events, contact details etc and you can also visit the NSWVGA website for more information.

Golfers aged 55 and over you are eligible to play with the 'Vets', the rules are simple and the cost is minimal, $10 to join and annual fees ranging from $5 to $25 per annum thereafter within NSW and the ACT. To become a member you must be a member of a golf club which is affiliated with the AGU and you must have a club handicap. To actually join up all you need to do is find out when and where the next 'vets golf day' is being held and turn up.

NSW Veteran Golfers Association website

The Sydney Veteran Golfers Association Inc. [SVGA] is an association of some 1000+ male Affiliated Club golfers, aged 55 years and above, who hold a Golf Australia handicap and enjoy the opportunity to play competitive golf, in the company of peers, at the best Courses in the Sydney Region. Membership imposes a strict code of conduct and dress upon its members, as well as a requirement to show proper consideration and respect to fellow members. Above all, the Association is a socially enjoyable environment for veteran aged golfers and it is completely devoid of any forms of elitism. Membership of SVGA also carries with it membership of the NSW Veteran Golfers Association and access to over 50 weeks-of-golf across the State.

The Association holds some 40 + events each year across Greater Metropolitan Sydney, and, it arranges annually for its members golfing trips to out of town locations such as the Southern Highlands and the Hunter.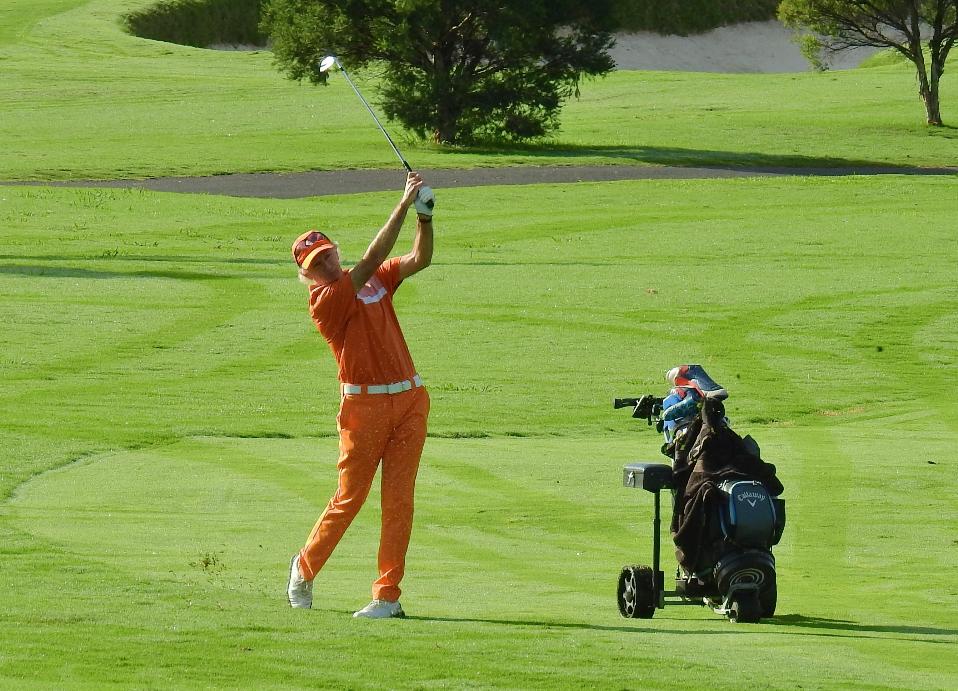 Darryl Hearsch (Manly GC)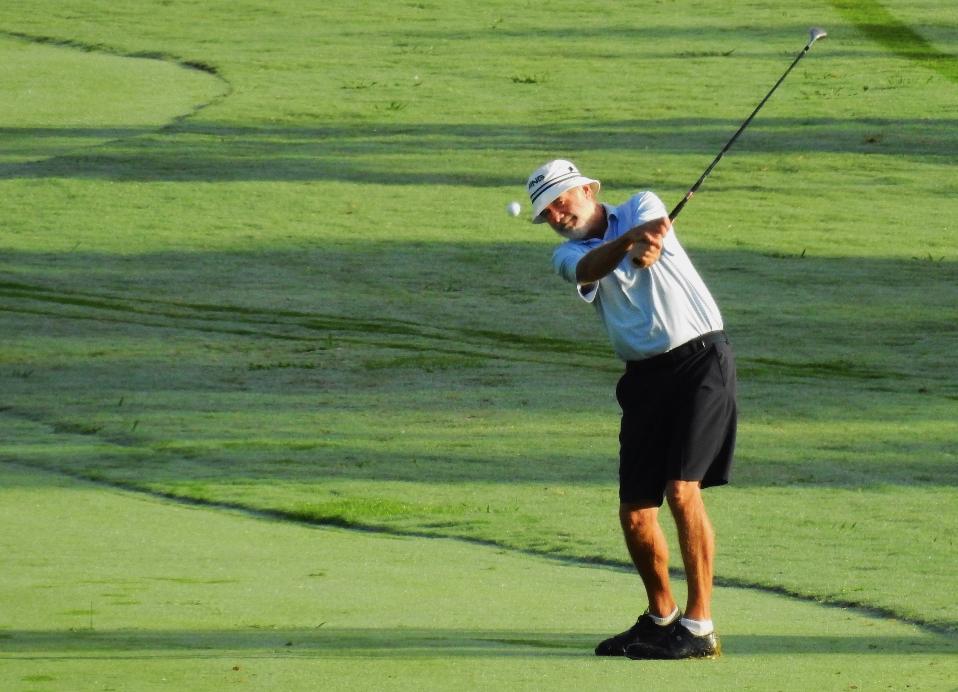 Rod Fraser (Monash GC) in action at Stonecutters Ridge GC