June 23 - 29, 2019: Issue 410
Grassroots sport honoured at 2019 prestigious NSW Community Sports Awards: Avalon Beach SLSC named the community club of the year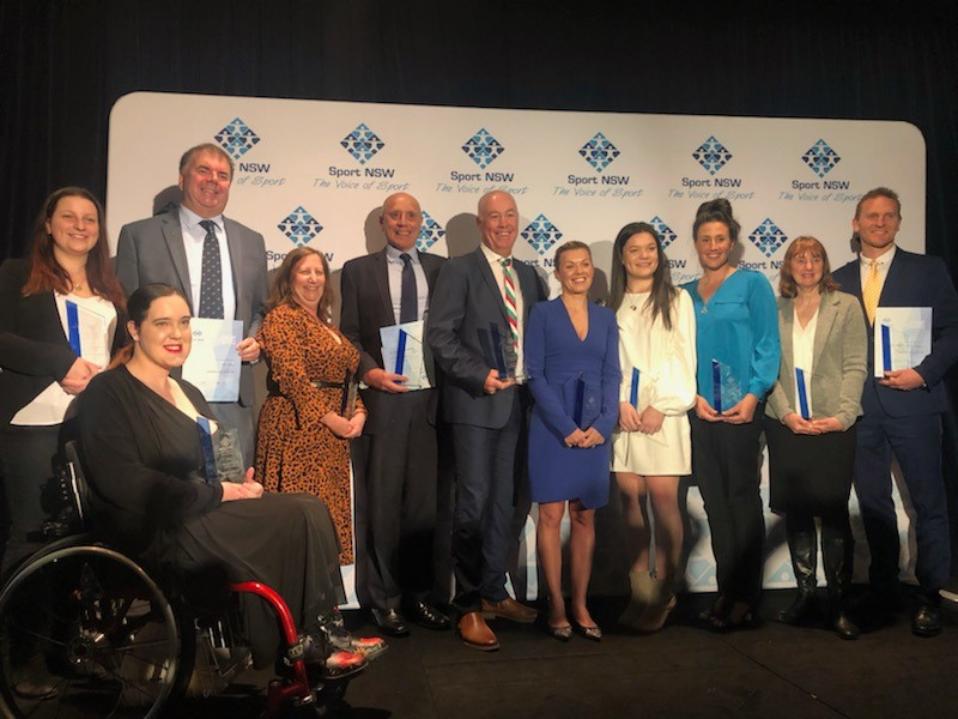 Sport NSW Community Club of the Year 2019 was awarded to Avalon Beach Surf Life Saving Club this week.
Club President Ashley Cardiff said "Another great night. We were the only Surf Life Saving nominee to be successful on the night."
The Sport NSW Community Club of the Year Award makes it a fantastic trifecta year for Avalon Beach SLSC, having won both State and National SLSA Surf Life Saving Club of the Year earlier.
"That's going straight to the pool room!" Ash said.
Sport NSW staged the annual NSW Community Sports Awards at NSW Parliament House on Thursday 20th of June, recognising outstanding achievements and contributions to community sport in NSW over the past year.

The ceremony attracted over 270 guests and was hosted by the Minister for Sport, the Hon. John Sidoti MP, who was on hand to address the crowd and present a number of awards.
Over 500,000 people in NSW volunteer their time every year to ensure that the state's 2.5 million sporting participants can take the field each week. In NSW alone the value of that voluntary labour would be measured in the hundreds of millions of dollars.
In congratulating the finalists and winners Sport NSW Chairperson Carolyn Campbell also paid tribute to the role sport and its volunteers play in promoting inclusiveness in the community.
"Sport in NSW relies on people who have voluntarily dedicated their time. Put simply, sport would not exist without them," said Ms Campbell.
"It is fitting these Award recipients are recognised and honoured. Community sport is the all-important base of the sports participation pyramid which ensures that NSW remains the premier sports state in Australia.
"Without the hard-working, selfless volunteers, tens of thousands of boys and girls, men and women, would not be able to enjoy the health, social and community benefits sport provides. Sport remains at the heart of communities across NSW and has the unique ability to bring people from different cultures and backgrounds together," added Ms Campbell.
The 2019 NSW Community Sports Awards named winners across 10 categories, highlighting contributions made in coaching, officiating, and by teams, events and clubs.
The Awards evening also celebrated 20 recipients of Distinguished Long Service Awards. These awards honoured individuals across a broad range of sports who have given exceptional service to their sport over a period of decades.
2019 Sport NSW Community Sports Awards Winners and Distinguished Long Service Award Recipient Summaries
YOUNG OFFICIAL OF THE YEAR - JOINT WINNERS
Jordan Ashby-Brigandi - Athletics
Jordan officiates at Zone and Regional carnivals and in 2018/19 has been involved in all but one Little Athletics State Track and Field Championships. She has her Level 3 Accreditation and was the youngest technical official appointed to the Invictus Games in Sydney in 2018. Jordan is a pioneer for youth involvement having developed a mentoring program to support and encourage more coaches, officials and administrators.
YOUNG OFFICIAL OF THE YEAR - JOINT WINNERS
Jordan Kiss - Netball
At the age of 18 Jordan was awarded her National A Umpire Badge and in 2018 was appointed to the Netball NSW Tier 1 Umpiring group, officiating in the Premier League competition and across National Championships. Jordan recently received the Umpire of the Tournament Award following her performance at the Australian Mens and Mixed National Championships.
COMMUNITY OFFICIAL OF THE YEAR
Faye Lewis - Swimming
Faye is a national and international level official and was one of two Australians to officiate at the 2018 Pan Pacific Championships. Faye heads the NSW Technical Official Development Program, developing educational tools to help new officials progress. She has been a FINA Swimming Official since 2016 and will be officiating the 2019 FINA World Swimming Championships in South Korea.
YOUNG COACH OF THE YEAR
Julie Charlton - Athletics
Julie has coached athletes to success at Open and Junior Nationals, NSW Masters Championships and at the Arafura Games. A wheelchair athlete herself, Julie knows the importance of a safe, inclusive environment and even assists athletes that compete against her. Her athletes have won hundreds of state medals and many more at national championships, their ages ranging from primary school to double her age.
COMMUNITY COACH OF THE YEAR
Amber Cross - Netball
Amber is Captain/Coach of the Bateau Bay Dolphins, winning the 2018 Wyong District Netball Division 1 Grand Final, and was inaugural coach of the Central Coast Heart, winning the 2018 Premier League Division 1 Grand Final. Amber was also Head Coach of the NSW U17s team for 2019 National Titles, placing second. Amber is coaching convenor for her local association and develops fellow coaches through programs and mentoring.
COMMUNITY SPORTS ADMINISTRATOR OF THE YEAR
Kathy Meyer - Judo
Kathy is a Director of Judo NSW, plus the Tournament Director for the Sydney International and 2019 Judo Pacific Games. Kathy delivers tournament official training throughout NSW and has developed training packages for Judo officials in event and tournament coordination both in Australia and internationally. Kathy has worked with technology providers to create programs to assist spectator understanding and volunteers in the running of events.
VOLUNTEER DIRECTOR OF THE YEAR
Philip Western - Gymnastics
During 12 years as President of Gymnastics NSW Phil has overseen unprecedented membership and financial growth plus high performance outcomes which in 2018 saw almost 50% of senior national team members coming from NSW. Phil also served as Rhythmic Gymnastics Competitions Coordinator, volunteering many hours on top of his board duties. Phil's 'member first' philosophy to decision making has him regarded as a leader by his peers in other states.
COMMUNITY TEAM OF THE YEAR
UNSW Wests Killers Whales Water Polo Team
In 2018, the UNSW Wests Killer Whales completed an incredible clean sweep in all competitions – winning the Australian National League, Winter Sydney Metropolitan Division 1 and 2, Summer Sydney Metropolitan Division 1 and Ladies Open Canberra Cup. The team was recognised as UNSW's Team of the Year, not only for their multitude of achievements but for their inclusive and supportive team culture.
COMMUNITY CLUB OF THE YEAR
Avalon Beach Surf Life Saving Club
The ABSLSC core mission is 'to save lives, create great Australians and build a better community.' The recent season has seen outstanding competition results, charity fundraising and numerous events attracting thousands of participants to engage positively with the Surf Life Saving movement. The club embraces diversity, gender equity and equality, has a strong focus on its young members, and has seen robust growth both financially and in membership.
COMMUNITY EVENT OF THE YEAR
RunWest - Athletics
RunWest was the largest inaugural fun run in Australia, reaching an unprecedented 7,500 participants. The event catered for all levels, including a 12km fun run and a family 4km event, promoting the significant benefits of a fit and healthy lifestyle. The event team worked collaboratively with government, venues and sponsors to provide a safe, inclusive and successful event, attracting much media coverage and raising funds for charities.
DISTINGUISHED LONG SERVICE AWARD RECIPIENTS
Debbie Abboud - Football
Debbie has been dedicated to serving Football NSW, its member clubs and the NSW football community for over 31 years. Starting as an Office Administrator, and progressing through finance and competition roles, Debbie's knowledge and experience in competitions management finds her today responsible for the operations of all women's State run competitions including the Women's National Premier Leagues, Girls Conference League and Girls State Skill Acquisition Program.
Shane Alvisio - Judo
Shane began his involvement with Judo as a child and has been actively involved as a competitor, coach, event organiser and administrator for the past 40 years. Shane achieved his Black Belt at age 18, at the time the youngest Black Belt in Australia. He was a Judo NSW board member from 1994-2008 and part of the Sydney Olympics organising team. In 2008 he was elected to the National Board and he currently holds a role with the NSW Olympic Council.
Barry Bent - Golf
An Australian PGA member of over 50 years - Barry was a PGA touring professional prior to becoming head professional at Kareela and then Woolooware Golf Club. He has coached on the Australian PGA tour and developed players to reach the American PGA and Ladies PGA tours as well as Australian and NSW team representatives. Barry has been recognised for his services to the sport at the Australian PGA Centenary awards and by Golf NSW.
Gary Bullivant - Australian Rules
Gary became involved with the Queanbeyan Tigers Football Club in the 1980s as Secretary, and then as President from 1993 to 2017. During his years of service, he has mentored and supported generations of volunteers, players and committee members and remains the clubs sports medicine trainer today. For his commitment, Gary has been awarded the AFL Merit Award, Life Membership of the Tigers club and Associate Member of the Tigers prestigious 100 Club.
Elaine Caswell - Pony Club
Elaine has been a member, volunteer and instructor with Pony Club NSW for over 35 years. She has been instrumental in developing coaches and riders acting as an assessor, team manager, chief gear steward and Camp Mother at countless championships and state events. Elaine is an asset and wealth of knowledge for Pony Club NSW and sits on the State Advisory Committee for four different disciplines.
Master Chung Dang - PCYC
Master Chung has been teaching martial arts as a PCYC volunteer for over 30 years. Having arrived in Australia as a refugee in 1975, Master Chung teamed up with peers to give back to the Australian community by teaching local youth 'Viet Quyen Dao' - which combines traditional and contemporary style unarmed combat. A respected leader, Master Chung focuses on the development of techniques, discipline and character, but takes most pride in watching his students develop into upstanding members of the community.
Max Debnam - Athletics
For 59 years, Max Debnam has served athletes and teams as a coach, mentor and educator. He has worked with over 25 international medallists (Olympics, Commonwealth Games) and hundreds of athletes overall. He was involved in the Hunter Academy of Sport athletics program for 20 years and served in club administration. For a lifetime of service, Max has been awarded life memberships with Athletics Australia, Athletics NSW, the Hunter Academy of Sport and Macquarie Hunter Club.
Greg Gibson - Special Olympics
Greg has been coaching tennis for athletes with an intellectual disability with Special Olympics since 1993. He has been Head Coach for the Special Olympics NSW Tennis team at National and World Games, and the NSW State Tennis Coordinator for the past 11 years. Greg has coached Special Olympics gold medallist Kelly Wren since 1996 and introduced Kelly into his coaching team as a role model for his younger students.
Carol Harriss - Hockey
Carol was made a Life Member of the Sutherland Shire Women's Hockey Association in 2002 to recognise her active involvement as a player, umpire, technical official, coach, administrator and volunteer. Carol has held a number of roles on the committee including Facilities Director, and is the driving force behind the Association's three Masters teams. Carol gives freely of her time to run hockey programs in local schools, coach junior teams and improve the quality of hockey in the state.
Peter Haynes - Rugby Union
Peter began his rugby career as a player and coach in Central West NSW and commenced his refereeing career in New England. As the zone's number one referee, Peter officiated countless consecutive zone first grade Grand Finals and reached the highest level as an exchange referee and at country representative level. Since stepping back he remains a strong presence, mentoring new referees, and acting as a referee's appointments and committee member.
Brian Higinbotham - Softball
Brian has been involved in Softball for over 35 years and was a vital part of the growth of the sport through the 80s and 90s. Brian was awarded Life Membership of Western Districts Association and North Shore Association having held committee positions with them over many years. He is passionate about juniors, contributing to development programs and more recently umpiring at a local, school and state level.
Nicholas Hodgers - Water Polo
Nick has served as a director of the Ryde Water Polo Club since 1983 and is the current President of Water Polo NSW. He has led the introduction of programs in regional NSW and a reform of the State Team Development program. Under Nick's guidance as President, WPNSW is now 8,000 members strong and provides over 60% of the players in the Australia National side as well as Fina and AWL Referees.
Elizabeth Jennison - Archery
Elizabeth has a passion for the sport which has seen her involved at every level and in every way for 40 years. Elizabeth has spent time mentoring peers from Club, State, National and International levels especially in the lead up to the 2000 Olympics. Elizabeth was the first female Board Member with Archery Australia, and as National Juniors Director, was responsible for the first Trans-Tasman Youth Test between Australian and New Zealand.
David Kidd - Motor Sport
David has been officiating Motor Sport for over forty years at both national and international levels. Over that time he has officiated multiple international events such as British, Monaco, French and German Grand Prix as well as multiple Bathurst and Supercars events in Australia. David is heavily involved in mentoring and constantly provides guidance, advice and leadership to emerging officials to ensure the pathway continues to develop.
Richard Marjoram - Basketball
Richard has held many roles in Basketball administration including Treasurer, Secretary and President. Most significantly Richard has been a dedicated junior and senior level coach at school, club and State League levels, including being a State League Coach of the Year. As required, Richard managed many trips for his junior teams, including volunteering to referee. He has been on the NSW Country Committee since 2014 and has recently overseen the refurbishment of his local stadium.
Barry McDonald - Cricket
Barry has been the Chairperson of West Pennant Hills Cricket Club for 34 years and over that time has overseen significant and substantial growth including being a pioneer in the introduction of women's cricket and more recently, programs to provide opportunity for people with a disability. Barry's push for an inclusive club was the driving force behind the club adopting a formal policy of 'Participation Over Results'. He is a life member of his club, association and umpire association.
Mike Mills-Thom - Paddle
After a successful career in Surf Skis and Kayaks, including Australian and World championships, Mike was a founding member of the Coffs Coast Outrigger Club and Pacifica Ocean Paddlers Club. He was a board member and zone president with the Australian Outrigger Canoe Racing Association. He has served as a local and national coach and selector. Mike's continued commitment and work ethic is greatly appreciated by squad members, competitors and fellow volunteers across the sport.
Adele Saunders OAM - Netball
Adele has dedicated her life to netball, offering leadership, experience and inspiration over a 65 year career. Adele represented NSW as a player (1955) and NSW and Australia as an AA umpire (from 1974). Adele has sat on countless committees, delivered hundreds of accreditation courses and formed development programs in the Newcastle and Hunter area. Recognising her years of service, Adele has been awarded an Order of Australia Medal, been appointed as a Patron of Newcastle Netball Association and awarded Life Membership of Netball NSW.
Ted Simmons OAM - Athletics
Ted's voice is familiar to so many, having been involved as an announcer at athletics meets ranging from club to national championships, Commonwealth Games and the World Cup in Athletics for nearly five decades. His total involvement of over 70 years has included officiating, announcing and journalism in athletics, administration in ten pin bowling and refereeing and historical work in football. In 2006, Ted was awarded an Order of Australia Medal for his life-long dedication to sports administration.
Tony Tooher - Masters Swimming
Tony has been a member of Masters Swimming NSW since 1988, primarily active within the Warringah club before moving into committee positions for the State office. Tony currently serves as Vice President for the NSW Board of Directors as well as maintaining an active role on pool deck as timekeeper and starter for up to 26 weekends per year. Tony's long history with the organisation and amazing recall makes him an invaluable asset to fellow board members, volunteers and competitors.