February 3 - 9, 2019: Issue 392
Waterhouse and Darmanin Win Gold Medal in 2019 Miami World Cup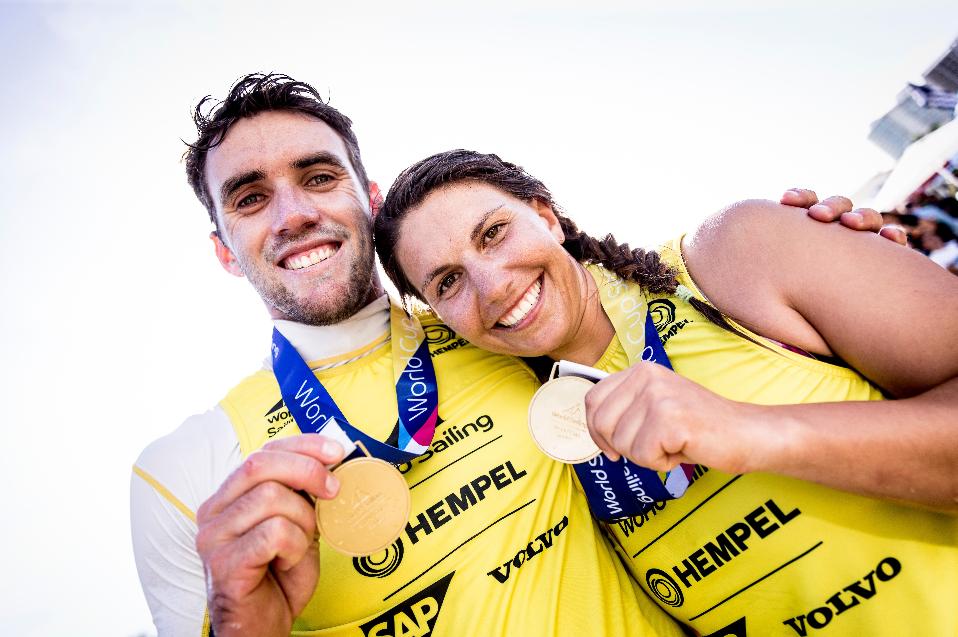 Jason and Lisa WIN! ©JESÚS RENEDO/SAILING ENERGY, 02 February, 2019.
Jason Waterhouse and Lisa Darmanin have secured a first place in the first event they've competed in for 2019. In a week of tricky sailing conditions their consistency overall secured the victory in the very last race.
A good way to start the year.
They now are heading home to work on elements of their sailing the Miami Cup brought to light before embarking on a year long campaign to raise their skills even higher with a steady eye on Tokyo 2020.
While back here Jason will also be taking part in the February 15-16 SailGP on Sydney Harbour as a member of the Australian Team.
About SailGP
Launched in London on October, 3rd 2018, SailGP is an annual, global sports league featuring bold, cutting-edge technology and awe-inspiring athleticism. The fan-centric, inshore racing takes place in some of the most iconic harbors around the globe and culminates with a $1 million winner-takes-all match race. Rival national teams battle it out in identical supercharged F50 catamarans, engineered for intense racing at electrifying speeds exceeding 50 knots (nearly 60 mph/100 kph).

SailGP's inaugural season will feature teams representing six countries – Australia, China, France, Great Britain, Japan and the United States. Sanctioned by World Sailing, each grand prix will comprise two competition days with five fleet races, culminating in a final match race between the two leaders. After SailGP's Sydney inauguration in February (15-16), the league moves on to San Francisco in May (4-5), New York in June (21-22), and Cowes in August (10-11), before the Marseille final in September (20-22), which features a winner-takes-all, $1 million championship match race between the season's top two teams to conclude three days of racing.

World Sailing shares reports of the Nacra17's this week in Miami: Results here
Sailors navigate light wind on the path to Hempel World Cup Series Medal Races
February 2nd, 2019
By World Sailing
With 18 months until the Tokyo 2020 Olympic regatta, now is the time for medal hopefuls to do an honest self-assessment and figure out what weaknesses they need to shore up before the big show.
For Jason Waterhouse and Lisa Darmanin (AUS), the silver medallists from Rio 2016, one of the areas in need of improvement is light air speed. They came to Hempel World Cup Series Miami looking for the light, shifty conditions that most recreational sailors would rather avoid. To their delight, Biscayne Bay has delivered just what they needed.
"We're really happy with how we've been sailing this week considering the conditions," said Waterhouse. "In terms of racing, our main focus has just been consistency throughout the week as those conditions, it's just so variable with your results. Also we've been struggling in the last year with our light air speed and we've been trying to focus on improving that. It's hard to tell in such shifty conditions, but I think we've made little leaps in that."
The Australians started the regatta with a 14th, but have been lights-out ever since. Eight of their 12 finishes have been inside the top-five and they will head into tomorrow's double-points Medal Race with a four-point lead.
The Medal Races for all 10 classes will be streamed live on World Sailing's YouTube and Facebook channels starting at 12:00 local time.
In second place heading into the Medal Race is Samuel Albrecht and Gabriela Nicolino de Sá (BRA). Albrecht finished 10th at the Rio 2016 Games with another crew.
The Brazilian team was leading the regatta until a 14th in today's first race. But they rebounded with a pair of wins.
"We had a very hard first race," said Nicolino de Sá. "We managed to finish 14th, but at one point we were around 20th. We did not have a clear sight of what was going on on the racecourse. But then we sat together, talked about it and decided to simplify things for the next races and it worked. [We focused on] clear lanes during the upwind mostly, getting out of trouble with other boats and trusting the numbers on our compass."
If she was disappointed to have lost the lead, Nicolino de Sá didn't show it.
"[Waterhouse and Darmanin] won silver medal in the last Olympics and they have been sailing together for quite a while," she said. "We're actually very happy to be battling against them. Not sure what to expect yet for tomorrow, we just want to give it our best."
To hear Waterhouse talk about it, that may be all he and Darmanin can handle, especially if the forecast holds for less than 10 knots of breeze.
"The Brazilians are definitely the quickest in the light breeze," he said. "We've just been trying to sail smart tactically to get around the lack of boatspeed."
Should either of those teams falter significantly in the Medal Race, the crafty veterans and defending gold medalists Santiago Lange and Cecilia Carranza Saroli (ARG) could take advantage. They are 12 points behind second and 16 points out of first.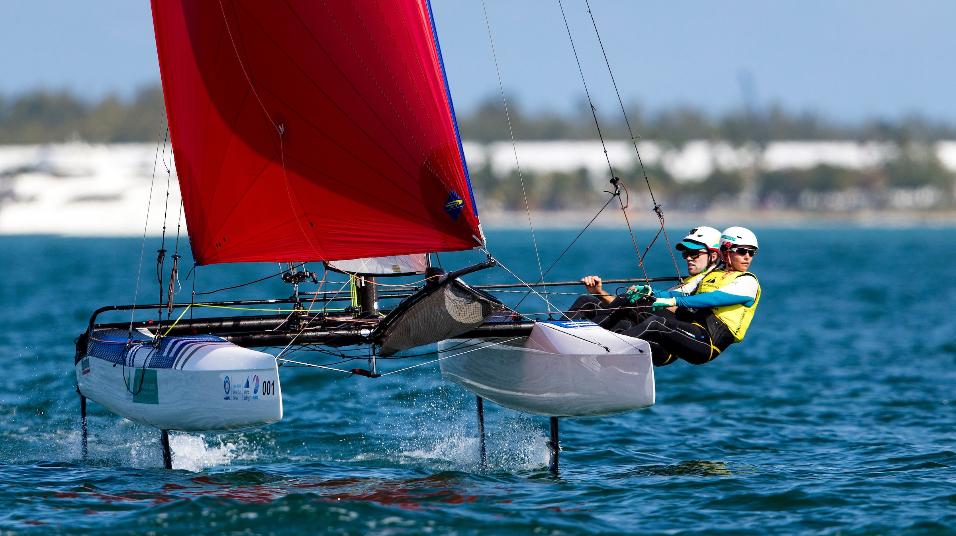 Jason and Lisa at Miamia World Cup 2019 ©JESÚS RENEDO/SAILING ENERGY, 02 February, 2019.

February 1st 2019:
Fresher breezes meant lots of foiling for the Nacra 17 fleet, which ripped through four races today and is on track to complete its scheduled 12 before Saturday's Medal Race. The increased also restored some normalcy to the standings after a lot of inconsistency over the first five races. The top two boats have started to edge away from the fleet. Samuel Albrecht and Gabriela Nicolino de Sá (BRA) maintain the overall lead, but have just four points over Jason Waterhouse and Lisa Darmanin (AUS). Third place, John Gimson and Anna Burnet (GBR) is 16 points further back.
Waterhouse Darmanin Sailing: (Facebook posts from) -
Day 4 Miami World Cup 3 races 4,5,8 - 1st overall - medal race tomorrow
We came to Miami for tricky & tactical close racing - we cant complain at all. Glad to be going into the medal race 4 points clear of the Brazilians - We also have to keep an eye on the Argentinians. Fantastic to have our teammates (and bro) Paul Darmanin Lucy Copeland AUS377 in 4th place also in striking distance of the podium.
Champions return to 2019 Hempel World Cup Series Miami
The 2019 World Cup Series Miami, held out of Coconut Grove from January 29 to 3 February, will see nine defending champions return to Biscayne Bay determined to defend their titles.
2019 marks the 30th edition of an Olympic sailing regatta in Miami and, with 650 sailors from 60 nations registered to race across ten events, it's expected to be another strong year of competition.
Of the 2018 Miami gold medallists, Giles Scott (GBR) is the only athlete not competing this year. Across the ten events, there are 34 Olympic medallists racing alongside numerous World and World Cup podium finishers, and the best sailors will be vying for a World Cup medal as the race to Tokyo 2020 continues.
Australia's Jason Waterhouse and Lisa Darmanin will come into Miami as favourites in the Nacra 17 after securing gold at the first round of the Hempel World Cup Series in Enoshima, Japan last September.
Waterhouse and Darmanin overthrew Ruggero Tita and Caterina Banti (ITA) in the Medal Race to claim a hard-earned title – but exactly one year ago, the competition was slightly less stressful for the Aussies. Racing on the Biscayne Bay waters in 2018, Waterhouse and Darmanin controlled the fleet all week long and simply needed to finish the Medal Race to secure gold. They did that with ease and are back to defend their title.
Santiago Lange and Cecilia Carranza Saroli (ARG) and Thomas Zajac and Barbara Matz (AUT) joined them on the podium in 2018 and also return this year.
Further contenders in the 31-boat Nacra 17 fleet include Samuel Albrecht and Gabriela Nicolino de Sá (BRA), Iker Martinez and Olga Maslivets (ESP), John Gimson and Anna Burnet (GBR) and Bora Gulari and Louisa Chafee (USA).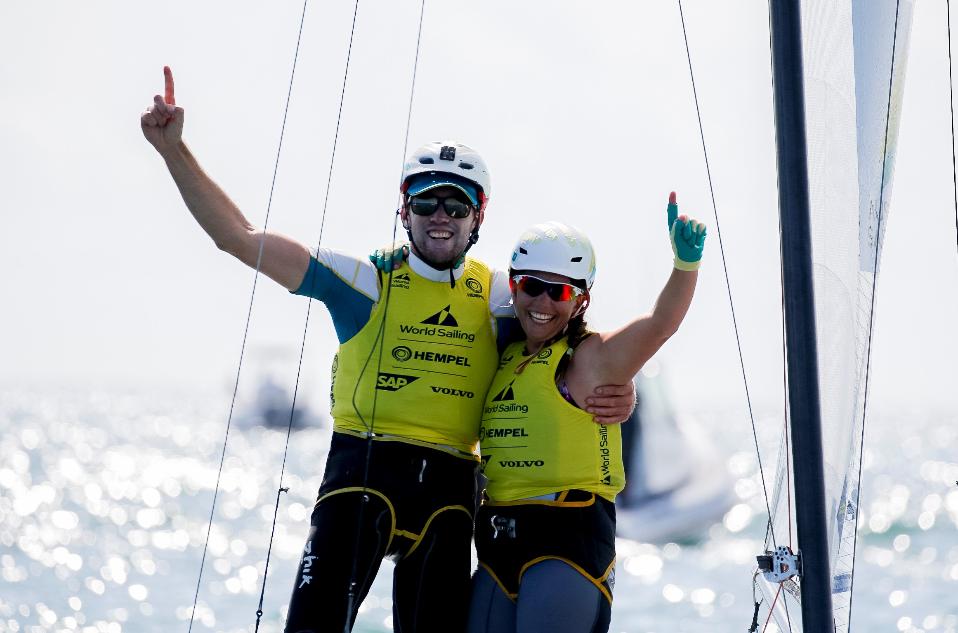 Jason and Lisa WIN! ©JESÚS RENEDO/SAILING ENERGY, 02 February, 2019.