March 11 - 17, 2018: Issue 351
Pauline Menczer, Owen and Tyler Wright Honoured At Australian Surfing Awards - The Big Wave Project by Tim Bonython wins Nikon Surf Video of the Year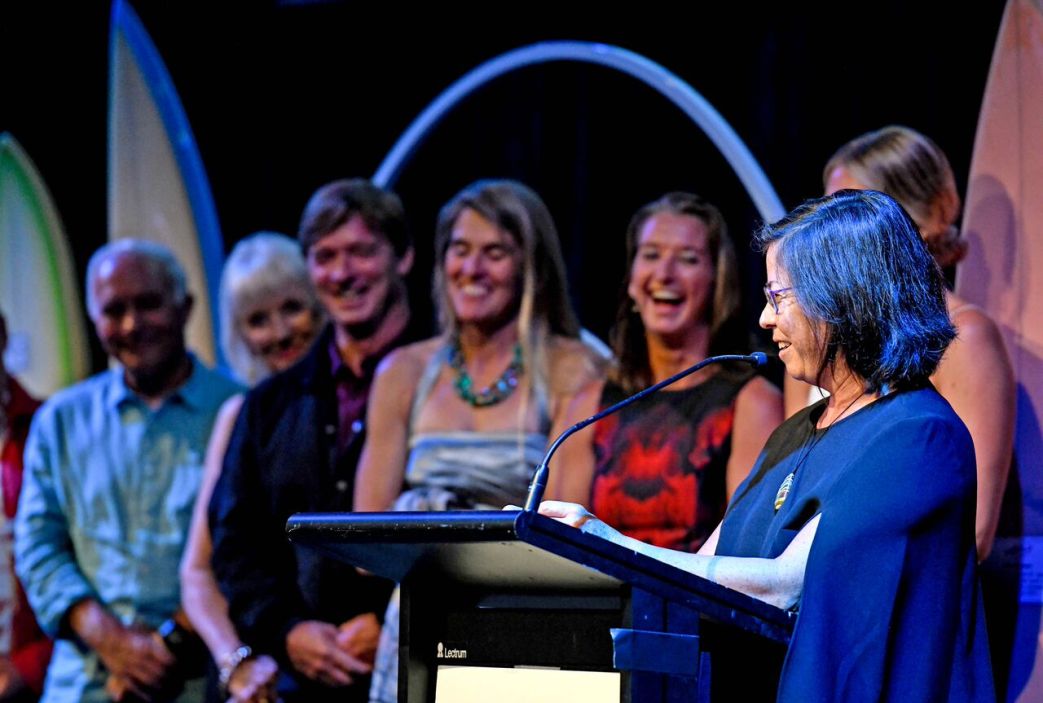 Pauline Menczer at
Australian Surfing Awards this week - photo by Surfing Australia
Tuesday, 6th March/2018

The Australian surfing community gathered on the Gold Coast tonight to honour 1993 Women's World Champion Pauline Menczer who was inducted into the Australian Surfing Hall of Fame.
Menczer became the 40th inductee into the Hall of Fame, cementing herself as one of surfing's great individuals. She overcame enormous odds, including lack of sponsorship and crippling rheumatoid arthritis, to build a superb pro surfing career, including an epic world title win. She defied every possible female stereotype in the process, sustained by her ingrained surfing talent, courage, and a lethal sense of humour. In the process, she also earned the complete respect of every other surfer on tour.
Menczer's induction was one of a number of presentations as part of the 2018 Australian Surfing Awards.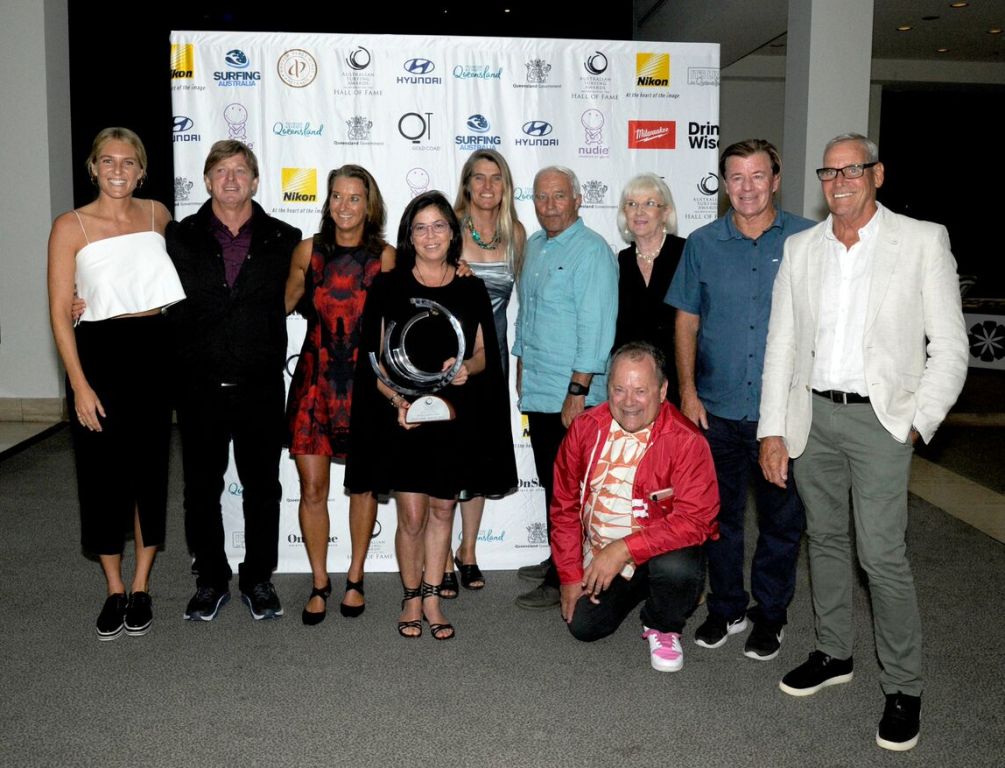 Hall of Fame Members with Pauline Menczer (Middle).

It was a family affair for top individual honours with 2017 WSL Women's World Champion Tyler Wright and brother Owen winning the Female and Male Surfer of the Year awards, while young Queenslander Reef Heazlewood and North Shelly's World Junior Champion Macy Callaghan won the Male and Female Rising Star Awards.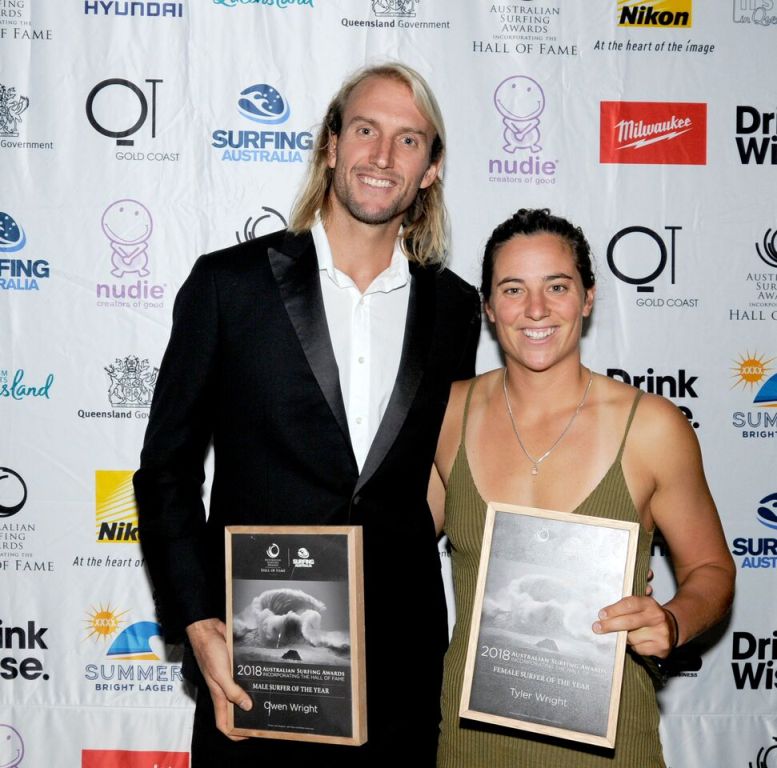 Owen and Tyler Wright.

Macy Callaghan and Pam Burridge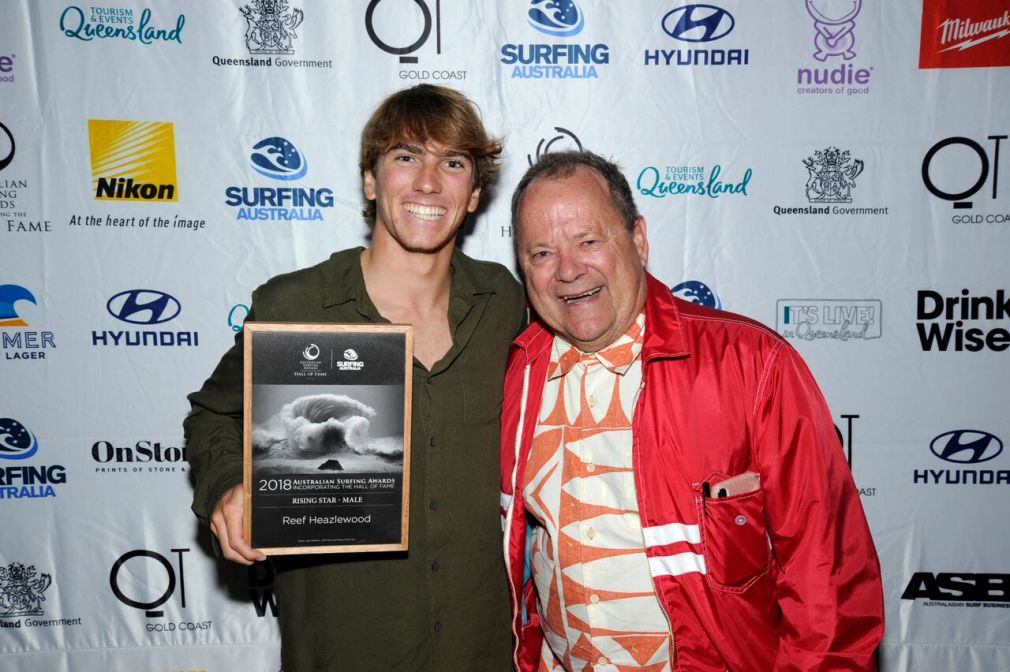 Reef Heazlewood and Peter Townend

Local lad Ryan Hipwood was awarded the Milwaukee Heavy Water Award. Hipwood received $2,000 and a Milwaukee tool pack valued at $1,849 for his impressive year that included a stand out performance at the season-ending Pea'ahi Challenge at Jaws in Hawaii.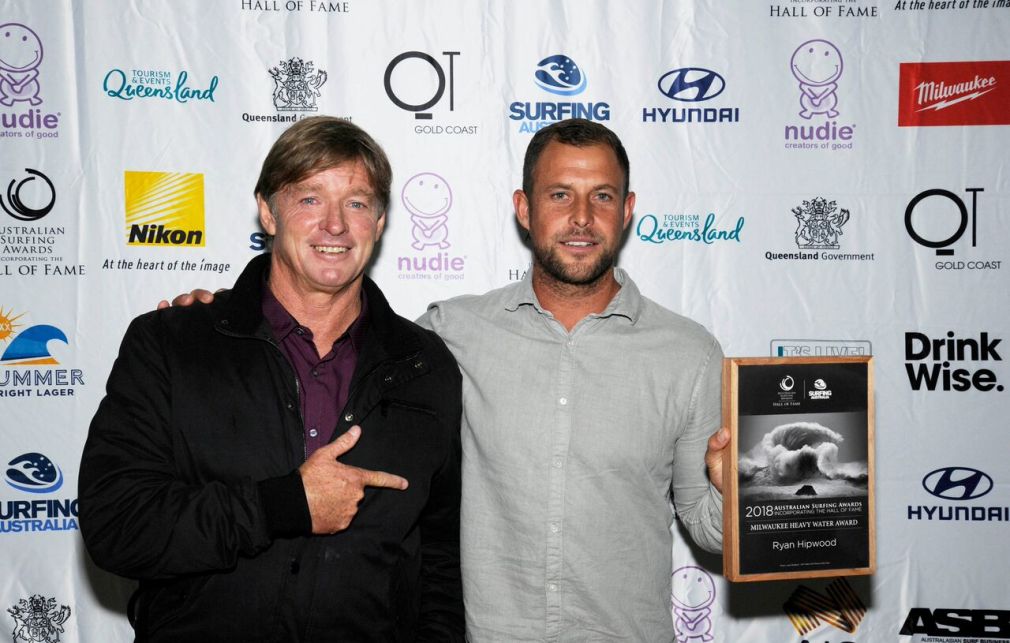 Cheyne Horan and Ryan Hipwood

The Peter Troy Lifestyle Award which is presented to the person who has given his or her life over to surfing, and in doing so has enriched the lives of other Australian surfers over time was awarded to David 'Rasta' Rastovich who took a different line through a surfing life, devoting himself to a better understanding of the natural world and of human relationships within the sport. He has pioneered and assisted with numerous charitable and beneficial ocean and surf related causes, frequently putting his mind and body on the line in the process.
The ASB Greater Good Award was taken out by famous surfboard shaper Nev Hyman's 'Nevhouse' - a cheap and effective method of small-house construction which can be used in the aftermath of traumatic natural disasters in Third World countries.
The Surf Culture Award for a project that captures and explores a quintessential element of Australian surfing culture was won by "The Life of Brine" by Phil Jarratt whilst the Simon Anderson Club Award was taken out by Coffs Harbour Boardriders Club.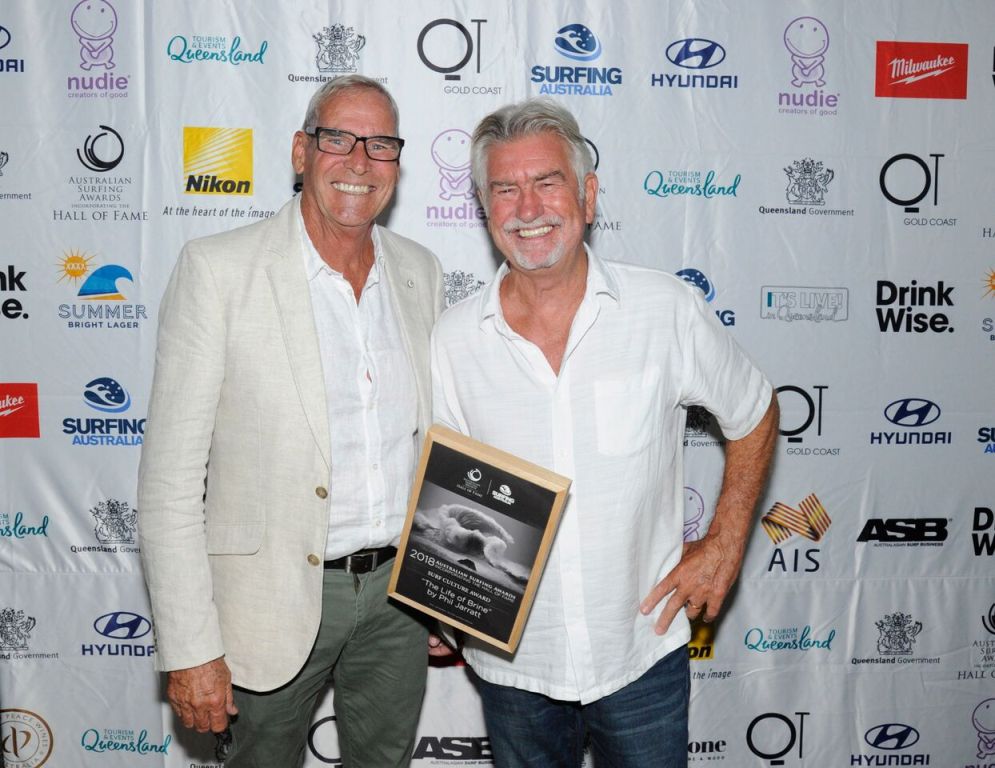 Paul Nielson and Phil Jarratt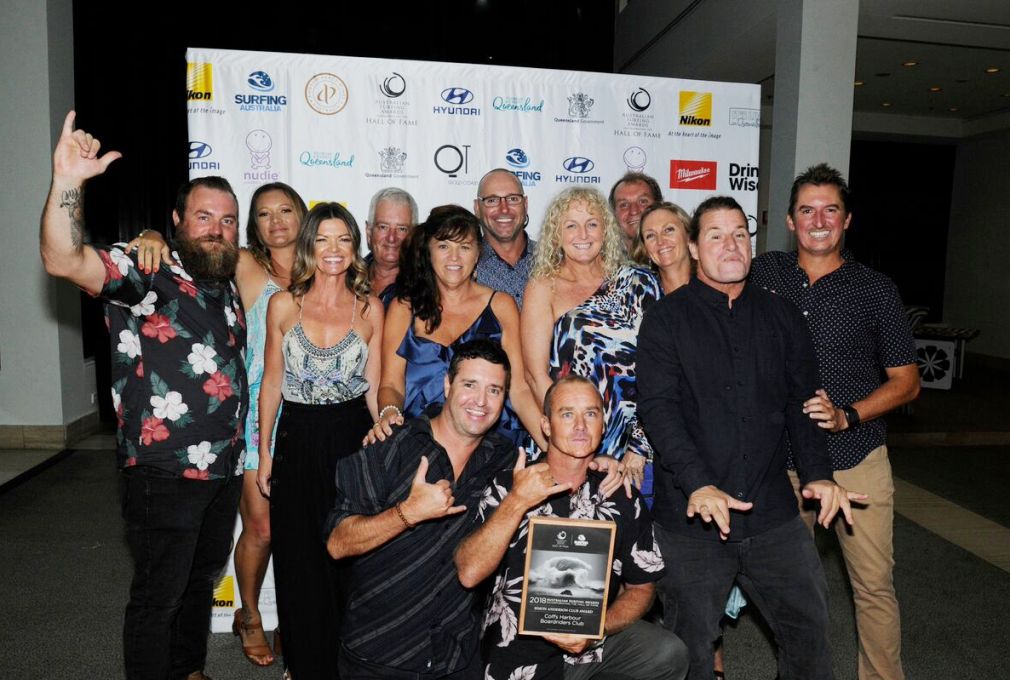 Coffs Harbour Boardriders Club

Trent Mitchell's amazing convergence of four waves was named the Nikon Surf Photo of the Year and 'The Big Wave Project' by Tim Bonython the Nikon Surf Video of the Year.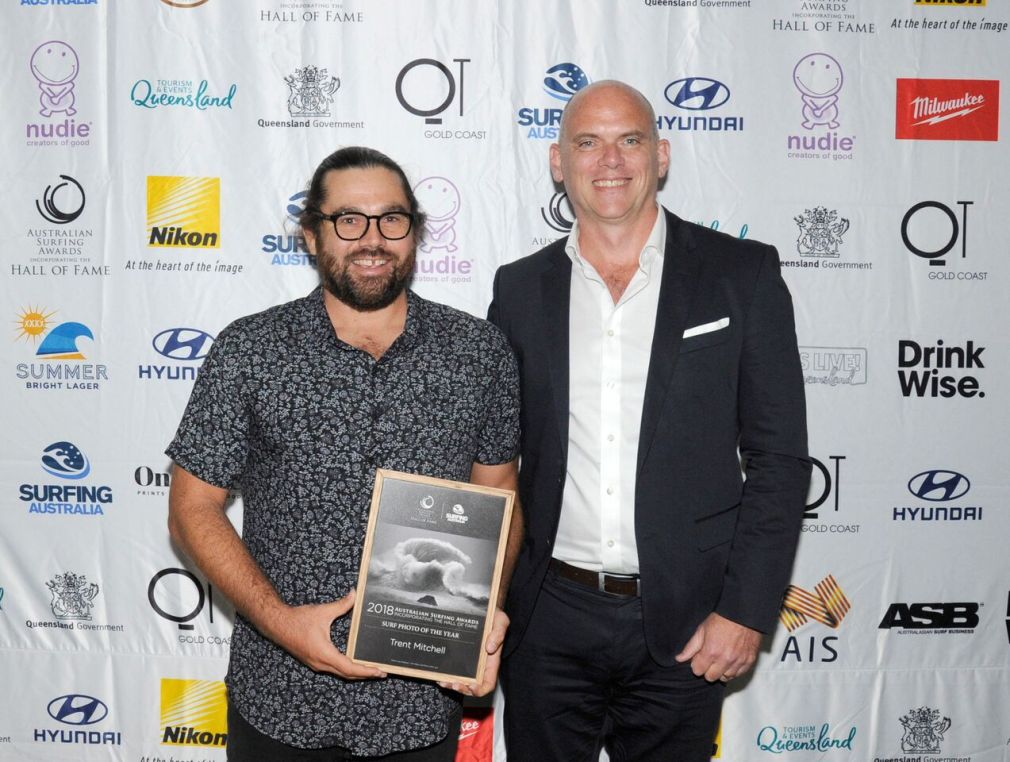 Trent Mitchell and James Murray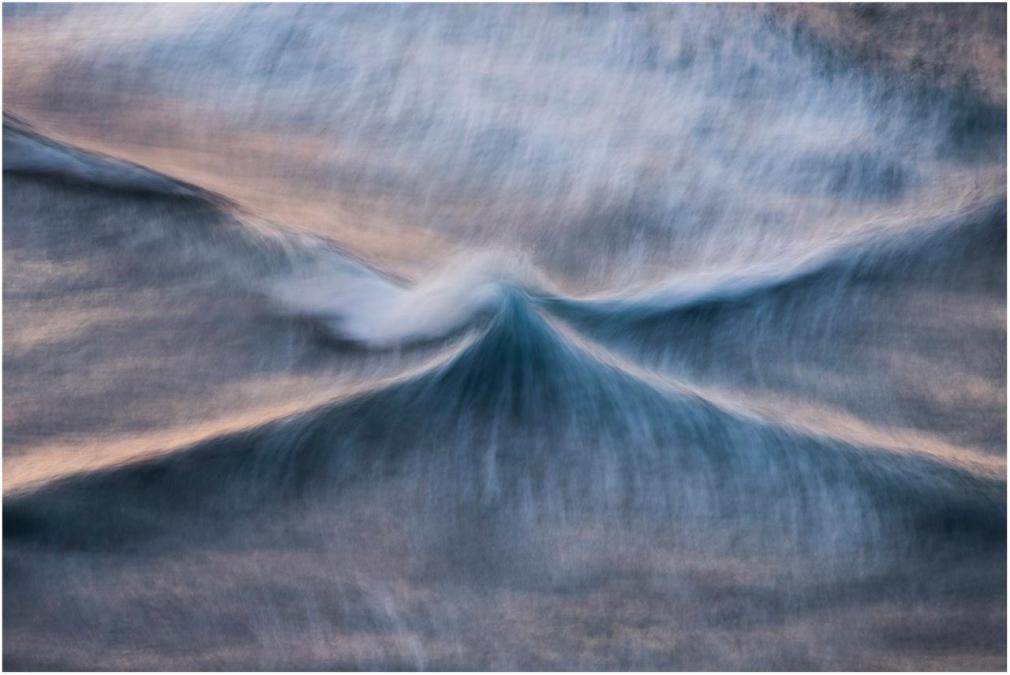 Trent's Nikon Surf Photo of the Year
The winners of the Nikon Surf Photo of the Year and Nikon Surf Video of the Year received a brand-new, top-of-the-line Nikon D850 and NIKKOR AF-S 24-120mm f/4G ED VR lens – valued at $6,800.
Don O'Rorke was awarded Surfing Australia Life Membership tonight, having retired from the board of Surfing Australia in November 2017, after 12 years service.
2018 Australian Surfing Awards Incorporating The Hall of Fame Winners List:
Male Surfer of the Year
Owen Wright
Female Surfer of the Year
Tyler Wright
Male Rising Star
Reef Heazlewood
Female Rising Star
Macy Callaghan
ASB Greater Good Award
Nev Hyman – NevHouse
Peter Troy Lifestyle Award
David Rastovich
Milwaukee Heavy Water Award
Ryan Hipwood
Simon Anderson Club Award
Coffs Harbour Boardriders Club
Surf Culture Award
Phil Jarratt "The Life of Brine"
Nikon Surf Video of the Year
The Big Wave Project by Tim Bonython
Nikon Surf Photo of the Year
Trent Mitchell
World-renowned Surf Journalist Nick Carroll continues in the role of Curator of the Australian Surfing Awards incorporating the Hall of Fame.
The Australian Surfing Awards honours and celebrates our sport's great achievers and those who have made a significant contribution to the development of surfing in Australia.
The Australian Surfing Awards incorporating the Hall of Fame is proudly supported by Tourism and Events Queensland, QT Gold Coast, the Australian Sports Commission, Nikon, Milwaukee, nudie, Australasian Surf Business Magazine, XXXX Summer Bright Lager, Drinkwise, OnStone and Andrew Peace.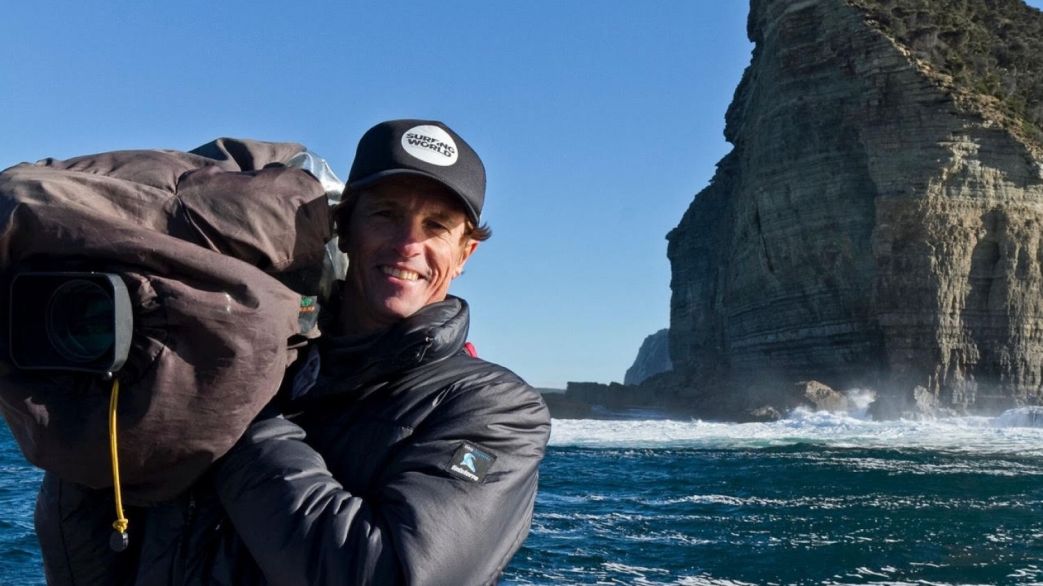 Tim Bonython filming at Shipsterns, Tasmania.
Five years in being realised, The Big Wave Project by
Tim Bonython,
Avalon Beach cinematographer, has won numerous awards and this week has added to these by taking out the Surfing Australia 2018
Nikon Surf Video of the Year
.
A documentary that features Nazaré (Portugal) – the home of the biggest rideable wave, The Right, Shipsterns and Pedra Branca (Australia), Cloudbreak (Fiji) , Teahupo'o (Tahiti) and 'the biggest wave ever attempted' featuring Aaron Gold's massive paddle-in wave at Pe'ahi (Jaws), this film includes the history of big wave surfing and how it developed from humble origins to modern tow-in and paddle surfing, with insights from aficionados Jamie Mitchell, Peter Mel and the legendary, late Brock Little.
At its core is a 'Band of Brothers' who look out for each other as they try, succeed and sometimes fail at riding the world's biggest and best waves.
Visually the film has all the Bonython trademarks of celebrating and illuminating the glorious places on this planet, that key ability of 'Immersion' that takes something good into the realm of great and makes it a vision so acute you are inside that wave and can taste that salt air.
Tim Bonython was not able to attend the Surfing Australia Awards for 2018 - possibly due to being out chasing great waves and capturing their pure essence to bring to audiences in future fantastic films.
"40 years later big wave surfing wins. If wasn't for the ocean I love & the surfers I share with it then The Big Wave Project wouldn't have taken out the best Surf Flick prize in the Surfing Australia Awards.
Then my editor's Jason Muir and Luke McNee. Seriously editing a film on this level isn't simple. Simply like a monster jigsaw puzzle which continually changes as I go.
As we took years too make it, things changed, a lot. Really the sport has evolved so quickly. Then on the look, Alex Evans for the amazing colour grading and then the sound Peter McCorquodale. Brian Walsh and Tony Pollitt from Foxtel for believing in my idea.
I also want to thank all of my contributors for helping me make the film a better film. You know who you are.
So I know this is a big thank you rant but I want to reach out to all the supporters over the years who have enjoyed that night out & films I've made watching surf movies on the big screen in the clubs and pubs. Without you I wouldn't be where I am now.
...going into the future, with hopefully a lot more years left in the tank, I can continue the sharing as I love showing how good our world is when it comes to surfing a big ocean that really make you feel you're there and part of it. So far so good."

The Big Wave Project is now available to own, so you can have a copy for swell-less days. Details HERE
And provides a great excuse to show this small snippet again;