March 12 - 18, 2017: Issue 304
2017 Pittwater Woman Of The Year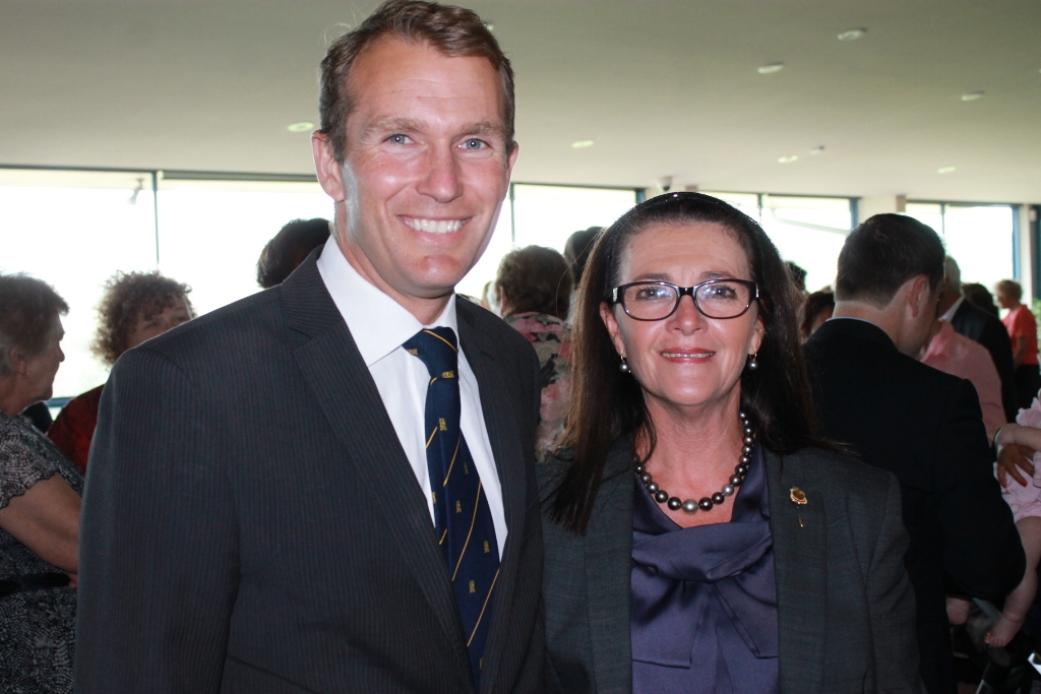 Hon. Rob Stokes and Deborah Carter-Hendy

The Zonta Club of Northern Beaches International Women's Day Breakfast was attended by 210 people this year, including many previous Pittwater Women of the Year.
Sophie Stokes (representing local Pittwater member Rob Stokes) announced the selection of Deborah Carter as Pittwater Woman of the Year for 2017. Deborah was elected in 2015 President of the Pittwater RSL Sub Branch, and is the first female to hold this position. Currently the Honorary Welfare & Membership Officer at the Pittwater RSL Sub-branch, Deborah also holds the position of Vice President of Northern Beaches District Sub Branch.
The guest speaker, Superintendent Doreen Cruickshank APM, gave a fascinating talk about growing up in country NSW and joining the police force. Changes to the roles of women in the force in the 45 years Doreen has served have been spectacular.
2017 Pittwater Woman Of The Year
8 March 2017

Pittwater RSL Sub-Branch President Deborah Carter has been announced as the 2017 Pittwater Woman of the Year.
The award was announced at the annual Zonta International Women's Day Breakfast at the Royal Prince Alfred Yacht Club and recognises the outstanding achievements of local women and their valuable contribution to the Pittwater community.
Deborah's extensive career has included senior medical roles with the Royal Australian Air Force and NSW Health and she is the first woman to be elected President of the Pittwater RSL Sub-Branch.
Deborah also served in a key advisory role in the successful establishment of the Veterans Centre Sydney Northern Beaches and is the Vice-President of the RSL District Council which supports veterans and their families across the northern beaches.
"Deborah has an extraordinary passion for community service and sets an outstanding example for others," Rob Stokes said.
"Every role in Deborah's extensive career has involved serving, supporting and caring for others.
"It takes a very impressive person to work in nursing - and an even more impressive person to perform this role in our armed forces.
"Deborah is continuing to use her professional experience to train others, whilst also donating her time to assist and advocate for some of the most vulnerable and deserving members of our community.
"Importantly, Deborah's focus is not only on older veterans in our community, but also the newest generation of veterans returning from conflicts in places like East Timor, Afghanistan and Iraq.
"Deborah is an outstanding member of our community and I'm delighted she's being acknowledged in this very fitting way", Rob Stokes said.
Deborah's Acceptance Speech
I am so humbled by this award especially when I look at some of the previous recipients, Patricia Giles, Eileen Gordon, the Late Karen Draddy, Tamara Sloper Harding all very dear friends of mine, not to mention Doreen Cruikshank and last years winner Lorrie Morgan.
We are blessed living on the Northern Beaches as there is a strong community spirit and a strong ethos of volunteering, at Manly Cardiac Rehab where I worked with my colleague Leonie Sadler there are volunteers who have been working there for over 20 years.
Our local Politicians are fabulous in all they do for our community, Rob Stokes and Bronwyn Bishop have worked tirelessly for our Veteran's community and New Member for Mackellar Jason Falinski , is also very supportive of our Veteran community.
After 39 years of Nursing and background as a Nursing Officer in the RAAF, I developed my respect and need to assist with our military community.
The Northern Beaches Veteran Centre based at Dee Why RSL offers great support to our Veteran Community as do the local Sub-Branches within the Northern Beaches District Council.
Most Sub-Branches and RSL Clubs are Independently run and I am lucky to have wonderful support from Jason Manning CEO, the Board of Directors and Club Staff of Pittwater RSL club who assist me in taking care of our returned men and women.
To be able to spend a lot time on volunteering you need a support network and I have a table of wonderful friends and colleagues who do just that,
I would like to high -light one particular lady, Mrs. Dannie Sloper who has tirelessly supports her daughter Tamara Sloper -Harding and her late husband Grahame Sloper, who helped set up the Northern Beaches Veteran Centre.
A big thank you to my husband Ian Hendy who was happy for his wife to leave a well paid nursing position as a Clinical Nurse Specialist in Cardiac Rehab to follow her passion to support veterans and their families.
I am proud to say that my two daughters Philippa and Josephine share my desire for volunteering and have been involved with Surf Life Saving Australia and Environmental volunteering.
Finally, I would like to thank the Northern Beaches Zonta group for hosting today and to commend them for the work they do, and a big thank you to the Hon. Rob Stokes and Mrs. Sophie Stokes for nominating me for this award!