July 2 - 8, 2017: Issue 319
2017 PANTAENIUS NEWPORT TO COFFS COAST RACE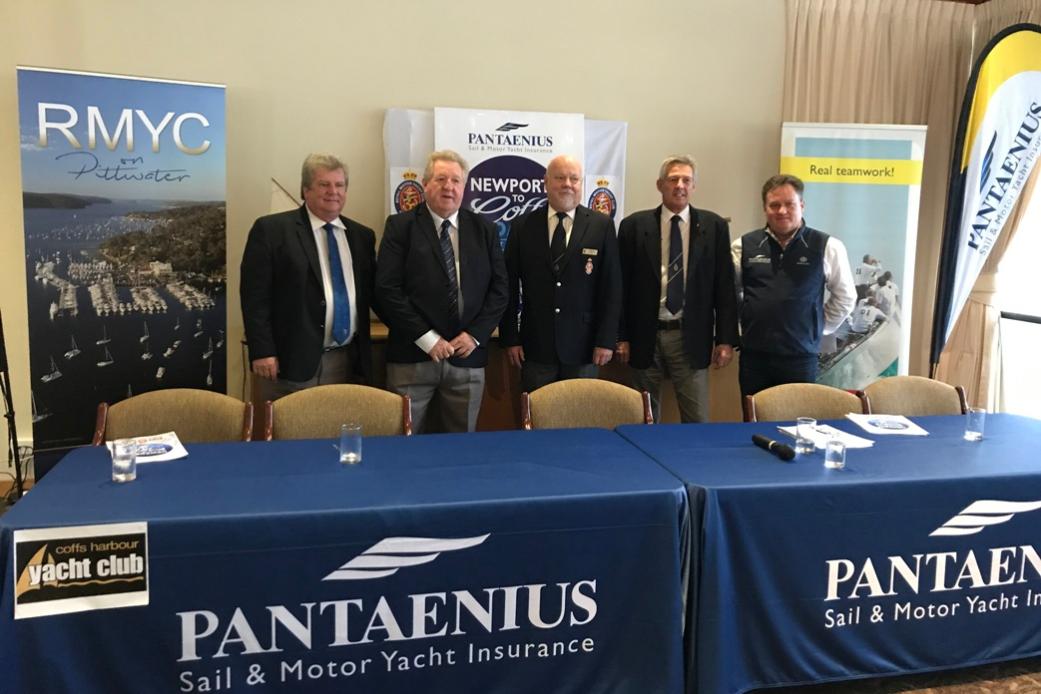 Announcing the 2017
Pantaenius Newport to Coffs Coast Yacht Race this week - photo supplied.
2017 PANTAENIUS NEWPORT TO COFFS COAST RACE
Pittwater to Coffs Harbour Yacht Race announcement. It's on!
The RMYC Broken Bay in association with the Coffs Harbour Yacht Club is excited to announce a new partnership, and can confirm that the Pantaenius Newport to Coffs Coast Yacht Race will start in Pittwater on 27th December 2017. This much-loved annual coastal event is now secure and event planning is well underway.
This will mark the 37th running of the Coffs Harbour race and in its new format will be named the "Pantaenius Newport to Coffs Coast Yacht Race".
RMYCBB Commodore Chris Lee added:
"It was a privilege to be invited to host this race which is a milestone event for our club and parallels our steady growth in all areas of the club's activities. We are proud to support this iconic race and believe we can add to its appeal with its new format and timing.
Rob Brown, our Development Manager and Race Director for the race, has done a great job co-ordinating the process of partnering with Coffs Harbour Yacht Club and all of the other elements necessary to stage this race."
Rob Brown OAM commented:
"We are delighted to be involved with this race. We have compiled a first class Race Management Team in Denis Thompson and look forward to providing yacht owners, crews, family and friends with a great event, here in Newport and also at Coffs Harbour.
The race will be sailed under Category 3 + (Plus) Safety which will make it more affordable and easier for yacht owners to compete without the requirement to have a High Frequency radio installed. Competitors will only need to have a VHF radio and a Satellite phone for communications. This should appeal to a wider cross section of the yacht racing community that would not normally consider contesting a race of this length, which is 230 nautical miles.
The timing of the event between Christmas and New Year should also be attractive to all involved especially for those who have to resume work early in the New Year.
We are finalising the Race Documentation which will be available shortly.
We are also very pleased to have Pantaenius Sail and Motor Yacht Insurance on board as our naming rights partner. They are a great supporter of RMYC and now getting behind this fantastic yacht race."
Denis Thompson Principal Race Officer:
I am excited to be involved with the Newport to Coffs Coast race again, having been involved with the race for ten years previously. The race is a true test of tactics and strategy with varying winds along the coast and the East Australian Current to contend with. The warm water sailing and warm welcome in Coffs is sure to appeal to a lot of sailors during the Christmas and New Year period.
Jamie MacPhail from Pantaenius Insurance said:
"We are proud to be involved with such an iconic event and all of its history. I did so many of these races in the 80's & 90's, and it is great to see the race is safe and in good hands. It is particularly pleasing to see the race return to its original and most successful time slot between Christmas and New Year".
"With the race around 230 nautical miles it means that yachts can return home easily in a relatively short weather window. We are sure this will suit many club racers."
Commodore Garry Innes Coffs Harbour Yacht Club said:
"We are delighted to report that this iconic yacht race will return this summer with a new format and a new date.
"The Coffs Harbour Yacht Club Board are delighted to announce its full support of the RMYCBB in organizing the Race. It is also fully supported by Coffs Harbour City Council and The Coffs Coast business community."
"The new date brings the start back to its original start date to 27th December. This will allow boat crews to race over the Christmas to New Year period, and then able to return to work for an early start in January."
"We have had considerable interest from yacht owners here at Coffs who have shown interest the timing of this event.
"We are delighted to partner with the Royal Motor Yacht Club who have been very professional in the process of bringing all of this together. Working with the likes of Rob Brown and his team, is a breath of fresh air. "
"It's a new beginning for an old race, a new beginning that has the potential to see it stay alive for many decades to come." Mr. Innes said.