November 5- 11, 2017: Issue 336
Legendary Status Confirmed At 2017 Beneteau Cup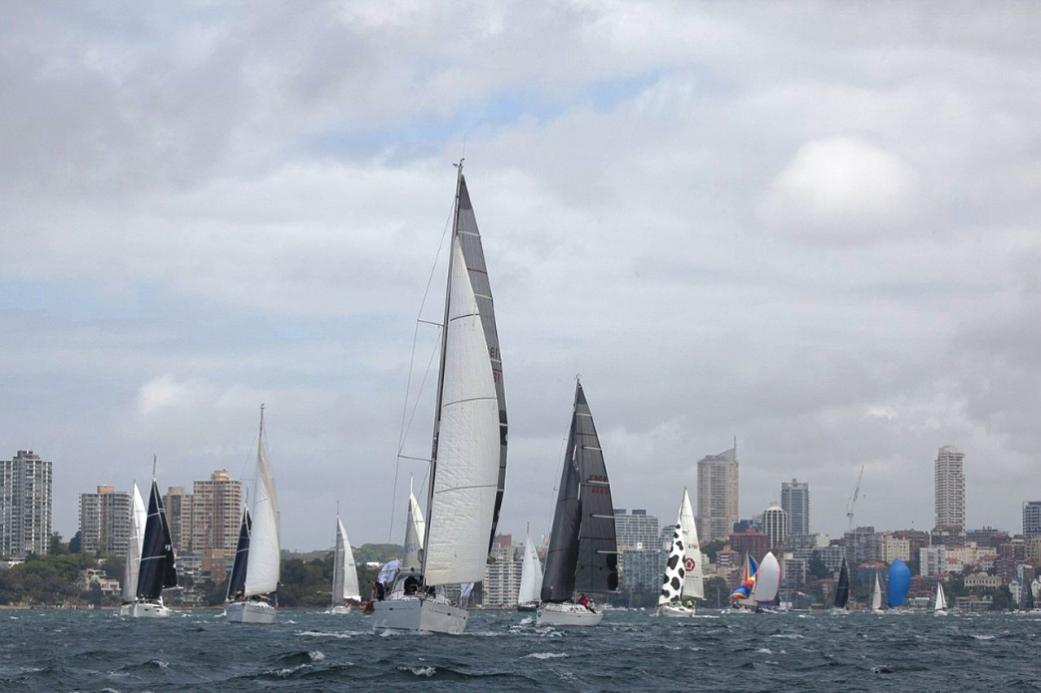 In Cahoots, skippered by Pat and Roberta Play, leads the fleet towards the Sow and Pigs in Race One of the day, where they achieved a third in Div A Non-Spinnaker - photo by Alex McKinnon Photography
Legendary status confirmed at 2017 Beneteau Cup
It is one of those superlatives that gets bandied around a lot, but after 26 years and thousands of participants it is entirely apt. Yes. 2017 saw the crew of Flagstaff Marine deliver another great Beneteau Cup. Just as with many of the previous iterations, even the weather could not impact on it all, and eventually did its bit to enhance the overall reputation of Flagstaff Marine's premier event.
Indeed, at the start of the day things did not look so good, with the threat of more heavy rain that had fallen overnight all set to continue. Alas, it was almost as if Huey, the God of Wind, quickly re-read the memo and realising it was Beneteau Cup day, ensured the sun was out for racing. He also delivered a more than useable 15 to 20 knots from the South, albeit that it was a tad patchy in some of the bays around Sydney's stunning harbour.
There was a very healthy 37 entries this year, and this meant around 240 skippers and crew took part in the annual celebration of all things Beneteau. This large family enjoys a Champagne breakfast ashore, with baguettes for lunch and then a distinctly raucous and fun evening. It is here that more of the day's prizes are awarded, and of course the dancing can take place.
Four new sponsors were welcomed to this large family at the 2017 Beneteau Cup. They went sailing with Flagstaff Marine's Director, Graham Raspass, on the SailTime vessel, L'Oiseau. Representatives from Zettex, Burke, Hedge Finance, and Family Wealth Advisory got to embrace the Beneteau spirit for themselves, no more so than Michael Bova from the latter, who enjoyed his very first time ever on a boat.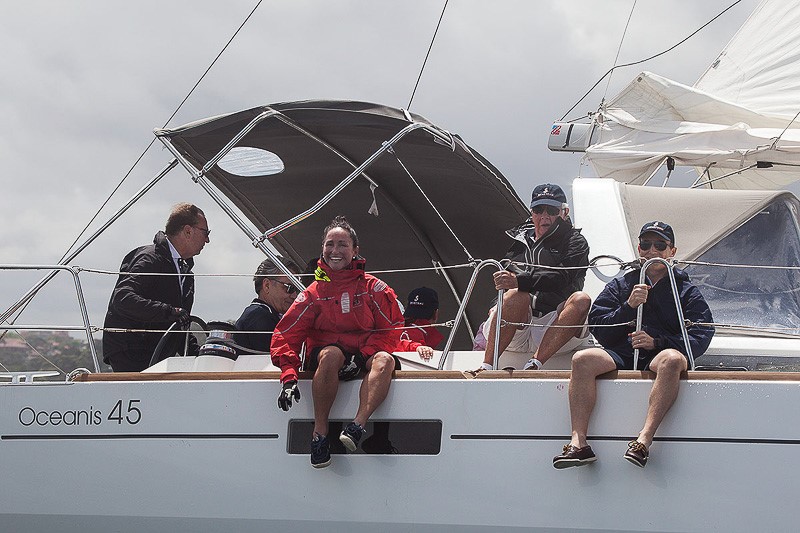 L'Oiseau skippered by Graham Raspass with the new sponsors enjoying their time on the water, including Michael (RHS) who was on a boat for the very first time in his life - photo by Alex McKinnon Photography

This year's winner of the Beneteau Perpetual Trophy was Kim Clinton, co-owner of the ultra-distinctive and very well travelled, Holy Cow. Each year, the recipient is selected for their efforts across racing, cruising, and the wider community, thereby encapsulating the greater Beneteau vision. This year, Kim's significant contribution to the Beneteau clan, where she has introduced many people to sailing, along with all the work she has done for charities was highlighted and celebrated. Notably, Kim is also the first woman to win the coveted trophy, and joins a list of distinguished sailors.
Kim Clinton was the winner of the Beneteau Cup Perpetual Trophy. Seen here with Micah Lane on the left and Graham Raspass on the right - photo by Alex McKinnon Photography

Graham Raspass said of the day, "We're delighted to have yet another sensational event, at our new, slightly earlier and more calendar friendly October date. We had 37 boats flying down Sydney Harbour in a mixture of spinnaker and non-spinnaker divisions. Well done to all our owners and crew for getting so many Beneteaus out on the water. It was a terrific turnout, and I would like to thank all the sponsors, owners and crews for making it so. Everyone really enjoyed it. There was good racing to be had and plenty of breeze, so we managed to get both races in."
With that segue to the racing complete, at 1230hrs the fleet amassed for their respective starts off Robertson's Point. Indeed both races would commence here. The first race of the day was set to Course Two for all divisions, which meant they would head off towards N2 near Darling Point, and then up the harbour past Bradley's Head and Chowder Head. Non-Spinnaker Division A, along with the spinnaker division continued further up the harbour turning at the Sow and Pigs and Lady Bay, respectively. All the divisions then headed into Rose Bay and around Shark Island and thence onto the finish.
Race Two got underway after lunch, with all divisions racing on their respective Course One. Once again they were all sent past Bradley's Head, with Division A and the racers using spinnakers going up to OB off Middle Head and then around Shark Island before returning back to the city and the finish line adjacent to Darling Point.
And so to the podium positions. In Non-Spinnaker Division A, it was Flying Cloud (Howard Piggott) in first place, then Holy Cow! (John and Kim Clinton) and third was Belle Époque (Gareth Jones). In fact Jones had only taken delivery of his boat a few weeks ago and was also competing in his very first Beneteau Regatta. Division B was won by Flying Circus (Craig Boulton), with Dancing in the Wind (Kim Bangel), and then High Voltage (Julian Davies) claiming second and third places, respectively. Danske (Paul Erikson) won the Spinnaker Division, in second was Antipodes of Sydney (Greg Newton), with Far and Away (Graeme Lee) securing third.
Full results can be found here.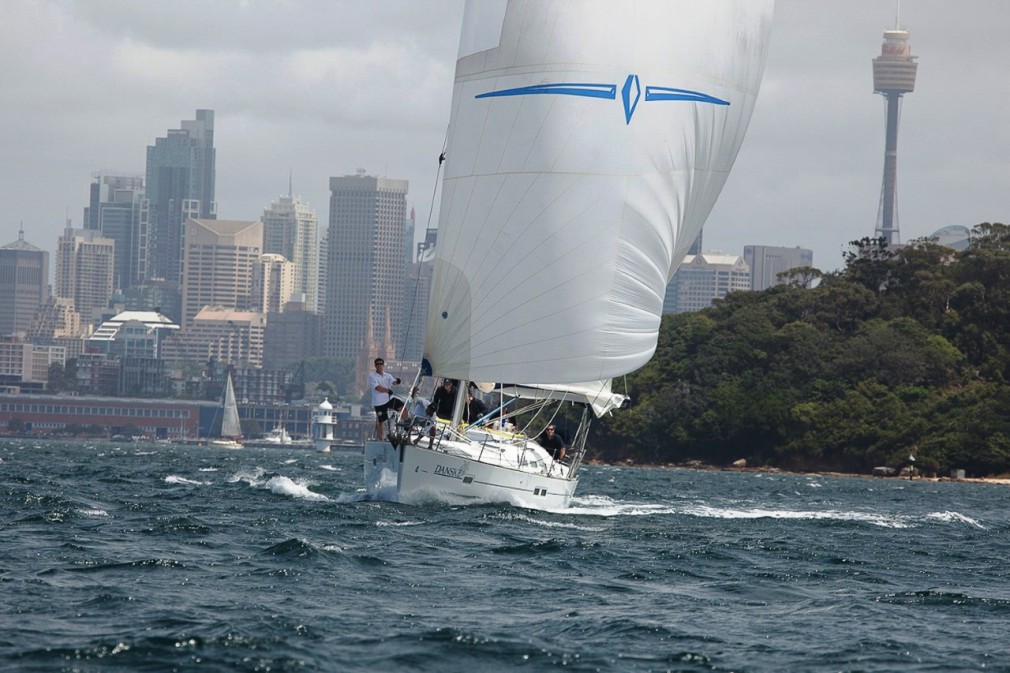 Danske, skippered by Paul Eriksson, was the winner of the Spinnaker Division with a first and a second from the two races - photo by Alex McKinnon Photography

As usual, the representation of the Beneteau range over time was as distinct as it was long and wide. Vessels approaching their third decade on the water were out there enjoying it all with newer craft from the First, Sense and Oceanis ranges, and showcased craft from 30 to 55 feet in length. Indeed two of the boats had only been in the water for less than one month. Janelley, an Oceanis 38.1 owned by Peter Berger competed in Non-Spinnaker Division B, as did Gareth Jones' Oceanis 41.1, Belle Époque.
The Beneteau clan will not have to wait too long before the next event, which is the Pittwater Cup, which will be held on May 12th, 2018. Many of the Sydney fleet enjoy the opportunity to head to Broken Bay and partake in the both the fun and enjoy the magnificent scenery. In the meantime, Flagstaff Marine would like to wish all Beneteau owners competing in any of the Christmas time races the very best of success and a safe and memorable time.
You can see the entire current range of Beneteau craft at flagstaffmarine.com.au, or call 1300 998 662 to talk with Graham, Micah, Michael or Greg about your next Beneteau.

By John Curnow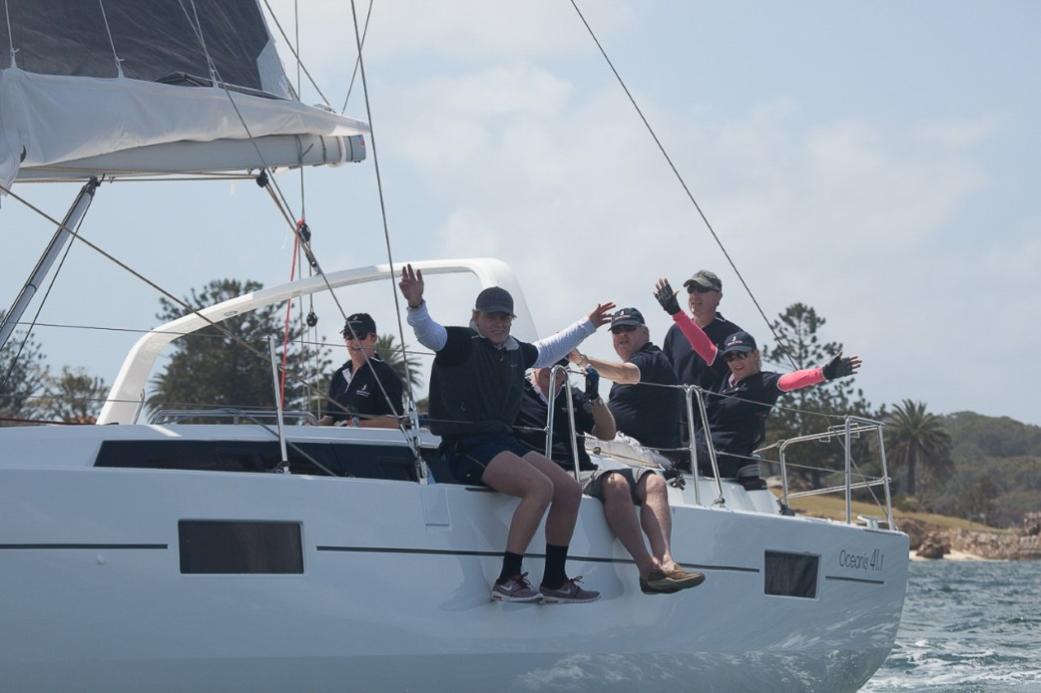 Belle Epoque, skippered by Gareth Jones, was third overall in Div A Non-Spinnaker. Seen here around Shark island in Race One. She has only been in the water a matter of a few weeks -
photo by Alex McKinnon Photography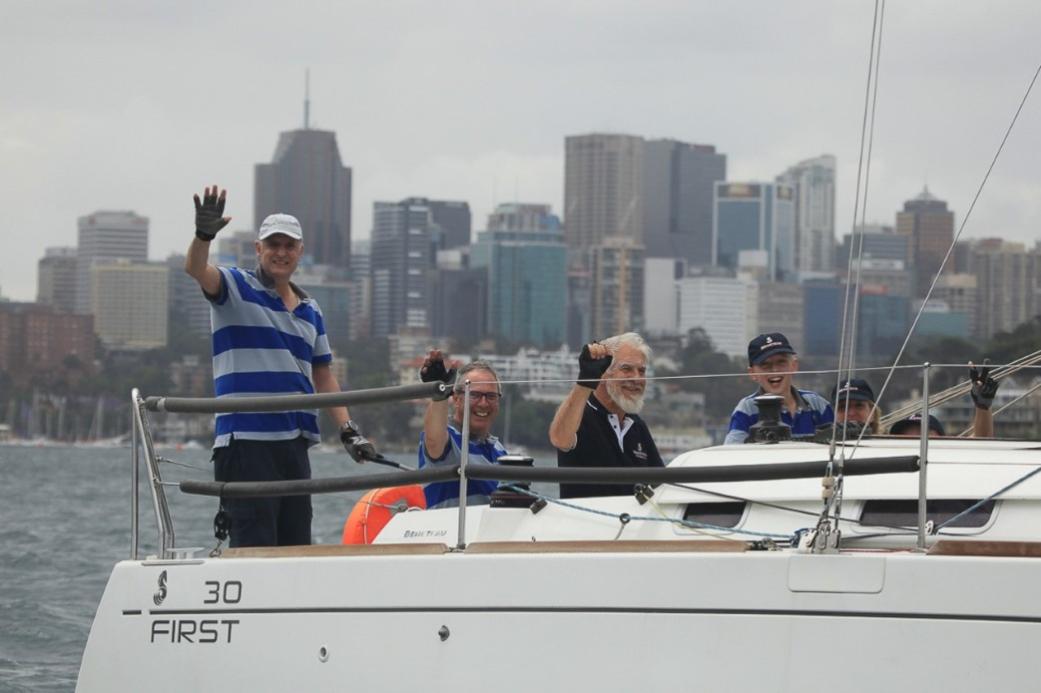 Menage a Trois, skippered by Karl Matiszik, with everyone enjoying their day on the water -
photo by Alex McKinnon Photography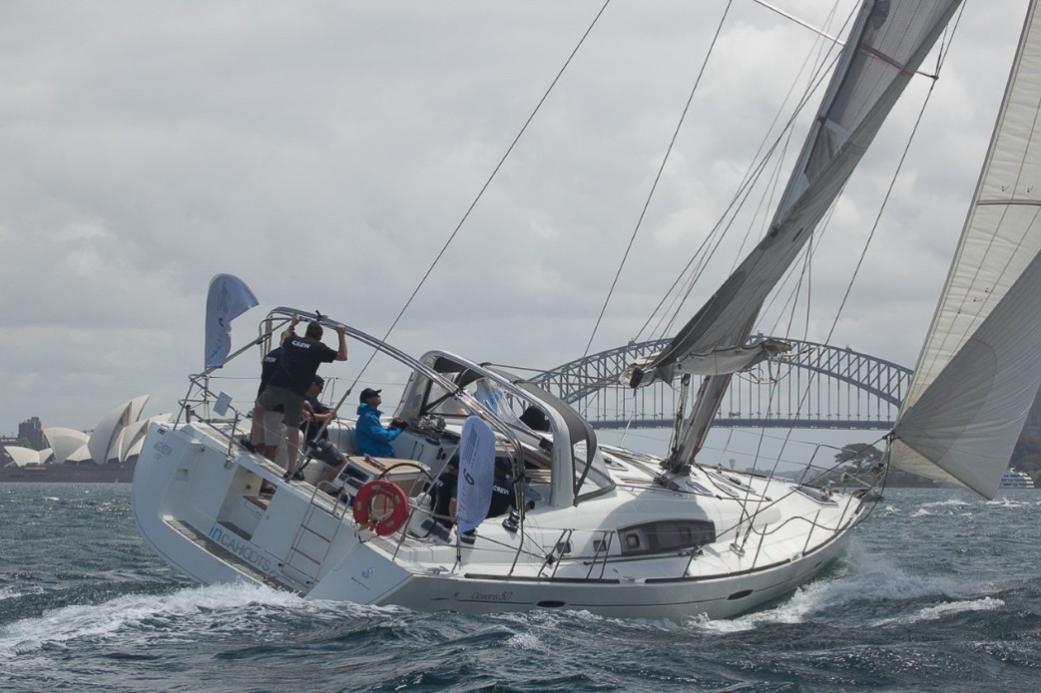 In Cahoots, skippered by Pat and Roberta Play, is seen here enjoying the breeze as they head towards the finish in Race One, where they placed third - photo by Alex McKinnon Photography