March 6 - 12, 2016: Issue 254
2016 Hybrid Match: Battle of the Bends
Avalon Bulldogs and Newport Breakers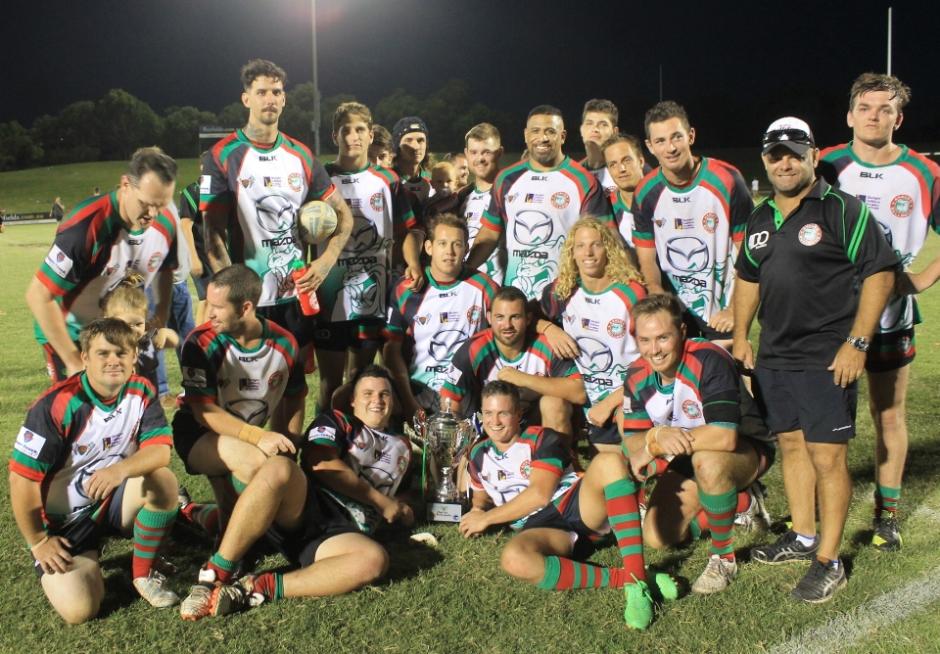 The Hybrid 'Battle of the Bends' match between the Avalon Bulldogs and Newport Breakers on Saturday evening was fast, intense and one of the most exciting matches witnessed. People who haven't attended a football game of any sort went to have a look, the host of youngsters who filled the field at halftime, kicking balls to each other, proved how inspired they were, while the stands of Rat Park roared with each run, each pass, each tumble for all of the 20 minute quarters.
There was still lightening and thunder in this rematch and two teams of players able to adapt to showing some finesse in each other's code and pretty fleet in their own, for a pre-season match.
Avalon were first to score, finishing the first quarter 7- nil. with Sam Meehan dashing over the line, chased by Hugh Lamrock, and then a very neat conversion by Zac Meechan.
As soon as the players came back onto the field, Newport countered - Sam Powell took a run, dived, pushed....pushed....made it, and then converted. - 7 - 5 at halftime.
Avalon came back strong during the third quarter, Jack Webster sprinting down the field - end of third quarter 14 - 5.
Newport kept going, scored again - 14 -10 with only minutes to go.... in fact, it was so fast and intense out there that the last minute was kept going for at least another minute.
The 'cameos' by Mr. Lyons and Hopate weren't cameos at all - they both were full members of the team when on field and didn't take their eyes off the action when off the field. During the last minutes f the last quarter both wanted back on the field.
A
2016 Hybrid 'Battle of the Bends' photo album is HERE
for those who want to see all that intensity (fuzzies left in for coaches: program still loading up all pictures at 8am - so check back for more) a sample runs below as this week's pictorial.
The 2016 Hybrid Teams are listed below, for the record. Saturday April 2nd is the scheduled start of season - get along to either club, or any of the other footy codes and clubs that thrive locally, and get some lightening in your veins too!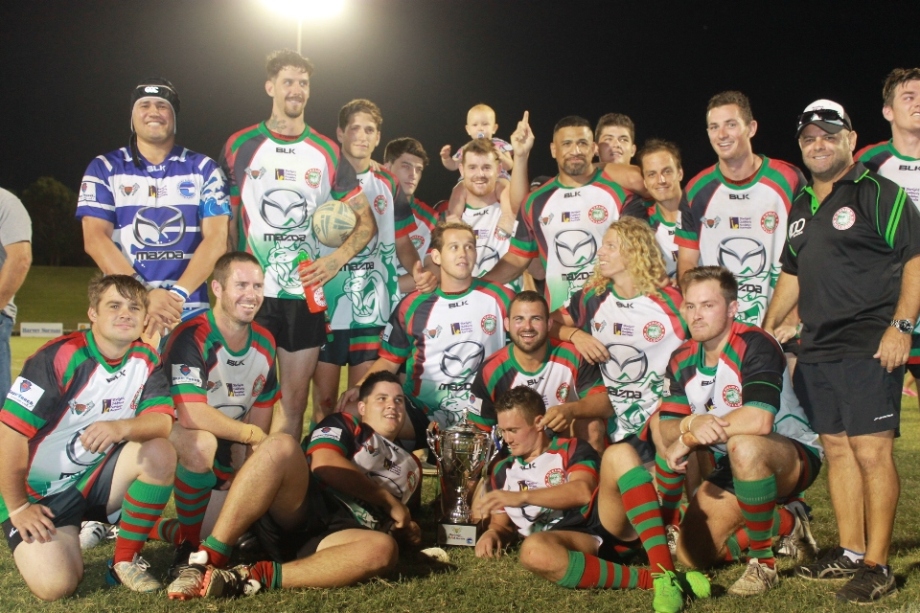 Avalon Gains a Newport convert!
2016 Avalon Bulldogs League Club Hybrid Game Team
FORWARDS
13. Nathan Johnson NUG
11.Kurt Stevenson STEVO
12. Tim Goozee GOOZ
14.Mitch Levett VETA
8. Aaron Groome GROOMY
10. Mark Bryant BOX
9. Chris Seymour PIG
15. Sam Blundell WESTY
BACKS
1. Sam Meehan MIERGE
3. Will Haines HAINESY
4. Jack Webster WEBBY
19. Cliffy Lyons CLIFFY
20. John Hopate HOPPA
16. Ryan Clissord KEN
5. Oscar Barry BAZZA
17. Craig Womorsley TRUCKY
18. Michael Bowdon BOWDO
7. Alan Avis AL
6. Ryan Evans RHINO CAPTAIN.
2. Zac Meechan ZACY
Director of Coaching/Coach: Gaven Sheehan
Coach: Craig Goozee
Avalon Bulldogs President: Michael Birtwhistle
Avalon Bulldogs would like to thank Corporate Energy Services, National Provider of Electricity, for their generous sponsorship of their 2016 Hybrid Match Jerseys
Play League at Avalon
Avalon Bulldogs family friendly club. U6 to A Grade.
Thinking of playing Rugby League? Tehn come to our COME and TRY Clinic and have a go!
Wednesday March 9th, 4pm to 5pm, U6 to U15 at Hitchock Park, Avalon.
Join one of the most successful Clubs in 2015 – 7 Premierships from & Grand Finals.
All inquiries to Sam Baum 0418 333 820 or
secretary@avalonbulldogs.com.au
Facebook:
www.facebook.com/avalonbulldogs
Website:
www.avalonbulldogs.com.au
2016 Newport Breakers Rugby Club Hybrid Game Team
15 Hugh Lamrock Fullback
14 Evander R.Wing
13 Jackson Barry Outside Centre
12 Max Fletcher Inside Centre
11 Tynan Linton L.Wing
10 Luke Duesbury Fly-half
9 Sam Hewitt Scrum-half
1 Laiatea Fotofili Loose Head Prop
2 Michael Martin Hooker
3 Moses Keresi Tight Head Prop
4 Daniel Mohenoa 2nd row
5 Neil Glassie 2nd row - Captain
8 Tom Priddis No 8
16 Sam Powell
17 Jake Roberts
18 Jay Alatimu
19 Illy
20 Ish
21 Tomas Anderson
22 Marcus Brandon
23 James Vanisi
24 Uitime Loefkvist
25 Joey Osborne
Director of Coaching/Coach: Adam Griffiths
Newport Breakers President: Piers Warren
Newport Bulldogs would like tot hank L J Hooker Newport
for their generous sponsorship of their 2016 Hybrid Match Jerseys
Rugby + Fun at Newport
Newport fields for 4 Senior teams and 1 Colts team. They play in the Barraclough Cup competition which commences on April 2nd 2016.
We are "The Breakers" with a love and record for enjoying success on the field and great camaraderie afterwards - at one of Sydney's finest rugby locales behind Newport Beach.
You are welcomed to Training now - Thursdays 6.30pm. New players - call Adam Griffiths (0410 565 752) He will welcome you along and explain where to attend.
Facebook:
www.facebock.corntNewportBreakersRugby
Website:
http://newportrugby.com.au
Mr Hopate put in a full effort!
Rules of Hybrid Rugby incorporating the Hybrid "SHOT CLOCK"
The Hybrid game combines the 'rules of Rugby League' and the 'laws of Rugby Union', with the addition of a number of unique 'Hybrid Rugby' rules that will enable a Rugby Union side to play a Rugby League side in a proper contest.
THE FIELD POSITION OF THE TEAM IN POSSESSION DETERMINES THE CODE OF PLAY.
When the team in possession is in their own (defensive) half of the field, the game is played in accordance with the rules of Rugby League ('Play the Ball'). When the team in possession is in the (attacking) half of the field, the game is played in accordance with the laws of Rugby Union ('Ruck and Maul').
The unique Hybrid Rugby rules listed below are applied in conjunction with the rules of Rugby League and laws of Rugby Union, hence an understanding of these codes is required.
Thirteen (13) players are allowed on the field at any single time, six (6) forwards and seven (7) backs, with an additional ten (10) reserves. A total of 23 players - all interchangeable during any quarter.
A try is worth five (5) points; conversions and penalty goals are worth two (2) points; a field goal is worth one (1) point.
A Shot Clock is used to restrict the attacking side to sixty (60) seconds of possession in each half of the field (no tackle counts are used). NB - The average time for a set of six tackles is (48-50) seconds.
Two (2) referees, one from each code, are to umpire Hybrid matches similarly to the NRL style of refereeing currently used in Rugby league.
HYBRID RUGBY IS PERPETUATED BY A SIXTY (60) SECOND SHOT CLOCK RESETTING ON ALL RESTARTS OF PLAY
Copyright © Reserved 2011 Modified from -
hybridrugby.com/rules-of-hybrid-rugby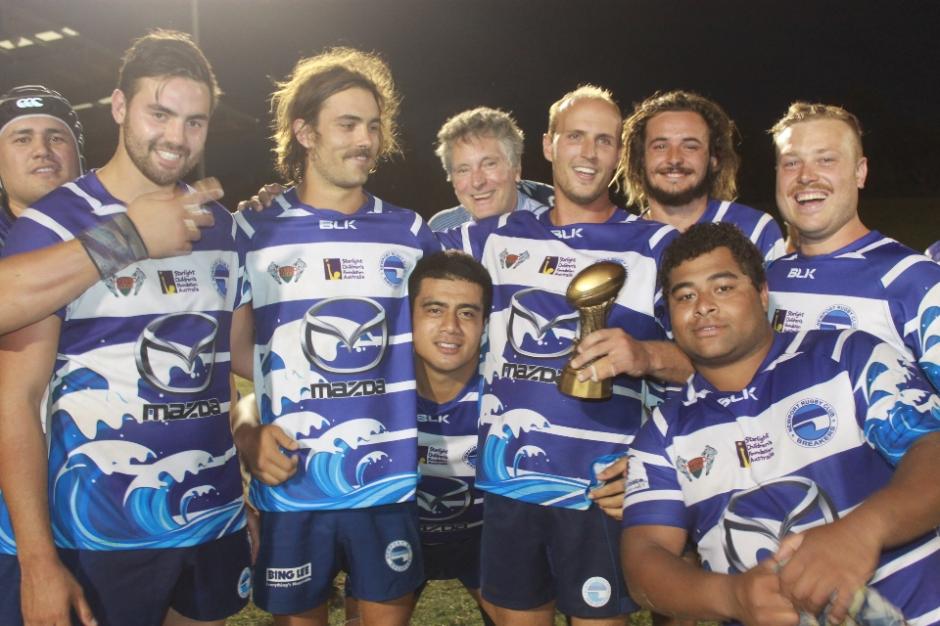 Above and Below: 2016 Newport Breakers Hybrid Match Team + Man of the Match: Hugh Lamrock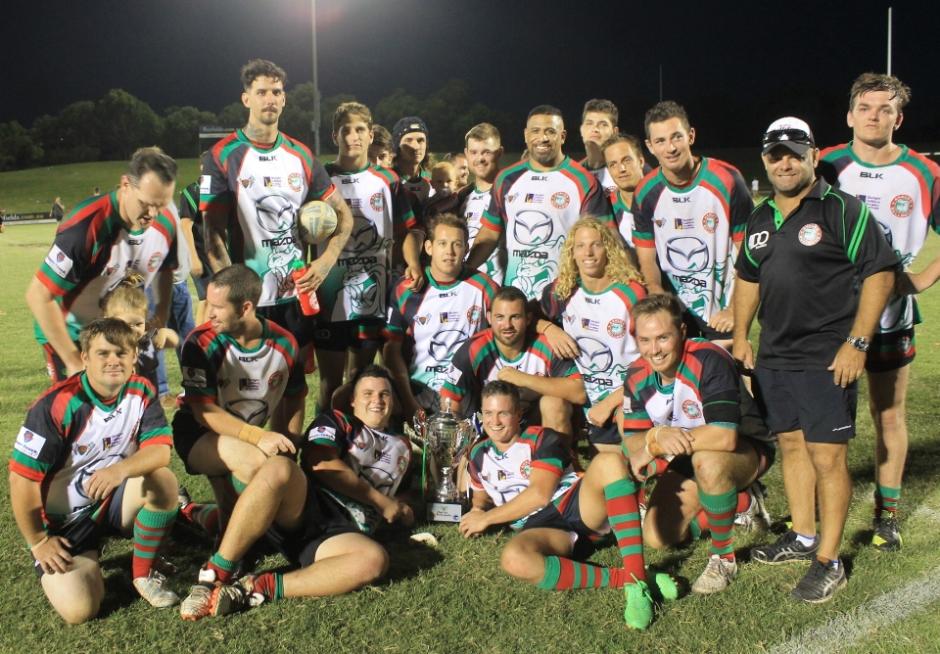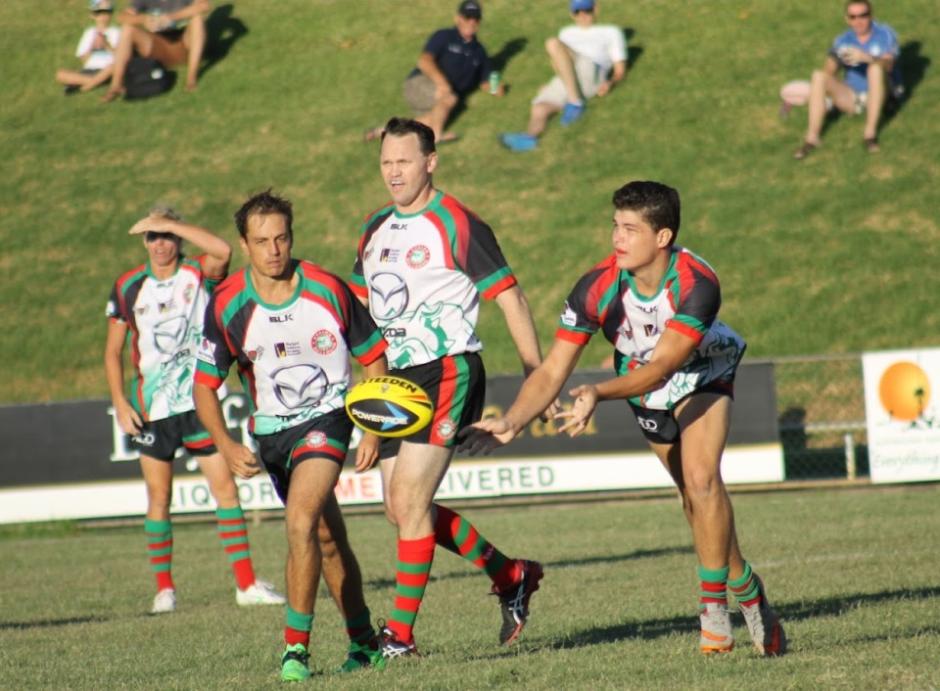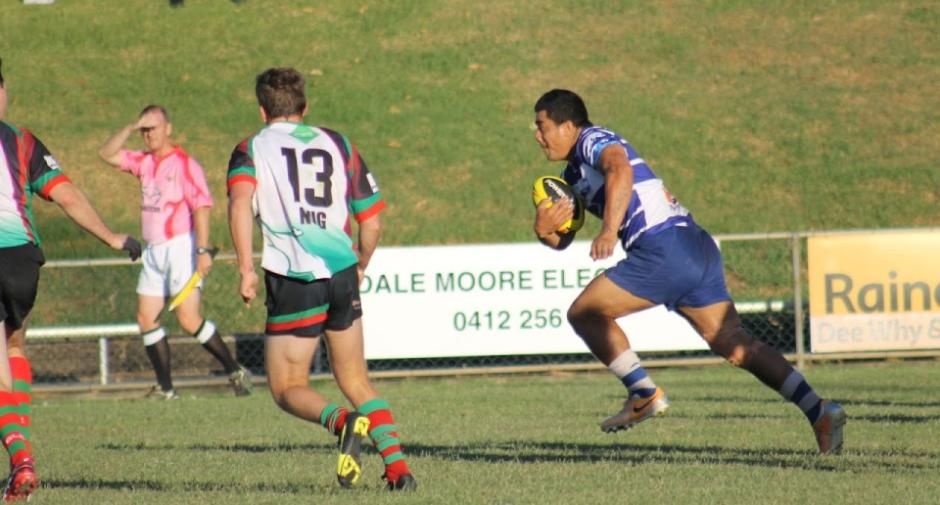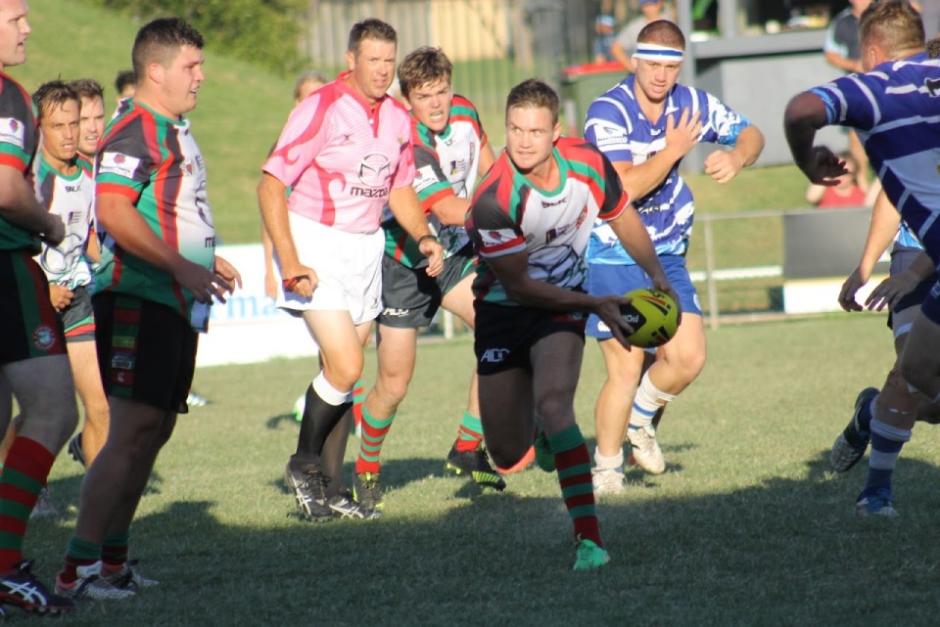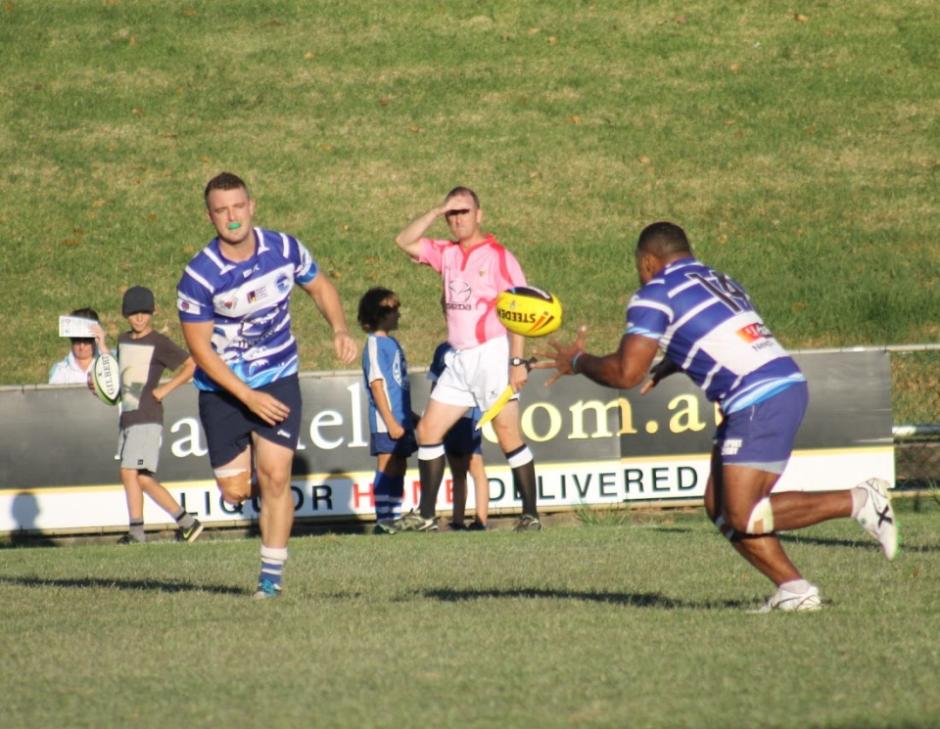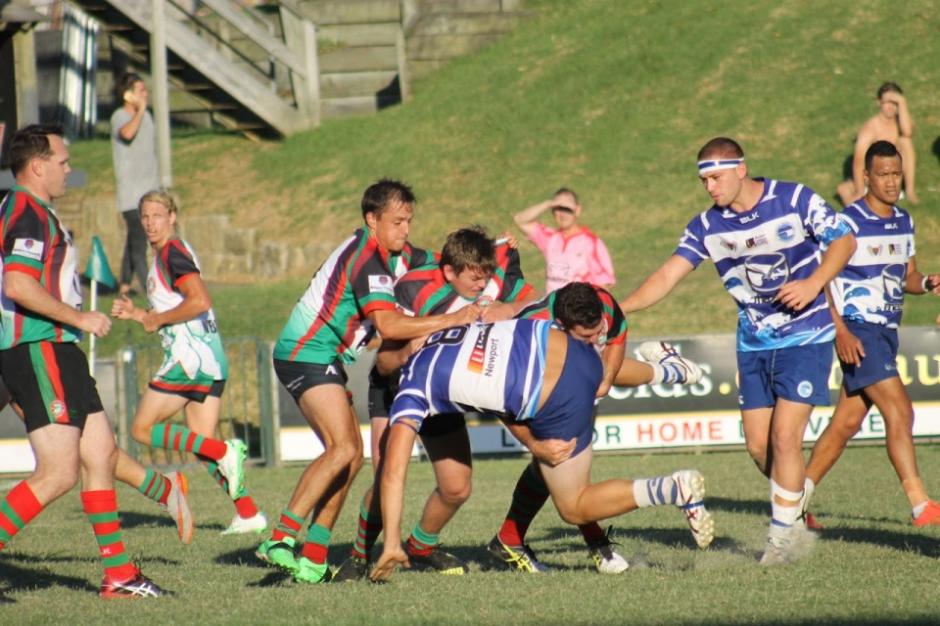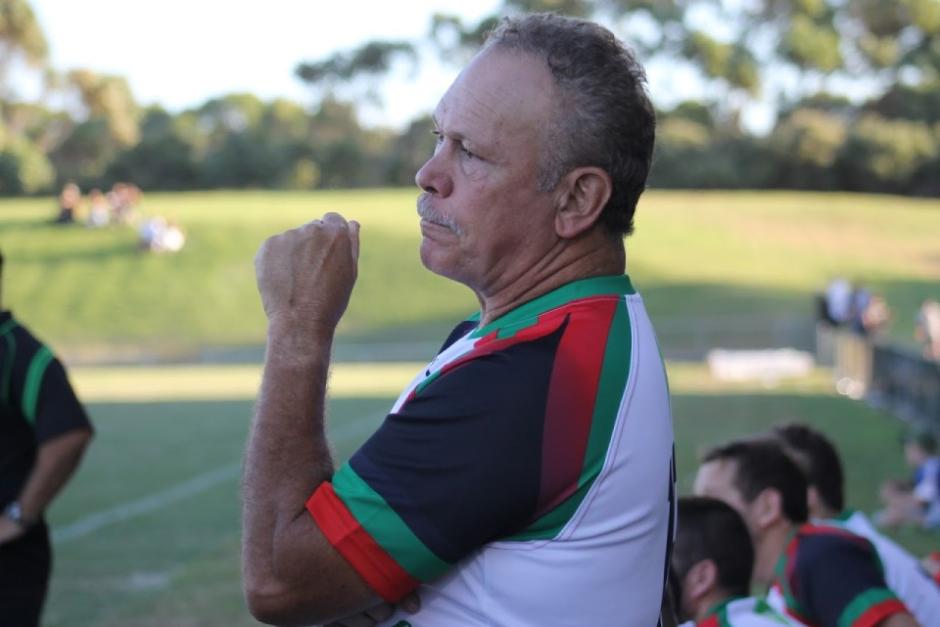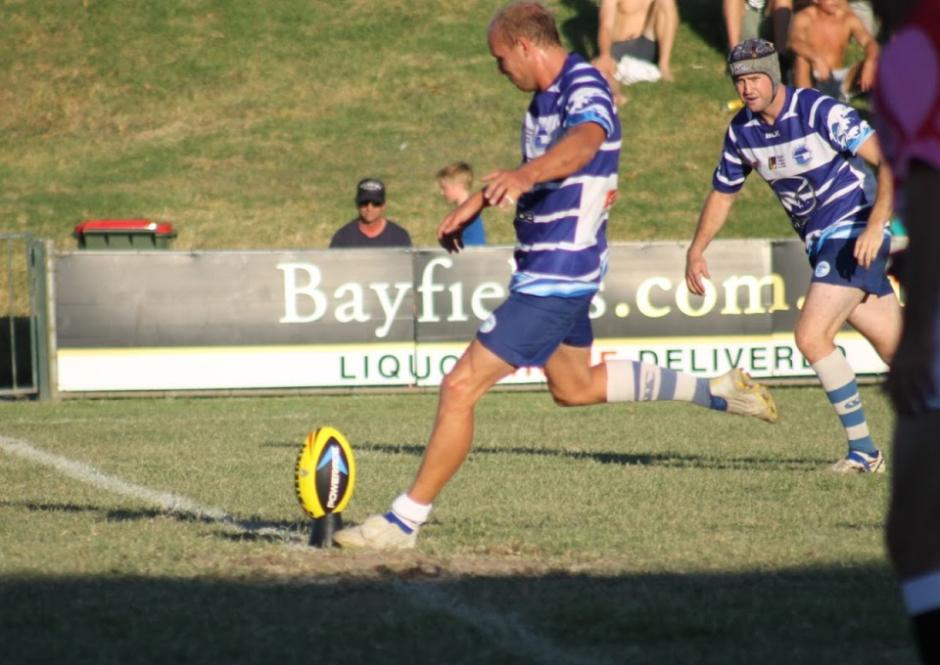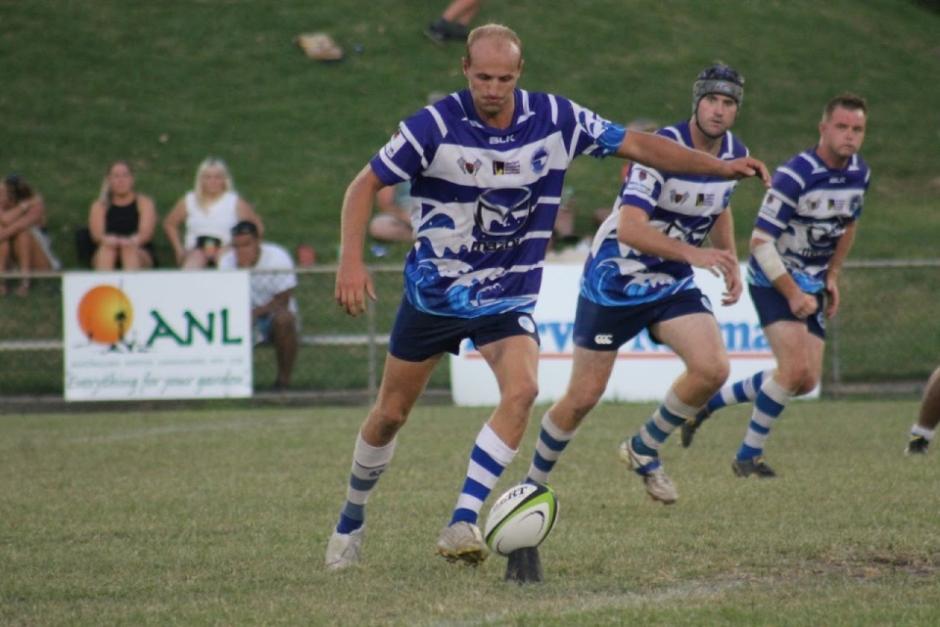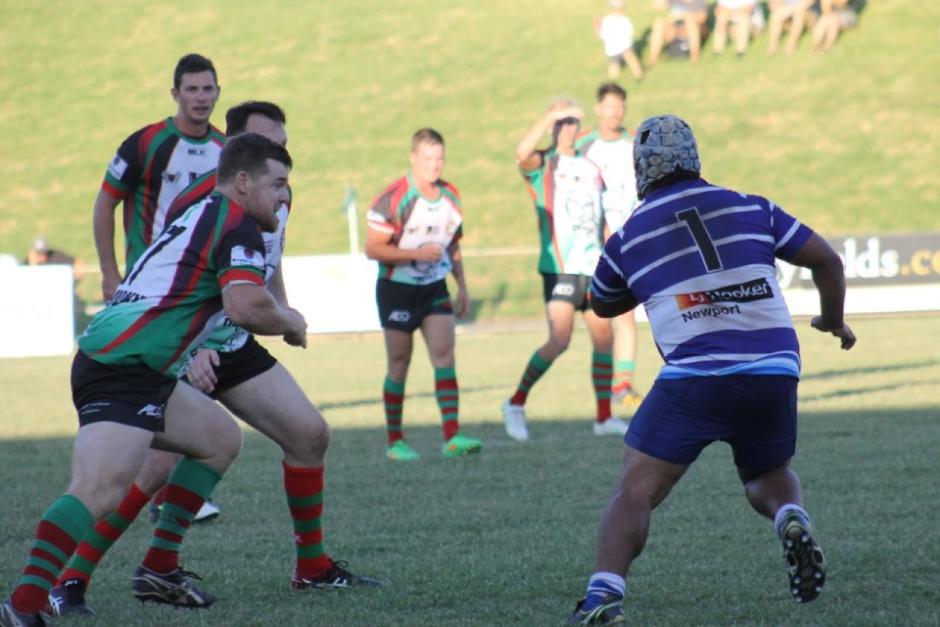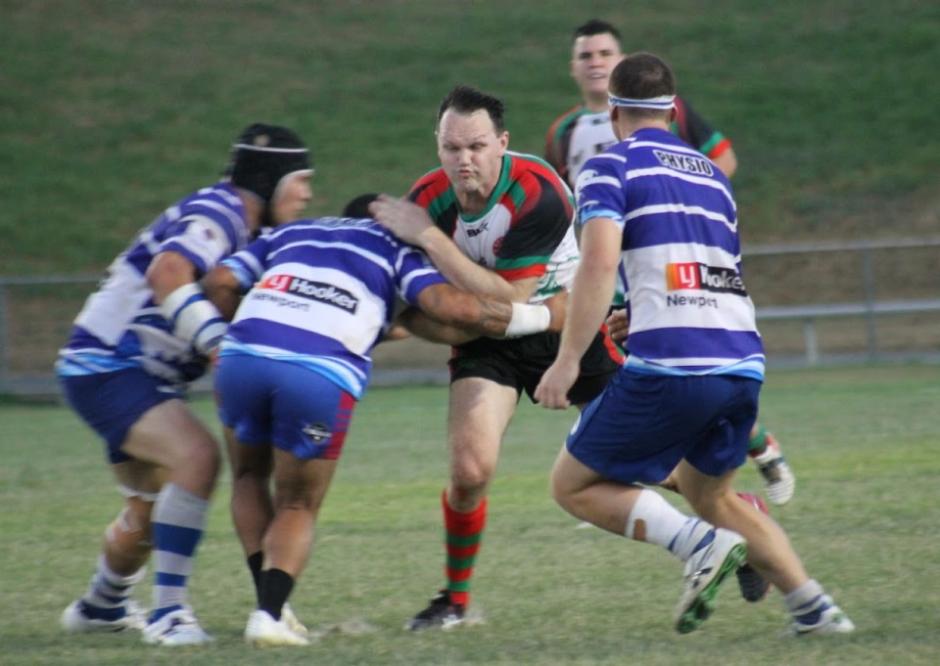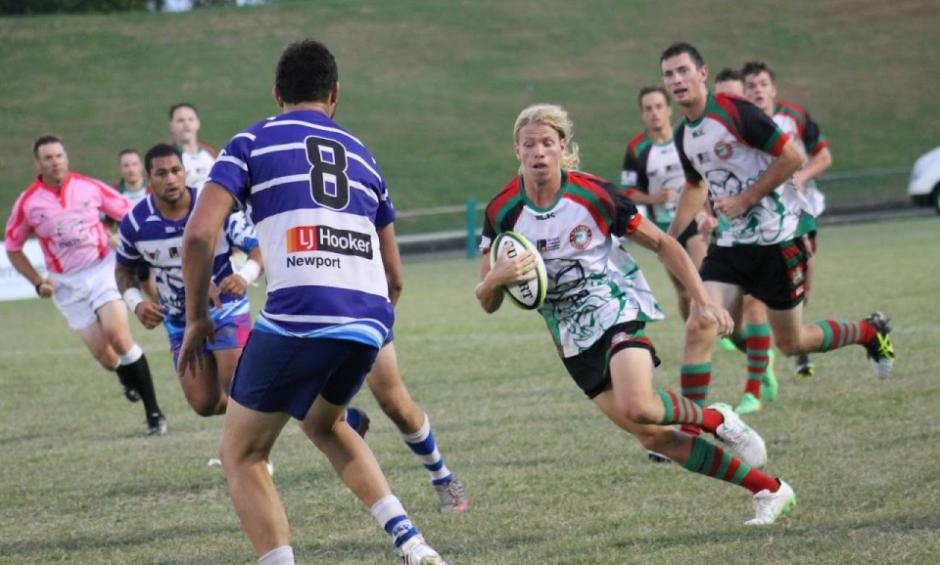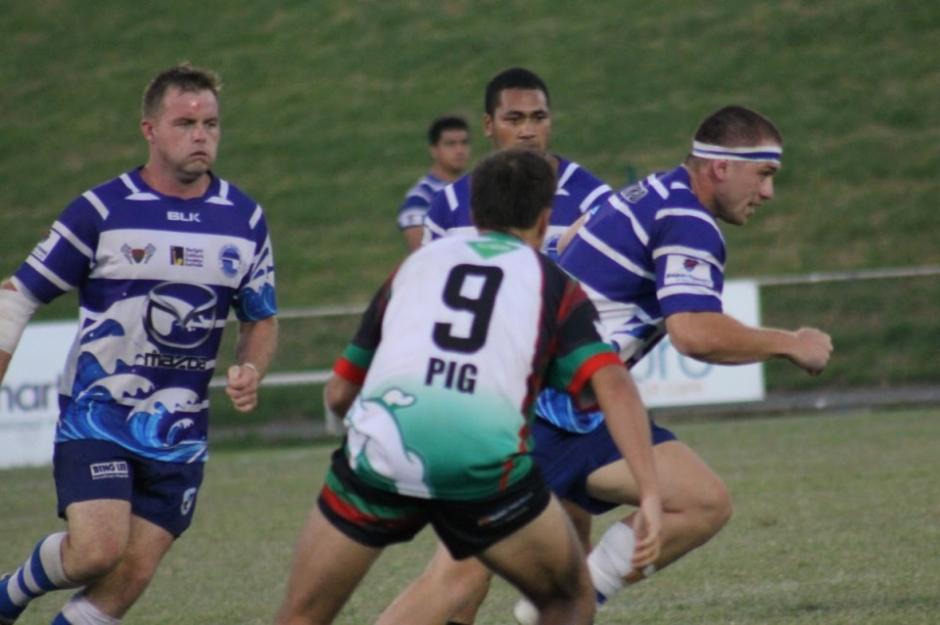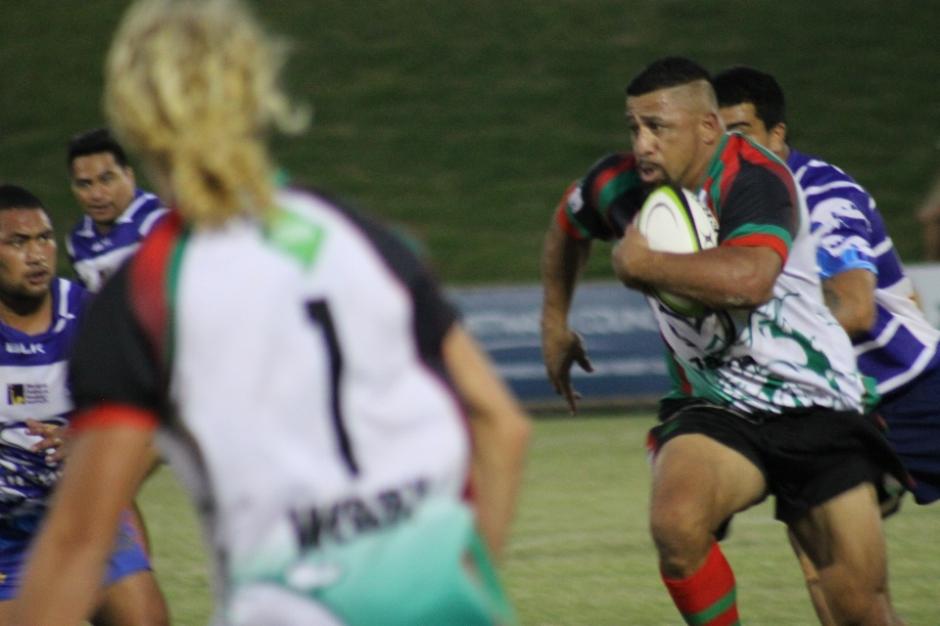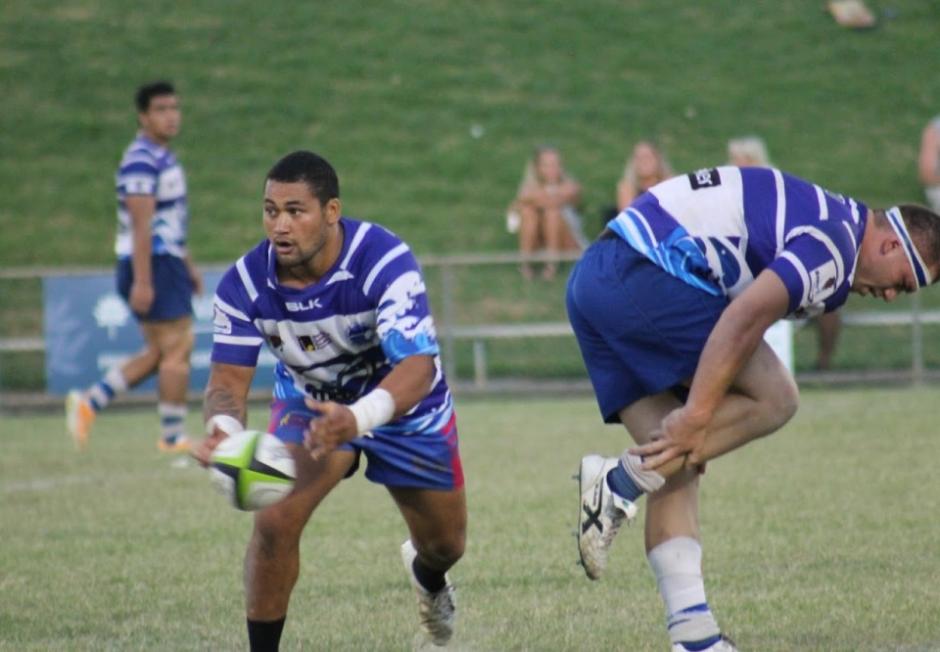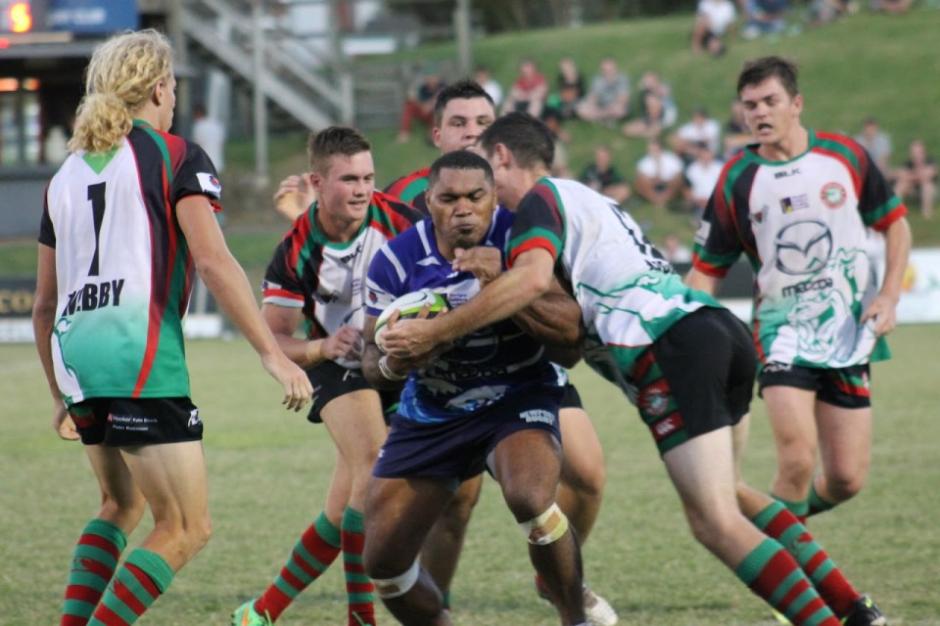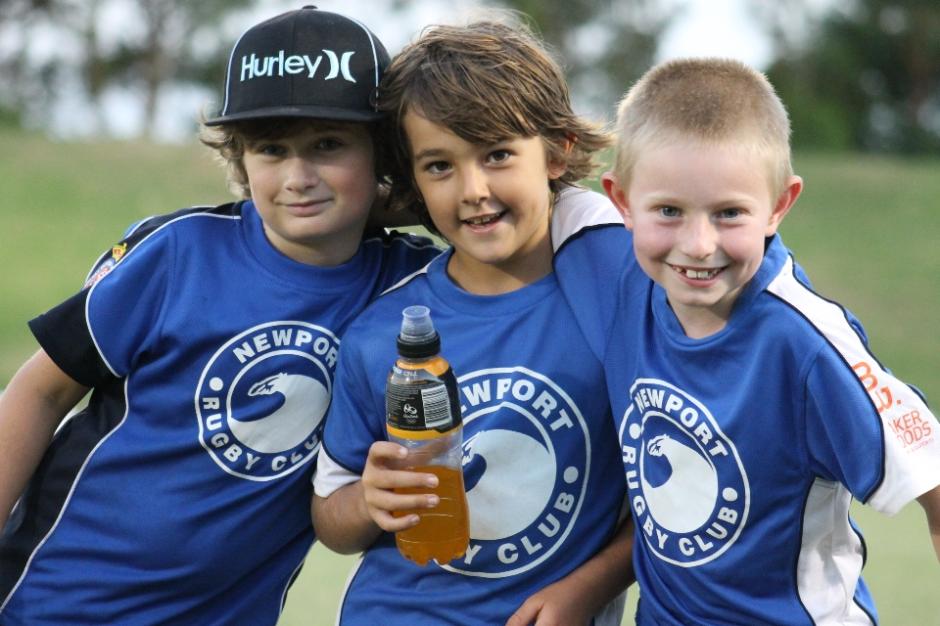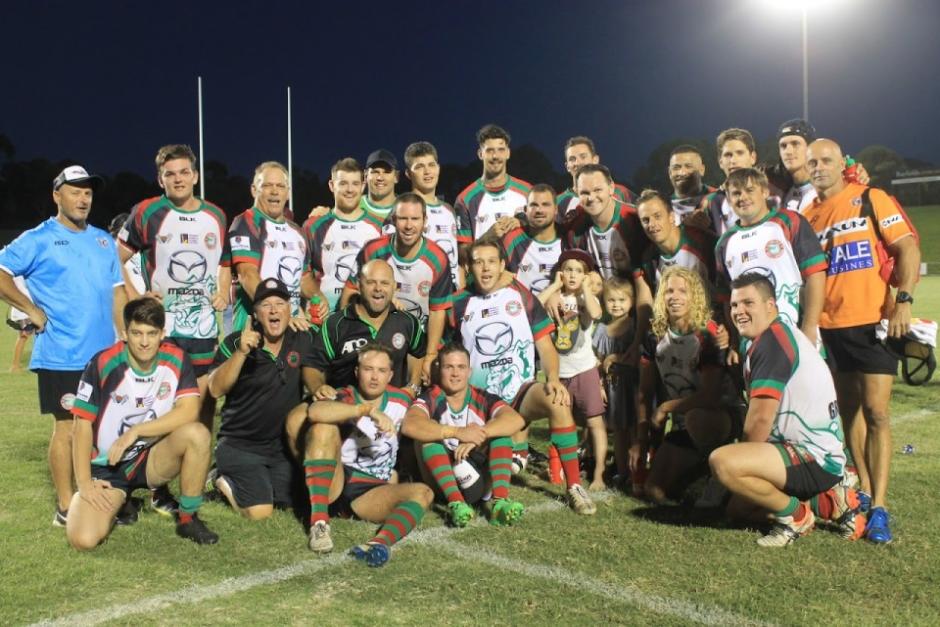 Photos by A J Guesdon, 2016.