March 8 - 14, 2015: Issue 205
2015 NSW Surf Life Saving
Age Championships -
Ocean Beach-Umina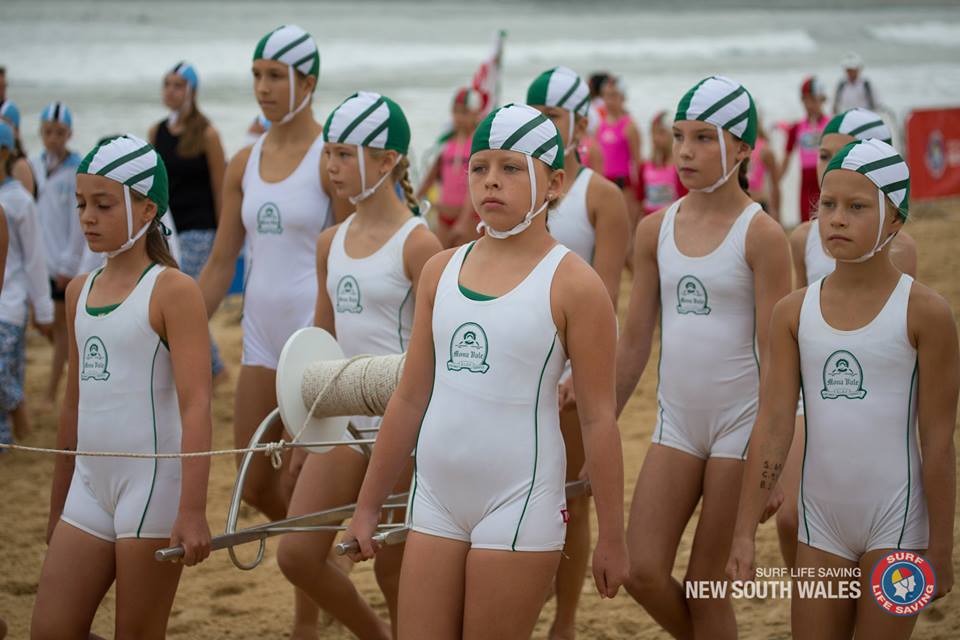 6th in Grand Final of March Past: Mona Vale SLSC Team A.
Manly Crowned Age Champions
Sunday 8 March 2015
Manly have been crowned Age Champions for a sixth straight year after another dominant performance at the 2015 NSW Surf Life Saving Age Championships. Wanda finished second, with Avoca Beach rounding out the top three.
With the beach events completed over the first two days of competition, all eyes switched to the water for finals Sunday, and the youngsters didn't disappoint with a number of eye-catching performances.
In the U11 Female Surf race Madeleine Hardy (South Maroubra) edged out club mate Lily Finati, while Swansea Belmont's Beau McGregor took out the U11 male surf.
Tiger Walker (Bronte) had a very strong championships winning gold in the U12 Female Surf and Board races, but was unable to complete the individual water trifecta when she took the silver behind Bella Williams (Cooks Hill) in the Ironwoman.
The U12s Male Ironman was a tightly fought race with Tyler Krenkels (Manly) edging out Riley Dixon (Wanda) who also won silver in the Surf Race.
Keira Warn (Wanda) took out the U13 Female Surf Race with club mate Mia Ross winning the Ironwoman event. Manly's Georgia Singleton got gold in the Female Board.
In the U13 Male events Umina's Lachlan Braddish won gold on his home beach in the Ironman and Surf races with Josh Murphy (Swansea Belmont) taking out the Board Race.
In their last ever Junior Age titles before making the step up to Opens, the U14 water events were hotly contested.
The U14 Female board race was an incredibly close affair as a line-up of seven athletes managed to catch a wave right into shore. It came down to the sprint finish with Manly's Emily Doyle finishing just ahead of Hughes (Byron Bay) and Nicola Owen (Merewether).
The race continued Doyle's hot run of form at these championships with the talented athlete also taking out the Ironwoman, and Surf Race events, and picking up a bronze alongside her teammates in the Surf Teams event for good measure.
North Cronulla's Leo Nosatti timed his run to perfection in the U14 Male Ironman catching a wave to shore that gave him a victory of around 10 metres.
"It was pretty flat out there and it took a lot of hard work to make sure I stayed with the forward pack.
"I knew once I got into the break zone it was going to be anyone's game, and that wave I managed to get at the end was really nice. It took the pressure off my shoulder and gave me a chance to focus on recovery as I came in," Nosatti said.
A modest Nosatti said it was the efforts of his coaches that deserve the credit for his performance.
"I'd like to thank Grant Stewart at Sutherland Leisure Centre Aquadot for all the hard work he's put in into developing my technique. My club coaches Steve and Wal have been a great help, and my mum's been super supportive."
It's been a busy couple of days for the Sydney athlete as he picked up a silver and bronze medal as well for his efforts in the Surf and Board races.
The 2015 NSW Surf Lifesaving Championships, proudly supported by ClubsNSW will continue on Wednesday 11 March when the Masters competition gets underway.
Final Point-Score:
Manly LSC 300
Wanda SLSC Inc 191
Avoca Beach SLSC 122
Bronte SLSC 111
South Maroubra SLSC 110
Elouera SLSC 109
North Cronulla SLSC 106
Cooks Hill SLSC 91
Swansea Belmont SLSC 77
Collaroy SLSC 73
Full Results can be found here.
______________________________________________________
Pittwater Clubs – SLS NSW Age Championships Points - Day 3
All Age (Nipper) 3712 March Past
6th in Grand Final: Mona Vale SLSC Team A, Mona Vale SLSC, 1 point
Jade Backer, Zali Beuzeville, Kira Beuzeville, Georgia Bonadio, Alexandra Jackson, Ava Lorch, Monique Maras, Eliza Monnock, Charli Munro, Mia Paltridge, Jayme Saggers, Katsya Toth
U/11 Male 1699 Board Relay
4th in Grand Final: Newport SLSC Team A Newport SLSC, 3 points
Brandon Bartlem, Travis Cox, Harrison Taurins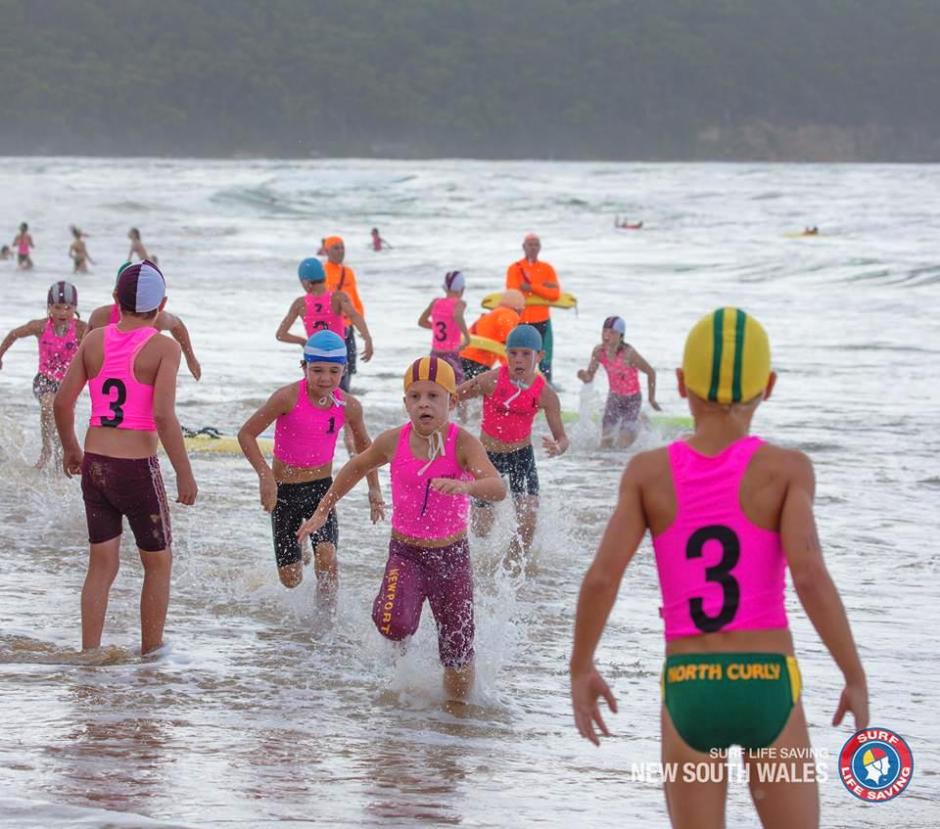 Action from Day 2 of the 2015 Surf Life Saving NSW Age Championships: Credit: Suzanne Macphillamy / Surf Life Saving NSW
Manly On Top After Day 2 Of Age Champs
Saturday 7 Mar 2015
Boosted by a series of strong performances in the water, Manly have surged to the top of the Champion Club Point-Score after the second day of the 2015 NSW Surf Life Saving Age Championships at Ocean Beach-Umina.
The powerhouse Sydney Northern Beaches club didn't have results all their own way, with a number of other club's athletes producing some fine performances.
Some of Wanda's youngest competitors had a big day in the surf, winning won both U9 surf races through Fletcher Warn and Leah Pilkington.
It was a good day for Manly in the water with twins Mitchell and Jake Morris taking out the top two places in the U10 Surf Race. Jake's good run of form continued when he backed up this win to take home gold in the Board Race.
Connor Maggs and Duncan Cowan (both Manly) won gold and silver respectively in the U9 Male Board, with Maggs also earning silver in the swim.
With the Governor of NSW, His Excellency The Honourable General David Hurley and his wife as interested spectators, Saturday's Twilight Beach Sprint finals in the ClubsNSW Arena were a runaway success.
South Maroubra's Tom Farr-Jones claimed the U9 Sprint/Beach Flag double across two days when he streaked home to take gold on the sand. Owen Flaherty (Avoca Beach) also achieved the feat in the U12s.
Nowra-Culburra's Holly Abbey (U12s) defended the title she won in 2014 with an impressive sprint, while Cronulla's Chloe Mannix-Tower also turned in a fantastic performance when she took gold in the U14s Beach Sprint.
Although she didn't make a final, U13s competitor Jasmine Locke (Bulli) enjoyed her time competing in the water events on Day 2 of the Age Championships.
"Despite getting smashed out there in the waves, I've really enjoyed my time at State Champs. "This is the third time I've been to State, and it's such a great event to be part of where you get to compete against people who have become friends from other clubs.
"Both my parents race so we spend a lot of time at the beach. My goal next year is to keep improving at State, and have a go at the Longboard," she said.
There was a loud cheer very late in the day when hosts Umina won gold in the U14 Male Beach Relay.
One man casting a keen-eye on conditions on Saturday was Nutri-Grain Ironman competitor Kendrick Louis. The Newport athlete was on hand to complete an autograph session with the next generation of surf sport stars.
"It's always fun to have the kids around because a while back I was doing this and seeing the excitement on their faces is a great way for me to give back to the sport," Louis said.
"You can't really predict Mother Nature and whatever it throws at you, you have to go with it. These kids are still smiling, running around eating snow cones and hanging under the Engine tent loving the event."
Progressive Club Point-Score:
• Manly LSC 140
• Elouera SLSC 84
• Avoca Beach SLSC 62
• South Maroubra SLSC 54
• Wanda SLSC 50
• North Cronulla SLSC 38
• Bronte SLSC 34
• Collaroy SLSC 31
• Coogee SLSC 29
• Cooks Hill SLSC 27
________________________________
Pittwater Clubs – SLS NSW Age Championships Points - Day 2
U/10 Male 1730 Beach Relay
5th in Grand Final: Warriewood SLSC Team A, Warriewood SLSC 2 points
Max Hindman, Kai Krainer, William Leggett-Budden, Beau Morrison
U/11 Female 2728 Beach Relay
2nd in Grand Final: Avalon Beach SLSC Team A, Avalon Beach SLSC 5 points
Samantha Casey, Rachael Gregory, Sophie Johns, Pia Robinson
U/11 Female 2741 Beach Flags
6th in Grand Final: Nina McGuffog, Avalon Beach SLSC 1 point
U/12 Female 2740 Beach Flags
1st in Grand Final: Olivia Alvarez, Newport SLSC 6 points
U/13 Female 2739 Beach Flags
1st in Grand Final: Macy Carrothers, Avalon Beach SLSC 6 points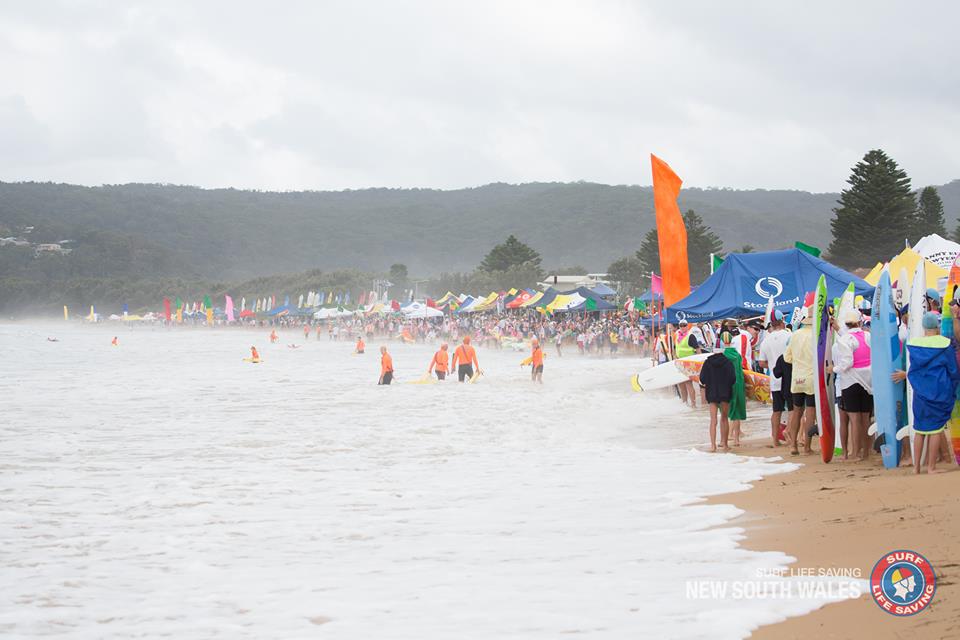 Picture: Action from Day 2 of the 2015 Surf Life Saving NSW Age Championships: Credit: Suzanne Macphillamy / Surf Life Saving NSW
Sunny Start For Age Champs
Friday 6 Mar 2015
Elouera SLSC holds a narrow 6-point lead at the top of the Club Championship after a pulsating day of action on the first day of the 2015 NSW Surf Life Saving Age Championships, proudly supported by Clubs NSW.
Far from the gusty winds of Thursday, dawn on the first day of the 2015 NSW Surf Life Saving Age Championships brought brilliant sunshine and a cloudless sky to Ocean Beach-Umina.
The competition was red-hot from the beginning, and due to the large start lists of the other events, the majority of medals handed out on the first day went to the Beach Flag athletes.
For the past five years, Manly have dominated the club point-score in the Age Championship, and 2015 got off to the best possible start for the Sydney Northern Beaches based club Georgia Morgan and Ashleigh Windsham going one-two in the U9 Female Flags.
South Maroubra's Malikye Kessie powered home to win the U10 Male flags defending the title that he won last season in U9s. With the sprint and sprint relay to come, this youngster's medal haul could yet grow. Avoca Beach's Summer Tancred came out on top in the U10 Female Flags in extremely warm conditions.
In what became "the battle of Sutherland Shire", Lucy Flanagan (North Cronulla) defeated her friend Tilly Handforth (Wanda) in the U11 Female Flags.
"I have been competing since the U8s, and I'm really happy as it's my first state gold medal," Flanagan said after the race.
"It was very hot out there and it was quite a hard race. Tilly was actually at my club last season so we race each other quite a bit.
"I definitely prefer the beach events over the water events," she said.
The result was a reversal from the recent Sydney Branch carnival where Hanford downed Flanagan after she tripped in the early stages of the race. The stage is now set for more exciting challenges between the pair.
Lucy Flanagan wasn't the only family member to enjoy success on the beach today with older brother Connor also taking gold in the U14s Beach Flags.
The U12s was a closely fought affair in both divisions with Owen Flaherty (Avoca Beach) finishing ahead of Jack Bridges (Helensburgh Stanwell Park) and Ryan Maitz (Copacabana). While in the girl's Newport's Olivia Alvarez claimed the gold medal ahead of April Druery and Nowra-Culburra's Holly Abbey.
There was more joy for Sydney Northern Beaches when Macy Carrothers (Avalon Beach) took out the U13 Female Flags.
Surf Life Saving NSW Sports Manager Shane Knight said it was a very enjoyable first day of competition.
"While we had to relocate some of the water events this afternoon to the southern end of the beach due to the challenging conditions this was achieved with a minimum of fuss," said Mr Knight.
"We've been really fortunate to see some high quality competition today and look forward to that continuing over the weekend."
Top Ten Point-Score Day 1:
Elouera SLSC 39 South Maroubra SLSC 33
Manly LSC 30
Wanda SLSC Inc 28
North Cronulla SLSC 27
Avoca Beach SLSC 21
Bronte SLSC 16
Cronulla SLSC 16
Port Macquarie SLSC 14
Collaroy SLSC 13
Photo: Competitors take to the water on Day One of the NSW Surf Life Saving Age Championships. Credit: Suzanne Macphillamy / Surf Life Saving NSW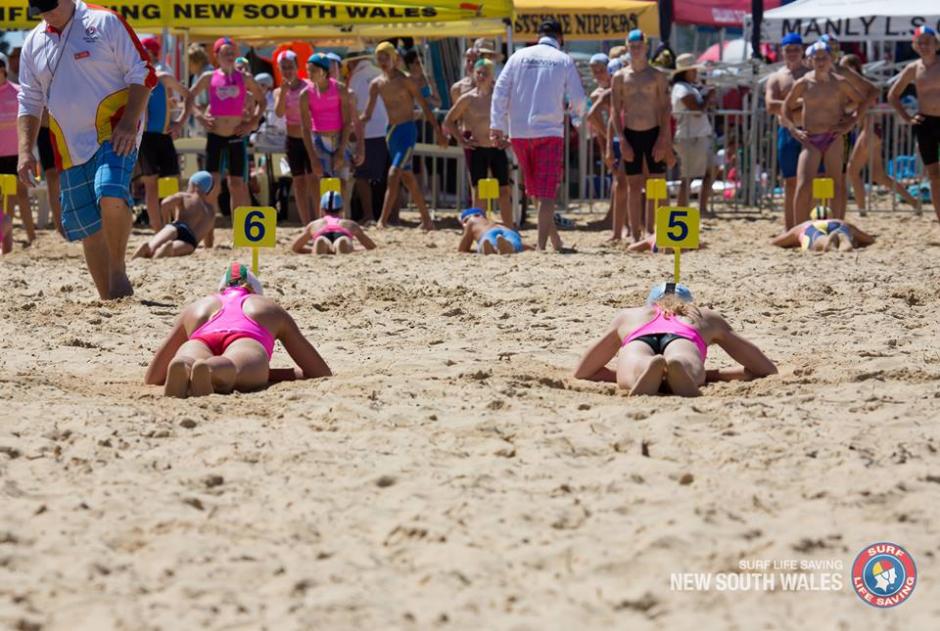 Macy Carrothers, Avalon Beach SLSC - Gold in U13 Beach Flags
Lifesaving Champs a Roaring Success
Tuesday 3 March 2015 – SLS NSW
The sun was fierce, and the competition even fiercer as the 2015 NSW Surf Life Saving Championships got underway at the weekend with some of the Lifesaving events.
The Champion Lifesaver and Patrol Competition events were staged with lifesavers aged 15 and above competing. These events are a demonstration of a surf lifesaver's overall skills in both practical and theoretical lifesaving techniques.
To be crowned Champion Lifesaver, competitors must demonstrate the physical lifesaving skills and knowledge required in a variety of rescue scenarios. It's a test of endurance as much as mental and physical strength held over two highly competitive days of competition.
With teamwork so much a part of the role of the lifesaver, the patrol competition is a unique event which allows teams to fine-tune their teamwork in variety of rescue scenarios used on our beaches every days.
Eagle-eyed officials judged individual and team performances with marks being awarded or deducted depending on a competitor's techniques.
North Steyne's Shannon Job turned in another strong performance to claim victory in the Champion Lifesaver in a red-hot open field.
"I'm very happy with the result as it certainly was a very strong field. It was probably the toughest and most competitive line-up over the last three years.
"It's the third year we've competed at Ocean beach-Umina, and while the lack of waves doesn't suit my natural style it still was a very enjoyable competition. The facilities there are excellent, the officials know their roles, and there is good water safety so I can't complain," Job said.
Job said the heat wasn't really a factor throughout the two days of competition, but it was difficult at times with very little assistance from the waves.
On the horizon for the Sydney Northern Beaches athlete is a spot at the national championships, but it is helping mentor the next generation of lifesavers that really has him excited.
"I've qualified for Aussies so I'll be looking forward to competing in that in Queensland in April. The other thing I'm looking at continuing to do is coaching in an expanded Champion Lifesaver program on Sydney's Northern Beaches," Job said.
"It's a great chance for everyone to get together and work on skills that will help them not only in competition, but in their regular patrols. We're very lucky there's so much talent coming through on the Northern Beaches. Everyone's skills and techniques are much stronger now than a few years ago, which is great to see."
Lifesaving events continue this weekend with the First Aid competition on Saturday 7 March.
2015 NSW Surf Life Saving Championships Results:
Champion Lifesaver
U15
(1). Christopher Curulli (Manly), (2). Max Moon (Manly), (3). Bennett Frerck (Freshwater)
(1). Andrea Malm (Freshwater), (2). Bronte Smith (Umina), (3). Jasmine Darwin (Umina)
U17
(1). Jackson Borg (Newport), (2). Callum Lowe-Griffiths (Queenscliff), (3). Jonathan Curulli (Queenscliff)
(1). Jemma Smith (Umina), (2). Courtney Sloan (North Steyne), (3). Mollie Murphy (Umina)
U19
(1). Jake de Kort (Collaroy), (2). Lachlan Bruce (Manly), (3). Jack Waining (Umina)
(1). Sita Mason (Manly), (2). Bella Charlesworth (South Curl Curl), (3). Teigan Miller (Umina)
Open
(1). Shannon Job (North Steyne), (2). Paul Jefferson (Coogee), (3). Thomas Duffy (Freshwater)
(1). Clare Freakley (Freshwater), (2). Kiorie Bennett (South Curl Curl), (3). Alexandra McCulloch (North Bondi)
30 – 39 yrs
(1). Shelley Smith (Umina), (2). Angie Radford (Umina)
40+ yrs
(1). Anthony Shubitz (Coogee), (2). John Boakes (Freshwater), (3). Robert Illidge (Coogee)
(1). Kerry Armstrong-Smith (Umina), (2). Christine Bishop (Umina), (3). Janet Proudfoot (Newport)
Patrol Competition
U17
Freshwater
Open
(1). Coogee, (2). North Steyne,(3). Ocean Beach
The NSW Surf Life Saving Championships supported by ClubsNSW, continues Friday 6 March.
Age Championships 6-8 March 2015
Masters Championships 11-12 March 2015
Open Championships 13-15 March 2015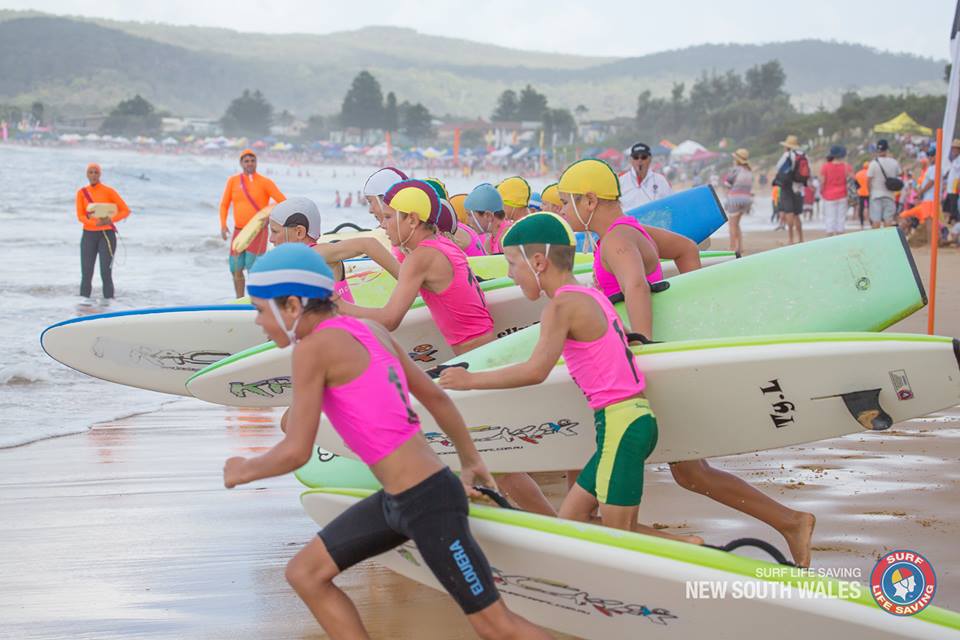 Picture: Action from Day 2 of the 2015 Surf Life Saving NSW Age Championships: Credit: Suzanne Macphillamy / Surf Life Saving NSW
Article and Pictures by Surf Life Saving NSW, 2015.