March 23 - 29, 2014: Issue 155
We're Talking About Food
By Lucinda Rose
Recipe – COCONUT RICE:
I have no idea about quantities – you can decide that for yourself – because we made this traditional recipe in preparation for the Our Lady of Aitara celebration, with enough to fit the size of one shell wading pool. But see just how beautifully these flavours work together. Simplicity.
• Jasmine rice
• Coconut – flesh and juice/milk/cream
• Lemongrass
• Garlic
• Onion
• Clove
• Little salt, honey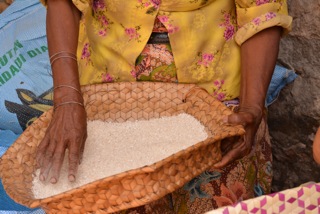 Let them all soak together a while before you cook, allowing the flavours to develop. There may be more ingredients, or you can trade them for what's available etc. We made them out of woven baskets from young coconut plants.
After they had cooked in a massive pot over a fire and cooled, they set in the shape of the baskets and tasted so subtly divine! We ate them with cooked taro, vegetables and baked fish from the river. (Hint #1 – don't eat fish that's been sitting in 46 degree heat for half a day!)
There's a video demonstrating us making these baskets. Sister Manuela taught us to make them – I bet she's been making them for years! And Keira, the youngest on the trip, had a raw talent – it is her making them in the video.
I dare you to give them a go!
(What a fun way of cooking! It really may be to do with the fact we were living right off the land. Hint #2: cook over an open fire, for a flavour never to be captured in domestic cooking).
Enjoy Timor-Leste food !
Coconut Weaving for Coconut Rice by Inspired By Freedom - Published on 19 Mar 2014
We made this in Timor-Leste - a traditional recipe, made from branches of a young coconut plant. most lovingly cooked over an open fire, for flavours indescribably created nowhere else on the planet. I dare you to combine some jasmine rice, coconut (flesh, milk, juice, cream, whatever's available), onion, garlic, lemongrass, clove, salt, for a little moment of divinity!