January 8 - 14, 2012: Issue 40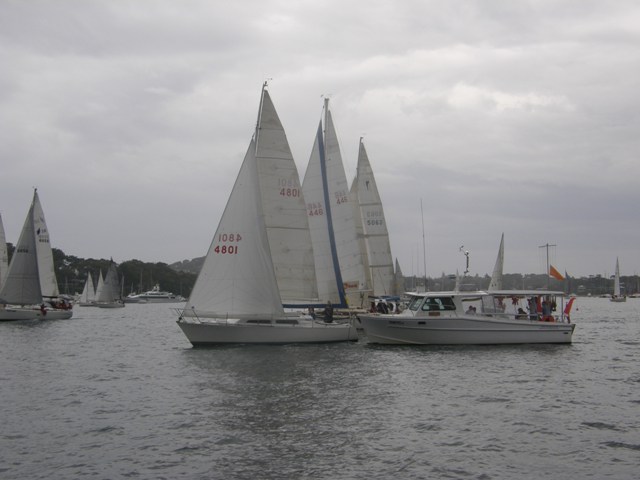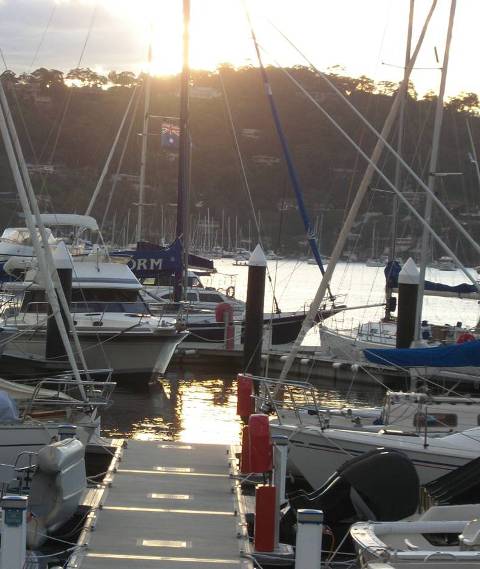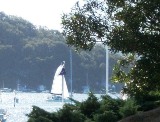 Copyright Robyn McWilliam 2012.
All Rights Reserved.
Twilight Sailing
by Robyn McWilliam
Pittwater has many faces. During summer on most weekday evenings you will see yachts competing in various Twilight Sailing events.
The Monday Twilight series run by Royal Motor Yacht Club supposedly has the largest fleet of racing yachts in the southern hemisphere. Over a hundred yachts in six divisions, including multihulls, ply the waters rain, hail or shine. Only gale force winds cause a cancellation. Boats don't have brakes so risk of injury and crunching fibreglass is hopefully averted.
RMYC's involvement began in October 1983 by joining Mitchell's Marina twilight race. Racing is the perfect way to develop your sailing skills. The boats entered range from old clunkers to slick racing machines as well as large cruiser/racers. Results are handicapped so everyone has a chance of winning a race. Due to amazing sponsors the prizes are great, varying from cash, accommodation packages to this year's European river cruise.
A post-race presentation takes place in the forecourt where sailors go back for dinner. Time to discuss the moments of glory or glitches in the race. Bottles of wine are prizes in each division and you have to be there to collect it or the next boat on the list gets lucky.
The club does have a crew register for those wishing to try this sport. Sailing has a language if its own and safety in technique is important. Learn the difference between a cunningham and a downhaul, how to pull on a headsail sheet or hoist the main. Sailing schools offer courses for beginners to gain a Competent Crew Certificate. For those with a bit of experience, enthusiasm is essential. It's a good idea for skippers to learn the rules of racing and attend the rules night at the yacht clubs to avoid altercations on the water.
There is a Ladies Twilight Race on alternate Tuesday evenings and this is the only extras race i.e. allowing the use of spinnakers. The woman helming had to be a member of the Royal Prince Alfred Yacht Club and the Yachting Association but this is changing to encourage a larger fleet. At present around thirteen boats race and the camaraderie is great.
If you have a timber boat the race held by Woody Point Yacht Club on Wednesday evenings might be more your style. Sixty to 70 regulars start on a staggered starting system, exemplifying a more laid-back approach.
Thursday evening the RPAYC runs its twilight series with up to 55 boats entered in four divisions. For this club the theme is having fun with family and friends and is based more on participation than prizes. You might drive an Audi for a week if selected in the lucky draw.
Fridays all year round the RMYC runs the Chicken Race. Participation secures you a frozen chook. With a fleet of around 25, the presentation is back at the club with prizes of wine and vouchers from sponsors. For retirees and those who can get away from work early enough this is the perfect start to a weekend. Experience all the seasons on the water then back to the club for dinner with friends.