December 15 - 21, 2013: Issue 141
TP52 Southern Cross Cup - Final Round Concludes Today - Hosted by RPAYC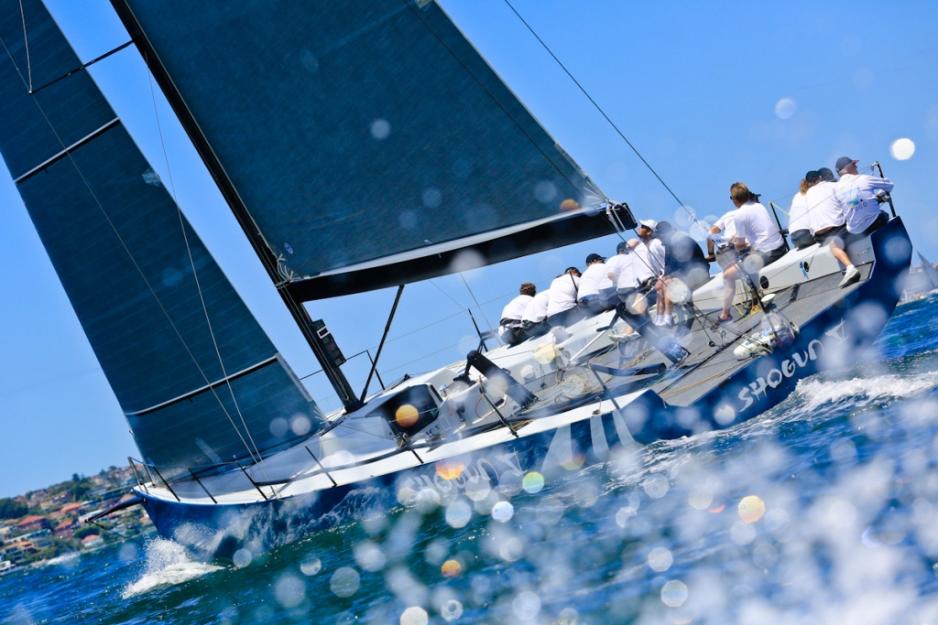 Rob Hanna's Shogun V during Round 3 on Sydney Harbour- Shogun V, a TP52 from Geelong in Victoria, snapped its mast in today's opening race off Barrenjoey, sadly ruling them out of contention. Photo by Saltwater Images.
TP52 Southern Cross Cup final round
The concluding round of the prestigious 2013 TP52 Southern Cross Cup will play out on Pittwater this weekend, December 13-15, when the international fleet of grand prix yachts shifts to the Royal Prince Alfred Yacht Club on Sydney's Northern Beaches.
As well as a new location, sponsor Premier Composite Technologies, builder of Matt Allen's new Carkeek 60 Ichi Ban, has put its name to the high profile class as naming rights sponsor of the round.
Racing inshore on Friday December 13, up to six TP52 crews are going to need their wits for the short runway. Saturday is when the picturesque but narrow waterway fills with club fleets and the TP52s head offshore for some elbow room. On Sunday they'll squeeze up for more inshore racing, testing crew reaction time and putting on a thrilling display for spectators.
Owners have been warned about the varying depths within the drowned estuary valley and the 'naviguessers' will need to stay on their toes to keep these steroidal 52-footers in deep water, and out of trouble.
A local sailor's dictum is "never rip up your ticket on Pittwater". Visitors ignore at their peril the advice on what sailing between in the skinny space between the eastern ridge that extends out to Palm Beach and the western ridge of Ku-rin-gai-Chase National Park on a benign day can be like.
Karl Kwok's Team Beau Geste (HKG) is aiming for a clean sweep of the inaugural four-part series, an initiative of a group of keen Aussie and Kiwi owners which began in Melbourne last summer at Sandringham Yacht Club with two rounds then shifted to Sydney after winter for the second half.
Rob Hanna's Shogun V (AUS) from Geelong, the current Audi IRC Australian Champion, came within three points of Team Beau Geste last round and is the one most likely to spoil Kwok and helmsman Gavin Brady's party.
"I'll be trying to match race Gavin and make sure he doesn't have a clean sweep," said Hanna on his way to Sydney for today's SOLAS Big Boat Challenge on the harbour. "There's no doubt Beau Geste is sailing strongly; the crew and the boat are well-oiled. Likewise if we make mistakes the others are ready to take advantage." Connel McLaren's newly purchased Vamos (NZ), while slippery around the Sydney Harbour course in its maiden regatta, round three of the series last month, is baby steps into a steep learning trajectory.
The backbone is still there from Quest's glory days but trialling a new light air configuration and breaking in some new crewmembers requires a settling in period.
Quest's owner Bob Steel has taken a trip to Antarctica, leaving his TP52 with what he calls "the brains trust" - Jamie MacPhail and tactician Andrew Pearson – for the boat's series return.
Quest took a beating on day one of round three on Sydney Harbour a few weeks back and went home early with damage after one race. "Bob was looking forward to the rest of his first TP52 series on the harbour a couple of weeks ago when the headboard pulled away from the mast and the crew then by chance noticed some delamination in the forestay, which wasn't a quick fix," said Pearson.
"The boat's now back to peak performance and we are looking forward to this final round.
"If it's soft on Pittwater this weekend that will help the lighter, newer model TPs. Quest has been more of an ocean going yacht, but its new mode should make it more competitive on flatter water."
Dr Tony Lyall's TP52 Cougar II is making its way up the NSW coast from Hobart. The Tassie crew had an easy delivery until Montague Island where they ran into a strong nor'easter and south running current. Lyall reckons the boat will arrive into Pittwater today for this one regatta before returning south to Geelong for the Festival of Sails, January 21– 27, 2014.
Coopers 62 is supporting the hospitality side of the TP52 gathering at RPAYC this weekend and Premier Composite Technologies (PCT) has partnered with the class as principle sponsor of the final leg.
"With a multinational line-up of grand prix sailors converging on the RPAYC, Premier Composite Technologies is delighted to sponsor this regatta and support this important competition," commented PCT's chief operating officer and RPAYC member, Simon Grosser.
Racing is scheduled to start at midday on Friday and Saturday and 1000hrs on Sunday morning. Up to three windward/leewards per day are anticipated.
Mick Martin's TP52 Frantic is also a Rolex Sydney Hobart starter while Kwok's crew is upsizing to his new 80-foot Botin design called Beau Geste for the Boxing Day ocean classic.
The TP52 owner's group is yet to announce plans for next year.
Premier Composite Technologies TP52 Southern Cross Cup round 4 list of entries
Boat name Skipper's name Yacht club Sail No.
1 Cougar II Anthony Lyall RYCT 5200
2 Frantic Michael Martin LMYC / NCYC GBR 211L
3 Quest Bob Steel CYCA
4 Shogun V Rob Hanna RGYV / RYCV AUS280 5 Team Beau Geste Karl Kwok RHKYC IVB 1997
6 Vamos Connel McLaren RNZYS
About the TP52 Southern Cross Cup:
The TP52 Southern Cross Cup is an IRC handicap regatta based on TP52 class racing. The age of the boats range from 2004 to 2011 - an age allowance is applied to create a more level playing field for the earlier generation boats. The crew limit for boats aged 2001-2007 is 15 with no more than six professionals. For the newer hulls the maximum crew is 13 with the same pro cap.
Considered sailing's new Formula 1 circuit, the inaugural Australian TP52 Southern Cross Cup began with Rounds 1 and 2 being raced on Port Phillip, hosted by Sandringham Yacht 8th February to Sunday 10th February and 26th – 27th and 28th April 2013.
Round 3 was held on Sydney Harbour – hosted by Royal Sydney Yacht Squadron at Kirribilli - November 22-24, 2013.
RPAYC member Marcus Blackmore's Hooligan, second on the pointscore after rounds 1 and 2 out of Sandringham Yacht Club, was sold to an overseas owner in November who was keen to have the boat delivered in time for the Key West regatta in the US.
TP52 Southern Cross Cup - Diverse opening day - December 13, 2013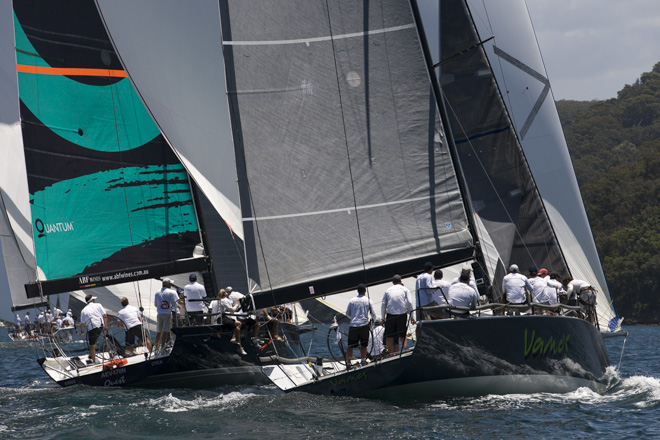 Quest and Vamos. Picture by Andrea Francolini
Premier Composite Technologies TP52 Southern Cross Cup 2013 final round is taking place out on Pittwater this weekend, December 13th to 15th. Three races and three different winners made for a diverse opening day.
Pin end starts and insider knowledge of the lifting breeze that creates an elevator ride under Longnose Point split the results and gave Tony Lyall's Cougar II from Tasmania the opening punch in the final round of the four-part series.
David 'Chappo' Chapman, the 25 year-old tactician on Cougar II knows the local anomalies. Each school holiday he visited his grandparents on their boat in Akuna Bay around the corner in the Kur-ring-ai Chase National Park and together they explored the nooks of Pittwater and the Hawkesbury River.
Chapman went on to develop his skills and compete at the upper echelons of youth match racing, including Pittwater's annual Harken International Youth Match Racing Championship.
Today he fused his knowledge and experience with the genetically enhanced talents of local Sam Treharne, son of 1983 America's Cup tactician Hugh Treharne.
'Chappo' has brought the Midas touch to Tassie boats recently. He is the strategist on the Farr 40 Voodoo Chile, which is two up in the class' summer series.
SAILING - TP52 Southern Cup Challenge 2013 - Pittwater, Sydney - 13/12/2013 - COUGAR II & SHOGUN - Andrea Francolini
'Cougar is a good boat in those breezes,' said Lyall of the nor'east sea breeze which started at seven knots and had doubled by race three.
'The newer boats are much faster, but we can hold them in flat water.' On the 20 degree wind shifts he commented, 'We get the same on the Derwent River so we were comfortable'.
Today Chapman was up against an old foe from his Harken youth match racing days in Seve Jarvin, tactician on Bob Steel's Quest, which is one point behind Cougar II on the pointscore.
'Shogun and Beau Geste having their own battle definitely freed us up,' said Jarvin this afternoon at host club, the Royal Prince Alfred Yacht Club on Newport's foreshore.
'All three winners came off the pin end and we knew when the breeze was shifty that we could lift all the way along Longnose Point,' Jarvin added.
Pittwater regular and mainsheet hand on Quest, Michael Fountain, said, 'We were good enough to win the start then know to try and hold our lane and get clean air. We had that right by race three. If you sail well in this class you do well. If you sail poorly you get punished.'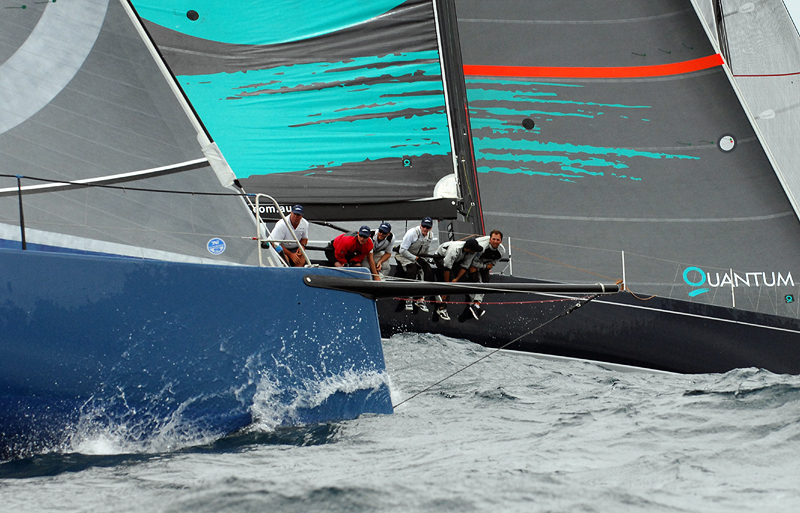 Shogun V and Quest - Pictures by Peter Andrews, Outimage
Karl Kwok's Team Beau Geste (HKG) and Rob Hanna's Shogun V as expected were off fighting their own battle. TBG's helmsman Gavin Brady is a different vintage but equally ruthless as the young guns in the match racing stakes, and with loads more experience.
TGB has installed some heavyweights on board in the shape of Team New Zealand America's Cup sailors James Dagg, Tony Rae and Chris Ward, plus round-the-world winning skipper Mike Sanderson. With John Cutler unavailable they called up Sydney sailor Sam Williams, a regular on Guido Belgiorno-Nettis' Farr 40 Transfusion, as tactician.
All that star power didn't translate into top grades for the TP52 series pointscore leader. 'If you had to have your driver's license for that course, we would have failed,' laughed Brady, delighted that the earlier generation TP52s won the day. TBG is third on a countback.
Principal Race Officer Stephen Merrington added an amusing touch to his radio communication, relaying the cricket score to the crews during racing.
The only sour note was the injury to Frantic crewman Murray Wright who was hit in the head by the boom and taken to hospital as a precautionary measure.
Racing will move offshore tomorrow, three windward/leewards scheduled to start at midday. The Bureau of Meteorology is expecting variable 10 knot winds turning southerly 10 -15 knots in the morning then tending south-southeasterly 15 - 25 knots in the middle of the day.
TP52 Southern Cross Cup - Rob Hanna's Shogun V dismasted on Day 2 – December 14, 2013
Premier Composite Technologies TP52 Southern Cross Cup 2013 final round is taking place out on Pittwater this weekend. In 18 knots of southerly breeze, Rob Hanna's TP52 Shogun V was dismasted off Palm Beach on Sydney's Northern Beaches on day two, Saturday 14 December 2014.
The black carbon fibre mast was 26 metres tall at the midday start of race four on the course area called Palm Beach circle, to the east of Barrenjoey Headland. Less than half way to the top mark there was only 6 metres left, the failure happening mid-tack just as the 52-footer levelled out.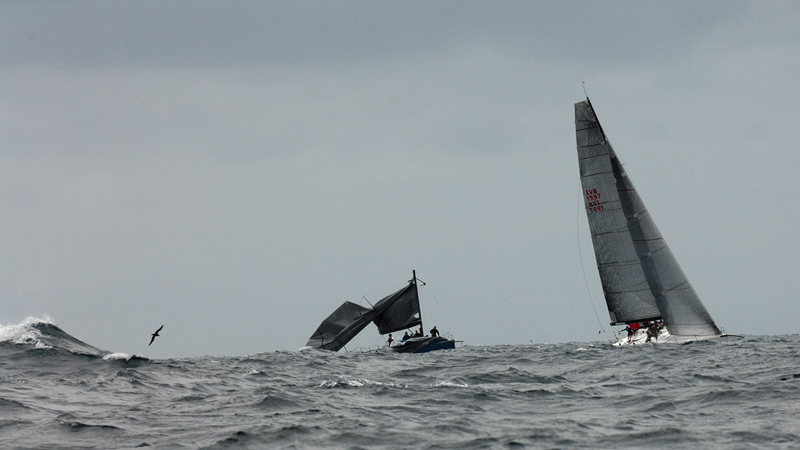 Shogun V - Pictures by Peter Andrews, Outimage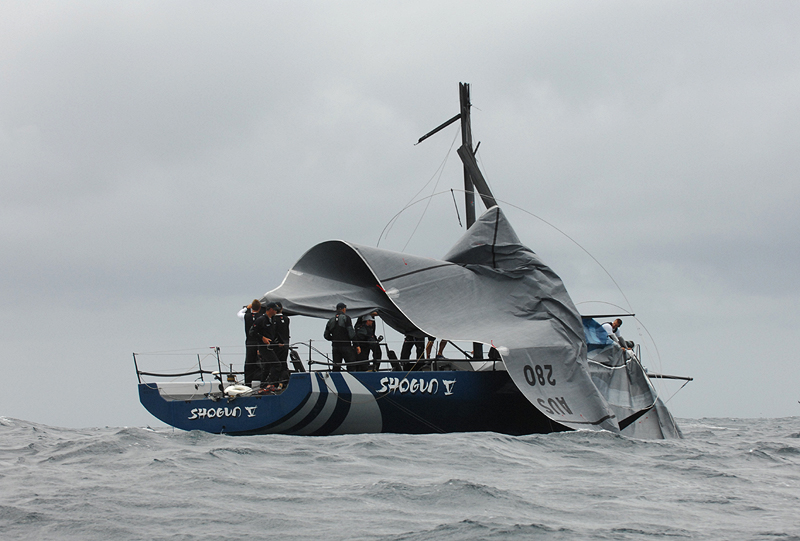 In a rolling ocean the predominantly Melbourne based crew worked furiously with hacksaws to free the three-year old rig, with both mainsail and headsail still attached, from the windward side of the boat before it swung in and punctured the hull.
Amazingly there was no other damage to the grand prix racer, the current Audi Australian IRC Champion. More importantly there were no injuries during the ordeal.
'My first thought was making sure everyone was ok,' said Hanna back at the Royal Prince Alfred Yacht Club. 'We think one spreader went, which loaded up the mast. We don't really know; the net result is the same.'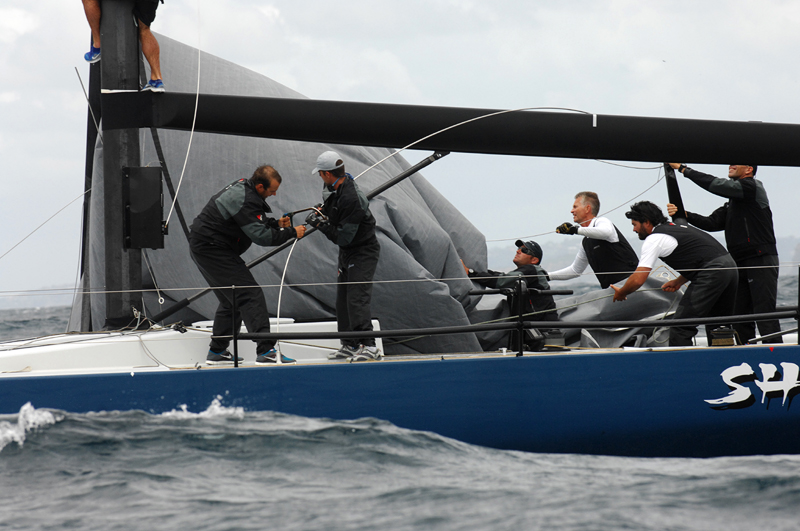 Shogun V - Crew hacksaws the rig away. Picture by Peter Andrews, Outimage.
Shogun V is for sale and even at a difficult time Hanna retained his sense of humour, 'It's easier to ship now….'
He sees this as an opportunity for a new owner to build a mast more in keeping with IRC handicap rather than TP52 class racing.
Hanna wished the organisers and competitors well for the remainder of the final round and congratulated Karl Kwok and Gavin Brady, owner/skipper and helmsman respectively of the Hong Kong based Team Beau Geste, who are inching closer to a whitewash in the inaugural four-part series, the brainchild of a passionate group of Australian owners.
Two more bullets has Team Beau Geste leading this round on progressive points, and in command of the overall TP52 Southern Cross Cup as winners of rounds one and two at Sandringham Yacht Club in February and April, and round three on Sydney Harbour in November.
Series Results [IRC] up to Race 5
Place Ties Sail No Boat Name Skipper Sers Score Race 5 Race 4 Race 3 Race 2 Race 1
1 1997 TEAM BEAU GESTE Karl Kwok 10.0 1.0 1.0 3.0 1.0 4.0
2 52002 QUEST Bob Steel 12.0 2.0 2.0 1.0 5.0 2.0
3 5200 COUGAR II Tony Lyall 15.0 4.0 4.0 4.0 2.0 1.0
4 6952 VAMOS Connel McLaren 19.0 3.0 3.0 5.0 3.0 5.0
5 280 SHOGUN V Rob Hanna 23.0 7.0C 7.0F 2.0 4.0 3.0
6 5211L FRANTIC Michael Martin 29.0 5.0 5.0 7.0F 6.0 6.0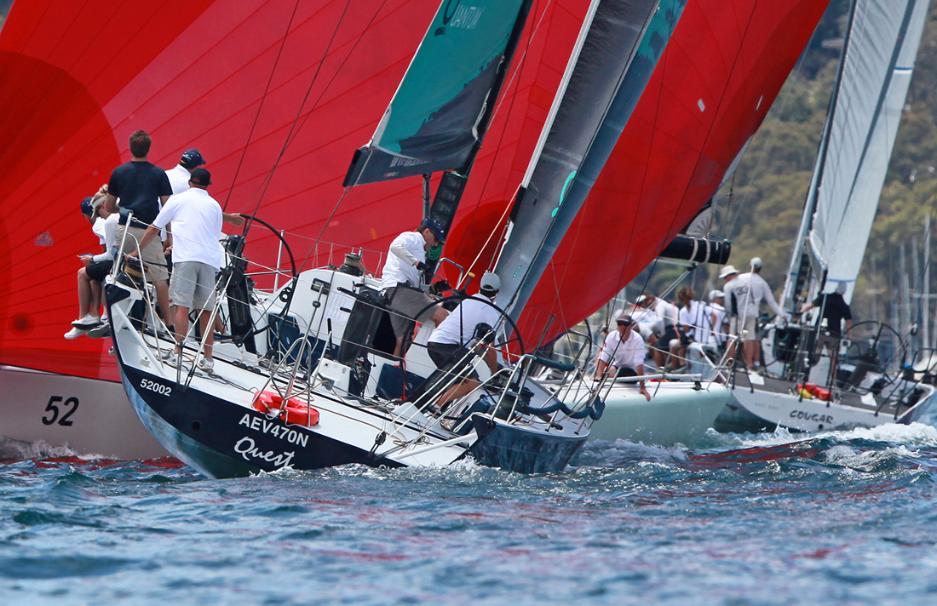 TP52 Southern Cross Cup - Round 4 - Pittwater. Photo by Crosbie Lorimer, 2013.
Dragon overpowers the Cougar - December 15, 2013
Karl Kwok's Team Beau Geste completed a series whitewash in the inaugural Australian TP52 Southern Cross Cup with a fourth and final outright win in the three-day Pittwater regatta, December 13-15, 2013.
The 52-footer with the insignia of a Chinese dragon on the hull and crew gear delivered the spoils to the modest Hong Kong based businessman, on this occasion overpowering the Tasmanian Cougar.
Kwok was delighted to collect the spoils, paying tribute to his helmsman and friend of close to three decades, Gavin Brady, and consummate international crew.
Kwok and Brady were joined by regulars Rob Salthouse, Jamie Gale and Phil Jameson, among others. Winning round-the-world yachtsman Mike Sanderson and an imposing trio from Team New Zealand America's Cup challenge garlanded the long weekend line-up.
Today's three bullets and a first, second and third on IRC handicap tallied with their five previous results gave Beau Geste a grand total of 15 points for the Premier Composite Technologies TP52 regatta, six points clear of Tony Lyall's Cougar II (TAS) in second. Beau Geste also won the round on PHS.
Bob Steel's Quest (NSW), with Jamie MacPhail on the wheel and Kiwi America's Cup sailor Ed Smyth calling tactics today, finished third in the round. They lost a protest for a mark infringement in race eight and were disqualified from that race, a heavy penalty which cost them second place overall. While his opinion of the mark infringement differed to Quest's crew, David Chapman, tactician on Cougar II thought the same vintage sistership was the best sailed of the regatta.
"We really enjoyed racing against Quest, I rate them as the best sailed boat this weekend," said 'Chappo'.
He praised his own skipper, Tony Lyall, and Cougar II's crew for the fine result and congratulated Gavin and the rest of the Beau Geste team. Victory wasn't all one way in this final offshore and inshore eight-race series. Cougar II picked up two IRC handicap wins and Quest one. The rest belonged to the mighty Hong Kong and New Zealand crew who coolly and methodically picked their victim then pinned them by the wings.
Sandringham Yacht Club hosted rounds one and two in February and April on Port Phillip. The caravan moved to Sydney for round three on Sydney Harbour last month, November 2013, out of the Royal Sydney Yacht Squadron. Now the Royal Prince Alfred Yacht Club on Sydney's Northern Beaches has wrapped up the Cup.
Rob Hanna's Shogun V from Geelong in Victoria finished second on IRC overall results in the Cup, despite exiting round four prematurely with a dismasting in heavy seas off Barrenjoey Headland yesterday.
Cougar II was third in the TP52 Southern Cross Cup IRC overall results and first boat on PHS.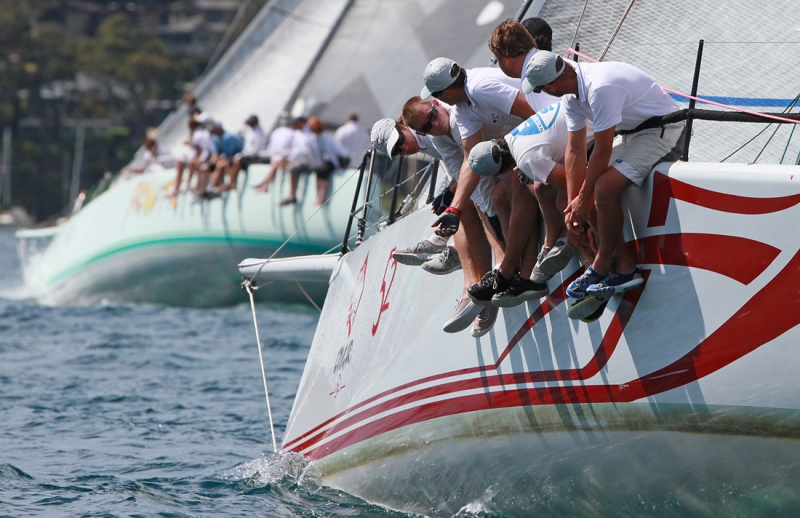 Cougar II and Franctic. Photo by Crosbie Lorimer, 2013.
Brady hopes the series has demonstrated to yacht clubs that there's no need to send big boats offshore to no man's land. TP52s are capable of racing inshore on an Optimist size course and this concept has been proven.
The TPs manoeuvred safely among Sydney Harbour's boating traffic in peak hour right on their upper wind limit in round three and today they sailed a tight course north of Scotland Island chased by an impressive spectator fleet of tinnies right up to glamour power boats.
"We've raced different venues and courses, inshore and offshore, traditional and with gates in the middle. We've competed in different states from right off the deck of SYC, one of the world's premier yacht clubs to pristine Pittwater, another world class venue," said Brady this afternoon.
"I think the big thing we've achieved with this concept was showing clubs that as long as there's six metres of water, we can race these boats on an Opi course."
Principal Race Officer Stephen Merrington thanked his RPAYC race management team adding, "We were lucky with the weather and I believe the customers had a great time".
Most of Team Beau Geste's crew now step up to Kwok's new 80-footer for the Rolex Sydney Hobart.
Kwok's dark horse, his new Botin 80 called Beau Geste, is untried against another boat. Still the rumours of its mightiness persist. It will leave Auckland in the next couple of days bound for Sydney.
At this afternoon's trophy presentation at RPAYC, Speaker of the House of Representatives, Bronwyn Bishop agreed on a whim to present trophies to the placegetters.
As well as picking up the regatta and overall series trophy, RPAYC Commodore Rob Curtis presented Kwok with a half model of Beau Geste, a gift from the Pittwater yacht club and Kwok's crew.
Kwok thanked the TP52 Australian Class president Terry Wetton for "the lonely job of running the series on behalf of the owners" and generously donated part of his winnings, his weight in Coopers 62, to the crew of Mick Martin's Frantic, another Sydney Hobart contender.
Premier Composite Technologies TP52 Southern Cross Cup 2013
Hosted By Royal Prince Alfred Yacht Club
Provisional Subject to Audit
Updated: 15/12/2013 1:20:32 PM
Series Results [IRC] up to Race 8
Place Ties Sail No Boat Name Skipper Sers Score Race 8 Race 7 Race 6 Race 5 Race 4 Race 3 Race 2 Race 1
1 1997 TEAM BEAU GESTE Karl Kwok 16.0 3.0 2.0 1.0 1.0 1.0 3.0 1.0 4.0
2 52002 QUEST Bob Steel 19.0 1.0 3.0 3.0 2.0 2.0 1.0 5.0 2.0
3 5200 COUGAR II Tony Lyall 22.0 2.0 1.0 4.0 4.0 4.0 4.0 2.0 1.0
4 6952 VAMOS Connel McLaren 29.0 4.0 4.0 2.0 3.0 3.0 5.0 3.0 5.0
5 2.0S 280 SHOGUN V Rob Hanna 44.0 7.0C 7.0C 7.0C 7.0C 7.0F 2.0 4.0 3.0
6 5211L FRANTIC Michael Martin 44.0 5.0 5.0 5.0 5.0 5.0 7.0F 6.0 6.0
Day 3 Pittwater Round 4 Photo credits – Crosbie Lorimer, 2013.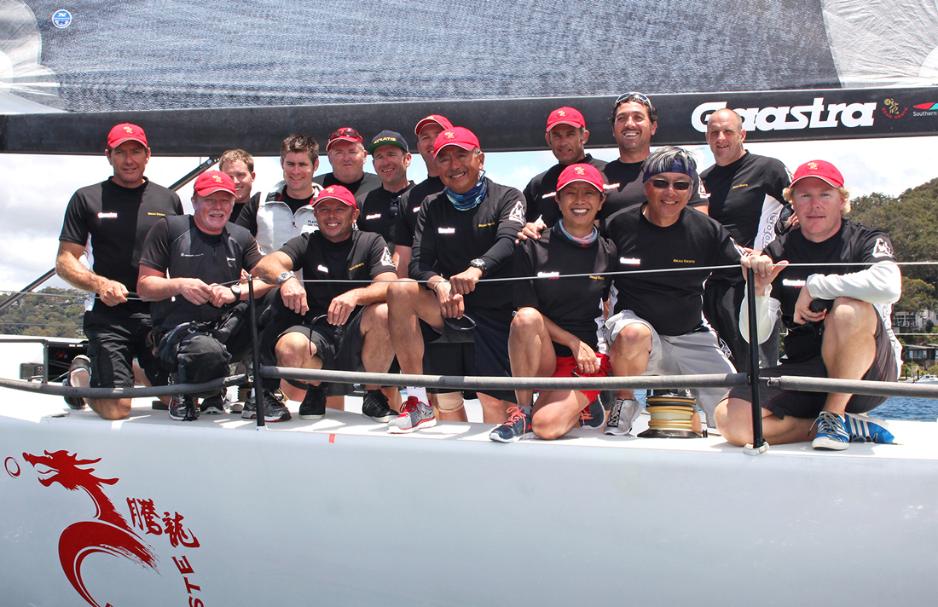 Reports by Lisa Ratcliff - TP52SCC media, 2013.