June 17 - 23, 2012: Issue 63
Toba: The Home of Mikimoto pearls and The Ama ladies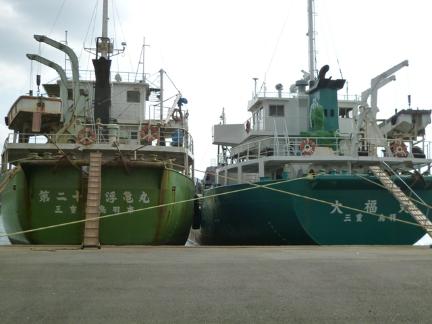 Coasters with non OH&S gangplanks
Kii Katsuura and Nachi Falls: Our first sight of the Kumano Kodo at the Nachi Falls and the lovely Nakanoshima water access Hotel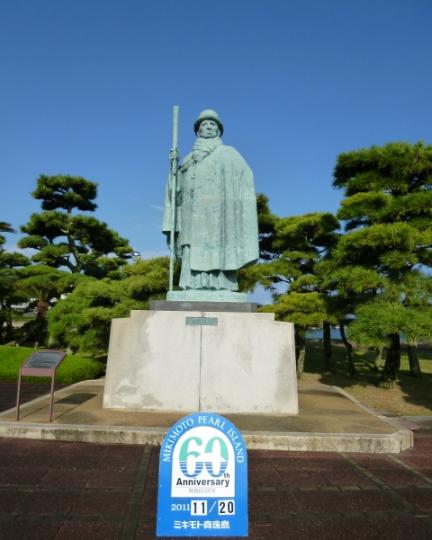 Above: Dr. Mikimoto. Below: Free samples anyone ? Not really!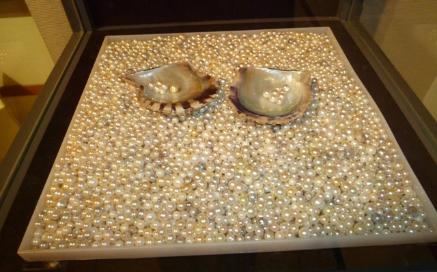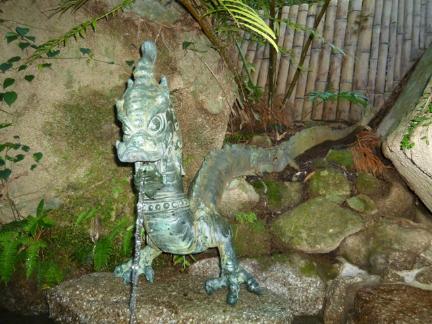 Above: The magic dragon; water deities associated with rainfall and bodies of water, typically depicted as large, wingless, serpentine creatures with clawed feet.
Below: These steps lead to Kumano Nachi Taisha and Seiganto-Ji very important Temples and Shrines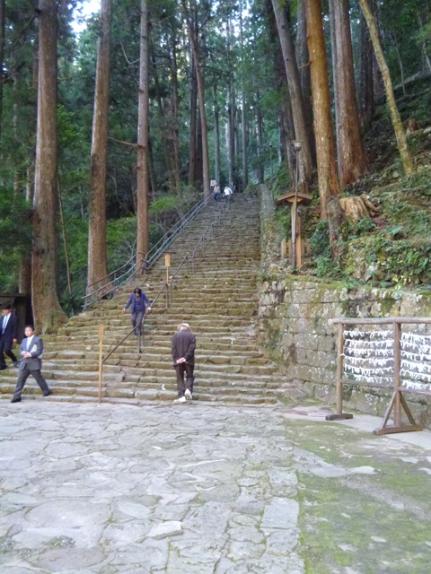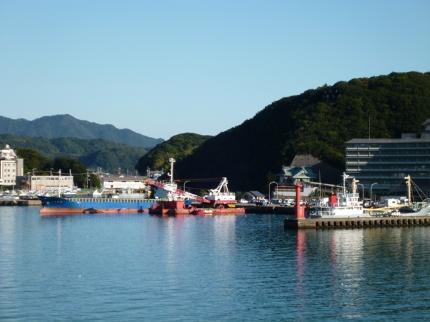 Morning view from our room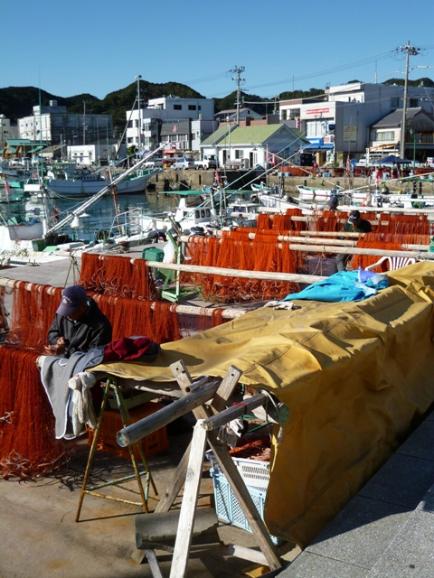 Above: Wheeling our bags to the station, it's not far at all, past the Fishermen repairing their nets. It's a lovely town. It's quite a community scene
Below: The catch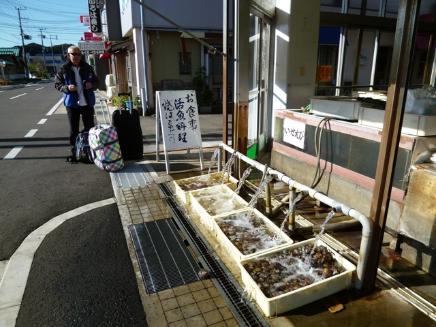 Words and Videos by and Copyright of Paul Wheeler. All photographs by and Copyright of Kerry Ritson, 2012. All Rights Reserved.
Toba and Kii Katsuura
by Paul Wheeler
Out of Takayama back down to Nagoya and change there for the Mie peninsula. Nagoya is a huge station, it seems all lines lead to Nagoya and this is where an example of "only listen to people in uniforms" was found. A lovely helpful young woman saw us trying to work out where to go and in very good English asked us where we going. I said Toba and so she very helpfully took us to the private Mie peninsula rail line entrance, a fair old distance through a very crowded station to the main rail company servicing Toba and beyond. It's just that we were travelling on J.R. passes and so we were in the wrong place with not too long to go before our train departed from the other side of a Humungous station up two flights of stairs with all our luggage. We made it and I didn't have a heart attack. The Lady made a very reasonable assumption but the uniforms always look at your ticket.
Speaking of assumptions, I had assumed that I may be a little bored at the Yokohama quilt show, I wasn't and I had also assumed that Mikimoto Pearl Island might be a little on the boring side too. WRONG....just saying.
There seems to be still a lot of commerce facilitated by coastal shipping in Japan, at least it's more apparent there. Toba is a pretty little port on a pretty bay with plenty of offshore islands to be serviced and plenty of backwards and forwards of working boats going on and we could see a lot of it from the Ryokan Senpokaku. Ayako from Mitsui Travel had booked us into a very reasonably priced hotel, situated just up the hill out of town with great seafood and sensational views and although there was a free shuttle bus it was a very easy walk once you had dumped the luggage.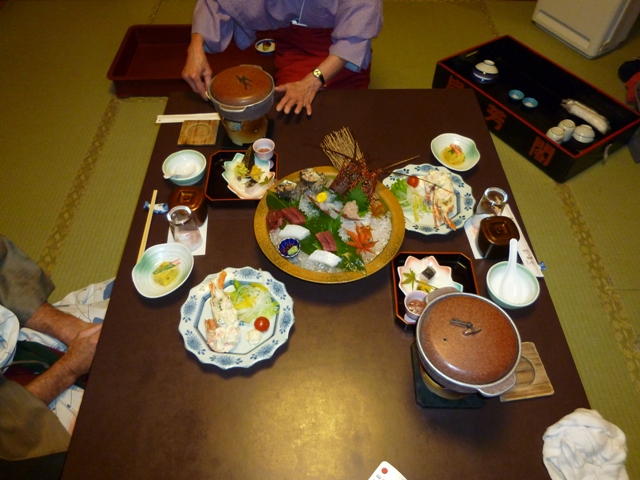 Dinner at the Ryokan Senpokaku
So down into town we went stopping only to photograph the obligatory beautiful Temple and looked for somewhere to have a late lunch. A late lunch can be problematic staying in Ryokans because your dinner is going to be a gazillion courses long and you need to be a bit hungry to have a hope in hell of making a good fist of it . We found a nice looking seafood restaurant but the only thing small enough on the menu turned out to be takeaway. We didn't mind that and I certainly wasn't able to explain our predicament with my pre rudimentary Japanese an
so we insisted that Hai hai that's what we want, they accepted our order and then the heavens opened up outside with a mighty boosh and they very kindly sneaked us into a private room to eat our takeaway out of our gorgeous takeaway boxes, no newspaper wrapping here ta very much.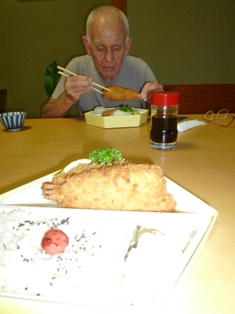 I wasn't sure whether my prawn cutlet was perhaps a crayfish cutlet but it was as tasty as it was large so I wasn't worried. We wandered a little after the late lunch and, quite bedraggled, managed to locate our shuttle bus with the help of a uniformed gentleman after looking at several pearl shops.
2011 was of course Japan's annus horribilis but in the hoohaa you may not have noticed the news of the Typhoon that gave the Mie peninsula a terrible pasting. We saw plenty of evidence of it from now on until we left the peninsula and it must have been horrendous. Apparently as typhoons go it was pretty normal it was just that instead giving everything a soaking and a pounding and then blowing through this one hung around for four days and gave everything a very long soaking and pounding, consequently we saw a lot of landslides, broken paths, flooded river flats and had to miss one section of train travel as the tracks were still shot to bits.
The next morning we went down to the Mikimoto pearl Island. There is an modest admission price but it's well worth it. The museum part of the complex was very interesting and I'm not really a pearl fanatic. Dr. Mikimoto was quite a character and he built something really worthwhile whilst facing personal sadness, business challenges, and first of all how to get the oysters to make pearls. The shop was sensational and Kerry was very happy with her small purchase. Having your Purchase wrapped in a Japanese shop is a display of artistry in itself.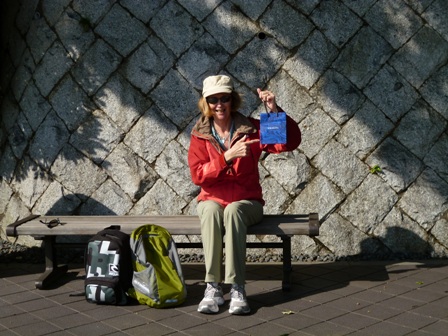 Kerry with a present she bought for herself in the Island Shop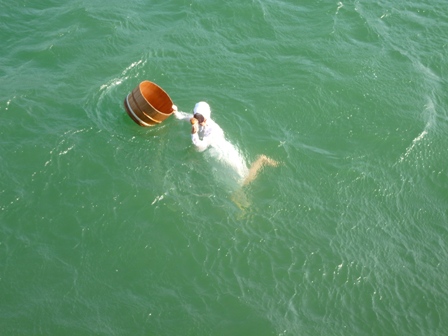 Ama lady with her shellfish bucket, on the video you can just hear whistling over the wind, that's their breathing technique called 'sea whistling'
The Ama diving display was great too, they make them tough over there, it was freezing cold with a biting wind by the time the girls started but great fun. I'm personally acquainted with Total Klutz who when his wife said "Let's go to the Toba Aquarium, world class, huge, got it's own Maneetees...", said "Nah don't want to", honestly some times I just amaze myself . One full day wasn't enough for Toba for sure, I'd love to go back again but that's pretty much how I felt about everywhere we went.
Bright and early the next morning, more early than bright I suppose but that's what you get when you ask your travel agent to include everything you can think of, it was down to the station in our own exclusive shuttle the hotel insisted we use rather than a cab. The tracks were typhooned between us and Kii Katsuura but we had a bus waiting at Shingu and duly arrived at the station where Ayako had told us to put our bags in the locker, great service, and catch a bus to the Nachi Falls and the associated Temples and shrines, Kumano Nachi Taisha and Seiganto-Ji.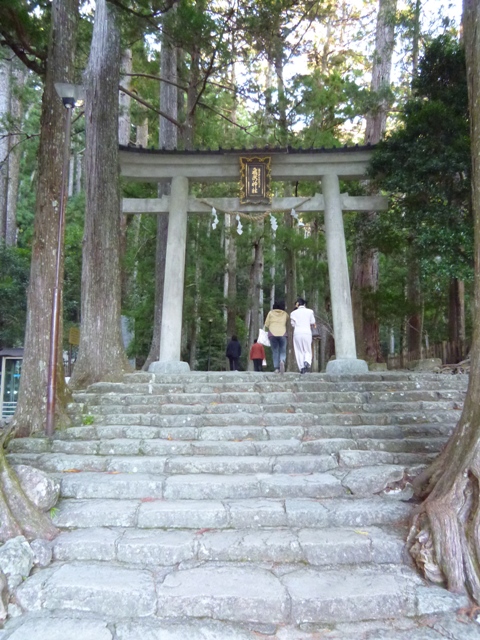 Tori gate leading to Nachi falls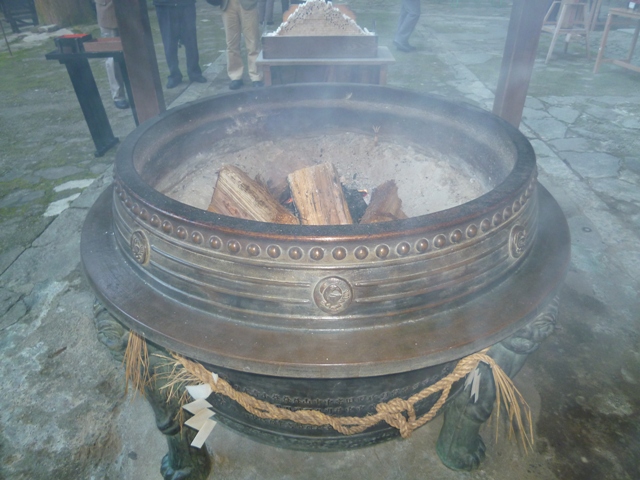 Cauldron in front of the falls; I think it relates to a fire festival held here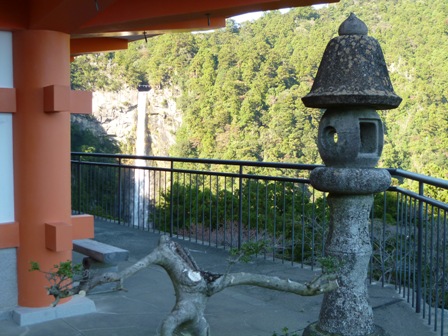 Kumano Nachi Taisha
The Toba and Kii Katsuura videos are really worth the download by the way. Back to town and the station to pick up the bags, we could have packed our backpacks better before and just left the bags in the lockers, the lockers are good for three days, catch a cab down to the wharf and get the hotel shuttle boat out to the hotel Nakanoshima. I'd tipped the cabbie and in return he wouldn't let my wife touch her bag and took it all the way to the boat for her.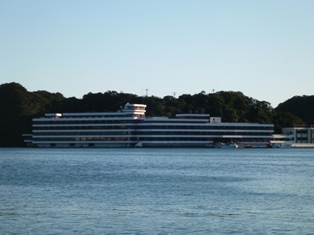 Hotel Nakanoshima, not expensive, we could have spent much longer here if we'd only known
The hotel was sensational, you could get to the roof and then walk around the small woods by the roof where there was a volcanic footbath, it makes me relax just thinking about it, and beautiful views to the small islands off shore. The Mie peninsula coast line is really really beautiful. I know I keep going on about beautiful and that sort of guff but it really is. It's the sort of place that could support a very slow meander along, a couple of months maybe. Neither the Toba Ryokan Senpokaku or the Kii Katsuura Nakanoshima hotel were expensive and the rooms were lovely and clean, all had volcanic onsens(hotspring), the food was terrific, the people were as helpful as all get out. Check the videos folks. Tomorrow we are off to Tanabe and the start of two days hard walking in the mountains.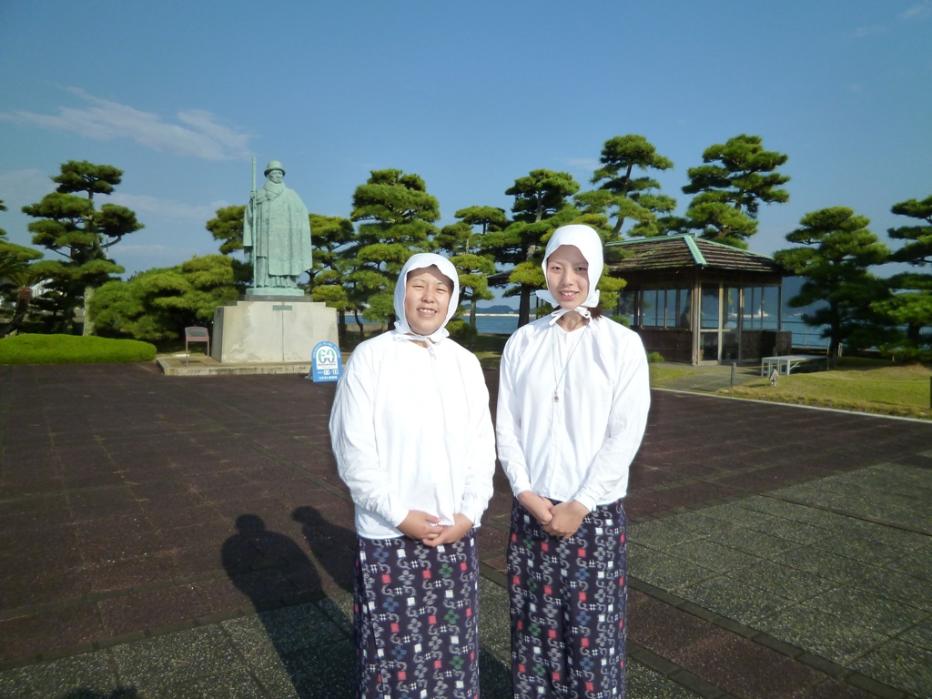 Above: Young Ama Ladies. Below: Kumano Nachi Taisha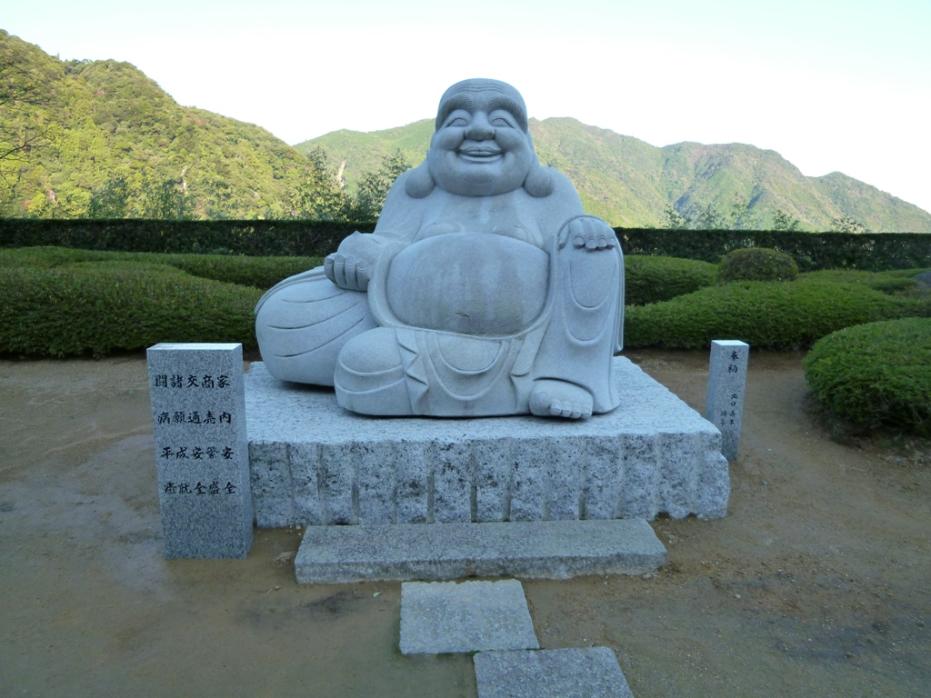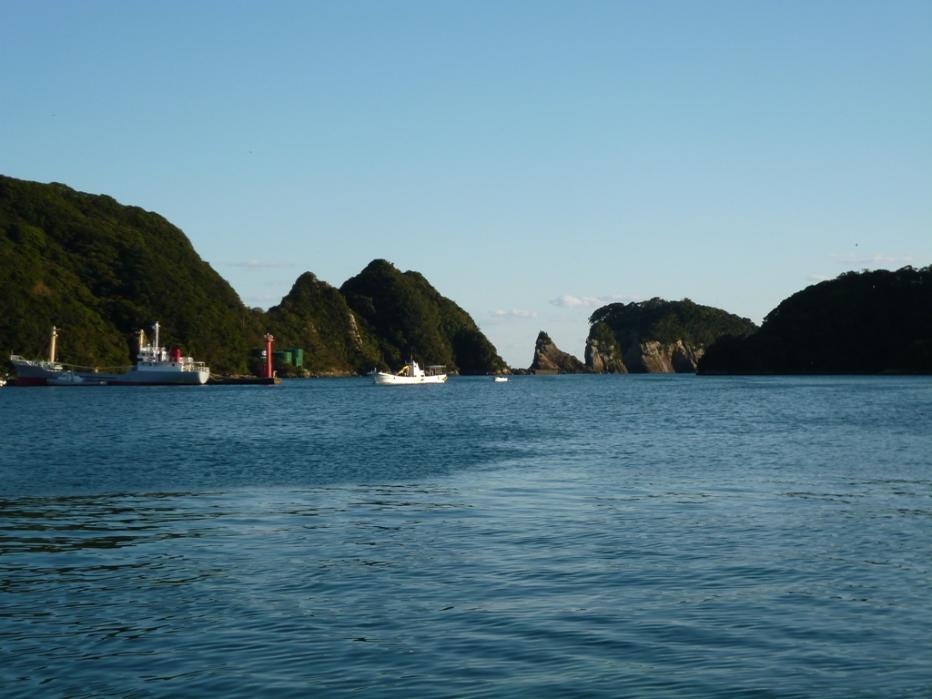 Above: The bay at Kii Katsuura. Below: You access the woods on the top of the island from the roof of the hotel ,this was the view. There was a volcanic foot bath up here too, this Pacific coastline is truly sensational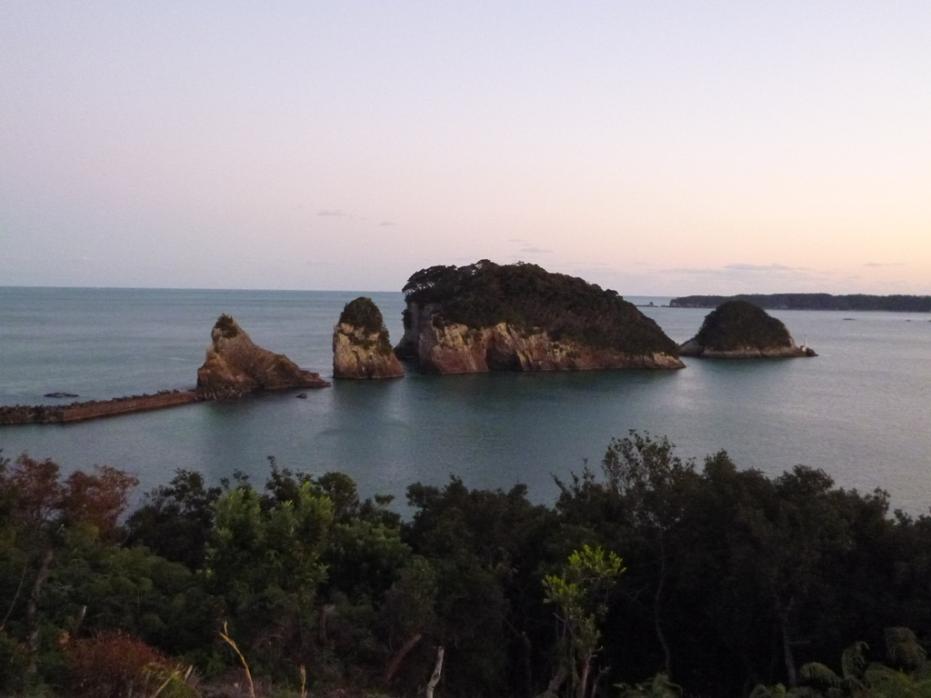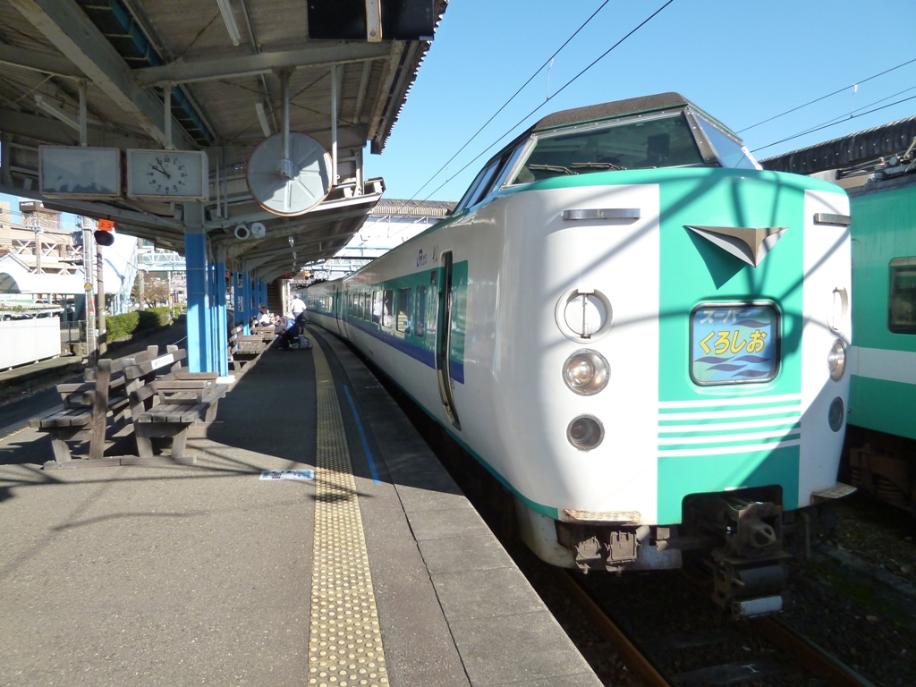 The train to Tanabe; the driver let us in early so we gave him one of our cakes for his trouble, just a young bloke, when the crew changed before Tanabe he knocked on the window to give us the thumbs up