July 20 - 26, 2014: Issue 172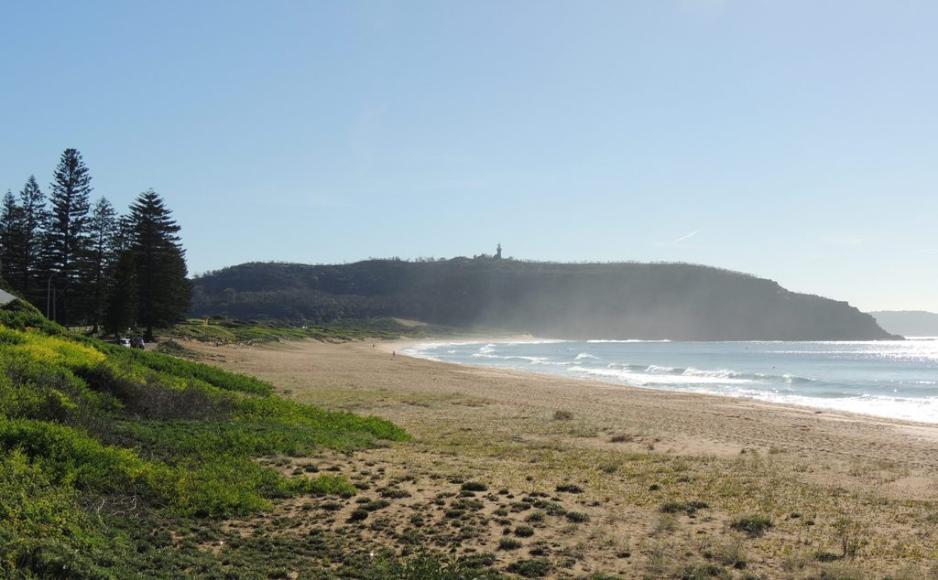 Palm Beach and lighthouse in the distance
To The Lighthouse
by Robyn McWilliam
My bushwalking group meets at Ocean Road, Palm Beach adjacent to the surf. The water shimmers in sunshine, waves break rhythmically on the sand and salt spray mists the air. A great start to our walk. We pass towering Norfolk Island pines and head towards the land-tied island that is Barrenjoey. The lighthouse on its pinnacle is our destination for morning tea.
Past the surf club, we cross over to the Pittwater side to see a cruiser and a yacht traversing the mouth of Broken Bay. After a stretch of sand we reach the base of the climb. Years ago the main trail up was extremely rocky and uneven. Today it has been upgraded for smoother and safer access and is relatively easy.
Boats on Pittwater
Since bushfire ravaged the area in September 2013, views at many levels have improved. About two thirds of Barrenjoey's vegetation was lost. Both the lighthouse and the refurbished cottages were largely untouched.
The light's tower is of sandstone-block construction. The light itself stands above a wrought-iron balustrade. It began operating in 1880 and its flashing sequence marks the entrance to Broken Bay. The grave of one of the early keepers is a short walk away. Further on, a plaque on a sandstone column commemorates the site of one of the two Stewart Towers. From August 1868 fires were lit in these to guide shipping.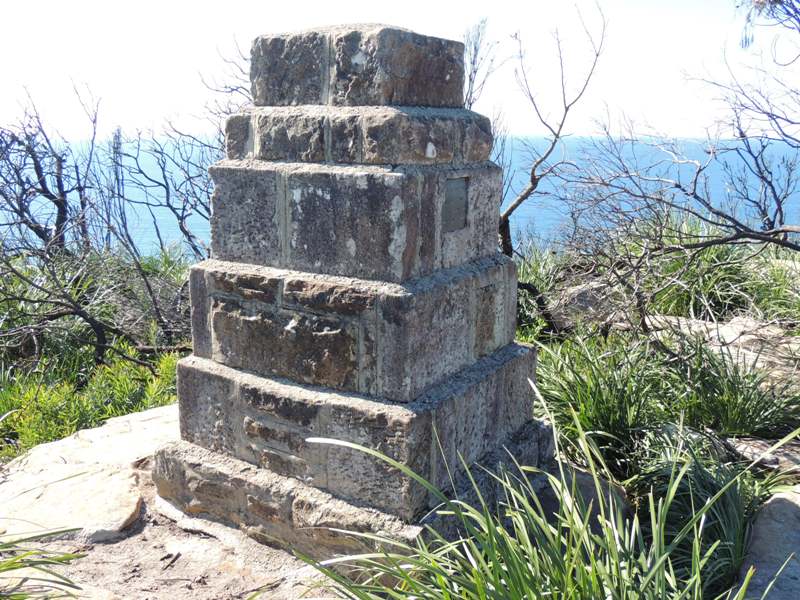 Column on the site of a Stewart Tower
The thinning of vegetation has also opened the track east of the lighthouse. Ocean vistas almost surround us and eyes are alert for whales. A scorched tree stands like a sculpture left by the fire. Its blackness contrasts with new green growth.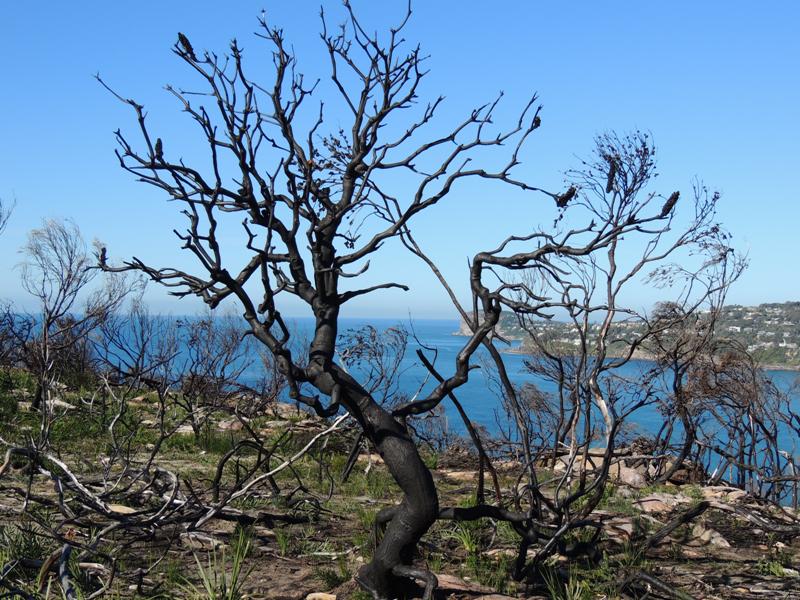 Scorched tree.
Smugglers Track, our intended way down, is unfortunately closed. We back track down the slope and wander past a tree-studded Palm Beach Golf Course with its flat lush fairways. A giant timber boat with climbing rope work features in Governor Phillip Park.
On weekends this whole area is abuzz with people picnicking and enjoying the outdoors. If by chance you have a quiet day during the week take the opportunity to climb to the lighthouse. At the far end of the Peninsula, Palm Beach has a far-from-the-city feel.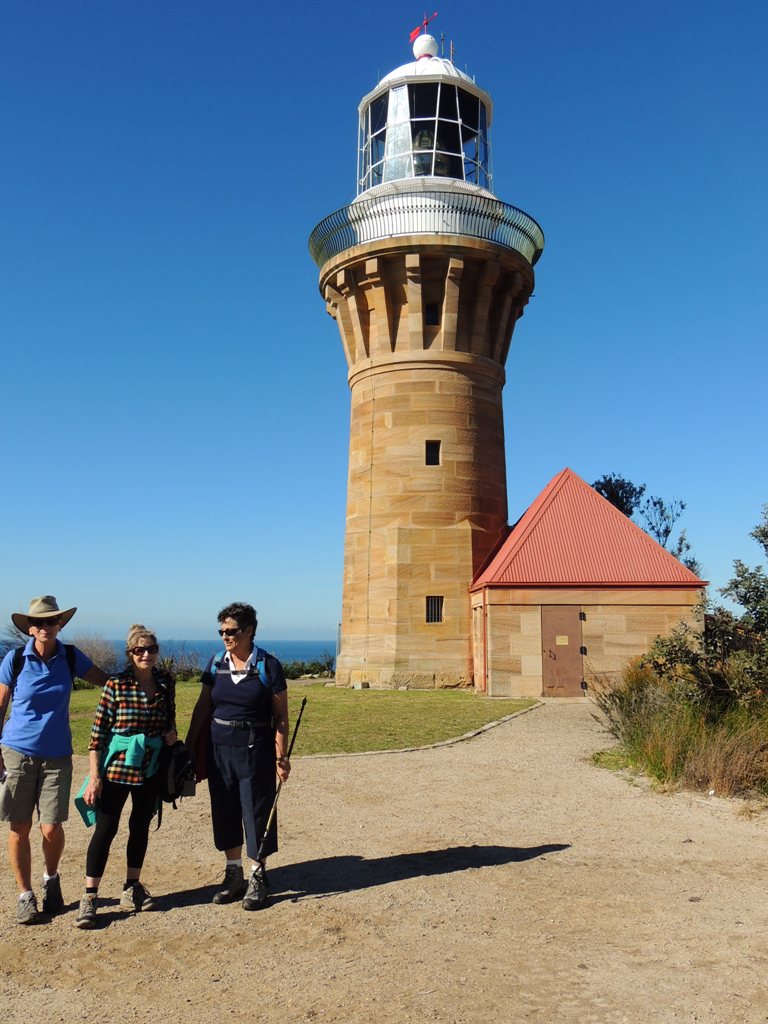 Walkers in front of the light's sandstone tower.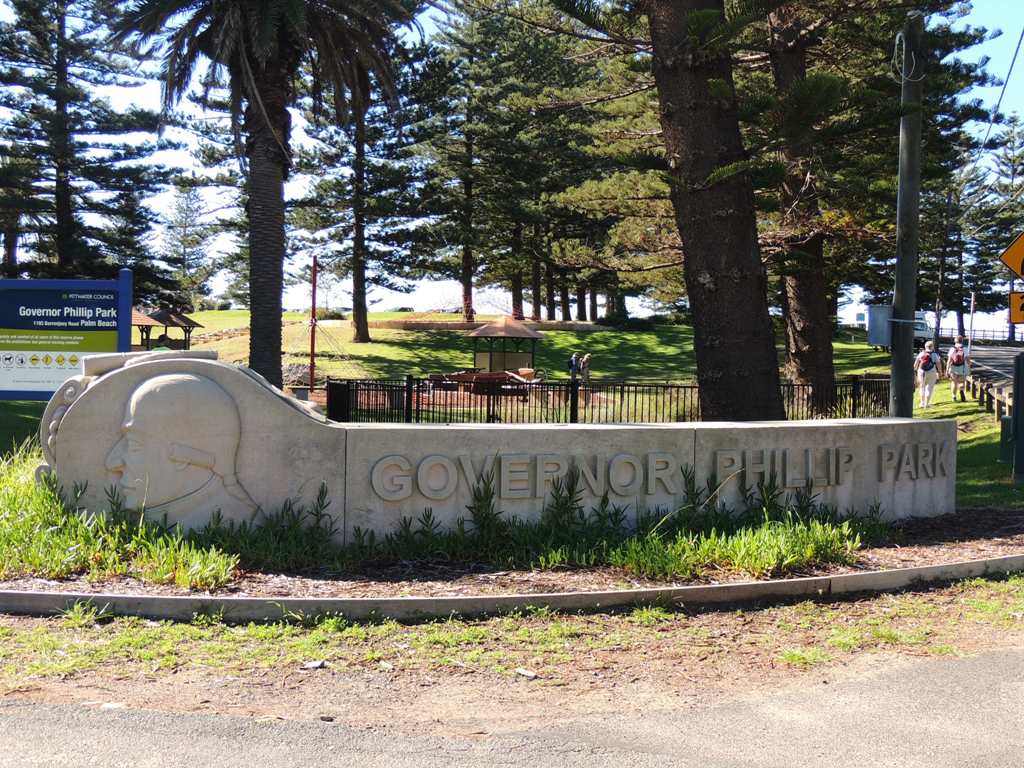 Governor Phillip Park entrance.
Article and Photographs by Robyn McWilliam, 2014.