December 30, 2012 - January 5, 2013: Issue 91
Summertime In Pittwater 2012-2013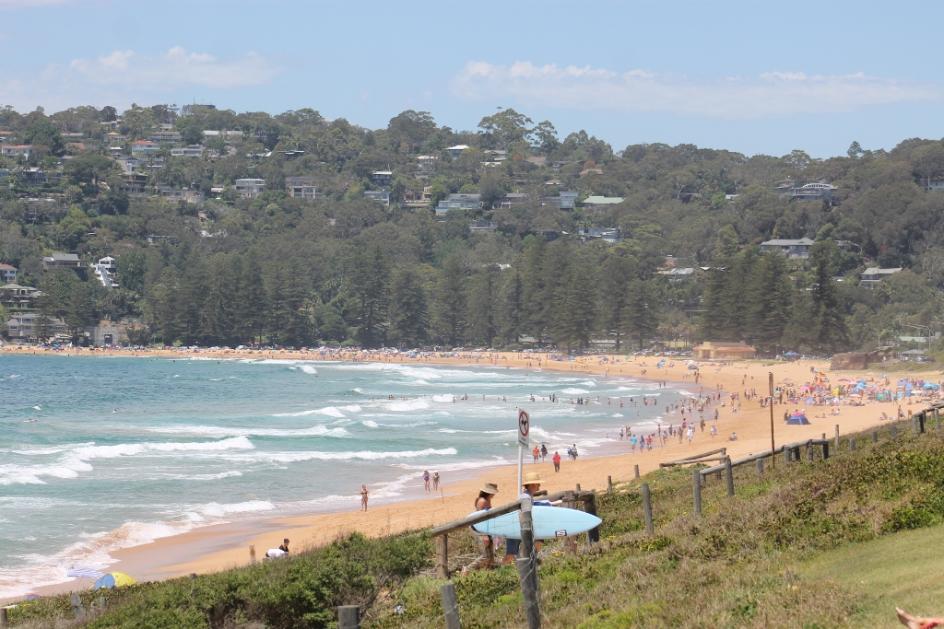 Palm Beach, Pittwater 12pm 28.12.2012. Picture by A J Guesdon.
People filled the beaches of Pittwater on Friday 28th and Saturday 29th of December, spreading colourful umbrellas across the sands with a traffic jam by 10am on the way to Palm Beach. Small children jumped up and down and up and down in the edge of the water while parents, in an end of year exhale, relaxed within grabbing reach. Around 3pm the southerly caused another traffic jam as all headed home. The Australian Bureau of Meteorology has forecast warmer then average temperatures for January through to the end of March 2013 so days like these will bring more lovers of sea, sand and blue sky to where they may enjoy our briny climes. They may even witness part of the Adrian Curlewis Masters and Boat races coming up on the 4th and 5th of January on this beach, or one of the Ocean Swims set to bring all together throughout January. Either way they get to see Pittwater in her Summer finery and her people simply being themselves.
While snapping this picture of heat and salt hazes mixing we also offered to take a few snaps on their own camera of one visiting family; thus spreading what is Pittwater cheer. We may choose to swim at dawn and dusk in clear patches of water during January's throngful days but we can also appreciate that what we love about our home makes it a place that is home for Summer to many others too. Let's hope they all leave with a sense of Pittwater's people as much as its beauty, with a smile ready to rise at such a memory of us and our place... and all senses refreshed with fresh salt water and salt air, of course!
Happy New Year to all of you who live here, who visit here, and all of you who are far from home...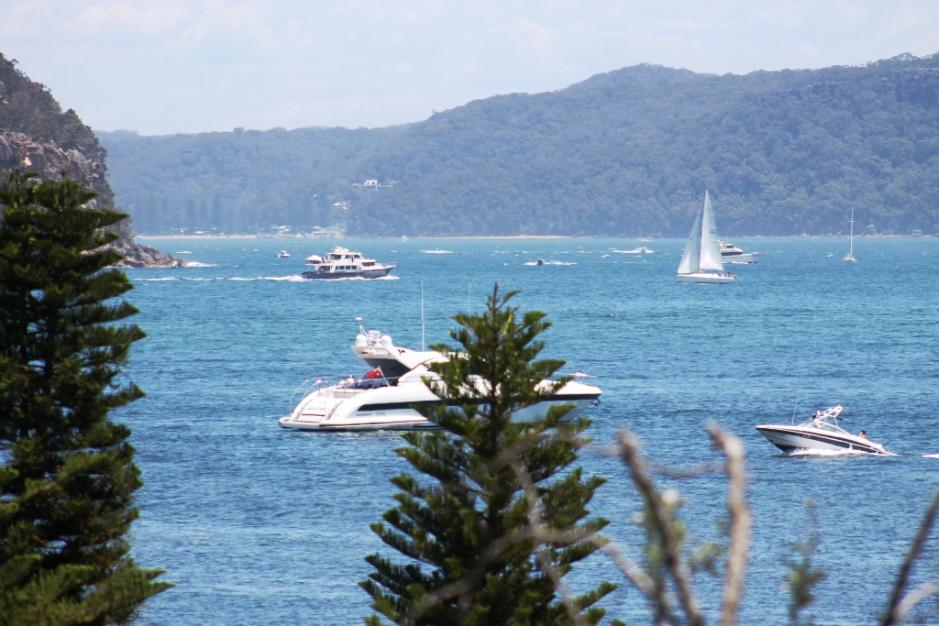 On the Pittwater estuary side, Palm Beach, 28.12.2012. Picture by A J Guesdon.
SUMMER DAY.
Through the long-drawn summer day
Tides of glowing shadows creep,
Lucent waves whose lapping fires,
Grass with living purple steep.
Sunbeams search the dazzled dust,
Raining in a pillared stream,
Diamond-sanded waters drink
Amber shade and topaz gleam.
Golden sheep are statue-still,
Spiral tongues their fleecy tips.
Horses droop their bronzen necks,
Motes of light about their lips.
Ghost of haze is on the hills,
Frail as shell of amethyst;
Shafted smoke with azure drift
Thicks the air to scented mist.
Tree-tops lift a silent sea,
Chiselled billows, copper-wrought,
Sheathed with salamander breath
Tossed in jets, in eddies caught.
Through the long-drawn summer day
Spell o'erlies the Burning Bush;
Darkness dims the clotted dun,
Penning earth in arid hush.
L. H. ALLEN
SUMMER DAY. (1937, September 11). The Sydney Morning Herald (NSW : 1842 - 1954), p. 13. Retrieved from http://nla.gov.au/nla.news-article17401605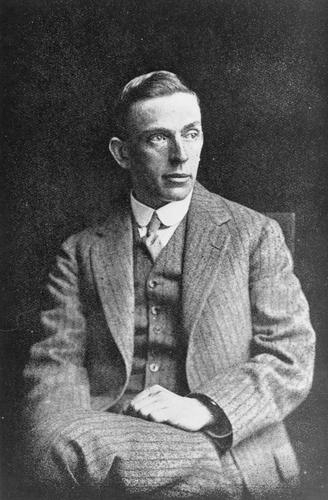 Sir Leslie Holdsworth Allen (1879-1964) was born on 21 June 1879 at Maryborough, was educated at state schools and Newington College, Sydney, then studied English and classics at the University of Sydney (B.A., 1904; M.A., 1920). He won a travelling scholarship, and at the University of Leipzig completed in 1907 a doctoral dissertation on the personality of Shelley. After his return to Sydney he lectured part time at the university until appointment in 1911 as senior lecturer in classics and English at the Teachers' College.
On 22 December 1915 at Chatswood, Allen married Dora Bavin, a New Zealander. She was tubercular, and this led him to seek a post in the hills: in 1918 he became professor of English at the Royal Military College, Duntroon. His work was undemanding and allowed him to pursue his wide cultural interests. A friend of (Sir) Lionel Lindsay and an early admirer of Roland Wakelin, he collected works by Australian painters. He produced several plays at Duntroon and for the Canberra Society of Arts and Literature. He published a wide range of scholarly articles, translated German plays for Dent's Everyman's Library, and wrote several volumes of poetry and a book of children's verses.
In 1931 Allen accepted the congenial post of sole lecturer in English and classics at the new Canberra University College. Next year his wife died; their only son had died in childhood. He became a member of the Commonwealth Book Censorship Advisory Committee in 1933, and chaired the Literature Censorship Board from 1937 and later its appeals committee. He died at Moruya, New South Wales, on 5 January 1964, survived by his only daughter. The Haydon-Allen building at the Australian National University is in part named after him. He had made a notable contribution to the cultural life of early Canberra.
K. C. Wheare, 'Allen, Leslie Holdsworth (1879–1964)', Australian Dictionary of Biography, National Centre of Biography, Australian National University, http://adb.anu.edu.au/biography/allen-leslie-holdsworth-5004/text8319
BA -BACHELOR OF ARTS
Leslie Holdsworth Allen (first class honours and University medal for classics-Latin and Greek first class honours and Professor Maccallum's prize for English.) THE SUCCESSFUL STUDENTS. (1904, May 2). The Sydney Morning Herald (NSW : 1842 - 1954), p. 8. Retrieved from http://nla.gov.au/nla.news-article14617126