February 9 - 15, 2014: Issue 149
Sister Ella
by Lucinda Rose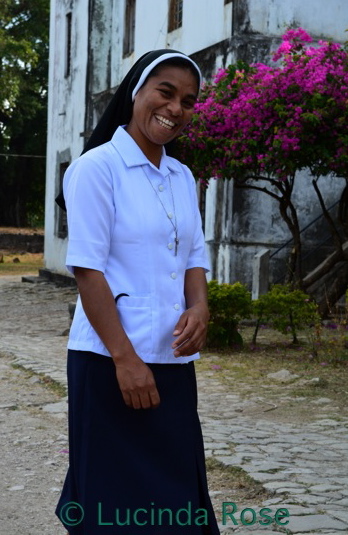 Sister Ella is gentle and sweet and very much the youngest nun here. She feels like a true sister.
Her raspy voice tells us of the preparations she has been doing for the Our Lady of Aitara mass tomorrow. It is outstanding what she has been doing – walking all across the main Soibada village as a messenger, communicating with people from village about the running of this highly religious festival, making the dried grass woven archways, threaded with bougainvillea, cooking (no doubt coconut rice), praying, wholly sacrificing her self, her actions and her faith to the event itself. She is an embodiment of service.
She's someone who always seems to be at the right place at just the right time.
She's always up far before the light and finally sleeps long after it, day after day.
I'm curious of her story – where she has grown up, how she came to realise her passion and devotion to God, where she sees herself going with it, and those little facets of a personality that makes that person unique.
When we are leaving Soibada I sit next to her and Father Tiago, and when we arrive at the orphanage where we leave Sister Ella, she comes out to the car (where I am trying to not be sick and remain awake before going back in) and hands me a hand-woven long strip of Tais (traditional Timorese material) with the words Timor-Leste woven in the centre. How on earth did she weave this? It seems as though it would require enormous skill, yet like everything, once learnt and repeated, becomes a habit.
She asks me to write my name on a piece of paper so next time I return to Soibada she can give me a piece of Tais with my name on it. I could live for the rest of my life and still be touched by this pure, act of generous, kind friendship, and even if she doesn't remember, I always will.