November 10 - 16, 2013: Issue 136
Pittwater and Warringah Rural Fire Brigades – Their Service in Recent Fires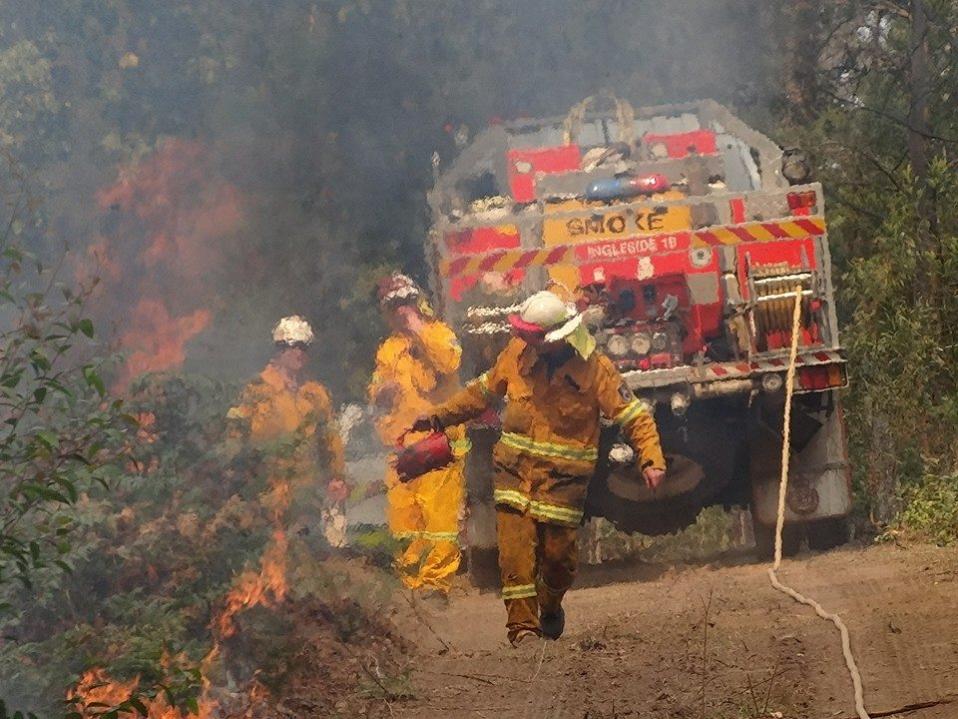 Ingleside NSWRFS crew working hard back burning at Mountain Lagoon Rd, Bilpin. Ingleside Officers led a 5 truck strike team, working with other RFS Brigades & NPWS on the fireground. Brigades in attendance: Duffys Forest, Beacon Hill, Terrey Hills, Belrose & Ingleside Tanker; 26.10.2013.
Pittwater Rural Fire Brigades – Their Service in Recent Fires and How you Can Help
Over the past few weeks smoke from the fires still burning in the Blue Mountains and along the Hawkesbury has been thick through a becalmed Pittwater of mornings. Although the lack of wind was a boon to our fire fighters, as were rains that damped conditions down – our Pittwater –Warringah Strike forces have been fighting fires on a 24/7 hour basis for over a month now.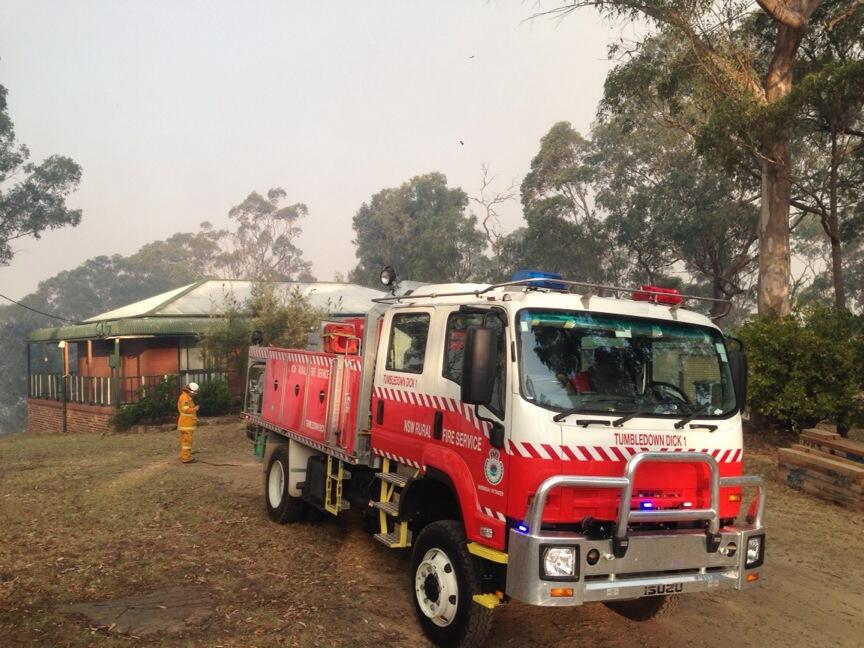 Tumbledown Dick RFB at Peats Ridge, Hawkesbury, 3.11.2013.
Thanks to the efforts of thousands of firefighters, the fires in the Blue Mountains are now contained. These fires at Lithgow, Springwood and Mt Victoria burnt out almost 65,000 hectares over the fortnight they ran. While the immediate danger has passed, there is still plenty of work to do and a long summer ahead of us. We can all prepare now by downloading your Bush Fire Survival Plan from www.rfs.nsw.gov.au or get the free MyFirePlan app from the App Store and Google Play.
All these firefighters are volunteers, all away from their homes and family and working hard without earning a wage, with constant crews changing over every 12 hours. They should be given some kind of champions parade or dinner. They should be named, as an organisation, Australians of the Year.
We wanted to run this report from our local Tumbledown Dick RFB last Issue but they were called away to fight fires at Peats ridge on the Hawkesbury and this took priority.
We run it this week so a record of their efforts and an insight into all they have done can be made, permanently. The insights come thanks to Inglside and Tumbledown Dick Rural Fire Brigades for all the pictures and to John Watson, Senior Deputy Captain, Tumbledown Dick RFB, for the report.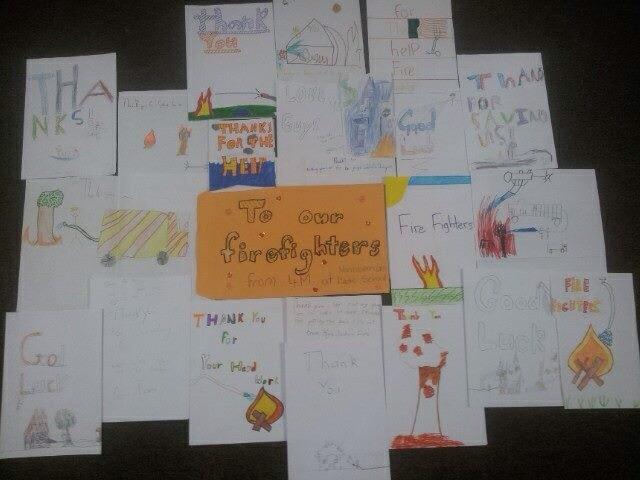 Narrabeen Lakes School - Pictures for RFS firefighters, 25.10.2013.
_____________________________________________
Tumbledown Dick RFB
What a month
About a month ago (28th September) the fire season got going in earnest for Tumble with a response to the Barrenjoey Headland fire at Palm Beach. A few days later we had the Mona Vale fuel tanker fire on Sydney's northern beaches,
and things kept going from there.
To date these are the firegrounds we have operated across over the past month.
If you have any pictures of Tumble that... you could share with us we would appreciate them as we would like to build up a record of the past months activity:
Warringah/Pittwater
• Barrenjoey headland, Ku-ing-gai National Park
• Mona Vale fuel tanker crash
• West Head, Ku-ing-gai National Park
• Maitland Road, Davidson
Port Stephens
• Salt Ash
• Fingal Bay
Blue Mountains
• Singles Ridge Road, Springood/Winmallee (Linkview Road fire)
• Heather Road, Springood/Winmallee (Linkview Road fire)
• Syncarpia Way, Springood/Winmallee (Linkview Road fire)
• Tristania Way, Springood/Winmallee (Linkview Road fire)
• Mount Victoria
• Mount Wilson, (State Mine fire)
• Faulconbridge (Linkview Road fire)
• Mountain Lagoon Road (State Mine Fire)
• Bilpin (State Mine Fire)
Southern Highlands
• Balmoral (Halls Road fire)
• Yanderra (Halls Road fire)
• Bargo (Halls Road fire)
Hawkesbury
• Putty Road, Colo Heights (Howes Swamp Fire)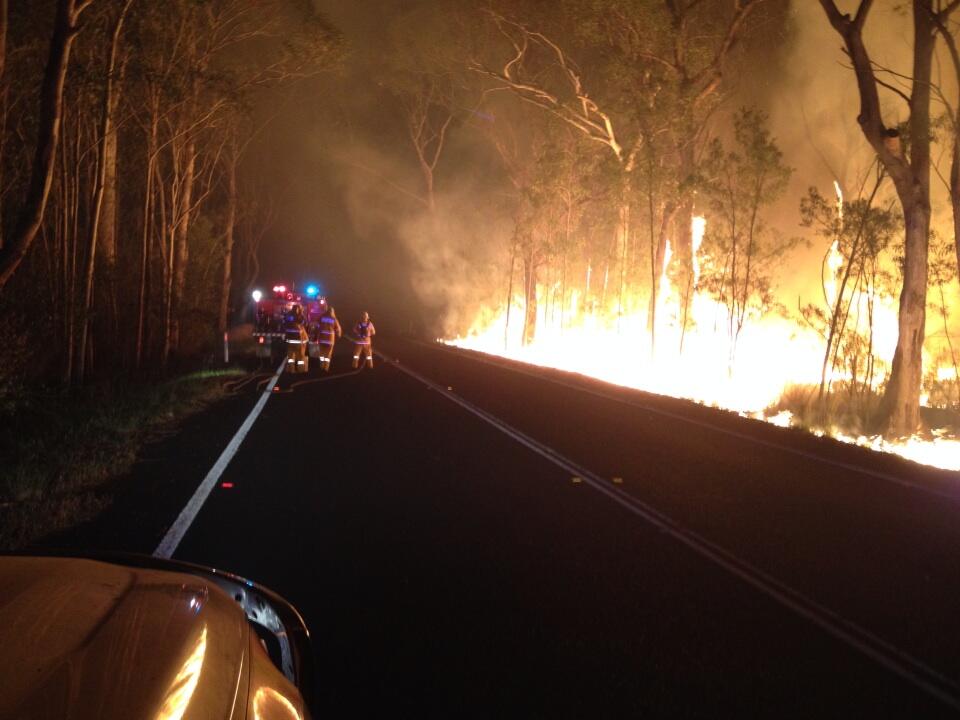 Successful backburn along Putty Road, Colo Heights.
Barrenjoey Headland fire (Northern Beaches)
Tumbledown responded, along with other Warringah/Pittwater units to the fire at Barrenjoey Headland. On arrival the units found a substantial area of bush alight on the southern side of the headland being pushed north-east by gusty south-westerly winds towards the lighthouse structures.
Tumble drove down the beach and positioned the tanker at the northern end of Palm Beach (Pittwater side) at the entrance to the lighthouse walking track along with a group vehicle and the Ingleside RFB tanker.
Barrenjoey Control (the RFS Incident Controller) took a Surf Life Saving fourwheeler up to the Lighthouse to size up the situation from the top and on arrival issued a call over the radio that one of the structures was under threat and a CABA team (fire fighters with specialist breathing apparatus that enables offensive structure fire fighting) was urgently required.
Once at the top the team donned the CABA equipment were instructed to enter the western building. They were accompanied by a NPWS (National Parks & Wildlife Service) member in seeking entry. With all doors locked entry was forced. The team worked through to the back (southern side) and outside to find a Surflife Saver with a line of 25mm hose (smallest hose we use) working off a portable pump fighting the fire front coming up the hill on the western side of the building.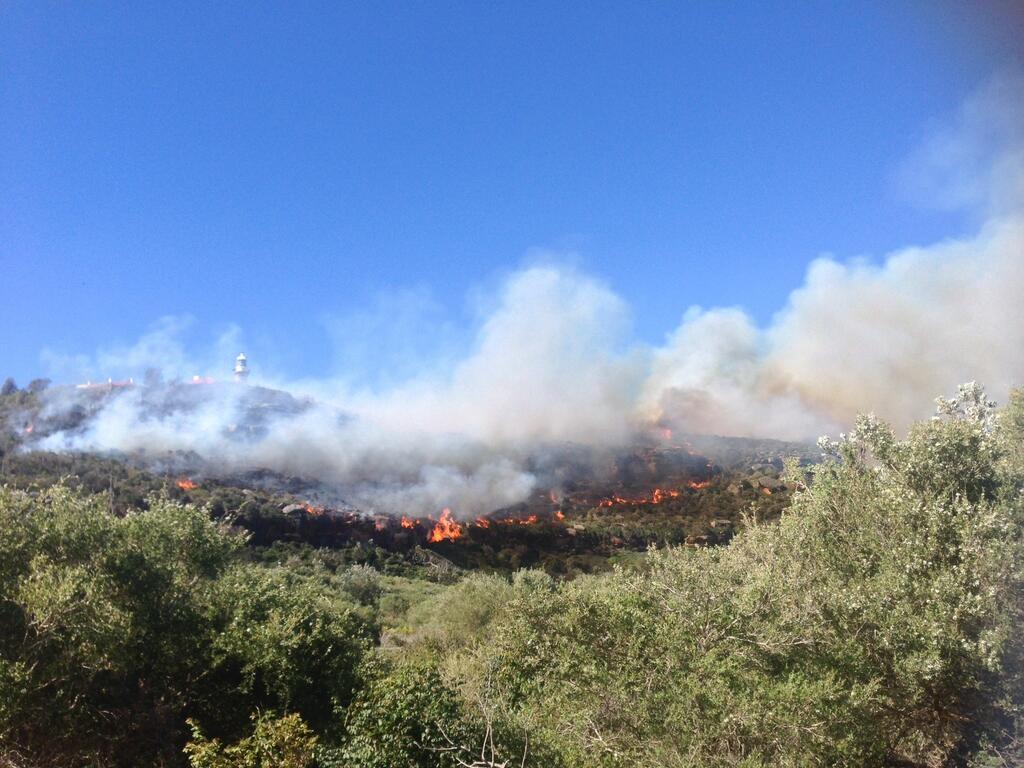 Tumbledown Dick RFS at Palm Beach fire along with multiple other NSWRFS units.
The CABA team took over the hose line and requested aerial water drops as the building was now under server ember attack. The CABA team then took the hose line and forced entry in to the rear western door of the building as fire had taken
hold in several sections of the roof space. Using an old ladder which was in the hallway, the team broke down a section of the ceiling to gain access. The team climbed into the roof space to get better access, first having to remove the CABA sets to fit between the rafters. They proceeded to knock down a few areas of fire and worked on removing a few trouble sections of roof insulation.
After two CABA set changes the team handed over to the Ingleside team who continued to knock down fire in the east section of the roof. The crews continued with mopping up around the structures and the wider fire area till early evening.
Mona Vale fuel tanker fire
Tumble 1 , along with a number of other tankers were responded to reports of smoke near Chilton Rd, Ingleside. It became clear on turning into Mona Vale Road that there was in fact a significant industrial fire in Mona Vale itself.
Arriving on the west side of the incident the crews got to work dealing with a fuel tanker fire, a running fuel fire, multiple vehicle fi...res, bush alight, power lines down and multiple casualties.
CABA was deployed and a BACO area established for incoming crew and cylinder changeover. A 1st Aid treatment and triage area was established ahead of ASNSW arrival for casualty treatment. Multiple ambulances were requested and air evacuation initiated.
Evacuations of the adjoining down wind buildings was commenced and traffic control established to support incoming units. A
command point was established at the roundabout with Monavale and Samuel Rds with FRNSW assuming overall command.
Additional RFS units were responded to assist with suppression of the fuel tanker fire and management of the fire impacting exposures and effecting the evacuations. Further units were dispatched to the east side of the fire for suppression. Fire was also knocked down in the drains immediately surrounding the incident.
Foam management became critical to continued suppression and all tankers dropped foam to an assembly point with further foam and BAO cylinders being responded to the incident. Additional units patrolled drains for fuel re ignition and to assist in the extensive Hazmat planning.
All crews performed extremely well in very trying circumstances and multi agency cooperation was exemplary. The level of professionalism and skill with which the crews executed their tasking is a credit to their dedication, and also to the many many hours committed to complex and detailed training.
Winmalee Fire (Blue Mountains)
The first Warringah/Pittwater strike team on Thursday 17th responded to the significant fires developing in the Southern Highlands around Balmoral. Tumble was part of a second Strike Team that was stood up in response to the escalating fire conditions around Sydney.
The team (5 tankers, a bulk water carrier and group vehicle) was initially staged at the Cumberland Fire Control Centre at the base of the Blue Mountains but was quickly then responded to Springwood – heading into Singles Ridge Road.
The team arrived to find multiple structures alight. The team was quickly put to work knocking down fire impacting structures. We secured a couple of houses and were then directed to another which had its roof structure involved in fire with the adjacent garage already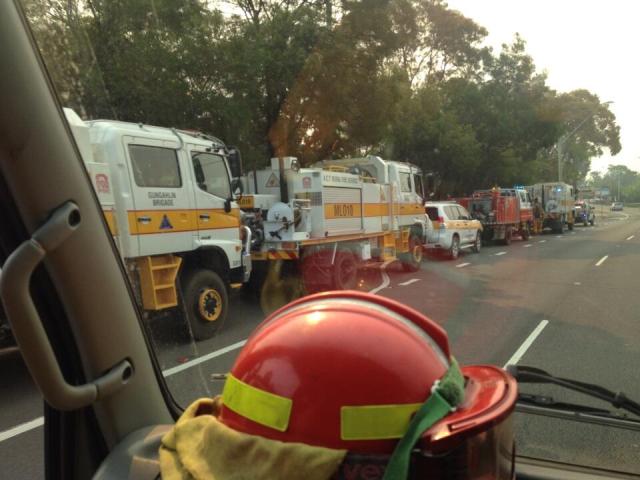 destroyed.
The CABA team donned their gear and the balance of the Tumble crew established an attack line to take in, as well as utilising a portable pump that had been left by the resident's pool to commence water resupply to the tanker. The hose crew commenced knocking the fire down from the front door of the house and the CABA team took over and entered the premises, taking the hose line up to the second story and extinguishing the fire. After ventilation the balance of the crew brought in the RFS ladder and inspected the roof insulation to ensure no further fire was present.
Right: Passing ACT Strike Team in Blue Mountains on way to Mt Victoria, 17.10.2013.
After quickly making up the truck again the Tumble crew assisted the other tankers in the strike team with making ready to move on, the Ingleside crew being engaged in knocking down a fire in a connected garage so that the main structure could be made safe.
The Strike Team moved onto Heather Road (the next road to the east which the fire would impact) and readied property protection at the end of the street for an expected southerly wind change (which would turn the fire flank into its head, and bring fire directly into Heather Road). The change was delayed and this gave the team time to swap in and out tankers for refuelling and a quick bit of food at
the Winmallee RFB station.
Prior to change over with the incoming night crew the team set for a backburn on the next streets to the east, clearing a line between adjoining streets. The night crews worked that backburn.
Over the coming days Tumble7 responded as part of a strike team to Mount Victoria and Mount Wilson and teams worked across Bilpin, Faulconbridge, Mount Irvine and Mountain Lagoon Road.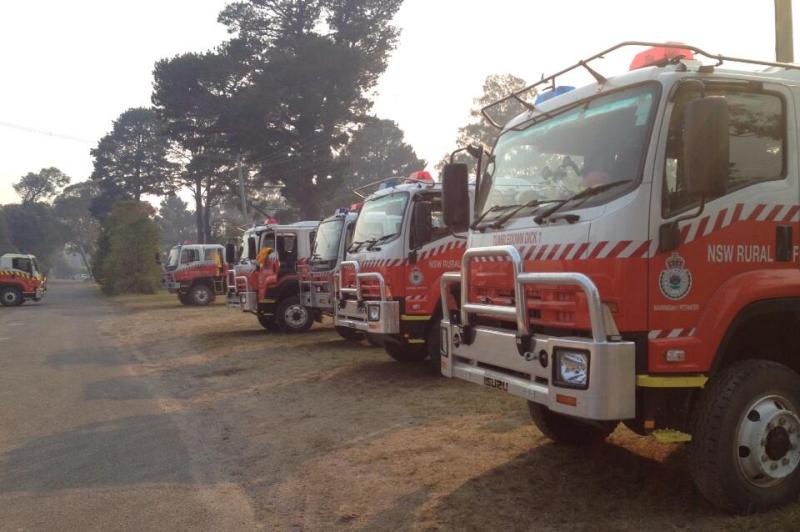 Tumbledown at Bargo during changeover.
Balmoral/Bargo Fires (Southern Highlands)
Tumble joined these fires from Winmalee as part of a Strike Team. The first day saw property protection being undertaken and subsequent days were spent putting in extensive backburns and then mopping up and patrolling them.
___________________________________________
How you may Support our Rural Fire Brigades – Warringah/Pittwater
Become a Volunteer
The N.S.W. Rural fire Service is a multi-faceted organisation and as such requires personnel to undertake a range of duties. Firefighting operations and emergency response can only be carried out effectively when we have highly trained and skilled support personnel.
Interested in volunteering and serving the community? If you are please get in touch via email. http://t.co/lxCn54QIuK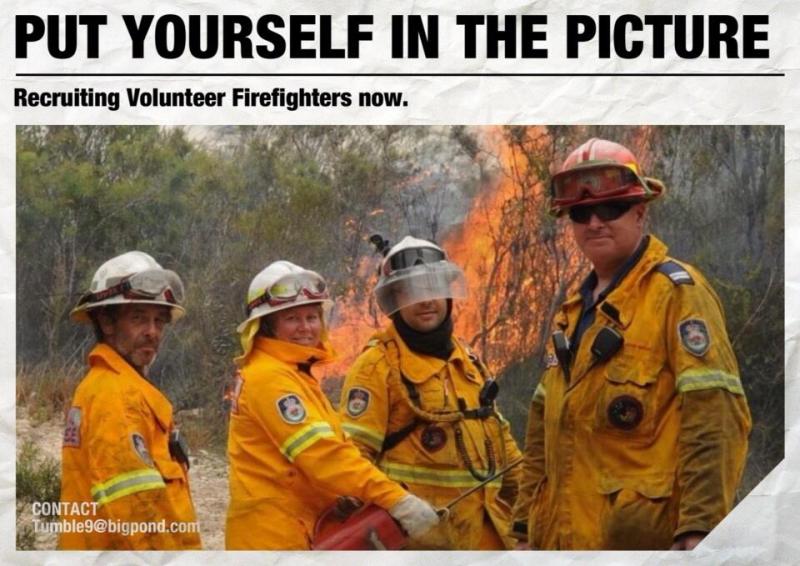 Donations
Rural Fire Brigades are often more than just an emergency service. They can also be a vital community service, provide a community meeting point or offer assistance with non-emergency roles.
For this reason, many people choose to donate to their local Rural Fire Brigade.
Many Rural Fire Brigades conduct fundraising activities at community events, like through coin collections or BBQs. These proceeds go directly to assisting the brigade with community activities.
Some brigades may accept donations or gifts which can be tax deductible for the donor. If you are considering a donation or gift to a brigade and wish to claim it as a tax deduction, you should check with the brigade if it has Deductible Gift Recipient status.
To make a donation directly to your local brigade, simply contact your local brigade or your local Fire Control Centre. You can also use the credit card link on this page.
Warringah / Pittwater District
(Stand Alone District)
Beacon Hill
Belrose
Coal and Candle
Coasters Retreat
Cottage Point
Davidson
Duffy's Forest
Headquarters
Ingleside
Mackerel Beach
Scotland Island
Terrey Hills
Tumbledown Dick
Warringah-Pittwater Cadets
Warringah-Pittwater Catering
Warringah-Pittwater Communications
West Pittwater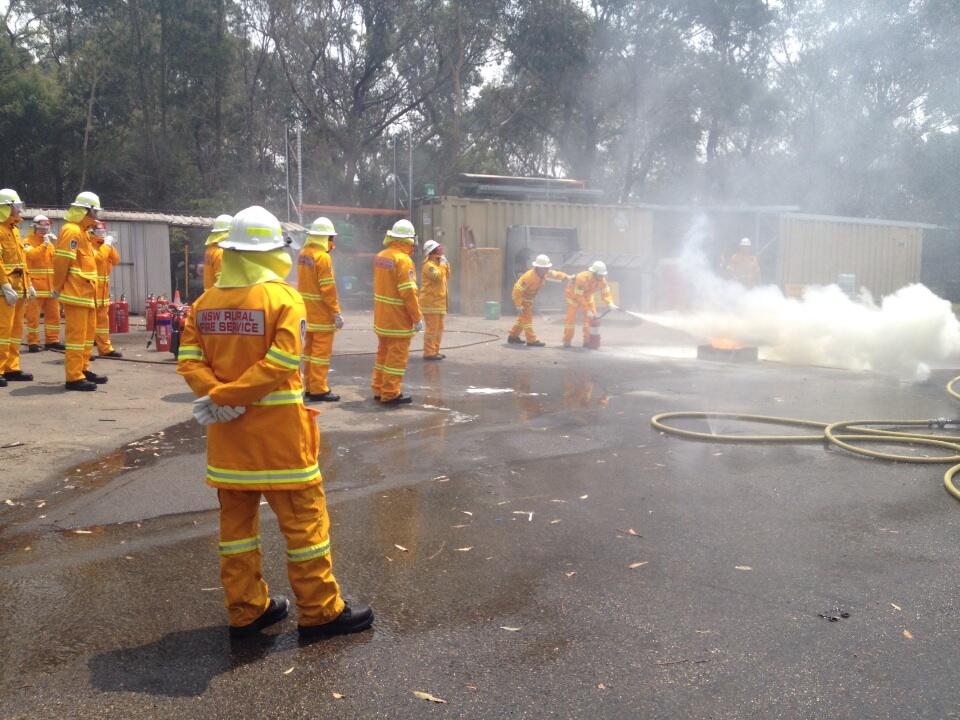 The next group of new fire fighters. BF training course at Warringah/Pittwater base, 1.11.2013.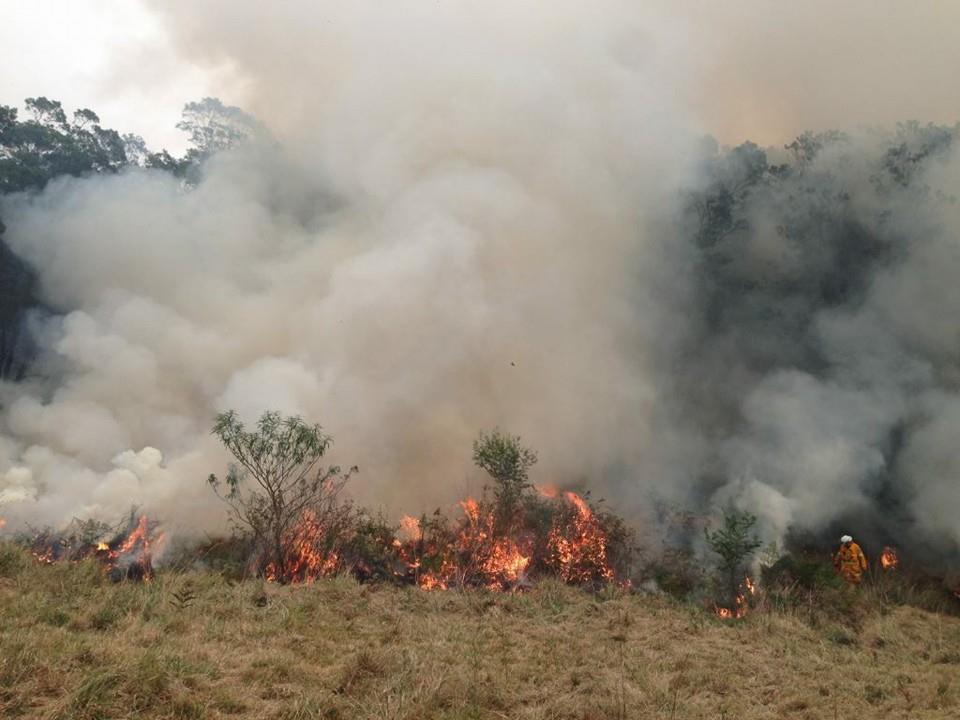 Ingleside volunteers at work today again in Berambing, Blue Mtns working hard on containment lines ahead of hotter, windier weather on Wednesday - 22.10.2013.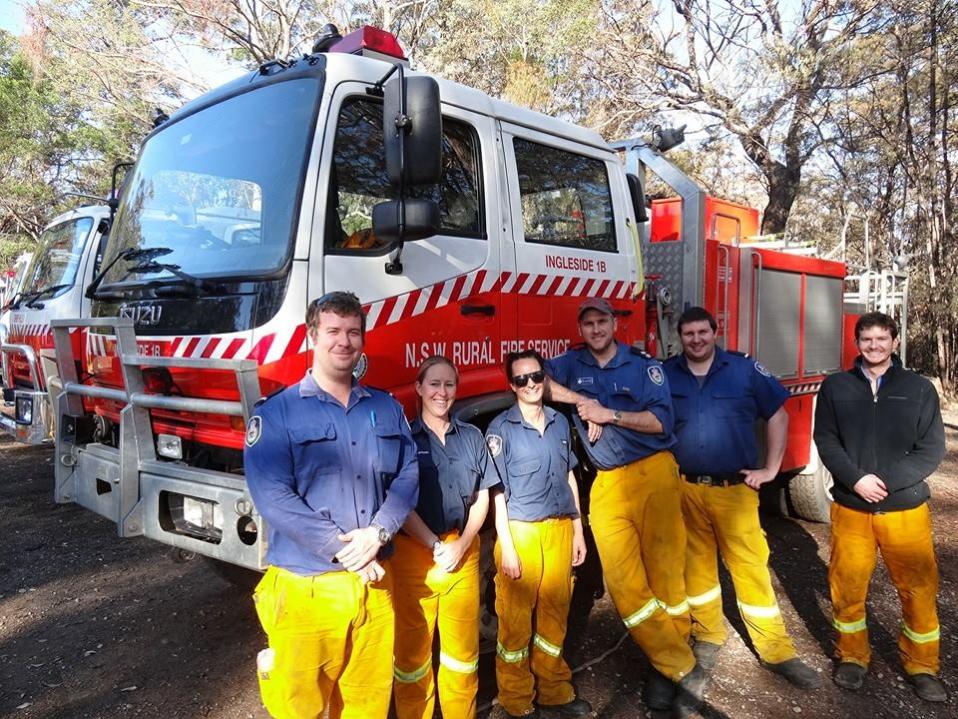 Ingleside RFB crew at Bilpin 23.10.2013.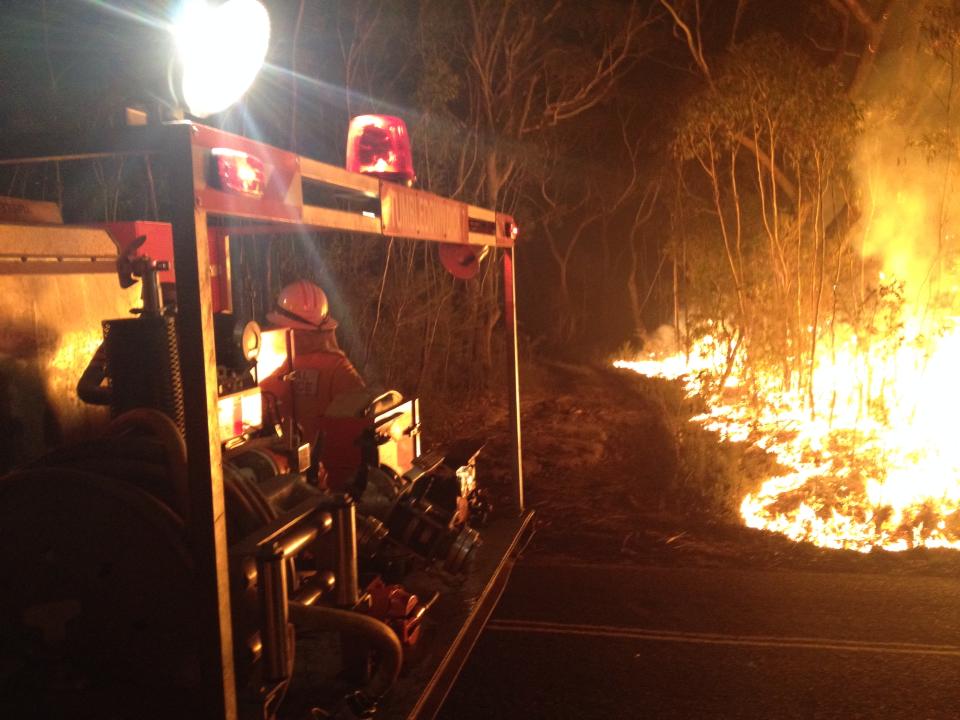 Tumbledown Dick RFS at Mt Wilson (State Mine fire) October 26th, 2013.
Report by John Watson, Senior Deputy Captain, Tumbledown Dick RFB, Pictures Courtesy TumbledownDick1 RFB and Ingleside RFB, 2013.